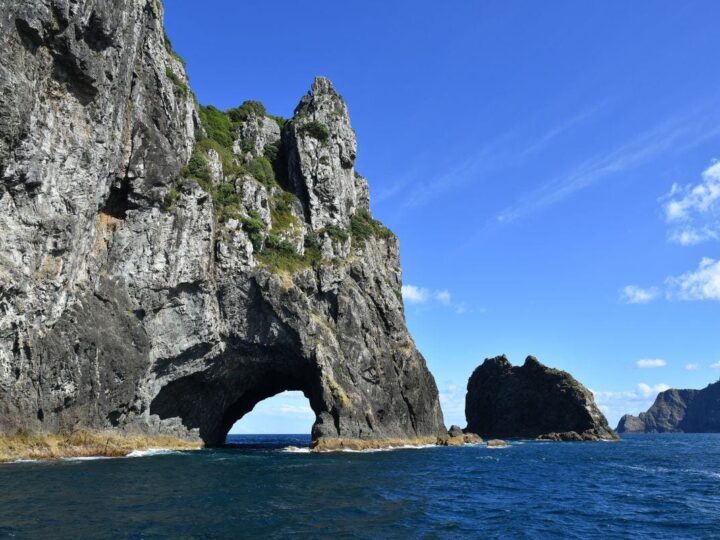 This post about things to do in Northland is a guest post by Roxanne.
Just an hour or two north of Auckland stretches a coastline of white, sandy beaches, clear waters, and sunny days. Always a little warmer than Auckland, and with less rain, Northland is a favorite pick for anything from a weekend away to a longer summer break.
Despite the beautiful landscapes, relatively few international travelers make it as far as Northland, making it a typical Kiwi holiday destination.
It's a long drive from Auckland to the tip of the North Island and there are many gorgeous places to stop along the way. With so many beaches and bays to choose from, it's not always easy to pick what to do in Northland. So, here are a few ideas for Northland, from someone who has traveled extensively through the region over the years.
Visit the Kauri Forest in Hokianga and See Tane Mahuta
Most people flock to the East Coast of Northland – probably because that's where the best swimming beaches are. However, the West Coast has a lot to offer, particularly wild and isolated Hokianga.
One of the best things to do in Hokianga is to visit the Kauri Forest, where you can walk through paths of huge Kauri trees, their canopy completely obscuring the sky.
This forest is also the home of Tane Mahuta, the oldest tree in the forest. Tane Mahuta is not the tallest tree, but his trunk is incredibly wide – and he's still huge. Sitting at the foot of these mighty trees will make you realize how small you are… and just how ancient this forest is.
If you want to spend more time in the beautiful Hokianga region, drive north to the charming town of Rawene and take the ferry across the harbor.
RELATED: 2-Week North Island, New Zealand Road Trip Itinerary.
Go to the Tip of the North Island
In the far north of New Zealand, you'll find a beautiful stretch of isolated beach. A sacred place in Maori mythology, Spirits Bay was believed to be the point where the spirits of the dead leave the world. It's a peaceful spot, with forests on the hill and white sand leading to the water.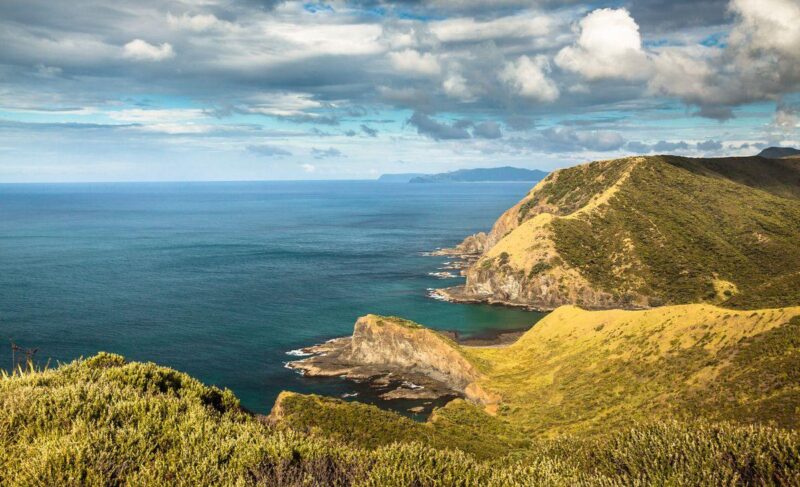 Take the opportunity to stop and relax here for a while. There's a Department of Conservation campsite, situated between the beach and the hill with wonderful views, otherwise, freedom camping is allowed in the area.
There are some lovely bush walks in the area and it's a perfect spot for bird watching, surfing and camping.
See the Memorial to the Rainbow Warrior and Swim at Matauri Bay
The Rainbow Warrior was a Greenpeace boat that was sunk by two French secret service agents in 1985 in retaliation for Greenpeace protests about French nuclear testing.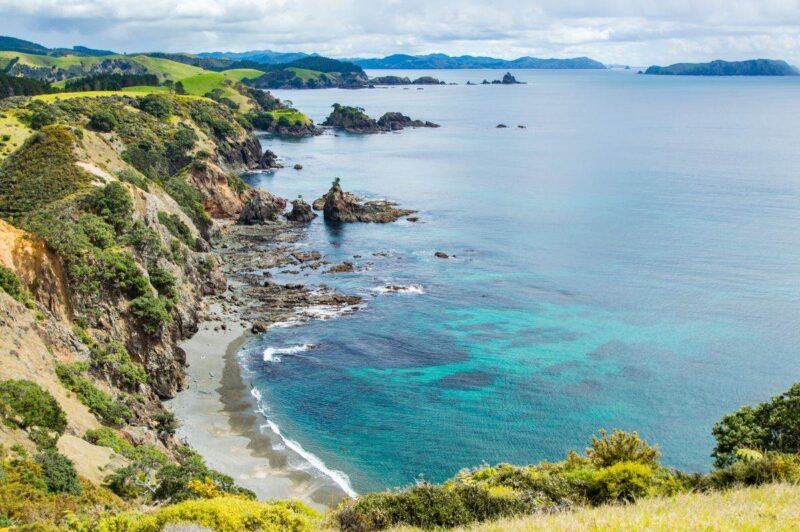 New Zealand is a proudly nuclear-free country and the bombing not only shocked the nation but was also seen as an attack on New Zealand's identity. A memorial for the Rainbow Warrior is on the cliffs overlooking Matauri Bay.
It's a stunning spot, with sweeping views over the ocean. Walk up the track to see the views and learn about this important piece of New Zealand history. Then spend the afternoon at Matauri Bay, probably one of the loveliest beaches in Northland.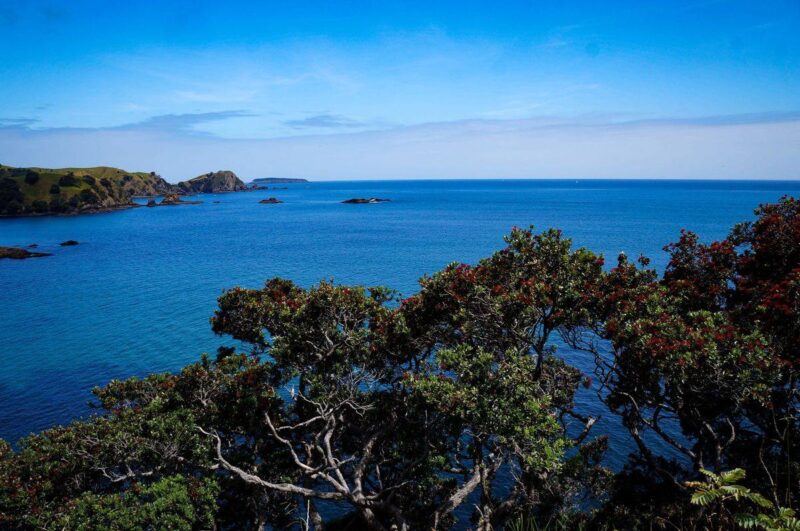 Have Lunch in the Historic Village of Russell
Russell is a lovely colonial town in the Bay of Islands and spending some time here is one of the best things to do in Northland.
Russell was New Zealand's first European seaport, so visit the local museum to find out more about the history of this interesting town. Then wander through the quaint streets and explore the local art galleries, quirky shops, and great restaurants.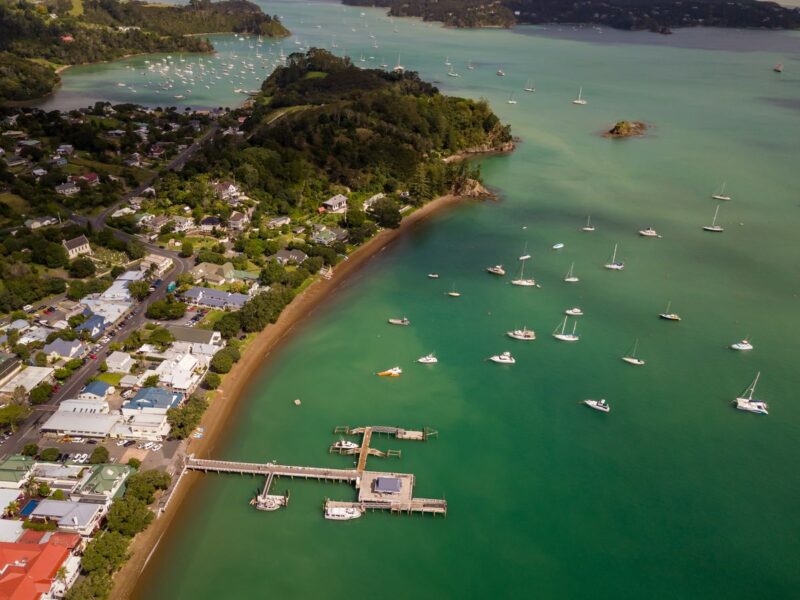 A favorite for visitors, the Duke of Marlborough Hotel is one of New Zealand's oldest pubs and is situated on the waterfront. There are also a number of good wineries nearby which are great places for lunch.
Get Out on the Water in the Bay of Islands
People will tell you that the way to experience the Bay of Islands is on the water – and they aren't wrong! Either hire a boat (if you're a confident sailor) or go on a tour to visit the Hole in the Rock, visit some of the tiny islands, and watch dolphins swim.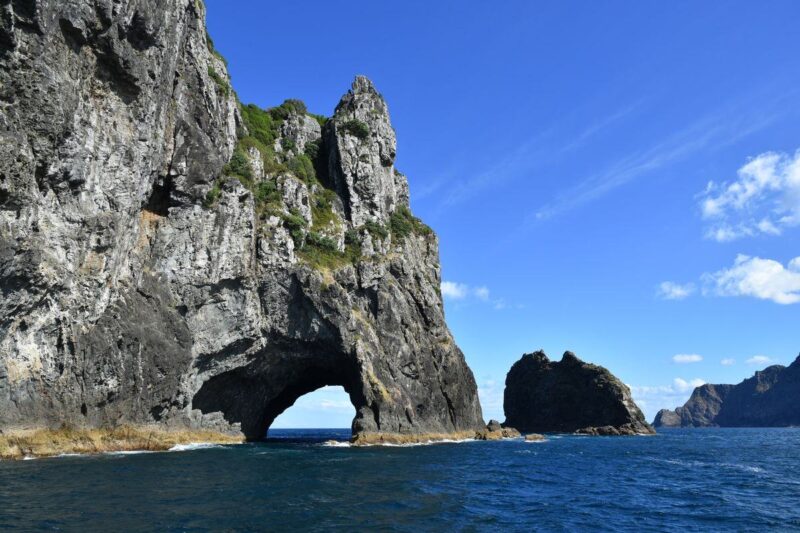 Fishing is one of the most popular things to do in Northland, so if you're a keen fisherman, join a charter boat and catch some snapper for dinner. If you're after some really big fish, try your hand at catching a marlin and you'll soon discover why fishing in New Zealand is such a remarkable experience.
RELATED: Piha and Waitakere Ranges Walks, Waterfalls, and Beaches.
Visit the Waitangi Treaty Grounds and Learn About New Zealand's History
While you're in the Bay of Islands, be sure to visit the Waitangi Treaty Grounds, one of the most important historic places in New Zealand. This is the site where 540 Maori chiefs signed an agreement with the British Government in 1840.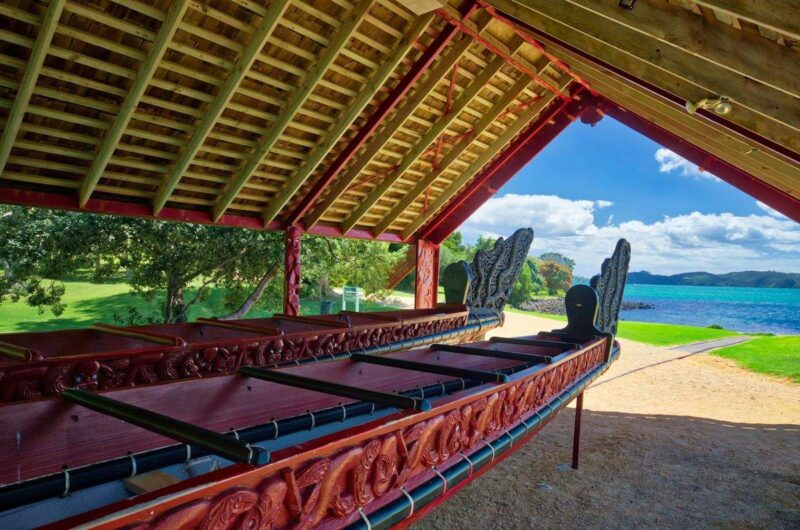 The Treaty is New Zealand's founding document and there have been many disagreements about the understanding and intent of the Treaty (differences between the English and Maori translations of the document are just the beginning).
The Treaty of Waitangi is still hugely important in New Zealand today. Visiting the Treaty Grounds and the museums on site will give you insight into New Zealand's history and a greater understanding of the country today.
Explore Kerikeri
Kerikeri is a pretty colonial town, about three and a half hours' drive north of Auckland. Situated on a river, Kerikeri is a lovely spot to spend a few hours or to use as a base for exploring the region. The area is renowned for its fruit, so visit the Farmer's Market if you're there on the weekend.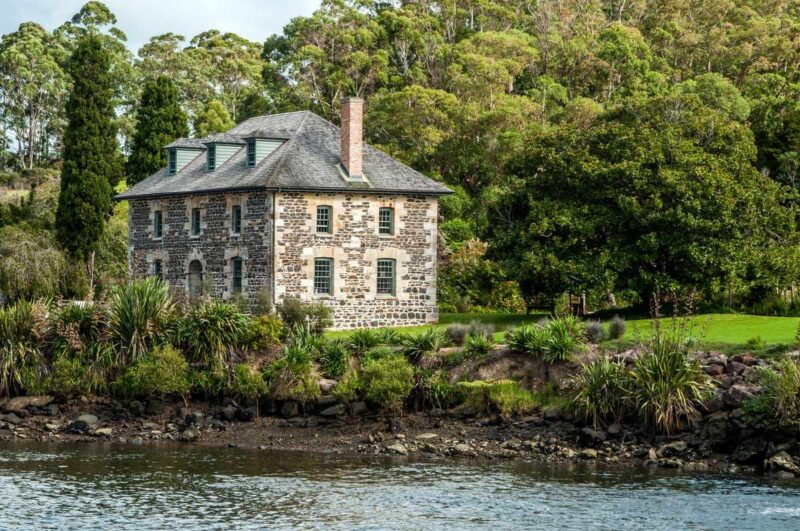 As well as wandering around the shops, visit the Old Stone Cottage to learn a little more about the history of the town. Peek into the local shops, try some of the delicious cafes, and visit the newly renovated Rewa Village, a reconstructed Maori village and cultural center on the ridge at the edge of town.
Go Diving on the Tutukaka Coast
The Tutukaka Coast embodies some of the best of Northland – white sand and beautiful, clear blue water. It's one of those places where you can just lie on the beach and relax during summer. One of the best things to do in Northland, however, is diving at the Poor Knights Islands.
The Poor Knights Islands are just off the Tutukaka Coast and are an internationally-renowned diving spot. Situated in a marine reserve with warm currents, there are a range of tropical fish to see as well as the world's largest sea cave.
If you're not a diver you can still enjoy the islands and the surrounding wildlife by boat, kayaking, or paddleboarding.
RELATED: 11 Fab Things To Do in the Coromandel, New Zealand.
Go Snorkeling at Goat Island
So, technically, this isn't Northland – in fact, you can do it as a day trip from Auckland – but it's still a great stop when you're heading up north.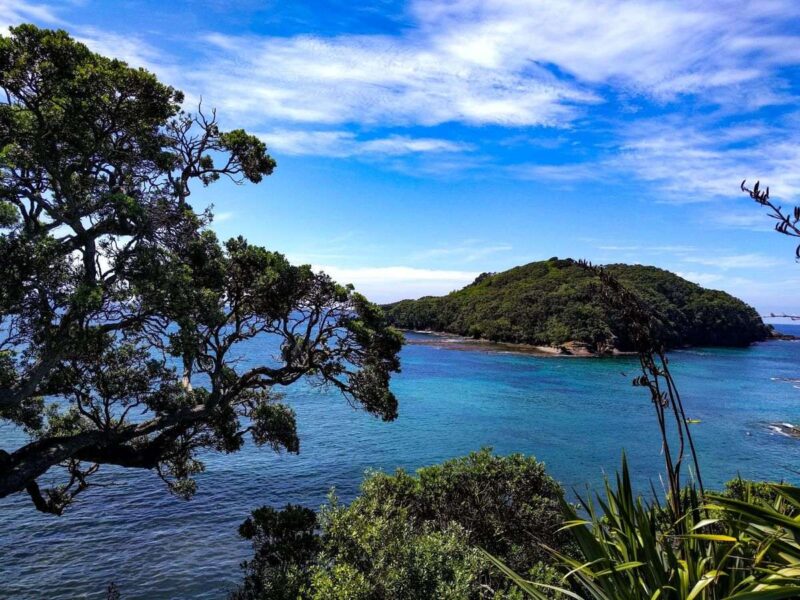 Goat Island is a marine reserve just outside of Matakana, where it's possible to see huge fish in incredibly shallow water. All you have to do is step into the sea and you'll see fish (including some rather large snapper) in the water with you.
Snorkeling at Goat Island is a wonderful activity. The marine reserve means you can swim with larger large fish and you can have an idea of what New Zealand's waters must have looked like in times gone by.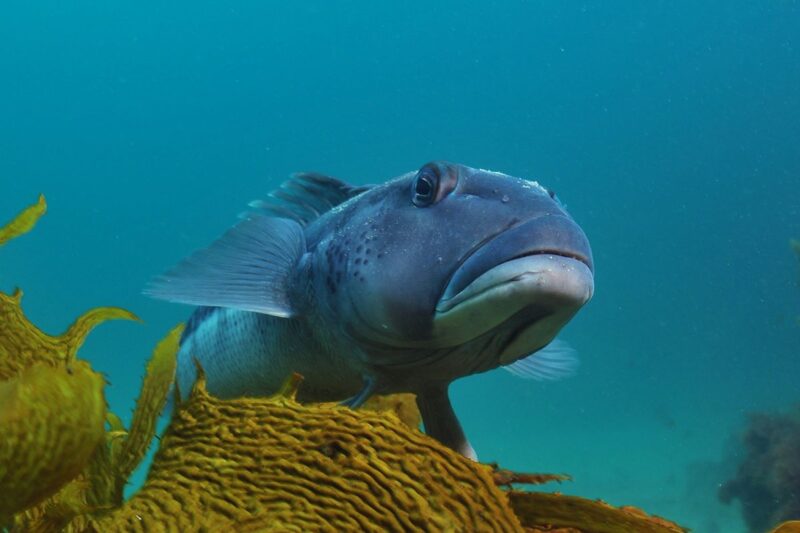 Final Thoughts on Northland
While Northland isn't a staple of many New Zealand itineraries, there is a huge amount to see and do in the region. During the summer months, you can take your pick of beaches, secluded coves, and stunning bush hikes.
With a strong cultural identity, traveling through Northland is a great way to learn more about New Zealand history. And, as always, there are pretty towns, good food, and the occasional winery to break up your trip.
More Around the North Island of New Zealand
---
>>> BIO
Roxanne de Bruyn is a writer who has traveled extensively throughout New Zealand and writes about her travels on her website Faraway Worlds. She especially enjoys isolated spots, road trips, and good food and wine. Originally from South Africa, Roxanne is now based in Auckland and usually travels with her husband and young son.
---
---
>>> EVEN MORE ABOUT TRAVELING NEW ZEALAND <<<
Work & Travel New Zealand: Get a Working Holiday Visa for New Zealand
A 5-Day Queenstown Itinerary For the Intrepid (New Zealand)
New Zealand Road Trip Itinerary—2 Weeks to 2 Months + Costs and Tips
20+ Day New Zealand South Island Road Trip Itinerary
50+ of the Best Hikes in New Zealand & Hiking Tips
Campervan Sites in New Zealand + Camping and Food Tips
Campervanning New Zealand: Buying, Selling, Renovating, and Tips
New Zealand Travel Tips + A Budget Breakdown
A Guide to Hiking The Kepler Track in Fiordland National Park, New Zealand
5 Epic Hikes in Mount Cook National Park That Are TOTALLY Worth It (New Zealand)
A Guide to Hiking French Ridge Hut in Aspiring National Park (New Zealand)
A Guide to Hiking the Mueller Hut Track & What to Pack (New Zealand)
Hooker Valley Track: The Easiest & Most Beautiful Hike in Mount Cook NP (New Zealand)
Guide to the Routeburn Track: Should You Do It as a Day Hike? (New Zealand)
5 Things to Know about Milford Sound, How to See It and Is It Worth It? (New Zealand)
Hiking Roy's Peak & How to NOT to Wait in Line For A Pic (New Zealand)
An Adventurer's Guide to Exploring Lake Tekapo, New Zealand
4 Easy But Beautiful Walks Around Dunedin, New Zealand
11 Things to Do in The Catlins in 2 Days (New Zealand)
A Guide to Exploring The Cave Stream Scenic Reserve (New Zealand)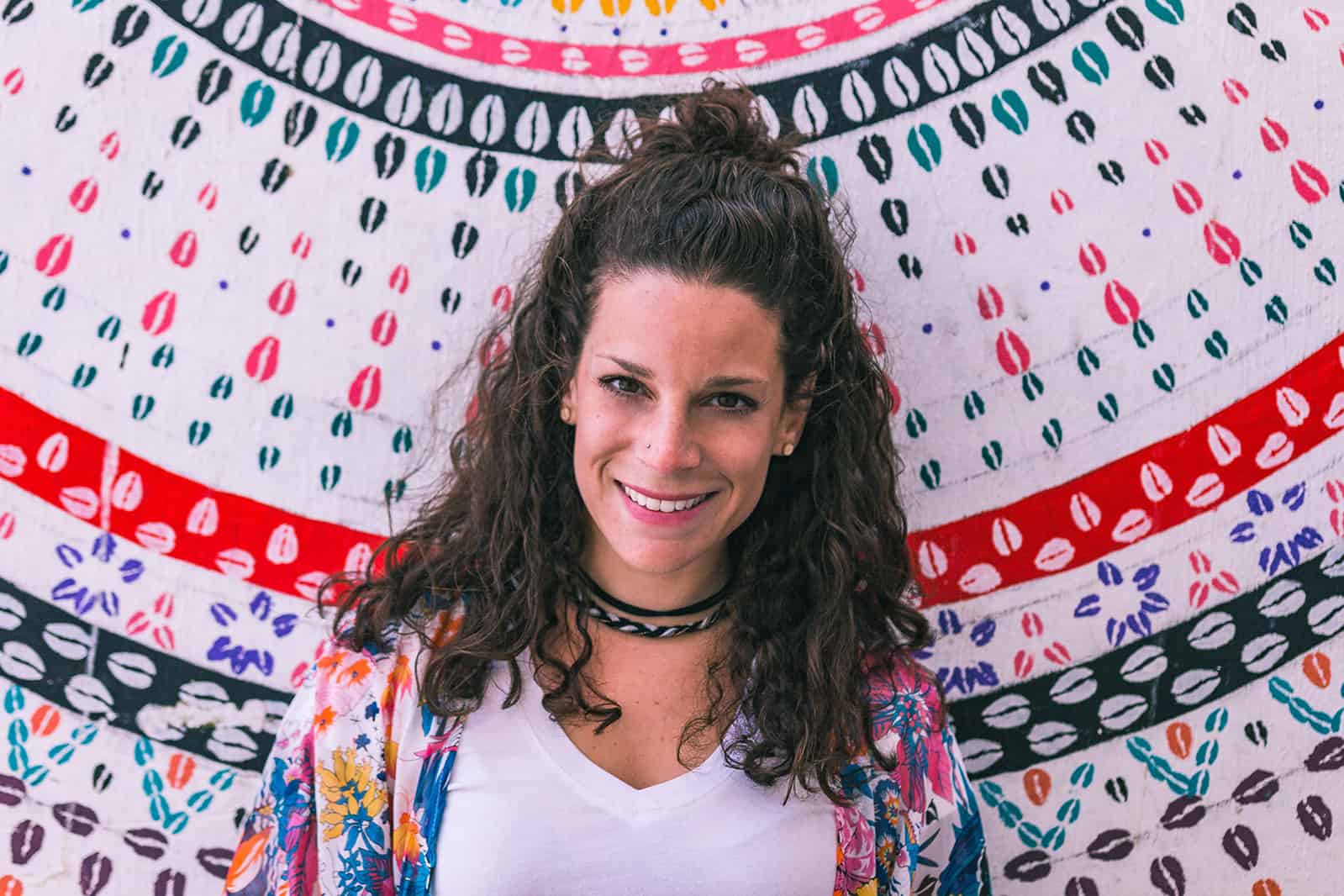 Nina Ragusa is an adventurer, messy bun master, breakfast fan, and full-time travel blogger. She's been abroad since 2011 and blogging on Where in the World is Nina? for nearly as long. Nina helps people like you move around the world while making money. She loves talking about how to work abroad and online to travel longer!