Choosing the best travel backpack for women is no easy feat.
There are packs for backpacking, hiking, working, and more, and finding the right match is essential. After all, you don't want to spend a big wad of cash on a bag that's too small, too big, or unsuitable for your lifestyle.
There are thousands of variations to wade through, but lucky for you, I've done most of the heavy lifting. Through trial and error of 11+ years living out of a backpack, I know a thing or two about what makes a good bag.
Here are some of the very best travel backpacks for women.
Best Travel Backpacks for Women
---
One of the biggest mistakes I made when I first went abroad was buying cheap luggage and backpacks. Within a few months, my bags were quite literally hanging on by a thread!
My back hurt, my stuff was constantly on the verge of spilling out of the cheap zippers, and I was in a constant state of anxiety, thinking my stuff was about to explode out of my backpack in the middle of the street.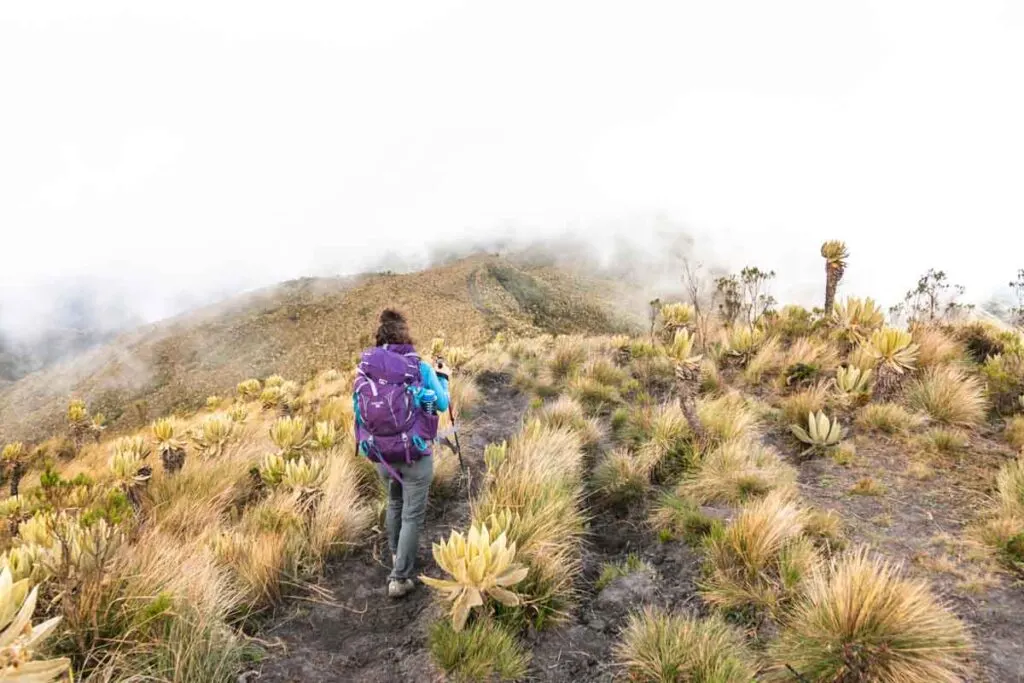 This is no way to travel, trust me. To make matters worse, once I was abroad, I had difficulty finding a decent-quality backpack, so I was forced to buy MORE crappy cheap backpacks. After all, was said and done, I could have just spent the money on a good travel backpack for myself and avoided a lot of drama.
So—lesson learned, DON'T BE LIKE ME! Get yourself a proper travel backpack for women before jetting off. Depending on what you're looking for, I have a travel backpack for every single occasion.
In fact, you might find yourself buying two of the backpacks on this list. When I'm backpacking, I always use two. A smaller one for my personal items and electronics, and a larger one for my clothes and other items.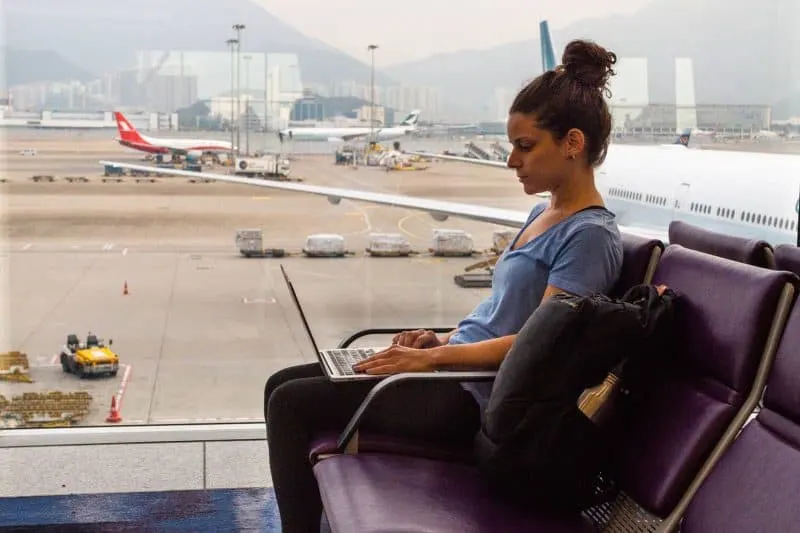 Some of you might be suitcase-only girly, and I respect that! I am, too, depending on how and where I'm traveling. So you might only be interested in some of the carry-on backpacks for women here so you can carry some personal items for yourself. Or maybe you just need a small city backpack! Either way, every single travel backpack option you can want is right here.
Best Travel Backpacks for Women
Here's the quick list of all of my favorite travel backpacks for women, no matter the occasion.
1. Best Backpacking Backpack | Osprey Aura AG 50
Osprey has probably shown up in your search if you've spent any time researching the best travel backpacks for women. And that's because this brand consistently comes out on top in terms of quality, comfort, and performance.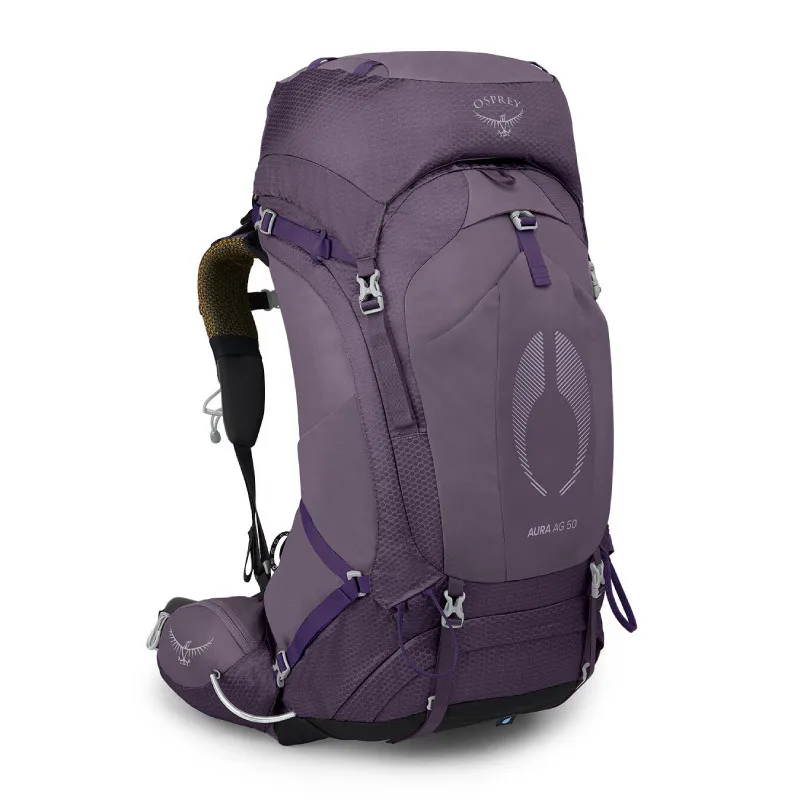 The AG is one of their newer models, and the Aura is built explicitly for women. Featuring improved storage, a weight-relieving fit, and tons of ventilation throughout, even the longest days of carrying your pack are a breeze.
The Aura AG features Osprey's AntiGravity suspension system, which hugs your back and hips tight (but with plenty of padding) to give you a snug yet comfortable fit. There are also plenty of pockets, which makes organization easy for even the messiest hostel goers.
This Travel Backpack is PERFECT for:
This is EXACTLY what I'd use for backpacking Europe or Southeast Asia or anywhere really! This is going to fit everything you need. You'll probably need a smaller backpack for electronics and personal items, which I'll show you below.
Pros 😍
Patented AntiGravity suspension system
Comfy fit – perfect for extended backpacking adventures
Good ventilation
Made from recycled materials
Lifetime guarantee
Cons 😔
Bulky
Too big to be a carry-on
SHOP ON:
2. Best Anti-Theft Carry-On Backpack | Pacsafe Venturesafe EXP55
If you're traveling with lots of expensive gear, backpacking through big cities, or simply don't want to run the risk of being robbed, the Pacsafe Venturesafe EXP55 is your best bet.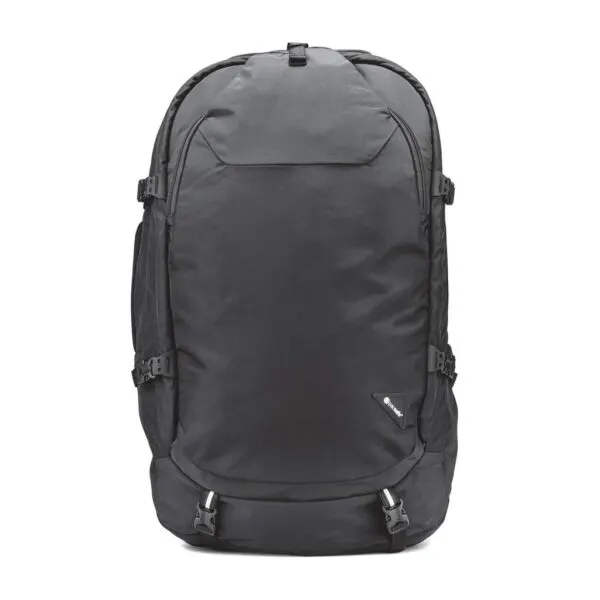 There are numerous features to prevent theft, including a deluxe locking system, puncture-resistant zippers, a stainless steel locking cable, and the eXomesh slash guard technology to prevent cut-and-runs.
The EXP55 also has tons of space and plenty of pockets to keep you organized during your travels. The comfort features of this bag are often overshadowed by the safety specs, but rest assured, this travel backpack for women will take it easy on your back.
An ergonomic internal frame, an adjustable padded hip belt, and back harness, and compression straps keep everything compact and in place.
This Travel Backpack is PERFECT for:
If you're a simple traveler, you could probably fit a whole week's worth of stuff in this bag and just do laundry. This is for the carry-on traveler OR a person who wants to bring some stuff in a carry-on while they check in their main bag (this is me!).
Pros 😍
Tons of great safety features
Made with high-quality, durable materials
Good organization system
Cons 😔
Can be uncomfortable if overpacked
On the expensive side
Heavy
SHOP ON:
3. Best Hiking Backpack for Women | Osprey Kyte 46
You don't want to be distracted by a bulky bag when you're hiking. Enter the Osprey Kyte 46 – one of the best travel backpacks for women on the trail.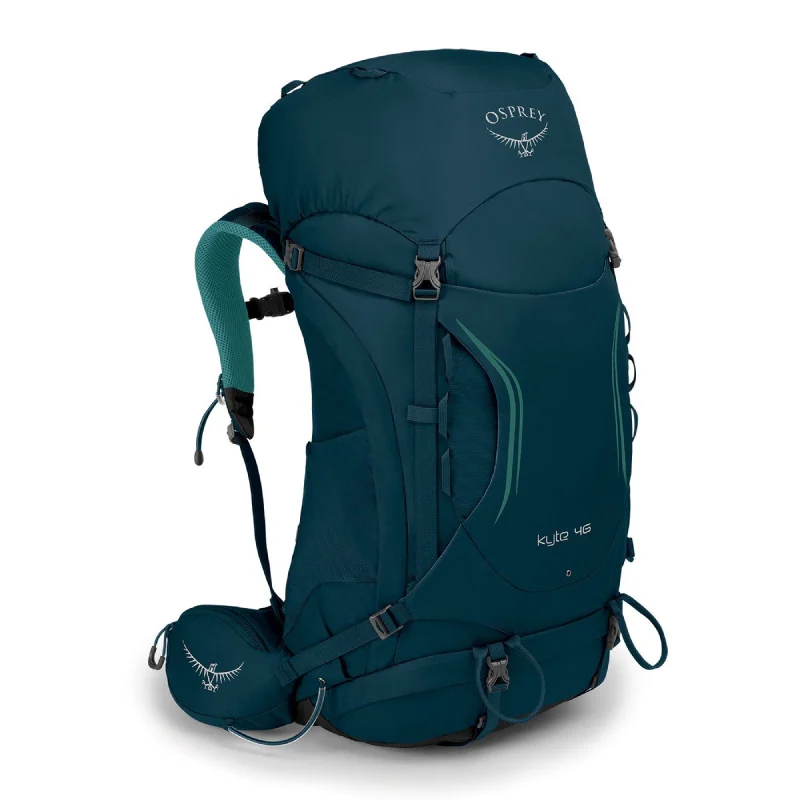 Its small composition and lightweight frame allow you to avoid the pain that usually comes with lugging a hiking backpack so you can focus on your beautiful surroundings rather than your aching back. There is also a padded and adjustable hip strap and shoulder pads to give you a perfect fit.
Comfort is only part of the charm of the Kyte 46 – there's also tons of space for all your gear. You can attach sleeping mats, ice tools, hiking poles, and more with the external straps and mounts, and there are nylon-reinforced water bottle pockets and an external liquid compartment to keep you hydrated as you hike.
This Travel Backpack is PERFECT for:
This is the perfect travel backpacking backpack for adventurers. If you plan on doing a few camping trips or multi-day hikes while exploring the world, this is the backpack to grab. You can fit everything you need and not kill your back while hiking volcanoes and mountains!
Pros 😍
Small and compact
Lifetime guarantee
Built-in rain cover
External attachments for trekking poles, sleeping gear, ice tool mounts, and more
Cons 😔
May not be big enough for long, multi-day hikes
Not a great selection of colors
SHOP ON:
4. Best Hiking Day Pack | Osprey Tempest 20 Pack
This Osprey design is one of the most versatile hiking models available to date. The 18-20L capacity (depending on which size you need) makes it an ideal choice for a hiking daypack, but it can also be used regularly as a school bag or for urban commutes.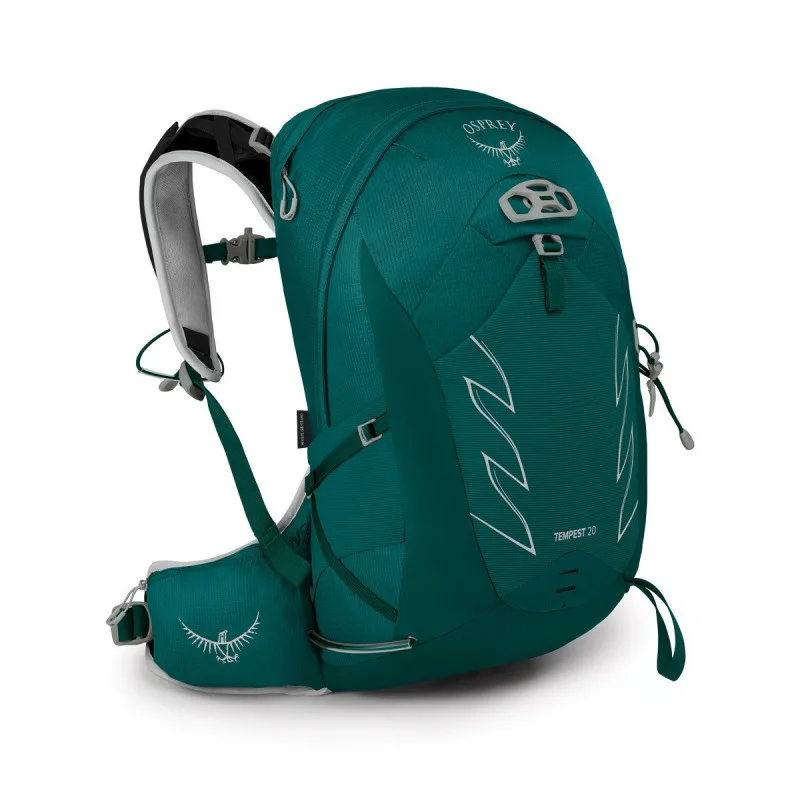 We see the Osprey Tempest on trails more than any other because of its high durability, which can be credited to the 420HD nylon along the bottom of the pack, which builds tear resistance.
The biostretch harness and injection-molded Airscape back panel come together to create a snug fit that is not constrictive due to excellent ventilation keeping the backpacker cool throughout long treks.
Additionally, this is one of the best travel daypacks since it comes with many multi-sport features, such as the LidLock system, which allows for helmet attachment, zippered hip belts, a hydration sleeve, and compartments to provide organized storage space.
The Osprey Tempest is a great buy; customers love its simple design and lightweight (less than 2 pounds).
This Travel Backpack is PERFECT for:
You might want to pair this bag with either a checked-in backpack from above or a suitcase. This is for the adventurer who is hiking and exploring all day but doesn't need a massive backpack. This is a perfect carry-on and personal backpack for any trip you have planned.
Pros 😍
Lightweight (under 2lbs)
Organized storage space
Made with durable, high-quality materials
Lifetime guarantee
Adjustable torso
Cons 😔
Small reservoir sleeve
No rain cover included
Hip straps may not fit all users comfortably
SHOP ON:
5. Best Travel Backpack with Wheels | Osprey Fairview 36 Wheeled Travel Pack
Let's be honest. Lugging a backpack through a big city isn't always the most enjoyable way to travel. Wheeled luggage that doubles as a backpack, like the women's Osprey Fairview, is the answer.
The Fairview model features a stowable mesh back panel with padded shoulder straps and hip harness and straight jacket compression straps that allow you to secure your load.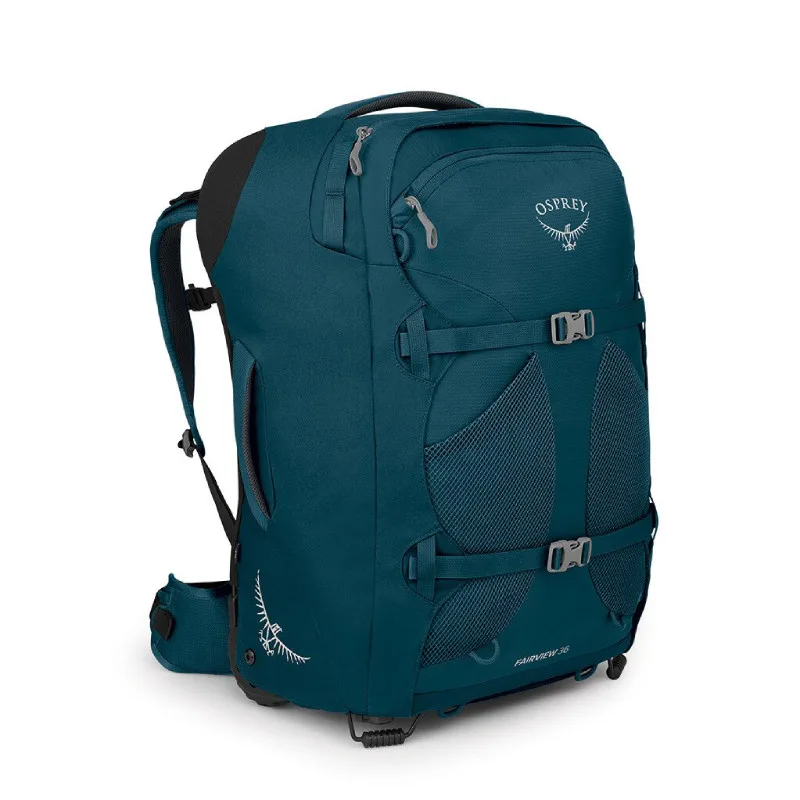 Rolling it along is easy since it has a high clearance, oversized 90mm wheels, and an ergonomic dual rod retractable handle. Thanks to its Highroad chassis and high-tenacity nylon construction, you won't have any problems with durability.
The Fairview comes into its own when you need to use it as a backpack for extended periods, as the comfortable design is superior to other rolling carry-on backpacks.
Inside the open space main compartment, you will find plenty of room to store your clothes and other items. There's also a front mesh pocket, plus external attachment points for compatible daypacks.
This Travel Backpack is PERFECT for:
This is for my backpack-wearing girlies who need to give their backs a break every once in a while! You'll love this bag while exploring places like Southeast Asia, where you need to wear your bag out to a boat in the water, and then when you get to the airport, you can roll it. It's great having both options.
This is, again, something that can be paired with another larger bag if you're an over-packer (like me).
Pros 😍
Meets carry-on restrictions for most airlines
Versatile – wheel it or carry it
More comfortable than most wheeled backpacks
Spacious
Made with durable, high-quality materials
Cons 😔
Heavy
Awkward shape
Conversion can be time consuming
SHOP ON:
6. Best Camera Backpack for Women | WANDRD PRVKE
The WANDRD PRVKE is the ideal photography travel backpack for women. The improved design focuses on comfort and function, giving wearers a superior experience from start to finish.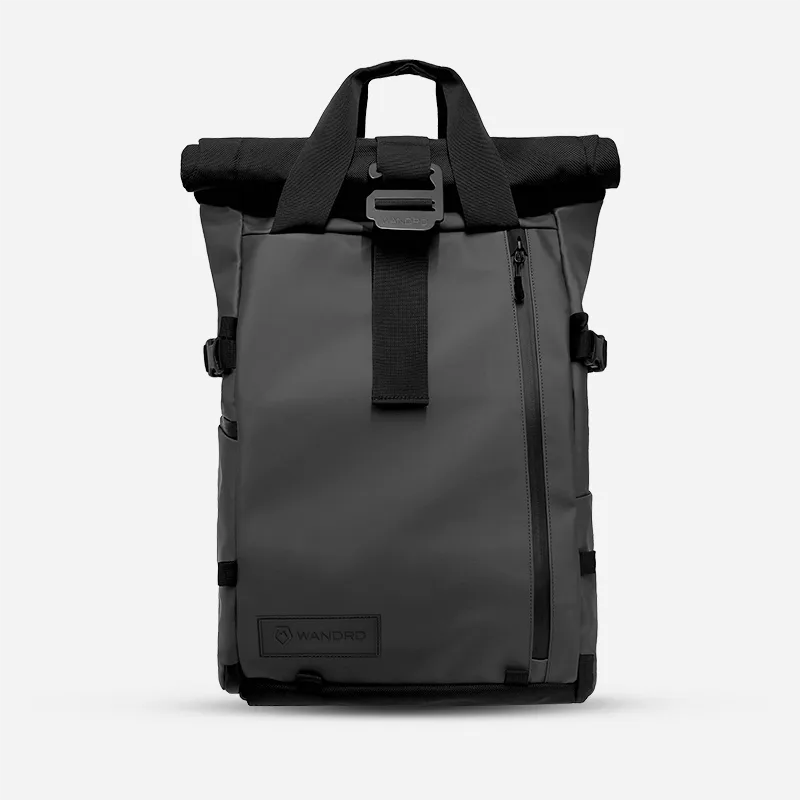 The padded shoulder straps and back panel protect users from backaches, and the new shape hugs comfortably against all body types.
The outside is made with durable, weather-resistant materials like tarpaulin and ballistic nylon, giving users with expensive equipment extra peace of mind in not-so-ideal conditions.
The inside organization in the PRVKE stands out amongst competitors, with a separate laptop compartment for easy access, a secure passport pocket, and an optional camera cube built to fit perfectly in the main compartment.
This Travel Backpack is PERFECT for:
This bag is EVERYTHING—it's the perfect carry-on. And if you're lugging around electronics and cameras, you'd be hard-pressed to find a better bag to keep your stuff safe and padded while also being cute, convenient, and functional.
Pros 😍
Stylish design and various color options
Different size options
Great organization
Comfortable
Compact
Cons 😔
Camera storage cube not included
Heavy when fully packed
Interior material is not very flexible
SHOP ON:
7. Best Daypack Backpack | REI Ruckpack 28
For short excursions on a longer backpacking trip, there's no better travel backpack for women than the REI Ruckpack 28. This eco-friendly bag is made with recycled materials and is excellent for low-budget travelers.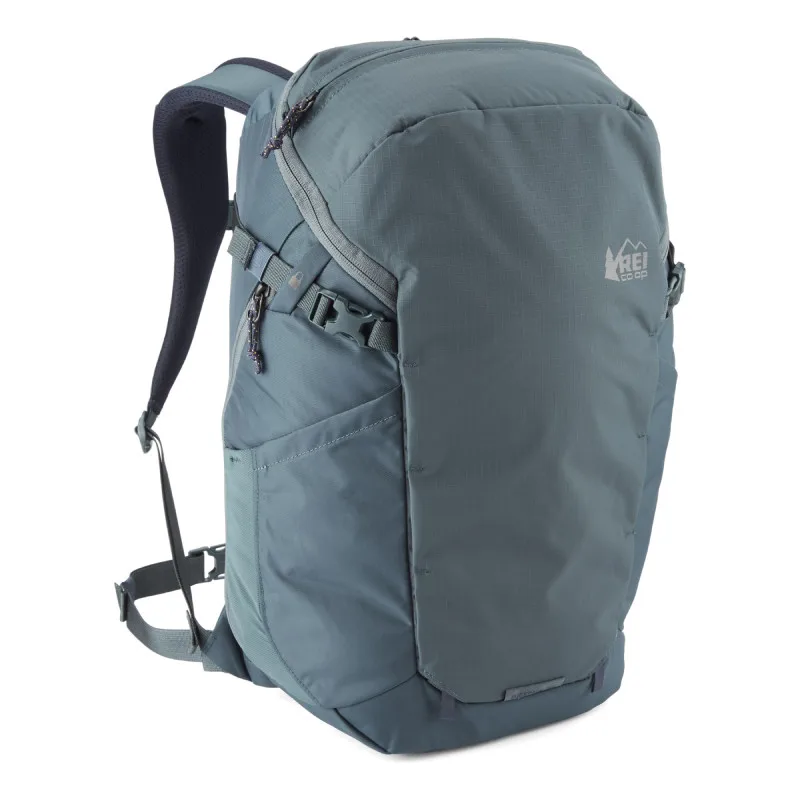 In addition, it's designed specifically for women. The shaped harness straps sit comfortably around the chest area, and the sternum strap buckle has a built-in survival whistle to keep you safe.
The inside of the pack is roomy enough for all your day-trip essentials, with various pockets for organized storage. A laptop sleeve is included, but it lacks the padding to make it truly useful.
This Travel Backpack is PERFECT for:
This cute and simple backpack is perfect for most trips for those who want a bag with them on the plane or bus. You can shove a lot in this small bag, and it's perfect for bringing everything you'd need for the day. Pair this with a suitcase or a backpacking backpack and you're packed and ready to go!
Pros 😍
Great price
Meets carry-on restrictions for most airlines
Designed to fit women
Made with recycled materials
Rain cover included
Cons 😔
Hip straps are not padded
Bottom of the pack and laptop sleeve is not padded
Material is not waterproof
SHOP ON:
8. Best Cute & Functional Backpack for Women | Travelon Anti-theft Classic Backpack
Another excellent travel backpack for women, the Travelon Anti-theft Classic, ensures maximum protection against petty thieves.
A locking strap allows you to attach the bag to a stationary weight, discouraging grab-and-go thieves. In addition, the slash-resistant body and steel cable-reinforced straps protect you from cut-and-run thieves.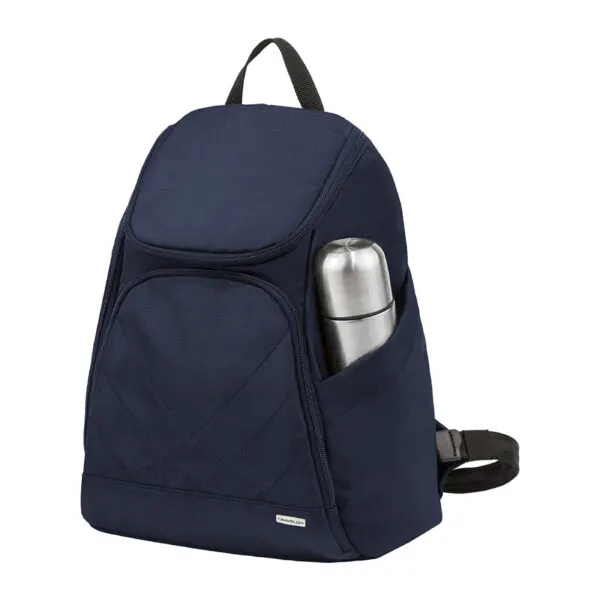 The Travelon Classic Backpack contains RFID-blocking pockets for passport and ID cards. This is one of the best travel backpacks for women in terms of anti-theft features.
It is highly recommended because, in addition to the aforementioned features, it is also lightweight, roomy, and well-constructed.
This Travel Backpack is PERFECT for:
Strutting along the cities of Spain to Mexico City to Bangkok, this is a great functional backpack that looks good while keeping all your valuables safely locked away. I'd wear this around the world! If you don't need to carry a lot around for the day while exploring, like a large camera or laptop, this is the bag for you!
Pros 😍
Compact yet roomy
Adjustable shoulder straps
Good safety features
Affordable
Lightweight
Cons 😔
Zippers tend to get sticky (stuck)
Small opening
May not be big enough for longer trips
SHOP ON:
9. Best Digital Nomad Backpack | Pacsafe Venturesafe EXP 35 Anti-Theft Backpack
If you plan on working while you travel, you'll need a pack with space for your laptop, essentials like clothes and chargers, and any souvenirs you find along the way. Look no further – Pacsafe's Venturesafe EXP 35 is the perfect match.
The aluminum frame and removable hip straps make this bag great for backpacking, and the laptop and tablet sleeves are padded to keep your on-the-go office safe. There are also tons of awesome anti-theft features, including slashguard straps and eXomesh, RFIDsafe blocking material, and lockable zippers.
The Venturesafe is a versatile bag that can be used for travel, trips to the office, or as a diaper bag.
This Travel Backpack is PERFECT for:
I swear by Pacsafe anti-theft bags. I am obsessed, and they are truly the best travel backpack for women who are digital nomads. This bag will fit all your electronics plus some, just pair it with another backpacking backpack or a suitcase!
Pros 😍
Meets carry-on restrictions for most airlines
Laptop and tablet storage compartments
Anti-theft technology
Multiple pockets for easy organization
Made with high-quality, durable materials
Cons 😔
The laptop sleeve is hard to access when the bag is fully packed
Not as spacious as other backpacking packs
SHOP ON:
10. Best City Commuter Backpack | Aer City Pack
Need a pack to get you to and from the office? The Aer City Pack is the perfect everyday backpack for commuting. Multiple pockets keep you organized, including a padded laptop pocket and a quick-access top pocket with soft lining for your phone or sunglasses.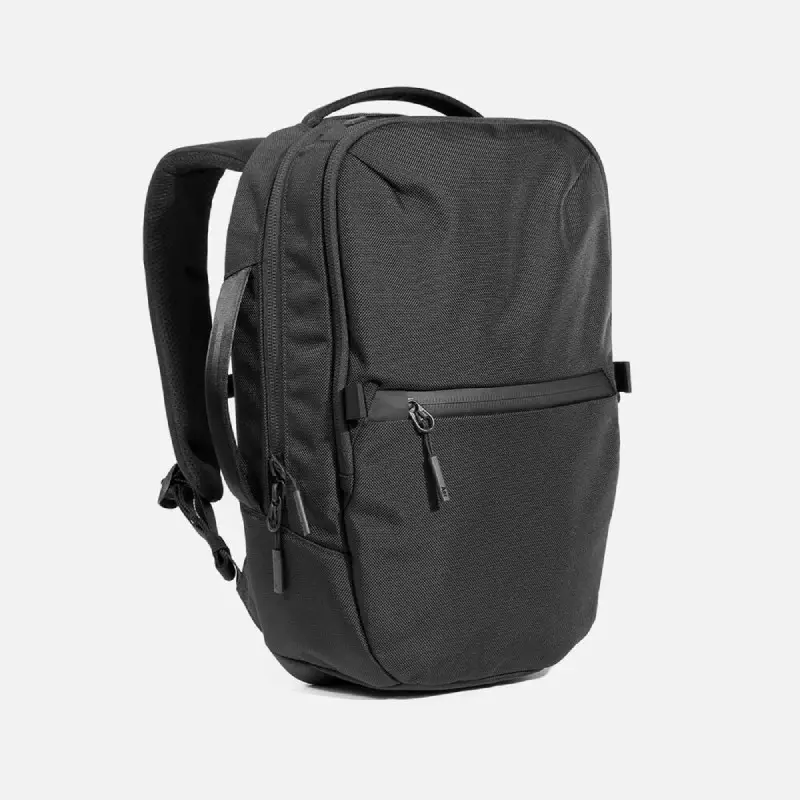 The outside of the bag is made with durable ballistic nylon, which helps protect your gear from the elements. The padded shoulder straps and the contoured back keep you comfortable on long walks or bike rides through the city.
This Travel Backpack is PERFECT for:
This is for the sleek and simple traveler. You can't go wrong with this one. It could fit under your seat, and you could easily grab another carry-on to fit in the overhead and make your trip a carry-on-only trip!
Pros 😍
Water-resistant exterior
Smart tracker pocket (compatible with AirTags and Tile trackers)
Multiple pockets for easy organization
Small and compact
Cons 😔
May be a bit small to use as a travel backpack
Verticle luggage strap is cumbersome
SHOP ON:
11. Best Laptop-friendly Backpack | The North Face Borealis
Look no further if you're on the hunt for the best carry-on travel backpack for women to keep your laptop safe. The North Face Borealis is a trendy backpack amongst students and casual travelers due to its comfort, resilience, and ability to easily store a 15" laptop.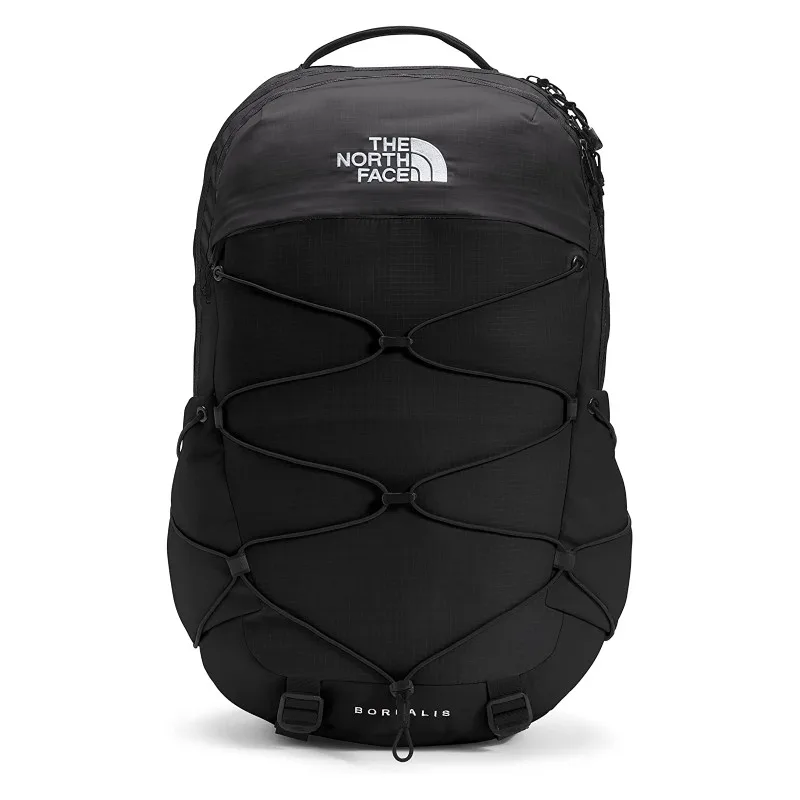 Accessing your laptop and placing it back while moving through security is a cinch, thanks to the padded interior laptop sleeve.
There are three compartments, a large one, a medium one with extra pockets for organizing your items, and a small one for keys, wallets, passports, etc. The cords on the front can hold a jacket or hoodie while traveling, and the side pockets are perfect for bottles or an umbrella.
This Travel Backpack is PERFECT for:
If laptop is life, this is the bag for you. You can easily fit all your hard drives and other gadgets. All you need is another carry-on bag or check in a backpacking backpack or suitcase!
Pros 😍
TONS of color options
Separate laptop compartment for easy access
Affordable
Flex Vent technology for comfortable, ventilated support
Meets carry-on restrictions for most airlines
Cons 😔
Water-resistant, but not waterproof. May not be the best for hiking in rain.
Awkward shape when over-packed
SHOP ON:
12. Best 2-in-1 Travel Backpack for Women | Osprey Ariel Plus 60
This women's travel backpack is useful for people looking for a daypack combined with a larger bag to carry enough gear for a more extended getaway. The Ariel Plus can carry tons of gear or clothing, and the numerous pockets make it easy to stay organized.
The molded foam back panel is a great feature, which provides a comfortable and breathable fit. The compression straps come in handy to keep your backpack compact even with heavy loads.
Perhaps the highlight of this carry-on backpack for women is the detachable daypack which essentially makes this back a two-in-one. Simply detach the day pack for a day exploring the city with just your necessities or reattach it for moving around the airport.
The top compartment can also be removed and used as a fanny pack, making the Ariel one of the most versatile packs out there.
This backpack is popular with travelers and hikers because it is very comfortable and has plenty of storage space for various necessities.
This Travel Backpack is PERFECT for:
This is one of my favorite travel backpacks for women because it's ALL the bags you need/want in one. Enough said!
Pros 😍
Removable day pack and fanny pack
Adjustable Airscape back panel for a form-hugging and breathable fit
Designed specifically for women
Tons of space and multiple pockets
Lifetime guarantee
Cons 😔
Can get heavy when fully loaded
Too big for most carry-on restrictions
SHOP ON:
13. Best Weekender Travel Backpack for Women | Pacsafe Venturesafe EXP 45
Looking for the best travel backpack for women that will prevent thieves and pickpockets from making off with your expensive equipment or all your worldly possessions? More importantly, do you need something that's pretty much like a suitcase but needs to be in carry-on and backpack form?
Then the Pacsafe EXP45 is the best choice, hands down!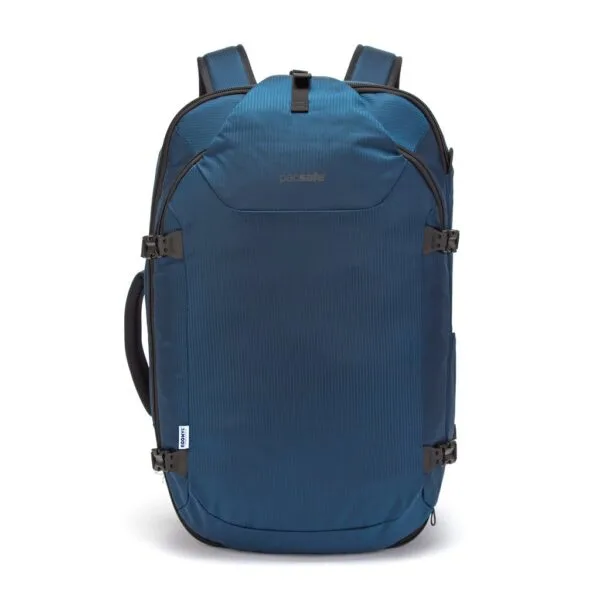 The laptop sleeve can hold a 15" MacBook, while the center is large and roomy. This bag opens just like a suitcase would, and yes, you can almost fit a suitcase's worth of stuff in here.
It's massive and very accommodating for that random stuff you insist on bringing with you. I'm not sure there's a carry-on backpack as large as this one while still complying with all the rules!
In addition, you'll be safe from 'scan and scam' artists thanks to the RFID-blocking construction of the pockets. The eXomesh material and smart zips keep your items safe from would-be thieves, and you can anchor your bag to a secure fixture with the metal security rope.
This Travel Backpack is PERFECT for:
I'm an over-packer, and this travel backpack for women fits all of my "overage" every time. Of course, for normal people, this is the perfect weekend trip bag or carry-on backpack with a checked-in suitcase.
Pros 😍
Tons of anti-theft security features
Spacious yet compact
Meets carry-on restrictions for most airlines
Suitcase-style main compartment
Cons 😔
Minimal padding on shoulder and hip straps
Hard to access the main compartment on the fly
SHOP ON:
14. Lightest Daypack | Deuter Speed Lite 20 Hiking Daypack
Minimalistic in design and purpose, the Speed Lite 20 provides maximum comfort and excellent ventilation to those seeking adventure.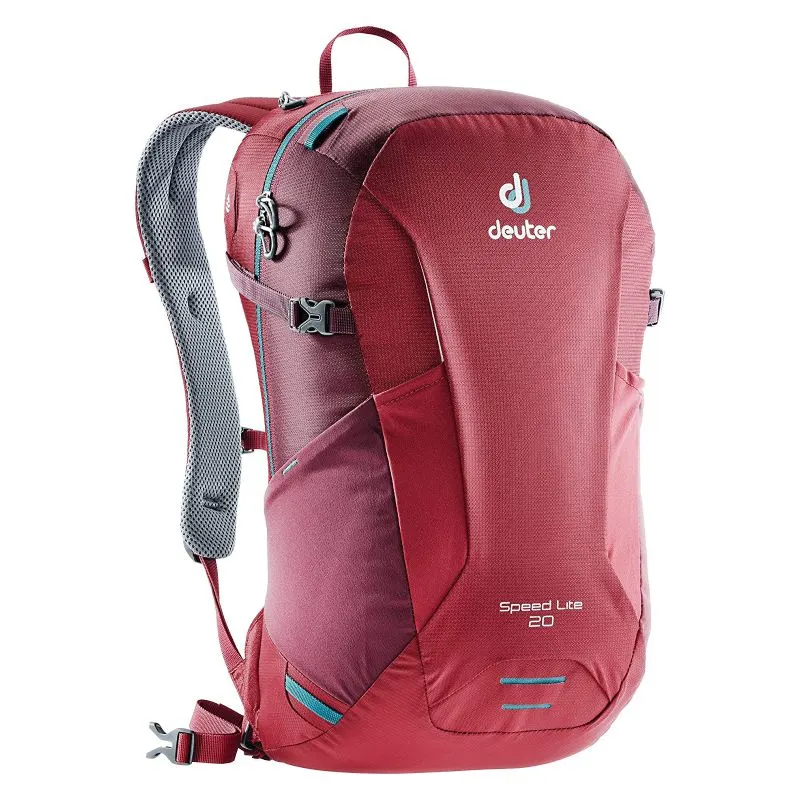 This pack was made for the mountains, with glove-friendly reinforced zipper loops, a flashing light holder and 3D reflector, and an elastic inner compartment to store wet clothes.
The streamlined design and lite back system made of 3D air mesh are perfect for endurance sports, and added features such as accessory loops and stretchy side water pockets only add to the pack's convenience.
In addition to being ergonomic and adjustable, this is one of the best travel backpacks for women as it is extremely durable and comes with a limited lifetime warranty.
This Travel Backpack is PERFECT for:
If you're worried about weight, this is the backpack for you! Lightweight and easy to stuff all the necessities and nothing more. Pair this with another backpacking backpack or suitcase, or you could even grab another carry-on cabin-sized bag and just go carry-on-only!
Pros 😍
Light, sturdy, and compact
Can be used as a carry-on or easily packed in checked luggage
Adjustable straps make it easy to find the perfect fit
Multiple color options
Limited lifetime warranty
Cons 😔
Small fit may look a bit funny on larger users
Rain cover not included
SHOP ON:
15. Best Waterproof Backpack | Exped Typhoon 15 Pack
Are you the type of traveler who puts your daypack through it? The Exped Typhoon 15 Pack can handle whatever you throw at it thanks to its waterproof liner, factory-taped seams, and durable, ripstop nylon exterior.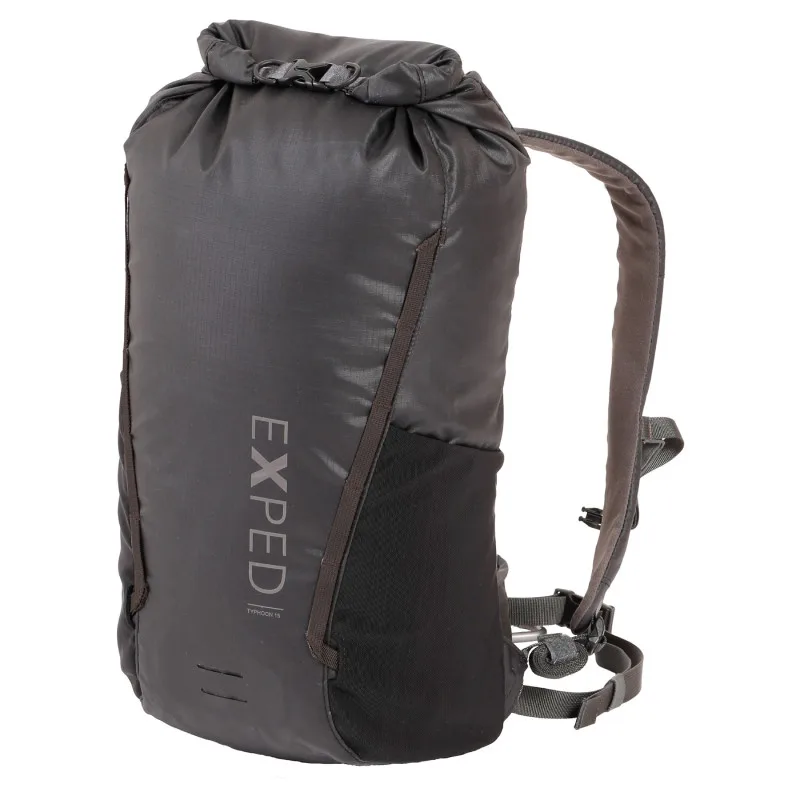 Whether hiking through misty mountains, spending the day on a kayak, or biking in the rain, the Exped Typhoon 15 will protect all your goods from the elements.
The bag is soft, and the padded back panel creates a comfy fit for long hikes. In addition to the 15L of interior space, the pack has two stretchy water bottle compartments and two daisy chains to attach any additional gear.
The small and compact design makes this pack a worthy companion on any adventure, especially if you're worried about your stuff getting wet.
This Travel Backpack is PERFECT for:
I love this travel backpack for women who are adventuring in the outdoors, perhaps on a diving trip or at the end of the rainy season. It's usable during any weather, but why not be prepared with the best bag in case you're faced with the worst weather? Pair it with another backpack or a checked-in suitcase.
Pros 😍
100% waterproof
Lightweight
Small and compact design, perfect for short adventures
Made with durable, high-quality materials
Curved straps to fit women comfortably
Cons 😔
Works great as a daypack, but it's a bit small for backpacking
Top access only – no side entry
No frame to help with weight distribution
SHOP ON:
16. Best Packable Backpack | Outlander Outdoor Backpack
The Outlander Outdoor Backpack packs well above its weight with the capacity to hold 33L while weighing under 0.5 Lbs. Constructed of high-quality rip-proof nylon, the hiking daypack is water-resistant, durable, and perfect for use in all weather.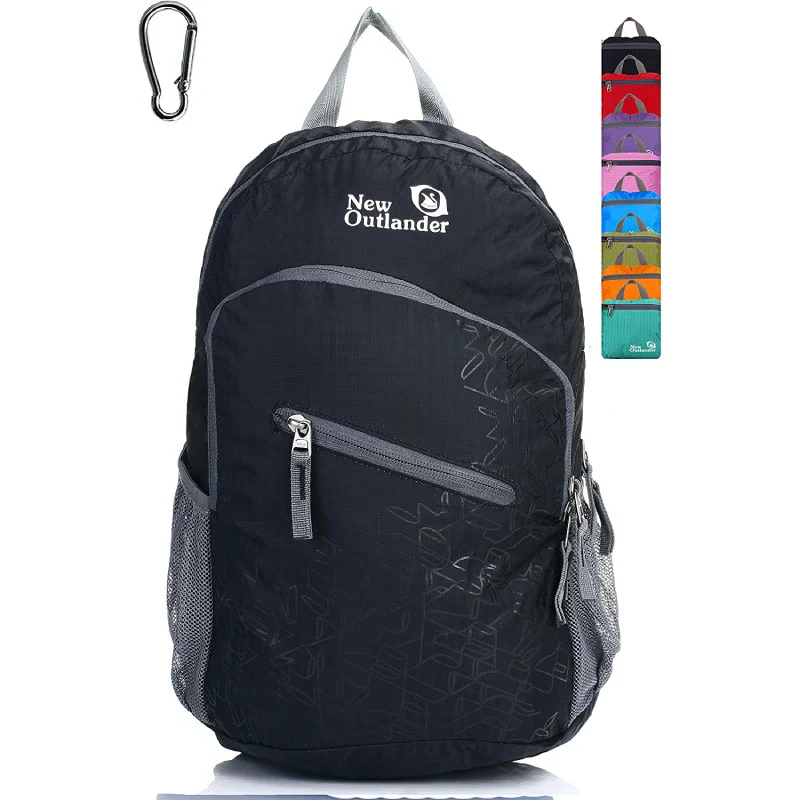 Additionally, stress points have been reinforced with bar tacking for increased longevity. Outlander has also used durable 2-way, Abrasion Resistant SBS Metal Zippers across the backpack to prevent breakages. This packable daypack has multiple compartments for storage and can fold into its pocket, so it's very convenient for travel.
This Travel Backpack is PERFECT for:
I often bring this one traveling with me when I know I'll need a quick bag to throw some extra clothes in, a bag to use for gifts for family and friends, and even for groceries. It holds SO much more than you think it would, and I'm surprised how durable it is, considering it's such a lightweight and packable daypack.
You'll get to pack this away in your suitcase or regular backpack; I wouldn't use this for long days either as the support is a bit weak for long-term wearing.
Pros 😍
SUPER affordable
Wide range of color options
Lightweight (less than .5 lbs)
Folds up small for easy packability
Spacious
Cons 😔
Awkward shape when overpacked
No frame or hip straps to help with weight distribution
Lack of padding and back panel – not super comfortable to wear when it's packed to the brim
SHOP ON:
What's My Choice on These Travel Backpacks for Women?
This is a hard one to answer because of a few reasons:
I literally live out of my bags
I'm not going on quick trips very often. I live on the road
It totally depends on where I'm going and what I'm doing.
I know, I know, not what you want to hear if you just want my personal opinion, but I won't leave you hanging. This set up below is my standard for almost anywhere!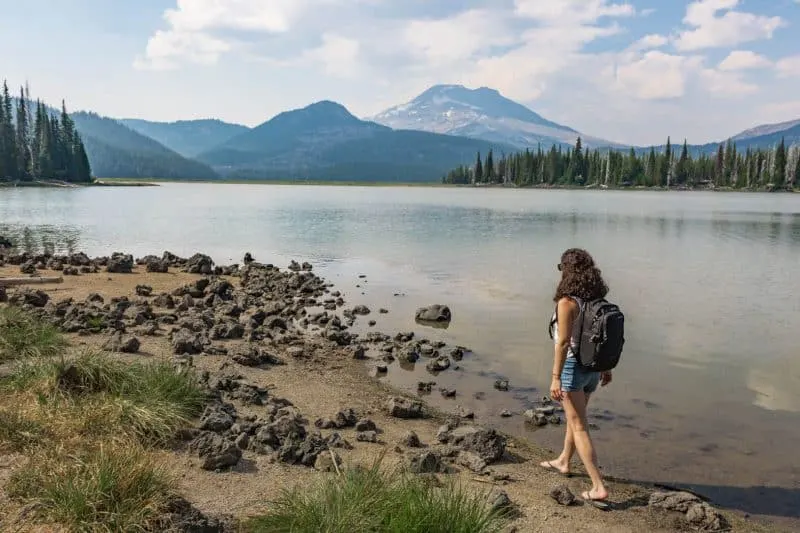 I'd suggest you either bring the Osprey Ariel Plus 60 OR something like the Osprey Aura AG 50 with a good electronics day bag like the Pacsafe Venturesafe EXP 35 Anti-Theft Backpack if you're like me and need a really good separate electronics bag.
Otherwise, I'm using my Pacsafe Venturesafe EXP 35 Anti-Theft Backpack as my carry-on electronics and personal bag and checking in a hard-shell suitcase. Again, I live out of a bag so I'm rarely ever a carry-on-only traveler.
This is usually my setup. I use the Travelon Anti-theft Classic Backpack if I know I'm going to wander cities more, as a regular purse often just doesn't cut it for me. And I always bring my Outlander Outdoor Backpack because it packs up to nothing and is my grocery bag plus an "emergency extra" travel backpack.
I really hoped this helped you choose a good travel backpack for yourself!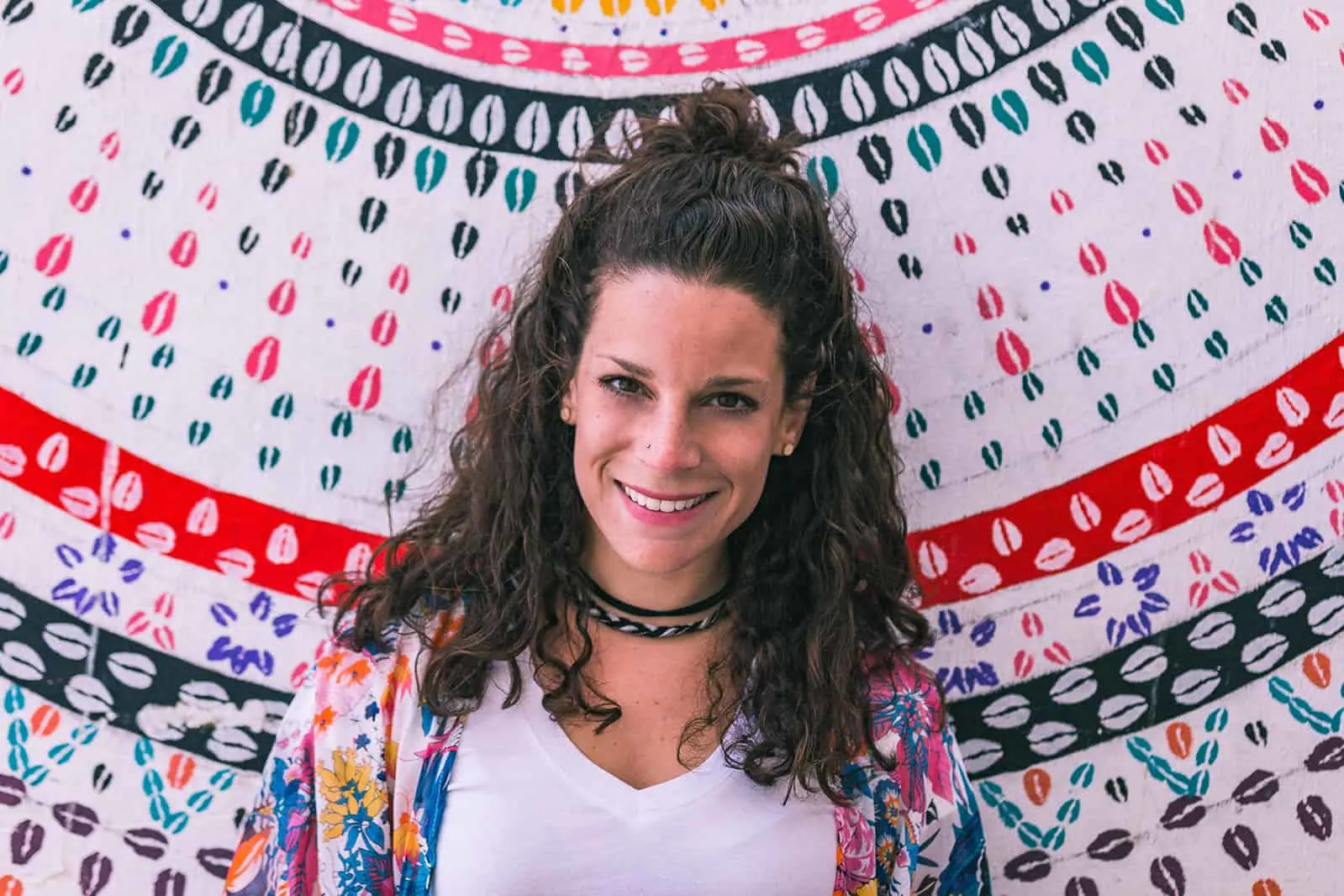 Nina Ragusa is an adventurer, messy bun master, breakfast fan, and full-time travel blogger. She's been abroad since 2011 and blogging on Where in the World is Nina? for nearly as long. Nina helps people like you move around the world while making money. She loves talking about how to work abroad and online to travel longer!