UPDATED: 4/2017
Incredible karst formations, cerulean ocean water, and dramatic landscapes.
Krabi is a dream to explore and I've been lucky enough to call this place home.
Over the last few years of travel, I've spent a really good chunk of time in Krabi Town and the surroundings. In total, I've lived in the area a little over a year and have visited numerous times before and after. I'd say that I know Krabi pretty darn well!
Many say Krabi is touristy, and they aren't wrong. But hello, duh… There's a good reason why! Plus, it's not ALL touristy all the time…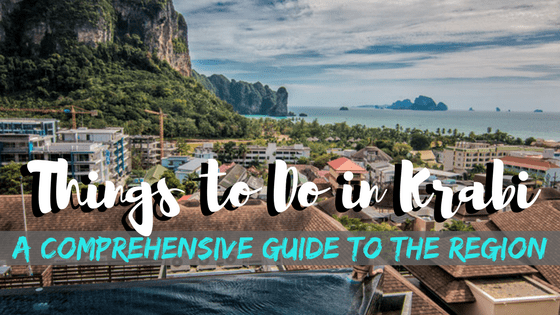 I feel like I could talk about Krabi for a real long time. I recommend it to everyone if they are in need of a beach getaway during their Thailand visit. This will be a pretty comprehensive Krabi guide but I've made further posts to other areas of interest so be sure to check those posts out for even more information on the region!
I have seen most of the places to visit in Krabi and many of the Krabi attractions so hopefully this guide will help you for your upcoming visit to Krabi
A Comprehensive Guide to Things to do in Krabi
Krabi Attractions
I know, you're wanting to know about Krabi beaches! Right? That has its own sections, if you're just in need of the beaches in Krabi, just scroll down. This section has all of the Krabi attractions for mainland Krabi. I'll include some major Islands down below as well.
Hiking Tup Keak
This place is SO epic. And… it's not that well know YET. This is still a relatively secret spot in Krabi.You're welcome! It's about an hour and a half on the way up and about an hour to come back down, add some time to enjoy once you reach the top. Time it accordingly. It would be best to either do this hike early in the morning or just in time to catch the sunset and then quickly get back down before it gets too dark. Midday hikes might result in you turning into a puddle. It's really hot. Luckily there is good tree cover but still, it's hot AF.
The views no matter what time of day are simply incredible. I've seen sunset, sunrise, and the mid-day sun here so there's no bad time to go, just the extra hot times to go. I've even camped overnight on the mountain top which was spectacular!
From up here, you can get that iconic shot that has you precariously perched on a jutting rock mere inches away from death and numerous look out points where you can see Tup Keak Beach all the way to Railay's cliff tops and more. It's insane.
Check out my friend's amazing video of the last time we went to Tup Keak and camped at the top! He is the same person who took these amazing pictures. Follow The Tanuri Experiment for more of his work.
Tiger Cave Temple
Manning Tiger Cave Temple is probably one of the most popular Krabi attractions and is a must on the things to do in Krabi list simply because everyone does it. However – I will say this is something I've done once and don't have a desire to do again. I'm not a fan of walking up stairs and going all the way 1,200+ steps is torture for me. BUT the views are worth it. And no, there's no tiger here unless you want to include the tiger statue.
Markets
Yep, you have to walk around the markets. I have more on the markets that I mention here in my Krabi food post, but walking around the many markets and stuffing your face is fun and should you be in need of something to take home or even new clothes, the markets all have that as well.
Kayaking in Krabi
Kayaking in Ao Nang and Ao Thalane are beautiful! Get up close and personal with that gorgeous limestone rock you see everywhere. Ao Thalane takes you through mangroves, a large lagoon, and then out into the ocean, beautiful! When kayaking in Ao Nang, go to the restaurants along the beach and walk until the end until you see the kayaks, rent them, and go out past the large rocks on the left side of the bay. There's a small beach to rest at there with views of Railay and Tonsai in the distance.
Ao Luk
Small waterfalls and cave exploring is what's out here. It will make a nice half day trip and would be ideal if you can drive yourself as public transport is a bit slim to this spot. You can take a little boat (or kayak) on the canals and explore the caves that apparently have "ancient" writing on them. Yeah, not so sure about that but it's still fun and the park has some nice lagoons and waterfalls to frolic around in.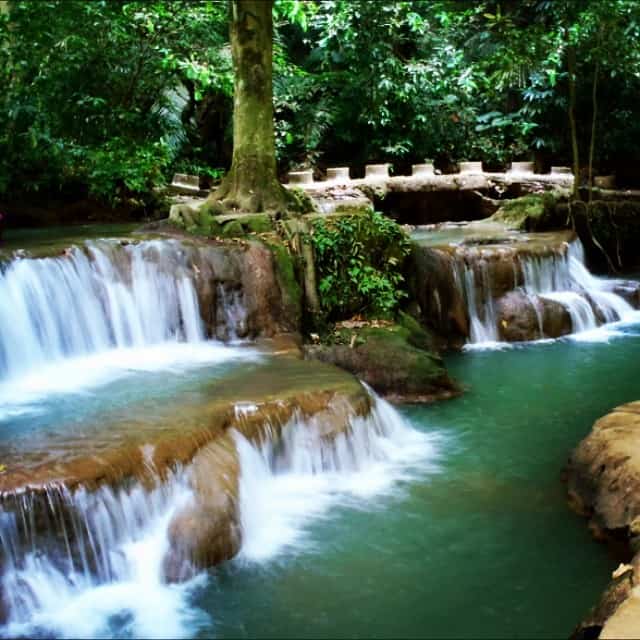 Speaking of ancient, you can look at this old post to get an idea of what the area looks like. It's really beautiful!
Phanom Bencha National Park
This park can take up almost a whole day if you do everything. There are a few waterfalls, Huay Toh Watefall is the nicest!
There's a viewpoint hike up here too. The hike is longer than the sign says, please plan accordingly. Everyone I have spoken to never made it to the top because they expected it to be a shorter hike and they ran out of time (it was getting dark), me included!
Pak Nam Krabi
This is the river in Krabi Town. If you're just getting into Krabi, this might be where you end up for your first night at least. So while there aren't too many things to do in Krabi Town, wandering around the river could be a nice choice to take up your day. There's a cave to visit along the river that you can take a boat to and you can choose to walk amongst the mangroves you see across the way. Look out for the mangrove walking area past the Black Crab ("Poo Dam" in Thai) which is not only a seafood restaurant but there's literally a black crab statue right there as well.
Wat Kaew Korawaram
This is the majestic white temple in Krabi Town to see. If you're into seeing all the temples in Thailand, this is "the one" to see in Krabi Town.
Hot Springs
There are two main hot springs in Krabi, Krabi Hot Springs and the Saline Hot Springs (salt water). I prefer the Saltwater one simply because it's the less busy one! Please note they are pretty far from town and also not that refreshing unless you're coming in the rainy season because who wants to be in hot water when it's already scolding outside?
Emerald Pool
Sra Morakot is the name in Thai. This place is absolutely gorgeous! Unfortunately, it's also one of the top things to do in Krabi and thus, a top tourist spot. It's almost perpetually inundated with tourists. Try coming very early or later in the day to avoid the crowds but even then…
Rock Climbing
Seriously, out of all the things to do in Krabi, if you're an adventurer, this has to be on your list! Some of my most treasured moments in Krabi were the days I was climbing on the rocks. I absolutely love it. I wasn't that great considering my upper body strength is pretty pathetic but no matter what, there's a wall you can climb. The views are ridiculous. Here's a guide to rock climbing Railay and Tonsai.
Things to do on Koh Phi Phi
The main things to do in Krabi wouldn't be complete without listing Koh Phi Phi, which isn't my favorite island (party place and crowded AF), it is still worth listing, considering the number of people who HAVE to come here for their visit (or so they think).
The main attractions on Koh Phi Phi: Hiking up the viewpoint to get that iconic shot from up above, basking on the beaches, diving the King Cruiser Wreck or around Hin Muang, take a trip to the famous Maya Bay (Yes, that one where The Beach was filmed, expect hoards of people, get a private boat to trim the crowds during your stay) and of course the crazy nightlife complete with plenty of fire shows.
Things to do on Koh Lanta
I LOVE Koh Lanta and even ended up living on the island for about a month during my year in Thailand. Phra Ae (Long Beach) is the beach to be on because that's where most of the action is, however, it's surprisingly still pretty chill. I never had to fight for a spot on the beach or felt that it was too crowded. The more south you go on the island, the more pristine and empty the beaches get.
I'll give you the name of my secret beach, don't spoil it! Ao Nui is a little paradise with exactly one small beach bar on it and that's it. Make sure to bring the sunscreen though as there's no shade on this beach.
Lanta Animal Welfare will give you some extra karma points. They are an organization that takes in homeless animals to care for and you can help out by walking the dogs. There are plenty of restaurants to choose from as well as bars, Pangea was a favorite of mine.
There's a waterfall and some caves, plenty of spots to catch the sunset since the beaches are on the west side of the island, and also some shopping in the main town fo Ban Saladan. Old Town is the other town on the island but it's a very quiet fishing village so I'd go only if you're in the area, don't go out of your way to check it out.
The best way to see Koh Lanta is renting a motorbike unless you want to shell out for a tuk tuk everywhere you go. Some of the places are a decent drive away.
Koh Lanta Day Trips:
Snorkeling out at Koh Rok and exploring Koh Muk are two great day trips. Koh Muk is also known as Emerald cave. You'll have to swim through a pitch black cave before reaching a lagoon oasis in the middle of this rock formation. It's really very beautiful, and also very well-known by now. When I first went it wasn't that crowded but has since been popularized.
Koh Jum
A quiet and lonely island that is getting slightly more popular each year. It's a nice getaway spot but I found some of the beaches to not be as nice as some of the others in Krabi. It could have been an unlucky current came just when I did. I've otherwise heard some nice things. It's a decent sized island so getting a bike or a motorbike would be the best way to see it or just hang out at your resort the whole time and forget about the world. Whatever. This is an easy hop over to Koh Phi Phi and this island also offers Krabi island hopping tours.
Krabi Beaches
The beaches in Krabi are pretty much all beautiful. It's hard to go wrong. Here's a list of all the mainland beaches I can think about in Krabi!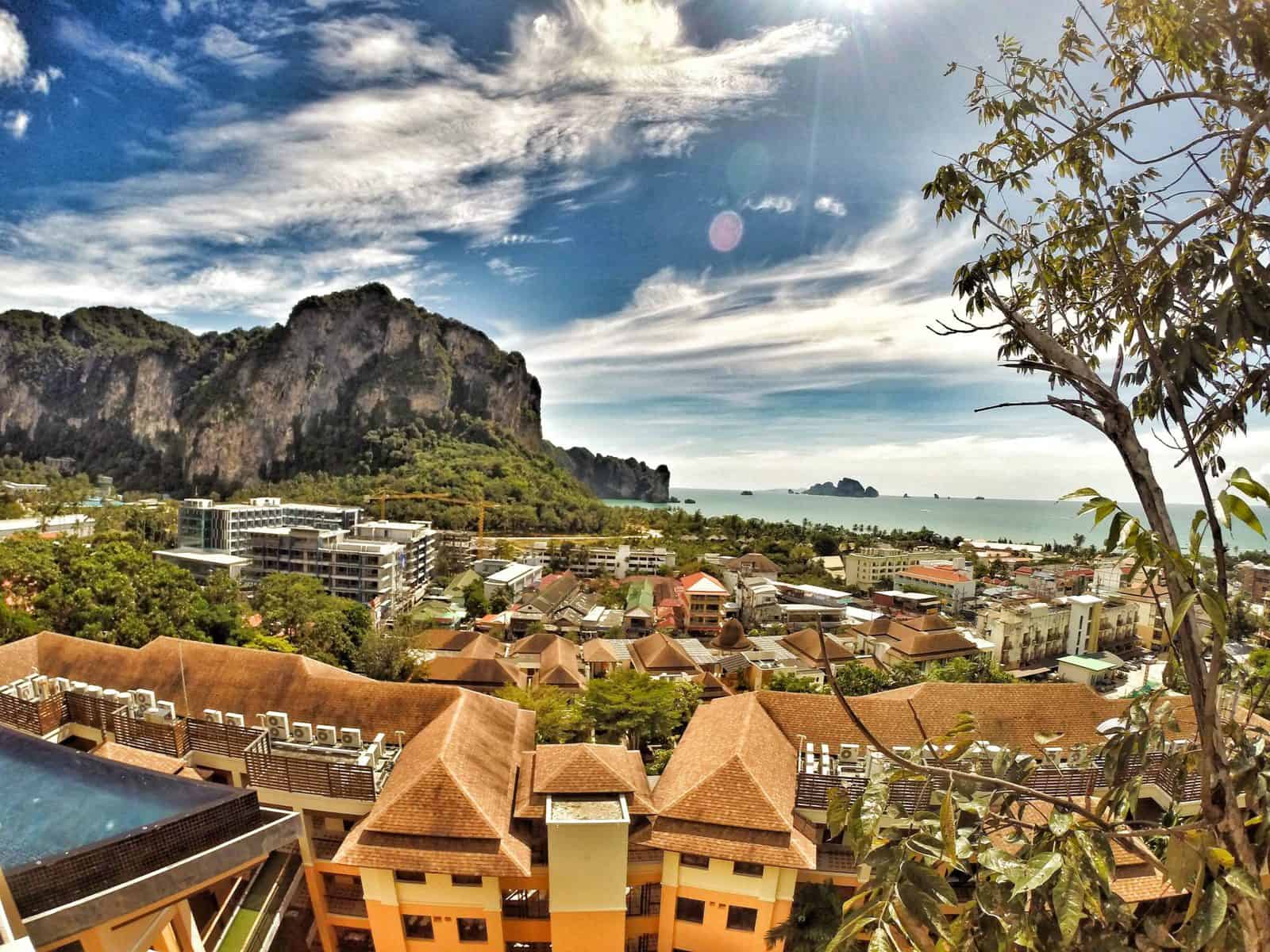 Ao Nang
The is main one of all the Krabi beaches. This is the tourist hub, the place to catch boats to Railay, Tonsai, and more. This is where the majority of the nightlife is and where you can get shopping done. Resorts to guesthouses are available and it's the most happening (read: crowded) spot in the Krabi area. The actual beach is at the bottom of a U-shaped road and despite being crowded during high season, it is very reasonable during off season. The views are undeniably beautiful.
Ao Nopparat Thara
Just down the way from Ao Nang and significantly quieter. Take a stroll all the way down to the small island in the distance, as if you're moving away from Ao nang. During low tide, you can walk out to that mini island and sunbathe.
Fossil Shell Beach
Eh… of all the Krabi beaches, I'd say give this one a skip unless you want to see all the beaches on offer. There's nothing too exciting here and is more of a Krabi attraction for tourists.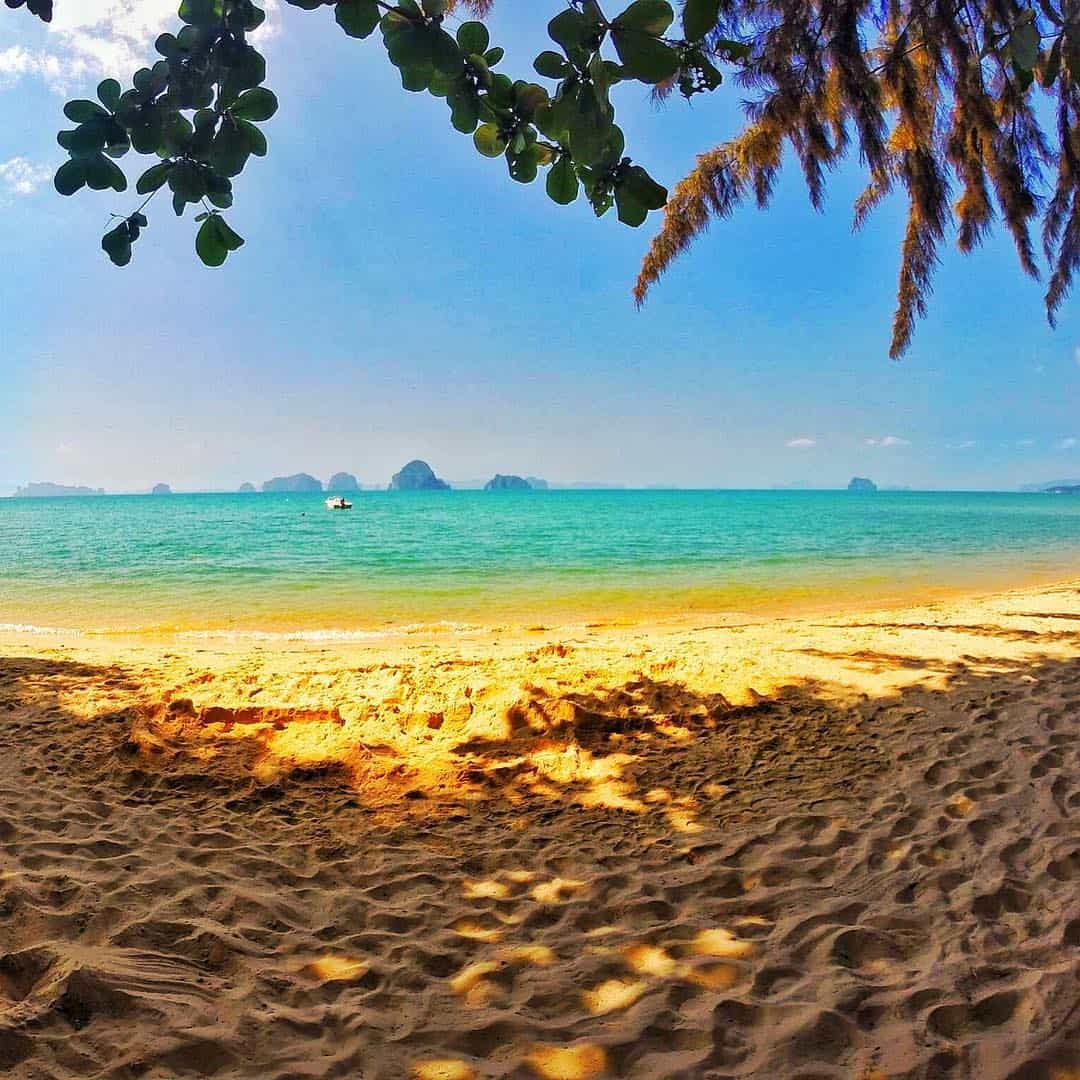 Tup Keak
This is near the mountain of the same name I mentioned above. It's the perfect place to relax at after the hike! The only people here come from the resort on this beach but otherwise, it's pretty quite.
Klong Muang
Another nice beach that's relatively quiet.
Had Yao
Probably the last beach in Krabi where major development hasn't taken place. It's pretty empty with the exception of the resorts, which you will probably need to stay at since there's not much else in the area and it's far from everything. This beach also lacks the incredible karst formations.
BEST ADVICE: There are more beaches, some pretty unknown to foreigners, take a motorbike ride or rent a car to check them out. There are some secret beaches, even one I'm not willing to divulge on here because I have to keep a place or two to myself. Selfish. I know.. Oh well, so sue me 🙂 I promise you'll probably find them if you ride around.
Railay and Tonsai
These two spots get their own section! In fact, they get their own blog post. I love these two spots so much. Especially Tonsai. This was my happy place while living in Krabi. Out of all the things to do in Krabi, just come here and get lost. OK, OK, maybe not. But I got lost in Tonsai every time I went and the beaches on Railay are spectacular. All the rock climbing I've done have been at these two spots, the beaches are like none other, and the vibes are chill and island like.
You can only access these areas by boat but they are attached to the mainland. If you want to know more about Tonsai and Railay check this post out. HINT: You want to know more about Railay and Tonsai!
Krabi Island Hopping
There's a bazillion islands all around Krabi! And everywhere you turn someone is offering a Krabi island hopping tour. Bamboo, Tup, Poda, Chicken, Mosquito… They all have crazy names and are crazy beautiful. Book a tour almost anywhere for about $15-$20 for a whole day of Krabi island hopping which includes snorkeling and a lunch.
If you want to beat the crowds, the sure way to do this is to hire your own boat and enjoy the moment where you're on an island, all the tours are getting rushed back on the boats and you get to chill there for longer, get pictures with no people, and relax for a few moments alone. You can hire a boatman by just asking one (usually on Ao Nang is the easiest spot) if they are available for the day, negotiate a price, and make sure to have some friends with you to split the price. It might be a few bucks more than a tour this way depending on the number of people but totally worth it.
Krabi island hopping is an absolutely MUST for your visit here, there isn't really a bad choice as to which tour to go on. They will all be beautiful. Just make sure you go through a decent tour agency. Tours will be offered all over Ao Nang, Railay, Lanta, Phi Phi and even in Krabi Town.
Where to Eat in Krabi
OK, where to eat in Krabi? I got you covered! I listed all my fav spots right here. The places to visit in Krabi wouldn't be complete without a visit to the market so check that link for everything available in Krabi Town. I know Krabi Town food better than anywhere else since that's where I lived.
I've ate in Ao Nang plenty of times, but it's not very often. There are markets on either side of "beach road," Massaman Restaurant is YUM, Maharaja is usually my go to Indian spot, and if you're poor and too lazy to leave the beach, there are actually a couple of food stalls that sell Thai food for pretty cheap (50B+) right along the beach to the left of the boats (when you are looking at the sea). And there's sometimes a market on the road toward Nopparat Thara and one near Mcdonalds. The Last Fisherman Bar has decent food too, but they can be a bit pricey since they are right on the beach.
Tonsai has a small selection of food. The stalls have now been relocated back and away from the beach. Railay has some nice food on Railay East, including Rampala. Everytime you inch closer to Railay West the food gets more expensive.
Nightlife
Krabi Town's nightlife is quite tame. Chaofa Road hosts the bars in town.
Chilling Bar- Sport pub type place. Want to watch a game on TV? They will likely be showing it.
Fu Bar and Joy Bar- These are my usual hangouts, especially Fu Bar. These are the rasta reggae bars in town. Beers, bud, and buddies all around. Can't ask for much more. They often have live music too.
Playground is for the younger backpacker crowd. Cozy Bar is a newer bar in town, live music and drinks (This one is on Uttarikt Rd). There's also another cowboy/reggae -ish bar near the night markets called AOD Bar. The dudes there are nice, sometimes there's live music. Very chill and small little spot that's essentially out in the road.
If you want more of a night out or a club scene, the best you can probably do is head to Ao Nang. Center Point is "the" spot for all the bars and "clubs." Chang Bar is the most popular and can get pretty busy. There are a few other spots near Chang Bar, don't recall the names despite being there a ton of times. Upstairs has awkward girly type bars. I don't dabble with anything up there really. Ao Nang has its fair share of other reggae bars and such as well. (I would suggest NOT driving between Ao Nang and Krabi Town at night on your motorbike.)
Pangea Bar was my go to bar on Koh Lanta. If you want even more of a party scene, then you'll need to head to Koh Phi Phi. They will have the largest party scene in all of Krabi.
Accommodation in Krabi
I have a whole post on that for different areas of the Krabi province and for ALL budget types. Here's where to stay in Krabi.
OK and that's it for the things to do in Krabi and all the Krabi attractions on offer. I hope you have a lovely time in Krabi!
Of all the things to do in Krabi, which are you most interested in? Was this helpful?

Which of the Krabi beaches are you planning on staying at?
Transportation Tip for Thailand:
While you can simply book at the pier, bus or train station, you may want to book ahead for certain legs of your journey to guarantee that you get a seat on the day you need to travel. 12go.asia is the best way to do this. Book your next trip ahead of time so you have one less thing to worry about.
Read More About Thailand…
→ Check out my guide to Thailand: Backpacking Thailand: the Only Guide You Need to Prep for Your Trip
Where will you go after Thailand?
Laos | Malaysia | Singapore | Indonesia | Philippines | Cambodia | Vietnam
---
Pin this if you love Krabi!