ATTENTION FRIENDS! Who wants paid work abroad?
Literally, every job abroad opportunity out there, in this big bad world of ours, is listed right here.
I don't think there's a bigger list out on the internet.
I've been working abroad and remotely for seven years now and I've come across people from all walks of life that have figured out how to travel and make money.
While it sounds hard, and it might not be easy to get the ball rolling at first, it's 100% possible and actually easier than you think!
I've found over 71 jobs abroad that PAY you so you can travel… forever.
People who travel perpetually, like I do, constantly get asked how they can afford it but the answer is very simple. They work for it. There's is hardly a soul on earth who travels all the time or lives abroad and doesn't work.
And guess what? This can be you too.
If you've always wanted to travel but didn't have enough money, it's no longer an excuse not to travel. You CAN make money abroad by working for it. Get abroad, get a job, get traveling…
I have two sections here. There's remote work, which means you can work anywhere in the world and all you need is a laptop. Then there's work abroad, which mean you physically work in another country.
Living and working abroad is the best way to see a country and to travel the world. I love this life, and if this life is something you're interested in, it's something I'm here to help with!
So what PAID work abroad is available out there (because, duh, gimme money)? There are heaps!
---
Work Remotely
Working abroad via a computer is essentially the freest you can be while still being employed. You could work in Indonesia one day and then from Hawaii the next and then jet off to Japan… While I certainly don't recommend moving around too quickly, the point is, you could if you wanted. Your work follows you everywhere.
I'm a blogger, social media manager, affiliate marketing dabbler, and influencer. I've done VA work, copywriting, and teaching English online.
Working online is THE BEST and I seriously don't think I will ever not work online…
1. Blogging
Duh! Of course when you're reading a blog by a travel blogger about ways to make money while traveling, the very first on the list is going to be blogging. You can blog about literally anything and you will find a market of people who love you and your blog.
I blog about traveling because I love traveling (and working abroad and remotely, of course). You could blog about knitting and other people who love knitting will line up to read your blog.
Here's the thing to remember: it is not fast and easy money.
You really have to love what you are writing about, you need to work on your writing skills, or hire someone with writing skills, and build a site that not only draws people in but also makes them stay and want to come back. You can take courses and hire web designers or do it all yourself.
BUT I will be the first to say, while this is first on the list, this should not be the first thing you try to do to make money. Do literally any other job, because it brings money in within your first day of work, and do this on the side until you get it going.
PS—It can, and possibly will, take years to make money from blogging depending on your skills, topic, and know-how.
Resources for Working Remotely as a Blogger:
2. Web Designer
Remember I said you could hire a web designer to build your blog site? Well, if you are an actual web designer, this could be a way to earn money remotely.
There are great online companies like Fiverr and Upwork that will allow you to offer your services freelance to people looking for great web design, and you can charge what you want.
Remember this: the more you charge, the fewer clients you will have to take on, and the less you charge, the more clients you will have to take on. That's how freelancing works. In the beginning, you may find yourself charging less in order to build a reputation for yourself. Then you can begin to charge more as you learn the ins and outs of freelancing remotely.
Resources for Working Remotely as a Web Designer:
3. Content Writer or Copy Writer
Got mad writing skills but don't know how to turn them into profit? Just like with web design, you can offer your pen (or keyboard) to bloggers, businesses, marketing companies, and even other writers who need ghostwriters.
The joy of providing content or copy to others is that you can find subjects you enjoy writing about, you can charge as much or as little as you want, and you can write from anywhere.
Over time, you will find yourself picking up more and more clients that you click with, and you may find yourself in long-term professional freelance relationships, increasing your income as you work remotely and travel the world.
Resources for Working Remotely as a Writer:
4. Stock Photographer
Just like with content writing, there is a great demand for stock images because of this big, wide world of blogging and website design. Sites like Canva and Shutterstock, are always looking for new images to sell to customers or to give away for free.
Depending on the quality of your image and how common it is, you could make pennies or dollars on bundle shots. This is also a great way to start getting experience as an amateur photographer if you are interested in travel photography.
Resources for Working Remotely as a Stock Photographer:
5. Travel Photographer
You had to know this one was going to be next! So here's the thing about travel photography: it is not an easy gig to land. But, just like with blogging, if you are passionate about photography and travel, this is a great field to break into.
The most important things to remember for this one: be patient, persistent, and always willing to learn. The key is knowing what makes a damn good picture. If you're thinking your iPhone or DSLR on auto is going to cut it, think again.
Resources for Working Remotely as a Travel Photographer:
6. Proofreader/Editor
Again, because there is so much blogging and writing going on out there, there is a high demand for proofreaders and editors. Some people are super sticklers about writing their own pieces, but they are self-aware and know that while they may be specialists in a particular area, their writing could use an extra set of eyes.
So they hire a proofreader or an editor to work out the kinks. If you have experience proofreading or editing, this could be a slam dunk gig for you.
Resources for Working Remotely as a Proofreader or Editor:
7. Formatter
Yes, there is also a ton of work for formatters. Plenty of writers and bloggers are great with providing their own content but don't want to also have to deal with getting the format the content into perfect place on their sites.
So they hire someone to ensure headings and images, links and "buy" buttons, among so many other aspects to a well put together, professional web page are all right where they should be. If you are comfortable with putting together web pages on blogs, this job is for you.
Resources for Working Remotely as a Formatter:
8. Teach English Online
If you have experience teaching anything at all, and you have a college degree, you can get a job teaching English online. Many countries around the world recruit online teachers to virtually teach kids in a classroom, business professionals in boardrooms, and adults looking for additional skills to teach English as a foreign language.
The nice thing is, there are even niche markets for this. You can teach business English, American English, or British English, depending on your specialty. You can get bonus points, in terms of dollars that is, if you have an English teaching certificate, either from college or in the form of a TEFL certificate.
Resources for Working Remotely as an English Teacher:
9. Translator
Speaking of foreign languages… People will hire you on Upwork or Fiverr, among other freelance sites, to translate their blog, essay, book, you name it, from a foreign language, into English. So if you speak another language, Spanish to Mandarin to Russian, use that to your benefit and make some cash by leveraging your elite language skills.
Resources for Working Remotely as a Translator:
10. Virtual Assistant (VA)
Not only is this an actual thing to be someone's assistant remotely, handling all of their online tasks, anywhere from scheduling appointments to dealing with correspondence, but people actually get really good at this and start their own virtual assistant companies where they manage other virtual assistants and hire them out.
In the world of the gig economy, this is where you will find a lot of money. You can hire yourself out as a freelancer on Upwork or Fiverr, or set yourself up on your own website. Everyone from bloggers to professional corporate execs needs an assistant today. If you are highly organized and attentive to detail, as well as accommodating and punctual, this may be your gold mine.
Resources for Working Remotely as a VA:
11. SEO Expert
If you've been online for some time now, managing websites and building blogs, you may have picked up a ton about SEO. If you have no idea what I'm talking about when I say SEO, skip right past this one.
However, if you are savvy, there are new bloggers and online business people building sites every single day, and the one thing everyone wants online is a competitive edge. Proper SEO is critical to attracting new site visitors. This is where you come in. Hit the freelance sites and list your SEO expertise. You'll get plenty of clients who don't have time to deal with SEO themselves.
Resources for Working Remotely as an SEO Expert:
12. Social Media Manager
So here's the life of a blogger (simplified): get an idea, take pics, write content, format the blog post for your site with content and pics, then hit social media. Social media is where most bloggers go to get new readers. Sell sell sell. But this can often be just as if not more time consuming for bloggers than writing the blog in the first place.
A social media manager will, for a fee, handle all of that instead. You would post the latest blog on all of the big sites, Facebook, Instagram, Twitter, and Pinterest, tweaking your posts for each site based on the forum. This role could even include designing social content in the form of memes or pins for Pinterest.
This gets your client's business out there and saves them a ton of time as well. You can put together packages to offer your clients with different levels of exposure. If you are a social media fan, this may be a perfect fit.
Resources for Working Remotely as a Social Media Manager:
13. Social Media Influencer
Ugh, don't ever call yourself an influencer. Even if you have thousands of followers who like and comment on your posts, do not call yourself an influencer. Unfortunately, this is "the" word for it and I am one, but I don't like the word… It's kinda tacky, but, that doesn't mean you can't be one.
If you're smart and funny on social media, and you get a ton of attention online, capitalize on it (there's actually a lot more that goes into but we don't have all day here…).
Brand names from large to small are constantly on the hunt for social media influencers, people to represent their product to followers on a regular basis. Companies have come to realize that social media is where everyone spends their time, so they want in on that market. And those companies will pay, often quite well, for your influence.
Again, there's A LOT that goes into this, and there are a ton of posers, so please, make sure you fully understand what this job REALLY entails—and no, it doesn't only mean posting iPhone pics of you in your bikini. Please stop.
Resources for Working Remotely as a Social Media Influencer:
14. E-Books
If you are a dedicated writer, get to writing and turning a profit! Instead of sitting in your lonely room and pounding out your magnum opus, one thousand page epic coming of age story, write a short E-Book about the writing process, or anything else you think could help people, and publish it now. You can sell it on your website if you have one, or on Amazon.
You can even get your blogger friends to sell your book for you if your book matches their readers' needs and they haven't written one on the same topic themselves. The best thing about E-Books is that they are a prime example of what's called passive income. Just be sure that it is a quality product.
Resources for Working Remotely as an E-book Publisher:
15. E-Courses
Got a skill you can teach? Writing, web design, crafting, dog training, knitting, heck, pretty much anything, you can turn into an E-Course and people can take your course on a site like Teachable. Again, this is passive income.
You put together the course once, people pay for it and get access to the course, and you generate income in your sleep. As with E-Books, make sure you put together a quality course. You do not want a bad reputation online if you are trying to build an audience. You want fans, not haters.
Resources for Working Remotely as an E-course Writer:
16. YouTube
Speaking of teaching people things online, you can start your own YouTube channel for this!
You could teach guitar, a language, history lessons, there are YouTube channels for everything. The main way people make money is through advertisement. The more subscribers to your channel the better, so make sure your videos are on point.
However, like blogging, this job takes time to generate income so it's going to have to be a loving hobby until the ball starts rolling.
Resources for Working as a YouTuber/Videographer:
17. Website or App Tester
Anyone who is putting together a new website or a new app is going to need people to test it out. You can make money, not a lot, but it is one good income stream, doing these tests for people.
You just need a computer where you can download software, a microphone, and a good command of the English language, and you're set.
Resources for Working Remotely as a Tester:
18. Online Artist
Just like with stock photos, people will buy your art. If you are a graphic designer or animator, you could sell your art to bloggers and website designers for logos and site art, or even actual prints to people for their homes, online.
You can find freelance work to build up your reputation on the standard sites, and you could ultimately build your own site around selling your art to individuals or offices who want prints for boardrooms and bathrooms.
Resources for Working Remotely as an Artist:
19. Affiliate Marketing
If you do indeed have a website or are currently building one, you can make a ton of money with the right affiliate marketing. Affiliate marketing is where you get paid to promote a company's products. Most people start with Amazon's affiliate marketing program because it is easy to get into and you could potentially start making money right away.
Just be aware that the bigger the ticket item, the more commission you will make. So if you're recommending a book and linking to it on Amazon, you're gonna need a ton of people to click and buy in order to turn a profit. But if you're selling air conditioners or expensive running shoes or makeup, you may make a tidy profit selling something you're already using and a fan of.
This may not be the most consistent income, and the more traffic to your website the better (aka if mom and grandma are the only readers you aren't making jack), but it does bring in cash.
Resources for Working Remotely as an Affiliate Marketer:
20. Day Trader
Okay, some people make literally no money on this. They sit at home all day long and buy and sell stocks and never turn a profit. But if you're already familiar with the market and have effectively dabbled to your own benefit, this could be one of the best ways to make money while traveling the world for as long as you like.
Most people start with E-Trade and grow from there. It only takes a small start-up investment in your first stocks and you grow from there. Think of it like mobile Vegas, with way less risk. Most day traders start on Ameritrade.
Resources for Working Remotely as a Trader:
21. Financial Consultant
If you are good with money and numbers, you could do anything online for clients from balancing their checkbooks and paying their bills to cleaning up their credit and helping them save for retirement.
Money consulting is in high demand and people will not only love you for managing their finances for them, individual or business, but they will also bring you a ton of business through word of mouth. Take good care of people's finances, and you're set for life, from anywhere in the world.
Resources for Working Remotely as a Financial Consultant:
22. Paid Surveys
You are not going to make a ton of money doing this, but there are plenty of online companies that will pay you to take surveys on anything from skincare to medical insurance. There are some good sites that will pay you out as soon as you earn $10 in survey money.
Just beware that the work can feel mindless and boring and involves lots of tedious work. Think of this as an option if you spend a lot of time on planes or busses, just sitting with WiFi. You can take surveys from your phone, anywhere around the globe.
Resources for Working Remotely as a Surveyor:
23. Online Tutor
You can tutor virtually anything via Skype. Get to a freelance website, or even craigslist, offer your services, guitar lessons, Japanese classes, and wait for clients to come to you. You can then set a rate and a time that works for you and your client and tutor the subject face to face from across the country or the world.
Want a bigger clientele? Hook up to an online tutoring service that will attract clients for you and pay you an hourly rate.
Resources for Working Remotely as an Online Tutor:
24. App Creator
Do you know how many fitness apps there are? How many diet apps? Sleep apps? There is an app for everything, and if you are tech savvy and could create an app, why not do it?
Figure out what is missing in the market now, or something that is horribly wrong with it, (perhaps you already have an idea?) and create an app; then all you have to do is sell it.
Resources for Working Remotely as an App Creator:
25. Transcriptionist
All you need for this one is a laptop and fast keyboard skills. You sit and listen to an audio recording and you type what you hear. This could be minutes from a meeting or medical or legal documents.
This is freelance work you can find on the standard sites. Or, you could hook up with a paying company that will provide you with regular work.
Resources for Working Remotely as a Transcriptionist:
26. Tech Support
If you are a brilliant computer whiz, offer your services as tech support for the tech inept. You can present yourself as a freelance support technician, charing per service call. You can run your business online or via Skype.
For all the people who get frustrated because they can't figure out WordPress or their own software or hardware, you can be the answer to their frustration. People are happy to pay someone to help them figure out their own systems instead of doing it for them.
Resources for Working Remotely as a Technical Supporter:
27. Sales and Production
No, not that kind of sales. You obviously can't be a car salesman or an appliance salesman as you travel the world. But if you make something, like T-Shirts or jewelry, you could set up a website and sell your products from anywhere in the world.
In fact, you could hook up with a manufacturer, someone to produce your design, and then all you would have to do is build the design or a prototype of your product and have the manufacturer produce and ship every item as you make sales from your website.
Resources for Working Remotely as a Seller and Producer:
28. Legal Advice
Are you a budding John Grisham? Did you know that John Grisham was a lawyer for years before he published his first novel? And when he hit success with A Time to Kill, he quit his day job and became a full-time writer.
If you have a law degree but hate the actual practice, you could still capitalize on that degree and all that time spent trudging through the books in law school. Travel the world and offer your services online to people with legal questions. You could be cheaper than a law firm and give specific advice to anyone in a legal jam.
Resources for Working Remotely as a Legal Advisor:
29. Greeting Cards
Yep. This is an actual thing. People who have artistic skills or pithy verbiage design greeting cards. If you have both, you're set. This could be a long term career for you as you travel the world. All you need is the program to design your art and a hook up with a greeting card company.
There are so many of them now; just browse the internet for contract information with Hallmark or even Papyrus. In the gig economy of today, this is a great way to start making a name for yourself, and if you are passionate and dedicated, perhaps you'll be the next Papyrus on the market.
Resources for Working Remotely as an Artistic Designer:
30. Book Cover Descriptions or Design
Again, hard to believe, but many many people make a living writing the blurbs we read on the backs of books or designing the cover. And you can do this from anywhere! Plus, you get to read a lot of books!
So if you are an avid reader and you are concise, hook up with a publishing house, big or small.
Resources for Working Remotely as a Book Cover Designer:
31. Personal Shopper
Some people just don't know how to put styles together for themselves. They don't know what clothes are right for their body types, what their own personal style is, or how to find deals to fit their budgets. You could solve this problem for people around the world.
Market yourself as a personal shopper, have a few phone calls, Skype meetings, get some pics of their bodies and their surroundings, and solve their personal style problems! You could take their budgets, plus your commission, and make them look fabulous.
Resources for Working Remotely as a Shopper:
32. Airbnb
So while you're flitting about the globe, maybe you're leaving an empty apartment behind? Capitalize on it! This right here is how to travel and make money.
This is passive income where you have to do virtually nothing but manage your Airbnb profile and have someone hand over your keys and collect them from temporary guests. Watch the cash roll in on something you're paying for (or paid for) anyway.
Resources for Working Remotely as an Airbnb Host:
33. Coach
No. Not that kind of coach. You won't be showing people how to swing a bat or dunk a ball. The gig economy is welcoming an increasing number of motivational coaches. If you have the edge on a certain lifestyle – fitness, nutrition, positive thinking, business—you could coach people who need help with the steps to follow in your path and the motivation to stay on that path.
Coaches put together packages for thousands of dollars and could potentially earn hundreds of thousands of dollars per year helping people stay on track. You get to do good and feel good. Talk about a great way to make money while traveling.
Resources for Working Remotely as a Coach:
34. Ask Your Employer!
You would be surprised at how many employers are open to their employees working remotely. We no longer live in a job market where everyone has to be in an office from 9 to 5. More and more work can be done from a home office or from a laptop, freeing you up to travel the world and maintain your income and employee benefits like 401K and medical.
---
Work Abroad
Before I started working online, I was working abroad! This is actually where it all began for me. Realizing there were SO many paid work abroad opportunities, I dove right in and I have since worked abroad as an English teacher, waiter, bartender, retail worker, and even as an extra in a movie!
35. Bartend or Wait Tables
OK, I'll say it, I put this one first on the work abroad list because it's what I did. But hey, it's fun, it's easy, and you can make great money anywhere.
There is also a huge turnover for waitstaff in restaurants all over the world, so you can likely land a job pretty quickly, especially if you show up at the right time, ideally before tourist season has begun.
Go around, fill out applications, have your resume in hand and a smile on your face, and you're bound to be slinging drinks in no time! You can also check job boards ahead of time to see what's available in what areas for hospitality jobs, however, in my opinion, you're better off just going and applying in person!
Resources for Working Abroad as a Bartender or Waiter:
36. Kitchen Staff
You could also apply to work in the kitchen, cooking or cleaning, especially if you have cooking experience.
Same goes here: visit a restaurant near your hostel or Airbnb and chat up the waitstaff, ask to talk to the manager, familiarize yourself with the menu, impress them with your knowledge of food prep or flipping burgers or hotcakes. BAM. You could be in!
37. Retail
I worked in a surf shop as a cashier. The work is easy, you can usually get decent pay, and it takes no experience. You could be ringing up customers before the dust settles on your backpack. Just like with foodservice, retail is really about face time.
You want to be friendly, open, and express your willingness to work hard. Wander the neighborhood with your resume in your hand and weave your way in and out of retail shops, looking for help wanted signs.
38. Teach English Abroad
Yep. I did this one too. I taught English in Thailand. And I had a blast. This is even a job you may be able to land before you leave home. In fact, it may help you decide where to start on your travels. It is where many full-time nomads start.
Pick a point on the map and look into teaching English there. Many countries are paying ESL teachers very well to teach American English.
Resources for Working Abroad as an English Teacher:
39. Work in a Hostel or Hotel
Start where you are. Staying in a hostel or hotel? Ask upfront if they are hiring. A lot of these places need staff to run the front desk or even clean out the rooms. More often than not your pay is very little or in the form of free stay and food but you CAN make cash.
Resources for Working Abroad as a Hostel or Hotel Worker:
40. Hostel Board/ Community Boards
Speaking of hostels, check the board where you are staying, or check the community boards at local community centers or cafes. if you begin your travels with some cash in hand and no job landed, you can begin here. You may find help wanted signs for things even I haven't thought to put on this extensive list. Dog walker anyone?
41. Barista
Everyone loves coffee! Even in the UK where tea is king, coffee is still queen. And especially in high tourist areas, you are going to find a ton of cafes with a world of international people running through them. It's a great place to sell your skills as an adventurous world traveler to the manager. You'll be great with the customers living an experience like yours.
42. Gardener
Have a green thumb? You could hire yourself out to locals as a mini landscaper. People are going about their busy lives and don't have a ton of time to tend to their own gardens and lawns. You could help them still have a beautiful space, even if it just comes down to mowing lawns and pulling weeds. Depending on the area, this could be a great way to make some quick cash.
The best thing to do is to find these needs in the area you're traveling in. It's not easy to get work like this from abroad and not many people would fly across the world for a gardening job!
Resources for Working Abroad as a Gardener:
43. Farm Work
About gardens… if you do enjoy outdoor work, and you love working with plants, check out the local farms and talk to farmers. You could pick fruits and veggies, clear fields, muck out barns, anything that needs to be done in agriculture.
Be aware that the work is likely going to be backbreaking and the pay will be minimal, just like in the US. But hey, it's an experience and travel money!
Resources for Working Abroad as a Farmer:
44. Instructor
Love yoga? How about scuba diving, surfing or dance? if you have a skill that you've honed to above average, you could offer your services as a freelancer or hook up with a local studio or shop, and teach the locals your moves.
Resources for Working Abroad as an Instructor:
45. Nanny / Au Pair
Love kids? Families around the world need help with childcare. You could hire yourself out as a nanny or au pair, and you're likely to be living in with the family, so you will kill two birds with one stone, employment, and housing. Just beware that if you quit or lose one, you are likely going to be losing the other. So have a backup plan.
Resources for Working Abroad as a Nanny:
46. Massage Therapist
This is really something that you need to already have experience with. However, if you do, you could make good money hiring yourself out to locals. You could even possibly hook up with a cool resort as their in house masseuse.
Everyone wants to relax, and if you've got the hands and the skills, you could be the answer to their prayers.
Resources for Working Abroad as a Massage Therapist:
47. Hair Stylist
Same here with a job as a hairstylist. People in all countries get hair cuts. If you're in the industry, find the local salons and bring in your resume, showing off your skills while you're there. Impress the manager with your own cool style.
Resources for Working Abroad as a Hairstylist:
48. Traveling Nurse
Again, you kinda already need to be a nurse. But, you knew that, right? Check websites for more information on how to hook up with a local hospital.
Much like with teaching, you may find yourself choosing your destination based on the job. If you hook up with the right organization, you are literally getting paid to travel.
Resources for Working Abroad as a Nurse:
49. Doctor
Yeah, and if you're a doc, and want to travel, this is where to hook up! You could do your good work and see the world at the same time.
Resources for Working Abroad as a Doctor:
50. Cruise Ship Jobs
Another get paid to travel job! You can work in many capacities on a cruise ship and have fun traveling the whole time. You could cook, wait tables, tend a bar, be the entertainment – singing, dancing, magi shows – clean rooms, the possibilities are endless. Check with the cruise line website, like Carnival: they've all got job posting links.
Resources for Working Abroad on a Cruise Ship:
51. Carnival/ Festival/ Concerts
Yea, not the cruise line Carnival, but an actual carnival. You can travel as a carnival ride conductor, a festival vendor, or a concert roadie. You aren't going to make the big bucks, but you are still basically getting paid to travel.
You could look into national carnivals or a particular festival or concert venue and travel with them, helping set up and break down.
Resources for Working Abroad as a Carnival Manager:
52. Flight Attendant
More travel pay! And this one provides pretty decent pay. You can apply to work for any international airline and travel with the planes for free.
If you are friendly and interested in customer service, you can decide when to take a few days in Italy or Morocco, all the while you are serving up peanuts and vodka sodas on ice.
Resources for Working Abroad as a Flight Attendant:
53. Vendor
If you are crafty and you like to make art, make jewelry, work in pottery or do tile work, you could set up shop at a local market and sell your wares.
Again, you'll want to find cities around the world that have local markets with vendors, find out the legality of foreigners selling their wares, and if it looks good, head there. Do not just expect to show up in a random city and set up shop.
54. Construction
If you have any experience at all in construction and are into hard labor under the sun, take a construction job with a local contractor. You can put in a good day's work in a tourist area and then party the night away on the weekends. Or, you know, read a book in the library. Whatever you're into.
Resources for Working Abroad as a Construction Worker:
55. Tour Guide
If you have fallen in love with one particular area and find yourself continually returning, stay put and sign up to be a tour guide. You could build your own website around your services and market yourself at local venues.
You could even get hooked up with local hostels or hotels, cafes, and restaurants, asking them to let you post your flyers.
Resources for Working Abroad as a Tour Guide:
56. DJ, Dancer, Singer, Extra
Ever watch a movie and see a woman singing in a smoky bar, dressed in sequins? Or a DJ at a club, one headphone over an ear, spinning records? That could be you. If you enjoy the nightlife, you could offer your services at clubs and bars as the entertainment.
Depending on the area you choose, you could make really good money doing something you enjoy in some exotic place. Maybe Cancun? Or down under in Sydney? You choose.
Side story—I was an extra in a German film filmed in Thailand. It was AWESOME! Literally chilled on the beach all day waiting to be used as an extra and got paaiiiiddd.
57. Cleaning Services
Make no mistake about it, there is good money in helping people clean up their space. You could hire yourself out to locals to take care of their windows, their laundry, even their toilets.
Put up ads for your services in local spots like cafes or hostel community boards, or check out Facebook groups for your city. Put on some rubber gloves, get the job done, and then head out to enjoy the city you've chosen to live in.
Resources for Working Abroad as a Cleaner:
58. Timeshares
Have you been to one of those meetings where you get to stay in a hotel free, eat for free, or get a full resort trip for free, just as long as you sit and listen? Well you, could be one of the people offering free hotel trips.
Timeshares are a huge market, and they need people to do the selling for them. If you are into sales, this could be a great job. You'll end up in a high tourist traffic area like Cozumel or France urging people to buy a timeshare. In your downtime, you could explore the Eiffel Tower and the River Seine.
Resources for Working Abroad as a Timeshare Salesperson:
59. Fisherman (or Woman!)
If you enjoy the open sea and you have some experience working on boats, you can hire yourself out as a fishing boat worker in a port town. This is kind of niche, but it has all the makings of a way to make money while traveling.
Make sure you're not prone to seasickness or allergic to fish because that would suck.
60. Bollywood!
Bollywood is even more famous and spends even more money in many areas than Hollywood. You could be an extra or even a starring role eventually in a hit movie watched by millions. Head to India and check out local casting calls or auditions.
If acting, or even working on set, is something you're interested in, this is a great way to start making name for yourself.
Resources for Working Abroad as a Bollywood Extra:
61. Teach Musical Instruments or Dance
Here's another way to hire yourself out to locals. You could teach kids how to play guitar, or teach older people to do the cha cha. Check out local senior citizen homes or elementary schools. Post your services on a local board or offer your work on the local Facebook groups.
Resources for Working Abroad as a Music or Dance Teacher:
62. Dog Walker
Face it: dogs are the new babies. At least for people who don't have babies yet. They want their dogs, fed, loved, snuggled, walked, and adored in their absence. You could do this job, with no experience, for pay.
Getting paid to be with dogs… I'd literally do this for free.
Resources for Working Abroad as a Dog Sitter:
63. Computer Tech
If you have mad computer skills, offer yourself up as a local computer genius. You could be the answer to locals' prayers and the salvation for English speaking tourists in a foreign country who don't speak the language.
64. Transfer
Just like remote work, many companies offer transfer opportunities internationally. Thanks to the global economy, there are many companies, and more each day, that are international.
If you are happy at a desk job but would simply like the view from your window to change, and your cultural experience to be enriched, check your company website for international transfer opportunities. You could be out of here by the end of the month.
65. Local Writer or Photographer
Perhaps you want to settle into a small town and enjoy rural life in Prague or Mexico. With decent writing skills or photography, you could get hired onto a local newspaper or magazine, or even do freelance work. Check local job listings in the paper or search the internet for the local newspaper or magazine's website.
66. Travel Agent
Depending on the business you end up in, you could find a good position with a travel agency. You may even find a position as a travel agent in a tourist city. You could not only live abroad, but you could also travel to new places and then sell those trips to your clients. Win-win!
Resources for Working Abroad as a Travel Agent:
67. Driver
If you know the area well, or even if the area is simply covered by google maps, you could be a driver, Uber, Lyft, even just a local taxi or shuttle service from the airport to a hotel. Get your own vehicle and you could explore the sights of a big city.
Resources for Working Abroad as a Taxi Driver:
68. Delivery Driver
Another way to explore and get around a new city is to offer your vehicle to local delivery companies. Amazon is getting bigger and badder and they are going to need more drivers to get their deliveries around the world, one tourist city at a time.
Resources for Working Abroad as a Delivery Driver:
69. Event Videographer
There are enough events in each city to keep you busy and paid well if you enjoy using your video camera. You could offer your services at local wedding planner offices or churches. Post yourself as a videographer on local boards and in local Facebook groups. This one is really local.
You'll want to be relatively settled and start networking with locals. Much of your work will come from word of mouth—make sure your word is a good one!
70. Personal Trainer
Got big muscles or long lean limbs? Know how to lift weights and which machines and weights will get you the results you want? Sell that knowledge to locals! Especially in tourist-heavy beach towns.
Offer your services at local gyms, hotels, and resorts, on local boards, and Facebook groups. Just find out what kind of certification is needed in your area.
Resources for Working Abroad as a Personal Trainer:
71. Recruiter
Headhunters and recruiters abound. Every major company is looking for quality talent, and this is where you come in. You could work for a recruiting company that acts as the middleman between businesses and potential employees, or you could work as a recruiter for a specific company in a local spot.
If you are diplomatic, this could be your new calling. Look for job offerings on major companies' websites in the area(s)that interest you.
Resources for Working Abroad as a Recruiter:
Some Things to Note About These Paid Work Abroad Opportunities:
And my apologies if some of these things are very obvious but I think I'm a bit obligated to state some of these things for the few special people out there that may stumble on this… 🙂
Each job listed here is a REAL job that pays.
Each job here is available but it may depend on where you're from.
Each job in the "work abroad" section would likely require a working visa of some sort which depends on the country you're from/going to. Look at the government website of the destination you wish to go to for information.
I don't promote working in countries illegally and I have had all legit and legal jobs in my years of working abroad. However, yes, it can be possible and comes with risks. I don't have any further information on working without a working visa.
Each job in the "work remote" section likely won't need a work visa but it's because remote work is still a gray area. Please look at the country you wish to live and travel in for information regarding visas and their take on remote workers.
Please note, I'm not a job board, and no, I can't help you find an actual job. I provide FREE information in regards to how you can find work, what type of work is available etc, but I will not help in finding you an actual job.
One of the best ways to find a paid job abroad is to simply go. Yes, look it up online and make sure there are jobs, you're eligible etc… but you will be more likely to get hired if you're already there as opposed to across the sea.
Some jobs on this list are simply temporary, one-off, or side gigs, but most of them are legit part-time or full-time jobs. It all depends on the opportunity you find.
Lastly, I have provided resources above for nearly every job but the best way to find more information regarding specific jobs, and even more so, specific jobs in a certain country, is to Google it.
BOOM, there ya have it, over 71 ways to travel and make money!
Let me just finish by saying…
A. Thanks for sticking around on this massive list AND for coming to my blog. Super cool of you. And
B. Please please PLEASE use Google to teach yourself! Learning is the BEST tool. You saw how many jobs I've done from this list (over 10) and guess what? I had ZERO job experience in ALL of those jobs. You don't need experience to get work abroad or remotely. All you need is motivation to learn and teach yourself new skills. You can do this!
Which job abroad are you trying to tackle first? Where will you go for your first paid work abroad opportunity?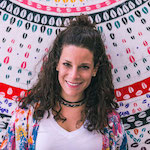 Nina Ragusa is an adventurer, messy bun master, breakfast fan, and full-time travel blogger. She's been abroad and epically failing at the American Dream since 2011. Her sassy yet informative blog, Where in the World is Nina? is all about how to work abroad to live a more adventurous life. If you want to travel longer you have to work to wander.