This guide about how to become a graphic designer is authored by Sarah and Laura.
It all started with our love for food. We challenged ourselves to cook a different meal every night for six months, exploring different cuisines as we went, which turned into the beginning of our food blog Wandercooks.
It wasn't enough to just read cookbooks anymore. We wanted to discover new dishes and cuisines from local cultures around the world. At the time, we were both working as marketing and graphic designers in Adelaide, Australia. We both worked for corporate companies and were looking for a change.
Out hiking with a friend one day, we mentioned the idea of traveling overseas for a couple of months to find new recipes.
She said, "Why don't you go for a year?" and we said, "We can't!". Her response was so simple, "Why not?".
We stopped in our tracks, too stunned at the thought to even take in the city views. We spent the rest of the walk discussing ideas of how we could make it work. As we both had similar backgrounds and skills, we decided to work remotely as graphic designers. We'd never run a business previously, so there were a few things we had to put in place to make it work.
Once everything was set up, and we were overseas, the real fun began! Having the ability to work remotely with our skills has been such a fantastic experience.
So how did we start, and what do we do?
Don't lose this! Click to pin it now.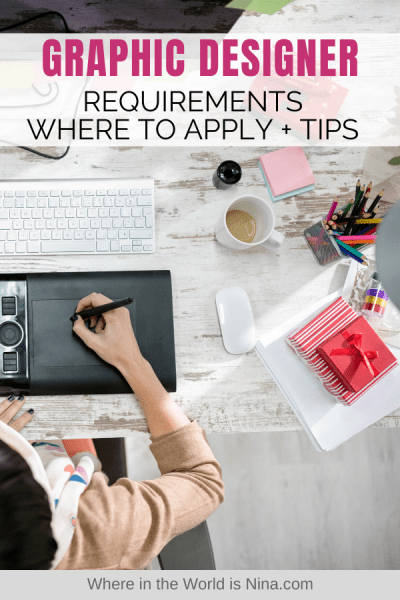 What Is a Graphic Designer?
A graphic designer is someone who creates collateral for businesses, usually to help aid them with visual communication of their brand, services, or products. There are so many niches you can dig into, but some of the most common projects we've worked on are: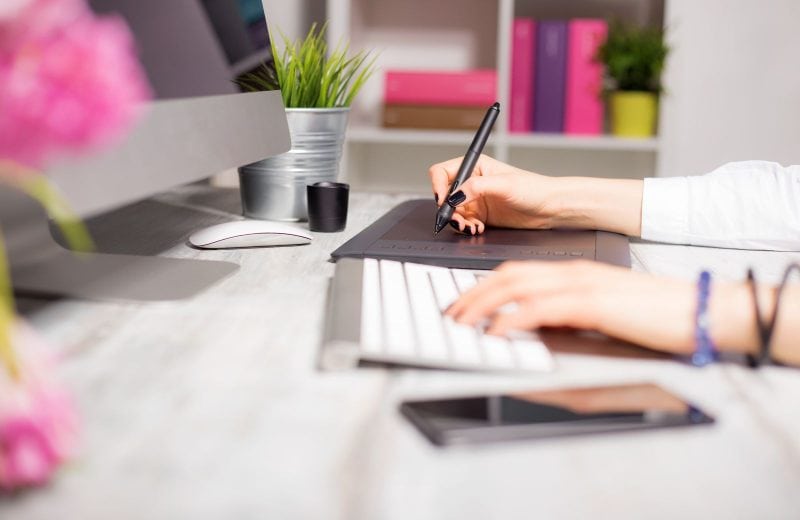 Stationery including business cards, letterheads, with compliment slips and gift vouchers
Posters, brochures, booklets, flyers, and menus
Logos and branding (colors, fonts, style guides, etc.)
Ads for magazines, (both digital and display
Digital content for social media
Email newsletters (EDMs)
Infographics
Powerpoints
As you can see, there are many services you can offer. Whether you provide everything or specialize in a few areas is entirely up to you. Sometimes it's good to start with everything until you figure out what you enjoy designing the most and what you're best at.
When we first started, we worked with small, local businesses back in our hometown to create branding, stationery, and brochure designs. Over time, our offerings have changed, so we now specialize in just branding and website design.
How to Be a Graphic Designer
While I went to university to study Graphic Design, it's not essential to attend school for it these days. Laura does not have formal training in graphic design. It's all self-taught with a couple of local courses under her hat in Adobe InDesign and Photoshop.
If you're looking to start on a budget, there are plenty of ways to upskill for free.
One of our favorite resources we both use and love to recommend for fellow designers is Creative Live. They have the basics covered for almost everything you need to be a graphic designer, from Adobe creative cloud program courses through to how to run a design business and what to charge.
If you want some official accreditation, there are online courses for Certificate IV in Design available from The Graphic Design School.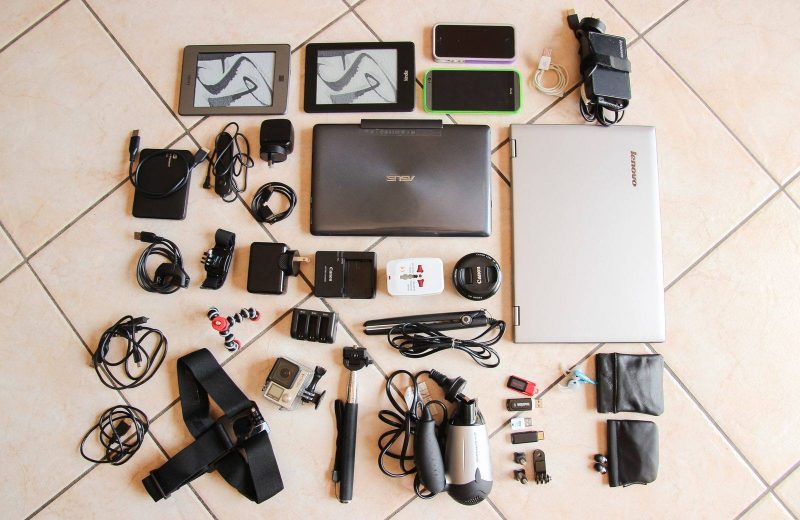 Once you've got some skills, the best way to start is to start! Ask your family and friends if anyone needs any graphic design help to get some testimonials under your belt. This helps to build credibility and trust with future clients and gather some visual project examples.
A few things we recommend having in place when you're ready to start your business:
Portfolio – A good portfolio has samples of your work that show your style, skills, and types of services you offer. We have our portfolio on our website and samples of our work on Instagram.
Pricelist – Outline the services you provide with either hourly rates or project rates.
Invoice & Quote Templates – You'll be using these a lot for new clients, make sure to file them all in the one place or online so you can keep track.
Before we left, we made sure to have a few clients and projects lined up. It's easiest to network in your home town within the circles of people you already know. One of our first clients was a family member of my old boss, and I still work with him to this day. So ask anyone and everyone you know, this was the best way to book your initial projects.
RELATED: How to Work Online – Ways to Make Money to Travel Longer
How to Work Remotely as a Graphic Designer
We knew we were going to travel for at least a year, so we spent 12 months setting ourselves up before leaving.
The most important thing we wanted in place was a buffer of cash to support us. Having a cash buffer eases the strain of working remotely overseas for those times, you may find yourself unable to work due to restrictions, illness, etc.
We worked out an average daily expense to travel on a budget and made sure to have this in savings for the entire year. You could choose to have a 3, 6, or 9 months buffer if you wanted, depending on your trip length and appetite for risk.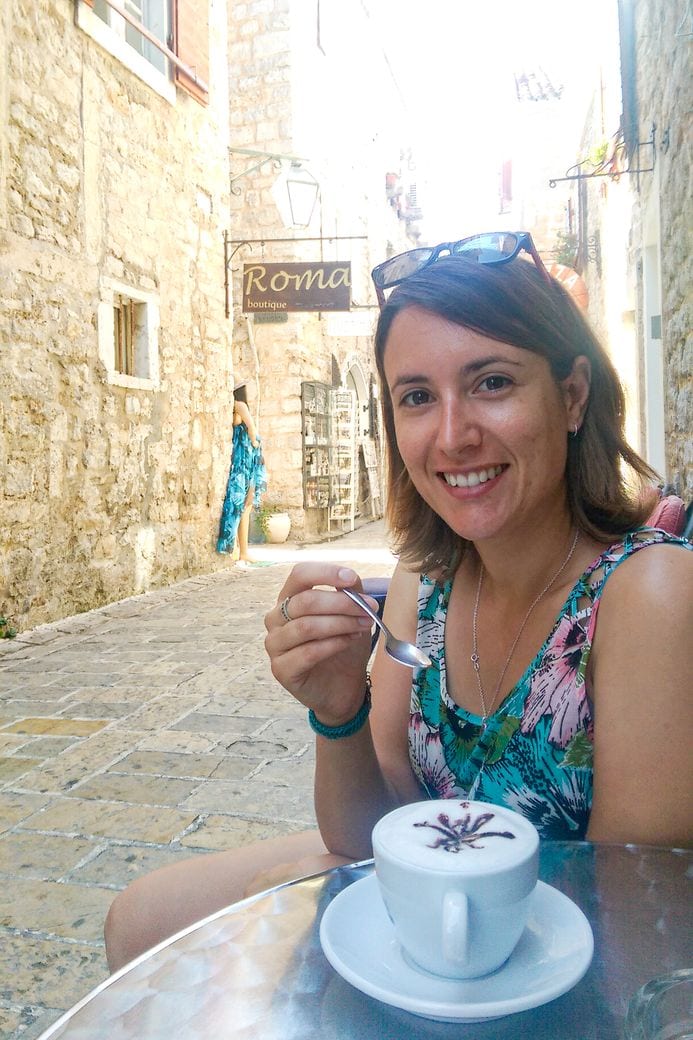 While we both had extensive experience in Graphic Design, there were a few additional things we made sure we had to work remotely.
What You Need to Work Remotely as a Graphic Designer
The Basic Designer's Toolkit
Having the toolkit below is a necessity to work abroad as a Graphic Designer.
A powerful laptop
Adobe Creative Cloud (CC)
An active internet connection
Laptop
The reason we recommend a powerful laptop (think MacBook Pro) and not just any old thing is because of the processing power required to run Adobe programs. Programs such as InDesign and Photoshop chug a lot of energy, so the faster the laptop, the faster you can get your work done.
Adobe Creative Cloud
Adobe Creative Cloud (Adobe CC) is used daily by a Graphic Designer. We might use Photoshop in the morning to create digital ads, InDesign at lunch to put together a product guide or brochure, and Illustrator in the afternoon to create branding and a logo for a new business. You can purchase the Adobe suite on a monthly subscription.
Internet
An active internet connection is the last essential item required for a designer's remote toolkit. This one is usually pretty easy to acquire these days. Just make sure your accommodation has an active WIFI connection available or search for the nearest source.
Some locations are challenging, so we'd usually warn our clients we would be away for a few days and do the work offline, then send everything through when we next had a connection. Sometimes you may need to get creative to get WIFI – whether it's working from a café, shopping mall, or airport.
The Extended Designer's Toolkit
While the basic designer's toolkit above is a requirement, there are a few other tools which, while they aren't essential, definitely make life easier.
Google Sheets or Xero
Dropbox or Google Drive
Zoom
Google Sheets / Xero
Invoices are part and parcel of running your own business. Depending on your budget, you can start by sending invoices from Google Sheets using a template (don't waste your time designing EVERY invoice like I did when we started). If you have the budget, set yourself up with an automatic invoicing system like Xero (this is what we use now – game changer!).
An automated invoicing system is going to save you A LOT of time. You can send invoices and quotes at a click of a button, and set up auto follow-ups for payment so you can be on a plane or sight-seeing while Xero gets your projects paid on your behalf.
Dropbox
We use DropBox for all our client files and Google Drive for our business documents. There are a few reasons to back up all your files consistently:
Safety and Precaution: In the case of lost luggage, a broken laptop, or a stolen bag, having a backup gives you peace of mind.
Faster Laptop: Keeping minimal files on your laptop means more memory and power for running your programs. Win!
Client Sharing: It's super easy to add a client to a folder on DropBox so they can
quickly access their files on demand too, and not rely on your timelines matching up.
Internal Sharing: If you work with VA's (Virtual Assistants) or partners, it's a great way to share source files you're both working on.
Zoom
Zoom has become such an integral part of our business. Not only is it free and allows us to have a face to face meeting with our clients, it also lets us share our screens so we can make real-time adjustments to our designs, which saves loads of time emailing each other back and forth to achieve the same results.
RELATED: Simple Travel Home Office Accessories You Need to Work Comfortably
How Much Does It Cost to Work as a Graphic Designer?
Initial Outlay:
The initial cost is heavily dependent on your current skill-set and technology at hand. Some people may be ready to pack up and go without spending a cent, while others will need to splash out for a new laptop, training or course and any other programs required. If a course and laptop are required, you could be looking at anywhere between $1,906 and $6,354.
Yearly Cost:
Once you have what you need to do the work, your yearly overheads are quite low in this line of work. Our average expenses are around $1,906 a year for the business, and that includes:
Adobe CC License – $587
Xero – $419
Dropbox – $107
Personal Indemnity / Public Liability Insurance – $794
What Is It Like to Work as a Graphic Designer Remotely?
In all honesty, it's fantastic 95% of the time. I really can't fault it. It's so easy to do while traveling, as it doesn't require much other than your creativity, a laptop, and the internet! Of course, there will always be some drawbacks like any job.
Our worst experience was probably on our honeymoon of all places!
We'd let all our clients know what dates we were available to work and when we would be unavailable. Despite our best efforts to put in boundaries, we had a very persistent client trying to contact us to change a menu for them, which was an 'emergency' (it rarely is).
In the end, the internet reception we had was so bad where we were staying remotely; we couldn't actually complete the job. Then, they let us know it wasn't urgent, and they could wait until we had wifi again! A little stressful for something completely unnecessary, but you do learn to manage these situations over time.
Mostly though, it's a lot of time spent in front of your laptop whittling away at a design in Adobe and going back and forth with the client over edits. The only difference is because you're working remotely, the backdrop can vary wildly.
Sometimes we'll be designing by a pool in Thailand and other times it's while moving at 200km in a Shinkansen in Japan!
We loved that working as designers while we traveled just gave us enough of a steady income to not worry about money, and know we'd have savings when we got home. It was also a nice break sometimes from actual traveling.
After spending a whole day out sightseeing, I'd love to then dig into a project as a creative outlet for my brain. When the work is so fun, everything feels like a holiday!
RELATED: How To Work Abroad & Travel the World.
What Are the Hours Like to Be Able to Work Remotely?
It's entirely up to you! We love the flexibility of being a graphic designer. Unless a piece is time-sensitive (such as a magazine or digital ads), you can generally work your schedule.
This works well around traveling, as one day we might work a typical 9-5 pm, and the next day we'll be on a bus for most of the day and need to work that night for a few hours after dinner instead.
Working from a laptop adds extra flexibility, as you can work on projects during transport or from public areas and not require a power source for at least a few hours.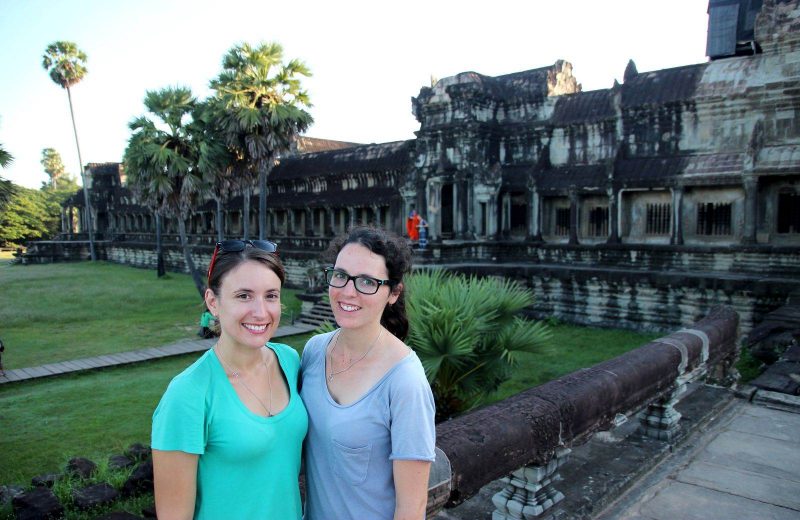 Keep in mind your timezones. For us, we worked only with clients back home in Australia, so we tried to make sure we sent content or emails for them to check during regular working hours where possible as a courtesy.
Generally, we'd say we work 30-40 hours a week if we're in one place for an extended period of time. If we're traveling, or have a lot on, we might drop this to 10-20 hours a week. The beauty is, you can work as much or as little as you need. It can also depend on where you are. For example, if the cost of living is low, like in many Southeast Asian countries, you might only need to work a few hours a week to cover expenses!
RELATED: 56 Work From Home Websites—Earn Money Outside the Office!
Tips on Working Remotely as a Graphic Designer
Always plug your laptop in to charge in your accommodation. There's nothing worse than getting to a café or wifi lounge to send off a project, and discovering your battery is flat!
Give impeccable service. It doesn't matter if you're on opposite sides of the world, little thank you messages or extras in your project deliveries are always appreciated by your clients. It could be something simple such as getting a project in a day early or sending them a small present to their office.
Out of Office is your best friend. If you're going to be out of range or busy, pop on the out of office memo on your emails with handy information for new and existing clients. You might direct them to your website for more information or to a link where they can download your price list or portfolio while they wait for your response.
Choose the right bag for your laptop. If you're like us, you'll be taking out that laptop every time you go through airport security. Having a bag that allows you to take out and repack your laptop easily is a must! While you can always put it in check-in luggage, we always recommend carrying essential items like this on you at all times. Take a look into anti-theft bags as well to protect your electronics.
Working remotely as graphic designers has been so freeing for us. While we work the majority of the time from home now, we take many extended breaks throughout the year – both locally and internationally. This is definitely one profession that utilizes the full flexibility of traveling and working abroad.
I hope you found this guide on how to become a graphic designer useful and that you have all of the information you need to get started. What excites you the most about becoming a graphic designer? Let us know in the comments below!
---
>>> BIO
We're Sarah & Laura – best friends, life partners and wifey's for lifey! We're the creative duo behind Wandercooks. We've travelled the world to over 35 countries on a mission to bring edible adventures to curious foodies. When we're not cooking, we also run our own graphic and web design business, running both for the past 5 years.
---
---
Don't lose this! Click to pin it now.