Your Guide to Morocco
Situated at the tip of northwest Africa, Morocco is a country steeped in history and culture. From the bustling markets of Marrakech and the stunning architecture of Fes to the diverse landscapes, snow-capped Atlas Mountains, and roaring waves along the coast—there is something for everyone in this diverse country.
With its eclectic mix of Berber, Arab, and European influences, Morocco offers a unique blend of traditional and modern experiences. Whether you're interested in exploring the country's rich history and culture, indulging in its delicious cuisine and copious amounts of mint tea, or simply relaxing on its beautiful beaches, this in-depth guide will help you plan the perfect trip. So pack your bags and get ready to experience the magic of Morocco!
Quick Information About Morocco
Language: Morocco is extremely diverse, and this is evident in the language. Arabic and Berber are Morocco's official languages, though French is also widely spoken. English is becoming more and more common, especially in touristy areas. That being said, you may want to bring along a pocket dictionary and brush up on some common phrases you can fall back on if need be.
Currency: Moroccan Dirham (MAD)
Electrical socket + Voltage: Morocco uses a round, two-prong plug (Type C and E – the same in much of Europe) with 220V and 50HZ.
Visa Info: As long as your trip is under 90 days, you likely won't need a visa to visit Morocco. Countries exempt from Moroccan visa requirements include the US, Canada, Australia, the UK, and most European countries. No matter where you're coming from, make sure you have a valid passport (with an expiration date further than six months out) and a return or onward ticket.
When to Visit Morocco
Many people conjure up visions of sweeping deserts and the sun beating down when they think of Morocco. And while this image isn't technically wrong, there's a lot more to Morocco than just the sweltering heat.
It's true that summers in North Africa are no joke, but weather and temperatures vary greatly by area and season. Generally speaking, the best time to visit Morocco is during the spring, but that doesn't mean that's your only option! Let's break it down.
Make Sure You're Covered Abroad!
Travel insurance can save your @$$ abroad and it doesn't have to be expensive! Safety Wing is what I use because it's affordable, perfect for long or short term travelers and covers the important stuff (including COVID-19).
Summer
As I mentioned, summers in Morocco are notoriously hot. Like averages in the triple digits hot. For some reason, TONS of people love to travel to Morocco in the summer. So, most areas will not only feel extra crowded, but hotel and tour prices will be jacked up throughout the season. For those two reasons, I would avoid summer. If you must, try to plan your trip on the tail ends of summer, either in May or September.
Winter
Contrary to popular belief, Africa is not always scorching, and winters in Morocco can be downright cold. There's typically snowfall in the mountainous regions (skiing, anyone?), though other areas are milder. Even so, you'll likely feel the chill once the sun goes down (especially in the north), so be prepared for colder conditions if you plan to visit in the winter.
Fall
Fall mostly means that the cool weather is coming, and this period can be a hit or miss depending on your itinerary. There are fewer crowds, and prices tend to relax a bit during this time. Just like the winter, you'll need to make sure to pack extra layers if you visit during the fall, especially for chilly evenings.
Spring
In my opinion, spring is the absolute best time to visit Morocco. It's the perfect mix of warm days and cool nights, and no matter where you go, you'll find mild temperatures. Whether you want to surf the coast, hike in the Atlas Mountains, or ride a camel through the desert, Spring is the perfect season! In addition, it's considered a shoulder season, so there won't be massive crowds or soaring prices to contend with.
Transportation in Morocco
Transportation is fairly straightforward in Morocco, with options to travel by bus, train, taxi, plane, and car.
Bus
Bigger cities like Marrakech and Casablanca have public bus service available, though this can be a bit hectic to figure out. These buses tend to be old, overcrowded, and notoriously hard for foreigners to figure out, so unless you're on a super tight budget, you may want to opt for a different mode of transport.
Intercity buses also haul passengers between larger cities and towns, which are a lot easier to navigate than public buses. They're also cheap and convenient, making them a great option for getting between points A and B. The major (and most reliable) companies are CTA and Supratours, which offer comfy buses with A/C – rejoice! The websites are a bit inefficient to navigate (have google translate ready to roll), but you'll want to secure a ticket in advance if you're traveling during peak seasons (summer and winter).
Train
The train system in Morocco (operated by ONCF) connects many major cities, including Casablanca, Marrakech, Rabat, and Fes. Trains are a comfortable and convenient option for travel, with first and second-class options available.
Taxis
Taxis are widely available in Morocco and can be a convenient option for short trips. In Morocco, taxis are either metered or unmetered, and it is important to agree on the fare before starting the trip, especially in unmetered taxis.
Petit taxis travel short distances, while Grand Taxis are available to shuttle passengers between towns. This is a great option if you don't mind riding with strangers. You may have to wait until the vehicle is full (usually around 6 people can fit), and like any other taxi, make sure you agree on a rate before hopping in. Grand taxis can be found at most taxi stands and bus and train stations. Note that you may have to pay extra if you have a lot of luggage.
Rental Cars
Rental cars are widely available in Morocco and can be a good option for those who want more flexibility and independence during their trip. If you have the time, taking a road trip is one of the very best ways to explore Morocco!
If you're hesitant, I have an excellent guide for driving in Morocco with tons of tips to help you out. You can do it!
Private Transfer
Organizing a private transfer for your trip is a convenient way to travel around Morocco, as it provides you with your own vehicle and driver. This is perfect for those who want to avoid the hassle of navigating public transportation or driving themselves. Just be ready to pay the big bucks for this luxury!
Plane
Another convenient way to travel if you're looking to pack a lot into a single trip is by flying. The main domestic airline is Royal Maroc Air, and there are often sales available, so you can snag a ticket for cheap. Like most places worldwide, you should book your plane ticket in advance to get the best deal. Not all destinations will be available by plane, but if you're sticking to the big cities, you'll have no problem flying between spots.
Rough Budget for Visiting Morocco
As you plan your trip, you may wonder, is Morocco cheap? And the short answer is, ehhhh…kinda? I know—super helpful. To be honest, it's not as cheap as I thought it might be, but as someone who loves to travel on a budget, it's all relative!
And it depends on your itinerary, how long you're traveling, and what types of things you want to do. Let's break it down so you can get an idea of how much a trip to Morocco will cost.
Rough budget for budget travelers: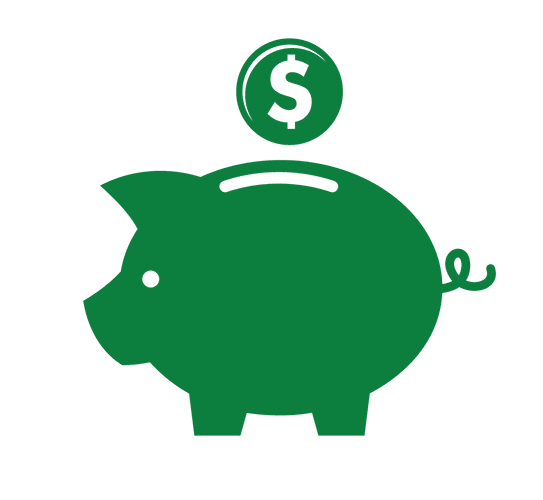 Accommodation: 50-120 MAD (~$5-12 USD) per night for a budget hostel or guesthouse
Food: 40-105 MAD (~$4-11 USD) per meal at local restaurants or street food vendors
Transportation: 75-275 MAD (~$8-29 USD) per long bus or train ride, or 150-300 MAD (~$15-30 USD) per day for a rental car or scooter (gas is extra, around 400 MAD ((~$40 USD)) for a half tank).
Activities: Free-80 MAD (~$8 USD) for things like visiting local markets, hiking in the mountains, or exploring the medinas
Total Daily budget: 270-800 MAD ($27-79 USD) per day
Rough budget for mid-range travelers: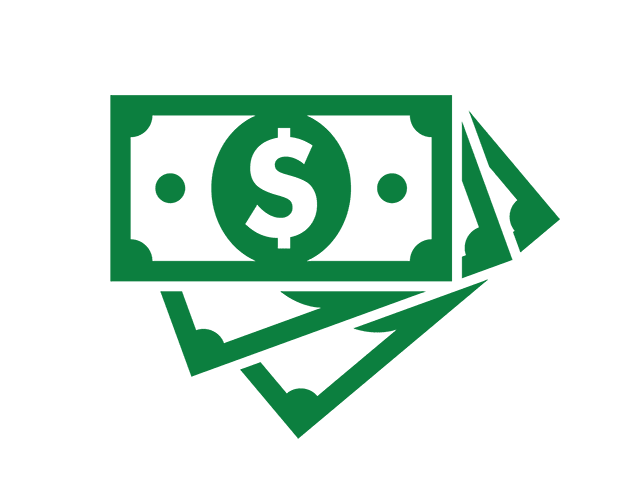 Accommodation: 150-300 MAD (~$15-30 USD) per night for a mid-range hotel or Airbnb
Food: 150-200 MAD (~$15-20 USD) per meal at mid-range and local restaurants
Transportation: 75-300 MAD (~$8-30 USD) per short taxi ride or long bus or train ride, or 300-500 MAD (~$30-50 USD) per day for a nice rental car (gas is extra, around 400 MAD ((~$40 USD)) for a half tank).
Activities: 150-400 MAD (~$15-40 USD) per day for shopping at markets and entrance into museums, mosques, and archeological sites
Total Daily budget: 900-1900 MAD (~$90-190 USD) per day
Rough budget for luxury travelers: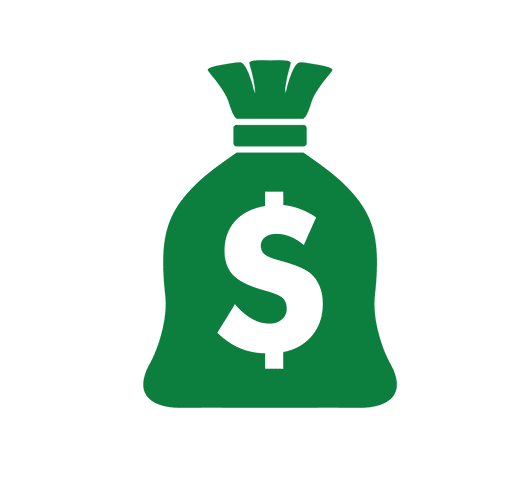 Accommodation: 800+ MAD (~$80+ USD)per night for a luxury hotel or riad
Food: 240-400 MAD (~$24-40 USD)per meal at high-end restaurants
Transportation: 800+ MAD (~$80+ USD) for private transportation or plane rides
Activities: 600-1000+ MAD (~$60-100+ USD) per day for guided tours or activities such as private tours, spa treatments, or cooking classes
Total Daily budget: 2000+ MAD (~$200+ USD) per day
What to Pack for Morocco
Deciding what to wear in Morocco does not need to be overly complex. No, you don't need to cover up head to toe, but yes, you should dress modestly to ward off unwanted attention. Note that what you pack will depend heavily on the season and where you're going. Obviously, if you're going skiing in the Atlas Mountains, you can probably forgo the dresses and t-shirts.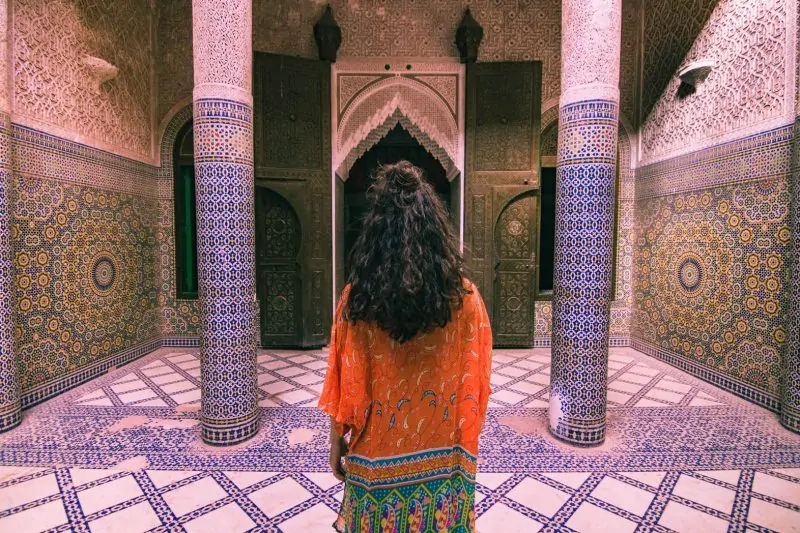 Women's packing list:
Things like basic t-shirts, dresses, maxi skirts, sandals, and bathing suits for summer months, and more layers, long pants, and jackets for the cooler months. Closed-toed shoes are great for cool weather or dressing up an outfit for dinner, and scarves are good to ward off the cold, the sand, and the hot summer sun!
Men's packing list:
Bring plenty of t-shirts, button-ups, shorts, and pants for summer, plus some extra layers and a jacket for the fall and winter. Closed-toed shoes are essential—pack something comfy for walking around all day and something dressier for evening dinners. A scarf or mask can come in handy if you plan on heading into desert terrain.
Best Things to Do in Morocco
There are truly endless amazing things to do in Morocco. Take it from someone who was there for nearly three months and barely scratched the surface! I'm dying to go back and cross some more things off my list.
Whether you're here on a quick vacay or an extended period, here are some of the very best things to do in Morocco: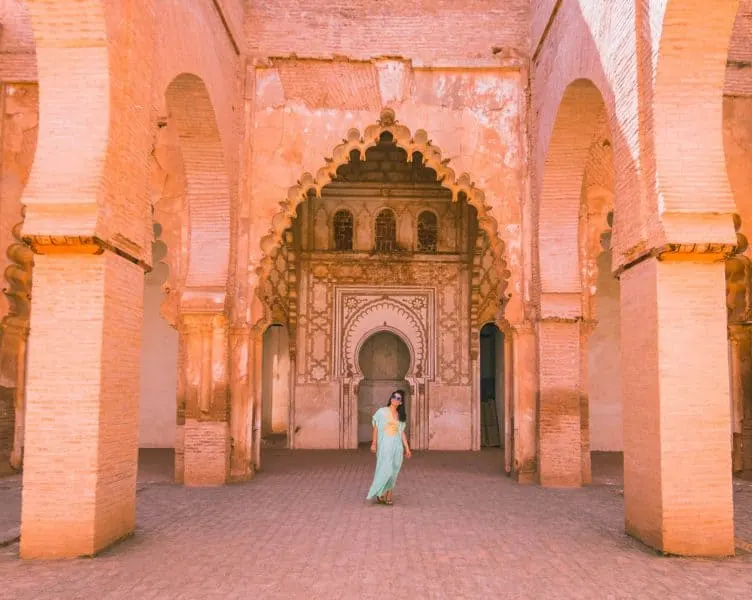 Hit The Cities: Marrakech, Fez, Chefchaouen
Marrakech is perhaps the most well-known city in Morocco, which definitely lives up to the hype! It's filled with colorful markets, breathtaking architecture, and a bustling medina (old town), making it the perfect place to call home base on your Moroccan getaway. You can plan awesome day trips from here or continue to iconic cities like Chefchaouen and Fes.
Take a Road Trip
If you're up for an adventure, there's no better way to experience Morocco than by taking a road trip. Many tourists miss the idyllic coastal towns, soaring mountain peaks, expansive desert terrain, and other hidden wonders between better-known destinations. Having your own set of wheels allows you to explore all your whims.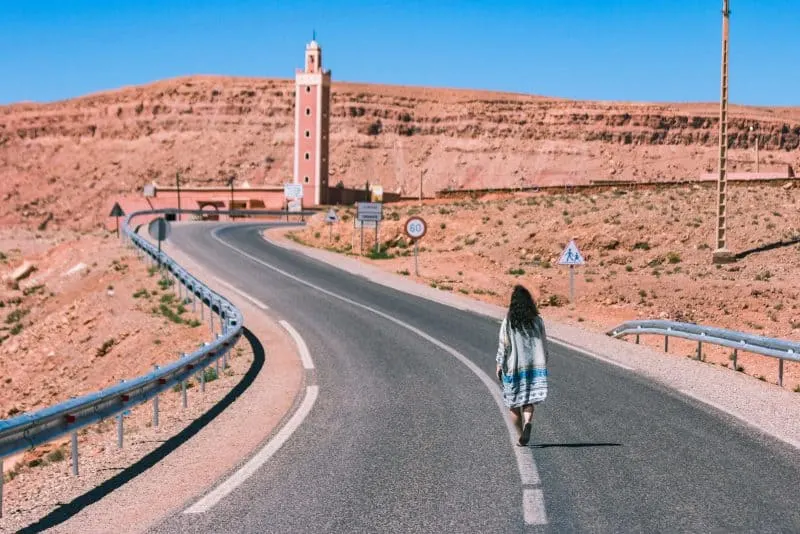 Take a Tour
No matter where you go in Morocco, there are sure to be a variety of phenomenal tours. Let someone else do the heavy lifting of planning and coordinating, so you can sit back and enjoy the experience. Tours in Morocco are a great way to get off the beaten path, especially if you don't have much time (or patience for tons of research before your trip).
And the options are infinite. You can go up in a hot air balloon, explore the Sahara desert via camelback, or even climb a freakin' mountain. For a more laid-back experience, there are plenty of tours to help you discover cities, food, souks, and more.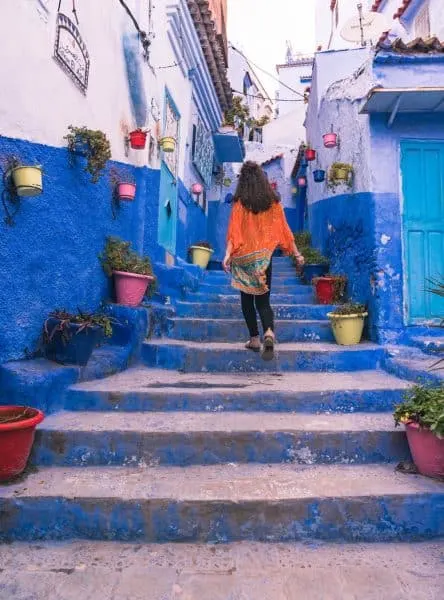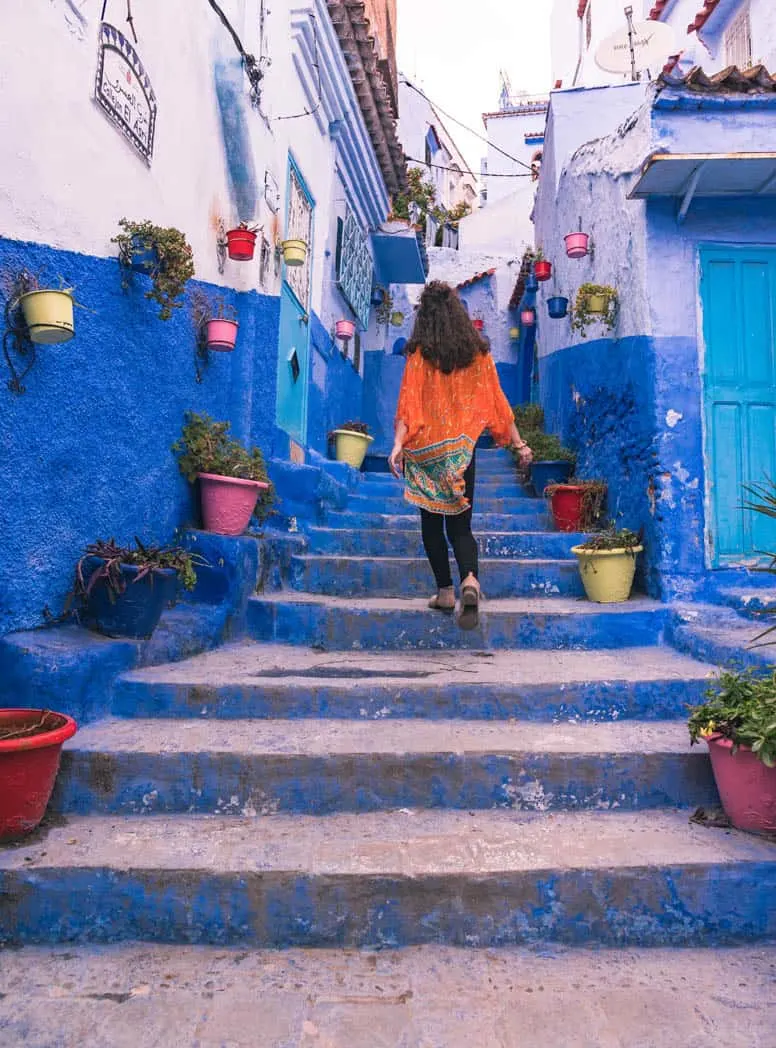 Toubkal National Park
You may not expect snowcapped mountaintops in a country known for its desert terrain, but Toubkal National Park is sure to dispel all preconceived notions. This jaw-dropping park sits just outside Imil and features epic hiking trails that wind past mountain peaks and raging waterfalls. If you're a lover of the great outdoors, you should definitely have this on your Moroccan itinerary!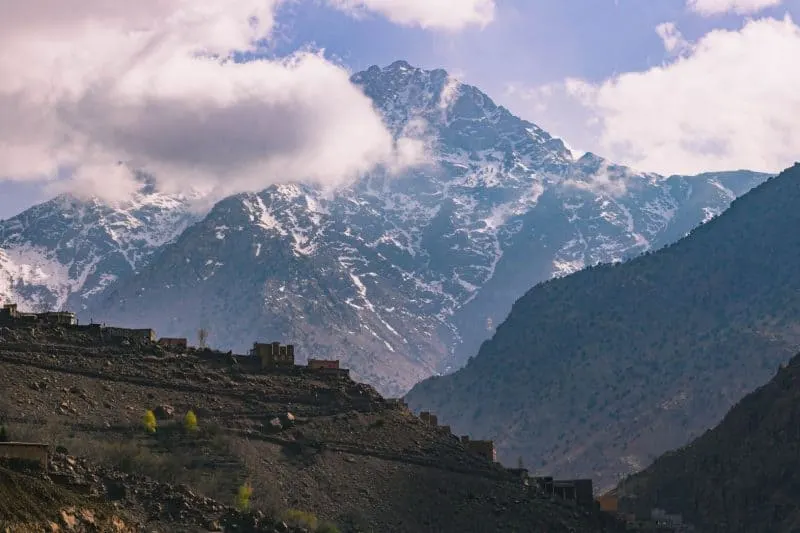 Learn How to Surf
Surfs up in Taghazout! If you've spent any time shredding waves, it's likely no surprise to you that Morocco is famed for some seriously great surfing opportunities. But it's not just the pros that come here to surf.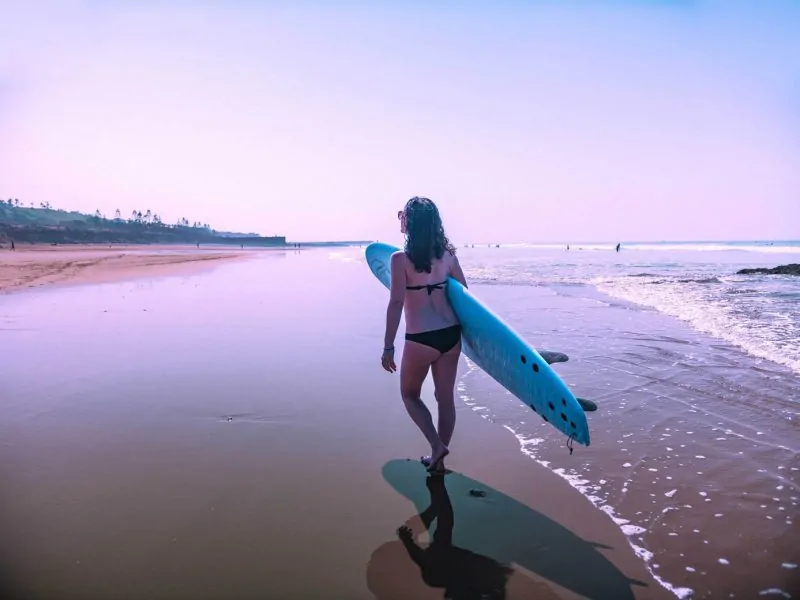 Newbies (like myself) can find a surf camp in Taghazout and be catching waves in less than a week. Even if you suck at surfing, spending the week in this gorgeous town is a dream come true.
Find the Goats
You may think, I've seen goats before; what's the big deal? What if I told you that goats in southwest Morocco could climb trees? I know, it sounds bizarre, but it's true! And it's a sight you simply have to see to believe. Now, they're not just doing it to be cute (although mission accomplished—they're up there to munch away at argan fruit. For a good reason, these goats in trees have become quite a spectacle, and they're worth checking out.
Ouarzazate
Film fans may recognize the name Ouarzazate for the massive CLA studios—a famous set that has been the backdrop for hundreds of movies and shows (Game of Thrones fans, you up?). Even if you're not a big movie buff, there are plenty of things to do in Ouarzazate. There are some gorgeous viewpoints, a few kasbahs (fortresses), and plenty of tours to take you around the area.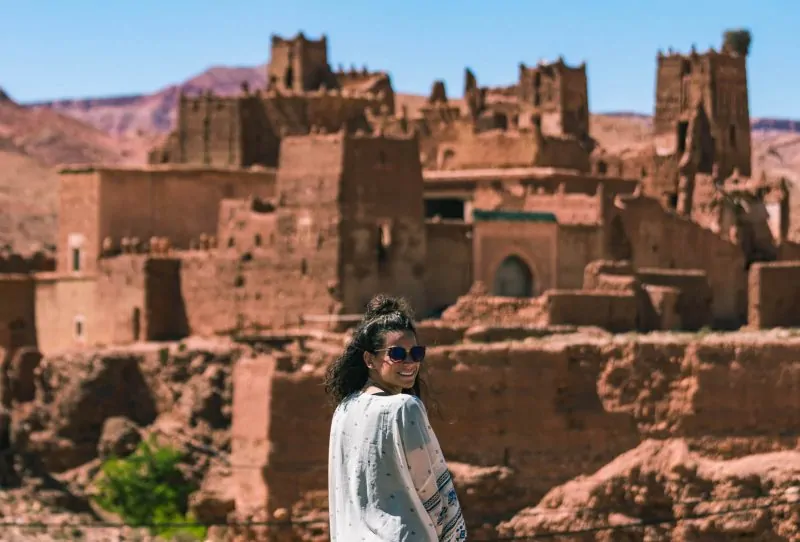 Paradise Valley
With a name like Paradise Valley, it should come as no surprise that this spot is one of the most photogenic places in Morocco. It's quite literally an oasis, with small waterfalls, deep blue pools, and river beds lined with palm trees, all surrounded by staggering mountains. Need I say more? There's not much to do here other than take in the scenery and go for a dip, so a day trip to Paradise Valley is the best way to visit.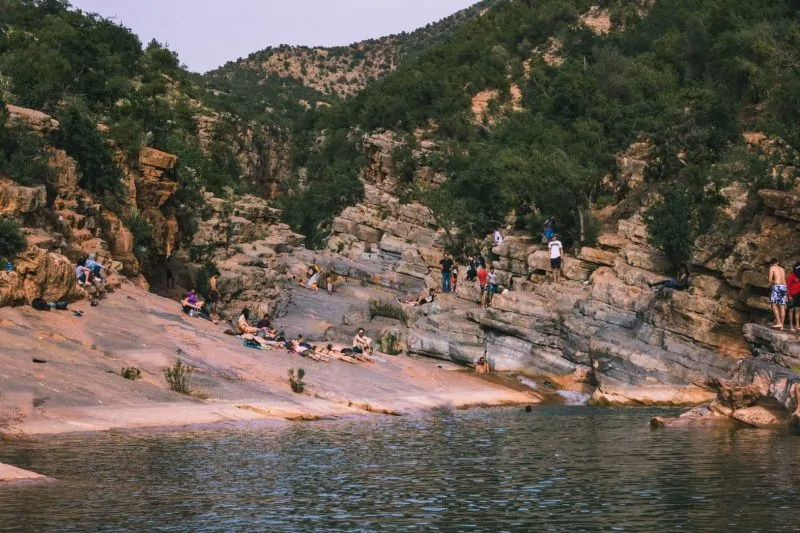 Hit the Beach
Calling all beach lovers! Morocco has an incredible stretch of coast, so bumming here is definitely on the ticket. Having a day or two to relax at the beach is a great way to break up a busy trip, and there's nothing wrong with an itinerary full of gorgeous coast towns! Not all beaches are created equal, so here's a list of the best beaches in Morocco.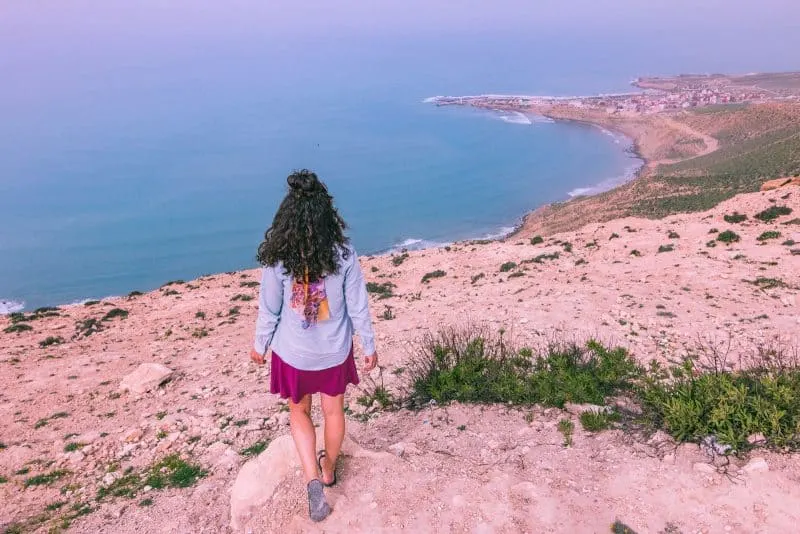 Camp in the Sahara Desert
Many people who visit Morocco want to check out the Sahara Desert, and for a good reason! This sweeping landscape is breathtaking and one of the best things you can do while here. If you want to take your experience to the next level, you should consider camping in the Sahara Desert.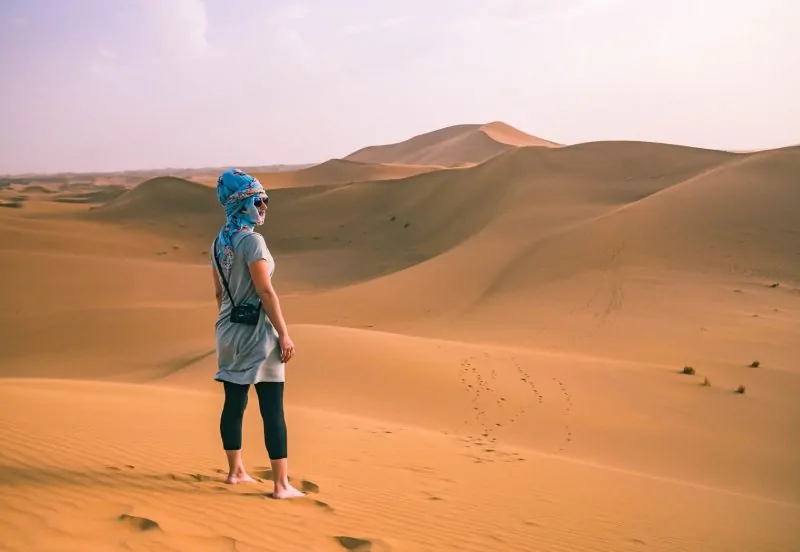 This experience is not for everyone, but you can hire a guide to lead you around, show you how to sand surf, and cook an amazing dinner under the stars. I can't overstate how incredible this experience was from start to finish.
Where to Stay in Morocco
Depending on your itinerary, there are a few really great places to stay in Morocco. In my opinion, places like Marrakech, Chefchaouen, and Fes are must-sees and deserve at least a few days each. If you have more time, tons of great beach towns and smaller villages out in nature deserve to be explored.
There's no shortage of accommodation in Morocco, with options for slumming it at hostels, living large at luxury riads, or something in between, like a hotel or guest house. There are also Airbnbs, which are a great option if you spend extended time in one area.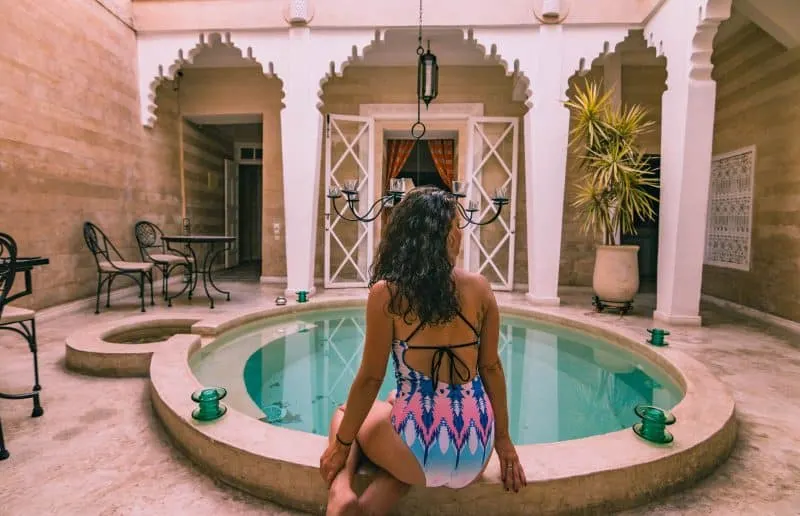 What to Eat in Morocco
Moroccan cuisine is a delightful mix of Berber, Arab, Jewish, and French cultures, full of unique flavor profiles and spices. Whether you're trying some street food, shopping for spices at the market, or tucking into a plate at a local restaurant, here are a few things you need to try: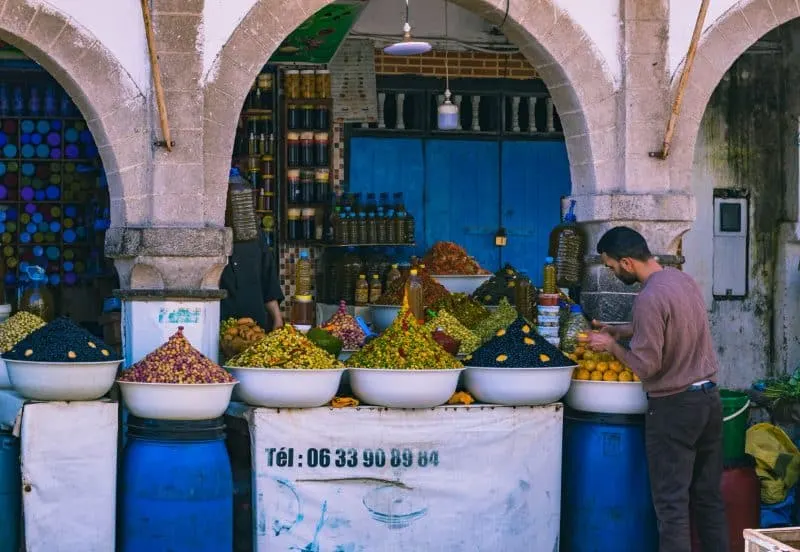 Olives
When I say, we ate our weight in olives while in Morocco, I may be exaggerating. But only a little bit. You'll see heaping mounds of different types of olives all over the place, and the best part is, they're super cheap. Indulge to your heart's desire!
Cous Cous
Cous Cous has gained popularity worldwide in recent years, but Morocco is one of the best places to try this fine grain wheat. It's typically served with stews, and you can find it on menus across the country.
Amalou
This thick spread is typically found in southern Morocco made from roasted almonds, honey, and argon oil. It's great as a dip or to smother your bread, basically like Morocco's version of peanut butter—need I say more?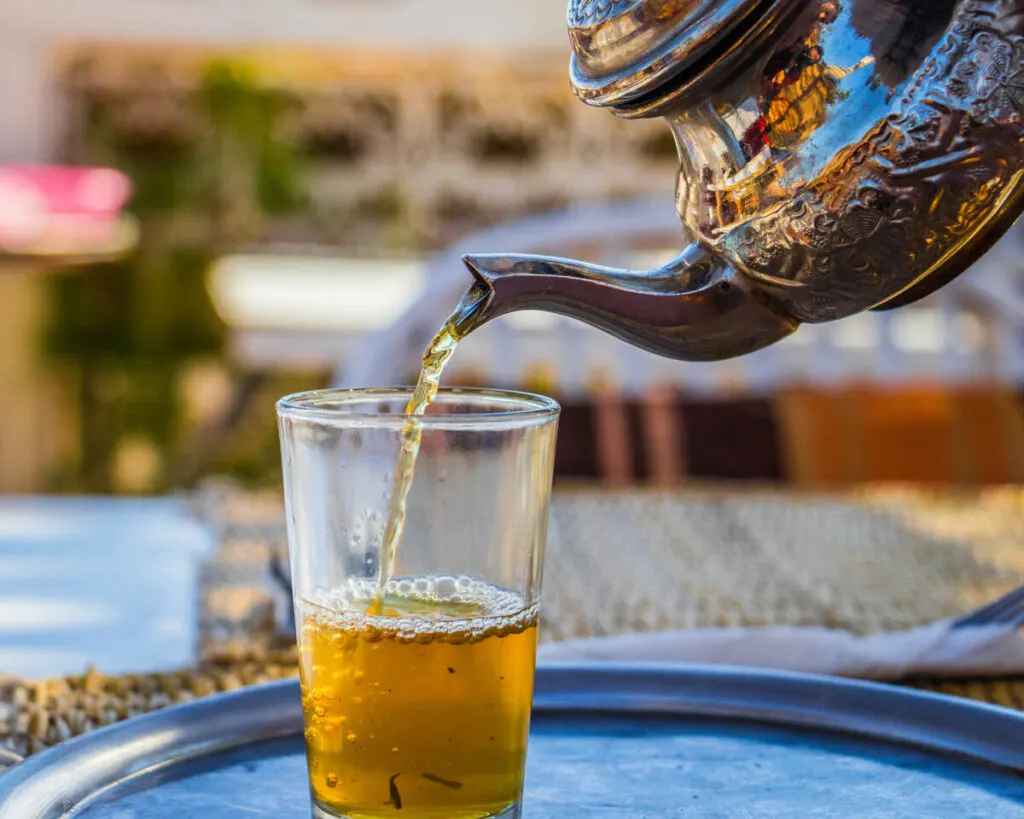 Mint Tea
Obviously, this is a drink, not food, but it deserves a mention. Mint tea is served virtually everywhere in Morocco, and you can count that as a blessing because it is truly delicious. Make sure to have as many cups as possible while you're here!
Msmen
This is a typical kind of flatbread stuffed with either savory or sweet ingredients and served in food stalls across the country. This is a great snack while wandering through the city or even a cheap meal if you're on a budget.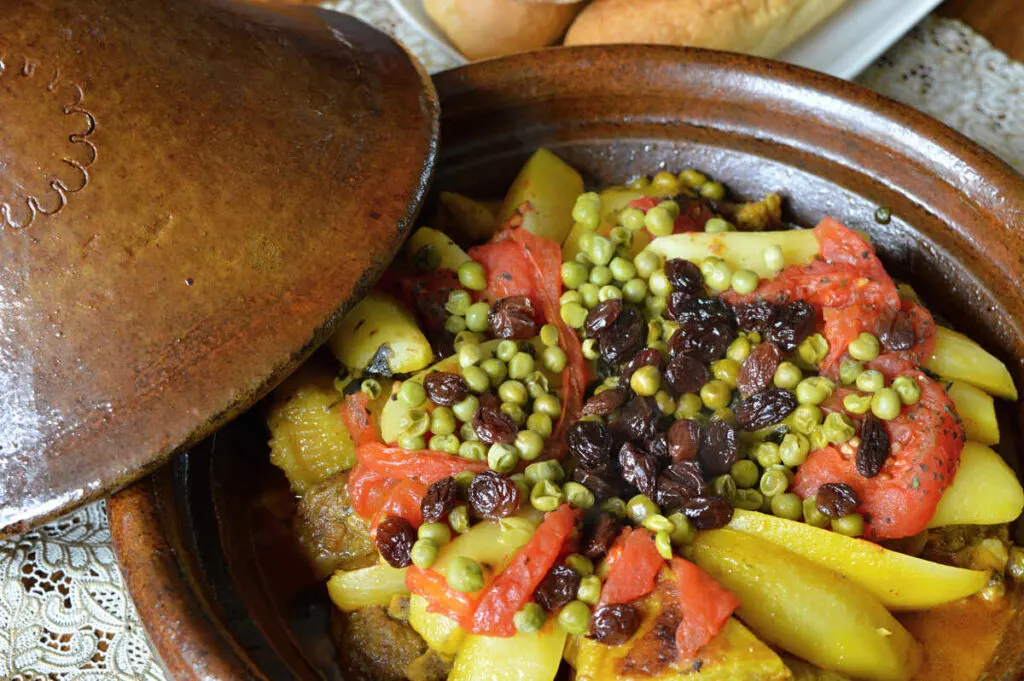 Tagine
Tagine is a typical Moroccan dish made in a terracotta clay pot—you've probably seen it. Meats (usually beef, lamb, or chicken) and veggies are slow-cooked inside the pot and served at most cafes and restaurants in Morocco.
Khobz
Bread is typical for brekki in Morocco, and in my humble opinion, Khobz is the elite bread here. This is the only bread we ate for two and a half months, and we never got sick of it, so that's really sayings something.
I hope this helped you plan your trip to Morocco! You can read all my Morocco articles here: