This Teaching English in Spain article is authored by Jamie.
If you've ever wanted to spend a year traveling around Europe, learning a new language, and having the experience of a lifetime, teaching English in Spain is a great, easy way to do it.
Over the past few years, Spain has really pushed for English fluency in their public schools, which means they're hungry for natives to help.
As someone who has done just that, I'm going to give you a hint of what it was like living the dream, and how to accomplish it.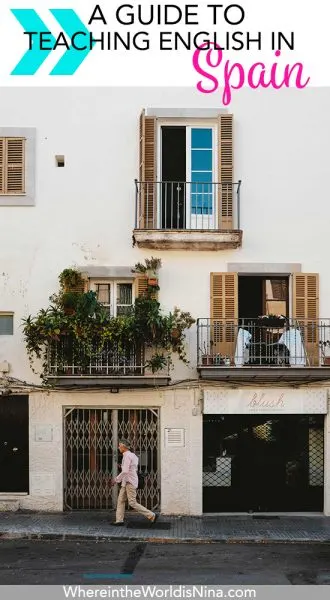 Don't lose this! Click to pin it now.
Why Was I Interested in Teaching English in Spain?
I'm from a small suburban Florida town. Nothing interesting ever happened growing up, and I had wanted to travel the world and experience new things for as long as I can remember. Therefore, the first chance I got to change up my life was going to college.
I studied anthropology; not because I necessarily wanted to be an anthropologist, but because it was the major that most closely aligned with my interests: culture.
Once I finished college, I finally had my big break. I had no responsibilities, no commitment, and no set path for my future.
I was finally free to travel!
I had heard of teaching English abroad before, and honestly, it just made sense to me. It was a convenient way to go abroad and have an income and lifestyle set up and ready to go.
Teaching abroad in Spain would be my first "adult" job. Plus, hey, English is one of my strong suits, so who better to teach Spanish kids?
My personal experience teaching abroad in Spain wasn't the most positive, due to some major cultural differences; one of the first things they taught us in orientation before our school year started was that Spaniards are not confrontational.
Unfortunately, I am, so there were some mixed messages happening for me throughout the school year. I did love my time there, though, as well as being able to share my culture and being able to see the intricate details of my world/language that aren't so obvious to non-natives.
How Did I Get a Job Teaching English in Spain?
Getting the job teaching abroad in Spain was pretty easy. Because I knew that I wanted to teach English in Spain, I just Googled it!
As aforementioned, the Spanish school system is pretty hungry for natives, so as long as you meet all the deadlines, there's no reason why you shouldn't find a job.
There are several different companies that will host you, with different requirements, job duties, paychecks, etc. Find the one that works for you. I found a company that I liked, applied, was wait-listed, then accepted. After that, it was a matter of following their directions, getting the necessary documentation, and getting ready to go.
Getting Your Spanish Working Visa
One major piece of advice I can give you is to get your visa ASAP.
Even if they are in America, international consulates reflect the culture of the country they represent, so the Spanish visa process is slow and not very well-communicated; if you're worried it's taking too long and you call them up, they'll tell you the day to expect your visa to be ready, and it'll be at the last possible moment, which may very well be past your deadline.
Fortunately for me, I got a spontaneous phone call before the date they gave me, and I had the freedom and ability to drive to Miami the next day to pick it up!
The program you go through should provide you all the legal information that you need to move forward.
If you're missing information, you're better off contacting your program or asking any other participants (if you're put in contact with a group of other teach abroad participants like I was. I got crucial information from another participant that nobody else would tell me).
The Spanish consulate is not dependable for this kind of information.
The visa process is absolutely the most grueling, and obviously important, of it all; getting the documentation, getting the correct documentation translated, and getting copies of all the right ones.
Make sure you follow instructions to a T, or else they will not accept your visa application. This includes getting a general physical, a background check, and more.
Your Visa Appointment
Do not skimp on what your program advises you will need to get your visa! The visa struggle begins with getting an appointment with the consulate (which, depending on where you live, may require airplane travel to and fro, as there are only a handful of Spanish consulates in the US).
You may very well go to the website to set an appointment and find that they're booked for months!
In this case, you will need to keep coming back to the website and waiting for an appointment to open. Don't worry, you'll get one! Just make sure you're ready to pounce when the opportunity presents itself!
While you're waiting, get together the things you need. You do not want to leave this to the last minute either. I ended up having to take a spontaneous 4-hour drive (both ways) to get one piece of paper the Friday before my Monday appointment.
Again, I was fortunate enough to be able to drop an 8-hour day just driving; if you don't have this freedom, make sure you're prepared!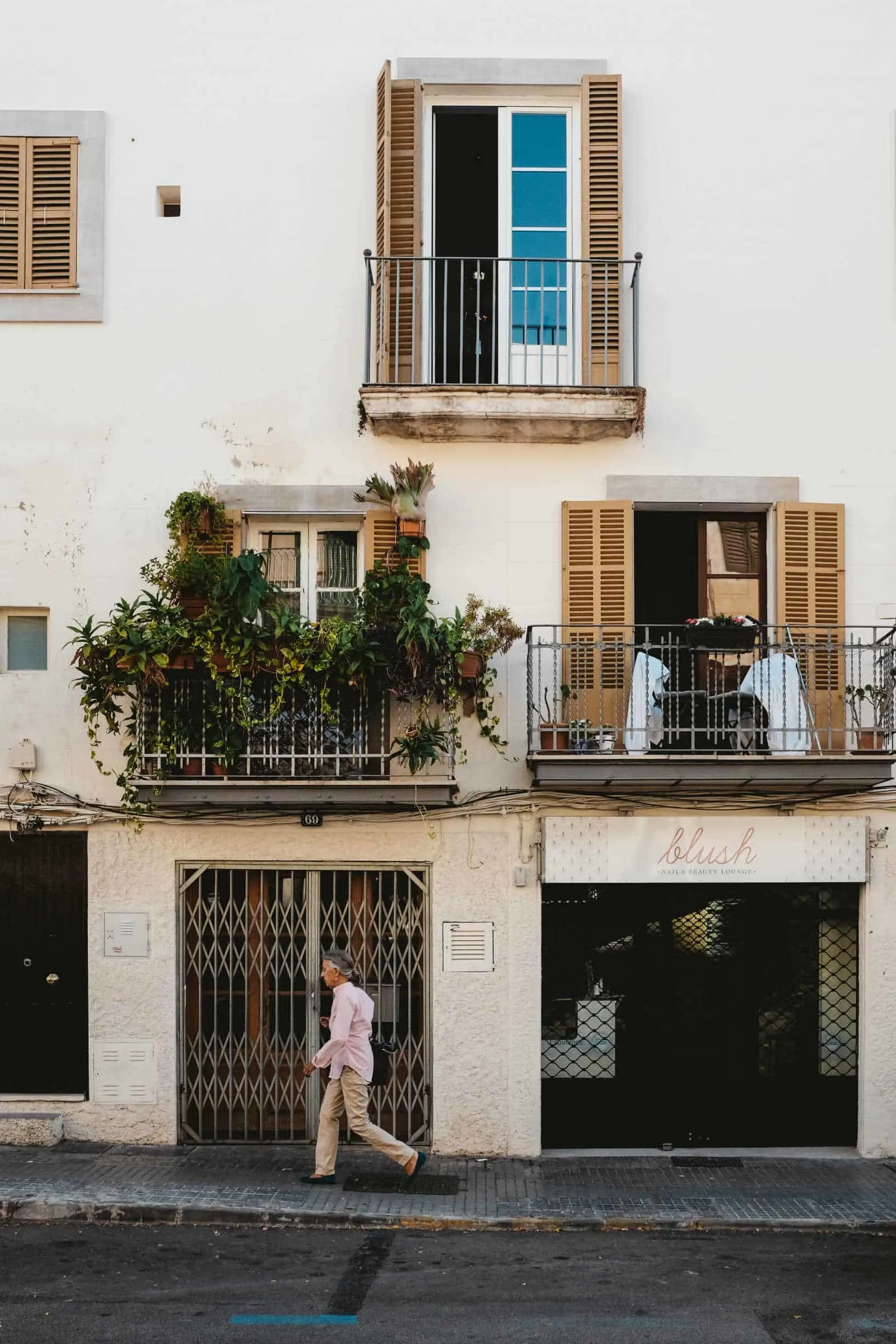 Requirements to Start Teaching English in Spain
Requirements-wise, it often depends on the program that you go through; some of them will require a bachelor's degree and a TEFL (discount code: nina50), for example, while some won't. If you don't have certain titles or documentation, this may narrow down the programs that you can work through.
Fortunately, Spain is really plumping up their English programs so you're sure to find one that you can go through!
In my case, I only needed a bachelor's degree; major did not matter. However, this will vary from school to school. It's still a good idea to get a TEFL as it's cheap and easy to get and will give you the upper hand.
If you are still considering teaching English in Spain but do not have a degree, you may also consider setting up private lessons! Though a different subject, that is another option that is very high in demand in Spain.
Details of Teaching English in Spain
As I've said, the number of hours you will be working, what you will be doing, your paycheck, and where you will be working depends on the program that you select, and the program you select may depend on a variety of factors.
While I was teaching abroad in Spain, here were the basics of the job:
4-day work week (either Monday or Friday off, depending on when your school schedules you)
4-hour work day (though that may include 2-4 free hours between working hours)
1,000€ a month, paid at the end of the month
Christmas break and Spring break (known as Semana Santa)
National holidays that fall on Monday (yes, if you have Fridays off you'll have some 3-day weeks!)
What you spend your workday doing also depends on your school and what they need from you.
While I heard from the other participants in my program that they were mostly coming up with lesson plans themselves, I mostly acted as a cultural assistant, providing knowledge about American culture to classrooms that were lead by Spaniards with British English experience. I also helped them grow accustomed to the American accent.
In terms of where you'll be teaching, this, again, depends on your program and may influence which program you choose.
Some programs employ teachers in Southern Spain, Northern Spain, etc. One of the reasons why I picked my program was because they put teachers in schools located in and around Madrid.
Therefore, my experience teaching abroad in Spain was in a school located in a pueblo on the southern outskirts of Madrid, about a 45-minute bus ride from Madrid Centro.
Fortunately, Madrid had changed their public transportation fees to 10 euros a month for unlimited travel anywhere in Madrid for travelers under 26, so I was set!
Not to mention, Madrid has SO many things to do, it was a perfect place to live.
Why I Loved Teaching English in Spain
Honestly, getting there and getting used to the job was really difficult. Don't forget that you'll be putting yourself in a new country, with a new culture and a new language, all by yourself! It's difficult and stressful, but absolutely worth it.
I loved having the freedom to travel the country every weekend and having such a low-maintenance job. I loved being able to experience so many new things, learn so much history, eat so much interesting food, and live a dream.
Teaching English in Spain was the best idea I've ever had in my life, and I highly recommend it.
If you're even considering this path, do it! As long as you keep an open mind and are ready to push through any struggles that come your way, you won't regret it.
Don't forget, if you need a TEFL certification, use nina50 to get a discount!
More English Teacher Jobs
Do you want to teach English in Spain? Let us know in the comments and feel free to ask any questions!
---
>>> Bio
Jamie is a twenty-something whose dream is to travel the world and learn all its languages. After her year in Spain, her goal is to finally conquer the Spanish language with an official DELE certification, so she can jump into her next language. You can follow her journey and learn Spanish with her at CrashedCulture.com.
---
Don't lose this post! Click the picture to pin it for later!