This post on the best blogger accessories was authored by Catalin Geangos
When you're traveling away from home, you need to ensure you have all your essentials. Otherwise, you may be spending big money on new unneeded items or missing out on things you'd hoped to be using on your trip.
As a travel blogger, you have even more specialized requirements to make sure you can continue working and living a nomadic lifestyle. You don't want to be overspending or cluttering your luggage either.
So I've put together an essential list of accessories you might need as a travel blogger.
Essential Travel Blogger Accessories
---
1. Anti-theft Travel Purse or Backpack
Most of the places you travel are pretty much safe, but there are always some exceptions. Let me tell you a quick story about a girl who stayed in the same hostel as me in Seam Reap, Cambodia.
She was robbed twice on the same day. In the morning, she went for a walk to discover the city, and some guy on a moped stole her golden chain. Later in the day, she was robbed a second time by another guy in a snatch-and-grab attack.
The best advice for these situations: never bring anything valuable with you and use an anti-theft travel purse or anti-theft backpack to keep your belongings safe.
Editor Note: I can't agree more! An anti-theft backpack and purse is ALL I USE when I'm abroad (yes, I use both!) It certainly can't hurt and these bags last ages. Mine all still look brand new and they are between 2-4 years old. This is a must have blogger accessory especially because it's going to be holding all your precious electronics we will talk about below!
2. Backpack with Wheels
A backpack is an essential item for traveling. It would be best if you kept your critical things with you at all times because your actual luggage will be packed away in cargo and may even get lost on the way to your destination.
So your backpack for traveling needs to be big enough, strong enough, and convenient enough to store everything you need for at least a few days.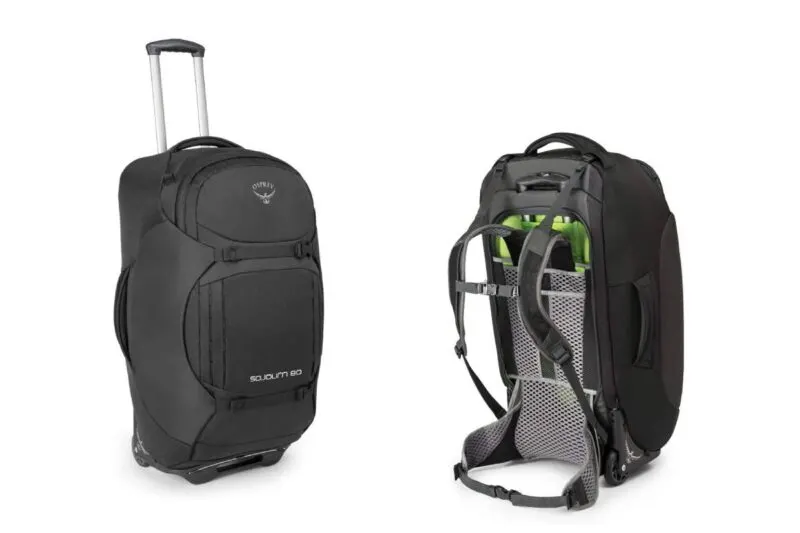 Unless you want to lug around a potentially heavy backpack everywhere, then you want to look at a travel rolling backpack. Rolling backpacks are much more convenient and accessible, they'll protect your blogging equipment better, and you can roll them when they're too heavy.
3. A Powerful Yet Compact Camera
You need to be documenting your adventures, whether it's the sights or the food you're eating. Your phone camera isn't always going to cut it, so you need a robust and durable camera, but it also needs to be compact.
You may be thinking that a DSLR camera is going to be too clunky to carry around, especially if you're moving between multiple locations quickly, which is absolutely true! Most travel bloggers instead go with a mirrorless camera.
Mirrorless cameras are slimmer and lighter and can also offer faster and better quality video. The picture quality is comparable and wouldn't be noticed by anyone other than a professional photographer. So this provides a perfect camera option for travel bloggers.
Editor Note: Personally, I use the Canon EOS R, a mirrorless camera. I can't recommend it enough if you really want to get into photography. It's an essential piece of blogger equipment for me!
4. Camera Strap
Now that you have your brand new mirrorless camera, you still need to take care of it. Having the best possible camera strap gives you many benefits that make a quality one worth buying.
Adding a camera strap to your list of travel blogger accessories means that you aren't going to drop the camera as you're leaning over something dangerous or if you just happen to lose grip on it. Even if you let go, your camera won't fall. Not to mention it's harder for a thief to grab it out of your hands.
The other significant benefit of a camera strap is that you can keep it conveniently with you while you're working on something else. Instead of having to put the camera down, you can let it rest comfortably around your neck as you make adjustments or move around.
The cost of the best camera strap for you will pay you back by keeping your camera safe and making your shots happen faster.
RELATED: 51 of the Best Travel Accessories for Men and Women
5. High Capacity Power Bank
Traveling with tech blogging equipment means that you will need to keep everything charged and ready to go. However, while you're out and about in the world taking photos, writing notes, and looking up information, the power on your devices is going to be depleted.
Sometimes even a full charge isn't enough to get you through the day. If you need a top-up and you're in the middle of nowhere, you're going to be left with a flat battery. If you don't want to be stuck without power somewhere, then you need a high-capacity power bank to charge your devices on the go.
Not only does it mean you can access power anywhere, but it also means you're not stuck waiting at an outlet for your devices to charge.
6. Lightweight Yet Durable Laptop
As a travel blogger, a critical part of your job requires writing and looking up information and potentially editing or at least sorting your photos.
You can do some of your work on your phone, but that's not ideal when your profession is writing. So you will need a laptop that is light and durable to handle all of the travel you're doing.
Something heavy and powerful is going to be a pain and isn't really needed. You will, however, want something that can handle being knocked around a bit without dying on you.
Editor Note: I've been traveling with a MacBook Air and I can't image traveling with anything else. It's light, powerful, and does everything I need.
7. International Power Adapter
If you're traveling to international destinations, the power plugs are different. You could buy something when you get there, carry around different adapters for different countries, or you could have an international power adapter that will work anywhere you are.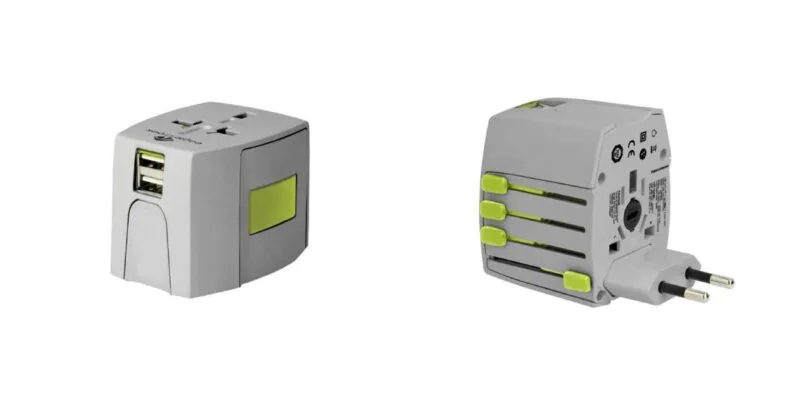 The adapter is small, cheap, and convenient. There is no reason you wouldn't keep one with you.
RELATED: All The Travel Gear I Use and Love
8. Virtual Private Network
You may be a bit confused about how some networking applications could be a travel blogger accessory. However, consider the number of locations you're going to, the different people that will be there, and of course all the free WIFI you're going to be using.
If you access anything important while traveling, then you need to keep your information safe. The information you access could just be passwords or even your banking information.
A VPN application will secure all the information you transmit over your laptop so that nobody can see what you're doing or steal whatever information you're sending over the internet.
A bonus if you travel to, say, China, you'll have access to everything that would typically be blocked there.
9. Travel Insurance
Insurance is often overlooked but critically important as somebody traveling the world. If you get injured or have any medical issue, it could cost you a lot of money to be treated. Your options without travel insurance are to eat the cost or to live in pain until you can get home.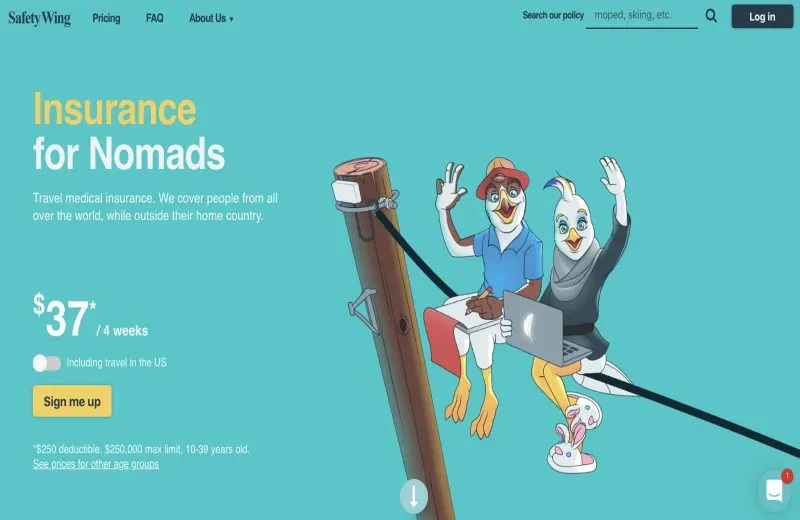 If you purchase travel insurance before you leave, it will cover you for most things while away. If any serious issues require you to be sent home, then the travel insurance should be covering that as well.
So consider if you want your trip to end up costing you thousands of dollars or if you want some peace of mind while traveling.
Editor Note: Depending on my trip, I use one of the above but usually go with Safety Wing. It's the most reasonably priced travel insurance out there, especially for long term insurance.
10. Action Camera
You've got your mirrorless camera for taking shots of your food and other sights. However, suppose you plan to do anything adventurous. In that case, you'll want a camera to capture all the action you're going through without destroying your camera gear.
This situation is where cameras like the GoPro come in. They're not designed for taking fancy still shots; they are designed for rugged on-the-go adventure photography and film.
If you are a video blogger, get yourself a drone to attach your GoPro to so you can get some fantastic aerial shots. They are expensive but very fun and cool for your videos.
11. Tripods and Selfie-Sticks
If you're not traveling with a dedicated team of photographers, then you'll need help taking photos where you are included in the shot. Using a tripod or self-strick, possibly a combined option, makes it easy to have yourself in the pictures, which are really what your readers want to see.
It's boring if you just take a photo of a waterfall. Make sure you're in the shots whether someone is there to help you or not. Getting into the shots is why you need to invest in something to hold your camera or phone.
Manfrotto Tripod | Joby Flexible Tripod
Editor Note: If you want stable video or photos, if you want to get photos of yourself while you travel solo, if you're looking to do more video for your socials… etc a travel tripod is a MUST have travel blogger accessory! I use both of these!
12. Ergonomic Mouse and Keyboard
As a travel blogger, you're often holed up in hotels writing after an adventurous day. If this is your life, then you still need to look after yourself. Sitting hunched over a laptop on the floor is not the best way to look after your body.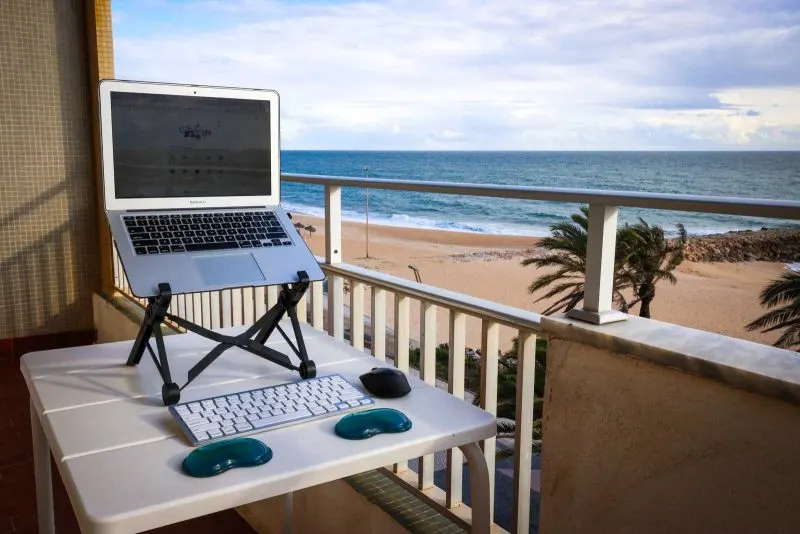 Get yourself an ergonomic mouse and keyboard for hotels so you can practice your craft better and keep yourself healthy and pain-free.
Mouse | Keyboard | Stand | Mouse and Wrist Pads
Editor Note: In addition to a mouse and keyboard to more efficiently work, I can't recommed a computer stand enough. This is the one I use and it packs away so easily, it cheap, and 100% helps me avoid tech neck! The wrist pads along with the mouse will alleviate all wrist pains which were terrible for me before I made this switch!
RELATED: Simple Travel Home Office Accessories You Need to Work Comfortably
13. New Smart Phone
Sometimes you need an action camera for adventure shots or a high-quality camera for your outside still shots or less adventurous videos. However, if you need to take photos or videos on the down low, such as in restaurants or even where you shouldn't be filming, then you need to rely on your smartphone.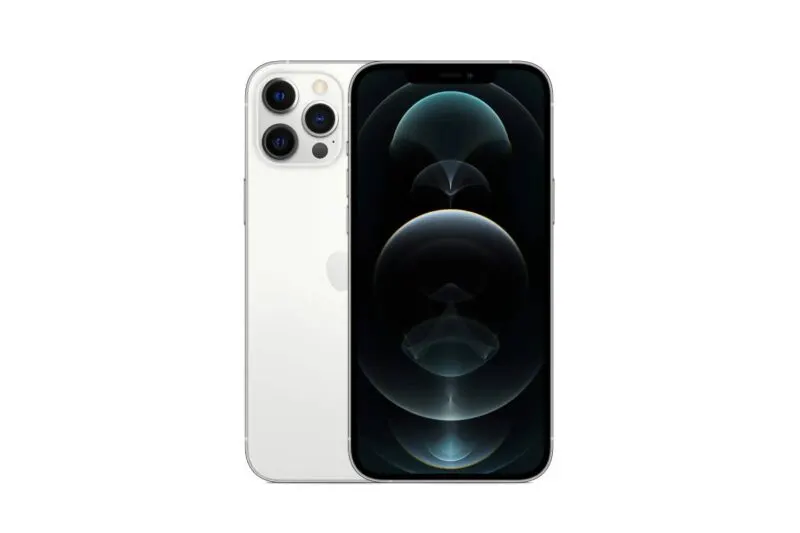 You need to ensure your smartphone is new and high quality because you still want your photos and videos to come out as well as possible. So make sure whatever phone you buy has a camera that will take excellent quality photos and videos.
Editor Note: After recently upgrading to the iPhone 12 Pro Max, I can't imagine creating content with another phone! The camera, particually the wide angle RAW photos, are AMAZING. It makes my job so much easier.
Your Shortcut Guide to Living Around The World
No seriously, I'm not joking!
I created the Live Around the World Shortcut just for YOU! It has quite literally everything you'd need to know about living this lifestyle, actually maintaining it, making money on the road, and all of the tips and knowledge that I've learned over the last 10 years.
No need to spin your wheels trying to figure everything out for yourself (which takes years btw), I got you! Live abroad like a pro from the start!
Final Thoughts on Travel Blogger Accessories
Take some time to review the options listed above and see what works best for you. Of course, you're not required to get everything, but it's a good list to make you think about what you do need when traveling and writing.
Your requirements might be different based on what kind of blogger you are. For example, maybe you're primarily taking photos and doing video blogs, or perhaps it's all about the writing with you.
Make sure you only take what you need and ensure everything is easily accessible and safe.
---
---
>>> BIO
Catalin Geangos is the Founder and Editor of TravelTrained and a travel blogger who mainly focuses on hostels, social life, and day trips and tours while traveling in Southeast Asia.