Located at the furthest end of Palawan island, working out how to get to El Nido can prove a little tricky, however, it is this remoteness that can help to make it so desirable.
Over the years, the transport system has improved greatly, and it is now much easier to get to than it has ever been, with many options available for determined travelers hell-bent on getting to paradise.
Most people heading to this part of the island will be starting their journey from Palawan's main city of Puerto Princesa to El Nido, located 230km away, but this is not the only option available.
How to Get to El Nido by Plane
Traveling by plane is by far the most expensive choice when deciding how to go to El Nido Palawan, but it will also get you there in a fraction of the time (and effort) than the other options.
Flights from the city of Manila will only take you around an hour compared to around a day of traveling if you flew to Puerto Princesa and then took a bus. This speed, however, comes at a price.
The airport in El Nido is located just 4km from the center of town, so easily accessible. When you land you will find plenty of tricycle drivers sitting waiting, ready to take you the rest of the way. There is also a chance that your hotel will be able to organize transport for you.
One of your best options of how to get to El Nido is to go with Air Swift, a company that offers daily flights to El Nido from Manila. You will travel on a small 50 seater aircraft on a journey that should only take you around 55 minutes. With around 4 flights daily, you should be able to match it up with your flight to Manila with relative ease.
Air Swift also offers daily flights to and from Cebu if this is where you are traveling from.
Another option of how to go to El Nido Palawan is the company of SEAIR, which has flights on Mondays, Wednesdays and Sundays. Alternatively, Island Transvoyager makes the journey, with two daily, direct flights. This option is often the most expensive.
Lastly, Cebu Pacific is probably the most popular airline in the Philippines but they don't have flights to El Nido. So you'll be flying from Manila to Puerto Princesa and then needing to figure out a way from there which can be another flight or by another method which we will discuss below.
Traveling From Puerto Princesa to El Nido by Car or Motorbike
Getting to El Nido yourself by car or motorbike for many can be the best option. You have the freedom to leave and stop when you want, make detours and it can be great fun.
There are many shops in Puerto Princesa that offer rental options at a reasonable price, plus it has the added benefit of allowing you a form of transport when you get there.
Be aware, however, that with driving in some foreign countries, there are risks involved. For a start, the roads can be covered in potholes, cracks, and unfinished shoulders. As long as you don't rush and are sensible, then renting a car or motorbike can be a good option when looking into how to get to El Nido.
Traveling From Puerto Princesa to El Nido by Bus
If you don't feel up to the challenge of the roads by yourself, another alternative is taking the bus. This way, you'll be able to fully appreciate the scenery as you travel from Peurto Princesa to El Nido, and also hang out with some of the locals or other travelers.
There are various different companies that make the journey from Puerto Princesa to El Nido, and some are certainly better than others. It's not much fun sitting on a crowded bus without any air con for 6 to 8 hours!
The two main companies are Roro Bus and Cherry Bus, both of which leave from the San Jose Bus Terminal, which is 7km away from the airport.
This is one of the cheapest ways to get to El Nido, but is also one of the longest and most uncomfortable, with buses running every 2 hours.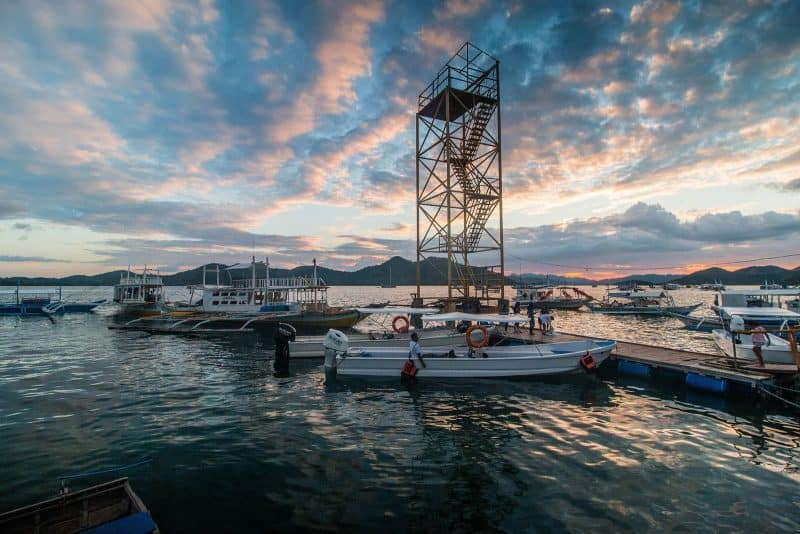 Needing to get a ticket sooner rather than later?
You can check bus times and purchase your ticket in advance! Trust me, it's so much easier to know you have your ticket, especially in the Philippines. It's not easy to purchase tickets on the ground unless you personally show up at the bus stations which eats into your travels!
Puerto Princesa to El Nido Bus Ticket: Check Prices and Times Here
How to Get to El Nido by Van
For tourists traveling from Puerto Princesa to El Nido, this is likely the most popular option of how to get to El Nido, and you'll likely be asked by a van driver if you need a lift as soon as you step off the plane. Usually, even if the van has a set departure time, the driver will wait until the van is completely full before setting off.
Sometimes this will mean waiting even until the next flight comes into the airport which can be a bit frustrating. The two main companies that offer this service are Eulen Joy and Lexus Shuttle, and if you are traveling as a group, you could also look into hiring a private van.
Puerto Princesa to El Nido Van Ticket: Check Prices and Times Here
How to Get to El Nido by Boat
Stretch out your sea legs and travel to El Nido by boat, which departs from Coron. For many, this may not be the first choice due to the length of the boat ride, but for those that love the open water, it could be an interesting choice.
There are four different options to choose from when deciding how to go to El Nido, Palawan; the regular ferry, the fastcraft, a private boat or a passenger/cargo ship, all of which have different prices and departure times.
Remember this is Filipino time, just be aware that the boats never leave when they say they will! If you opt for the regular ferry, the Bunso company runs every day of the week in the morning.
The MBCA Jessabel 2 company only leaves on Mondays, Wednesdays and Saturdays first thing in the morning. The fast ferry leaves even earlier at 12 noon from Coron daily, a good option if you don't have much time for travel.
The passenger and cargo ship only leaves once a week from each side, on a Monday from Coron and Wednesday from El Nido first thing in the morning. This is the cheapest option of how to get to El Nido by boat, but you will have to make sure you plan a little in advance.
Although it is a more expensive option, hiring a private boat will give you the freedom to choose when you travel, plus you can dictate when you want to stop.
Be aware, however, that all these options may be uncomfortable, and all are certainly very long. If you are prone to seasickness, this might be best avoided, especially if the weather is bad. Again, these boat options are if you're on Coron already or wanting to go to Corno after El Nido.
While I was traveling around Palawan, I found the buses and vans to be the easiest and cheapest options. I will be honest, none of the options are super ideal! They all take time, and can be a bit of a hassle but booking them out ahead of time and not worrying about where and when your ride is coming makes it a bit better.
Check here for the van and bus times and prices
More Around The Philippines
Where will you go after the Philippines?
Laos | Malaysia | Singapore | Indonesia | Thailand | Cambodia | Vietnam
Wondering what to do once you get to El Nido? Will you stay in Puerto Princesa for a few days? What about the rest of the Philippines? I have you covered!
---
---
>>> EVEN MORE ABOUT THE PHILIPPINES <<<
Guide to Backpacking Philippines
Where to Stay in El Nido: Hostels, Hotels and Resorts
Things to Do in El Nido: A Guide to 3-5 Days in the Philippine Paradise
13+ Day Trips and Tours to Take in Manila, Philippines
Your Intro to Palawan, Philippines: 9 Things to Do in Puerto Princesa
Years After a Super Typhoon: What Traveling Leyte and Samar Are Like Now (Philippines)
A Guide to Kalanggaman Island: Basking on One of the Best Sandbars in the Philippines
2-Day Sagada Itinerary in a Blissful Sleepy Town in the Mountains of the Philippines
Exploring the Rice Terraces of Banaue and Batad
Siquijor Island: Crazy Bike Rides and a Witch Hunt
A One Day Bohol Itinerary – Jungle Huts, Tiny Monkeys, and Chocolate Hills
Cebu City- Boo / Neverland Manila Festival- Yay!
Welcome to the Philippines! Not
---
---