Have you ever thought about traveling to the Philippines?
It could be intimidating for those that don't travel often. But with this collection of Philippines travel tips, you'll have a better grasp on what to expect and experience.
When you travel to the Philippines it will feel like any time spent there is never enough, you'll be greeted with over 7,000 islands and you'll want to visit every freaking one!
This magical place grabs a hold of you and you'll never want to leave. The Philippines will surprise you in many ways and in a few not so great ways. Mainly the negatives that will affect you when traveling to the Philippines deal with the excessive long travel days and lack of connectedness.
But hey, let me tell you, their beaches and hospitality TOTALLY make up for it.
After reading these tips for the Philippines and popular scams to watch out for, you'll be put at ease so you can enjoy this magnificent and culturally rich country!
Popular Philippines Scams to Watch Out For
---
1. Tanim-bala – a bizarre and scary scam, often happening at an airport involves someone planting a bullet in your bag and then asking for a large sum of money to get you out of trouble. This scam has gotten of media attention and doesn't happen too much anymore, apparently. But ALWAYS travel with bags that can close (ladies, never travel with "open" bags) and make sure they are always closed. Always.
2. Cash conversions – When getting your cash exchanged, always recount right in front of the desk clerk. They can use a swift move to drop cash below them and then you walk off without counting and get shafted. I never have this issue as I, 99% of the time, only use ATMs, so this one is an easy one to avoid if you just never exchange cash.
3.Taxis – Not new news… Taxi scams are around the world and this Philipines scam isn't any different. They refuse to use the meter or drive you around. Always use a taxi with a working meter and follow the route on maps.me, an offline map.
4. The spray – Another scary scam that can happen in taxis is the driver suddenly puts a cloth to their mouth and sprays something that makes you feel dizzy and faint… You can guess what happens next. Be on alert the second you see anything like this, or take prior precautions like rolling down a window, make conversation about how you can't wait to meet up with your *insert friend or family member* so they know someone is expecting you, take a picture of their plates or license etc…
5. Pickpocket distraction – Another Philipines scam, and really, a popular scam in any crowded place, is someone setting up a distraction (dropping coins next to you or something) and then pickpocketing you or grabbing your bag while your attention is elsewhere.
6. A new friend wants to go to a bar – The stranger randomly befriends you and tries really hard to get you to go to a cool bar. You go, get charged an arm and leg for drinks, and your new friend is suddenly gone. Be wary and be on alert of these people. Suggest another bar to make sure they are a "real friend" first, have a drink, then go elsewhere.
7. Snatch a run – Another popular Philippines scam but that can happen in many places around the world in crowded areas, people can snatch your bag and run. Make it more difficult to snatch or slash by using anti-theft bags and by wearing crossbody bags. Anything that's draped over your shoulder is an invitation for theft.
8. Unprotected wifi – As you'll read below, desperate times call for desperate measures when wifi is involved in the Philippines. It's a tough place to get a good connection and unsecured wifi spots are prime places for hackers to lurk. Using a VPN is a great way to prevent this as well.
9. Bags in the trunk – I rarely put my bags in the trunk. If I need to, it's always my bag with my clothes and zero valuables. Anything of value stays in the seat with me. A popular scam, even in the Philippines, is the taxi can drive off with your stuff.
10. Motorbike damage – Always photograph and video your motorbike and park it in a well-lit and busy area. The scam is, they blame the previous damage on you, or even inflict the damage on the bike themselves when you're not around and charge you an exorbitant amount.
11. Horse buggy – This Philippines scam is very easily avoidable if you're like me and never ever ride in horse carriages. If you do, this scam works where they take you to a dark alley and demand more than what was agreed upon.
12. Fake agencies – Fake travel agencies is a popular Philippines scam, red flags should be really going off if they seem very cheap. Too good to be true? Of course. Avoid these! I tell you how to easily and safely book transportation ahead of time below.
13. Sob stories – A stranger walks up to you with a terrible sob story, next thing you know you could be led into a dark alley, getting robbed, or worse. Just ignore strangers, especially when you're alone.
14. Donating – Donating to the beggars on the road may give you warm fuzzy feelings but you're better off donating to truly established charities that you can vet. A lot of the time, the beggars are fine, are exploiting tourists for cash, and can even distract you so someone can pickpocket you.
15. Fake merch – Tons of fake merchandise is sold around Asia. If you're in the market for something cheap and fake, sounds good, but don't get roped into someone convincing you it's real and charging you a premium
Don't let these Philipines scams put you off! Always keep your common sense turned on, don't be too trusting, and pay attention! This goes for anywhere in the world and many of these scams aren't just scams in the Philippines but around the world.
Overall, the Philippines is quite safe and as someone who traveled here solo for a whole month, and then again for another few weeks, I can recommend it as a great place for travelers and solo female travelers.
All The Philippines Travel Tips You Need
---
Transportation
Be patient, guys. The Philippines needs a lot of patience when it comes to transportation! Especially if you've visited other Southeast Asian countries. The Philippines is a lot slower.
There is an abundance of traveling when you arrive in the Philippines. The country is spread out. While the cities might be small compared to other areas of the world, it's not any less overwhelming, especially when you're on a tight budget.

Before you head out to this country you should really look into where you want to visit and how you can make that happen. Sometimes "saving" that extra buck is not only not worth it, but ends up being more expensive. Would it be more worth it to just simply fly there for few extra bucks, OR take a tricycle to the port, buy the boat ticket, take a seven-hour boat ride, then get another tricycle to where you're going?

Transport can be a bitch and the little you "save" might be eaten up in taxis, tricycle rides, and most important—your limited vacation time.
By Bus
They are much less connected when it comes to technology and understanding many aspects of the modern world.
Plan on not being able to book things as easily as you would in other countries.
There are fewer tour agencies and they are not well connected compared to other places around the world. Many individuals need to travel in excess when visiting here.
Sometimes tickets bought online for the bus will take 5-7 days to be cleared, sometimes money transfers need to occur, which can be quite a risk. All of these stressful elements just because of the lack of tour agencies and online booking sites.
I once had to actually go to the bus station in Manila to book my bus ticket which was an hour away from my hotel! There was no choice to book it at an agency (not caring about the extra fee associated with it). My other choice was a money order that would take days to clear and was super sketchy.
The lack of travel help can be a hindrance if you haven't prepared for it in advance. Which is annoying to do and something I don't like doing.
UPDATE!

12goAsia has saved the day! Bookmark this website right now. They offer bus, plane, and boat tickets online. Thankfully! Go book all your tickets here and get it out of the way. This is my new and best Philipines travel tip. I wish this existed when I was there.
These type of Philippines travel tips are essential so you know what you're getting into. Flying is no exception…
By Plane
There are over 7,000 islands. When you don't have access to the internet at all hours of the day (more on that later) it can be hard to know where to go or what to do.
It's a slow country to get around in and will sometimes be pricier than its pocket-friendly neighbors since it's spread across over 7,000 islands.
Luckily, there are airports on even the smallest of islands here. However, they can come at a price and sometimes are not available on certain days.
If you're "lucky" there will be a reasonably priced flight, but you may have yourself flying all the way back to Manila just to get to your destination regardless if you are actually flying over your destination.
Keep this in mind as you travel around these islands, it will hurt your wallet if you aren't careful and if you don't plan a bit ahead of time.
If you plan ahead and map out the locations you want to see, you'll save time and money when you visit the Philippines. Tips like these are key if you want to avoid the stress that can be piled on by needing to plan 5 different flights.
TIP: Cebu Pacific tends to be the most budget-friendly option in the country. In and out of the country and in most of SE Asia, it's Air Asia.
By Boat
Transportation by boat is a very possible mode of transportation around the Philippines. Well, of course! It's an archipelago after all.
However, depending on where you're going to and from, it may or may not be very smart and it may or may not take half a lifetime to get from A to B!
For example, taking the boat from Manila to Palawan costs around $20 something and can take over 20 HOURS! This is crazy ridiculous. Especially since you can fly in just under two hours and for around $100 bucks.
A ferry from Cebu City to Bohol, though, that only takes two hours, costs $10 and that sounds far more reasonable. You can also fly for just under $100 and about an hour flight.
It's clear to see in which situation a boat is worth it or not, at least for me it is. I'd much rather pay $100 for a flight than take 20+ hours to get somewhere.
The point of all of this? Be VERY careful how you choose your boat journeys. This is one of the best Philippines travel tips as, well, you'll be traveling around islands after all!
The boats aren't the best, safety isn't necessarily a priority, and 9/10 times the savings isn't really going to be that great when you see how much time you're sacrificing.
Jeepneys and Tricycles
These are the inner city and town transport options. Jeepneys are cheap! But are hot, crowded and sometimes slow. An hour ride from Tagbilaran to Panglao was 20 pesos (something like $.45). So definitely worth it if you're on a budget or not going too far anyway.
Tricycles will likely be inevitable, so get ready to haggle with them. (this is the Philippines version of a tuk tuk or an "open-air taxi.")
Habal Habals
This is the Philippines version of Uber on motorbikes… Well, kinda. Minus the app.
This is essentially a random person on their motorbike who would be happy to take you to your next destination. Just hop on the back and throw them a few pesos. You'll know a habal habal when you see one because they will ask you if you need a ride as they slowly drive past you, or maybe give you a wave.
Don't wave back unless you want a ride. That would be awkward.
Random Philippines Travel Tips Regarding Transportation:
Ask the locals at your guesthouse or wherever (a neutral party) how much a tricycle to ____ is. That way you know the fair and "should be" price beforehand.

When you get off the boat/bus, go to the tricycles NOT begging and in your face. Try to get a ride from the guy that's not pressuring you into an overpriced ride.

Google maps or Maps.Me will also be key when traveling around by any means of transportation, it's a great way to map your point of arrival to wherever you're headed. This way you'll be able to gauge the price yourself. If you know it's 5km away, there's no way in hell you should pay 100 pesos. You'll find that sometimes drivers will exaggerate the time or kilometers to get somewhere. Make sure to download maps for offline usage.
Wifi in The Philippines
Can you find it? Sometimes. Is it fast? Hell no.
Do guesthouses have wifi? Sometimes, but good luck on loading a webpage in under two minutes. Regardless of if you travel to Cebu City, Manila, Palawan, Bohol, Panglao, Siqiour, and parts of North Luzon.
The best wifi connection was for 60 pesos an hour at a Starbuck in Cebu city (which is an awful city, by the way, don't go).
At Starbuck and you'll only receive OK internet after buying a meal you probably didn't want, just to stick around longer for the connection.
For anyone who works online and travels regularly, or simply anyone who enjoys wifi, prepare to not have any when traveling to the Philippines. While you might find some in rare spots, don't depend on having a strong or steady connection or for it to be free.
Philippines Travel Tips Regarding Planning
When you start getting close to your visit to the Philippines, remember that planning (or not) is key.
The "spontaneous and never planned lifestyle" is a recurring theme in my travels.
By living with this kind of mantra it's a great motivator when it comes to traveling around the majority of the world, but it was quickly discovered that this kind of lifestyle would not be ideal in the Philippines.
Let's make sense of this as every traveler is different. Here are a few things to keep in mind:
Since flights are the quickest way to get around, planning things in advance will save you money on that flight ticket. But I also got some pretty cheap last minute deals, but it's up to you whether or not you want to take that chance, it highly depends on where you're headed.

Planning ahead will help when you plan on taking a ferry somewhere, especially during the out of season months. I showed up to take a ferry that was nonexistent. The information I found was old and I was forced to stay an extra night in a crappy city I didn't want to be in (this ended up with a really cool local interaction but still, not ideal!).

If you take the time to plan ahead, you'll save money and unnecessary stress from occurring on your trip.

Buses are sometimes sold out. You'll most likely be told repeatedly to book your Manila to Banaue bus early especially when you are going on popular days like Friday's and Sunday's. If you don't, you'll deal with a 2-3 day delay before you can purchase a ticket from a bus station.
By now you can see why planning ahead goes a long way!
UPDATE

There is hope, you guys! There's a company called 12goAsia, and it's a total lifesaver! They now have bus tickets available all around Southeast Asia, including the Philippines, so you can buy online and NOT have to go to the bus station! Woo!

Go book all your tickets here and get it out of the way.
For most travelers, new or experienced, they want more order and organization and in the Philippines, it's a bit more difficult, plan ahead if you want smooth sailing or don't, the choice is yours! I didn't have much of a time constraint so I was OK but I'm offering up these Philippines travel tips knowing that some people don't have this luxury.
These tips for the Philippines will help inspire and encourage you to not fear the unknown when traveling or at least be prepped for it!
Philippines Travel Tips: Food for Veggies
Attention vegetarians – Good freakin luck.
Their food is very meat oriented and it sucks.
Most of it is already prepared, so requesting it to be veggie is not an option. The one dish that was often easy to find was chop suey (basic veggies in an overall bland sauce).
There is a special love for Bicol Express (veggies in a yummy coconut something or other sauce) but unfortunately, it was a Bohol-specific dish and I never found it again.
Also when it comes to food, here is one Philippines tip you'll need to remember: if you don't like bitter things ruining your palate, then request no "ampalaya." It's terrible in my opinion.
Veggie curry was available sometimes, so that was OK.
They love their fast food, so disgusting Jollibee's and McDonald's were everywhere.
You'll most likely end up spending more money on food than you probably expect. Especially if you're vegetarian or vegan, you'll end up having to eat at the more "westernized" places or "real" restaurants because they have fresh food that can be altered.
Generally, markets are the best place to find fresh daily meals, but it's impossible to find vegetarian food in the markets here.
To say the food is a disappointment here would be an understatement coming from someone who has traveled around to places that are food havens compared to the Philippines.
Once I got served hotdog despite notifying the English-speaking waiter I was vegetarian. He spent 5 minutes trying to tell me the hotdog was vegetarian. My friends around me ate it and confirmed, it, in fact, was not vegetarian. *surprise*
The Philippines offers a lot when it comes to their culture and food, but when dealing with dietary restrictions, it might not be an ideal place for you to visit for an extended period of time.
If you eat anything, then food in the Philippines will be easy!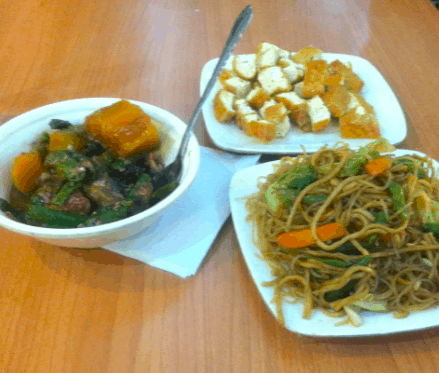 More Tips For The Philippines: Observations
Security
There was an abnormal amount of security in this country.

It can be very shocking to see security guards standing guard at a Dunkin Donuts, checking purses before entering a mall, and even checking bags when leaving the grocery store.

Not to worry, they are there to protect, but it can be quite the culture shock.
Price
Sometimes before giving you a price for something, they will ask you, "Where are you from?"

If you look like you're someone from the US or another "white and rich country," people will sometimes assume that you come from money.

Often times in my travels I've stretched the truth and just told people I'm from some other country, such as Poland or South Africa. This will usually confuse them, but will also change the way of how they treat you completely. It makes a difference.

While this Philippines tip is a lie, sometimes it's necessary if you want to be treated "fairly" and I used it A LOT.
Language
On that same note. They are too curious about money, which goes for many Southeast Asian countries, but the difference is many can't speak about it due to their poor English but they speak English just fine here…

While in the Philippines, often times there will be about 5 conversations about how "I must have good money to travel their country because I'm from the US." It's was uncomfortable and very annoying. Hence my, "I'm from South Africa" plan.

They speak English pretty well and everyone wants to chat, which is refreshing and sweet.

Many people are willing to give you Philippines travel tips any time you ask! They often travel their own country and can offer great advice.
Hospitality
Overall, the locals are very nice and hospitable.
There was a local woman who invited us into her home after speaking to us for 2 seconds. It was great to be able to communicate with everyone too.
Since they can speak English pretty well and are generally nice, it's so much easier to get directions, and information. Yay!
Everyone is willing to help in the Philippines.
While some of these points might be a bit negative, don't take it the wrong way.
The Philippines is a lovely place and honestly, if it wasn't for the internet trouble, I would have planned on staying here much longer (I work online!).
You shouldn't have to worry about getting around if you plan ahead of time and map out the places you want to see. You can always detour from your plans if something comes up, but you'll have some guidelines and a rough idea of how you want your trip to go, which can be very comforting.
More Around The Philippines
Where will you go after the Philippines?
Laos | Malaysia | Singapore | Indonesia | Thailand | Cambodia | Vietnam
Hopefully, you found these Philippines travel tips helpful! Now get out there and discover this incredible archipelago that's SO overlooked!
---
---
>>> EVEN MORE ABOUT THE PHILIPPINES <<<
How to Get to El Nido From Puerto Princesa (Palawan, Philippines)
Where to Stay in El Nido: Hostels, Hotels and Resorts
Guide to Backpacking Philippines
Things to Do in El Nido: A Guide to 3-5 Days in the Philippine Paradise
13+ Day Trips and Tours to Take in Manila, Philippines
Your Intro to Palawan, Philippines: 9 Things to Do in Puerto Princesa
Years After a Super Typhoon: What Traveling Leyte and Samar Are Like Now (Philippines)
A Guide to Kalanggaman Island: Basking on One of the Best Sandbars in the Philippines
2-Day Sagada Itinerary in a Blissful Sleepy Town in the Mountains of the Philippines
Exploring the Rice Terraces of Banaue and Batad
Siquijor Island: Crazy Bike Rides and a Witch Hunt
A One Day Bohol Itinerary – Jungle Huts, Tiny Monkeys, and Chocolate Hills
Cebu City- Boo / Neverland Manila Festival- Yay!
Welcome to the Philippines! Not
---
---
Click the pic to pin it!