Siquijor is known for its witchcraft, spookiness, and shamans, you wouldn't know it from first glance. We read about it, but otherwise it's just another island! Since we were arriving super late, we booked a super cheap room on Agoda.com.
After getting off the very interesting ferry ride that consisted of two floor on the ship full of bunk beds- see pictures… We dock at midnight. Our room at Das Traum was- interesting…
It was a mattress in the middle of the room, with several other mattresses and two other beds in this "side" room, and a bathroom "closed" in by only a simple shower curtain. One of the weirdest places I have slept in.
We arrived so late, so we didn't care, and we passed out and checked out first thing in the morning. We want to go to JJ's Backpackers, but they couldn't be booked online, and we arrived too late to go there. So we headed there first thing in the morning.
We were greeted by friendly staff and it was just what we needed. A simple double room, and the beach twenty seconds from our front door. FINALLY! We are ON the beach. We had a simple breakfast, a REAL coffee, French press and all, and we had a lovely lazy beach day. Chilling, reading, hammocks, laying out, and me hooping a bit. Doesn't get much better!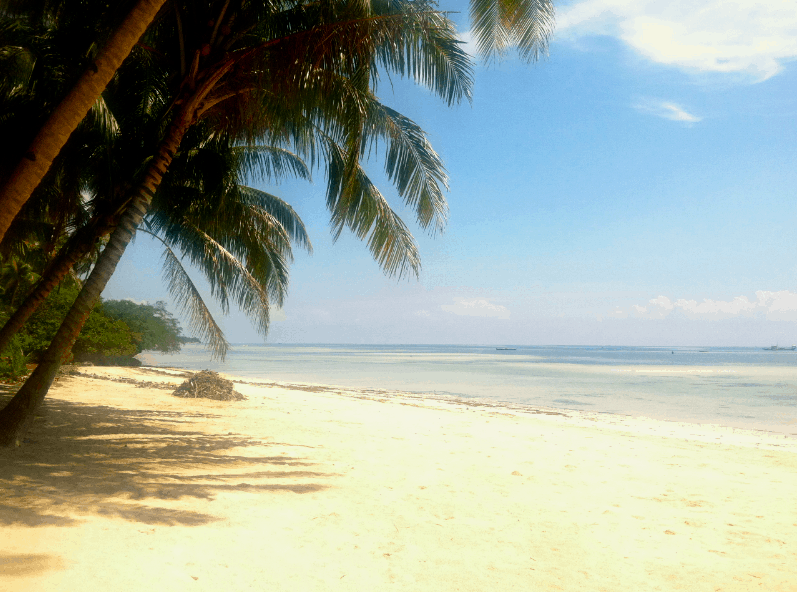 The next day we woke up and rented a motorbike. We wanted to check out a waterfall or two, and see Bandilaan National Park…and maybe a few other things. Let's see what we could fit in?
So the Lugnason waterfall was first. It was actually quite nice. A bunch of local boys were splashing and having fun at it, and we took a quick dip. I just got my feet wet as I was the driver of the bike and didn't want to be soaking wet already and get a chill. It was already a bit overcast at the time.
We set off on the bike again and toward this national park. Considering the zero signage, we stopped every 5 minute to ask where we needed to go… It was taking a long time, and the road was getting pretty bad…
We took forever to make it, much longer than anticipated, and the roads were covered in algae, so it was quite slippery, oh yea- and it just rained a bit, so make that EXTRA slippery. We made it to a view point, but otherwise, there was no sign at all of the other activities like the springs, church, etc… We were over it. We had been driving for a couple of hours at this point. My friends back was killing her from being on the bike and the weather was looking super grim. We certainly didn't want to get caught in the rain either.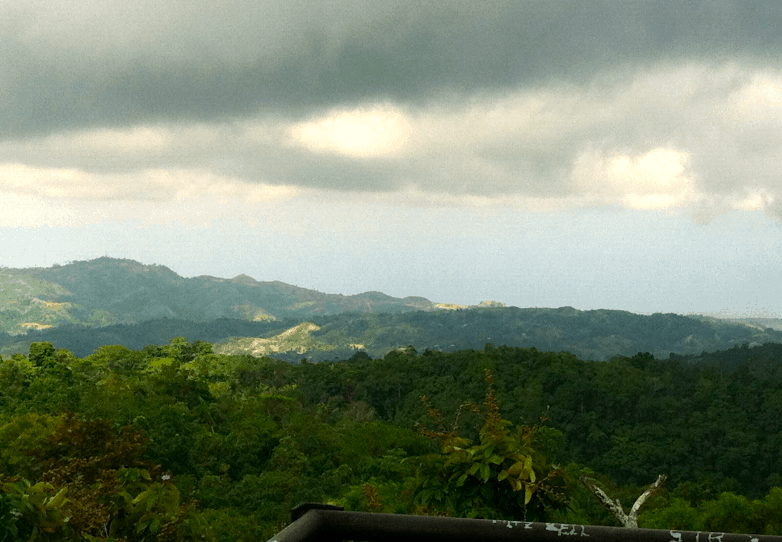 We made it to the interior "main" road. It was under construction and was really testing my driving skills. I even told my friend to get off at a few points because there was literally no road. Just rocks and dust! It was easier for me to maintain balance with her not on it. Plus, if I did eat shit, I didn't want to take her down with me, the poor girl has a bad back as it is!
I really gave myself a pat on the back after this day of riding around. The roads were simply nonexistent, bumpy and covered in green algae, very rocky or at times I had to traverse through huge mud piles. I was having to use full concentration on the road. I passed the test though, thankfully.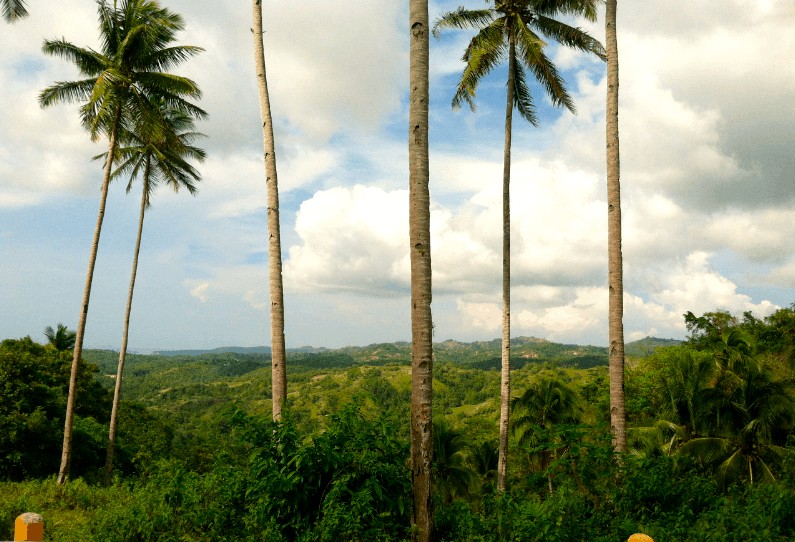 We finally made it to the real road, that circles the island of Siquijor. It's much better. Stay on the road that goes around the island!! Interior roads = immense stress to keep yourself from injury or death.
The last night I was there we had a nice little bonfire on the beach. The people at the guesthouse were all super cool, a few Dutch, a group of Spaniards who were all young doctors, a few of the staff members, and Justyna and I had a fun night of drinks and bonfire tales.
As mentioned, this island is supposed to be known for witchcraft, curses and spells. We really wanted to find a shaman or someone to give us more insight on this, but weren't lucky to meet anyone. First, they don't like being known as a "witch island." They want to steer away from it because it causes the Filipinos to not want to visit the island for fears of being cursed. Also, it's a dying out tradition, so you have to find an elderly person who still practices it. We just couldn't find anyone to divulge any information for us, maybe you will get luckier?
The next day the Spaniards and I all took the boat from Siquijor back to Tagbilran. I had a flight to catch!
More Information:

Motorbike rental for 24 hours- 400 pesos

JJ Backpackers – Awesome little spot. We had the only 500 peso room. It's in the dorm room, but is private. Everyone shares the bathroom. It's kept clean, the staff is helpful and sweet, and the beach is steps outside the door. The cafe also serves some nice food! I ate breakfast here each day and the veggie curry was super yummy.

I went to Carisma Beach Hotel for a nice swim in the pool. It's 100 pesos. They also have wifi here.
More Around The Philippines
Where will you go after the Philippines?
Laos | Malaysia | Singapore | Indonesia | Thailand | Cambodia | Vietnam
---
---
>>> EVEN MORE ABOUT THE PHILIPPINES <<<
How to Get to El Nido From Puerto Princesa (Palawan, Philippines)
Guide to Backpacking Philippines
Where to Stay in El Nido: Hostels, Hotels and Resorts
Things to Do in El Nido: A Guide to 3-5 Days in the Philippine Paradise
13+ Day Trips and Tours to Take in Manila, Philippines
Your Intro to Palawan, Philippines: 9 Things to Do in Puerto Princesa
Years After a Super Typhoon: What Traveling Leyte and Samar Are Like Now (Philippines)
A Guide to Kalanggaman Island: Basking on One of the Best Sandbars in the Philippines
2-Day Sagada Itinerary in a Blissful Sleepy Town in the Mountains of the Philippines
Exploring the Rice Terraces of Banaue and Batad
A One Day Bohol Itinerary – Jungle Huts, Tiny Monkeys, and Chocolate Hills
Cebu City- Boo / Neverland Manila Festival- Yay!
Welcome to the Philippines! Not
---
---