The following guide to Cebu is a guest post by Chantelle.
Cebu is nothing like her northern cousin, Manila. The country's capital is heavily commercialized and congested while Cebu is more laid back, older and packed with more charm. The Queen city of the South, Cebu city, which is the center of the Visayas region, is only a tiny speck in the whole of Cebu Island. The main province consists of 6 cities, 47 municipalities and 167 islets. Cebuano is the main language used by the locals which is completely different from Manila's Tagalog tongue and is spoken by 21 million people compared to only 17 million Tagalog speakers.
Once the country's capital, Cebu was superseded by Manila during the 17th century but it didn't diminish Cebu Island's historical significance. It still holds a prominent place in the archipelago as the capital of the South and is considered to be the most dynamic island in the country with the most ethnically diverse population.
Cebu is a great place for families with small kids, as well as for backpacker who wish to explore the more remote spots of the island. It offers the stunning Kawasan Falls, as well as many of the country's best diving spots. Tourists typically stay at Cebu for at least 3 days in order to take in everything the place has to offer but here's a sample itinerary if you only have a day in Cebu.
How to get there:
Via Air: The easiest and fastest way to reach Cebu is by plane. Numerous daily flights are offered by different airlines from major cities including the capital, Manila and also from different Asian countries like Singapore, Malaysia, Japan, Hong Kong, South Korea and Taiwan. Mactan International Airport is the main gateway to the South. From Manila, travel time is only an hour and it is the main point of travel for when you want to explore in the Visayas and Mindanao region.
Via Sea: Another way to get to Cebu is by boat. There are numerous ferries that ply the route to and from Cebu on a daily basis with connections to and from Manila, Bohol, Leyte, Negros, Davao, Butuan, Cagayan de Oro, Ozamis and Iligan.
Where to Stay:
Cebu City:
Cebu City is the center of the island and therefore it is where most hotels and resorts are. There are plenty of options for everyone in terms of dining, transportation, shopping, nightlife, cultural and historical sites and beach and water activities. If you want to be at the heart of everything, Cebu city is the best place for you. Some of the best accommodations in Cebu city are:
Radisson Blue Cebu (big chain hotel with 400 rooms to choose from)

Best Western Plus Lex Cebu (an elegant hotel for a cheaper price at the center of the city)

Montebello Villa Hotel (mid-range Spanish colonial style hotel with very good reviews)

Hotel Elizabeth Cebu (best value hotel in the city)

Marco Polo Plaza Cebu (budget option with very good reviews)
Mactan Island:
Mactan Island is connected to the mainland by a bridge and it is where the airport is. Mactan is heavily populated but it is one of the top tourist destinations in the South. Here, you will find a number of luxury hotels and beach resorts as well as budget accommodation options. Some of the best resorts on the island are:
Plantation Bay Resort and Spa (5-star Filipino experience with Spanish Colonial architecture)

Shangri-La Mactan (an established luxury resort-hotel with its own private beach)

Movenpick Resort (Another luxury resort famous for its Ibiza bar ad Brazilian BBQ)

Crimson Resort (great infinity pool with beach)

Nord Tropic Resort and Residences (mid-range hotel/resort with its own beach near Magellan shrine)
Northern Cebu: Malapascua and Bantayan Islands
There are a number of beach resorts to choose from both in Malapascua and Bantayan Island and most resorts offer pristine beaches with white sandy shoreline. This is also the best place to go for diving, as you'll have almost 100% chance of seeing sharks in the wild. Some of the best accommodations are:
Kota Beach Resort, Bantayan (Affordable resort with private beach)

Exotic Island Dive Resort (5-star PADI certified dive resort in Malapascua)

Buena Vida Resort and Spa, Malapascua (An exceptional resort with Oriental features)

Hoyohoy Villas, Bantayan (A beachfront property with traditional Nipa huts)

Camping in Sugar Beach, Bantayan Island
***Important: Make sure when looking to swim with whale sharks you do your homework. Don't swim with whale sharks in an unethical way!
Southern Cebu: Badian, Moalboal, Oslob and Sumilon
These are coastal municipalities with fewer accommodation options. As these places are barely developed for tourism, transport is quite difficult and nightlife is almost non-existent. However, it is the best place to stay in if you want to be close to the center of extreme nature adventures. Some places are:
Badian Island Wellness Resort (5-star beachfront property in Badian)

Blue Orchid Resort (4-star beachfront property in Moalboal)

House Rapunzel (The best rated beach-front accommodation in Oslob)

Sumilon Bluewater Island Resort (The only resort on the island with 4-star rating)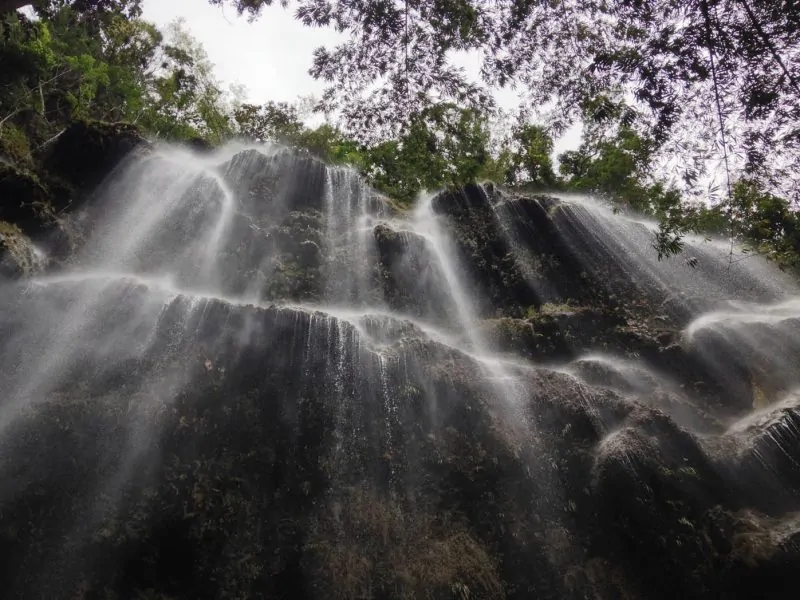 What to do and where to go:
Cebu City and Mactan:
Cebu city and Mactan are both rich in historical attractions as it was heavily occupied during the Spanish colonization. Here are some of the most significant tourist spots in the city proper and Mactan. While organized city tours are available and quite cheap, this is fairly easy to do on your own since everything is so close.
Colon Street: This is the oldest street in Cebu which was built in 1565 by the Spaniards. It is lined with century old Spanish houses and it is where you can find the night market.
Basilica Del Santo Nino: This is the oldest Catholic Church in the country and so for religious and history fanatics, this should be on top of your list.
Cebu Heritage Monument: This is a structure made with dark stones and bricks which depicts a summary of centuries of invasion, battle and revolution in Cebu.
Taoist Temple: Located 300 meters above sea level this temple is a sight to behold and can be found in Beverly Hills subd.
Nalusuan Island Marine Sanctuary: This is a protected site close to Mactan Island where you can enjoy excellent underwater visibility and healthy marine life while snorkeling or diving.
Coral Reef Resort Diving: This is an excellent diving opportunity with the resort which offers dives to the massive underwater wall with a sudden 20-meter drop. This heart-pounding adventure rewards the divers with spectacular views of the big groupers and sea snakes.
Magellan Shrine and Statue of Lapu-lapu: These famous historical sites give tribute to Ferdinand Magellan (Portuguese explorer who lost his life in the battle of 1521 and who brought Christianity to Cebu) and Lapu-lapu (the native hero who fought and won against the Spaniards in 1521 in the battle of Mactan).
Dine at Lantaw Native Restaurant: This restaurant is famous for locals and tourists alike as it sits above the water on stilts. They serve very good seafood and other local dishes.
Southern Cebu: Badian, Moalboal, Kawasan and Sumilon
Southern Cebu is the perfect adventure spot for extreme sports enthusiasts. This part of Cebu is loaded with beautiful waterfalls, beaches and dive spots that will surely tickle your sense of adventure. Here are some of the must see and do in Southern Cebu:
Sardines run in Panagsama, Moalboal: The Panagsama Reef is home to the famous sardine run in Cebu Island. Since this is the main attraction in Panagsama, we urge you to book the trip in advance as it usually gets sold out quickly.
Mantayupan Waterfalls, Barili: This is a popular summer spot for all tourists. The turquoise blue waters make it a very inviting spot for a refreshing swim.
Canyoneering Excursion, Alegria: This is an extreme sport activity where you need to use a helmet and a life jacket as you go through 10 kilometers stretch of waterfalls and streams. This extreme sport involves swimming, jumping, climbing, abseiling, floating and cliff-diving through rugged terrains.
Cliff-jumping at Kawasan Falls: Kawasan Falls is very popular among tourists and this is usually the pinnacle of the canyoneering excursion that starts from Alegria.
Beach bumming and diving at Basdaku White Beach: Basdaku white sand beach is located in Moalboal and is popular for its white sands and clear turquoise blue waters. Diving is also recommended in this part as the underwater life is as rich and as beautiful as its shorelines.
Pescador Island: Another superb diving spot is the Pescador Island which offers a vast and diverse marine life where schools of sardines, fish, turtles, squid and healthy coral reefs all abound in perfect harmony. Don't forget to check out the islands underwater cave known as the Cathedral.
Climb the Osmena Peak: Osmena peak is the highest point in Cebu and is the best place to marvel at the stars with views of Cebu City.
Simala Shrine in Sibonga: This beautiful white shrine is not only frequented by devotees but by all tourists alike.
Sumilon Island: Considered to be Cebu's best kept secret this island has only one resort which is Bluewater Sumilon Island Resort. This 24 hectare property is the first ever marine protected area in the country which makes it one of the best island getaways in the Philippines.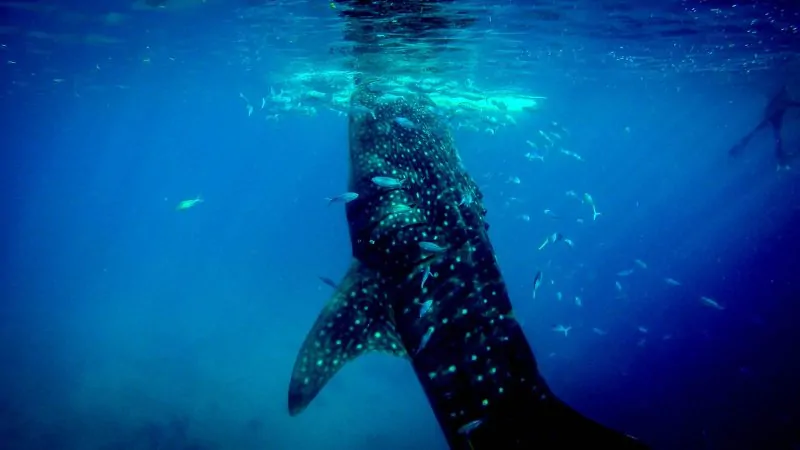 Northern Cebu: Malapascua and Bantayan Islands
Northern Cebu is more remote and it is where the best beach and island destinations in Cebu can be found. If you want to totally get away from the crowd and go off-the-grid for some time then North Cebu is perfect for you.
Diving in Malapascua: Malapascua is the center of diving in Cebu Island. Here, you will find the best spot for finding the majestic thresher sharks and manta rays. If you're not a diver, here's a guide to Malapascua.
Go shark hunting in Gato Island: For those who are brave enough to dive into the 35 tunnel underneath Gato island, they will be rewarded by a thrilling experience of swimming with the white tip sharks that are known to guard the entrance.
Camp on the sands of Sugar Beach: This Island is devoid of any modern amenities and so camping is the most popular method of accommodation. This is the best spot for a wonderful off-the-grid experience with nothing but the beautiful white sand and pristine waters during the day and clear skies for viewing the stars at night.
Explore Danasan Eco Park: For those who want to try ATV riding, trekking, wakeboarding, swimming and caving all in one place, Danasan Eco Park should be on your bucket list.
Beach Bumming in Bantayan Island: There is no shortage of beautiful white sand beaches in Cebu Island and Bantayan is one of the best for beach bumming for its powdery white sands.
Swim in Ogtong Cave Pool: Go somewhere remote and do something extraordinary by swimming in the cool waters of Ogtong Cave. The experience is one of a kind and will surely blow you away.
Where to next? Camotes is a great place to hop over to after Cebu!
What to eat:
Cebu Island is not only rich in natural beauty but it is also a culinary mecca boasting some of the best and famous national delicacies. Some of the dishes that you should not dare to miss in Cebu are:
Cebu's Lechon: Famous not only in Cebu but in the entire country, Cebu's lechon is distinct from the usual roasted pig as it is so tasty that you no longer need lechon sauce with it. Some roasted pig also contain roasted chicken inside which is again a different way of cooking. There are also boneless lechon belly which people always line up for anywhere in the country. If you are fond of spicy foods there is also spicy lechon for you in Cebu.
Lansiao or soup #5: This is not for the faint-hearted. This delicacy is made with a bull's genitals. So if you are brave enough to eat this, it is actually surprisingly good, just try not to think what it is really made of and you will be fine.
Danggit: Cebu is popular for its danggit and if you are observant enough you will see that most locals in a hotel or resort will eat crispy danggit (dried fish), fried rice and scrambled eggs for breakfast. This delicacy is usually sun-dried and often has a strong fishy smell but locals love it.
Where to next? Try hopping over to Bohol for a few days!
---
---
>>> Read More! <<<
A Two-Week Itinerary for The Philippines
The Ultimate Philippines Travel Packing Checklist
Complete Guide to Cebu Island, Philippines
Years after a Super Typhoon: What Traveling Leyte and Samar are Like Now (Philippines)
6 Things I Learned Traveling as an Expat in the Philippines
A Guide to Kalanggaman Island: Basking on One of the Best Sandbars in the Philippines
Essential Advice and Tips For The Philippines
2-Day Sagada Itinerary in a Blissful Sleepy Town in the Mountains of the Philippines
Exploring the Rice Terraces of Banaue and Batad
Siquijor Island: Crazy Bike Rides and a Witch Hunt
A One Day Bohol Itinerary – Jungle Huts, Tiny Monkeys, And Chocolate Hills
P is for Palawan and Paradise: 7 days in El Nido
Palawan: Honda Bay and Underground River
Cebu City- Boo / Neverland Manila Festival- Yay!
Welcome to the Philippines! NOT
---
---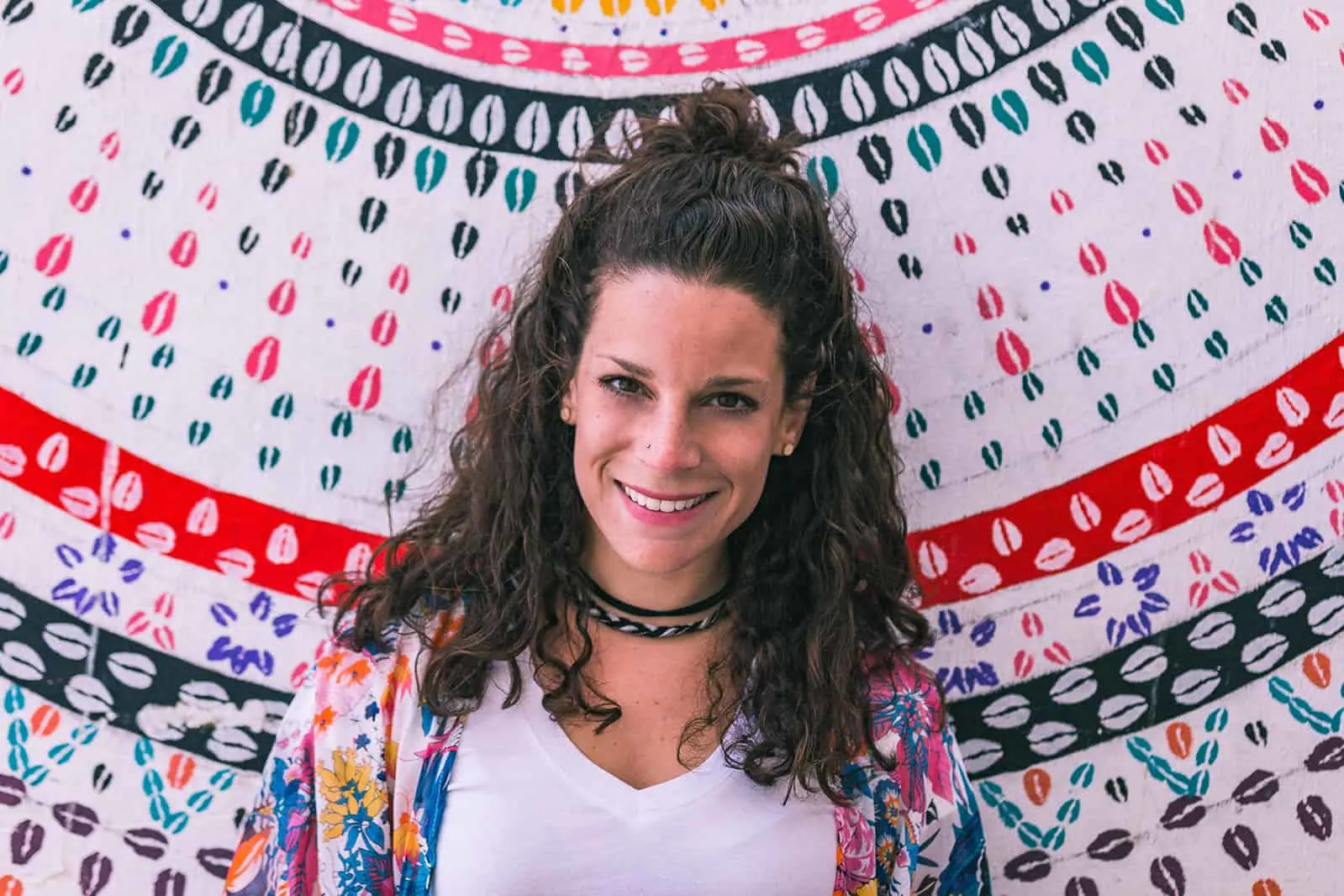 Nina Ragusa is an adventurer, messy bun master, breakfast fan, and full-time travel blogger. She's been abroad since 2011 and blogging on Where in the World is Nina? for nearly as long. Nina helps people like you move around the world while making money. She loves talking about how to work abroad and online to travel longer!