The following post is about driving in Morocco, particularly on southern routes on N1, N9, N10, and some detours and smaller roads in the area.
I would never have thought to take a road trip in Morocco.
Thoughts of scary pot-hole ridden roads crossed my mind, flying off the side of a mountain pass, and perhaps even running into a camel on the road totally put me off.
But as my trip to Morocco came closer, and I finally got a taste by bussing around a few places, I realized, driving in Morocco doesn't look half bad!
In fact, we decided to take a two-week road trip around Morocco and at the end, we were sad to leave…
Why a Morocco Road Trip Is Totally Necessary (And Not Scary)
Well, let's not exaggerate, Nina (although, I absolutely love to), it's not 100% necessary. However, if you want ultimate freedom, a more epic trip, and therefore more time and more stops around the country, a road trip around Morocco is the best way to go.
Morocco is far more than what you imagine. There are adorable towns along its coastline, wonderfully chaotic cities, incredibly impressive mountain terrain including one of the tallest mountains on the continent of Africa (topped with snow!), and of course, the Sahara Desert.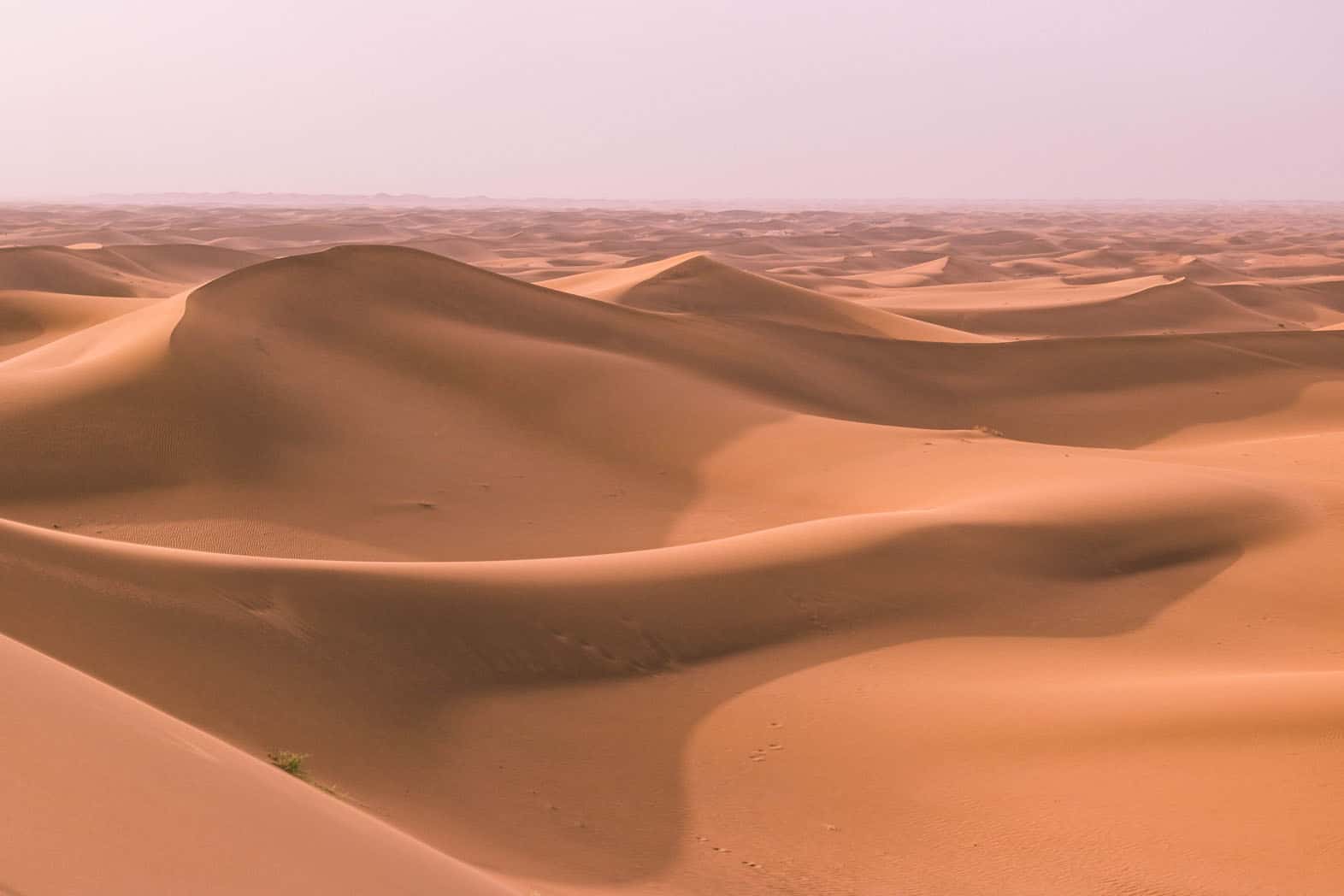 While all of these spots are possible without a car and accessible using public transport and booking tours, nothing can come close to doing it yourself.
We had a two-week road trip and we didn't want it to end. We also found so many other wonderful things to do and see along the way, we could have had double the amount of time and still not have seen it all.
While some may think the roads are a bit dangerous, scary, and possibly a bit too much to handle, let me put your worries to the side. Driving in Morocco is far easier than you may think.
The roads are quite decent, some are even brand new! And some, are still being built.
Sure, some of the mountain passes are a little hairy as the roads are narrow, sure you may come across a rural road that all of a sudden turns into a dirt path and you may even encounter a bridge that has been washed away leaving you to deal with the logistics of driving over a stream with a car that shouldn't drive through a stream…
But it's all part of the adventure—well, at least I think so!
We were fine in those situations and made it through and I know you will be too. However, we also went on some more rural paths, which you can choose to do… or not.
The main point is, driving in Morocco is not at all scary and it's an awesome experience.
While I can't speak for the whole country, the highways and roads we took were overall in good condition and fine to drive.
With my motivation above and my tips below, I think you'll be fine for a road trip in Morocco.
Tips for Driving in Morocco
---
Renting A Car and Parking
1. Unlike many places around the world, renting a car in Morocco comes with little gas. Don't start your trip until you fill up! And when it's time to return, don't give them a full tank, a half a tank, or anything more than they gave it to you with. Gas in Morocco isn't cheap!
2. Before even starting your ignition, takes tons of pictures and video of the car and its condition. Point out every single scratch, mark, and dent. Make sure your papers reflect it as well. This is a rule for around the world.
3. Always have some small change on you because parking 90% of the time costs money. Anywhere from 2-30 MAD depending if it's a big city or not, overnight parking, or just a quick parking spot for an hour or two which "requires" you to tip the dude who watched your car.
More info on renting a car at bottom of this post.
Police Checkpoints
4. When someone flashes their brights at you, slow down. It likely means there is a checkpoint up ahead.
5. When there are checkpoints don't go the speed limit. Go significantly under the speed limit. There are often stand up stop signs on the side and you definitely don't want to blow through a checkpoint.
6. Speaking of checkpoints, there are TONS of them. Taghazout to Essaouira is less than a three-hour drive and we encountered four checkpoints. But no worries on getting pulled over.

Here's the deal with getting pulled over on your Morocco road trip:
– If you're obeying the traffic rules, you're fine.
– They are likely not after tourists, as many may think. They usually want to check locals for their car papers.
– In fact, it's pretty hilarious. we got pulled over twice (in two weeks of driving in Morocco) and this is what happened:
First pull over: The cop literally pulled us over with a big smile on his face just to say hello, ask where we were going, and then let us on our way. *adorable*
The second time: It was because Garrett was wearing his new turban and looked like a local. After the cop realized he was, in fact, not Moroccan, he smiled and let us go.
The main thing to do when pulled over driving in Morocco: Smile and be nice. 🙂
Maps
7. Be careful what roads maps tell you to take! If you can take a highway most of the way and then cut in through on a smaller road, it might be better that way than taking the smaller roads all the way.
For example, Essuarai to Sidi Kaouki, maps told us to take P2201 when in reality, taking N1 and turning on P2216 was a FAR better choice, for us and the car. Alternatively, sometimes taking the off the track roads can be fun. Choose your adventures wisely while keeping time and potential car damage in mind!
8. Download Maps.Me. My tip in every single country. Always. Not only does it offer paths, walking trails, and sometimes better routes than Google maps, it can be used offline, so you don't use up all your data. Don't forget to download the maps while on wifi before your trip. It's also good for pointing out dirt roads that Google Maps totally eliminates!
9. On the same note, Maps.Me is a fun tool to find things. Click "sites" to check out what's around you. There are viewpoints, castles, ruins and more that are on this map that may not be on Google Maps. Not every sight is worth it but it's fun to play!
10. Take directions with a grain of salt because sometimes it says "turn left/right" and it's really just a sharp turn as the roads are windy. So always double check your routes and don't make hasty turns.
11. Always take the maps estimated time with a weary side eye, similar to that look your mom gave you when you said you were "sleeping at your friend's house" as a teenager. It's more often than not going to be longer than it says. Stops, road conditions, donkey traffic… lots can happen. Always overestimate and be especially careful when you're cutting it close to driving at night.
Speed Limits and Signs
12. Signage is actually pretty good! Everything is in English, or at the least French, which is easy enough to understand.
13. Speed signs are a bit a wild. Sometimes you won't see one for miles, and sometimes you'll see three within a mile. Usually, the speed signs go from fast to slow quickly when you're entering a town. Just pay attention.
Driving Etiquette, or Lack Thereof
14. Sometimes people drive in the middle of the road. I'm going to go ahead and say it's because the sides of the road can get a bit crumbly but I think they just drive that way anyway! The lines are simply decoration. Just weave, wave, and be the defensive driver—always!
15. On a similar note, it's more likely that you'll be the one to move over when driving. They move over at the last possible minute or sometimes hardly at all! Just slow down early and move over.
16. When you're on mountain passes or roads where it's hard to see to pass someone, it's kind to help out with a hand gesture out the window that it's safe for the car behind to pass you while you slow down a bit and take the shoulder as they pass. And of course, if you're trying to pass, you'll now understand when someone does this to you.
17. When going through towns and cities it's common for the right-hand lane to be used as a parking area. When driving in that lane, be careful as cars sometimes literally stop in the lane all of a sudden.
Road Conditions
18. Be careful around rainy season! Are the roads washed away? Have rocks fallen? Just be wary of some roads and ask around. We even encountered a road washed away when we went a bit too far off the path (#noregrets). It became just a dirt path for about a mile but luckily still OK enough to drive down. Some rocks on the mountain passes are literally about to fall any day now and the rains can speed that process up!
19. All roads will have at least one lane for each side but it doesn't mean it's actually big enough for two cars. Some roads, even on the slightly scary mountains passes are big enough for 1.5 cars at best. The main highways are more "normal."
20. Before going on long stretches of drives, especially the "tizis" ask! Like #18, roads get washed away a lot. The Tizi n 'Test road was in bad condition earlier (potholes galore on a mountain pass—no thanks!). We asked a local, our friend Brahim from our awesome desert tour, how is it now and he said it's fixed and good to go.
Planning Your Morocco Road Trip… or Not
21. Only plan about 50% of the trip. Get a few ideas sorted and try to book accommodation a day or so out because the cheaper places can fill up a bit. The last thing you want to do in a new city, after driving around Morocco all day, is to go hotel hunting.
22. On a similar note, only plan about 50% of the places you want to go as there will be plenty of surprise stops along the way. Guaranteed.
Other Driving in Morocco Tips
23. Don't stop for kids flagging you down on the side of the road, particularly around the road heading north from Ait Ben Haddou. They simply want you to stop so you can hand them some change.
24. The main road letters and what type of road they are:
– N roads are the main highways and the easiest to drive with reasonably new tar to drive on.
– R roads are a bit less reliable. R106 towards Taliouine is actually where we experienced a few dirt road patches and even a few watched away bridges (but the river was dry). Everything was fine, but something to keep in mind!
– P roads are the smaller roads that are often made for a car, maybe a car and half to fit on. The conditions were decent enough though.
25. Remain vigilant ALWAYS. Around sharp turns, in the cities, when animals are around… You're going to be fine but you also need to pay attention a bit more than what you're used to.
Renting a Car in Morocco
Grabbing a car rental in Morocco is decently easy, just be careful where you get it. We always find the cheapest rentals here. I would certainly advise booking one ahead of time as well depending on when you come over.
We met some people who were stuck paying for a far more expensive vehicle because they waited until they landed to book one!
When picking your car up, like my tip mentioned above, check every single nook and cranny. Get it on video and the papers, even film the inspection with the worker. Do whatever you can to save your butt.
On that note, make sure you're actually getting the car you booked and don't fall victim to their tricks. Blaming a scratch on you, trying to guilt you into an insurance add-on when you prebooked insurance… They will try it if they can! Just put your foot down, get it recorded, and triple check everything.
I've used the link below around the world and they have been reliable and display where you can get the cheapest deal.
Phew, I know that was a lot and hopefully, you're not scared of driving around Morocco. These tips are so that you're prepared and are not meant to scare or make a Morocco road trip sound like an awful idea.
Again, it's one of the best times I've had in my travels and it's SO beautiful.
Are you thinking of taking a Morocco road trip? Where? Let me know your plans in the comments!
---
---
>>> Even More About Traveling Morocco <<<
Everything You Need for Your Badass Road Trip: 53 Item Packing List
9 of the Best Day Tours From Marrakech
45 Essential Morocco Tips You Need for Your Trip
Toubkal National Park: An Easy Trek Around Imlil, Morocco
Best Time to Visit Morocco: When Spring Is in the Air!
Finding Goats in Trees in Morocco: Yes, This is Real Life!
8 Things to Do in Ouarzazate: A Movie Buff's Paradise in Morocco
How to Visit Paradise Valley Morocco: A Day Trip to an Oasis
7 Badass Beach Towns in Morocco for Surfers and Professional Beach Bums
What to Wear in Morocco Packing List: 13 Must-Have Items
This Is What It's Like Camping in the Sahara Desert in Morocco—Erg Chigaga Trip
Finding a Surf Camp in Taghazout & Becoming a Badass Surfer (Kinda)
What NOT to Miss on Your 5-Day Morocco Itinerary
---
---
Don't lose this post! Click the picture to pin it for later.