Surrounded by limestone walls, palm tree-filled gorges and the faint sound of trickling water, I knew we were close.
After a 30 minute hike, I was greeted with bunches of palms jutting into the air and numerous blue pools with chatty and happy local kids tumbling from precariously high rocks and plummeting into the pools below.
Welcome to Paradise Valley Morocco.
An oasis in the rolling foothills of the Atlas Mountains just an hour or so away from the crashing waves on the coast.
Paradise Valley in Morocco is a little getaway to switch up your beach and surf life with some mountains and fresh pools of water (that don't crash on you)!
While many tours here are offered, you could just as easily find your way here on your own.
It's important to note a few things about Paradise Valley though, so read up before heading out.
When to Visit Paradise Valley, Morocco
The petrified walls of the mountains which make home to small waterfalls, the palm trees, and the pools all require water to remain beautiful and lush, however in a country know for its deserts and dry weather, it's not always possible.
Throw into the mix irrigation needs from the local villages and the water flowing through Paradise Valley thins substantially.
Luckily, when we were here in March, it had been pouring rain a few weeks prior a few days here and there. This much-needed rainfall made the oasis lush, fresh, the pools—deep and turquoise, and even the waterfall was flowing a bit.
Visiting in the summer months will mean dried up falls and streams which don't reach the blue pools to replenish them leaving you with a less than desirable paradise than you had hoped.
Make sure to ask around if Paradise Valley in Morocco is worth it before going or booking a tour! Has it rained recently? Are they experiencing a drought? If so, it may not be worth going.
What's There to Do at Paradise Valley?
Chill and hang out mostly!
There isn't much beyond that unless you want to try your hand at jumping off cliffs into the deep gorge pools below, which plenty of locals will do before you, so you know where to jump from.
There are a few little stalls who've set up here serving some food and fresh OJ should you work up an appetite.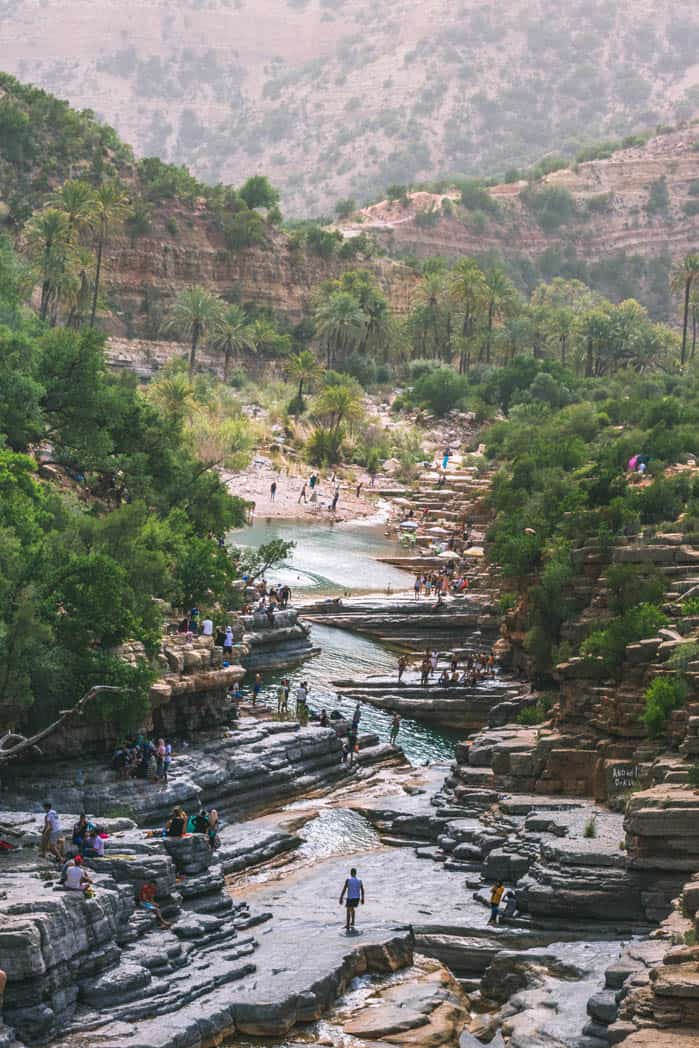 How to Get to Paradise Valley in Morocco
---
1. Public Transport to Paradise Valley:
You'll need to get to Tamraght to catch the bus to Paradise Valley. There are buses from Agadir and Tagazhout that pass through Tamraught which is easy enough.
Just passed Tamarght, in Aourir, is a roundabout which turns away from the coast and up to Paradise Valley (P1001). if you walk up this road for a few minutes you'll see some Grand Taxis, a shared taxi, and these are all you need to make your way up!
This costs around 25-50 MAD depending on the season, time of day, etc.
The ride will take an hour or two depending on the waiting time and how many times it stops etc.
For the way back, just do the same in reverse!
Something to note: These grand taxis are pretty local, as in, don't expect a nice air conditioned ride up. It will likely be hot and sticky, and you'll also have to wait until the bus driver is satisfied with the number of customers in his vehicle to start making the way up (usually packed full).
Bring small change as not all taxis have change—whether or not it's actually true, just be prepared to not get change back if you only have larger bills.
Don't try heading back too close to sunset. Get a bus back to town sooner rather than later, so with that said, I'd start your day here early.
2. Rental Car to Paradise Valley:
This is the way I recommend because it's the way we went and it's super easy. I wouldn't say this trip is worth renting a car for the day but we had it for two weeks and took a detour here, which was worth it.
You simply follow P1001 from Aourir to the interior. It's a windy road and the last 30 or so minutes will be a bit rougher. It's a crumbled dirt road in many areas and currently, there's a bunch of construction on the roads as the rain had washed them away.
Overall, it's very easy! And the whole trip will only cost you 10 MAD for parking. Easy.
3. Tour to Paradise Valley:
The easiest way to get to Paradise Valley is to let a tour worry about the details and take you there for the day. Literally, every hotel and surf camp will offer day tours to Paradise Valley.
The only catch is that it's usually 250-300 MAD which may not be worth it to some people.
Alternatively, you can book a tour online which usually means a smaller group than those who invite the entire hostel to come along.
Other Things to Know:
Any of the ways above to get to Paradise Valley in Morocco will require about a 30-minute hike into the valley.
Bring lots of water, and depending on how sensitive you are, decent shoes too.
Flips flops are fine, but you'll get dirt and small rocks kicked up and if you wear closed toed shoes, you may get them a bit wet as you'll be hopping over rocks and small streams to get there. It's up to you!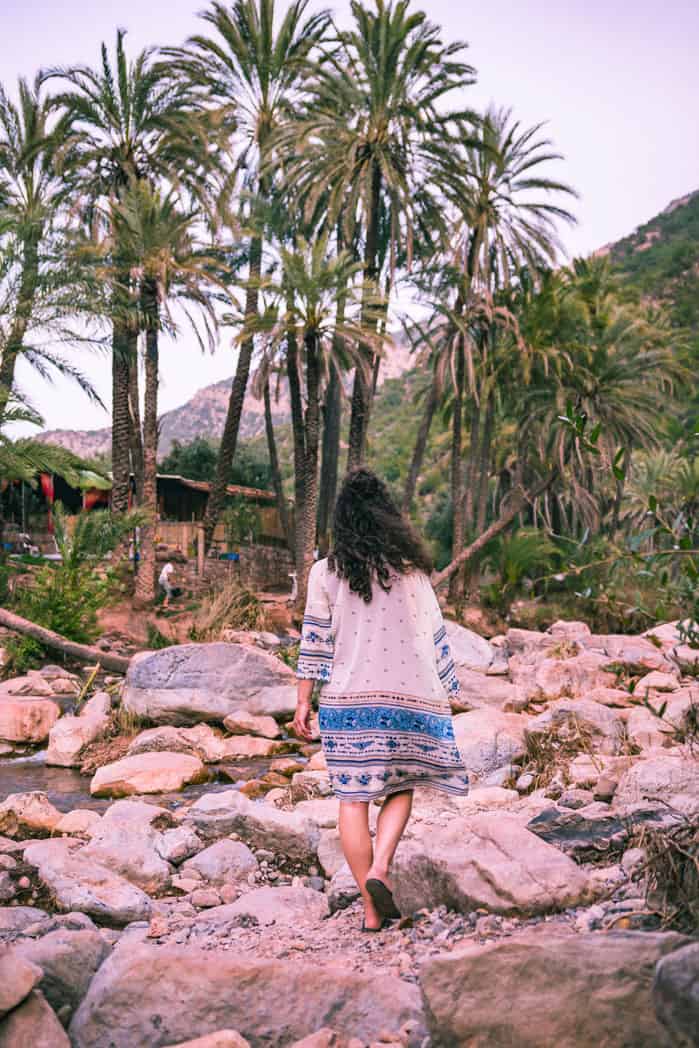 Paradise Valley in Morocco was a nice half day spent experiencing an oasis, but it may not be what all of your hopes and dreams are made of depending when you go. Just know, Paradise Valley is no secret. As mentioned, all the coastal beach towns near the area offer tours here, so it can get quite busy, especially on weekends.
There will be locals and foreigners alike wanting to come here for the day to sunbathe, jump in the pools, and overall just switch things up from the beach scene. Which is why we went! We spent over a month hanging out at the beach so it did make a nice change! It wasn't really a relaxing and quiet experience, but definitely an entertaining one.
*Click here to prebook a tour.*
Will you be visiting Paradise Valley in Morocco? Let me know in the comments!
---
---
>>> Even More About Traveling Morocco <<<
Everything You Need for Your Badass Road Trip: 53 Item Packing List
9 of the Best Day Tours From Marrakech
25 Tips for Driving in Morocco & Why a Morocco Road Trip Is a MUST!
Toubkal National Park: An Easy Trek Around Imlil, Morocco
Best Time to Visit Morocco: When Spring Is in the Air!
Finding Goats in Trees in Morocco: Yes, This is Real Life!
8 Things to Do in Ouarzazate: A Movie Buff's Paradise in Morocco
7 Badass Beach Towns in Morocco for Surfers and Professional Beach Bums
What to Wear in Morocco Packing List: 13 Must-Have Items
This Is What It's Like Camping in the Sahara Desert in Morocco—Erg Chigaga Trip
Finding a Surf Camp in Taghazout & Becoming a Badass Surfer (Kinda)
What NOT to Miss on Your 5-Day Morocco Itinerary
---
---
Don't lose this! Click the picture to pin it for later.