Who knew Morocco had such badass beach towns?
For this professional beach bum right here (and wannabe surfer), I was stoked to check them out!
Sandy shores, insane rollers, the longest right-hand break, barely visited shores, a beautiful arch, and more—what doesn't Morocco's beaches have!?
After spending two and half months in the country, mostly exploring the coast, here are some of Morocco's best beaches from north to south.
7 Best Beaches in Morocco
---
1. Essaouira
First things first, how the F do you pronounce this place? We called it an array of different names, including "Izzura" (don't ask why, Garrett started it) but it's more like "Essuwera."
Now that we got that out of the way, why is Essaouira considered one of the best beaches in Morocco? Especially when it's also known as Morocco's "windy city." Well, it's that wind that attracts surfers, as well as kite and windsurfers from around the world to surf and bop around its tides.
For my fellow beach bums, while the beach may look inviting, the winds here are no joke. You may not be able to put a towel down and there's a strong possibility you'll go home as a piece of sandpaper.
When you're not playing in the waves or scratching sand out of your hair, meander the 18th-century medina which is a well-preserved, European-influenced, fortified seaport town. Chock full of Moroccan shops holding goods like jellabas, rugs, and tea sets, you will doubtfully go home empty-handed.
The best views of Essaouira's medina can be seen from Skala du Port. Surrounded by the stench of fish from the nearby fish market and the photogenic and cute blue boats, it's Essaouira's coastal fort tower.
While everything you'll find online states the hours are from 9-5:30, they actually closed at 5 while we were there. Don't miss out on the views from here! (Entrance is 10 MAD)
For a cheap, yet quick and filling bit to eat, head to Chez Miloud. Get yourself some mint tea (of course!), traditional harira soup, and a msemen, which is essentially a crepe with a filling (cheese, honey, plain, Nutella…). There's a reason why there's always a line at this place.
Video visuals for ya of Essaouira via Garrett:
Where to Stay in Essaouira
If you're on a budget, Hôtel Riad Gnaoua is a good spot and for just a bit more Jack's Apartments & Suites is also highly recommended.
2. Sidi Kaouki
A mere 30 minutes away from Essaouira in driving time but light years away from the bustle of the coastal city, is the sleepy surf spot, Sidi Kaouki.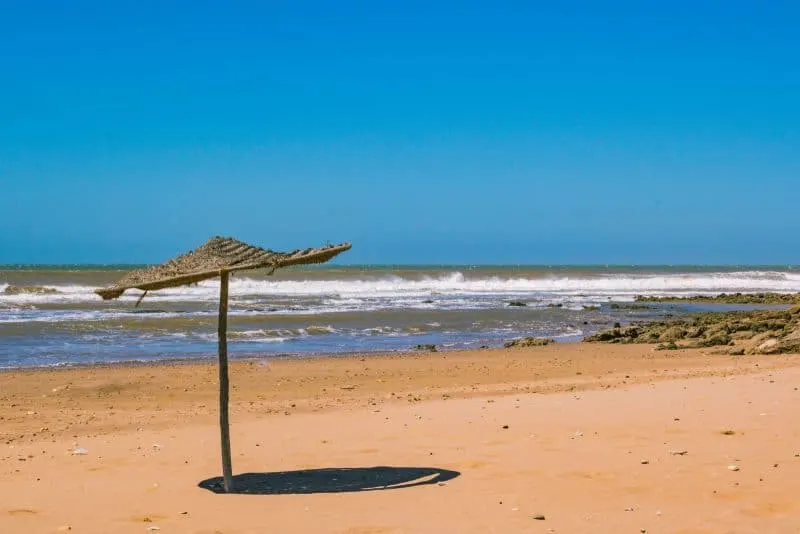 How does one even stumble on a place like this? Past argan trees, small villages, and a dirt road if you take the wrong one like we did, Sidi Kaouki is the hidden surf spot you may be looking for, and for that reason, perhaps one of the best beaches in Morocco for some solitude.
A few thatched umbrellas dotting the beach, a surf shop or two, a few restaurants, and auberges, and that's about it.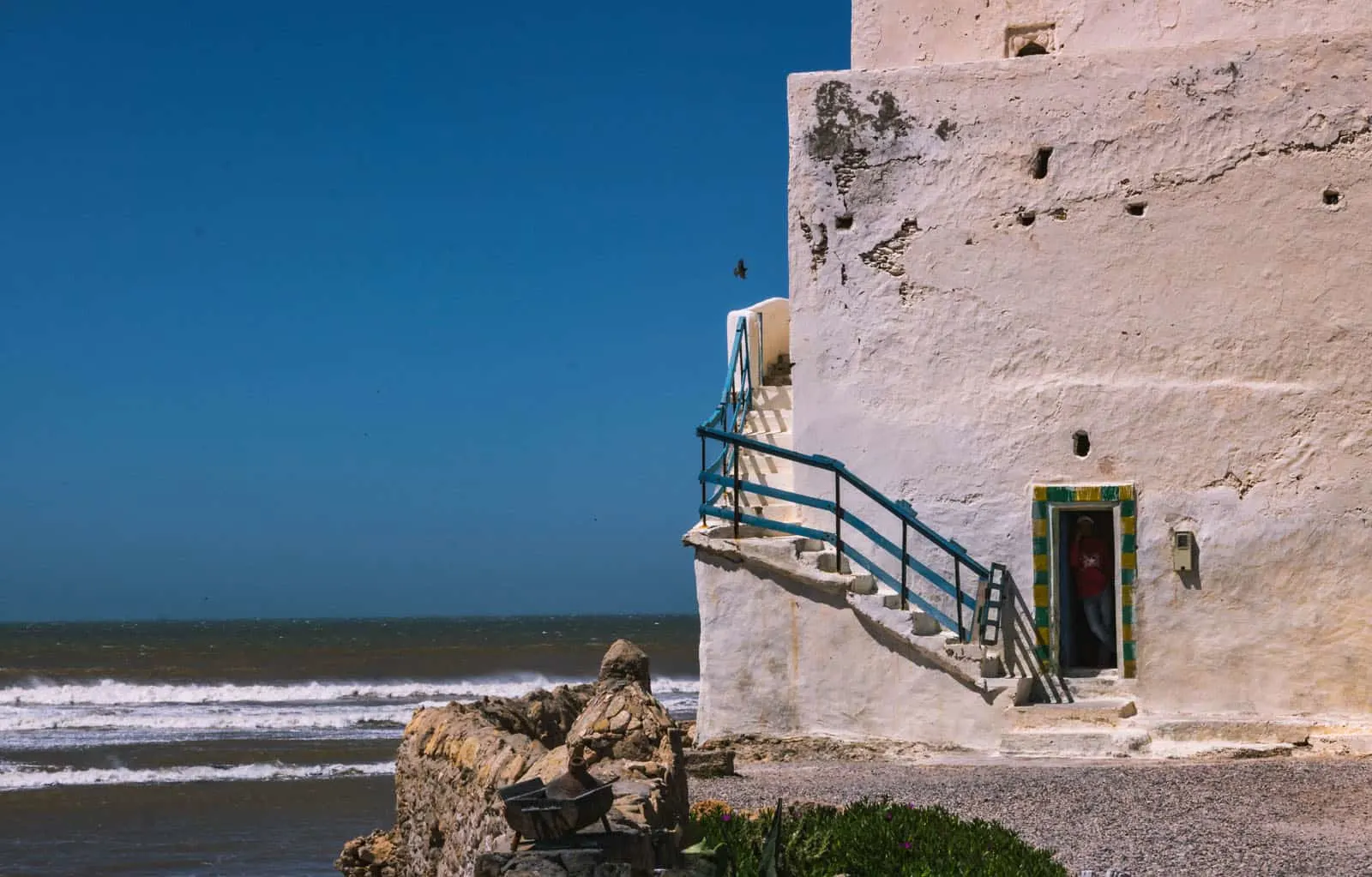 If peace and seclusion, uncrowded surf, and the easy carefree life have been calling your name, then head here. Jimi Hendrix did, maybe he was on to something?
Like its neighbor, the wind doesn't let up much around here.
How to get to Sidi Kaouki from Essaouira:
Well, definitely don't drive on P2201 to get here like we did. Instead, take N1 all the way to P2216. It's a narrow road, but much better than the rocky dirt road we initially took.
If you're not road tripping, you can also take the line 2 bus for less than 10 MAD from Bab Doukkala in Essaouira.
Where to Stay in Sidi Kaouki
If you're on a budget, Sidi Kaouki Al Vent is a good spot and for just a bit more Villa Soleil is also highly recommended.
3. Imsouane
This is one of the best beaches in Morocco for the perfect right break surf! In fact, it's the longest wave in the entire country—riding out for over two minutes, if you can believe it.
This one is probably my favorite surf town in Morocco (oops, sorry Taghazout, I still love you too)! The waves were just so clean and easy, and because it's SO long, it's almost impossible to not find a spot for you to play in without 100 others.
The right break here is seriously what surf dreams are made of. The Bay features large barrels that come rolling in and the pros swerve and swish with ease on the wall of water riding for as long as they can. Then as the waves start to crash the intermediate and beginners get to play and catch what they can.
Which for me, was still the whitewash with the occasional accidental green wave which would usually eat me alive. It was still so much fun!
For the more advanced, The Cathedral is a fast and peaky reef break just down the road from The Bay.
We had so much fun, we've vowed to come back and chill and surf in Imsouane again one day.
For a truly epic viewpoint, and to see that right break go all the way down, head here on your way in or out of Imsouane.
For board rentals, you can head to Reef Point Surf Shop and see if Amed will give you a board and suit for the day at 80MAD as he usually charges 100MAD (just smile and ask nicely but don't push).
The town here is totally walkable and having a car isn't necessary. Do note there's no ATM in Imsouane! The nearest one is about 20 minutes away.
Where to Stay in Imsouane
If you're on a budget, Auberge Dar Naima Imsouane is a good spot.
4. Taghazout
I like to think of Taghazout as one of my many homes as I spent five weeks here.
What a little charmer you are Tagazhout! And certainly known as one of the best beaches in Morocco for its surf. With several surf locations within a few minutes and many more within a 20 minute or less drive, Taghazout is the ultimate spot to base yourself for surfing.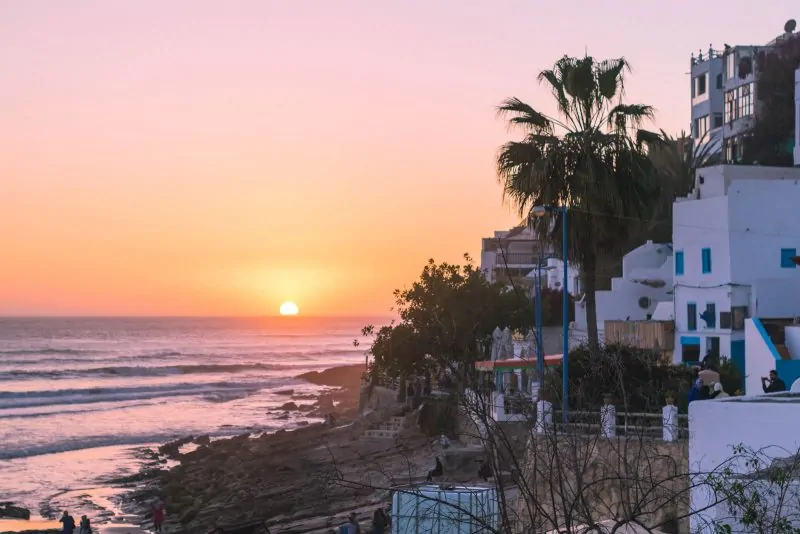 While you may want to pop by for a wander or a nice beach bumming holiday, Taghazout is a surf spot through and through. There isn't too much else to do here.
Beach bumming is possible, usually at Panorama beach but you'll be surrounded by wetsuit donning surf addicts, not that that is a problem though.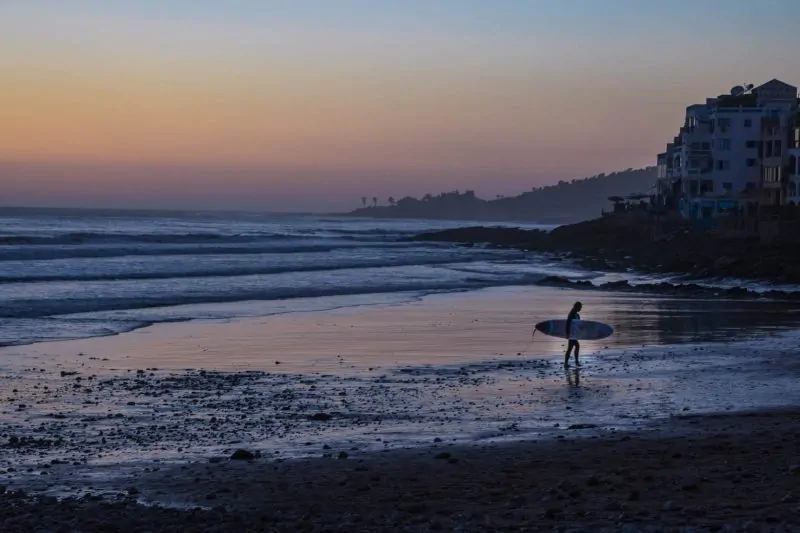 I'll leave my thoughts on Taghazout at this because if you're interested in visiting and surfing here, you'll be happy to know I have an entire post on what Taghazout is like.
Where to Stay in Taghazout
If you're on a budget, Salt Surf Taghazout is a good spot and for just a bit more Taghazout Beach is also highly recommended.
5. Tamraght
Tamraght is Taghazout's neighbor. if you stay in Taghazout, you'll likely find yourself going to Tamraght for two main reasons.
Either you'll be surfing at the easy rolling waves of Banana Point, or you'll be there to use the ATM since Taghazout doesn't have one.
Either way, Tamraght is a cool spot to hang out for the day if you're up for exploring another cute coastal town in Morocco. While it's certainly bigger in terms of having actual streets, unlike Tagahzzout's little main road with dusty alleys, there isn't too much to do here either. Except for chill, beach bum, and surf, of course.
You may also want to take a trip to Devil's Rock for a nice viewpoint of Tamraght and to watch the surfers.
Where to Stay in Tamraght
If you're on a budget, Waverider Hostel is a good spot and for just a bit more Riad Cheburgena Tamraght is also highly recommended.
6. Mirleft
While the surf conditions weren't on our side during our visit to Mirleft, the best spots to get your surf on are Marabout, Coquillage, and Plage Sauvage.
What was on our side, was the chance we stumbled on this place and the instant enchantment that Mirleft gave us. Aftas beach which is right outside of town is a sheltered little bay perfect for beach bumming and doing a whole lot of nothing.
However, Marabout beach is perhaps the most beautiful and dramatic due to a massive rock with a mini arch in it that sits in the middle of the bay. We stared in awe and played on this beach for what felt like most of the day.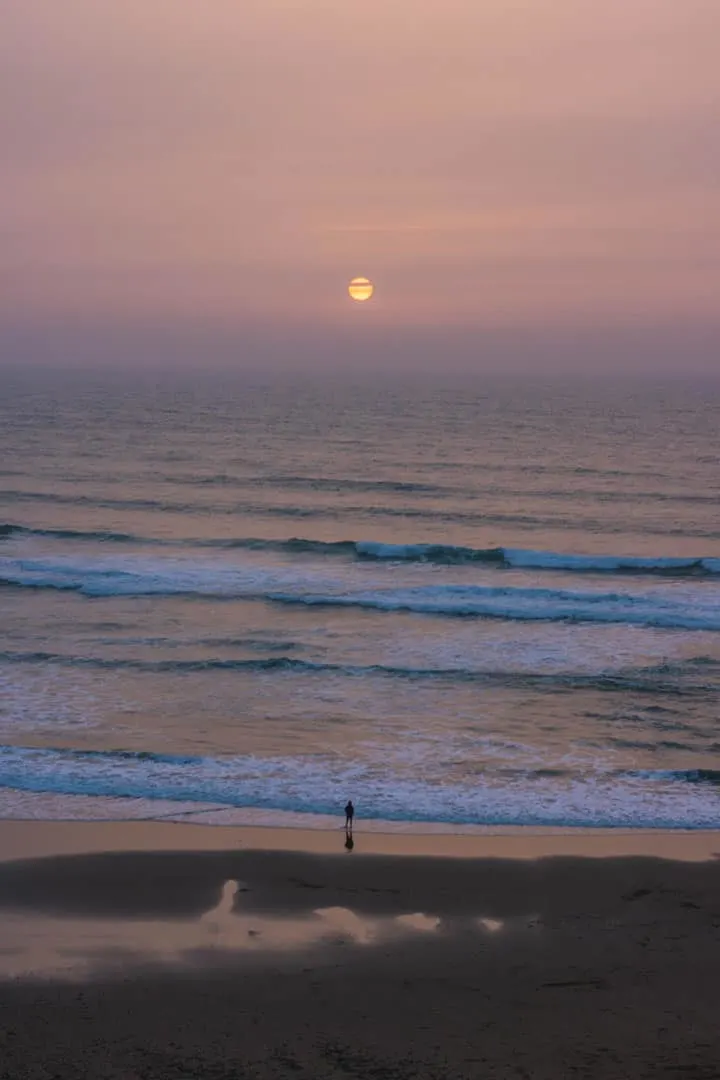 On a hill just behind Marabout, you'll see an abandoned building, which is one of my favorite things to find! And this was a fabulous discovery. I'll let the picture do the talking and I won't say how long we spent here… (far too long.) Even with the haze, this place was soo cool.
For sunset, Aftas beach provides some of the best views but you could also watch it from the old Spanish fort on top of the hill. The entrance is pretty impressive but it gets much more ruinous as you walk in.
Unfortunately, there's a "guide" here whose job is to annoy TF out of you and then expect a tip for doing so. It kind of ruined the experience here a bit.
He only spoke French but didn't get the universal memo on taking a hint and understanding the "leave me the F alone motions" and simply, wouldn't leave me alone. I took my pictures a left. Still worth it.
Where to Stay in Mirleft
If you're on a budget, Gite Le Nomade is a good spot and for just a bit more Villa sable de Mirleft is also highly recommended.
7. Legzira
Here's the real stunner of the bunch. Out of the best beaches in Morocco, this one is probably the most beautiful simply because of its unique red rock and the main feature, a massive arch.
Unfortunately, it used to be twice a beautiful as it showed off two arches, however one fell in 2016 and now, a singular arch stands, hopefully not to fall into the same fate as the last one.
Taking Route Legzira (street name) towards the coast, you'll find some paid parking spots (10MAD) in front of some buildings. Walk down the stairs and you'll be greeted by the crashing waves and sand between your toes immediately. The waves are conveniently right there for your surfing fix.
The surf is straight ahead and the massive arch is just to the left. Out of all the beaches here in Morocco, I vote Legzira as the cleanest. All countries have their issues with litter and Morocco is no different but the beach here was looking good.
While here, it would be a crying shame to miss out on a fish tagine! LePetit Pecheur cooked up a divine dish for two with a little fishy just caught earlier that day.
Where to Stay in Legzira
If you're on a budget, Hotel Legzira Beach is a good spot.
Video visuals of Mirleft and Legzira:
The best beaches in Morocco are those that come with surf and sand, right? Hopefully, one if not all of these beach towns are on your list for one reason or another.
Which of these Moroccan beaches are you headed to? Let me know in the comments!
---
---
>>> Even More About Traveling Morocco <<<
9 of the Best Day Tours From Marrakech
25 Tips for Driving in Morocco & Why a Morocco Road Trip Is a MUST!
Toubkal National Park: An Easy Trek Around Imlil, Morocco
Best Time to Visit Morocco: When Spring Is in the Air!
Finding Goats in Trees in Morocco: Yes, This is Real Life!
8 Things to Do in Ouarzazate: A Movie Buff's Paradise in Morocco
How to Visit Paradise Valley Morocco: A Day Trip to an Oasis
What to Wear in Morocco Packing List: 13 Must-Have Items
This Is What It's Like Camping in the Sahara Desert in Morocco—Erg Chigaga Trip
Finding a Surf Camp in Taghazout & Becoming a Badass Surfer (Kinda)
What NOT to Miss on Your 5-Day Morocco Itinerary
---
---
Don't lose this post! Click the picture and pin it for later.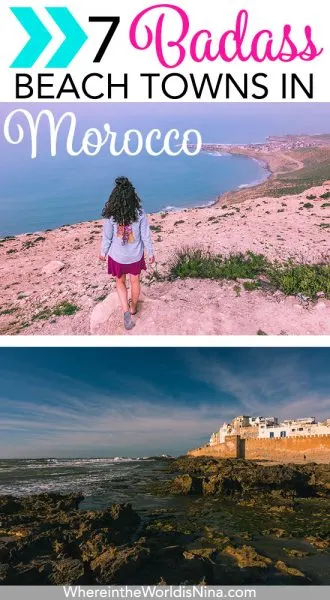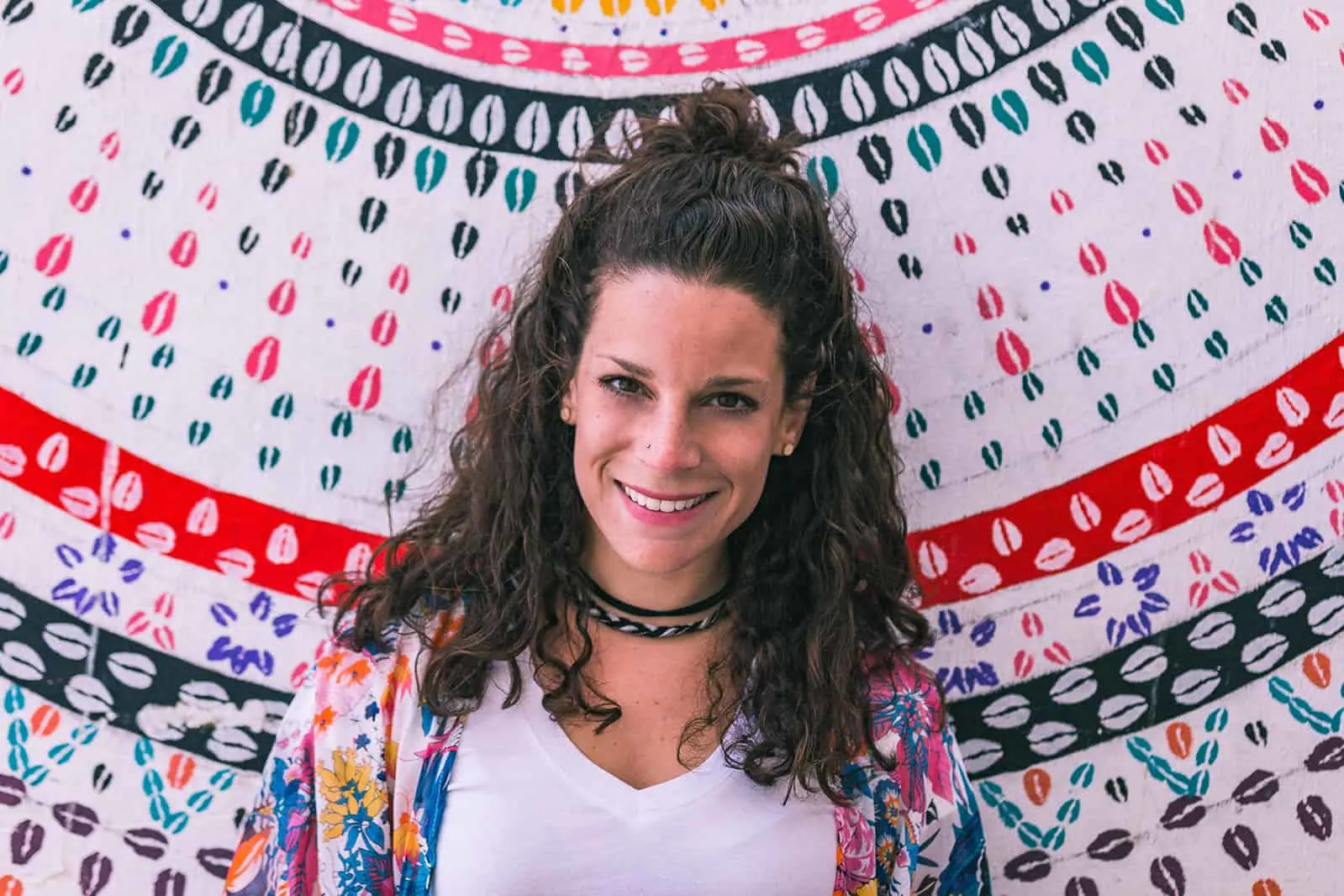 Nina Ragusa is an adventurer, messy bun master, breakfast fan, and full-time travel blogger. She's been abroad since 2011 and blogging on Where in the World is Nina? for nearly as long. Nina helps people like you move around the world while making money. She loves talking about how to work abroad and online to travel longer!