UPDATED: Jan 2020
OK, chest up, UP!
Look ahead, not down. No, look straight, not at the board!
Now paddle, paddle!
UP! Now! Get up!
And that's it. That's how I become a surfing badass in less than a week.
JK… but that was my little mantra from what I learned at my surf camp in Taghazout, Morocco! And guess what? I'm not pro, but I'm out there doing my thing surfing all on my own. And that makes me feel like a pro good!
If you were to tell me a few years ago that's I'd spend five weeks surfing in Morocco, I'd probably laugh.
What? Surfing in Morocco is a thing?
What? Me surfing? Nah, I'm too clumsy and awkward.
But here I am. And I have to tell you, it's been a bit of a dream.
I'm originally from Florida (in case you've never been to this blog. Oh, hi! Welcome!) and while we don't get surf on the gulf side of my state, I've always dreamt of surfing!
OK, so it was mostly because I wanted a hottie blonde-haired, blue-eyed surfer boyfriend (seriously, no joke #dreams) but I've also always thought surfing looked so cool and fun! Also, I'm a beach bum so, naturally, I'd love it, right? (For the record, I did bag myself a former surfing hottie but he has black hair. I deal.)
While I've tried my hand at surfing in Indonesia, it was a two-day thing and it was forgotten. I had a longing to make it more real but never truly sought it out.
Well, I finally changed that. I've recently had a confidence boost after getting laser eye surgery (surfing with contacts ain't fun) and gave myself the kick in the butt to actually do it!
And somehow, surfing in Taghazout, Morocco fell into my lap.
And now, I'm sharing the experience with you. Because let me know you, this shit is awesome.
I've never felt a rush quite like a catching-a-wave-kinda-of-rush. Have I amped you up enough to be curious about what it's like to surf in Morocco? I thought so… 🙂
For my visual people, here's Garrett's video on our surf camp in Taghazout:
Why Surf in Morocco? Why a Surf Camp in Taghazout?
Well, why not?
They only have waves for all surfing levels, all along the south coast, with days of sun on end… (and camels on the beach)
Sounds awful, I know.
In all seriousness, I didn't know Morocco had some epic surf but I'm always happy to be proven wrong! In fact, it has some of the best surf in the world, so that should give you enough encouragement to give Morocco a try for your surfing desires.
For my surf stint in Morocco, I stumbled upon a small town called Taghazout, and I'm so so glad I did…
OK, So What's Taghazout Like?
Oh, Taghazout. You ocean-misted, charming and chilled, dusty, little town. I do love you.
I'll tell you right now. There are two things you should definitely know about Taghazout.
This is a surf town.
There's nothing to do but surf.
But don't let this turn you off. That's part of its charm. There's nothing but chill surfers, locals running their surf shops, and the sounds of waves and a few cars and motorbikes kicking up dust. That's it. And it's why I loved it.
I admit Taghazout may not be for everyone. There's not much nightlife and there are no real activities in town (besides surfing of course). The town is a bit scruffy and it's under development. So while there's technically everything you need here (well, besides an ATM), it's a very simple place.
The road, yes, road, singular, is pretty much a dirt road. All other areas are walking paths (but the brave squeeze their cars through from time to time).
There's a small square where you can find fruit and veggie stands, spice stalls, and small hawker-style food stops. There are, of course, restaurants, either along the main road or on the beach.
And yeah, that's about it. For me, it ended up being the perfect place to chill for a whole five weeks!
So if you're anything like me, maybe this is your perfect place to post up for a chill surf holiday?
I absolutely loved it. Long walks on the beach (cliche AF but seriously, do it), watching camels cross from one end of the bay to the other, random dogs claiming you as their own for the day, sitting there watching time go by and the waves crashing on a poor surfer, and those epic sunsets…
Yeah, this place is super cool and chill and I'd come back in heartbeat.
So Where is the Best Surf Camp in Taghazout?
Ah, the best is relative and I can only speak from experience, but I found a pretty sweet surf camp in Taghazout called Surf Berbere. What luck! They have badass instructors, good food at their cafe, and their surf house apartments are what dreams are made of. SCORE!
So let's see what it's like surfing in Taghazout, Morocco, and in particular, surfing with Surf Berbere.
What's it Like Surfing With Surf Berbere?
A mini family that supports you and nose dives with you. Ha! Seriously though, the surf camp is so much fun and I learned enough after a week of going out with them to go out by myself! Let's break it down…
What's a day like?
There's actually a little set schedule. At first, I was like, uh, what? I hate when people tell me what to do and when. But after the first day, it totally made sense and I loved it.
The schedule is there to keep everyone where they need to be when they should be there. There's no question when something is happening or where. It's set, it's easy, and you don't have to do anything if you don't feel like it that day.
Here's the schedule for the surf camp in Taghazout:
Breakfast is from 8-9.
Grabbing your wetsuit and board from 9-9:30.
And you're on the road to go surf by 9:30.
You get back from surfing anytime from 3:30-4:30.
Yoga is at 6:30.
Dinner is at 7:30.
They have some great surf packages that include everything making your surf camp experience in Taghazout an easy one! Everything here is optional, there are packages that don't include yoga, for example, or an option where dinner isn't included if you'd rather explore dinner options around town. Check their packages here.
Isn't Their Surf Right at the Surf Camp in Taghazout? Why Drive?
Yes and no.
The surf you see from your bedroom window and from brekkie isn't the surf you'll be surfing in. It's regularly for people a bit more advanced (read: rocks).
In addition to that, Surf Berbere doesn't just take you to the closest beach, plops you in the water and whatever happens, happens. They drive to where the surf is best that day. As you probably know, surf changes every day, and what area was great yesterday doesn't mean it'll be great today.
It's actually perfect because this gives you the opportunity to chill and surf at different beaches in the area.
I ended up at three different locations during the week.
What Are the Instructors Like? Am I Actually Going to Learn How to Surf?
Such awesome dudes. I had the pleasure of flailing around the surf with Rashid, Yosef, and Illyas and they are some of the coolest guys you will ever meet. Super sweet, patient, and fun.
The guys usually have a different mix of people every day so they break you up into smaller groups depending on how you've progressed. We got the low down on the surfing basics on the first day, lots more practicing on the second, by the third, they were telling me exactly what I sucked at needed to work on…
After that, they started throwing more tips at me and I was learning how to turn or aim a bit to the left or to the right toward the end of my week.
They totally gave me the confidence and nohow to get out there.
Now, don't get me wrong, I'm not surfing massive walls of water yet. I'm still playing in the whitewash, which is where you will likely start as well unless you have more experience. But the whitewash is still fun, not scary AF and where you can learn best.
Trust me, I was looking at the waves from the whitewash, and they looked terrifying to me. I'll happily flop around in the whitewash until I get bored and can get up every time without looking like a fish out of water.
What's the Surf Berbere Surf Camp in Taghazout Accommodation Like?
We had the pleasure of staying in two of their apartments (because they are so lovely and popular they didn't have a consecutive week for us!) and both were simply perfect. I could have lived there.
Their apartments are so close to the water, that at high tide when sitting on the couch or bed, it feels like the apartment is floating on the water. The views are true stunners and you have 180 degrees of it on your private balcony. Absolutely magical!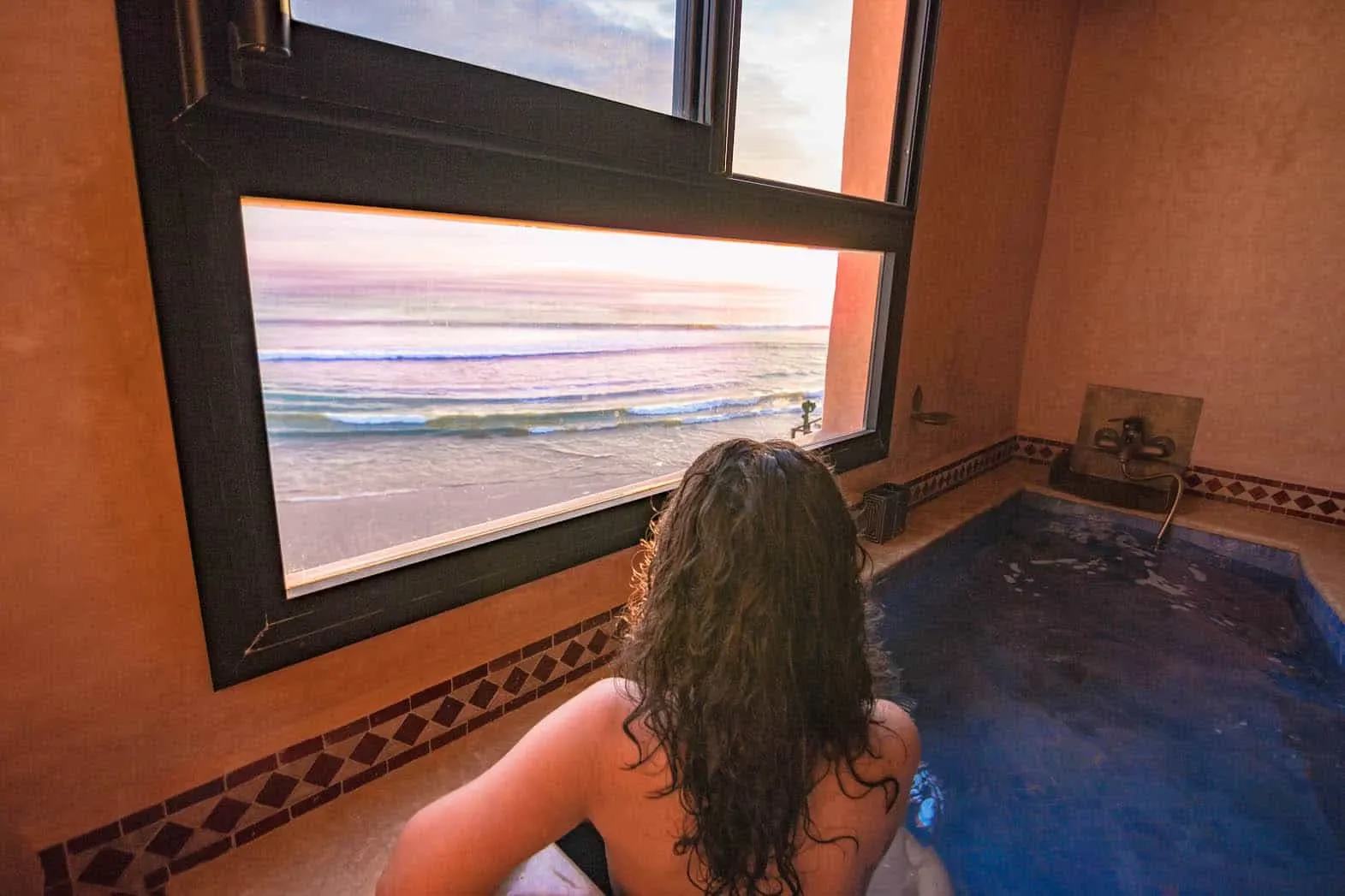 And of course, once you're done gawking at the views (which is actually never) you can retreat to your comfy bed, perhaps take a bath in the large tub, or whip up something in your private kitchen. Do you need anything more? I don't!
And no worries, if you're solo or on a budget, they have a surf hostel and other rooms as well.
Here's some visual vibes from this surf camp in Taghazout:
Tips for Taghazout and Surfing:
There's no ATM! You'll need to grab enough cash to last or, if worse comes to worst, grab a taxi to take you to the next town which has an ATM. (Round trip taxi cost is around 70MAD)
You need a wetsuit! If you have one and plan on surfing in Morocco, it might be worth bringing since sometimes rentals can be a bit worn or not as fitting.
If you're staying in town, learned what you needed, and are ready to get out there and surf, there are tons of places to just rent a board and wetsuit. Surf Berbere can hook you up with that or anything along the same road like Twareg Shop. Surfboard and wetsuit rentals can range from 70-100MAD per day (no time limit) depending on how good your negotiating skills are and if you're renting from the same place long term. There are also other beaches in Morocco with great surf to try out your skills.
If you're staying in Taghazout and you've only just learned to surf, it's best if you surf at Panorama Beach (walking distance from town and cleaner). If you're a bit more skilled, you can go right in town.
If you're renting a car, there are tons of other surf spots around Taghazout as well.
The best time to surf around the area is almost anytime for beginners. For the more advanced, September to April are best.
Grab a dry bag before heading out to surf in Taghazout. It's the best. And when the tide sneaks up on you, your stuff won't get wet (which definitely happened to us.)
I also only travel with sarongs instead of towels. They are far better and you'll need one while surfing in Taghazout!
I'll say it again, surfing in Morocco has been a DREAM. This place has certainly stolen my heart and I'll be recommending going to a surf camp in Taghazout for anyone who asks me.
So who is running to book a surf camp in Taghazout? Does Surf Berbere look like the spot for you? Let me know what you think about surfing in Morocco in the comments!
---
---
>>> Even More About Traveling Morocco <<<
9 of the Best Day Tours From Marrakech
25 Tips for Driving in Morocco & Why a Morocco Road Trip Is a MUST!
Toubkal National Park: An Easy Trek Around Imlil, Morocco
Best Time to Visit Morocco: When Spring Is in the Air!
Finding Goats in Trees in Morocco: Yes, This is Real Life!
8 Things to Do in Ouarzazate: A Movie Buff's Paradise in Morocco
How to Visit Paradise Valley Morocco: A Day Trip to an Oasis
7 Badass Beach Towns in Morocco for Surfers and Professional Beach Bums
What to Wear in Morocco Packing List: 13 Must-Have Items
This Is What It's Like Camping in the Sahara Desert in Morocco—Erg Chigaga Trip
Finding a Surf Camp in Taghazout & Becoming a Badass Surfer (Kinda)
What NOT to Miss on Your 5-Day Morocco Itinerary
---
---
Don't lose this post! Click the picture to pin it for later.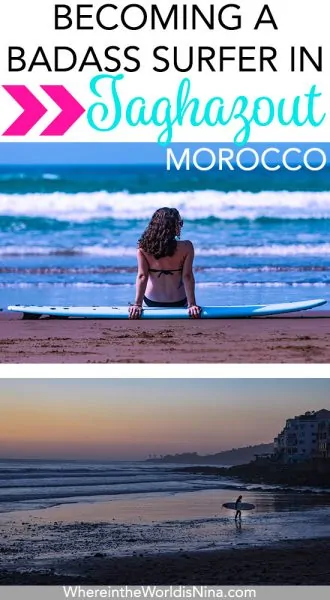 ---
Disclaimer: I worked with Surf Berbere surf camp in Tagazhout. However, as always, all opinions here are my own (because it's the only one that matters). Nobody knew who I was or that I was judging them until like the 3rd or 4th day anyway. 🙂