M'hamid and Merzouga are the two desert hubs of Morocco, leading curious, sand dune-seeking adventurers into a world they've only seen in pictures and movies.
Most people have no idea what a desert is really like. Barren, empty, and sandy come to mind, but the desert is so much more. After I left, I found myself using the words dramatic, inspiring, stunning, and brutally beautiful instead.
My desert experience was nothing short of magical.
And if you go to Morocco, missing out on a desert experience would be a crime… against yourself.
So why was this Moroccan desert experience so incredible? How does one put together a Morocco desert tour? Why did I choose to go to the less popular, Erg Chigaga? Let's slide into this so you can get the most out of your trip.
For more visuals, here's Garrett's video:
Taking a Morocco Desert Tour—Why Erg Chigaga?
Lets me first preface by saying I have not been to Merzouga, which holds the sand dunes of Erg Chebbi. They look wonderful, they are said to be stunning, and I'm sure a trip there would be one that you'd cherish forever.
However, with all my research (and trust me, I did a lot of it), speaking to people whom have done both, and chatting with my new friend Brahim, comparing the two—I can confidently say Mhamid and the Erg Chigaga sand dunes may have the upper hand when it comes to a Morocco desert tour for several reasons…
1. They Keep it Small
The Morocco desert tours around Mhamid that venture out into the dunes of Erg Chigaga bring small groups. My tour didn't feel like a tour at all, and it was only Garrett and me most of the time. Our camel ride, sandboarding, drive out to the desert, and even our first few hours at the camp were just us!
At night, a few other people came to the camp after their activities, and we all had dinner and a fire jam sesh together. It was a perfect balance of being on our own while still making some friends.
Erg Chigaga sand dunes are not too popular yet either. The camps here are fewer, and some have even put limits. The camp we stayed at only allows 12 people unless you've booked it out entirely with your own group. This helps keep everyone happy while keeping the experience intimate.
2. Wilder Dunes
Erg Chebbi has some crazy cool looking dunes, and they are quite massive as well!
Erg Chigaga has some the same, although not as tall; however, they are much wilder. The desert around Erg Chigaga is far less explored, it takes more time to get to from Mhamid (over 60km and around two hours), and as mentioned, have far fewer people around making you feel like you're on your own planet!
And trust me, when you look around, you don't feel like you're on Earth.
3. Because of Brahim and His Camp
This desert experience was also pretty much the best thing ever because of our new friend Brahim, his friends, and his camp. I stumbled upon his profile and saw he also did desert tours. Long story short, I made the right decision booking with him.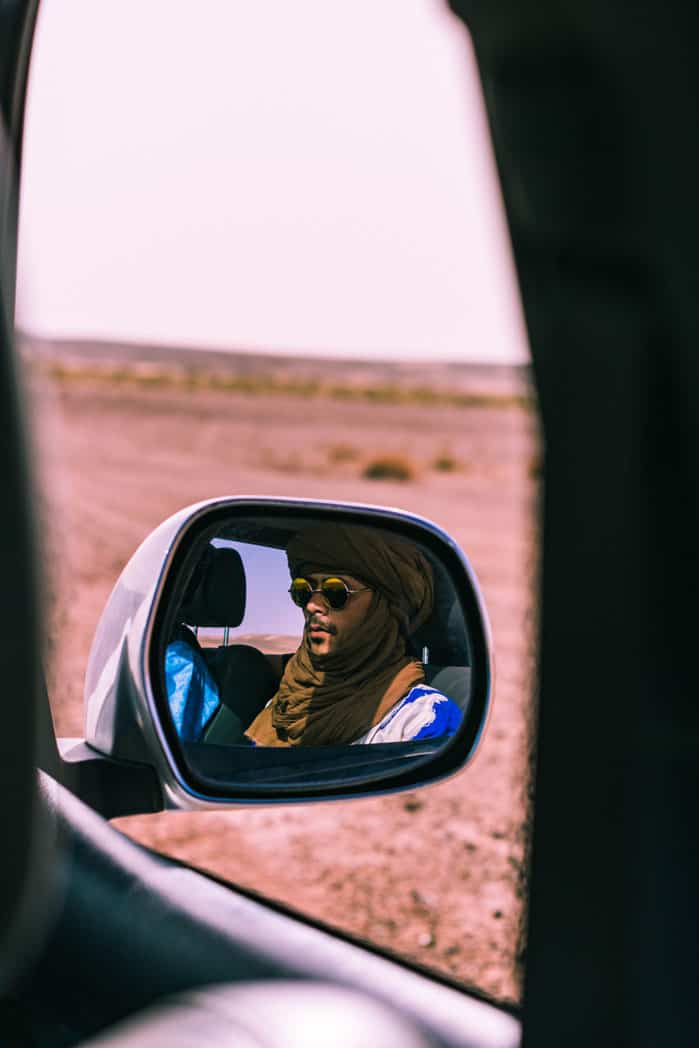 His camp is quaint and small, has everything you need, staff with smiles plastered on their faces, and the campsite itself is beautiful and comfortable. Our tent was better than some hotels I've stayed in!
(Let's go ahead and put this disclosure here right now—this is NOT sponsored)
4. Even Just Staying Outside M'Hamid Is Cool AF
We booked one night at Brahim's homestay in M'hamid and another with him at his camp in the desert.
This is unlike any other Airbnb you've seen. When you open your door, you're already right in front of the sand dunes! If you're very low on time or money, you could simply stay at his M'Hamid home and still get a mini desert experience climbing dunes and getting lost (but hopefully not too lost) just outside his property!
Like his campsite, his Airbnb is very quaint and close-knit as well. With only three "mud huts" sharing the spectacular sand dune views, you are already getting a very cool experience before you even embark on your Morocco desert tour.
5. It's More Authentic and Challenging
With our badass accommodation, the coolest desert tour in Morocco that I found, and the fact that this area was still wild and significantly less touched by tourism than its sister desert location—I felt this was the most authentic way to get out in the desert of Morocco.
Nothing felt cookie-cutter, there were no big tours buses or massive groups. The dunes and the camp were hours away from civilization, and the location itself was native and untainted, which likely can't all be said about the experience one would have in Merzouga (as I've read).
The dunes here require more. 4×4 only, more time and effort, and more desert knowledge from the locals. The "survival" factor is a lot more prominent out on these dunes.
At the End of the Day, There Isn't a "Best" Morocco Desert Tour
While I really think it was the best Morocco desert tour, I've only read and heard about Merzouga and its dunes. At the end of the day, it comes down to your preference.
Erg Chigaga takes more effort, and Erg Chebbi is much more accessible. With that comes many more tourists as well, though. So it's all up to you, but I can't recommend Erg Chigaga's dunes enough, and it was the highlight of our Morocco road trip.
One thing is for sure: The sand dunes in Morocco are stunning, and you NEED a desert camping experience in your life.
So How Does One Organize a Moroccan Desert Tour?
Well, the best part is, you kind of don't. To get even close to the sand dunes of Erg Chigaga, you need a 4×4 and some really good GPS directions, as well as knowledge of navigating rough and sandy terrain. So, in other words, you're going to want to pay someone to take you on your Sahara desert tour and deal with that.
If you want to know exactly how I did this trip so you can do the same, here's what you do…
We rented a car, which is honestly, the absolute best way to see the country. I wouldn't recommend anything else! We drove to Mhamid and already had our stay with Brahim booked.
He will meet you in Mhamid, and then you'll follow him back to his place. There's no finding this place yourself, he's already a bit into the desert, but no worries, it's still OK for regular vehicles to drive.
We stayed one night at the hut, and then he took care of us the rest of the way.
What's This Morocco Desert Tour Like?
Pretty epic if you haven't gathered that yet.
You start your day by making the bumpy, yet entertaining ride through the desert and to the dunes in a 4×4.
Try spotting a mirage (we did!), take 4859207 photos of the herds of camels, pass by an oasis, and spot real desert nomads, ya know, just regular desert stuff.
When you make it to the camp, which is beautiful, you'll have some time to chill, wander, and take in the ever-changing colors of the dunes that surround you in every direction.
Try your hand at sandboarding, just chill, or explore around and take photos.
Later, when the sun is a bit less intense, you'll put your ass to the test and ride a camel—what's a Morocco desert tour without a camel, right? (PS-They are well cared for!) Slowly and steadily, you'll make your way to the base of Erg Chigaga so you can climb it for sunset. Don't underestimate the trek up to the dune. You sink and slide a lot, so it takes a bit of time to reach the top!
After a hard day of desert life, you'll relax to the tunes of the local Berbere men while the campfire dances.
After a good night's sleep, you can choose to catch the sunrise, which I would highly recommend. The sun paints the dunes all sorts of colors ranging from a misty pink to yellow to hot orange. It's certainly worth the early wake-up call not only for the sunrise, but to get your last few glimpses of the gorgeous dunes before heading off.
If I were to do this trip all over again, I'd stay for two nights! It's my only regret.
What About The Food?
The food was SO GOOD.
Since Brahim's homestay is a bit out of town, he is super smart and includes meals. We arrived, he fed us dinner, then fed us breakfast before heading out into the desert the next day. Being in the desert I didn't have high hopes for yummy meals (especially being a vegetarian) but I was wrong.
It was some of the best food we had the entire time. Obviously, you'll get tons of tea, tagines for dinner, and breakfast after enjoying the sunrise.
Morocco Desert Tour Tips and Things to Keep in Mind
Bring sunnies and a scarf. Besides sun protection, you need WIND protection!
Bring layers just in case. While the desert at this time of year (April) doesn't get super cold, it gets chilly, and you will want a sweater.
A shower was available, but it's cold, and they have a limited water supply. Wash your face off and then use biodegradable wipes if you want an alternative. Some camps don't have showers at all. (or just be dirty like me and do nothing until the next day)
Flip flops. You don't need any other shoes for this trip unless you go when it's freezing.
Leggings or some pants are recommended for the camel ride. I lived in my leggings the entire time, as it was the perfect thing to wear.
Sunscreen! Don't forget it!
While this camp had electricity via solar panels, it would be smart to charge everything before you go just in case. I also always carry my solar-powered external battery, which is one of my favorite items!
A flashlight could help. Of course, if your iPhone is juiced enough or you have my badass solar external battery charger, which has one, you're all set on that.
Hand sanitizer! Bring it everywhere in Morocco.
If you use camera gear like we do, just know—sand everywhere—will happen. Bring an air blower, multiple lens cloths, and maybe even your crappier lens just in case. My lens still has a small crunch on manual focus, and Garrett messed up his lens shutters on his G7X! Not cool, but the pictures were totally worth it.
Don't forget a tripod and intervalometer if you're going to try some night photography.
Your tour will be a bit cheaper and shorter in summer as it's low season for Morocco desert tours at that time for obvious reasons. It's hot AF, and it's not possible to spend all day frolicking around the dunes as we did, so I'd advise you to go around April or a bit earlier like we did as this is towards the middle/end of high season.
Pro Tip for Your Desert Tour in Morocco
Book ahead! First, it's one less thing to worry about when you get here, but second, the desert tour people can be a little intense in town.
When we arrived, at night (oops), we were meeting Brahim. We had three people trying to bring us into their shop FROM OUR CAR (not even walking around), and one person wouldn't leave us alone when we were parked outside a store waiting for Brahim. We ignored him, but he kept trying to get our attention and knocking on our window.
You don't want to be pressured into a tour, but if you don't book ahead, know you're going to have vultures swooping down on you.
If you want to book this same Airbnb and this tour, just talk to Brahim. You can contact him through Airbnb here.
When you book Brahim's homestay, simply tell him you're interested in his tour. You'll pay for the tour once you meet him. PLEASE! Tell Brahim, Nina says hello when you book! (And please come back to this post and make a comment about your tour!)
Again, I just honestly had a great time; this was not sponsored.
Are you up for taking this Morocco desert tour? Let me know what you think in the comments!
---
---
>>> Even More About Traveling Morocco <<<
Everything You Need for Your Badass Road Trip: 53 Item Packing List
9 of the Best Day Tours From Marrakech
25 Tips for Driving in Morocco & Why a Morocco Road Trip Is a MUST!
Toubkal National Park: An Easy Trek Around Imlil, Morocco
Best Time to Visit Morocco: When Spring Is in the Air!
Finding Goats in Trees in Morocco: Yes, This is Real Life!
8 Things to Do in Ouarzazate: A Movie Buff's Paradise in Morocco
How to Visit Paradise Valley Morocco: A Day Trip to an Oasis
7 Badass Beach Towns in Morocco for Surfers and Professional Beach Bums
What to Wear in Morocco Packing List: 13 Must-Have Items
Finding a Surf Camp in Taghazout & Becoming a Badass Surfer (Kinda)
What NOT to Miss on Your 5-Day Morocco Itinerary
---
---
Don't lose this post! Click the picture to pin it for later.