After a few years traipsing about the globe with my laptop in my bag and my camera around my neck, you'd think I would be done with surprises and rather unfazed by bizarre sights.
But the truth is I'm still quite often shocked on the road.
The latest? Goats in trees in Morocco.
I know right! This is a thing?! Even this goat is pretty shocked! How did they get up here? Why?!
*insert goat scream* let's dig in…
Goats Climbing Trees
Goats in trees?! Yes. I know. WTF right? But it's true. Throughout southwest Morocco, and even into a bit of Algeria, goats climb up into argan trees to eat the bitter flesh of the argan fruit. In fact, researchers say these goats spend up to 6 hours a day under, in, and on top of these trees munching away.
Goats in Trees in Morocco Equals Big Money
They prefer the pulpy flesh, but they actually eat the entire fruit whole, thick rind, argan seed and all.
What's even more insane about this whole story is that because they can't digest the hard seed, they pass it right through into their poop. And then people come along, dig through the poop, pick out the seeds, crack them open, take out the tiny seeds inside, roast those seeds, and produce argan oil.
Argan oil is sold around the world (for big money) as a miracle oil for bright skin, silky hair, low cholesterol, you name it. It is a new superfood. An oil that potentially came from the back end of a tree goat!
Oh, and because goats are amongst some of the cutest animals and this sighting is so bizarre, there's more than just goat poop to monetize. In fact, there's plenty more cuteness to make a dime on…
People have made goats in tree calendars, coffee mugs, goats in a tree t-shirts, and even posters to hang on your wall.
*insert goat screaming while dollar bills float in the air*
How Can You See Goats Climbing Trees?
I got to spot these unbelievably adorable goats climbing trees while I was traveling through Tamri. There they were, just hanging out, roaming free, everywhere. Their shepherd was just chillin', letting the goats do their argan munching thing.
If you're on the hunt, look for where argan trees grow in southwest Morocco or Algeria and head out before noon. You're unlikely to spot goats once the sun really starts beating down. It's a pretty desert-like area.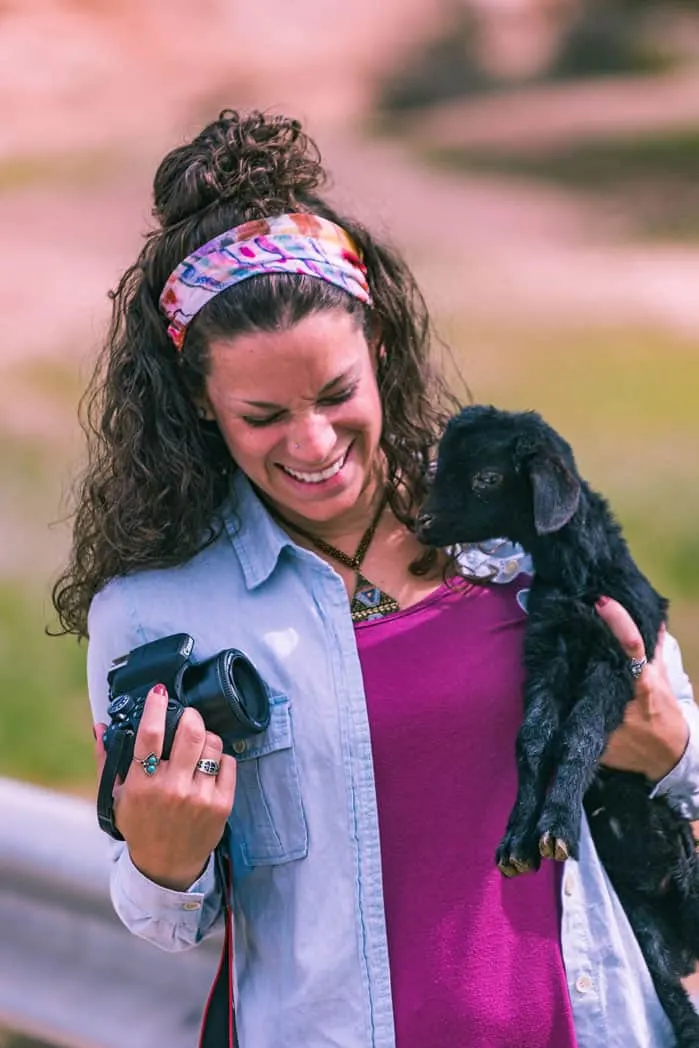 How NOT to See Them
This is a big fat warning: do not take a tour bus out to find goats tied to trees.
If your bus bound for another town happens to stop at this "attraction," don't support it. This is popular on the Marrakesh to Essaouira route.
There are some opportunistic shepherds who will tie their goats to random trees to make money from local tour guides. This practice is inhumane and basically super icky. Don't support it.
They obviously want tips and praise, and the more tips and praise we give, the more the awful practice will grow.
Besides being awful for the goats, excessive tree climbing goats are bad for the trees as well!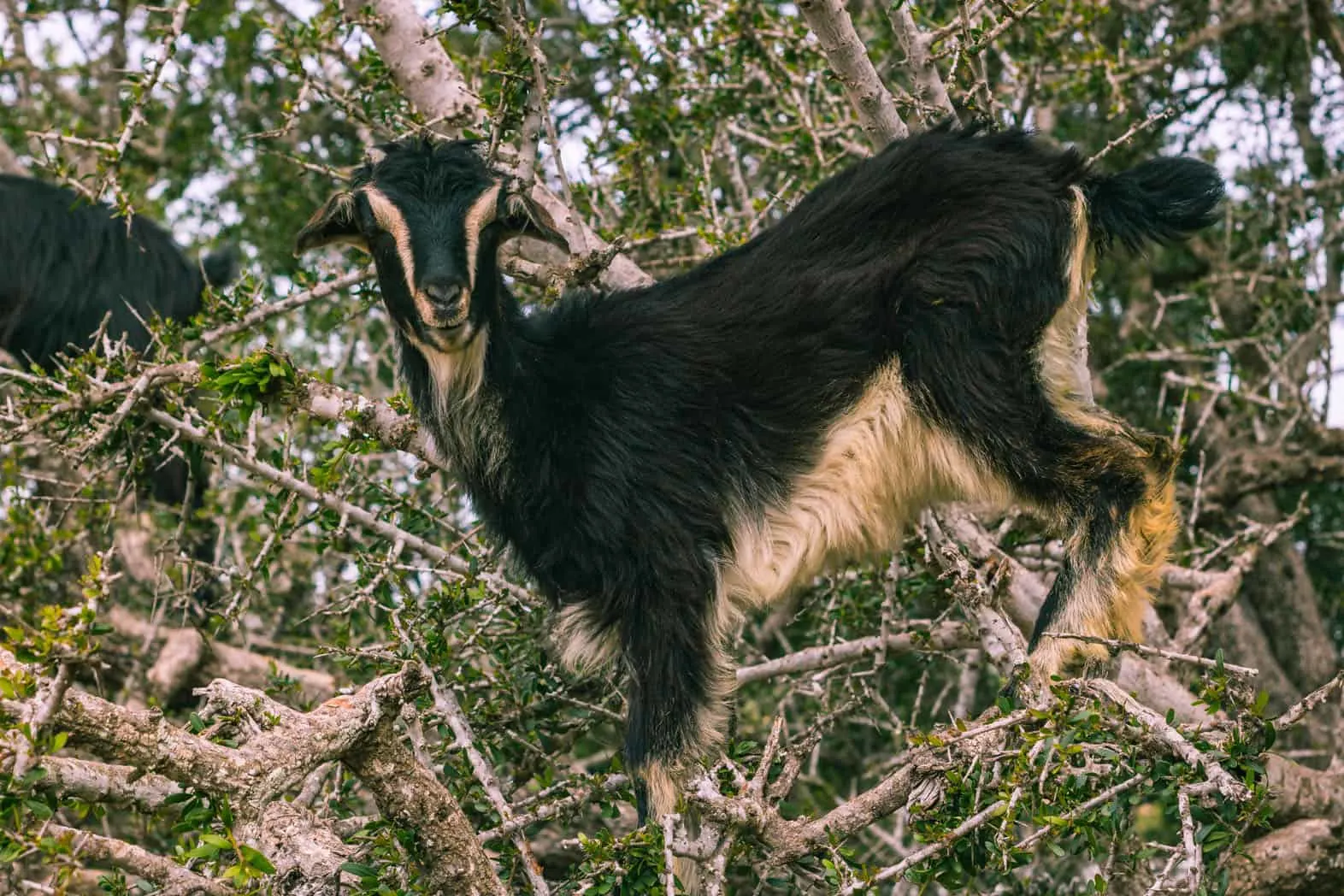 Finding Goats in Trees in Morocco ETHICALLY
There are plenty of natural goats in trees to find. Just do a bit of research or actually, simply hire a car and ride around. We stumbled on them en route to Imsouane from Essaouira! It was a serendipitous moment and we were the only ones there, no tour buses in sight.
Of course, the shepherd will want a tip for you taking photos, which I don't see too much of an issue with. We tipped our shepherd as he was simply out and about walking his goats we came in like the paparazzi. The tree climbing goats were free, looked healthy, and were not forced into anything.
But again, if the goats are distressed, tied up, or forced to do anything, leave immediately and do not tip.
So tell me! Have you seen goats in trees in Morocco or somewhere else? What was it like? Where were you? Or do you have another crazy sight to share? Share away! I'm a fan of the wonderfully weird!
---
---
>>> Even More About Traveling Morocco <<<
9 of the Best Day Tours From Marrakech
25 Tips for Driving in Morocco & Why a Morocco Road Trip Is a MUST!
Toubkal National Park: An Easy Trek Around Imlil, Morocco
Best Time to Visit Morocco: When Spring Is in the Air!
8 Things to Do in Ouarzazate: A Movie Buff's Paradise in Morocco
How to Visit Paradise Valley Morocco: A Day Trip to an Oasis
7 Badass Beach Towns in Morocco for Surfers and Professional Beach Bums
What to Wear in Morocco Packing List: 13 Must-Have Items
This Is What It's Like Camping in the Sahara Desert in Morocco—Erg Chigaga Trip
Finding a Surf Camp in Taghazout & Becoming a Badass Surfer (Kinda)
What NOT to Miss on Your 5-Day Morocco Itinerary
---
---
Don't lose this post! Click the picture to pin it for later.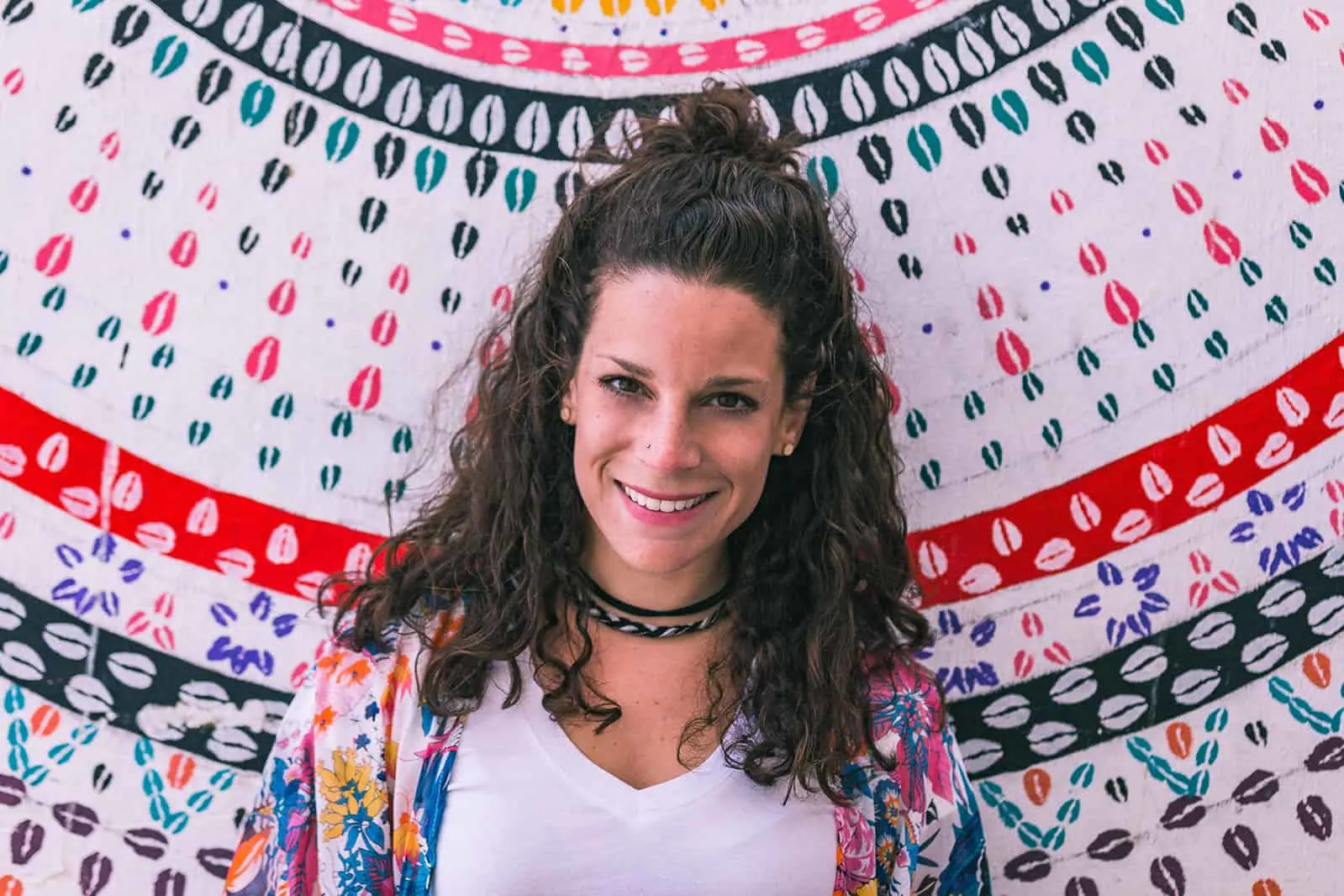 Nina Ragusa is an adventurer, messy bun master, breakfast fan, and full-time travel blogger. She's been abroad since 2011 and blogging on Where in the World is Nina? for nearly as long. Nina helps people like you move around the world while making money. She loves talking about how to work abroad and online to travel longer!