Words are cheap.
When speaking or writing about a place, words often can't truly convey an experience, no matter how great of a writer you may be. You can try and try but often times without a visual or even the real experience, one can't understand what it was like.
After writing about my time in Morocco over the course of 15 or so blog posts (WOW) I found myself slightly frustrated. I fell SO hard for Morocco that I literally just want to take anyone with a bit of interest in the country over there myself and show them everything I love so much.
My words did no justice. However, thankfully, we have photos. And photos make everything much better, don't they? They make your words slightly more realistic. They help paint the picture more vividly in your mind with each snap…
So for my (final?) post about Morocco, I'd love to shut my mouth stop typing and just let the pictures do the talking (OK JK, there's a bit of text, I literally am incapable of being quiet…)
Here are the most photogenic, most beautiful, and most spectacular places I visited in Morocco… In photos. Enjoy!
27 of The Most Beautiful Places in Morocco—Grab Your Camera!
---
1. Skala du Port Essaouira
One of Essaouira's most popular and picturesque spots to get a great view of the medina. If you're sitting in the hole that is! JK, you can climb to the top of fort for another great vista.
2. Essaouira's Coast and Medina
Meet Essaouira's coast. Hello, beautiful. This rugged coastline flanks the medina and makes for a hairy climb but the views are fab! I actually like this portion of Essaouira's coast than the actual beach for kiteboarding and surfing because it's more dramatic but certainly not safe for a swim or surf!
3. Goats in Trees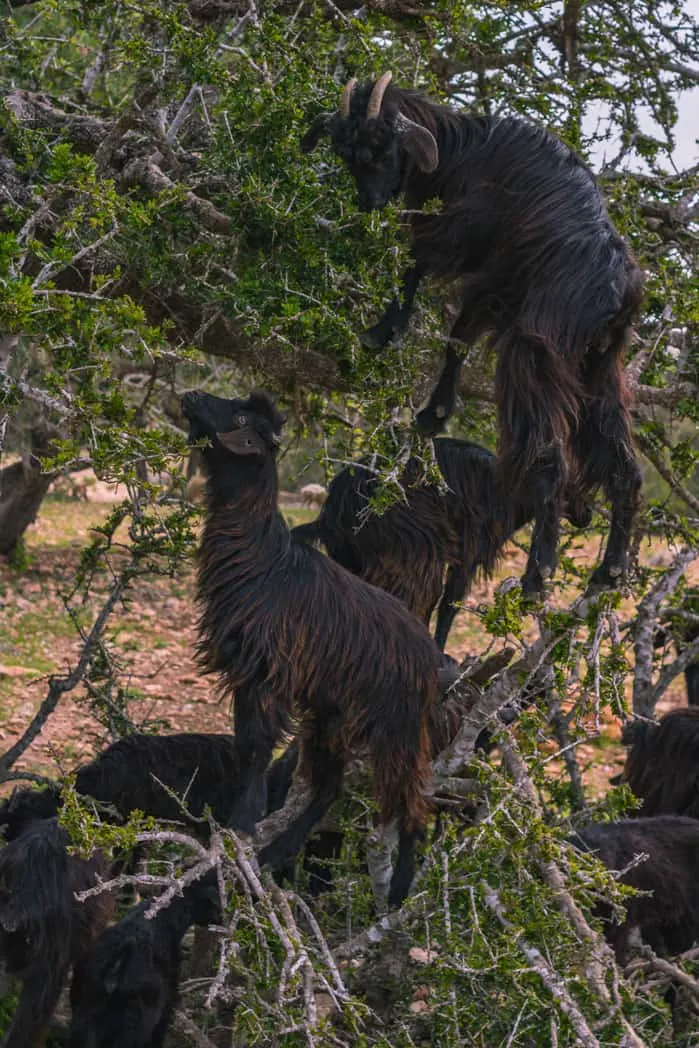 Get excited guys! This is a real thing. I found these cuties roaming the trees in the Tamri region but you can find them mostly between Marrakech and Essaouira and a bit south from there too. Just keep your eyes peeled and be sure you're seeing the tree climbing goats ethically.
4. Imsouane Viewpoint
Welcome to Imsouane, home to the longest right break in the country, and WOW. No kidding, right? This picture only shows about half of the break. You can ride it for over two minutes! But the best view is from the viewpoint on top of the towering cliffs. This is one of those beautiful places in Morocco that not many know about.
5. Sidi Kaouki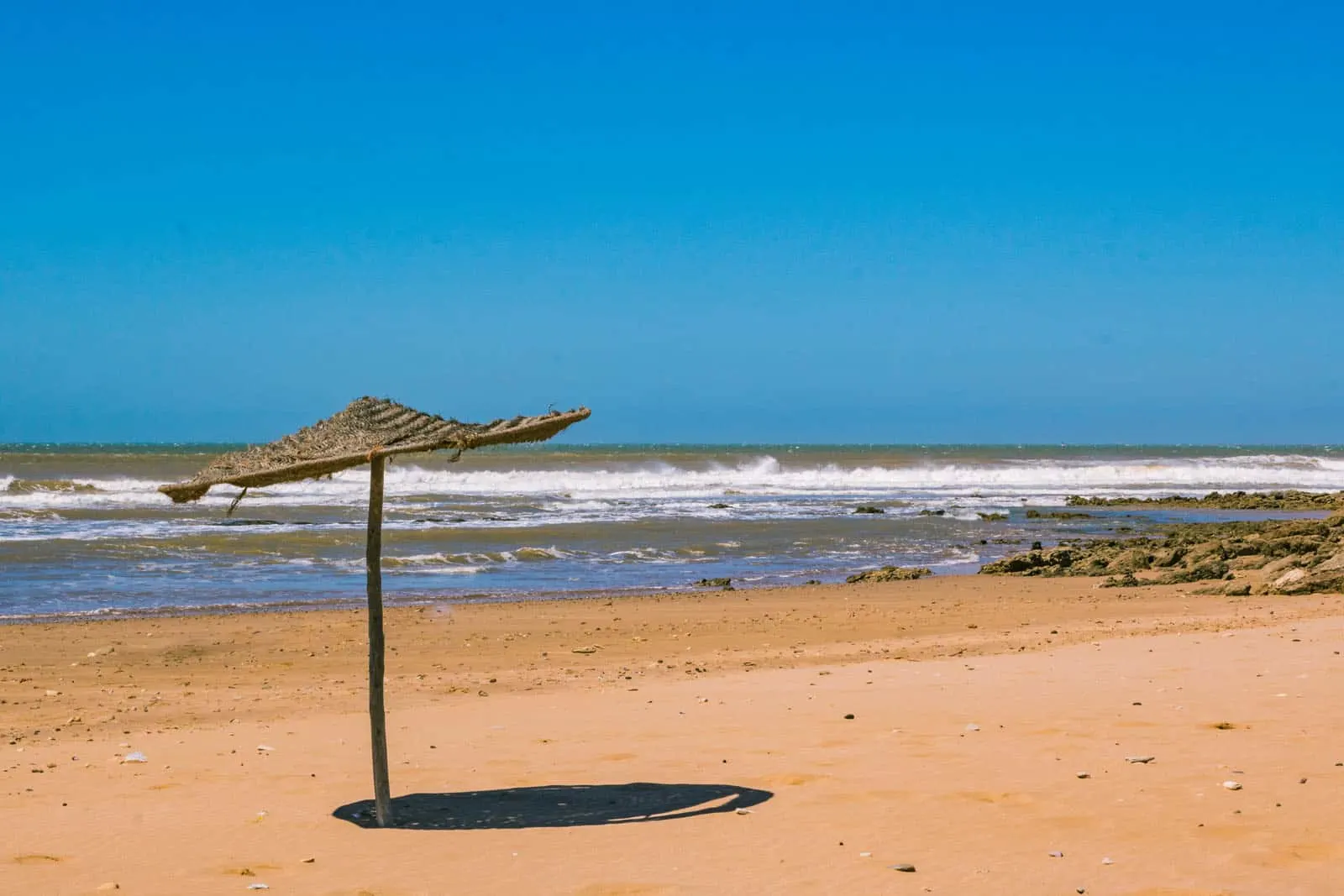 And adorable beachside village with hardly anything more than a few places to eat and a couple of surf shops. The thatched umbrellas that line the coast and the chillin beach camels make this spot perfect for a couple of snaps and maybe even a nap.
6. Taghazout Bay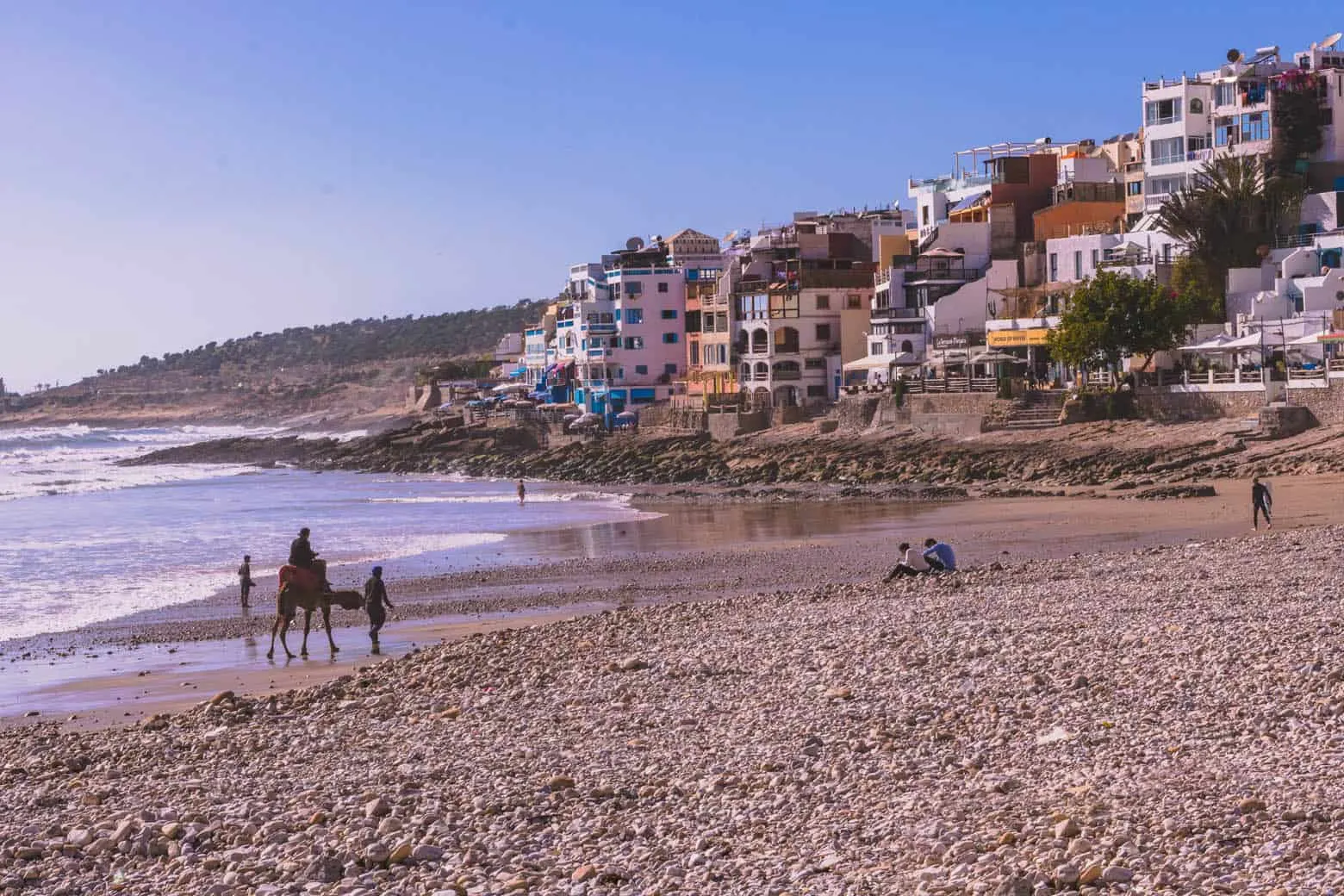 Gorgeous sunsets, surfers slicing it up around every corner, and locals casually walking their camels, you are looking good Taghazout, loo-king-good.
7. Paradise Valley Oasis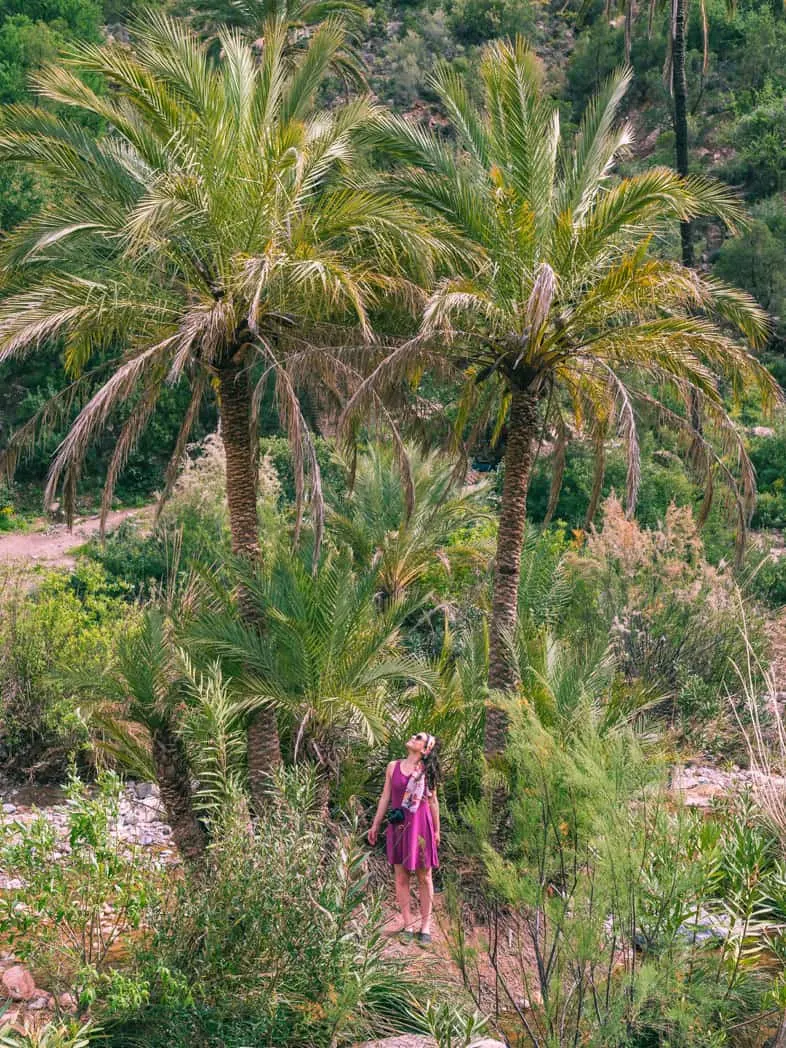 Literally an oasis! Palm tree studded river beds, deep blue pools, and surrounded by mountains… Yep, this is a pretty darn beautiful place in Morocco. Do be sure to come after it's rained a bit so that the pools and waterfall are full! Check out more here.
8. Marabout Beach from an Abandoned House
Marabout Beach is deserted but I don't know why. It has a dramatic boulder slapped in the middle featuring a small arch and waves for days… Oh, right, and a cool abandoned house that I found!
9. Spanish Fort in Mirleft
Sunset from this Spanish fort is PERFECT. In fact, Mirleft stole a little piece of my heart. There are some great vibes here and I hope to go back and chill for a little while!
10. Legzira Beach and Arch
While one of the arches has now collapsed, Legzira's last remaining arch is still a beautiful place in Morocco to visit.
11. Painted Rocks in Tafraoute
Bizzare, right? Apparently, a Belgian artist came by and splashed paint around in the desert. The result? Crazy colored rock formations everywhere.
12. Ait Ben Haddou
Made UBER famous by Game of Thrones, Ait Ben Haddou is simply gorgeous. However, In my opinion, it's far too touristy for my taste. I snapped a photo and ran!
13. CLA Studios Movie Set
Want to feel famous for a day? CLA Studios can do that for you. In the back and kind of hidden, they have this movie set which you are allowed to roam as you please! The insides are full of scaffolding and broken bits, so be careful, but it was super cool to have this movie set to ourselves for a whole two hours! Over 200 films include Game of Thrones used this set.
TIP: Go early for pictures!
14. Kasbah Telouet
The coolest Kasbah I ever did see. You'll see plenty of Kasbahs while traveling Morocco but this was by far my favorite. The outside is misleading, the inside is where the magic is held. This was one of the most beautiful places in Morocco I got to see during my visit!
15. Kasbah Tamdaght
Just past Ait Ben Haddou is this beauty. I far preferred this less touristy Kasbah!
More info on the things to do around Ouarzazate here.
16. Agdz
Oasis OVERLOAD! Can you even believe how perfect this picture is? The sandy and rose-colored mountain against the palm tree green is just my favorite.
17. Sahara Desert—Erg Chigaga
No big deal guys! Just the Sahara Desert here. This is the lesser-visited Erg Chigaga, the sand dunes outside of M'hamid. The experience is unlike anything else! It was life-changing, and again, another beautiful place in Morocco that most don't get to see because more often than not, people flock to the sand dunes outside of Merzouga.
18. Fint Oasis
Another Oasis just north of Agdz where the locals still wash their clothes in the river and kasbah ruins litter the hilltops…
19. Imlil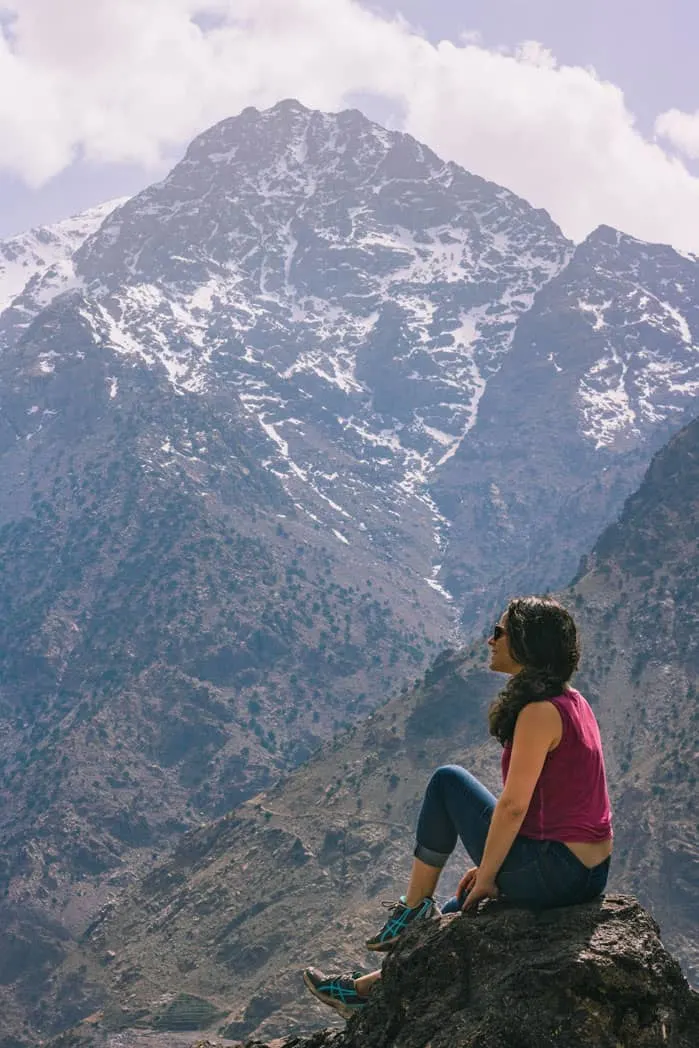 Snow in Morocco? Yes, it's true, and there's hiking here too. Put on your crampons before taking on Morocco and North Africa's tallest peak, Toubkal. Imlil is the sweet mountain town where you'll begin your adventure.
20. Tinmel Mosque
The incredible mosque is abandoned, which makes it open to foreigners, otherwise, we're not allowed in the mosques. The detail of this mosque is unlike anything you've seen and the architecture is so trippy!
21. Riads (Marrakech)
Your riads, in Marrakech or not, will surely be another hot spot for an incredible picture in Morocco. They are works of art. There are tons of other incredible places to visit in Marrakech as well.
22. Chefchaouen's Famous Streets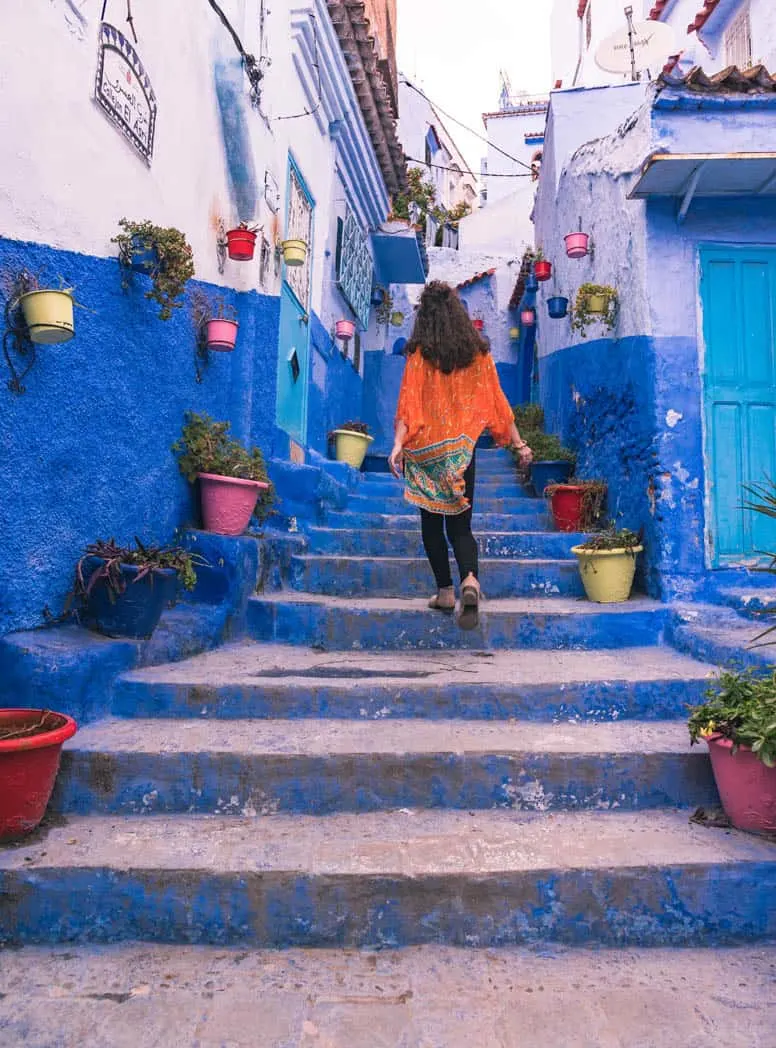 Ther'es no way you can be blue in Chefchaouene unless you're a building, of course… Drenched in light and deep shades of blue, this adorable town is hugged by the Rif Mountains and makes for a spectacular photo shoot, not only on its famous street either!
23. Chefchaouen Viewpoint
While you can't go inside of Mosquée Bouzâafar, you can certainly enjoy its viewpoint. Chefchaouene is definitely one of Morocco's most beautiful places.
24. Merinid Tombs in Fes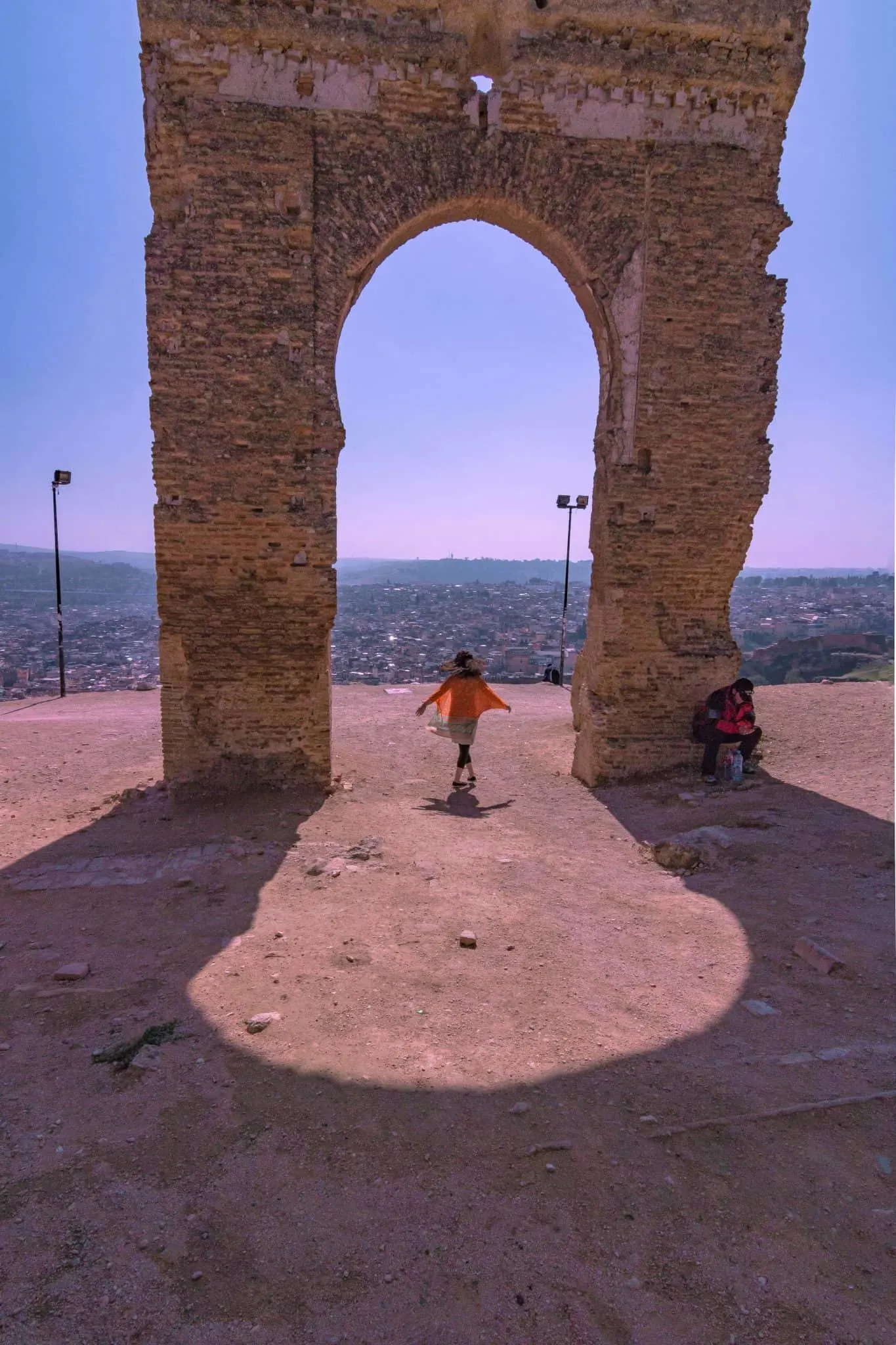 There are fabulous views of Fes from on top of the hill at the Merinid Tombs (picture on the left), As well as the ruins below the tombs which provide a great view with less effort (picture on the right).
25. The Atlas Mountains from Almost Anywhere
They engulf most of the country and you can see them from almost anywhere… The Atlas Mountains are truly something to behold.
26. That Moroccan Street Life
Nothing specific here, just some good old wandering while your camera is on and ready to go… The streets are never dead in Morocco. They are vibrant, bustling, and touting their rhythm of life while you try to catch up to the chaos. It's enthralling!
27. Random Road Trip Finds
If you're taking a road trip, and you most certainly should… You'll be passing incredible opportunities left and right for great photos. There's no particular place when the most beautiful places in Morocco are anywhere and everywhere…
You can make your own amazing list of beautiful places in Morocco after taking an epic road trip. Here's my Morocco itinerary for some inspo!
Which spots are you most looking forward to photographing?
---
---
>>> Even More About Traveling Morocco <<<
9 of the Best Day Tours From Marrakech
Toubkal National Park: An Easy Trek Around Imlil, Morocco
Best Time to Visit Morocco: When Spring Is in the Air!
Finding Goats in Trees in Morocco: Yes, This is Real Life!
8 Things to Do in Ouarzazate: A Movie Buff's Paradise in Morocco
How to Visit Paradise Valley Morocco: A Day Trip to an Oasis
7 Badass Beach Towns in Morocco for Surfers and Professional Beach Bums
What to Wear in Morocco Packing List: 13 Must-Have Items
This Is What It's Like Camping in the Sahara Desert in Morocco—Erg Chigaga Trip
Finding a Surf Camp in Taghazout & Becoming a Badass Surfer (Kinda)
What NOT to Miss on Your 5 Days in Morocco: Fes and Chefchaouen
25 Tips for Driving in Morocco & Why a Morocco Road Trip Is a MUST!
---
---
Don't lose this post! Click the picture to pin it for later.