Morocco, the gateway to Africa, will blow you away with its diversity, landscape, people and culture…
Not only will you find stunning mountain ranges full of cascading waterfalls, but you are also on the cusp of the world-renowned Sahara Desert. The towns and cities thrive with life, from busy markets to ancient ruins, you'll never tire of this slice of North Africa.
Taking a road trip around Morocco has been one of the most phenomenal things I've ever done in my travels. The wind in my hair, the scent of verdant flora or the whisp of the desert sand in my nose, the occasional camel traffic, and the varying landscapes going from snow-capped mountains to dusty deserts will forever be ingrained in my mind.
Many won't have the time or the ability to road trip through this country but if you can make it work—go for it! Should it not be in the cards, the next best way to see some of these sights is by an organized tour of Morocco, and I've found the best options just for you…
Busy? Click the picture to Pin this for later
Marrakech, Morocco Tours
---
Hustle and bustle, chaotic markets, plush riads, views of the Atlas mountains, deserts just outside the main city… Marrakech has a lot going on! While you should certainly get lost in the medina, if you decide to take a break, there's a ton of adventure just outside your door.
1. Atlas Mountains Hot Air Balloon Ride With Desert Experience
For a birds-eye view of a truly diverse country, a Morocco Tour in a hot air balloon is one that you will not be forgetting in a hurry.
The trip will take you high in the sky above the legendary Atlas Mountains at sunrise.
When your feet are firmly back on solid ground, you will be treated to a freshly prepared Berber breakfast before taking a camel ride through the desert.
2. Agafay Desert Trip
A tour in Morocco would not be complete without a trip to the Agafay desert, home to the stunning Atlas Mountain range. You will spend your day exploring the rocky terrain away from the busy city life of Marrakech.
After visiting the impressive Takerkouste Lake and dam, you will visit some of the desert's small villages and learn more about some of the traditions of Berber life.
3. A Taste of Marrakech: Evening Food Tour
If there is one thing that Marrakech is known for, it is its incredible culinary scene. One of the best ways to fully explore this is literally getting a taste of Marrakech in an in-depth food tour.
Through the heart of the city, where you can wander through the souks sampling some of the delicious delicacies on offer, such as olives, pastries, and dried fruits.
Once you have tantalized your taste buds with all the unique spices on offer, you can sit down to a delicious dinner at Djemaa El Fna.
4. Majorelle Garden and Palmeraie Camel Ride
The Majorelle Garden offers something a little different from a normal Morocco tour.
Start your day with a calming walk along manicured paths of Majorelle Park before learning to ride a camel at the Palmeraie. This tour in Morocco can be taken in both the morning and afternoon, and it's not far outside of Marrakech, so it's great if you have a busy or tight schedule.
Atlas Mountain Tours from Marrakech
---
You'll see the great Atlas Mountains almost everywhere you look in Morocco, there's no way you can sit idly by and not visit as the beckon you from afar. Here are the quickest and easy ways to see them up close and personal…
5. The Atlas Mountains & 4 Valleys Day Trip
No trip to Morocco would be complete without stepping foot in the legendary Atlas Mountains.
There are 4 distinct valleys that make the region famous, Ourika, Asni, Sidi Fares, and Oukaimeden, and you will get the chance to visit them all on this tour of Morocco.
One of the most memorable parts is sure to be witnessing the breath-taking Mount Toubkal, the highest peak in North Africa. An expert guide will be with you every step of the way, ready to show you the incredible waterfalls and traditional Moroccan life.
Check Prices from Marrakech
6. Ouzoud Falls Day Trip
Visit one of the most impressive sights in the Atlas Mountains, the 110-meter waterfalls of Ouzoud Falls, the highest in North Africa.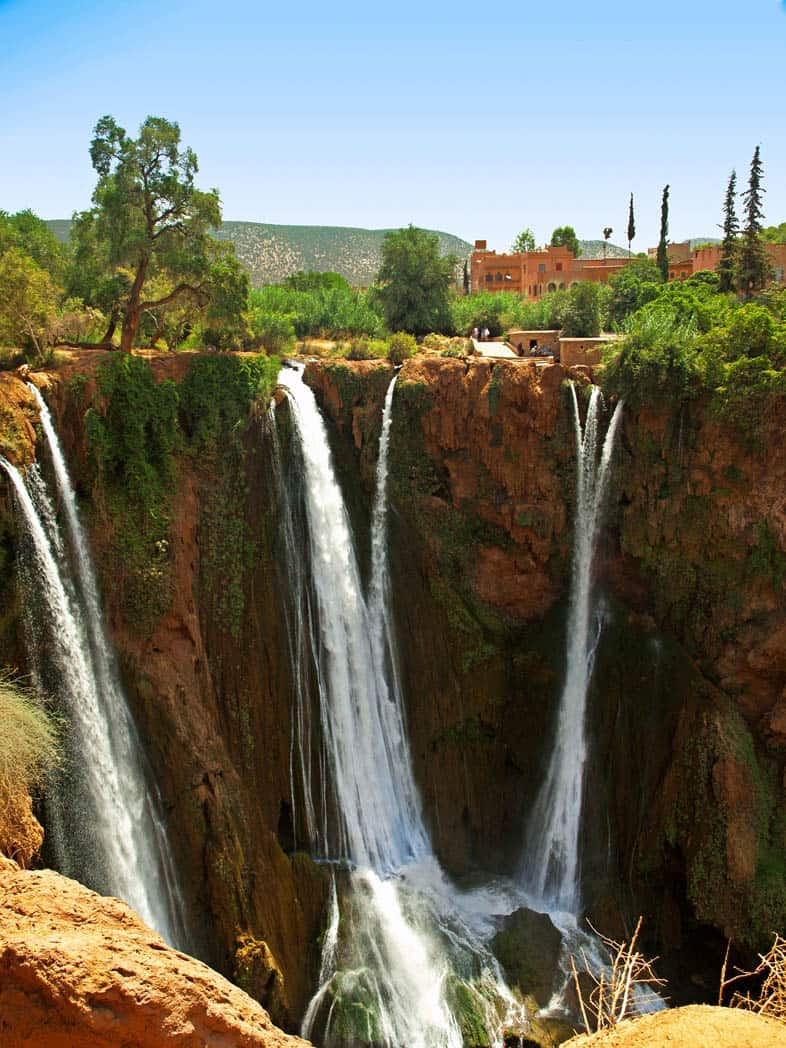 Make memories that will last a lifetime as you depart from Marrakech and wander through the olive trees to some of the best viewing spots of the falls.
Check Prices from Marrakech
7. Ourika Valley Day Trip
For some incredible photo opportunities make the most of this Morrocco tour from Marrakech to the stunning Ourika Valley, located in the Atlas Mountains.
A real highlight of the tour is visiting the 7 waterfalls of Setti Fatma and the incredible landscapes of the valley.
Check Prices from Marrakech
Ouarzazate, Morocco Tours
---
Ancient history mingling with 21st-century films and shows… That's what Ouarzazate has going on. This little desert town packs a lot and is held in high regard for its famous structures and sets.
8. Ouarzazate and Ait Ben Haddou with Road of the Kasbahs
If you have always wanted to see the majestic desert and some movie sets, then this tour in Morocco is for you.
You will wind your way through the stunning landscape of the Atlas Mountains before reaching the UNESCO World Heritage Site, the fortified Kasbah of Ait Ben Haddou.
Test your camel riding skills as you travel like royalty across the desert and marvel at the many lush oases and other kasbahs on the way.
Sahara Desert Tours
---
Merzouga is the famous and favorite desert destination in the country.
It's the entrance to the mighty and vast Sahara Desert that people flock from around the world to see. Should you be short on time or in Marrakech or Fes looking for a desert escape, these are the tours to take…
However for those a bit more intrepid, with a bit more time, and wanting something more off the beaten path, keep reading for a second desert excursion option.
9. Camel Treks and Camping in the Moroccan Desert
One of the best tours of Morocco is taking a three-day adventure from Marrakech to Merzouga across the Sahara Desert.
On your journey you will be able to witness the impressive Atlas Mountains, enjoy the sunrise and sunset camel rides, stay overnight in a classic Berber tent, take guided tours of both the Tinghir oasis and Todra gorges and visit Ait Ben Haddou with a guide to name just a few of the activities.
Another fantastic option is spending the night deep in the heart of the Sahara Desert in a location that you have traveled to by camel. Picture dining around a campfire to the music of drums before sleeping under a canopy of stars.
An incredible addition while in Merzouga is to add a 4×4 Morocco tour—one of the best ways to take in the desert scenery. On your trip, you will visit the village of Khamlia, play traditional instruments and experience local culture by visiting a Berber family in their home for lunch.
Start your journey at Fes before embarking on a 2-day small group tour of the Sahara Desert.
On this Morocco tour, you will truly get a sense of the African wilderness as you spend the night at an authentic Berber camp and ride a camel across the dunes.
Other highlights of the trip include driving through a cedar forest to see the resident monkeys and watching the sunrise of the dunes in one of the most unique places in the world.
While Merzouga may be the popular desert spot, it's certainly not the only one. M'hamid, a bit more south, is another entrance to the Sahara and one that is far wilder than its sister. The Erg Chebbi sand dunes in Merzouga are a bit bigger but Erg Chigaga outside of M'hamid takes more effort, features far fewer crowds, and is still a stunner.
Many of the activities are the same in terms of Berber drum circles, camel rides, exploring the sand dunes, stargazing etc… but the experience is a lot more quaint and personal as it's not as commercialized as Merzouga and because of the effort it takes to get there, there's more of sense of adventure being truly in the wild.
Morocco Tour in The Sahara from M'Hamid
Imlil, Morocco Tours
---
If you thought Morocco was all desert, let Imlil show you the other side of the country. Nestled high in the mountains, you'll be shocked to see snow-capped mountains and people donning crampons tackling the bold Mount Toubkal and its surrounding peaks.
10. Mount Toubkal: 2-Day Climb
If you have ever wanted to climb a mountain in a country you thought only had sand dunes, then the 2-day trek to the summit of North Africa's highest mountain, Mount Toubkal, will certainly be a tick off the 'badass things to do list.'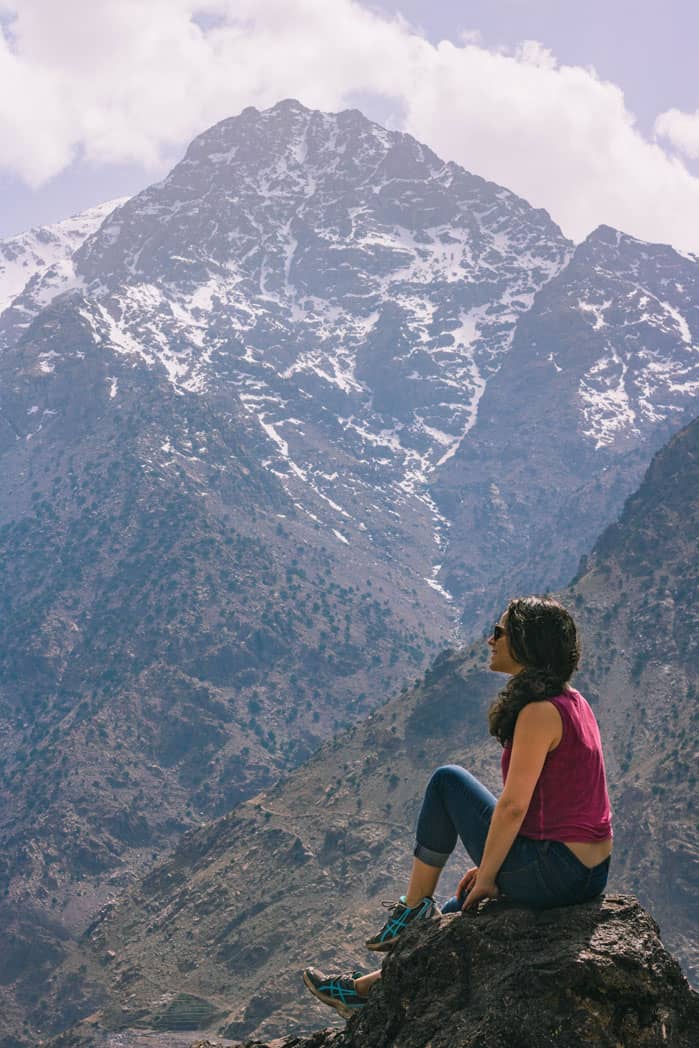 Once you reach the top, you will be rewarded with once in a lifetime views of the Atlas Mountains and Toubkal National Park for a memory that will last a lifetime.
Fes, Morocco Tours
---
Fes is damn fascinating. The labyrinth of a medina, the hilltop views, the mecca for markets, and the sheer chaos is enthralling, to say the least. Get lost (you have no choice) and then check out the surrounding points of interest.
11. Meknes, Volubilis and Moulay Idriss Day Trip
Although your day may be packed, seeing some of the cultural wonders of Morocco is a chance you should not pass in a hurry.
Get transported to some of the most impressive sights in the country such as the Roman ruins of Volubilis, the historic Medina of Meknes, one of Morocco's holiest cities, Moulay Idriss and the striking gates of one of Morocco's imperial cities.
Although you may feel worn out after this tour of Morocco, you can always sleep on the plane back home…
12. Top Souks Tour
When you think of Morocco, one of the first things that come to mind is the bustling markets, filled with the sounds and scents of daily life.
This Morocco tour will take you to some of the very best souks in the town of Fes, including the famous tanneries, the Spice and Perfume Souk, Gold Soul, Henna Souk and various others.
It will feel like you are stepping into a world that time forgot as you are surrounded by a myriad of color and life. You could also pick up a souvenir on this tour in Morocco like a new leather item or one of the gorgeous lamps you'll see everywhere.
13. Fes Architecture Guide
When staying in the city of Fes, a trip would not be complete without checking out some of the city's most impressive architectural feats.
As the oldest of Morocco's imperial cities, there are plenty of buildings that are worth a look, and on this Morocco tour, you will be taken to some of the most celebrated mosques, madrasas, and palaces with a knowledgeable guide with you along the way.
Seeing gorgeous buildings is one thing, understanding the significance, the purpose, the history, and story surrounding it makes the experience totally different.
Agadir, Morocco Tours
---
A bit of a touristy coastal town, Agadir still holds some merit, at the least with its day trips. Oases to kasbahs, Agadir is a great hub for exploring deeper into Morocco.
14. Taroudant and Tiout Oasis Trip With Lunch
Take a Morocco tour to the walled city of Taroudant and find the hidden treasures that are just waiting to be uncovered.
Walk the ramparts and explore the craft bazaar before continuing your journey to the ruins of an ancient Kasbah, with views over the village of Tiout, the Souss Valley and High Atlas Mountains.
15. Berber Night with Fantasy Show in Agadir
Get immersed into the Berber culture on this fun-filled Arabian night in Agadir. Allow yourself to be enchanted by a show filled with music, dance, and magic before enjoying some of the country's culinary delights.
This is a Morocco tour that shows you a bit of culture you would otherwise not get to experience.
16. Paradise Valley Guided Day Trip
Picture steep-sided canyons, lush vegetation, and spectacular rock formations, all of which can be seen on the Paradise Valley Morocco tour from Agadir.
This trip offers the perfect way to escape the hustle and bustle of the city and be at one with nature. Trek through the wild forests and cool off with a dip in some of the rock pools before tucking into a well-deserved Berber lunch.
Just note that Paradise Valley is best visited after there has been some rain as the pools can get dried up.
Essaouira, Morocco Tours
---
Beachy laid-back vibes for days in Essaouira, add to is a happening little medina, fab coastal cuisine, and even a few movie sets and you have one insanely beautiful and cool town.
17. Surf Trip to Essaouira from Marrakech
You may be surprised to hear that Morocco is actually a prime surfing destination, with some of the best waves just off of the coastal city of Essaouira (or in any direction north or south for that matter)
Take a tour of Morocco that departs from Marrakech to Essaouira, and enjoy a 2-hour surf lesson, as well as a visit to the local fishing harbor and medina.
18. 3-Hour Quad Biking Tour
Departing from Essaouira, this tour of Morocco will certainly get your blood pumping. No matter your skill level, you can feel the wind in your hair on this 3-hour quad bike excursion over the nearby dunes to some natural caves.
The more experienced drivers will have the option of extending their Morocco tour towards the beach of Taguenza.
19. Full-Day Tour to Essaouira From Marrakech – The Ancient Mogador City
This Morocco tour will allow you to fully explore the county's culture, agriculture, and architecture, as you travel from Marrakech to the historic port city of Essaouira.
As well as getting to know the ins and outs of the town, you will also visit an Argan oil cooperative to see how the oil is extracted, and take in the splendor of its UNESCO-listed historic center.
Chefchaouen, Morocco Tours
---
20. Chefchaouen Day Trip
Spend the day wandering through the vivid lane and market squares of Chefchaouen with plenty of free time to watch the local life.
The Morocco tour, starting at Fes, also includes the chance to marvel at the Rif Mountains and enjoy a panoramic view of the city on your way down. Thanks to the city's recognizable blue hue, there will be photo opportunities around every corner.
Explore the old medina and the souk, or shop for Moroccan products and souvenirs at bargain prices. Alternatively, there is the option to start your tour of Chefchaouen from Tangier.
Check Prices From Fes | From Tangier
Group Tours in Morocco
---
Anyone up for a group tour? It's understandable if you're either not at all a travel planner or perhaps solo wanting to meet people to travel with. A group tour in Morocco could be the perfect solution to your conundrum, oh, and a totally epic one at that!
Group tours are actually incredibly fun and you'll surely find your "tribe" while on the trip. Here is some motivation if you're not sure if a group tour is right for you. If you are already loving the sound of this, I've selected some amazing group tours to choose from.
These types of tours offer a fantastic way to explore the country of Morocco, taking in all the sights, smells and culture that the unique country has to offer, you just need to show up.
There are various tours depending on what you want to see and how much time you have…
21. Group Tours in Morocco 8 Days +
To see some of Morocco's best bits, an 8-day tour from Casablanca to Marrakech will allow you to tick off three of the country's most impressive towns, Casablanca, Fes, and Marrakech.
For a truly unforgettable experience, you can head deep into the legendary Sahara Desert and then to the windy and rugged coast. Get lost in the winding souks, ride a camel over the dunes at sunset, stay at a desert camp, and then try your hand at surfing—all with your new mates.
If you have a little longer, then the 13-day Moroccan trip will allow you to see more of what Morocco has to offer. You will really feel the magic of the Middle East as you travel from Marrakech to Casablanca, Fes, the Atlas Mountains and a range of other destinations, with even an overnight stay in the Sahara Desert!
There are plenty more options for exploring Morocco with a group tour. One thing is certain, your journey through Morocco with your new friends will be one of those life-changing experiences. Guaranteed.
So which of these tours in Morocco are you most excited for? When are you going? Let us know in the comments!
---
---
>>> Even More About Traveling Morocco <<<
9 of the Best Day Tours From Marrakech
Toubkal National Park: An Easy Trek Around Imlil, Morocco
Best Time to Visit Morocco: When Spring Is in the Air!
Finding Goats in Trees in Morocco: Yes, This is Real Life!
8 Things to Do in Ouarzazate: A Movie Buff's Paradise in Morocco
How to Visit Paradise Valley Morocco: A Day Trip to an Oasis
7 Badass Beach Towns in Morocco for Surfers and Professional Beach Bums
What to Wear in Morocco Packing List: 13 Must-Have Items
This Is What It's Like Camping in the Sahara Desert in Morocco—Erg Chigaga Trip
Finding a Surf Camp in Taghazout & Becoming a Badass Surfer (Kinda)
What NOT to Miss on Your 5 Days in Morocco: Fes and Chefchaouen
25 Tips for Driving in Morocco & Why a Morocco Road Trip Is a MUST!
---
---
Don't lose this post! Click the picture and pin it to Pinterest!