This guide to Caribbean islands is authored by Leo.
Isn't it great that you can go to numerous different places in the Caribbean on the same getaway without sharing space with hundreds (or even thousands) of other people who are on the same ship and tour? You're off to a great start.
There are a lot of different activities, cultures, and coastal vibes to choose from when you go island hopping. Because the Caribbean islands are so close together, it's the perfect place to start your trip.
If you're looking for a unique vacation, this Caribbean lifestyle is ideal. It has everything from golden pristine beaches and water activities to barefoot restaurants and rum stores, and there are a lot of different trips you can choose from, from budget to luxury.
Below, we've put together three ideas for a Caribbean island-hopping journey and some insider tips.
Caribbean Island-Hopping Travel Guide #1: Use Public Ferries to Get Around
When you imagine a Caribbean getaway, you think of the Bahamas. Even though it isn't a part of the Caribbean, it has all the stuff you imagine when you think of a vacation in these parts. The group of islands comprises more than 700 beautiful subtropical islands and many smaller islands called cays.
A boat or plane would be ideal for exploring the Bahamas, but if you're not one of the rich and famous, this rundown will show you how to get around on a public ferry that won't cost you a fortune.
Nassau
You can start your trip in Nassau, 184 miles from Miami, Florida. This thriving country's capital hub has a good mix of city and island life and many Bahamian traditions and culture.
You can stay in New Providence for a night or two or head over to Paradise Island, home to Atlantis' gigantic and vast water park.
Check out Cabbage Beach even if you don't stay on Paradise Island. You'll have to pay a small fee to cross the bridge, but it's good enough to justify it. This is among the world's best-known beaches for a good reason.
Visitors can also visit Blue Lagoon Island, which is officially called Salt Cay. It is a beautiful private island with a calm lagoon, great beaches, and lots of water and land-based activities for the whole family to appreciate.
The island is only three miles from Nassau and is easy to get to by boat from Nassau's historic harbor. It has everything you would expect from a tropical island, like swaying palm trees, white-sand beaches, crystal clear water, verdant natural vegetation, vibrant tropical birds, and colorful coral reefs.
Here you can enjoy snorkeling, scuba diving, water skiing, fishing, and sailing. The island is also a sanctuary to the dolphins and sea lions of Dolphin Encounters, where tourists can socialize with dolphins and sea lions in their natural ocean habitat.
→ Book a parasail adventure over Cabbage Beach.
Harbour Island
Afterward, catch a morning ferry from Nassau to Harbour Island. You'll find small island allure and lengthy strips of soft pink sand. There are several fantastic boutique hotels in this area that are very close to the beach, and they're all excellent.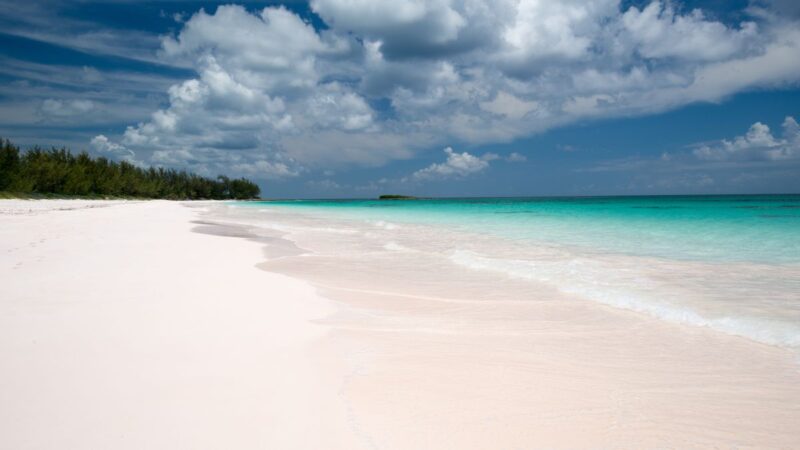 Without a doubt, you will spend most of your time at Pink Sands Beach swimming and lying in the sun. It's heaven on earth. But make sure to walk along the coast, where you can find many other cute boutique hotels, diners, and jaw-dropping homes.
Visitors can also roam through the quiet streets searching for pastel-colored cottages and unique architecture and have fun with the occasional chickens wandering around and golf carts in your way.
Eleuthera
Since Harbour Island lies just outside a much larger island—Eleuthera—you could take a trip there next, by boat tour, a short and cheap commute, to complete the journey in the pineapple center of the world.
Residents say that the Gregory Town pineapple is the sweetest on the planet, and it is thought that the Bahamas was the first nation to grow the fruit.
Visit the Glass Window Bridge while you're there. It's a small bridge that connects the rough Atlantic Ocean with the serene waters of the Bight of Eleuthera. It's a great place to take photos. From here, catch a boat back to Nassau to get there again.
Exuma
You can end your trip on Nassau, or go on to more remote parts of the Bahamas as an option. To get to Great Exuma, you could take a ferry from Nassau to Georgetown, the Exuma Islands, or take a charter plane to Great Exuma for about 40 minutes.
The Exumas have 365 islands, and they're known for their swimming pigs, nurse sharks, and other marine life. There are also boating adventures, on-island trips, and miles of hardly ever visited beaches to keep you entertained for days.
Caribbean Island-Hopping Travel Guide #2: Make Your One-Way Trip
So you think you're good at planning trips and want to make your itinerary for a trip to the Caribbean? That can be a little challenging. Commercial flights bound to Caribbean islands can be expensive or demanding, but there are ways to get there.
This example itinerary lets you see four French Caribbean islands, which can be reached by cheap, direct, one-way flights in one fluid motion.
St. Martin/Saint Maarten
When you get to St. Martin, you'll be in the middle of a split island between France and the Netherlands. It is suggested that you should stay on the French side because it has intimate restaurants, absolutely adorable shops, and pristine beaches.
On the other hand, the Dutch side, where you'll land, is renowned as the party side.
However, even though a lot is going on, St. Martin and St. Maarten still have a stress-free vibe, starting with how easy it is for you to get from one end of the island to the other.
So start your day with a few rays on a quiet Dutch beach. Then, wander down a French-side mountain in the afternoon. Afterward, you'll be more than ready to sneak back to the border for a night at the casinos.
St. Barts
A quick 15-minute flight will take you to St. Barts, where you'll land on one of the shortest landing strips in commercial aircraft. If this sounds scary, you can take a 45-minute ferry ride from St. Martin instead, which is faster and less terrifying.
St. Barts (or St. Barths, as the natives call it) is a place where you can enjoy laid-back luxury and a French touch. There are 16 beaches on the island, and each one has its unique personality.
There are also many chic boutiques and diners. In other words, start preparing to spend that kind of money a tad more on this portion of the journey.
St. Barths is a popular place to visit in the Caribbean because it has delightful tropical weather. Nevertheless, with a yearly hurricane period, some instances of the year would be more satisfactory than others to visit.
The best time to go to St. Barths is in the winter, which is the dry season on the island. It's known here as the "lent" season and runs from December through May. This time of year is ideal for a tour because the temperature is in the 70-80s, and there's often a cool ocean breeze.
Guadeloupe
The best way to get to Guadeloupe from St. Barths is to take a one-way flight. This group of 12 French islands has a lot of deserted beaches and forest hiking trails. Bridges connect Basse-Terre and Grande-Terre, which look like a butterfly from the sky.
Guadeloupe's mix of extraordinary greenery magnificence and wealthy Creole and French traditions makes it an enchanting place to visit. It's also a great place to live. The archipelago is part of France, and the cuisine, language, and heritage of Guadeloupe show that there is a strong connection.
La Desirade, Les Saintes (also known as Îles des Saintes), and Marie-Galante are three smaller islands that make up Guadeloupe. All three have beautiful beaches and small, charming towns.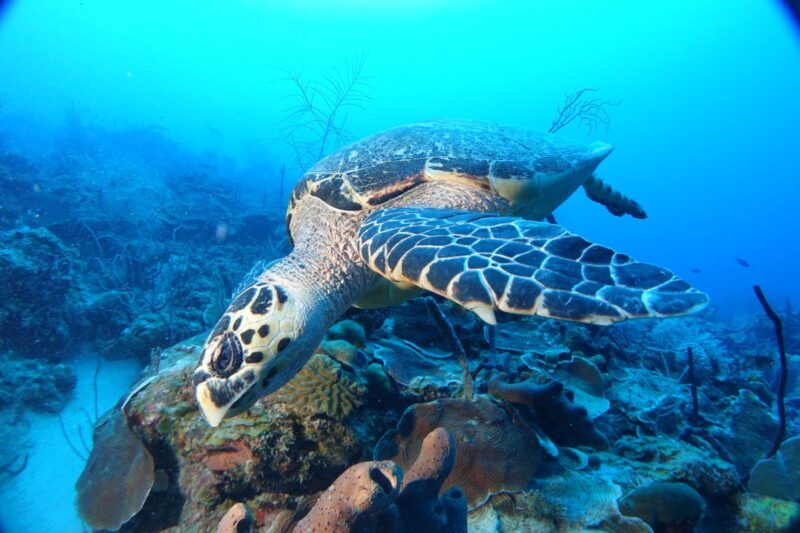 Guadeloupe's islands are great places to go birdwatching, take photos, hike, and do water sports like scuba diving, swimming, and snorkeling. (If you go on any of these activities, don't forget to bring an action camera or go pro to capture unforgettable moments!)
Guadeloupe also has a lot of fun carnivals and festivals, like the five-day Mardi-Gras Carnival that ends on Ash Wednesday.
And even further:
According to how long you have, from Guadeloupe, you can get to other islands like Martinique, St. Lucia, and Antigua by taking one-way flights from LIAT and Caribbean Airlines, which are both cheap.
RELATED: Best Things to Do in Guadeloupe On An Adventurous 4 Days Itinerary
Caribbean Island-Hopping Travel Guide #3: Charter or Rent a Private Yacht or Boat
A private sailboat or yacht charter for a small group or family to enjoy a vacation in the Caribbean is about a fantasy life and splurge-worthy as it can be!
If you want to find the right boat and crew, you can look through many options. You can look at photos and read reviews. It's like making a reservation for your cruise.
The British Virgin Islands and U.S. Virgin Islands
The British Virgin Islands and U.S. Virgin Islands are among the best spots to sail in the Caribbean, thanks to trade wind gusts, crystal-clear blue water, and sophisticated coral reef structures.
The islands have a lot of natural beauty and a combination of old-world elegance and luxury resorts that make them very appealing. Virgin Gorda, the biggest island in the British Virgin Islands, and Jost Van Dyke, a beach party island, are both must-sees.
Between these islands are a lot of other interesting ones, like Norman Island, Salt Island, and Cooper Island, to mention a few. Their appeal comes down to a few simple things: miles of beautiful, clean sand beaches, dive sites that you can't find anywhere else, and a gentle breeze that blows all the time.
Make Tortola one of your Caribbean island-hopping stops. Tortola is an island that is full of color. That doesn't just mean the evergreen forest at higher elevations; it also implies the houses, flowers, food, and even the clothes.
The beaches on the northern shore of Tortola are the best. Snorkelers and divers will enjoy the rich sea life, hikers will enjoy the national parks and botanical gardens, and art enthusiasts will be amazed by the vibrantly colored street art and painters' studios.
The U.S. Virgin Islands and the British Virgin Islands are also relatively close to each other compared to other island vacation spots, with transit times often less than one hour. There are things to do on every island that you add to your yacht charter itinerary that will make your trip even more fun!
→ Book a private art and culture tour in Tortola.
St. Thomas
An eight-day sample itinerary sails from St. Thomas to a beach in Trunk Cay, part of the U.S. Virgin Islands. This Coral Reef Underwater Park Trail has underwater signs that tell you about the types of fish and other sea creatures you might see. You can snorkel there off the coast.
Hike trails lead to old sugar cane plantations or stop by the food stand on the seaside. There are many cafes, bars, stores, and food outlets in the marina in Tortola. Then, sail to a group of southern islands in the British Virgin Islands, a group of smaller islands in the same area.
Most people go to Peter Island because it's the largest of the seven. It has a lot of beautiful beaches for water activities like kayaking and scuba diving near the offshore coral reefs.
The Baths
There is a beautiful beach on Virgin Gorda called The Baths. Visitors can take a dip, snorkel, and experience the world until they get hungry. Nearby Jost Van Dyke is where you'll find the best nightclubs and musical performances you'll see all along your trip.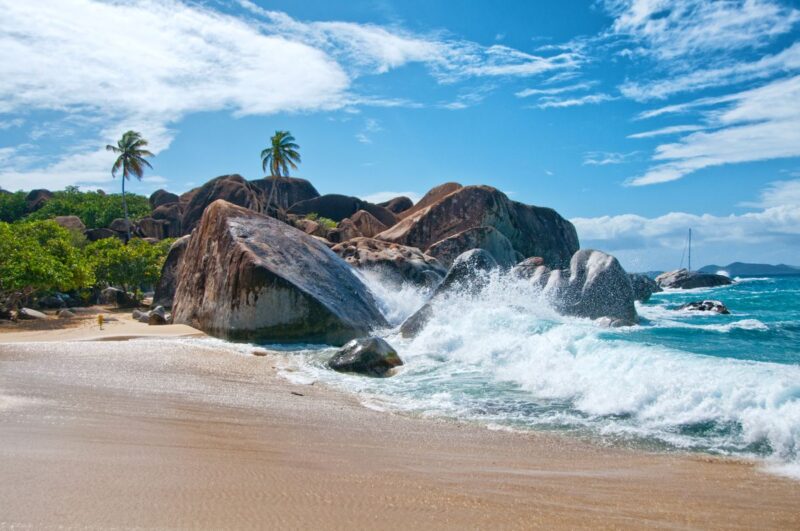 Before going to St. John's Virgin Islands National Park, which is almost the whole island, you'll see a lot of beautiful scenery. People can go hiking on trails through the trees and back to the pebble beach.
If you take the Reef Bay Trail, you can even see petroglyphs made long ago. Besides its archaeological and cultural points of interest, there are also lovely shops for gifts and high-end restaurants.
Bonus Places to Go!
Turks and Caicos
The Turks and Caicos Islands are a group of islands made up of eight main islands and many smaller islands called cays. Each island is indeed unique in its way, and each can be a tourist attraction in itself.
Even though you might be interested in different things, island hopping the Turks and Caicos Islands will be an experience that you'll never forget.
Your idea of a good time will help you decide where to visit the Turks and Caicos. Some great diving spots are near the island of Grand Turk. History buffs might be keener on the Middle Caicos island, where you can see the old plantations and salt flats.
Make sure you set aside some time for some seriously white sand when you're in the Caribbean. Providenciales Island (Provo) is home to Grace Bay Beach, voted one of the best beaches in the world.
You have miles and miles of beaches that gently slope into some of the most beautiful blue waters you've ever seen, and you can go swimming there. You might not know what genuine turquoise looks like until you've been here.
Because the Turks and Caicos Islands are at the crossroads of year-round trade winds, they are a popular spot to go kiteboarding. Long Bay Beach on Providenciales is a great place to do the sport because of the shallow waters and reliable conditions.
Turks and Caicos also have some of the most luxurious all-inclusive resorts globally, perfect for planning your dream holiday!
→ Book a private kiteboarding lesson on Long Bay Beach.
READ MORE: 17+ Things To Do in Turks and Caicos for the Adventurous
Montego Bay, Jamaica
As the third-largest city in Jamaica, Montego Bay has many things to do and see for everyone.
Adventure
Visitors can go on a spectacular eco-adventure with Cockpit Country Adventure Tours. You'll voyage through breathtaking caverns glistening with marvelous geographical treasures that once were a secret base for Maroon warriors.
Take the whole family or group of friends to Paintball Jamaica for a fun-filled day of play in a secluded area with many trees and lots of shade.
Enjoy the Martha Brae River by taking a bamboo raft down the river, surrounded by greenery and water and the sound of the wind, flowing streams, and birds chirping.
→ Book a Martha Brae River bamboo rafting adventure.
Luminous Lagoon
Jamaica's only natural nighttime attraction is its bioluminescent bay, which you can see by going to the Glistening Waters Hotel before sundown and taking a tour of the Luminous Lagoon.
The tour boats leave the hotel and go to a quiet part of the lagoon where tiny sea creatures light up when moved live. It's cool to watch the effect when the boat travels through the water, but it's even cooler to jump in and see how moving your hands and feet makes glowing swirls and eddies.
Your boat captain and guide will explain the science behind the show and tell you exciting stories about life and culture in Jamaica.
Food and Culture
There are some things to do in Montego Bay that you can't miss. When you're at the sports bar of Usain Bolt, you can do your "to di world" pose right in front of the statue of the fastest man on earth.
There, visit Sam Sharpe Square, which is full of people from the city and has a cobblestone plaza with historical landmarks. This is where you can go to the Montego Bay Cultural Center and learn about the unique town's history. You can also learn about Sam Sharpe Square and what it means.
There are a lot of restaurants in this city. It's an excellent place for a foodie who wants to try some of the best food in Jamaica.
Pro tip: Talk to your local tour guide about their favorite place to eat so you can try some of the best home-cooked food with authentic Jamaican flavor.
→ Book a private Jamaican food tasting tour.
Beaches
You'll also discover a variety of exciting kinds of beaches here, along with a richness of water sports among the myriad of things to do in Montego Bay.
You'll love the magnificent beaches in Montego Bay. There are plenty of them for you to appreciate. Doctor's Cave Beach is right on the "Hip Strip," which is excellent for families.
You can get a great tan here because the beach is expansive, with only a few palm trees to shade you. For those wanting a break from the sun, there are lounge chairs with umbrellas.
Aqua-Sol Theme Park has a lot of fun things to do right on the beach with go-karts, water slides, and entertainment for the whole family to keep everyone happy. Most beaches will have diners serving Jamaican food to keep you fueled through the day.
Another beach near the city is the 876 Beach Club. The party is always going on at this place, with live music and entertainment, a vast floating water park for endless fun, a sizzling jerk pan for lunch and snacks, a filled bar, and well-kept grounds.
If you want to stay in Montego Bay, you will find some luxury options here. You can stay at one of the best Sandals resorts called Royal Caribbean.
Practical Things To Think About Before You Go Island-Hopping in the Caribbean
There are a few things to keep in mind when you plan an island-hopping trip (or anywhere, for that matter).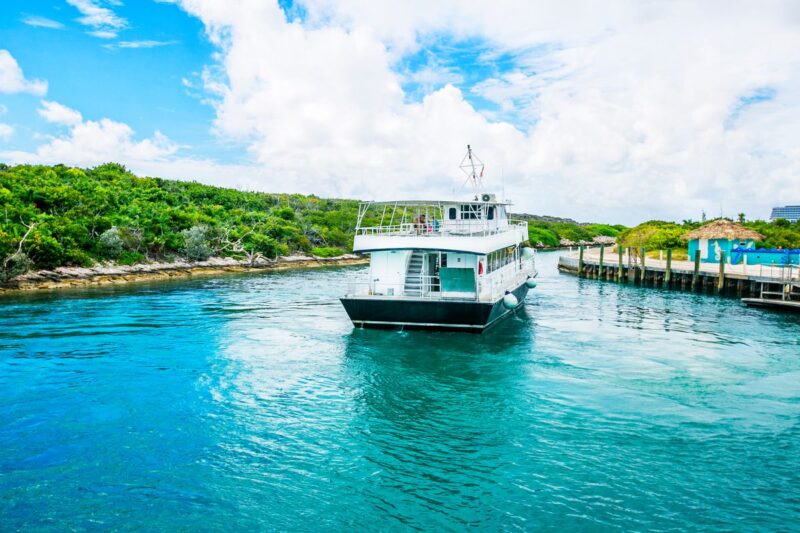 Check your visas
You should first check to see if the islands you want to visit are all in the same country. If not, you'll need visas for every one of them.
Pack light
Second, be ready to pack light. If you're traveling by plane, you can save time by only taking a carry-on bag with you. Similarly, if you're on a ferry, it's not fun to be weighed down with luggage.
Set up a base
For people who don't like leaving home for more than one or two days with only what they can fit in a carry-on bag, think about using one island as a starting point for your trip.
You can book a hotel or villa for the whole trip, and you can go on day trips or overnight trips to other islands while leaving a significant portion of your belongings there.
Some More Caribbean Island-Hopping Tips & Tricks
Don't rush
When you plan your Caribbean island-hopping trip, stay at least two nights in every place. You'll be missing the entire point if you try to cross off as many places and Instagram posts as possible. The goal of a Caribbean vacation is to have fun and relax.
Compare quotes
When you get a price estimate for a tour or private transfer, it's worth it to call around and get a few more prices. Don't forget to ask about additional dock and airport costs and taking off fees.
Safety first
Many flights between islands could be done in a small plane, such as a prop plane. Ask about safety when you ride in a prop plane. Any reputable and reliable operator should have safety information on hand, and they should be willing to answer questions about their pilots.
Custom itineraries
When you rent a boat or go on a tour, ask if you can change the itinerary. Many businesses will try to meet your needs.
Pack light (again)
Make sure you pack well! It's essential to keep your weight in mind for numerous different car transfers, ferries, and small planes.
For a week in the Caribbean, don't intend to bring two weeks' worth of clothes. Later if necessary, consider doing a little laundry by hand while you're in one spot for a few days. Happy and lighter: You'll be able to travel more efficiently and with less stress!
More Around the Caribbean
---
---
>>> BIO
My name is Leandro (Leo for short). I am a digital marketer who one day discovered that I love blogging, SEO, and ways to make money online. Traveling and exploring cultures is another of my passions.