St. Lucia may be known for its idyllic, crescent-shaped beaches and postcard-perfect views, but adventurers will find plenty of things to do in St. Lucia beyond going to the beach.
Of course, that's not to say you should miss out on these scenic stretches of sand, and there are tons of those to choose from, too!
Whether you're visiting the island for adventure or supreme relaxation, your options of things to do in St. Lucia are endless. If you need some inspiration or some help whittling down your list of activities, continue reading for the ultimate guide to St. Lucia.
Things To Do in St. Lucia
---
Best Things To Do in St. Lucia: Beaches!
St. Lucia is famous for its incredible beaches, so spending some time bumming on the sand is almost compulsory while visiting this tropical island.
While some stretches of sand may seem private or accessible solely to resort guests, ALL beaches on St. Lucia are public – so feel free to lay your towel down at any of these splendid spots.
While you may be thinking of gorgeous powdery white sand beaches, as this view is synonymous with the Caribbean, St. Lucia has a range of white, gray, and even black sand beaches due to its volcanic past. This only makes the beaches here a bit more unique, trust me it's still stunning!
1. Soufriere Beach
Parking your beach towel on the sand at Soufriere Beach is one of the best things to do in St. Lucia if you want to experience the island like a local. This hidden gem has yet to be discovered by large hoards of tourists, but it's not hard to see why the locals love it.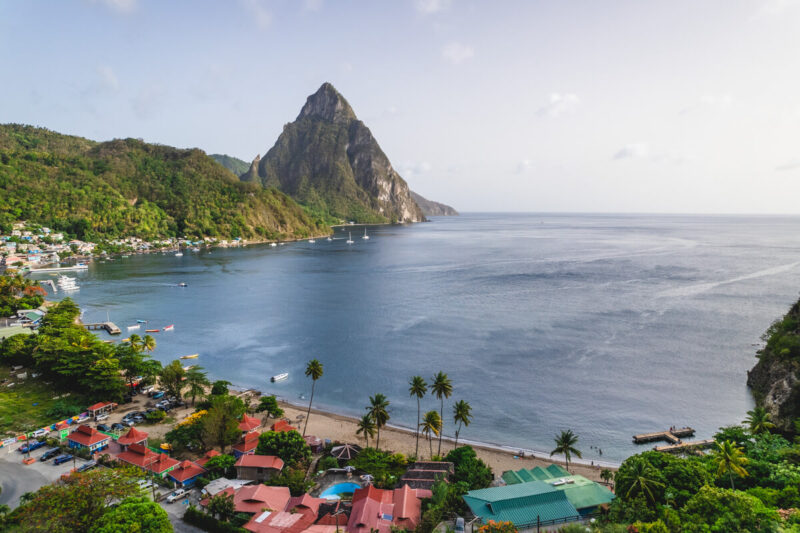 It's tucked away near the base of the Pitons and has incredible views of these towering peaks and the ocean surrounding them. It may not be the most secluded or private spot, but there are certainly some good people-watching opportunities!
2. Anse Chastanet Beach and Mamin Beach
Anse Chastanet Beach is located just north of the Pitons on a quiet and secluded cove. Although famed for its epic snorkeling opportunities, Anse Chastanet is great for its above-water scenery as well.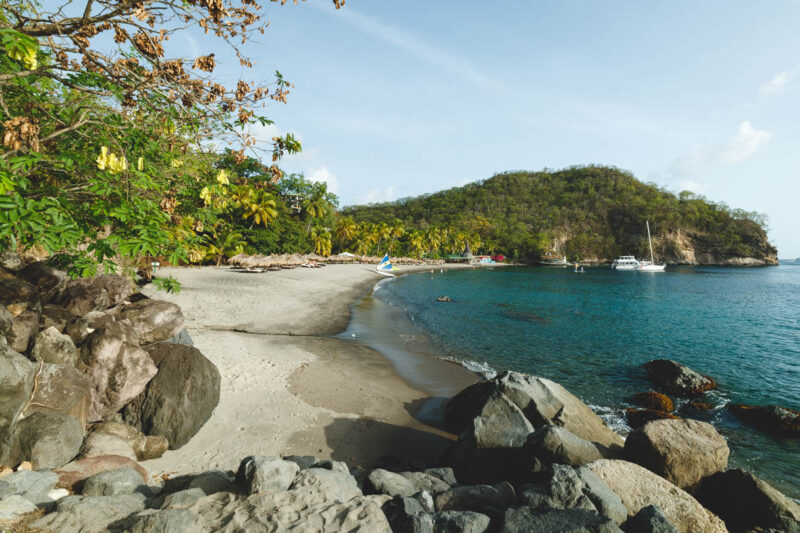 Anse Chastanet is one of the most popular beaches on St. Lucia, so be prepared to share these incredible views as you sink your toes into the naturally black volcanic sand.
It seems like it's privately owned by the Anse Chastanet Resort, but again, there are no private beaches here, so don't be shy, just tell them you're visiting for the day as you may need to check in with their security.
For a more secluded spot, continue walking to your right and head to Anse Mamin, just about a five-minute walk from Anse Chastanet.
3. Jalousie Plantation Beach/Sugar Beach (Going to This Beach is One of The Best Things to Do in St. Lucia!)
Jalousie Beach, more commonly known as Sugar Beach, is perhaps the most famous beach in all of St. Lucia. If you're looking for a scenic spot to kick it for the afternoon, you'd be hard-pressed to find a better stretch of sand.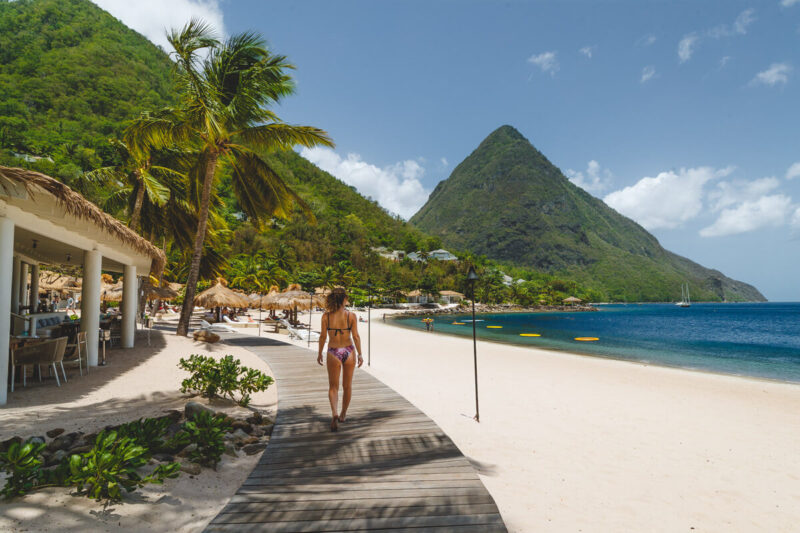 The white sand beach is tucked between the verdant slopes of Gros Piton and Petit Piton, and the bay's protected waters are a startling shade of perfect turquoise blue.
Because the water surrounding this beach is protected, marine life thrives off the coast. This makes it as popular with snorkelers and scuba divers as it is with beach bums.
You can snorkel just to the right of the beach. There's a rental hut but you may just want to bring your own to the island so you can hop in any time (for free!)
This beach seems like it belongs to Sugar Beach Resort, so as you enter, just tell them you're visiting for the day. If you are driving, you'll have to park in their guest parking and walk down a steep path to get to the beach.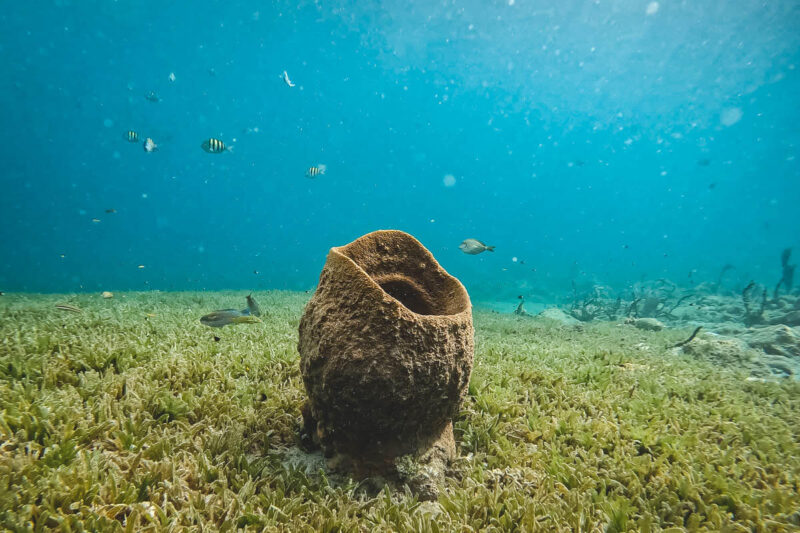 I'd recommend picking them up on their offer for a free ride back to your car if you order something from them. While their drinks aren't cheap, they are a delicious masterpiece! This will also get you a ride back up the steep hill for free to your vehicle, so really, it's a win-win.
4. Anse Cochon Beach
Located south of the famous Marigot Bay, Anse Cochon Beach is another one of St. Lucia's most beautiful sandy outposts. It's a hidden gem, so those looking to avoid the crowds will find refuge in Anse Cochon.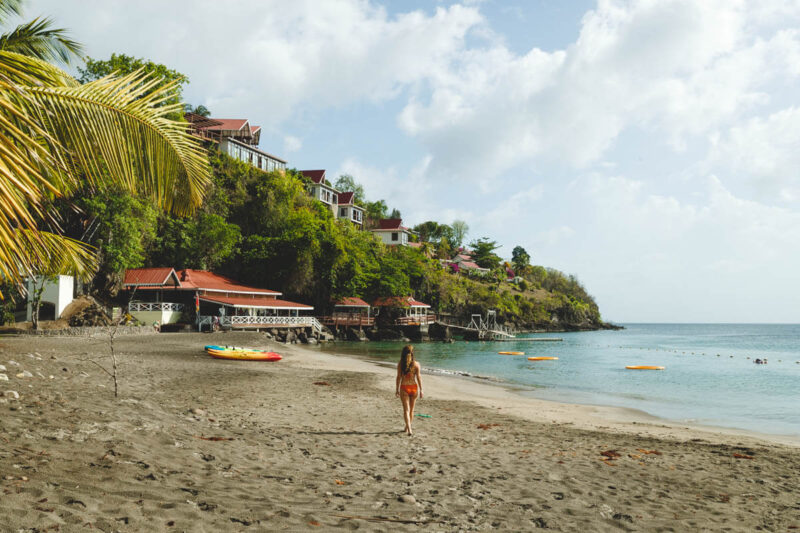 With that said, this is a spot where some tour boats come through, particularly on holidays. Aside from that, the majority of the people here will only be from the Ti Kaye Resort.
5. Reduit Beach
Reduit Beach is located on St. Lucia's northwestern coast near Rodney Bay. This beach is much loved by locals and tourists alike, so don't expect to have the whole stretch to yourself. Even when it's busy this bustling beach is worth a visit.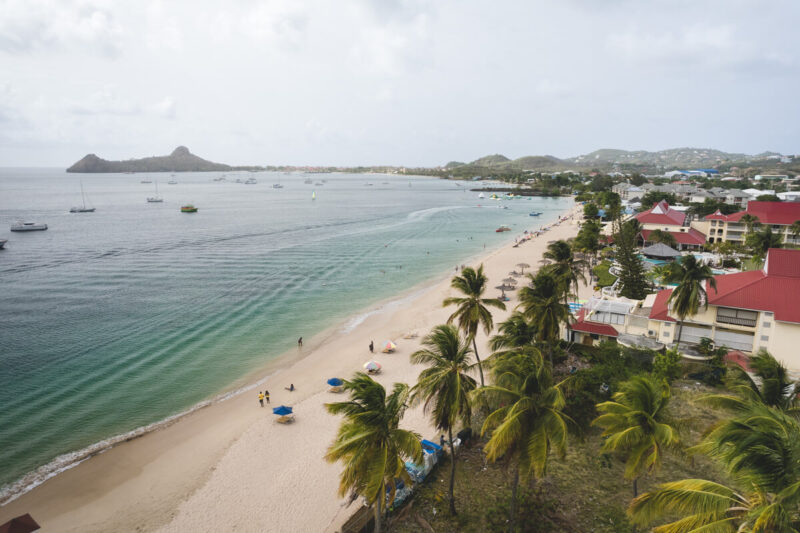 In addition to all the classic beach day activities, you can rent a jet ski, check out the Caribbean bars and restaurants that line the shore, or simply soak up the incredible views.
6. Pigeon Island National Landmark
Exploring Pigeon Island National Park is one of the best things to do while in St. Lucia. Many stick to the park's land-based activities like hiking and discovering Fort Rodney's historic ruins, but don't make the mistake of missing the reserve's two secluded beaches.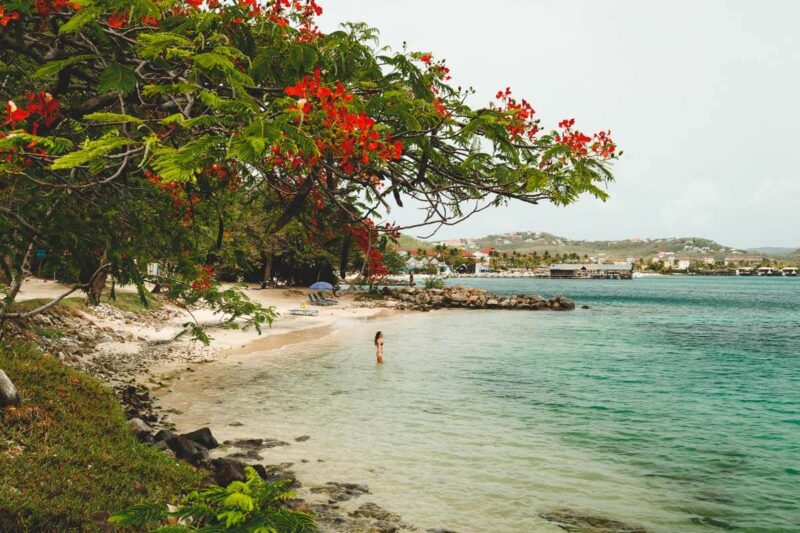 If you love swimming, the warm water here will be just right for a nice dip. The views are also immaculate, and the peace and quiet here is a far cry from some of the island's busier sandy strips (I really don't know why most people skip on this spot!?).
There are two beaches just to your left as you enter the park. The first one usually sees the most action but if you walk to the second beach, you'll have it almost to yourself. It's also a great spot to plop in with your snorkel and see the marine life beneath your toes.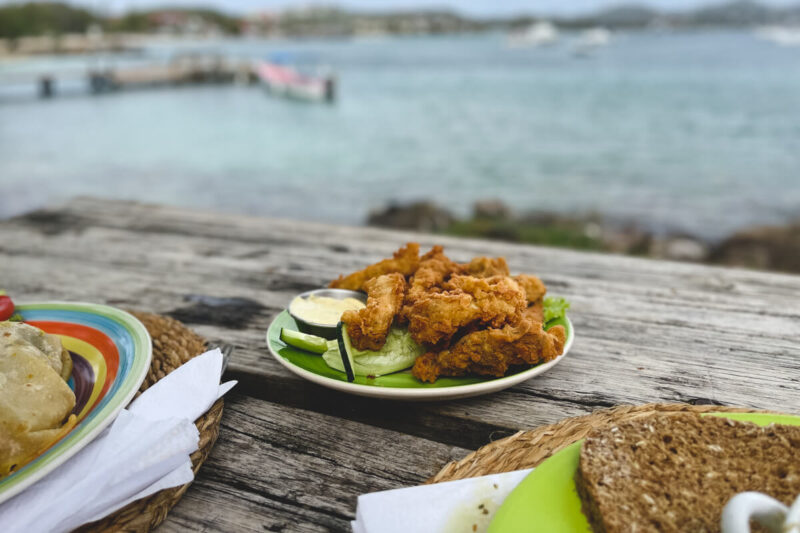 If you've worked up an appetite, the Jambe de Bois Restaurant serves up some delicious grub. They have fresh fish, local callaloo soup, traditional curry rotis, and more.
7. Gros Islet Beach
Gros Islet Beach is all things a good Caribbean beach should be. There's soft sand, beautiful blue waters, and incredible views from every angle. In addition, it also has some of the best sunsets in St. Lucia.
So head over for a beach day, and try to stick around to watch the sun go down at Gros Islet Beach!
8. Calabash Cove
Whether you're staying at the luxurious Calabash Cove Resort & Spa or not (highly recommend you do though!), be sure to check out its secluded beach. Surrounded by lush foliage and stunning mountain views, this white sand beach is as beautiful as it is intimate.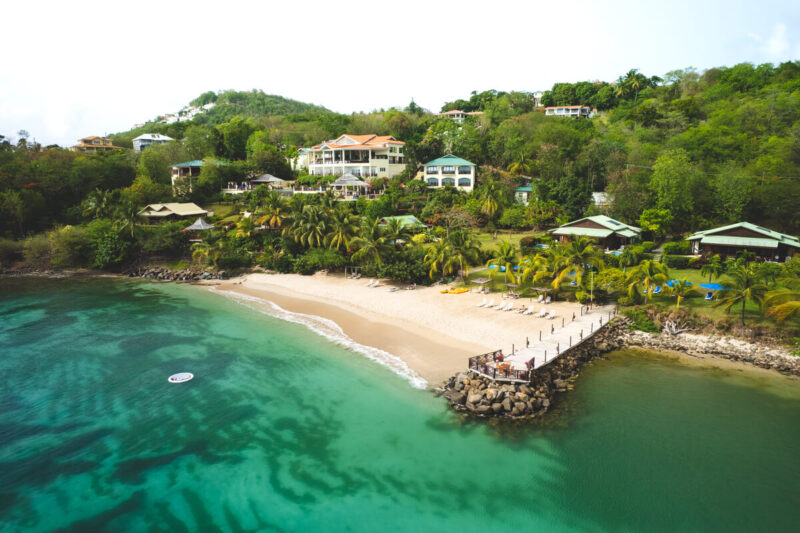 It's a clandestine spot that goes unnoticed amongst some of the more famous beaches, so if you want some peace and quiet during your beach day, there's no better place.
READ MORE: 9 Incredible Beaches in St. Lucia for Epic Beach Bumming
Things to Do in St. Lucia—Beyond The Beaches
I know sunning your buns under the warm St. Lucian sun might be your main goal while visiting, but there are other things to do in St. Lucia! For those seeking a bit more adventure, you may want to check out some of these activities while on the island…
9. The Sulphur Springs Park
One of the most unique things to do in St. Lucia is to visit Sulphur Springs Park, located in Soufrière on the island's west coast. Even though the last volcanic eruption on St. Lucia occurred about 40,000 years ago, there is still plenty of geothermal activity on the island.
The Sulphur Springs Park is the most active area, complete with bubbling pools, steaming vents, and viewing platforms to take it all in. The park is also home to the only scenic drive in the Caribbean that actually runs through an active volcano.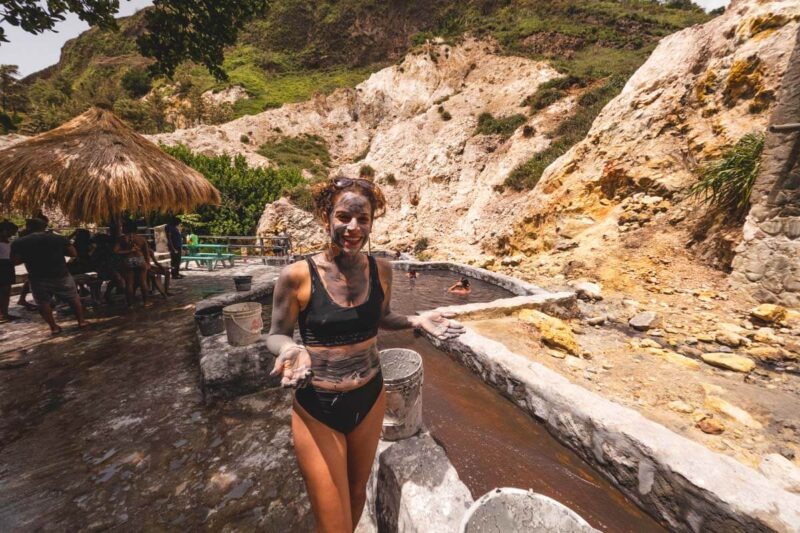 But perhaps the best way to experience Sulphur Springs Park is to take a soak in the geothermal mud baths. They have buckets of volcanic mud to grab and lather all over yourself and while it may seem a bit weird to rub yourself down with mud out in the open, it makes your skin feel great!
There are several pools, each varying in temperature. Slap on some mud, take a dip, and unwind! You'll leave relaxed with baby-soft skin and likely a ruined bathing suit unless you wear a dark one—so don't forget to bring one.
Once you're done, take a stroll through the park to witness the volcanic activity for yourself, the bubbling pools and steaming vents are just beyond the pools. If you want to learn a bit more there are guided tours here as well, this is also your main option if you don't have a car!
10. Pigeon Island National Park and Fort Rodney
Once upon a time, Pigeon Island National Park was a hideout for pirates and, later, a military fort. Today, it is an epic national park with fun hiking trails, gorgeous beaches, and the remains of old Fort Rodney.
Hiking the Fort Rodney and Signal Hill Trail will give you an all-encompassing view of the park, both in terms of history and literal views.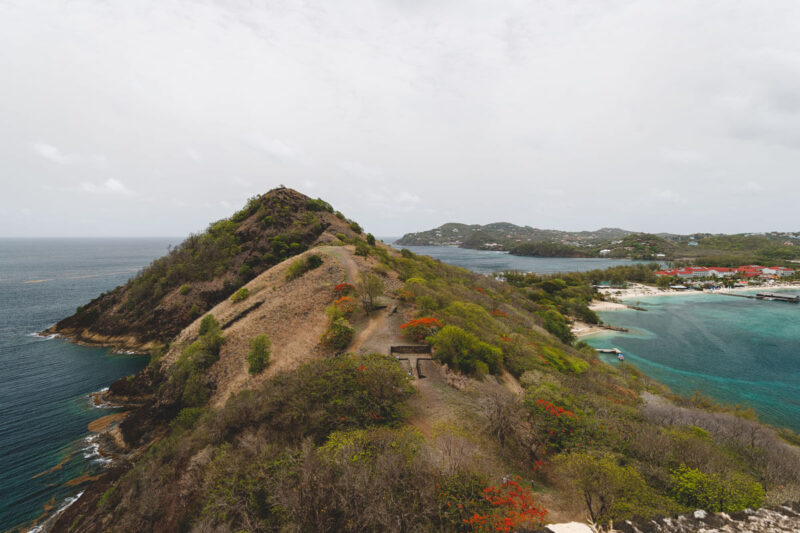 You'll walk past the remnants of the old fort, and there are informational signs that you can also stop and read. The panoramic vistas from the top of Signal Hill are some of the best on the island, though it is a pretty steep climb to reach them!
If you want a more chill hike there are two peaks and you can just head to the first one and back down if you'd like. Either way, you'll get amazing views over Rodney Bay so don't miss it! There's a beautiful open grassy park to chill in and a museum here too.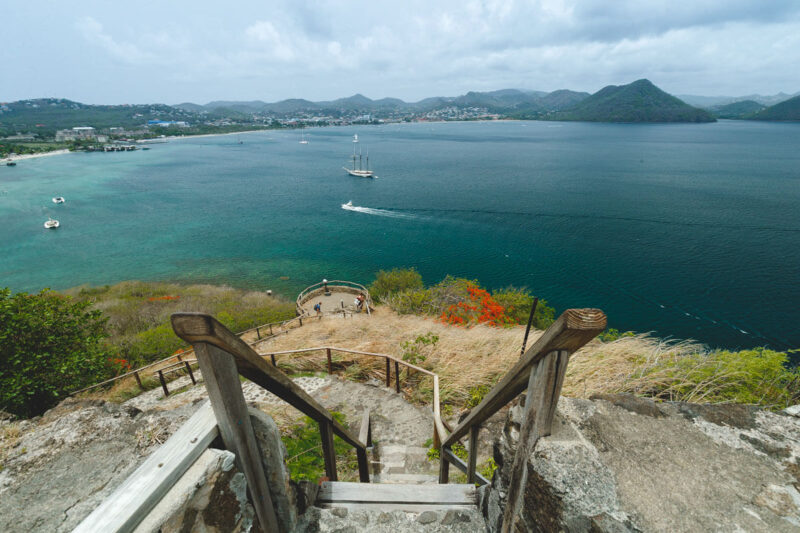 And just a reminder from above, this park also has two nice beaches, one with a delicious restaurant too, so you can really spend a whole day on Pigeon Island.
Fun fact: This island is artificially joined by a manmade road that was built in 1972 just in case you're wondering how to reach this island! You can simply drive.
There is a $10 entrance fee to this park.
This spot is easy enough to get to with your car, but if you're not driving, then taking a tour here is your next best bet. Hop on a private guided half-day tour to see all the best bits of Pigeon Island or for the more adventurous, you can go on an awesome bike tour of the area!
11. Seeing the Pitons—The Most Popular Thing to Do In St. Lucia
Rising up from the sea on St. Lucia's southwestern coast are the magnificent Gros and Petit Pitons. These iconic peaks are part of the Pitons Management Area – an UNESCO World Heritage Site and one of the most recognizable landscapes on the island.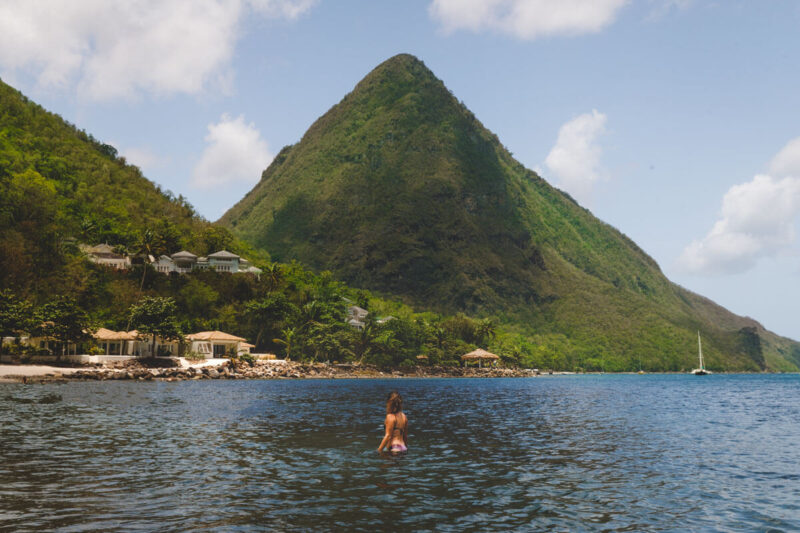 Gros Piton (798 meters high) and Petit Piton (750 meters high) were formed by volcanic activity around 200,000 years ago.
While they are a beautiful sight from afar, getting up close and personal to these massive mountain peaks is one of the best things to do in St. Lucia. There are a few different ways to explore the Pitons:
Option #1. Hiking
While it's no easy feat, hiking up the pitons is possible.
The trail to the summit of Petit Piton is only a mile, but don't let the length fool you. This trek is both physically and technically hard. In fact, it's actually more difficult to ascend than its taller counterpart.
There are a few sections where you'll need to hoist yourself up with ropes or grab onto protruding roots, but the challenge is worth every effort for the unmatched views from the top of Petit Piton.
Due to the difficult aspects of this trek, hiking with a guide is highly recommended but not required. There is also a small entrance fee at the base of the trial – 10 ED or about $4 USD.
You can also ascend the taller Gros Piton while in St. Lucia. The trail is about three miles long and extremely challenging. It's required that you hike with a guide. Guides can be booked ahead of time or right at the base of the trail before you begin climbing.
The panoramic views at the top are incredible, so take your time soaking them in before starting the tricky trek back down.
If climbing the Pitons seems like too much of a challenge (no shame – they ARE very difficult), check out the Tet Paul Nature Trail and grab a guided tour. This short and easy trek has incredible views, and you'll be able to see both Pitons without having to step foot on them!
Option #2. Helicopter
If you have absolutely no intention of undertaking a grueling hike to get the best views of the Pitons, you could always book a helicopter tour. This will arguably give you the best views of these massive peaks, but it will be the most expensive way to see them.
Option #3. By Sea
You could also opt for a land and sea tour. The highlight of this tour is viewing the Pitons from the water, which gives you a feel for just how giant they really are.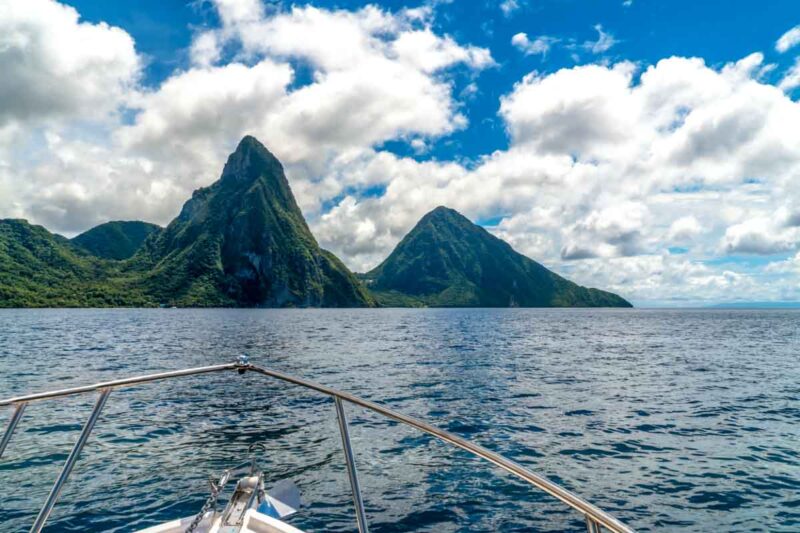 You'll also be guided around some of the island's other top attractions, including the Sulphur Springs mud baths, small fishing villages, Marigot Bay, and more so you can really see most of the south part of the island in one epic day!
Option #4. Stay at These Resorts:
Wake up to the gorgeous view of the Pitons EVERDAY if you stay at one of these resorts…
Option #5. Viewpoints
There are numerous viewpoints around the island where you'll find a perfectly placed platform to view the Pitons. The only catch is you'll have to drive your own car around the island to see them! This viewpoint is one of the better ones.
12. Marigot Bay
Marigot Bay is a sheltered bay on St. Lucia's west coast. Famed for its beautiful blue waters and gorgeous white sand beaches, the palm-fringed Marigot Bay is about as Caribbean as they come. It was even the backdrop for the 1967 Doctor Doolittle film.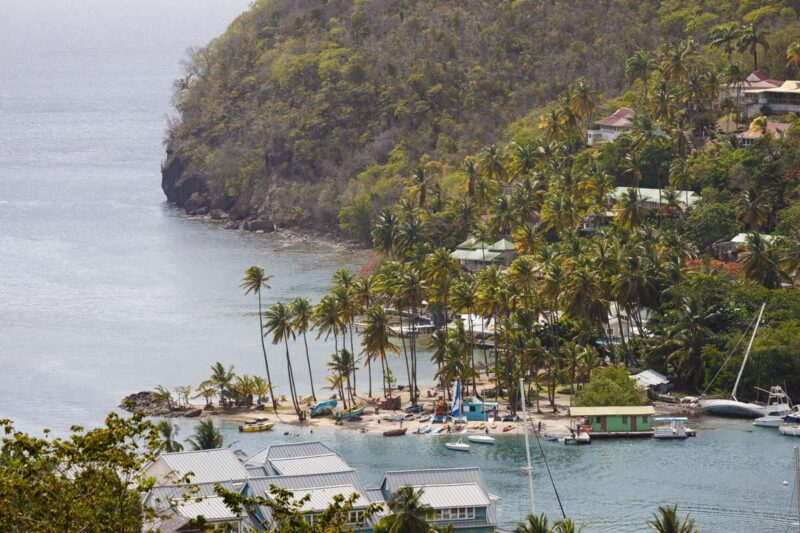 The beach area is pretty small, so the best views of the bay come from afar from the surrounding hills. Unless you're staying in this area, the best way to get to Marigot Bay is via a water shuttle.
While here, you can rent kayaks to explore the bay, hunt for a spot on the small beach, or hit up the Doolittle Restaurant or the Root Beach Bar.
It's 5 EC ($2) to take the ferry over, or if you want to eat at the Doolittle Restaurant, you can take their free ferry. The ride is only a few minutes but there's no other way to access this area.
If you're not exploring by rental car, the next best way to see Marigot Bay is by tour. When you book this tour, they will take you by catamaran down to Marigot Bay (and even Soufrière) where you'll see the majestic Pitons. This is a great option to see some of the best things to do in St. Lucia all in one day.
13. Scuba Diving and Snorkeling
One of the best things to do in St. Lucia is to go below the surface and explore the treasure trove of marine life that lives off the island. Scuba and snorkeling tours are both great activities, and there's no better place to dive than the Anse Chastanet Marine National Park.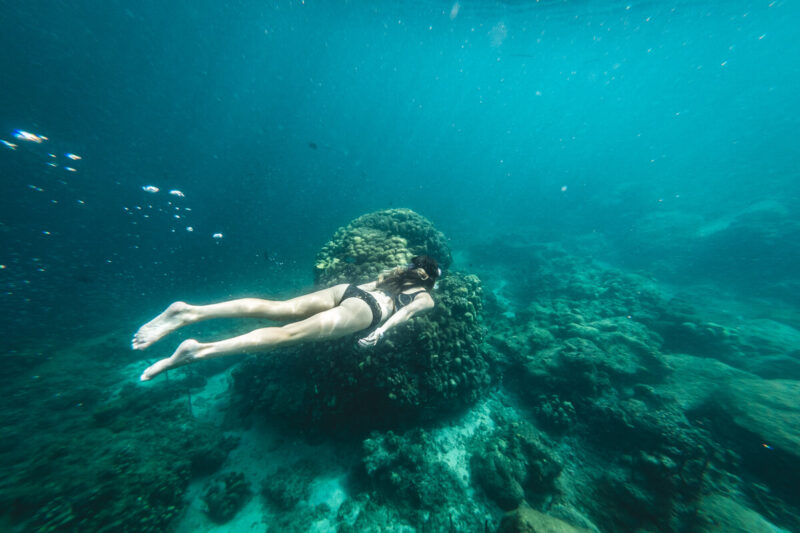 The area is situated along a vibrant plateau covered in different types of colorful corals and sponges. Tropical fish swarm this area, and as you explore, you'll likely see parrot fish, wrasse, and even barracudas, among others.
Unfortunately, the Anse Chastanet Marine National Park is no hidden secret, and this diving spot can get pretty crowded. Head to the nearby Anse Mamin for great snorkeling with fewer people.
Other great snorkeling spots to check out in St. Lucia include the north end of Soufriere Beach, Anse Cochon Beach, and Sugar Beach, among others.
14. Gros Islet Street Party
The Gros Islet Street Party is a must while visiting St. Lucia. Both locals and tourists turn out en masse to enjoy rum, street food, and the vibrant Caribbean ambiance.
The fresh fish is the main highlight of the party, so be sure to get your fair share before downing some rum punch and trying out your dance moves!
The street party is on every Friday night from eight until late along Dauphin Street in Gros Islet, located on St. Lucia's northern tip.
15. Hotel Chocolat in St Lucia & the Chocolate Tour
Historic Hotel Chocolat isn't just one of the best places to stay in St. Lucia, it's also a must-visit for any chocolate fans (which is everyone, right?). It's the site of Rabot Estate, the island's oldest cacao plantation, which has been revived with Project Chocolat.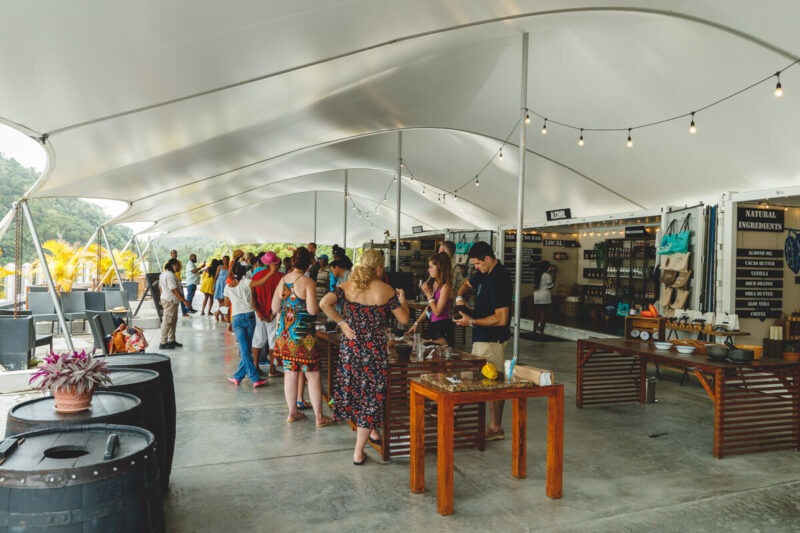 Across 140 acres, Hotel Chocolat grows rare strains of cacao for use in the restaurant and turning into delicious chocolate. On the Tree to Bar chocolate tour, you'll get to see the lush tropical estate, craft your own chocolate bar, and enjoy a cocoa-themed lunch. If you're short on time you can opt for the Bean to Bar tour, which just involves making the chocolate.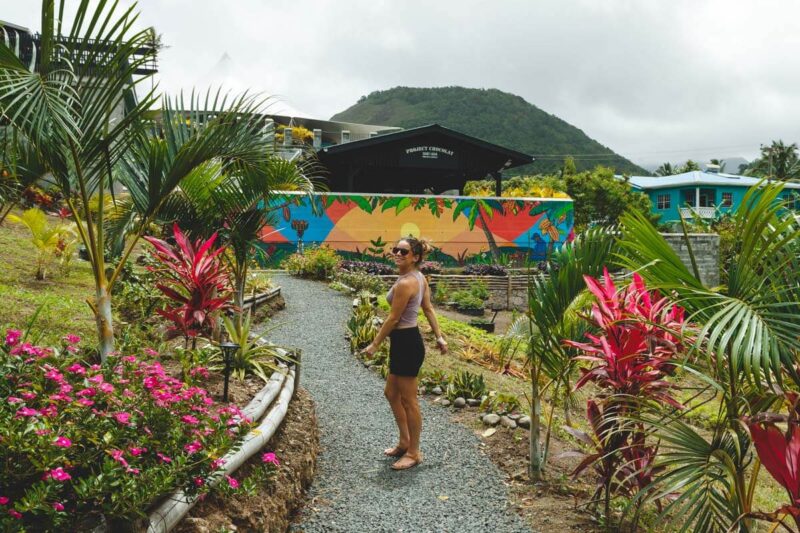 The chocolate is obviously the stand-out feature of this tour, but the setting can't be overlooked. Hotel Chocolat sits on a UNESCO World Heritage Site with views of the Pitons and beautiful gardens worth exploring.
16. Go on a Sunset Sail
After a long and fun day of getting muddy in the sulfur springs, hiking the Pitons, exploring the cities, shopping around, or even having a "tough" day under the sun on one of the gorgeous beaches… why not take a fun and relaxing sunset sail?!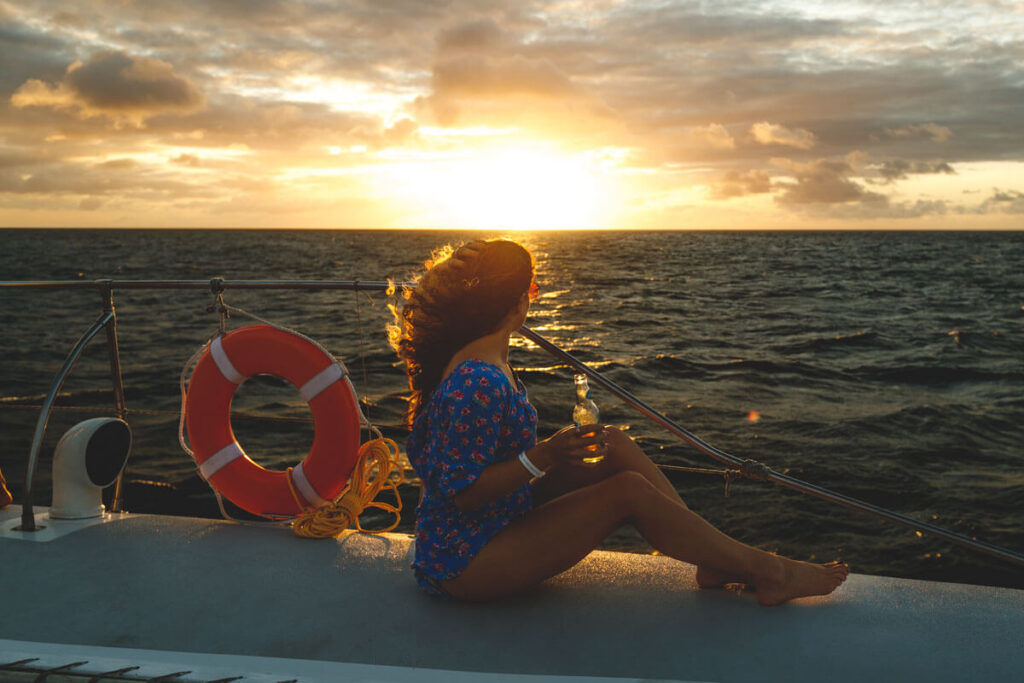 Grab a drink or two and enjoy the sun setting in Rodney Bay, one of the prettiest areas to set sail with calm waters and views of Pigeon Island, too.
17. Diamond Falls Botanical Gardens & Mineral Baths
Located in the Soufriere area of the island, the gardens and baths offer a unique and peaceful escape from the hustle and bustle of everyday life.
The gardens cover over 6 acres and feature a variety of tropical plants and trees, including palm trees, hibiscus, and bougainvillea, creating a lush and vibrant environment.
The highlight of the Diamond Falls Botanical Gardens is the Diamond Falls, a cascading waterfall that flows into natural mineral baths. The baths are filled with natural mineral-rich water, which is believed to have therapeutic benefits for the skin and body.
You can soak in the warm, mineral-rich waters and enjoy the tranquil surroundings.
Here, you'll also find a tropical bird sanctuary, a gift shop, and a restaurant. The bird sanctuary is home to a variety of tropical birds, including parrots and toucans, and is a popular attraction for visitors of all ages.
You can head here on your own to spend a couple of hours or if you don't have your own car, just grab a tour that brings you here and to some of the other cool things to do in St. Lucia for a fun-filled day.
18. Take an ATV Tour
Looking for a bit of adventure and thrill-seeking on vacation? Ride your own Yamaha ATV (all-terrain-vehicle) through the Caribbean landscapes while following your guide who will take you to some less touristy spots.
This three-hour excursion will find you exploring the 500 acres of Marquis Estate, an 18th-century property that encompasses an active banana plantation and sugar cane mill ruins.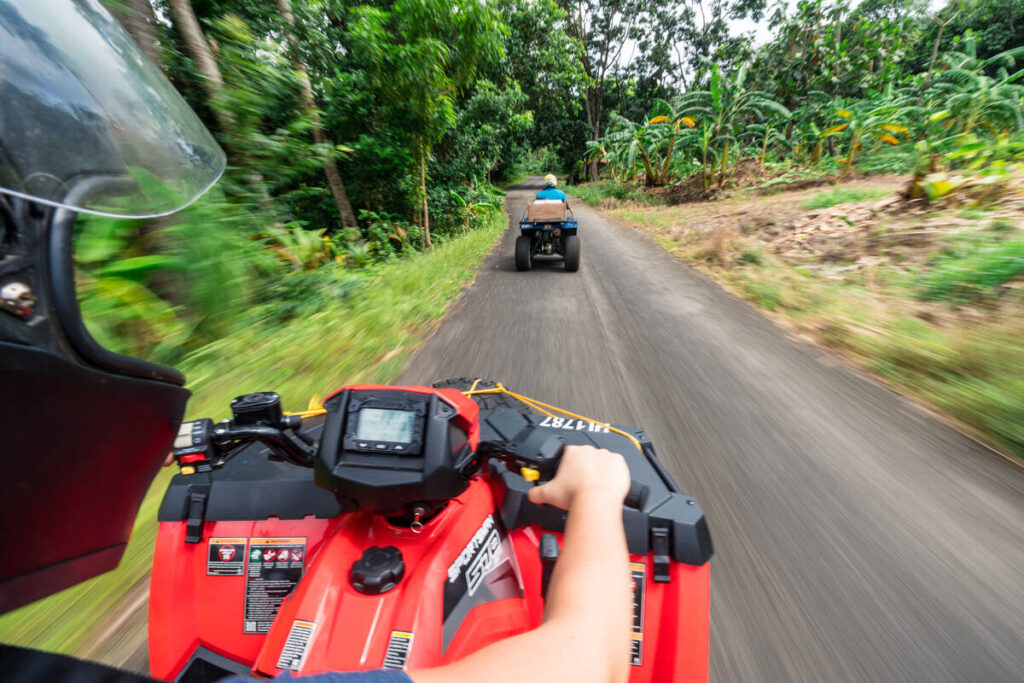 As you continue on the trails, take in the daily life of locals before enjoying Grande Anse Beach, where leatherback and hawksbill turtles lay their eggs between March to August!
19. Go on a Zip Line and Aerial Tram Tour
A half-day zip-lining tour will get you and your travel buddies outside and active. Hop on an aerial tram and, discover a bird's eye view of the tropical rainforest all around you from this open-air gondola.
As you slowly make your way to the top of the mountain, take in the sounds of the jungle and keep an eye out for the abundance of wildlife!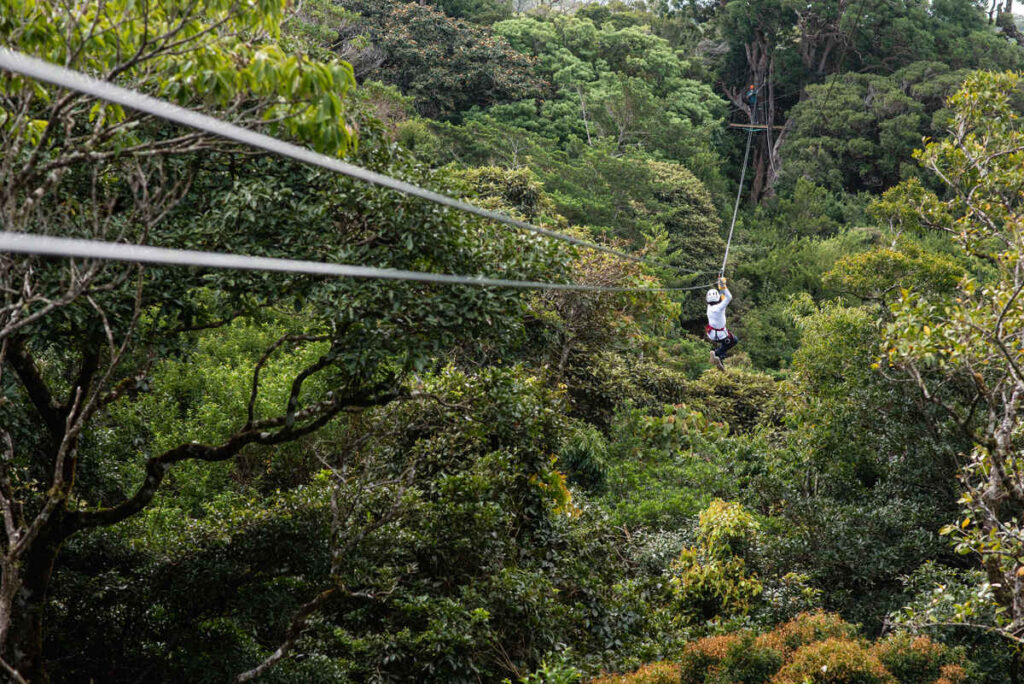 Take a short hike to your first zip-lining platform, suit up, and let the exhilaration begin as you fly through the forest with sweeping views of the horizon. With 10 platforms making up the course, you'll have plenty of photo ops and memories to make.
Where to Stay in St. Lucia
After doing some of the best things to do in St. Lucia, you'll need a great spot to lay your head to rest! Here are the top recommended spots…
Calabash Cove Resort & Spa
There are tons of options when it comes to accommodation in St. Lucia. However, few top the fabulous Calabash Cove Resort & Spa. This luxurious hideaway is one of the island's only full-service, adults-only boutique resorts.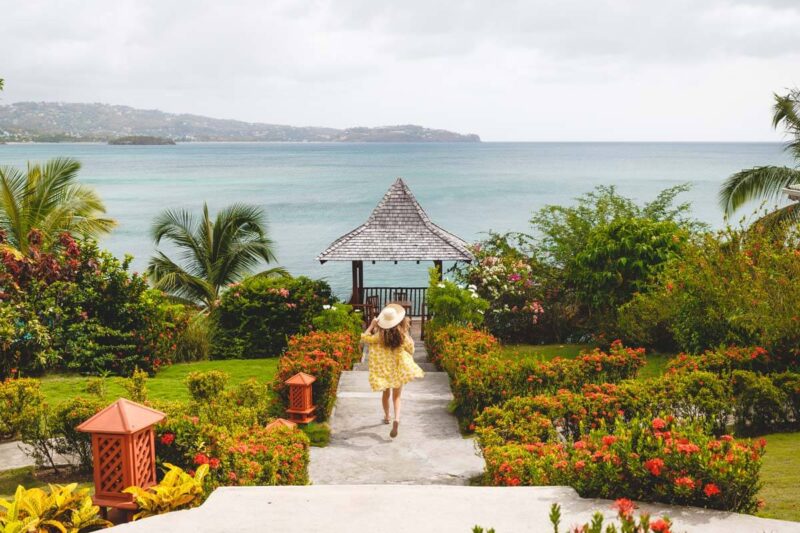 It's perched atop a hillside on the outskirts of Rodney Bay and boasts beautiful gardens and incredible ocean views from all of its suites and cottages.
You can choose between relaxation, adventure, or a little bit of both at Calabash Cove. Work on your tan at the private beach, take a dip in the infinity pool, stroll through the lush gardens, or book a spa appointment.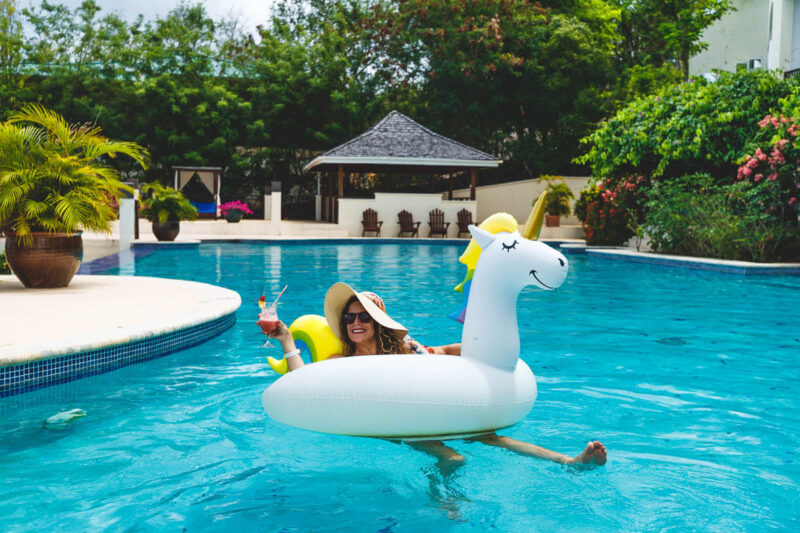 If you're looking for something a little more upbeat, the resort offers tons of complimentary activities, including paddleboarding, kayaking, nature hikes, and yoga.
Anse Chastanet Resort
Everything at this exclusive resort has been designed to make the most of the incredible setting. A few rooms at beach level give you easy access to two beautiful bays, while deluxe suites set into the hillside have an open wall to reveal sweeping views of the Pitons.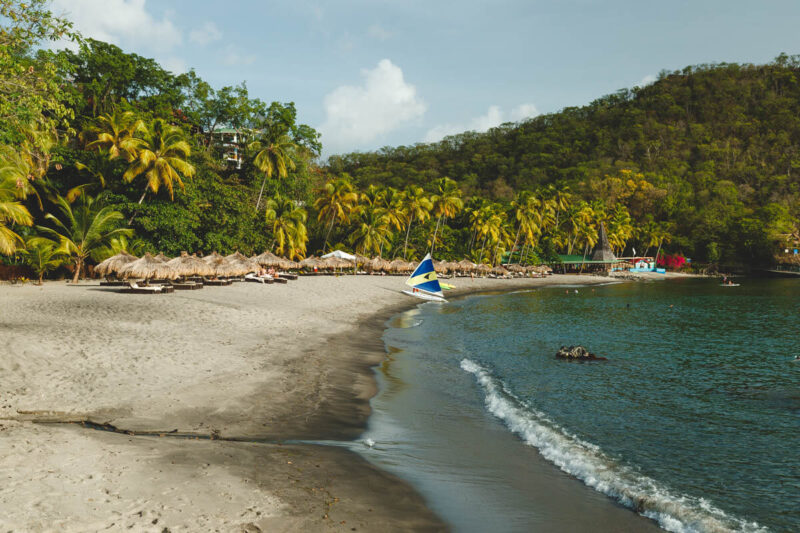 The property sits on 600 acres of lush greenery, with a garden that provides organic produce for the resort's dining options, including an all-vegan restaurant.
Sugar Beach Resort
The design for this luxury resort takes inspiration from the site's former days as a sugar plantation, with old-world charm found in the beachfront bungalows and luxury villas.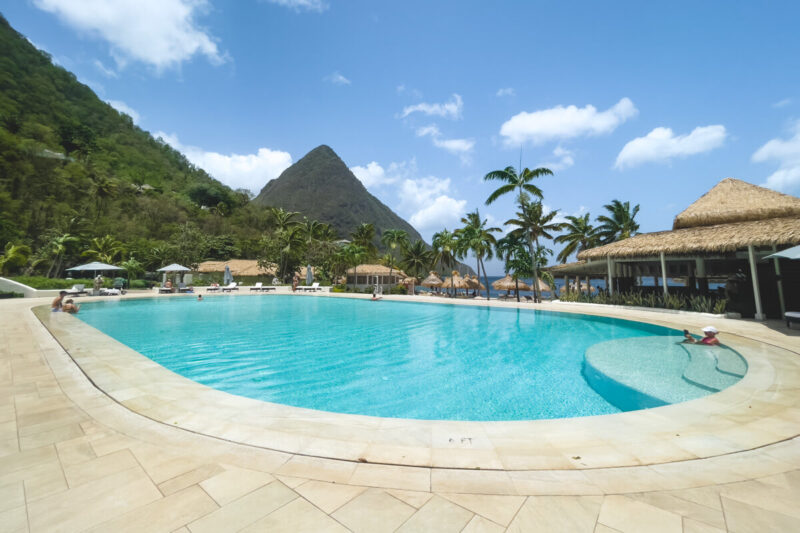 The personalized butler service means you might never want to leave your room, but when you do you can enjoy the resort's Rainforest Spa, beachside pool, or full PADI dive facility.
MORE ACCOMMODATION OPTIONS IN ST. LUCIA:
How to Get Around St. Lucia
St. Lucia offers a range of transport options for visitors. Whether you prefer a more structured tour or want to explore the island on your own, there are several ways to get around and see the best things to do in St. Lucia.
Taxi
Taxis are one of the most convenient and widely available modes of transport in St. Lucia. Taxis are easily recognizable by their light blue number plate with a TX prefix. These are the authorized taxis so just look out for this.
It is always recommended to agree on the price before starting the journey and it will vary depending on the size of your party, how much luggage, and where you're headed.
Taxis can be hailed on the street or pre-booked, and are a good option for getting around the capital, Castries, and other populated areas.
Bus
Buses are another popular form of transport in St. Lucia and are a cheap option for getting around the island. Buses are generally crowded and may not run on a strict schedule, but they offer an affordable and authentic way to explore the island.
The buses are often brightly painted and serve as a form of public transportation for locals, providing an opportunity to experience local life and culture. However, bus service can be limited in rural areas, so it may not be the best option for exploring more remote parts of the island.
While this is going to be your cheapest option for getting around St. Lucia, (typically EC$2.50 – EC$8.00 or $1-3 USD), it's going to be the slowest and least efficient.
Rent a Car
Renting a car is a good option if you want the freedom to explore the island at your own pace. However, driving in St. Lucia can be challenging, with steep roads and winding roads in many areas, so make sure you're confident before you tackle it.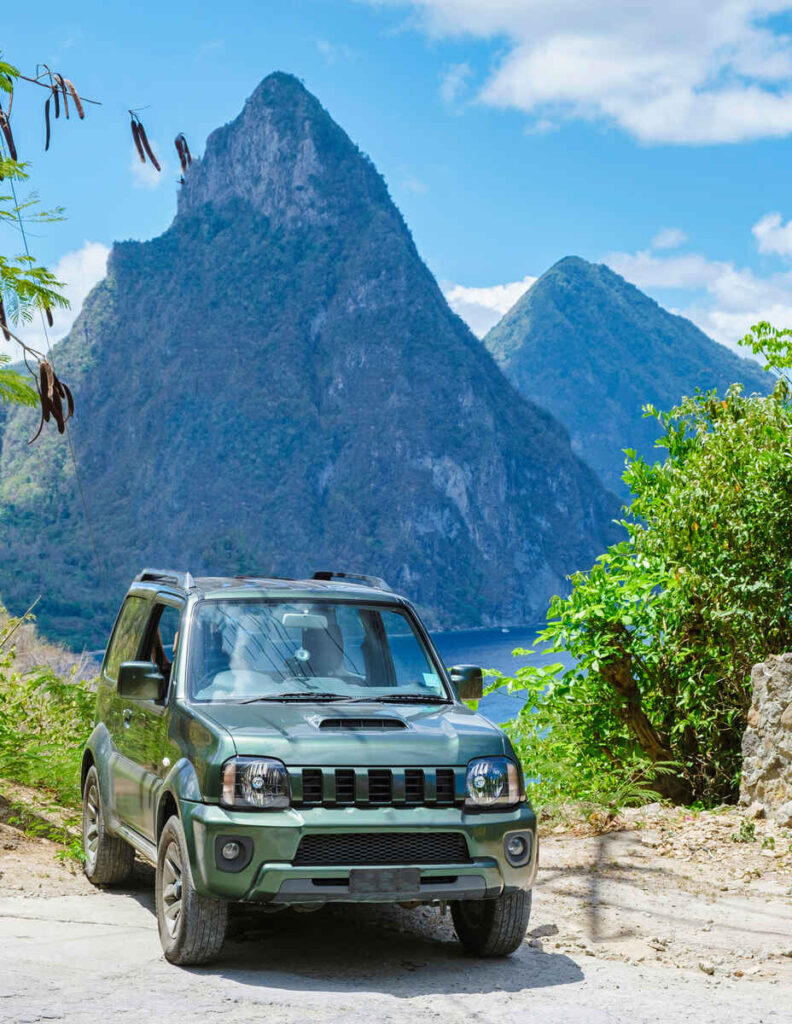 We rented a car and it made seeing all the things to do in St. Lucia much easier to do. Overall driving here was pretty chill and easy. If you can swing it, this is the most recommended way to get around.
Make note they drive on the left-hand side in St. Lucia!
You can find car rental deals here.
Tours
Finally, tour operators offer guided tours of the island that include transportation and sightseeing. This is a great option for those who want to see the main attractions and have a more structured experience WITHOUT having to tackle a rental car.
Tour operators offer a variety of tours, including walking tours, scenic drives, and cultural experiences, making it easy to find the perfect tour for your interests and budget.
You can search for the best tours around St. Lucia here.
Tips for Visiting St. Lucia
December through April has the best weather but it's also the busiest and most expensive time to visit. July through November is hurricane season. May and June are ideal shoulder season months.
Driving is a great way to get around but renting a 4-wheel drive would be best, and remember they drive on the left! Roads are steep, narrow, and usually quite poor with no shoulder, so you should be a confident driver. You can check here for car rentals.
Booking a tour is the best and most common way to do things on the island. Most people don't want to drive and most of the best things to do are available to see and do through a tour! So you can check here for some of the best, most highly-rated tours around the island!
The EC dollar (Eastern Caribbean) is the currency used in St. Lucia but USD is also accepted and cards are sometimes excepted. It would be a good idea to have a mix on hand.
Bring your adaptor with you if you're from the US, they use 240 volts and three-prong outlets like the ones in Britain.
Tipping is massively appreciated and often added to bills, feel free to add a bit on top if service was excellent as the country relies heavily on tourism.
You should pack sunscreen and a hat since it's hot, hot, hot here!
Bring the bug spray! You'll need it at night.
I'd bring my own snorkel if you're not doing tours so you can have the freedom to hop in and swim with the fish anytime you want like I did. Not every snorkeling area will have a snorkel rent hut! But if you're doing tours, they will provide them.
I hope this guide to things to do in St. Lucia helped you plan your trip!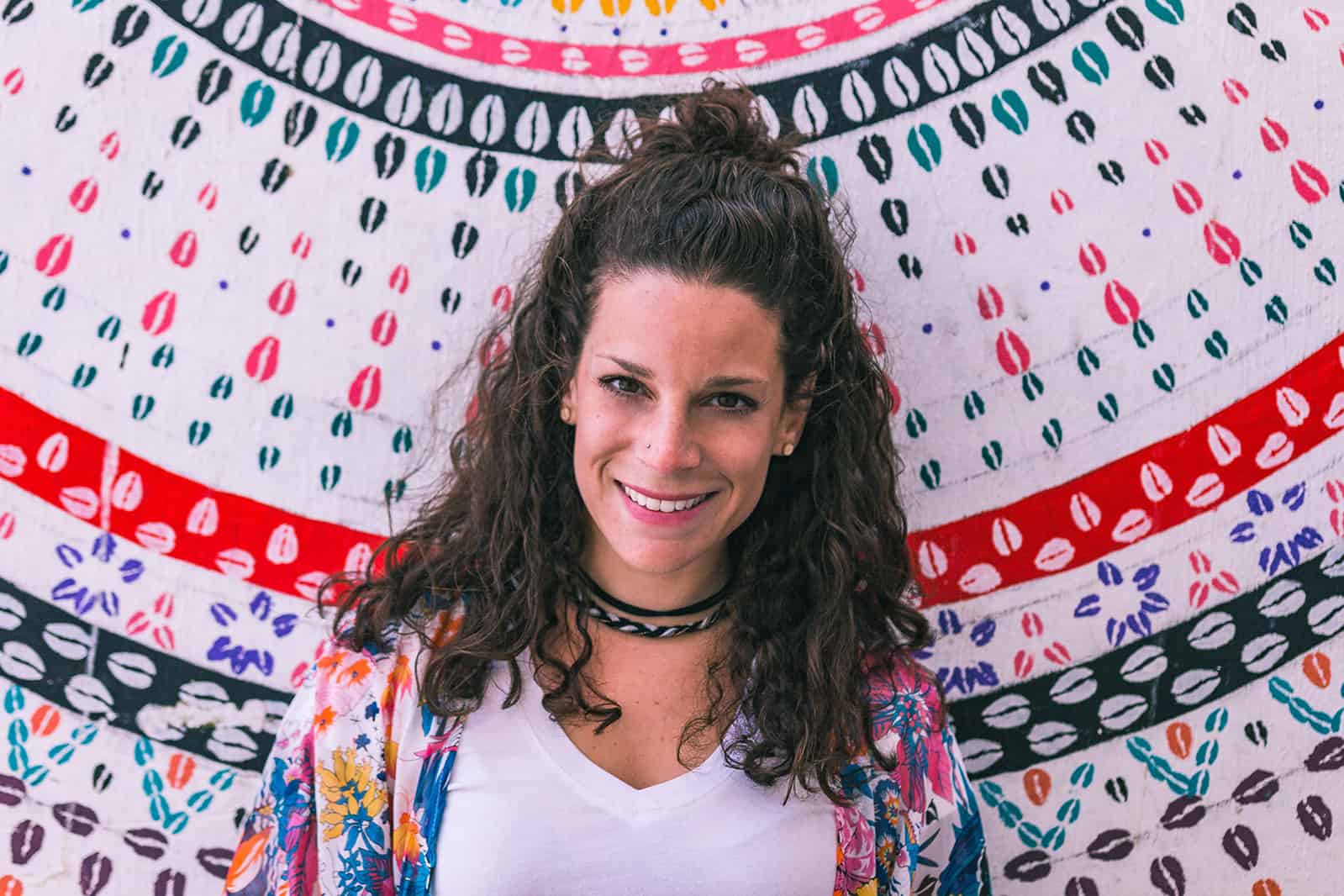 Nina Ragusa is an adventurer, messy bun master, breakfast fan, and full-time travel blogger. She's been abroad since 2011 and blogging on Where in the World is Nina? for nearly as long. Nina helps people like you move around the world while making money. She loves talking about how to work abroad and online to travel longer!