If you're wondering where to stay in Turks and Caicos, I have you covered! After exploring all the things to do in Turks and Caicos, you need an oasis to rest your head at night. It should be a destination in itself, provide you with everything you need, and hopefully fit your budget perfectly (because it's not cheap here!)
Here's a list of the best places to stay on the country's most happening island, Providenciales, and one option if you want to be on the more remote island of Middle Caicos. You're sure to find a perfect spot on this list!
Where to Stay in Turks and Caicos
---
All of these hotels and resorts in Turks and Caicos are ordered from east to west. Renting a car is the best way to see the island and it only takes about 40 minutes from one end to the next! So where you stay in Turks and Caicos will be totally up to you, but you're never too far from any of the other awesome beaches or things to do on the islands.
If renting a car isn't your thing, that's totally understandable! Luckily there are plenty of awesome tours to take that will pick you up from any of these hotels. You can find some great tour options here.
Be sure to check out my other guides to Turks and Caicos:
1. Neptune Villas
When looking for where to stay in Turks and Caicos, you can't get much better than a stunning villa on Chalk Sound. Each of the villas at Neptune Villas gives off tantalizingly tropical vibes.
Just looking at the balconies with their gently swaying hammocks, it is hard not to picture yourself swinging in the ocean breeze, coconut cocktail in hand. With only 11 villas on-site, you are in for an exclusive experience, so be prepared to have this little slice of luxury almost to yourself.
Despite the villas having everything you need for self-catering, there are two on-site restaurants for when cooking for yourself is just a little too much effort.
Why stay here?
If the villa's private pools were not enough to fulfill your bathing needs, guests also benefit from two secluded beaches, with water sport equipment rentals, pontoon boat tours, and snorkeling trips, so you can see the wonders that lie beneath the water.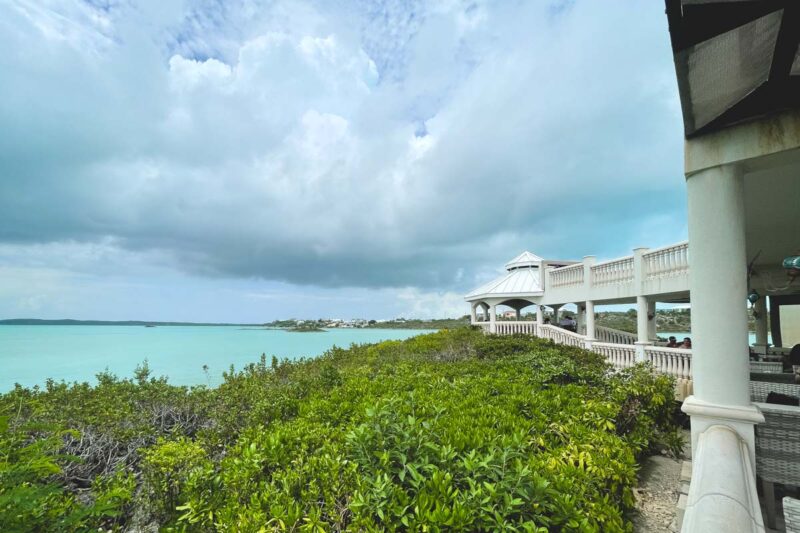 With its position in Chalk Sound National Park, there is a range of exploration adventures to choose from, but one of the best experiences is the hotel's sunset evening cruise… pure magic. You're also very close to some of the island's best beaches—Sapodilla Beach and Taylor Beach.
2. Zenza Hotel
You couldn't ask for a better view than at Zenza Hotel when it comes to where to stay in Turks and Caicos. The Zenza Hotel is just—zen, from the design to the vibe. There are 26 rooms, all of which have private balconies and water views.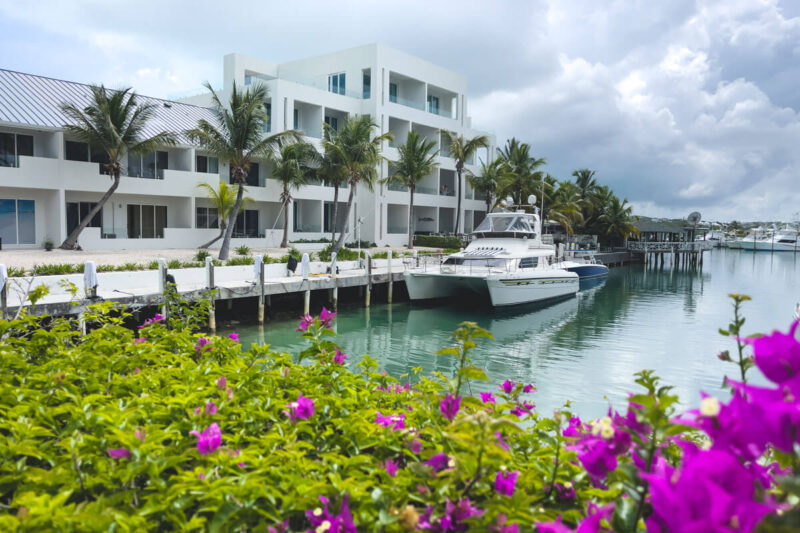 Depending on your level of luxury, you can choose between a Deluxe and Superior room, or if you feel fancy, consider the Penthouse Suite! There are two delicious restaurants to choose from, so you won't even have to leave when it is time to eat.
Why stay here?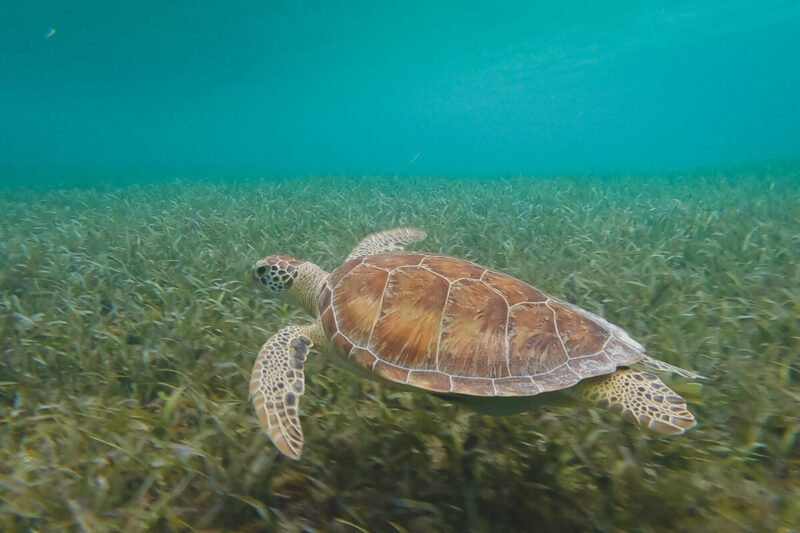 When it comes to location, Zenza Hotel has it pretty good. It is just a 5-minute walk to the beach and one of the best snorkel locations—Smith's Reef. Alternatively, if you don't even fancy leaving the hotel to get your dose of relaxation, the rooftop terrace lounge has you covered.
3. Wymara Resort
Live your best life at Wymara Resort, home to some of the most stunning secluded villas in Turks and Caicos. The villas allow you to enjoy the exclusivity of luxury, and private living, while also enjoying the amenities of the resort-style setting.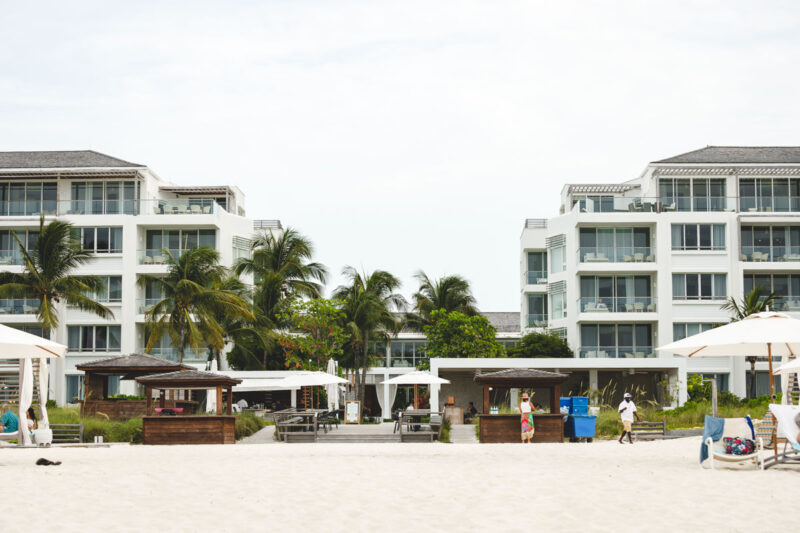 They also boast incredible views out over the shallow bay, with private infinity pools and over the water swim platform. Alternatively, stay in one of the oceanfront studios or suites, which have full kitchens and state-of-the-art appliances.
Why stay here?
Stay at Wymara Resort if you are all about the food. You can enjoy an unparalleled culinary experience with an award-winning chef who draws his inspiration from local ingredients.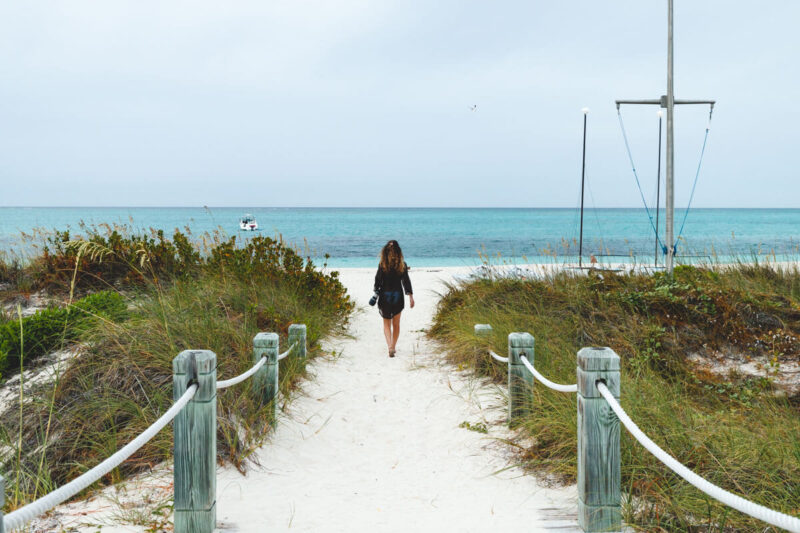 There are also many complimentary activities to enjoy with every booking, such as Hobie Cat rides, kayaking, and paddleboarding. In the evening, enjoy the nightlife at Stelle, or on Sundays, the beachfront bar features a live DJ, and really, there is nowhere better to spend the afternoon!
4. West Bay Club
If you want a hotel with direct access to Grace Bay Beach when looking for where to stay in Turks and Caicos, West Bay Club is for you. Plus, it has the benefit of being located on a relatively uncrowded strip of sand.
When not lounging on the beach, you can choose to lounge by the incredible infinity pool ringed by palm trees. There is also a restaurant right by the pool and one by the beach.
There are 46 studios and suites to choose from—the majority also have ocean views from the balconies, full kitchens, and free wifi. The suites have been decorated with a distinctly Caribbean vibe; with wicker furniture, white linens, and ocean breezes.
Why stay here?
Everyone loves a freebie, and when you stay at West Bay Club, breakfast and non-motorized watersports are complimentary, you can pay for added extras like the use of the full-service spa.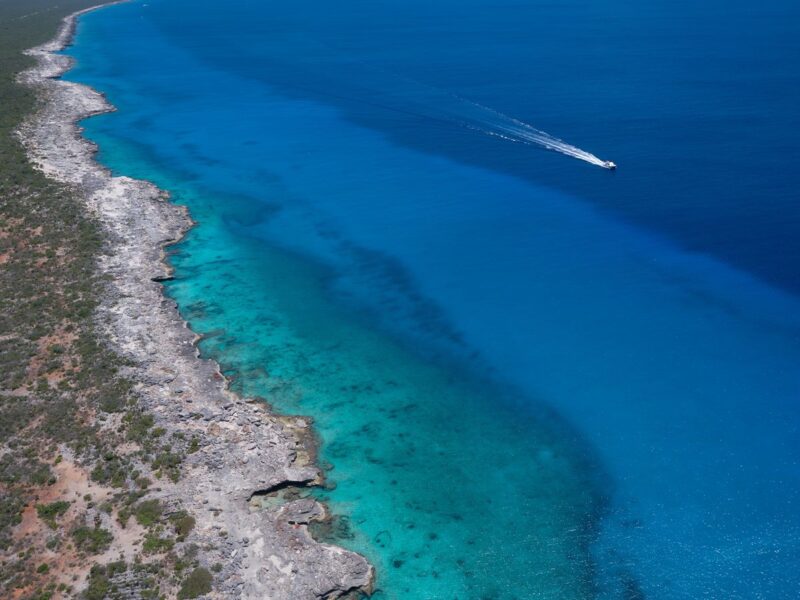 If you want something a little more adventurous, the concierge service can arrange excursion arrangements to the surrounding uninhabited islands. Should you be interested in having your memories snapped, there is even a photography concierge service.
5. Windsong Resort
Located directly on Grace Bay Beach, the luxurious Windsong Resort is a good option for where to stay in Turks and Caicos. It has a boutique feel while still having plenty of accommodation options. Choose from 1-4 bedroom ocean front suites to studios, rooms, and bungalow-style suites.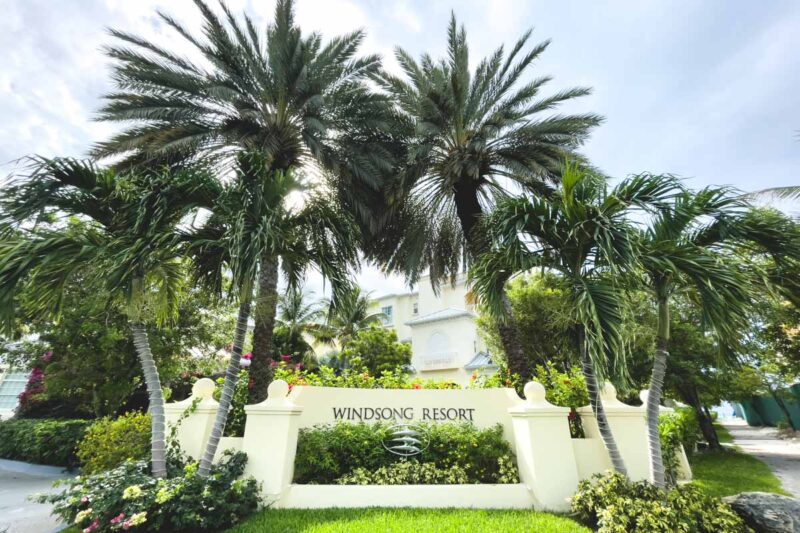 If a full kitchen and living area is what you are after, Windsong can provide them. When not spending time in your room, dip in one of the two pools. The restaurant, Dune, serves up delicious food on the beach, and you can't get more romantic than that.
Why stay here?
As previously mentioned, Windsong resort already has a coveted position on Grace Bay Beach. Guests at the hotel have complimentary access to non-motorized sports such as kayaking and paddleboarding.
There is waterfront dining and a fitness center, and as if this spot is not luxurious enough already, you also get complimentary butler service!
6. The Sands Hotel
At 114 suites, The Sands is one of the bigger hotels on this list of where to stay in Turks and Caicos. Decorated with a subtle Caribbean flare, it is ideally suited for a relaxing vacation with all the comforts of home.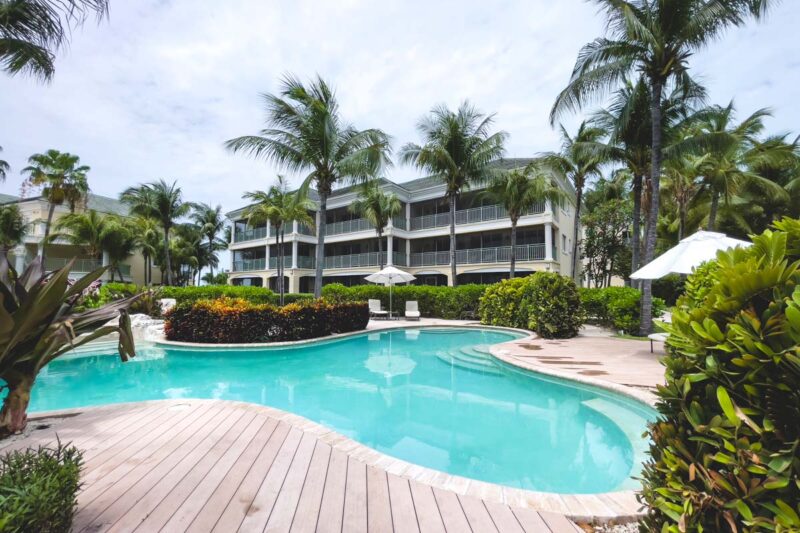 The fully equipped suites give you the ultimate flexibility when staying away, so you can cook for yourself or splash out at the on-site fine dining restaurant. The hotel is set within a 6-acre plantation-style setting, surrounded by lush tropical landscaping, the white sands of the beach, and rich blue waters.
Why stay here?
There are not one but three free-form swimming pools to enjoy daily, or head out on a world-class dining adventure, go on a cruise or have a round of golf.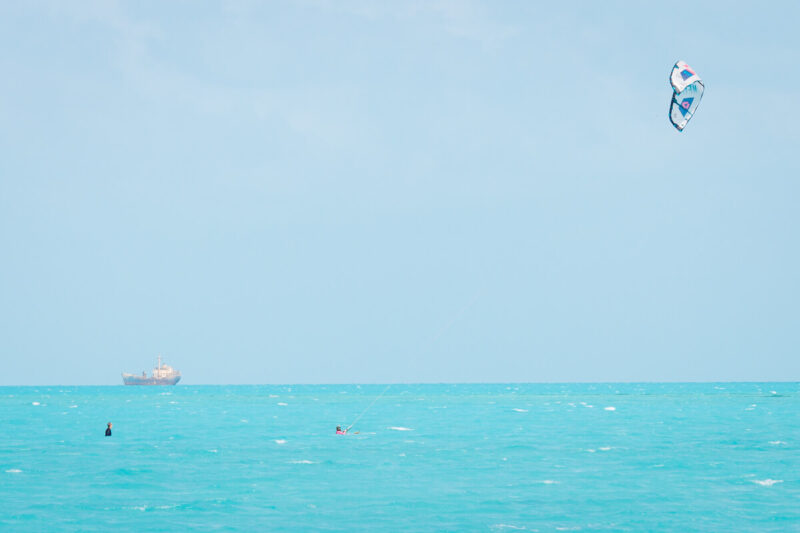 The hotel is the perfect base for excursions, and they can arrange them all for you, with options including glow worm cruises, caving on Middle Caicos, and kiteboarding on the nearby Long Bay Beach.
In the evening, sit back with a cocktail at Hemingway's Beachfront Restaurant, or sit on your private balcony and enjoy the colors of the sky as the sun begins to set.
7. Point Grace Resort (Where to Stay in Turks and Caicos if You Want To Stay on a Famous Beach)
Made up of 28 luxury suites, Point Grace Resort is luxury at its finest, without being too much. The buildings and decor are inspired by British colonial architecture so it is distinctly old school, yet still bright.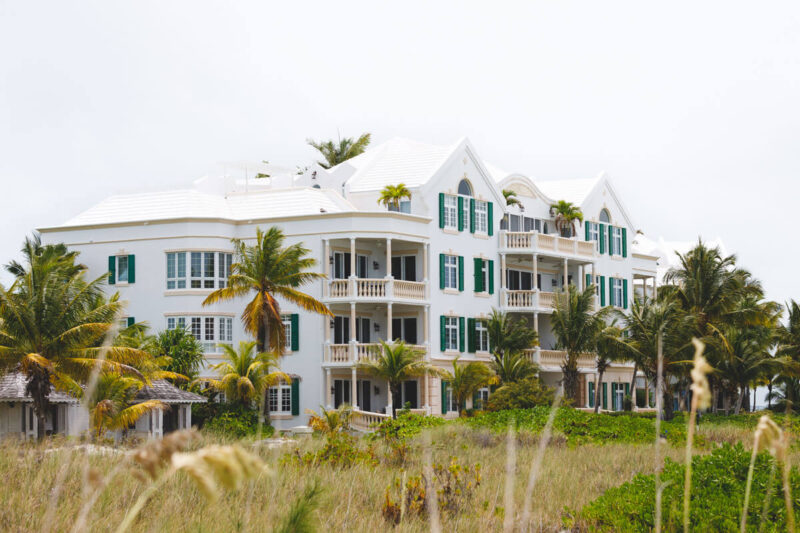 There are various room styles to choose from, all including a full kitchen and living spaces, making it a bit of a home away from home.
You will find antiques in your room and plenty of outdoor spaces to enjoy. There are two stunning restaurants to tantalize your tastebuds, one of which is fine dining.
Why stay here?
When it comes to relaxation, you can't get much better than at Point Grace Resort. Due to only having 28 rooms, the onsite spa is rarely full, with doors that can be opened onto the sea. It is also located on the pristine Grace Bay Beach, stretching for 12 kilometers (all the way down to Leeward Beach).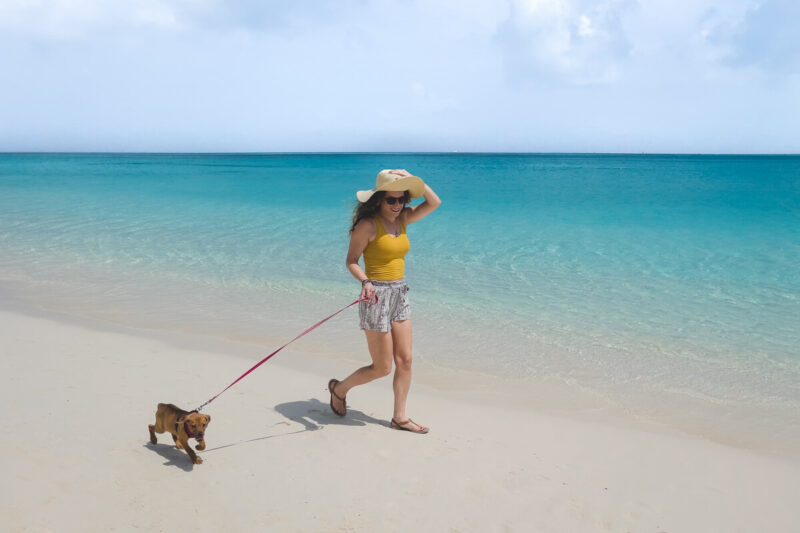 The concierge service will be happy to arrange several excursions for you, which include kayaking at the Chalk Sound Nature Reserve, or the hotel boat can drop you off at a secluded island spot of your choice. Or do an adorable day activity just down the road and adopt a dog at Potcake Place K9 Rescue and take them to Grace Bay Beach!
RELATED: 17+ Things To Do in Turks and Caicos for the Adventurous
8. Ports of Call Resort
As a small boutique hotel, Ports of Call Resort allows you to enjoy the added amenities of a vast establishment without the crowds. A choice of rooms, from studios to villas, offers a comfortable stay. Many options have full amenities like kitchens and living spaces, perfect if you want an extended stay.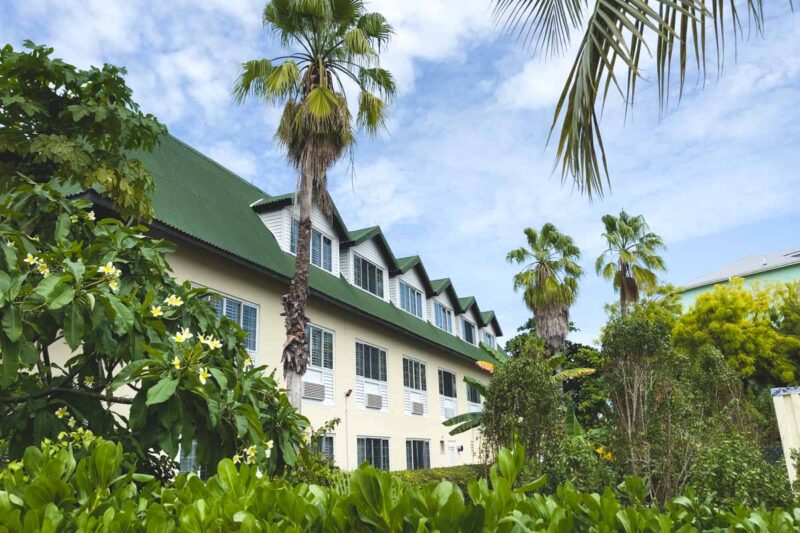 Breakfast and a welcome drink are included in your booking, and three onsite restaurants are available. If you did not pick a room with a kitchen, BBQs and microwaves are available in the common areas.
Why stay here?
Grace Bay Beach is just a short walk from the hotel, as are all the shopping and dining options you'll need for your stay. If you have turned on that vacation mode and don't want to walk 3 minutes to the beach, the hotel provides a free shuttle.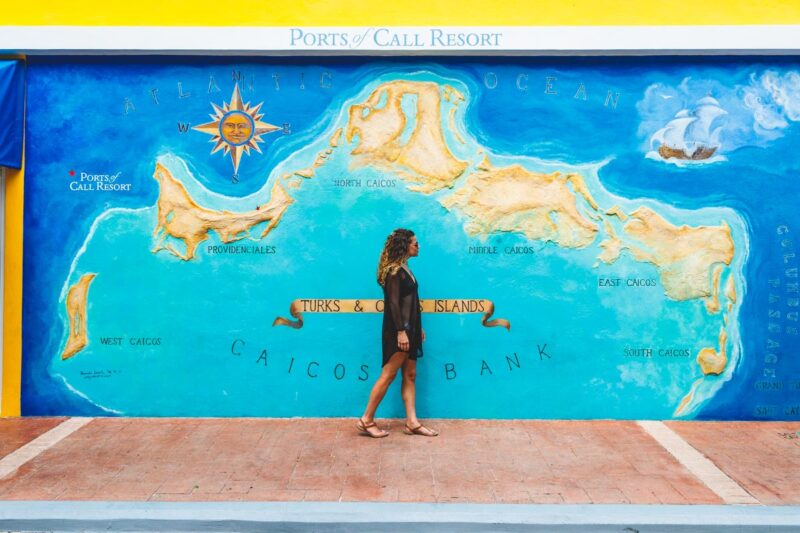 The hotel also offers free use of its beach chairs, parasols, stand-up paddle boards, and kayaks. Every day there is a range of new hotel activities to enjoy, including a poolside bar, hot tub, table tennis, and more.
9. Villa Del Mar
Just steps away from Grace Bay Beach, every one of the 42 suites feels like its own stand-alone villa. The Villa Del Mar is made up of three low-rise buildings, each of which is surrounded by pools and gardens.
As well as the beach, you are also very close to the shopping and dining opportunities of 'Provo.' Every morning, you can enjoy your breakfast poolside before having a few drinks at the on-site tiki bar.
Why stay here?
Guests at the villa can enjoy complimentary beach service, which includes all the loungers, umbrellas, fresh towels, and water you could need. Plus, there is the added perk of bar-to-beach drink service.
In addition to the beach, just a short walk away there are shopping plazas, water sport equipment rentals, and enough dining options to satisfy your entire stay.
All the excursions you could want can be arranged through the reception staff, so just let them know, and they will make your dreams come true.
10. Ocean Club Resort
This stunning beachside resort has accommodation options for everyone, including those that can sleep up to 8 guests so there will be room for the whole family. Most suites have large balconies to take in those tropical vistas and have a full kitchen, dining, and living spaces.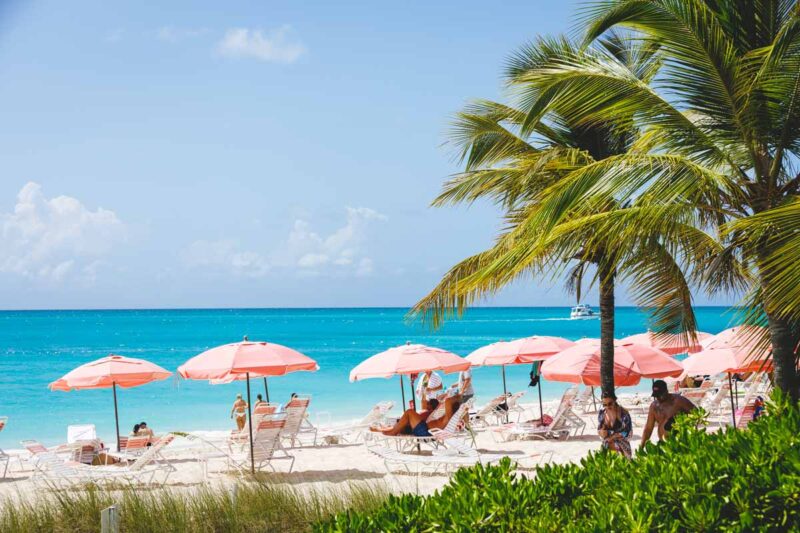 In addition to these stunning accommodation options, guests can enjoy several restaurant and bar options, including a pretty epic beach bar. It has a large freshwater pool and poolside BBQ area, ideal if you have more casual dining in mind for the evening.
Why stay here?
Guests at the Ocean Club Resort have the added benefit of having access to all the amenities and facilities at the Ocean Club West as well, which is just a 15-minute walk along the beach. The hotel supplies complimentary beach umbrellas, towels, hammocks, and lounge chairs.
The hotel also offers a range of complimentary activities, meaning you certainly will not be getting bored! A championship golf club is just a short shuttle ride away, and the hotel supplies a Seafari game with their compliments for the kids.
RELATED: 15 Best Beaches in Turks and Caicos and Where to Stay Nearby!
11. H2O Resort (Where to Stay in Turks and Caicos if You Want To Stay on One of The Best Beaches)
Ultra-modern and sleek are the best words to describe the H2O Resort, located at the enviable position of Long Bay Beach. Accommodation options include 1-4 bedroom suites, which feature huge picture windows. You benefit from the uninterrupted views of the incredible turquoise waters of Turks and Caicos.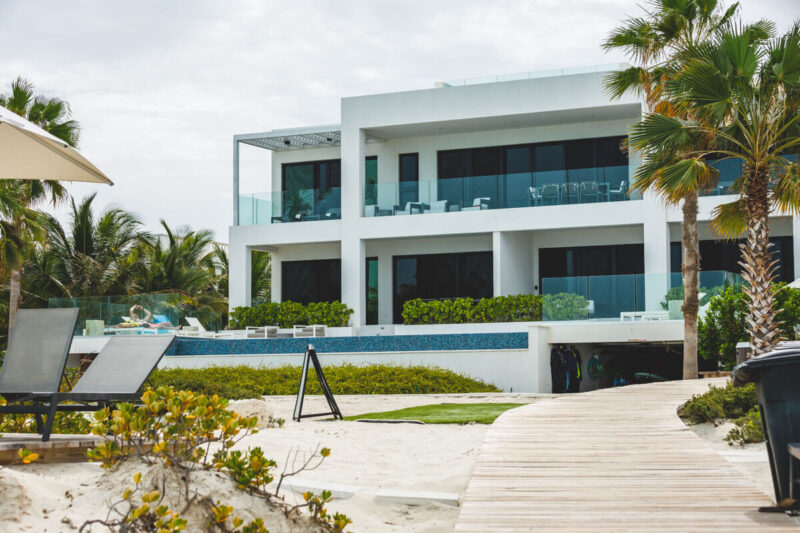 Why stay here?
When it comes to amenities, wow, does H20 Resort have you covered! During your stay, you will get a dedicated Lifestyle Liaison who is around to ensure you have everything you want.
Whether that is an island tour in one of the hotel's electric Tesla cars or a certified kiteboarding lesson, let them know, and they will book it for you. Additionally, weekly rooftop yoga and a 24-hour fitness center keep you on top of your game.
There are complimentary non-motor activities via the beach access and an oceanfront infinity pool and hot tub to enjoy. Its location on Long Bay Beach is perfect as well because while this is a happening beach, H2O is located down the way from the action so not as many people are crowding this slice of the beach.
12. The Atrium (Where to Stay in Turks and Caicos if You Want to Stay Where I Did!)
The Atrium is the star of the show when it comes to where to stay in Turks and Caicos. What is not to love about a home away from home, with all the added extras of a luxury resort thrown in?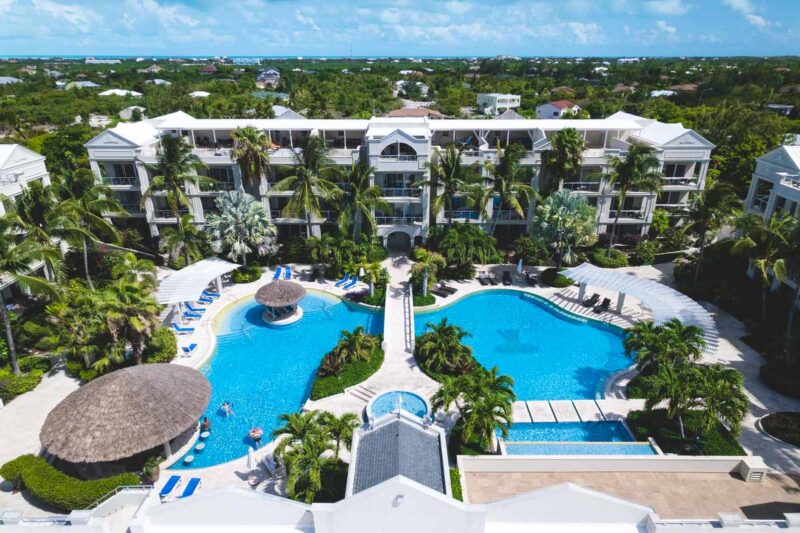 Choose from a one-bedroom queen unit up to a four-bedroom, two-story penthouse. Most units have working spaces, kitchen areas, and living spaces, offering much more than a basic hotel room.
In terms of hotel amenities, where do we begin? There is a beautiful relaxing spa, a little convenience store on-site, a fitness center, a games room, and a huge pool. The location, facilities, and friendly service keep ticking all those boxes.
Why stay here?
The Atrium has almost everything you need for a luxury vacation or a home away from home. The pool area is gorgeous, with a swim-up bar and a relaxed atmosphere.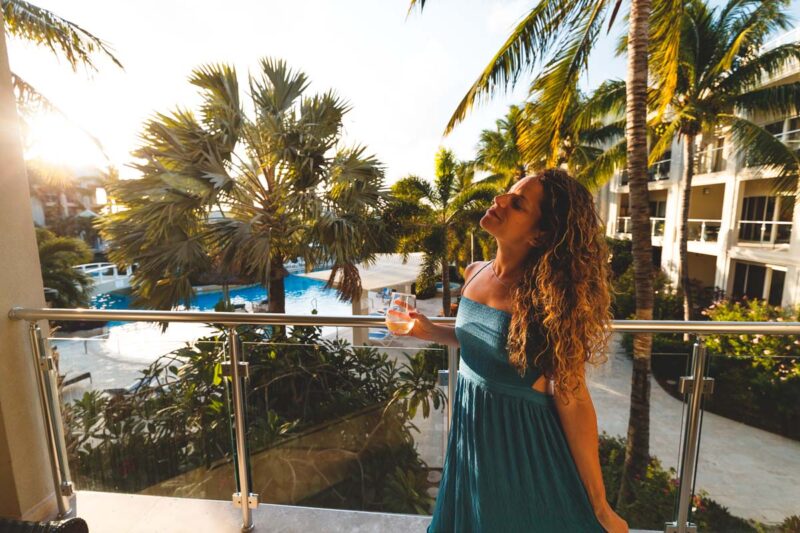 It is close to Sunset Beach and just a 6-minute walk to Pelican Beach, so grab your complimentary beach towel and use one of the hotel's lounges. This is actually a great secret snorkeling spot too! You'll see the rocky outcrop, just hop in and explore. You're also close to the beach where you can clear kayak to Iguana Island!
Out of all the places to stay in Turks and Caicos, this just might be the best bang for your buck here. It's one of the more reasonably priced options out there while providing you with you more than your average room!
13. Dragon Cay Resort—Where to Stay in Turks and Caicos to Get Away From it All!
Surrounded by the seclusion of Middle Island, Dragon Cay Resort offers up a slice of luxury. The hotel comprises five Caribbean cottages and three beautiful villas, so no matter which accommodation you choose, you will feel like you have everything to yourself.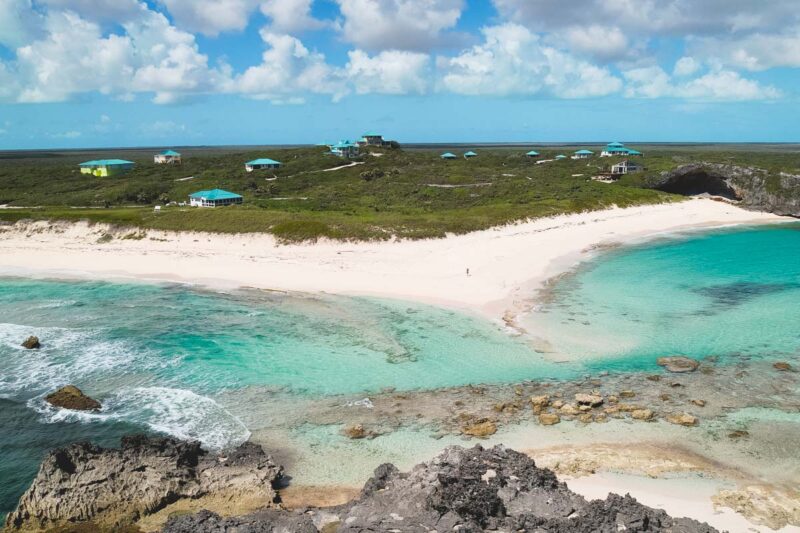 It is just a short walk to the beach, and the onsite restaurant serves some delicious foods with epic views over Mujin Harbor.
Why stay here?
Located on Middle Caicos, which is the largest, yet, the least developed of the islands, you will likely be one of the only ones on the pristine white beaches! Talk about getting away from the hustle and bustle of daily life, right?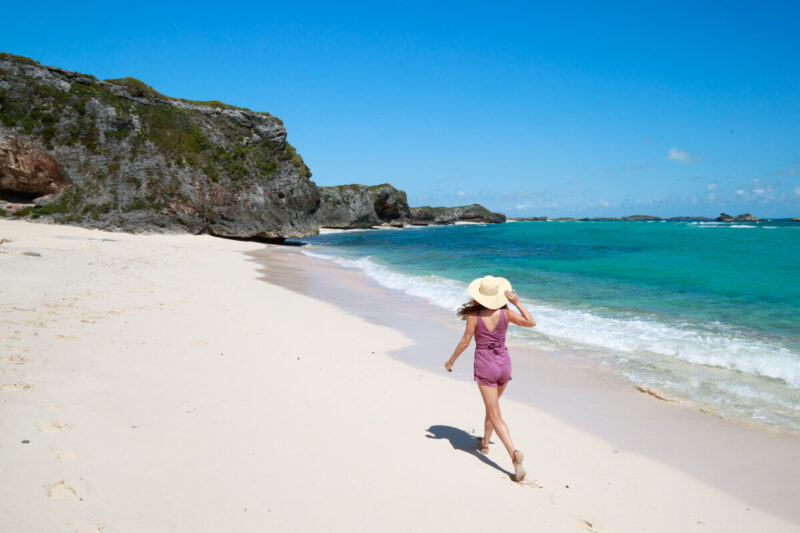 At Dragon Cay Resort, you could try your hand at kayaking or paddleboarding, go fishing, take to the waters with a snorkel, try and spot some wildlife, go hiking or biking, and when the sun sets, cast your eyes to the sky and see what stars you can find.
I hope this helped you choose where to stay in Turks and Caicos! Enjoy your time on the islands.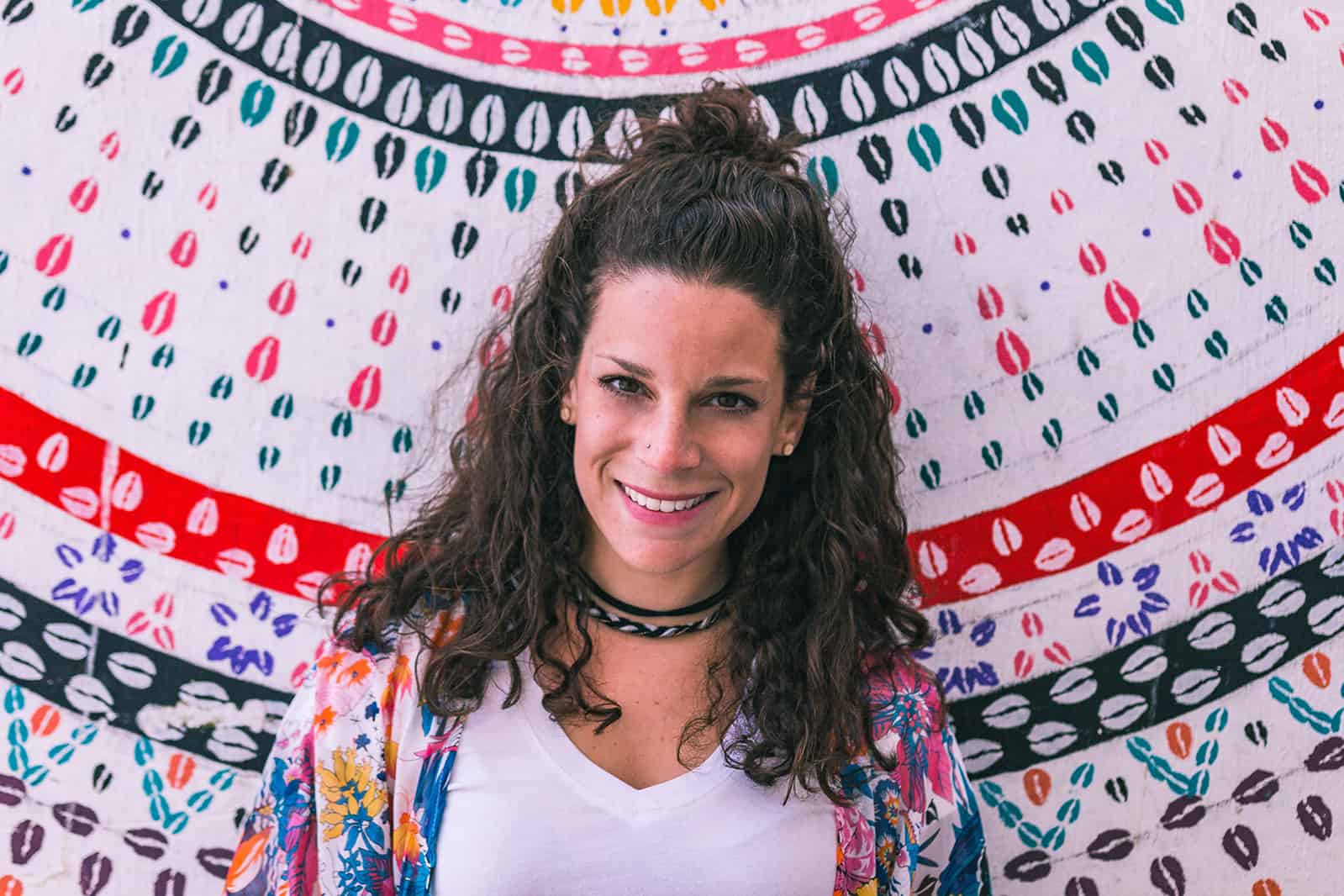 Nina Ragusa is an adventurer, messy bun master, breakfast fan, and full-time travel blogger. She's been abroad since 2011 and blogging on Where in the World is Nina? for nearly as long. Nina helps people like you move around the world while making money. She loves talking about how to work abroad and online to travel longer!