St. Lucia is famous for its incredible beaches, so spending some time on the stunning sands is obligatory while visiting.
While some stretches of sand may seem private or available only to resort guests, all beaches on St. Lucia are public—so feel free to bask under the sun at any of them.
Remember that while there are gorgeous powdery white sand beaches here, St. Lucia has a range of white and gray sand beaches due to its volcanic history.
The beaches in St. Lucia sure are stunning and unique, as you will soon find out. Here are some of the best ones to visit.
Incredible Beaches in St. Lucia
---
Before we hop into the ocean and stick our feet in the sand, here are a few tips to keep in mind while visiting St. Lucia's beaches:
Remember, all beaches are open to the public but many resorts have made them seem like they are totally private. You may even need to "check in" at the resort's front desk to access a few of the beaches here. So don't be shy, just say you're visiting for the day!
Bring bug spray if you're catching sunset, you might need it!
Bring your snorkel and mask with you if you plan on swimming with the fish. You can be a bit more spontaneous that way, save some cash, and not have to hunt down a rental that may not always be available at every beach.
Bring a hat and sunscreen, it's hot, hot, HOT!
To get to many of these beaches, you'll have to drive yourself. The only other real option would be to book a tour. Public transport isn't really a thing here.
Keep in mind it takes 1.5-2 hours to drive north to south on this island, it's small, but it's not THAT small so keep this in mind when planning out your beach days. If you're in the north and you want to drive south, you may want to make the most of the day and visit a few beaches.
1. Soufriere Beach (Most Local Beach in St. Lucia)
Parking your beach towel on the sand at Soufriere Beach is the thing to do if you want to experience the island like a local. This gem has yet to be found by large hoards of tourists, but it's not hard to see why it's a local favorite.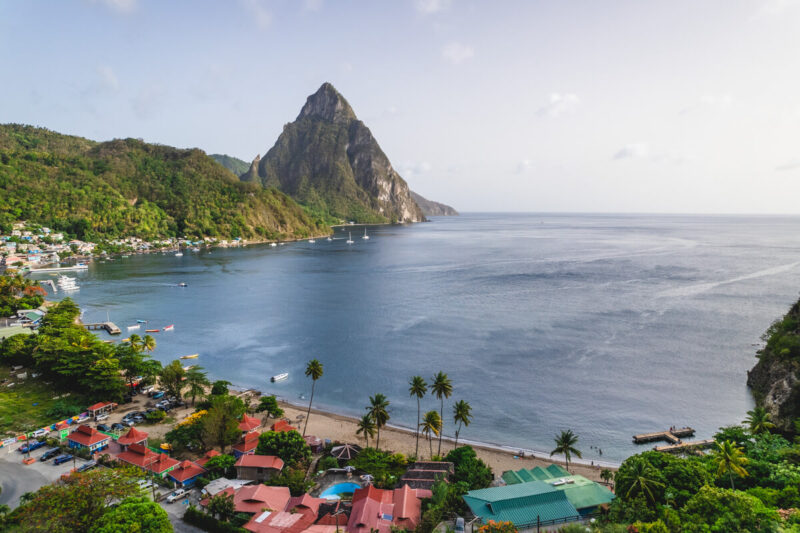 It's tucked away near the base of Petite Piton and has incredible views of this soaring peak. It may not be the most secluded or private spot, but there are certainly some good people-watching opportunities and plenty of shorelines to stretch out on.
I find this spot a bit hard to describe. It's a happening area, with very lively local life, but at the same, there's not TOO much here. Places to eat out are a bit scarce as most tourists stick to their resorts and locals cook.
This is one of the most beautiful beaches in St. Lucia but you'll be hard-pressed to find many tourists here (score!)
2. Anse Chastanet Beach and Mamin Beach
Anse Chastanet Beach is located just north of the Pitons on a quiet and remote cove. Although famed for its epic snorkeling opportunities, Anse Chastanet is also great for its above-water scenery.
Anse Chastanet can sometimes be one of the more active beaches in St. Lucia, so be prepared to share these incredible views as you dip your toes into the volcanic sand. With that said, it's never TOO busy because the road to get here is a bit hectic. Make sure to take it easy.
It seems like it's privately owned by the Anse Chastanet Resort, but again, there are no private beaches here, so don't be bashful; just say hello and notify the front desk you're here for the day.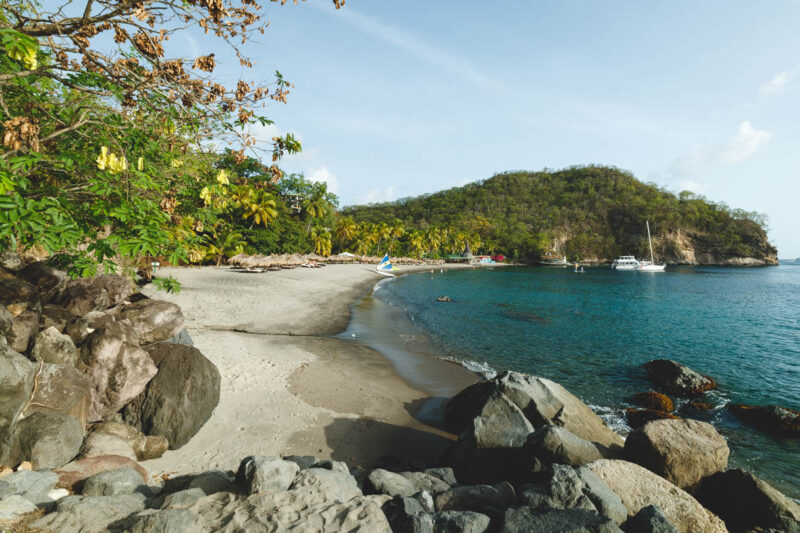 For a more remote spot, continue walking to your right and head to Anse Mamin, just about a five-minute walk from Anse Chastanet. The resort spans both of these beaches, but with the exception of a few beach chairs and a small bar in the back, Mamin looks like it's a beach all on its own.
Don't forget a snorkel and hop in right around the rocky areas on the outskirts of the coves to get up close and personal with some squid, eels, turtles, and plenty of fish.
While many photos of this beach will show you the Pitons, you can actually only see them from above if you're at the resort on the cliff. You won't see them on the beach level.
3. Jalousie Plantation Beach/Sugar Beach (Arguably The Most Stunning Beach in St. Lucia)
Jalousie Beach, more commonly known as Sugar Beach, is perhaps the most well-known beach in St. Lucia. If you're looking for a picturesque beach to lay back for the afternoon, you'd Sugar Beach is the spot!
The white sand beach is nestled between the lush slopes of Gros Piton and Petit Piton, and the bay's shielded waters are a shocking shade of blue.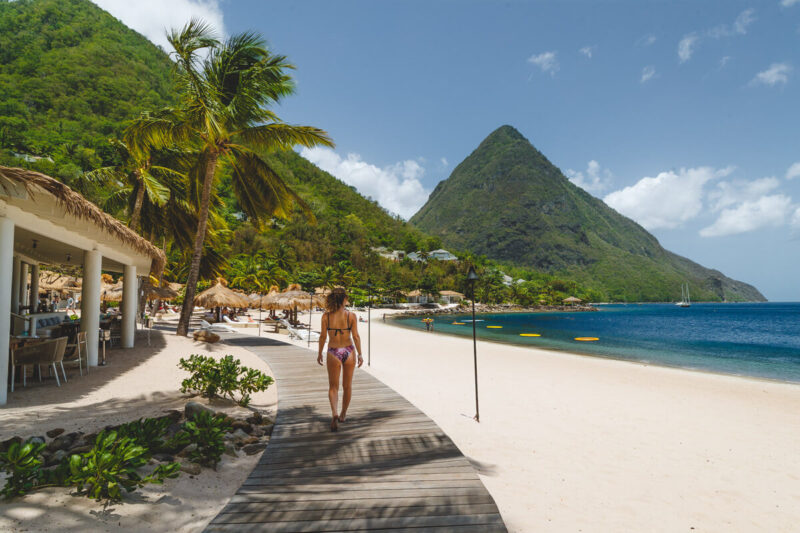 Because the water surrounding this beach is guarded, the life underwater flourishes, making it a favored locale by those seeking to play beneath the surface.
You can snorkel just to the right of the beach. There's a rental hut, but you may just want to bring your own to the island, so you can hop in any time (for free!)
Sugar Beach Resort is directly on this beach and also makes it seem like it's private but as you enter, just tell them you're visiting for the day. Should you be driving, you'll have to park in their visitor parking lot and take the steep stroll down to the beach.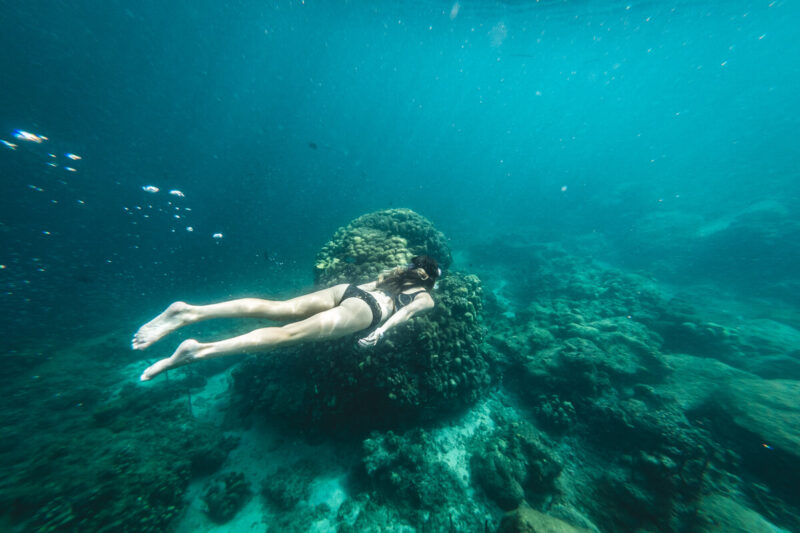 Pick them up on their offer for a free ride back to your car. All you need to do is order something from their restaurant and bar. Their drinks aren't the cheapest, they are GOOD! Then they will give you a shuttle ride back to your car.
You can plop your towel down anywhere but if you want to rent the chairs they will cost you somewhere in the ballpark of $100 a day! Pretty steep, but you are at one of the priciest resorts on the island, after all.
4. Anse Cochon Beach
Anse Cochon Beach is another one of the remarkable St. Lucia beaches you can visit. It's a beautiful sandy outpost, a hidden gem. This spot is for those looking to avoid the crowds and seek refuge.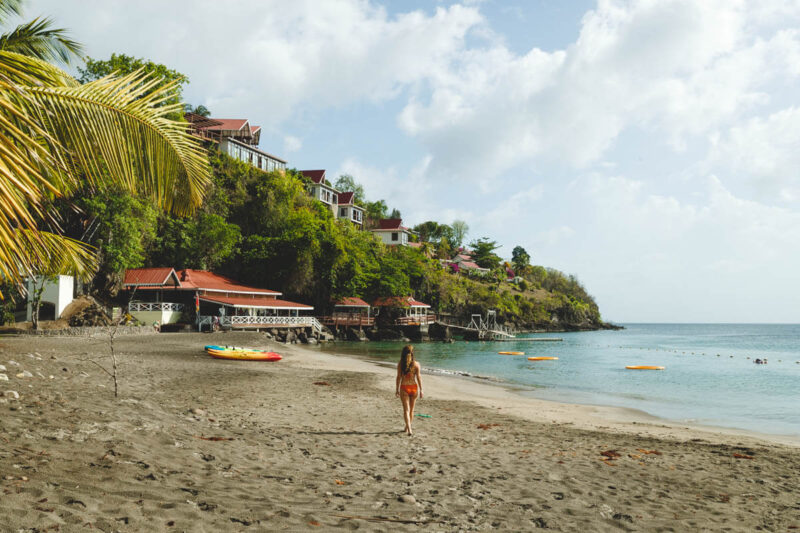 With that said, this spot is where some tour boats come through, particularly on holidays. Some snorkel tours will also pop by, but in between that, this is a relatively quiet beach. The majority of the people here will be from the Ti Kaye Resort.
Bring your snorkel and your towel, and post up for the day!
5. Anse Galet
Another relatively quiet St. Lucia beach that's a local favorite—Anse Galet. This is also a rare finding since this beach DOESN'T have a resort on it! Google maps won't take you the correct way and doesn't show the road on the map, so head to this pinpoint and turn down this dirt road to reach this beach.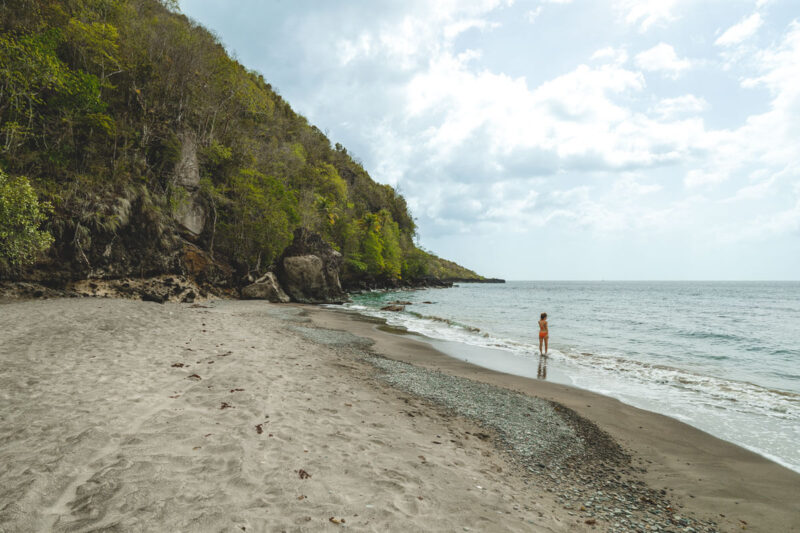 It's a small and pebbly beach with a small picnic hut, and that's about it. This is a gray/black sand beach and it's backed by a small river and a wooded area. The trees here are quite cool, and you can see the roots digging into the bottom of the inlet.
6. Reduit Beach
Reduit Beach is located on St. Lucia's northwestern coast at Rodney Bay. This beach is much loved by all so you can expect to see others here—locals and tourists alike. Even when it's busy, this spot rarely feels crowded because it's so expansive.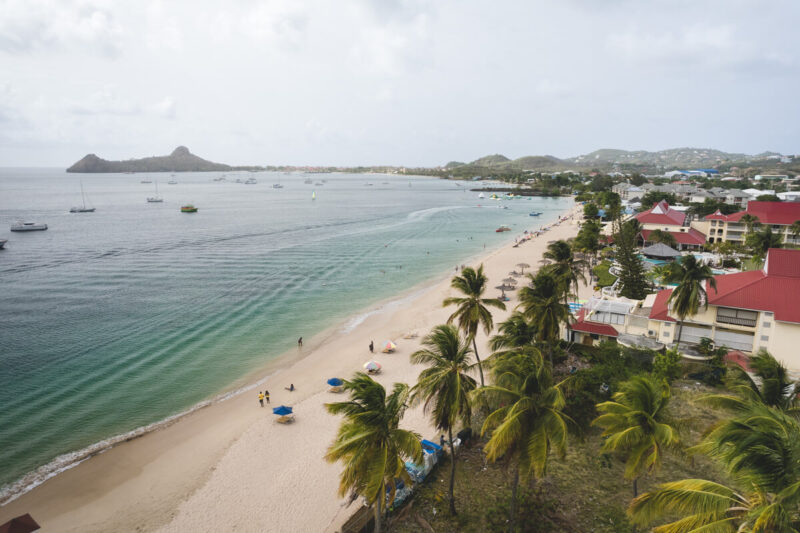 In addition to all the traditional beach day sports, you can rent a jet ski, check out the Caribbean bars and restaurants that line the shore, visit the splash pad, take an inflatable saucer ride, or simply soak up the fantastic views out to Pigeon Island in the distance.
This beach has numerous restaurants and resorts on it so there's no "private entrance" or anything, you can simply park here if you're driving.
RELATED: 14 Things To Do in St. Lucia—Best Beaches and Adventures!
7. Pigeon Island National Landmark
Exploring Pigeon Island National Park is one of the best things to do while in St. Lucia. Most visitors do the park's land-based activities like hiking to Signal Peak and wandering Fort Rodney's historical ruins—which are fantastic and certainly worth a visit.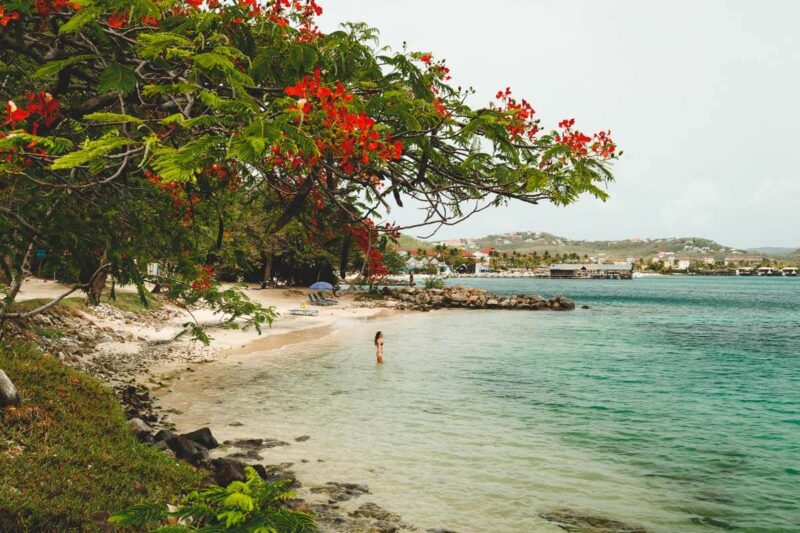 However, don't miss out on the reserve's two secluded beaches. If you love swimming, the warm water here will be just right for a nice dip. The views are also pristine, and the peace and quiet here is a far cry from some of the island's busier sandy strips; I'm really not sure why, though!
As you enter the park, head to the left and you'll find two beaches. The first is often the busier one but the second one is just a few minutes more walking.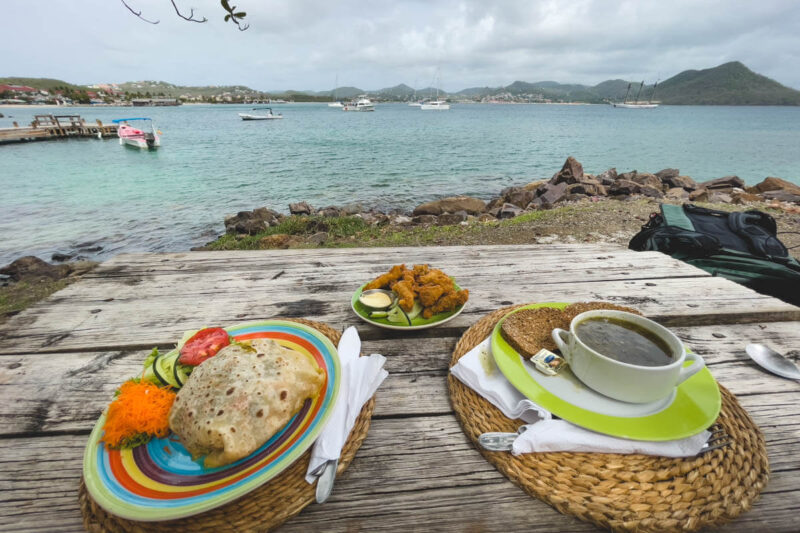 The second beach is a great spot to dunk in and snorkel with marine life beneath your toes—just hop in at the second beach and snorkel to your left or right. Try beyond the pier to your right as well, though don't go out too far as there is a current.
You're probably hungry by now! The Jambe de Bois Restuarant serves up some tasty fare. They have fresh fish, local callaloo soup, traditional curry rotis, and more. It's a great midday stop after exploring and swimming around Pigeon Island National Park.
8. Gros Islet Beach
Gros Islet Beach offers up soft sand, beautiful blue waters, and incredible views from every angle. It's not too busy and you can find quiet little corners easily.
In addition, it also has some of the best sunsets in St. Lucia. So whether you're here for a beach day and stick around to watch the sun go down or seek it out solely for its vibrant evening color show, do not miss a sunset at Gros Islet Beach!
9. Calabash Cove (Personal Favorite Beach in St. Lucia)
If you're staying at the luxurious Calabash Cove Resort & Spa, you'll have a gorgeous secluded beach pretty much to yourself. Again there are no private beaches here, but this one truly feels like it is. Luckily I stayed here, so I felt right home at this beach!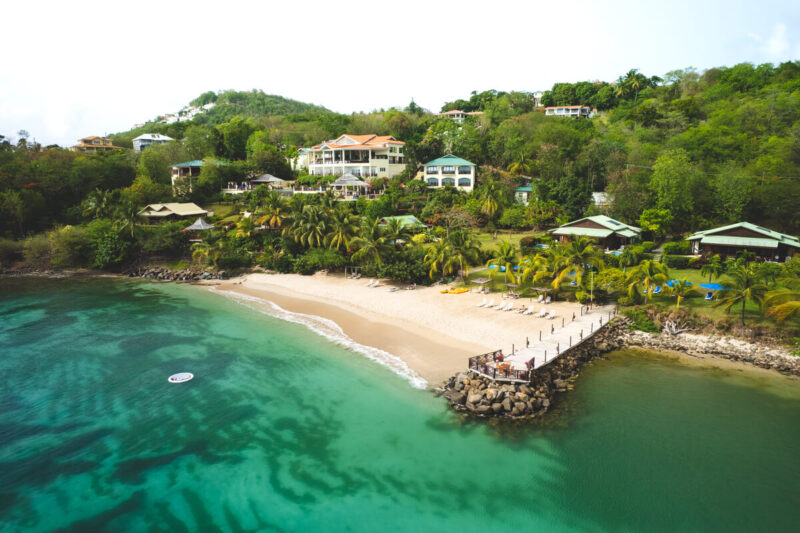 Surrounded by lush foliage and stunning mountain views, this white sand beach is as beautiful as it is intimate. This is not a famous St. Lucian beach at all but in a good way! If you want some peace and quiet during your beach day, there's no better place.
Not to mention this resort is one of the best places you stay in St. Lucia. It's a five-star adults-only resort that offers great value for your money. The service is immaculate, the food at the on-site restaurant is to die for, the rooms are everything you need and want, there's an on-site spa, and they will even book you on any tour you desire around the island.
Did I forget to mention the free water activities on the beach for you to play with and the massive infinity pool with swim-up bar?! Honestly, this resort and this beach in St. Lucia were my favorites!
I hope this helped you find some favorite St. Lucia Beaches to check out during your visit!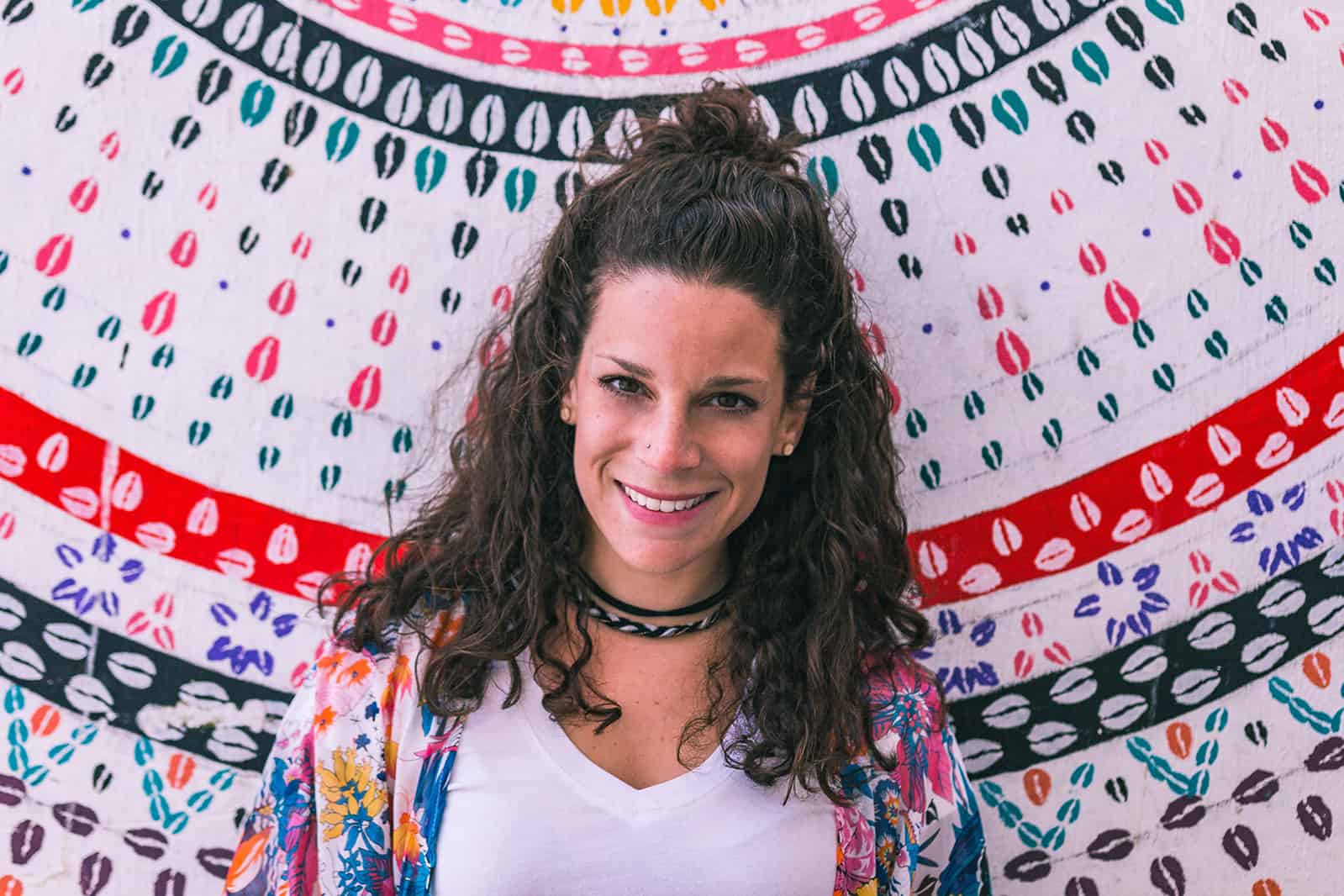 Nina Ragusa is an adventurer, messy bun master, breakfast fan, and full-time travel blogger. She's been abroad since 2011 and blogging on Where in the World is Nina? for nearly as long. Nina helps people like you move around the world while making money. She loves talking about how to work abroad and online to travel longer!