Postcard-perfect views abound in Turks and Caicos, and most of them come from the beaches! While the entire Caribbean is famed for its turquoise blue coastlines, the soft white-sand beaches of this archipelago stand out from the crowd.
It's true that many travelers indeed cross oceans to laze on these magnificent shorelines. The 200+ miles of beaches in Turks and Caicos offer so much more than just scenic sands.
In addition to the classic beach day activities like swimming and suntanning, you can also enjoy exhilarating activities. Jet skiing, kiteboarding, snorkeling, kayaking, and eating are popular beach day pastimes on the islands.
There are so many sandy stretches to choose from that you might have difficulty deciding where to lay your beach towel first. Below you'll find a roundup of the absolute best beaches in Turks and Caicos.
Best Beaches in Turks and Caicos
---
1. Long Bay Beach
The island of Providenciales is known for having some of the best beaches in Turks and Caicos. Long Bay Beach is no exception to that rule.
Located on the island's southeast side, this three-mile beach is protected from unruly ocean swells by Caicos Bay. As a result, the water here is calmer than most beaches on the island's northern side.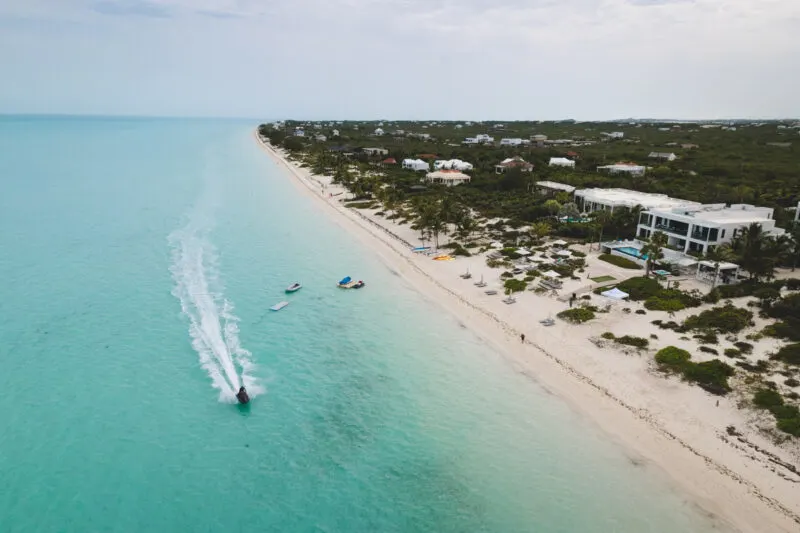 On windy days, there's no better place for kitesurfing. The calm waters, consistent winds, and super soft sand make conditions right for this challenging activity. Even beginners have a great shot at trying their hand at kiteboarding here. Lessons and board rentals are available at various spots along the beach.
You could also rent a jet ski and ride out to the abandoned shipwreck located about two miles off-shore. The La Famille Express was washed up onto these shallow banks after the 2004 hurricanes.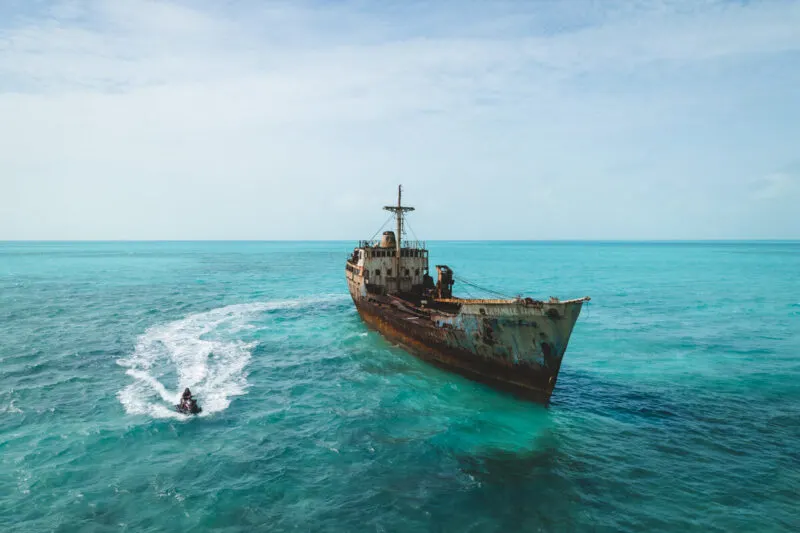 This giant old freighter is a site to see, but make sure you observe it from the safety of your jet ski. Boarding the ship you'll encounter hazardous materials like glass and sharp metal, not the deteriorating structure! If you do board, definitely wear shoes! In fact, some people jump off of it too but make sure to do it at high tide and take care.
There are several ways to access Long Bay Beach. The most convenient are here and here.
Where to Stay Near Long Bay Beach:
H2O Life Style Resort: This resort caters to the more adventurous traveler, with swimming pools, a tennis court, and a basketball court, plus complimentary yoga sessions and kayak rental.
The Shore Club Turks & Caicos: Indulge in pure luxury here with four swimming pools, a spa, and lavishly designed rooms.
2. Grace Bay—Most Famous Beach in Turks and Caicos
Of all the beaches in Turks and Caicos, Grace Bay is by far the most popular. It sits on the northeast coast of Providenciales and is no stranger to accolades. It holds the World's Leading Beach Destination title from World Travel Awards and second place in Trip Advisor's Worlds Best Beaches.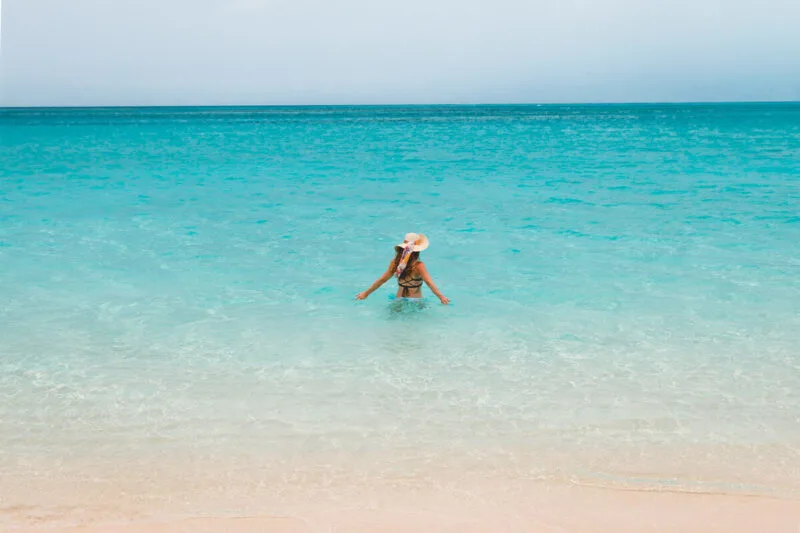 A long barrier reef backs Grace Bay. This doubles as protection from large ocean swells and an epic spot for snorkeling. Unfortunately, the reef is a bit too far to swim out to, so you'll need to charter a boat or snorkeling tour to explore the vibrant underwater life of the reef.
Other popular pastimes at Grace Bay include kayaking, paddleboarding, sailing, and parasailing.
Back on shore, Grace Bay Beach plays host to various bars, restaurants, and resorts. Once you've had enough fun in the sun, you'll find plenty of options for alfresco dining with a view.
There are countless ways to access Grace Bay Beach, and most access points offer plenty of free parking. The best access points to the beach are here and here.
Where to Stay Near Grace Bay:
Villa Del Mar Resort: A quiet condo resort set around a lush garden pool. All rooms offer a private patio or balcony and a fully equipped kitchen.
Point Grace Resort: This resort offers romantic luxury with old-world charm, with your choice of garden cottages or large luxurious suites.
3. Babalua Beach
You may not have heard of Babalua Beach, which is part of what makes it one of the best beaches in Turks and Caicos. Although centrally located on the island of Providenciales, this small, half-mile stretch of sand is often overlooked by more popular spots like Grace Bay and Long Bay.
The beach is nestled between Turtle Cove and Thompson Cove, so you can't walk beyond the beach limits. If you're looking for seclusion without having to travel far off the beaten path, then Babalua Beach is just the ticket!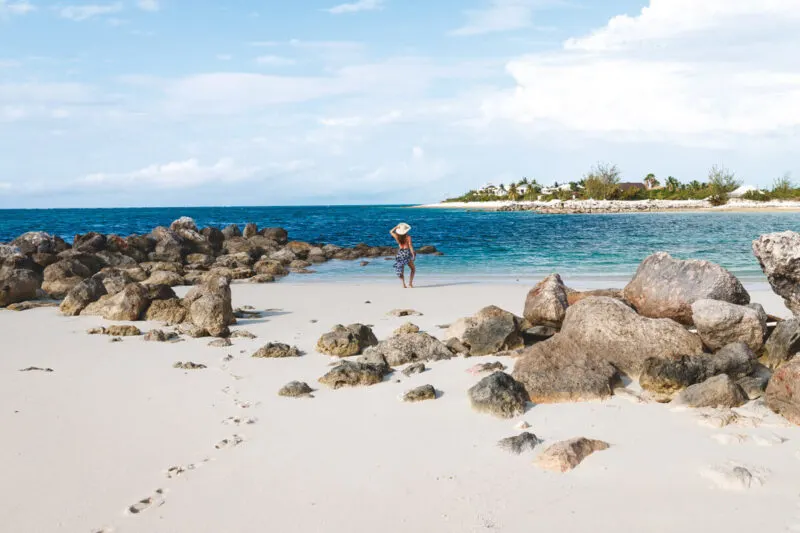 The water is shallow, and the small reef to the west of the access point provides impeccable snorkeling opportunities. A more extensive reef can also be found further down the beach near the Blue Mountain ocean cliffs.
Babalua Beach has just one access point, and it can be tricky to find the first time. From Leeward Highway, turn off Cherokee Road and follow it to its end. The beach access point is hidden beyond the far side of the large villa. It looks like you're driving into a garden but just drive a bit further until you hit a small parking area.
Where to Stay Near Babalua Beach:
Rock House: A five-star hotel set on the cliffs above the ocean, with a private jetty where you can step straight onto your awaiting boat.
4. Malcolm's Road Beach—One of The Most Remote Beaches in Turks and Caicos
Malcolm's Road Beach is one of the most secluded beaches in Turks and Caicos. It sits on the remote West coast of Providenciales and stretches about 1.3 miles. While the peace and quiet of Malcolm Road Beach are a huge draw, the real star of the show here is the extensive coral reef and the "wall."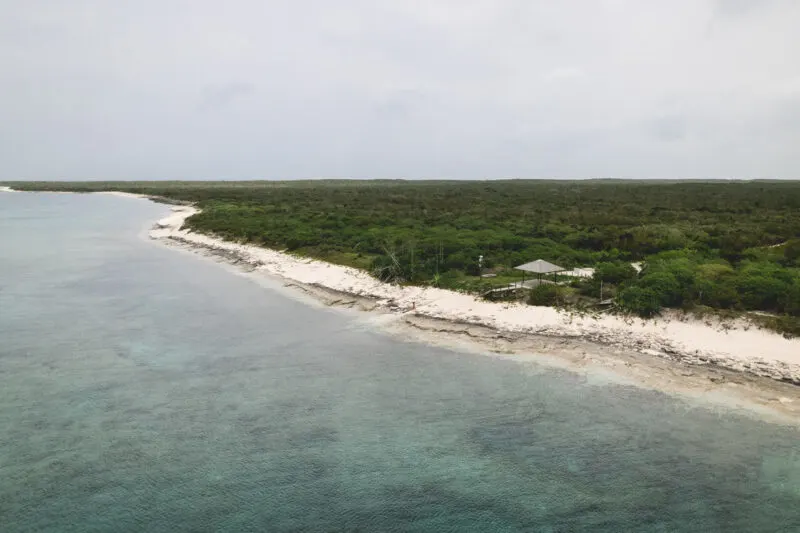 The beach sits at the edge of a massive drop-off on the edge of the island's underwater plateau. This 7,000-foot drop is also referred to as the wall. On calm days, it's one of the island's best spots for scuba diving.
There are also plenty of great spots for shore diving along the beach, though this is only recommended for skilled divers due to the strong winds and big waves. Still, there is no better spot for snorkeling in Turks and Caicos if you have the expertise.
While some other areas may be more convenient for viewing the vibrant marine life, Malcolm's Road Beach is the place to see larger creatures like sharks, rays, and turtles.
For easy snorkeling right off the beach, you'll find an artificial reef, which might not look the best but the fish and coral are currently making it their home! They are decorating as quickly as they can.
Malcolm's Road Beach is quite far off the beaten path. The rugged road that leads to the beach is another deterrent for most, and a 4X4 vehicle is recommended for trekking this unpaved route.
Where to Stay Near Malcolms Road Beach:
Amanyara: If you're prepared to spend some serious cash, this resort offers incredible luxury and seclusion in the surrounds of the Northwest Point Marine Reserve.
5. Taylor Bay Beach
Taylor Bay is home to one of the smallest beaches in Turks and Caicos, but don't rule it out quite yet. The beach is located in the scenic Chalk Sound region of southwestern Providenciales.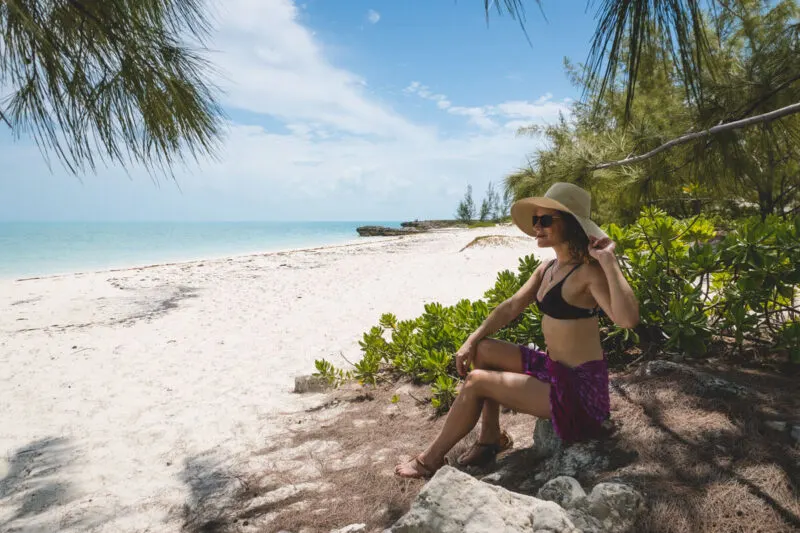 The electric blue waters and soft sand make it the perfect place to relax and enjoy a classic beach day. Furthermore, the bay is sheltered by the small Ocean Point peninsula, which means the water is shallow, calm, and clear.
While there may not be much to do here for exciting activities, Taylor Bay Beach is perfect for simply relaxing and taking in the incredible views. It's also an excellent spot for inexperienced swimmers and those who want to effortlessly float and sit in a foot of water! You have to walk out further to get deeper.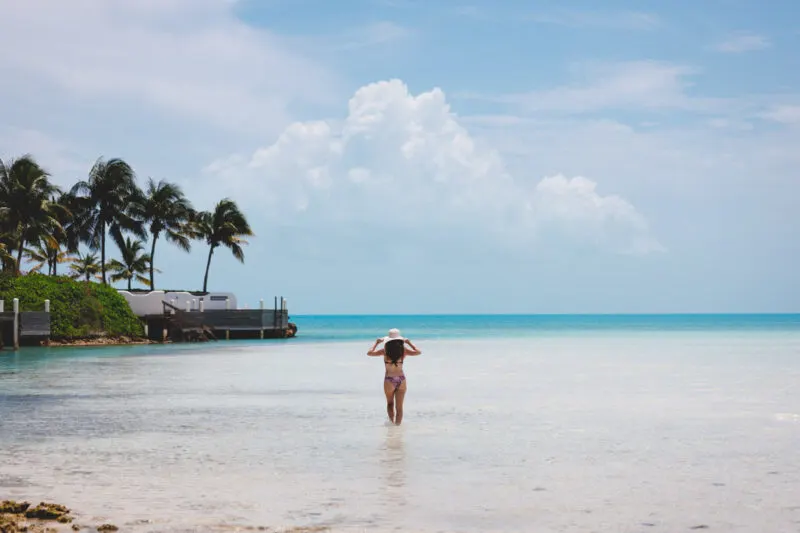 The beach's main access point is off Ocean Drive Road in the Chalk Sound area. There is a small parking area for just a few vehicles, so plan to arrive early in the day if you hope to snag a spot. There is a short walking path from the parking area to the beach.
Where to Stay Near Taylor Bay Beach:
Villa Wishing Fish: Groups will love this three-bedroom villa with direct access to the beach. There's also a private garden and terrace for enjoying the sea breeze.
Silver Palm Beach House: Alternate between the ocean and your own private pool at this luxury three-bedroom house. Snorkel right offshore or simply enjoy the sunset from the garden.
6. Sunset Beach
Sunset Beach is located on the northeastern edge of Providenciales. This exclusive strip of sand is backed by a series of luxury accommodations, including The Atrium Resort. It has the same fine white sand, and stunning blue waters as other Turks and Caicos beaches, all it's lacking are the crowds!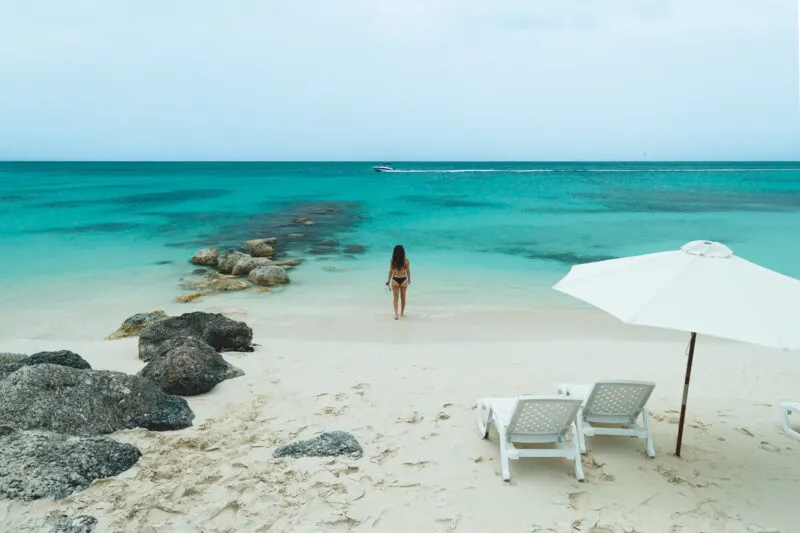 This is another one of those beaches where the best thing to do is sit back and relax. If you get sick of the sun, there are plenty of trees along this stretch of sand that provides shade. As the name suggests, this is also a great spot to watch one of the island's colorful sunsets.
A best-kept secret is the snorkeling here as well! It couldn't get any easier as you'll immediately notice the rocky outcrop as you get on the beach. Right there you'll find some cool coral, colorful fish, and even massive lobsters hanging out.
Sunset Beach is one of the more accessible beaches to access, and there's also plenty of parking available. Take Grace Bay Road east and take a left on Sandpiper Ave. Continue until you hit the beach!
Where to Stay Near Sunset Beach:
The Atrium – While not directly on Sunset Beach is just a short walk over, and for the price and what you get, The Atrium is a solid choice if you're looking for a place to stay near Sunset Beach! This is where I stayed and I couldn't have been happier. It's a home away from home with the added benefits of resort amenities like an epic pool and a gym.

If you're looking for something beyond your basic hotel room but you don't want an Airbnb where you have to deal with the owner, clean it, and be charged extra fees, this should be your go-to choice for an amazing stay in Turks and Caicos!
RELATED: Where to Stay in Turks and Caicos: 13 Perfect Resorts and Hotels
7. Sapodilla Bay Beach
Situated on the calm, southwestern shores near Chalk Sound, Sapodilla Bay is one of the best beaches in Turks and Caicos.
It is much loved for its soft, silt-like sand, and its shallow waters are also warmer than most of the other swimming holes on the island of Providenciales. This is due to the bay's sheltered location amongst the Caicos Banks.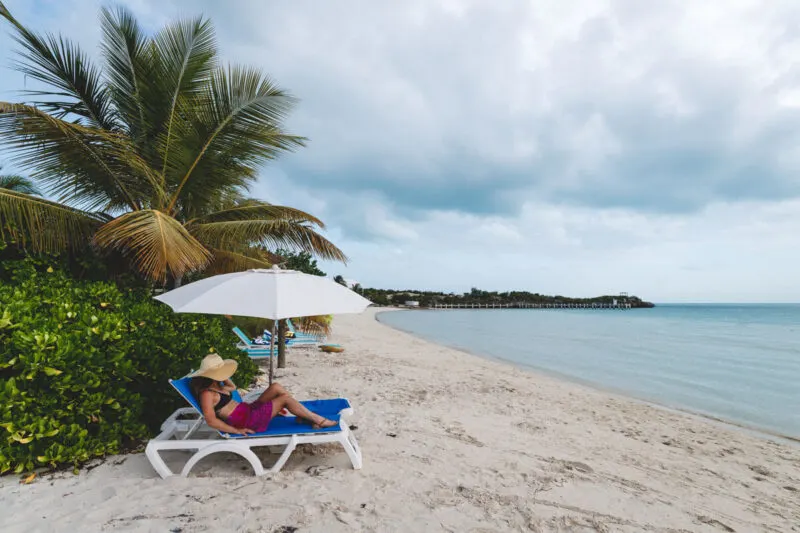 While the marine wildlife may not be as abundant as some of the other beaches in Turks and Caicos, snorkelers may spot some coral and colorful reef fish off the foot of some small coastal cliffs along the beach. There is also some seagrass in this area that hosts conch and seastars.
Don't miss the Sapodilla Bay Hill Rock Carvings if you visit this beach. You can hike up a short trail to the bluffs above the beach where these rock carvings sit. Inscriptions in these stones were created by shipwrecked sailors and travelers and date back to the 1700s.
While it's true that many of the stones have been damaged and stolen, the views alone from the top of the hill are worth the climb, particularly at sunset.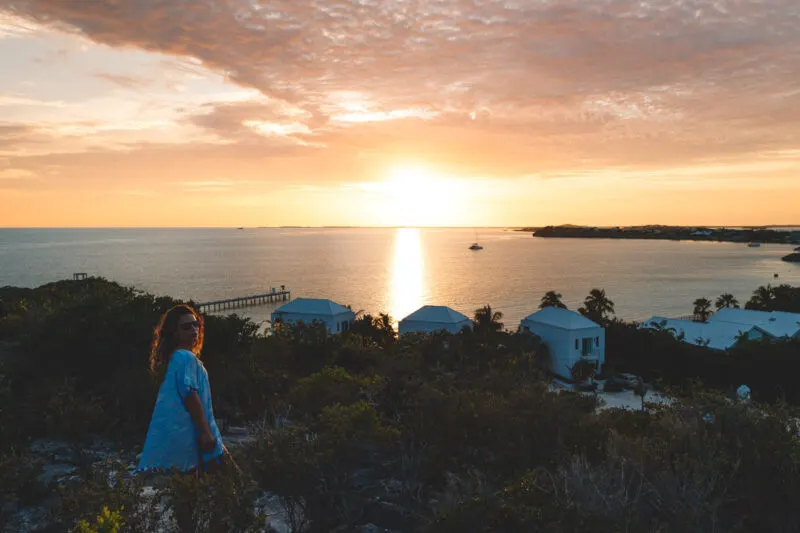 Many refer to this beach as the party beach but when I was here we were almost the only ones! So depending on when you come you could be relaxing or partying. Either way, give Anthony a hello from me. He might even give you a discount on the beach chairs if you mention my name!
Anthony's bar is called Local Vibes Bar. Two chairs and an umbrella for the day are usually rented out for $40 but he said he'd give it to my friends for $30, so let me know if he does! Either way, definitely grab a drink from him, he's super cool and had some great tips for us!
Where to Stay Near Sapodilla Bay Beach:
Neptune Villas: These private villas offer all you need for a comfortable stay, including a full kitchen, jet tub, and a spacious balcony. While these villas overlook Chalk Sound, you'll find the waters of Sapodilla Bay just across the street. You get the best of both worlds here.
8. Blue Hills Beach
Blue Hills Beach sits on the northwest shores of Providenciales. The beach is located in front of one of the three original settlements of the island, and colorful homes in this area are reminiscent of the days before big resorts and modern architecture found its way to Turks and Caicos.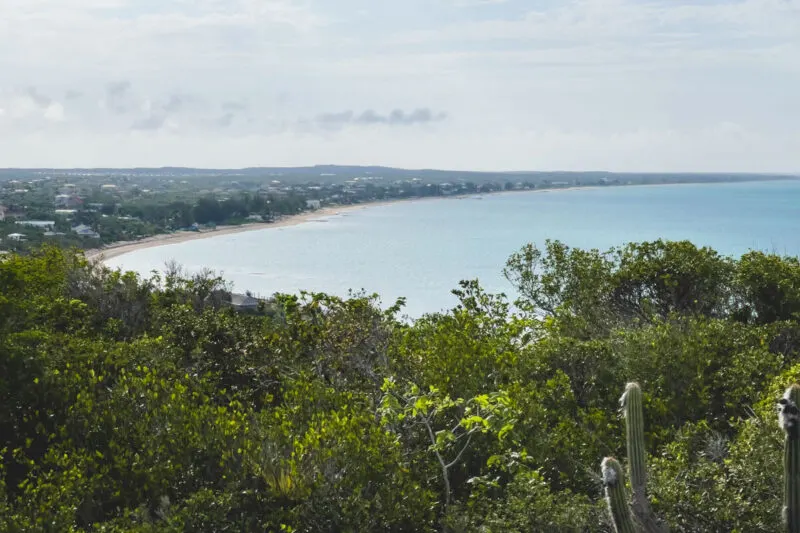 The coastal road that fronts Blue Hills Beach is one of the most incredibly scenic drives on the island. Even if you don't step foot on the beach, driving along Blue Hills Road is a must.
Towering coconut palms and handcrafted sailboats dot the shoreline, and on the inland side, you'll pass by small churches and vibrantly painted buildings.
Of course, it's worth spending some time at the beach while you're in the area. Admittedly, it may not be the best for swimming and snorkeling due to large swaths of seaweed. However, some waves push some interesting things onto the shore, so beachcombing here is usually a rewarding experience.
The Blue Hills area is also known for its delectable eats. Be sure to stop by Da Conch Shack for fresh seafood, strong cocktails, and fabulous views across the water. This is also the beach for horseback riding if that's your thing.
There is no real designated access to Blue Hills Beach. Pull over at one of the many parking areas along Blue Hills Road to access the beach.
Where to Stay Near Blue Hills Beach:
Island Turquoise Rental: For island life on a budget, you can't do better than this two-bedroom home. You'll have a full kitchen, a large patio, and be just minutes from the beach.
9. Bight Beach Park
Bight Beach is a favorite amongst locals and tourists alike. The beach starts where Grace Bay ends, along the central north coast of Providenciales.
The coast is sheltered from strong winds, making the water here exceptionally clean and calm. In addition, the presence of lush seagrass growing along the ocean floor makes this an excellent spot for snorkeling.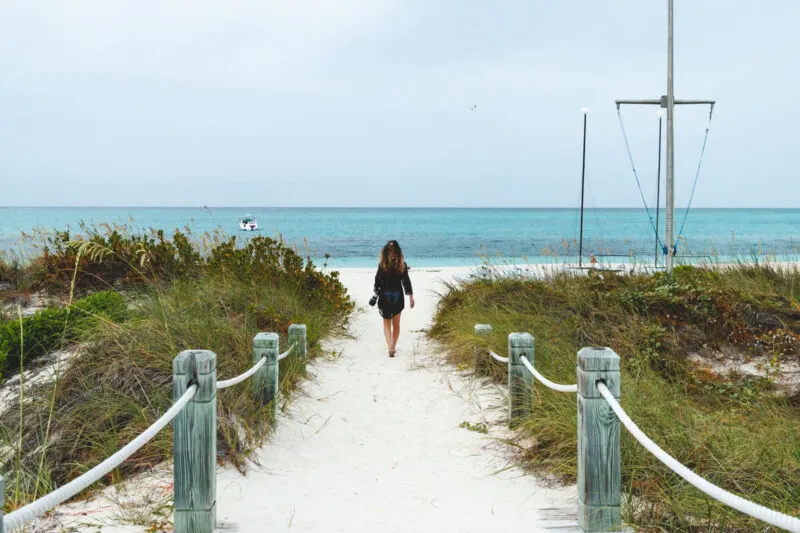 A wide variety of marine animals can be spotted here, including rays, starfish, turtles, and sharks. There are also several small reefs along the beach. The most famous of these is The Bight Reef. If you find Coral Gardens on Maps, you'll find a good snorkeling spot!
Alternatively, if you head down towards Turtle Cove, at Smiths Reef, you can park here and head to the western edge of the reef for another great snorkel spot.
The main access point to The Bight Beach is the children's park on Lizard Lane, but there are plenty of other spots off of Lower Bight Road.
Note: The Thursday night Fish Fry used to be here, it's now in the Stubbs Diamond Plaza.
Wymara Resort: Stay right on the powdery white sands of Grace Bay, with spacious suites or private villas, an infinity pool, and a full-service spa.
West Bay Club: A family-friendly resort that still retains that luxury feel, with spacious rooms and full pool and beach service.
10. Leeward Beach/Pelican Beach
Located just east of the popular Grace Bay, Leeward Beach is a far cry from the crowded shores of its neighbor. The upscale residential area of Leeward surrounds the beach, but this soft sandy stretch is open to anyone who cares to visit.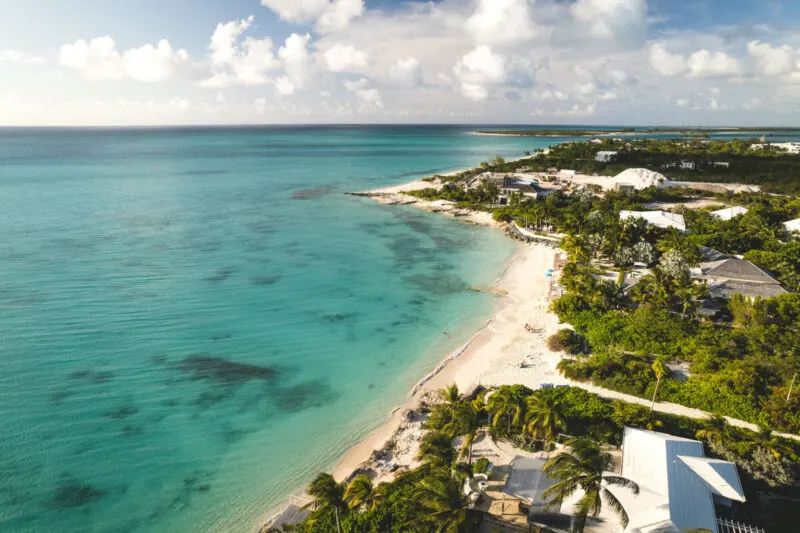 In addition, because this area is less developed, it draws fewer crowds, making it a peaceful (and scenic) spot to relax for an afternoon.
But there's a lot more to do on Leeward Beach than just soaking up the sun (though there's plenty of that to go around). The Leward Channel is teeming with activity. You can kayak or paddleboard close to shore or charter a boat to take wakeboarding or tubing further.
The primary access points to Leeward Beach are Stubb's Point (via Sunset Beach) and Pelican Point (off of Nightjar Road).
Where to Stay Near Leeward Beach:
Blue Haven Resort: Your every need will be taken care of at this all-inclusive resort, with three restaurants and three bars – including a swim-up bar at the infinity pool overlooking the beach.
11. Half Moon Bay—Best Beach in Turks and Caicos to Boat To
Half Moon Bay is a serene stretch of sand located between the uninhabited islands of Water Cay and Little Water Cay. This sandy spot is just a sandbar that has grown over time, but it's one of the most beautiful beaches in Turks and Caicos.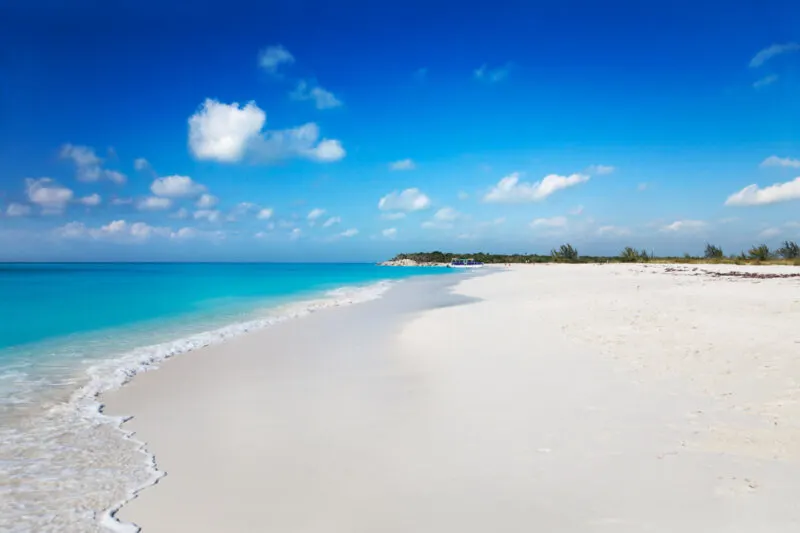 Little Water Cay (also known as Iguana Island) is home to the endangered Turks and Caicos rock iguana. These rare creatures often make their way over to Half Moon Bay, which is one of the best spots for viewing them.
This area is also great for bird watching, so keep your eyes peeled for pelicans, herons, ospreys, egrets, and more.
From Providenciales, one of the best ways to access Half Moon Bay is by kayaking or paddleboarding from the Leeward area. Note that due to the east/southeast winds, the return trip will be slightly more challenging. Paddling out here will take some strength so don't think it's an easy paddle!
Alternatively, there are also tons of charters and boat excursions that offer trips over to Half Moon Bay which might serve you better if you're looking for a more relaxing trip.
RELATED: 17+ Things To Do in Turks and Caicos for the Adventurous
12. Mudjin Harbor—Best Beach in Middle Caicos
If you're on Middle and North Caicos, chances are, the photos of this place are what convinced you to visit! Mudjin Harbor is a stunning location, complete with a cool cave-like structure and access to Dragon Cay.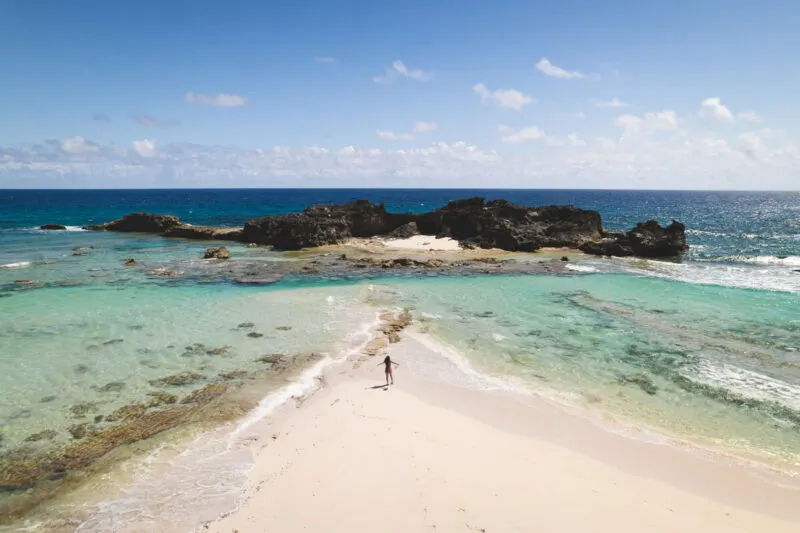 After following directions to Dragon Cay Resort, you'll walk down a sandy path that will bring you to the shallow cave and then lead you to a glorious white sand beach that seems to go on forever to your right!
Walk down for a bit, and you'll be greeted by a sandbar that leads you to Dragon Cay, a rocky outcrop with a small beach just in front.
You shouldn't be quick to leave this spot though, and hopefully, you've saved some room in your belly. Head to the Mudjin Grill for perfectly marinated and tender fish with a crisp salad or some other delightfully fresh seafood feast while you take in more views of this spot.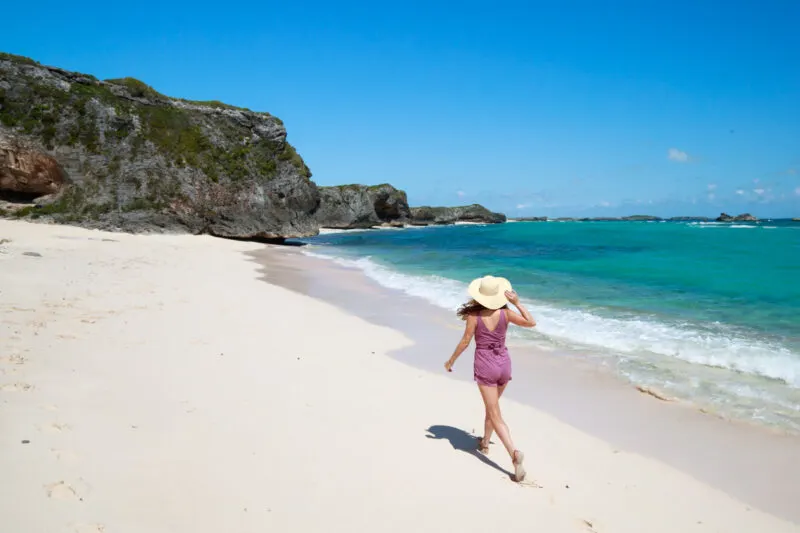 You'll also notice from here you can stroll on top of the cave to walk off your lunch a bit for more great views of this area. The beach is easy to find if you route yourself to the resort.
Where to Stay Near Mudjin Harbor:
Dragon Cay Resort: Enjoy privacy but with all the amenities of a resort, with studios and villas nestled in tropical foliage by the ocean shore.
13. Bambarra Beach
This is one of the best beaches in Turks and Caicos if you're exploring Middle Caicos. There are two cute and lonely colorful shacks on the beach serving up some snacks and drinks, and that's about it.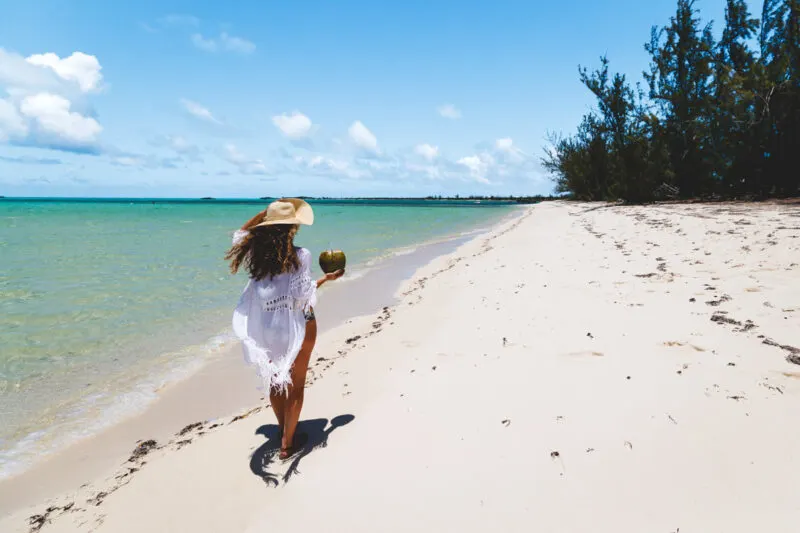 The water here is calm and perfectly blue, much like you'd expect from these islands by this point. The cay out in the distance is possible to walk to at low tide, but it's much further than you think, so be aware.
The best thing to do here is to grab a drink and lie on the beach or take a beach stroll in either direction.
Where to Stay Near Bambarra Beach:
Sundial Villas: Step from the verandah right onto the sand at this private two-bedroom home. Traditionally decorated, it offers you a slice of island life.
14. Three Marys Cays—Best Beach in North Caicos
This uninhabited and scenic spot is a cool place to make a picnic, sunbathe, or hop in the water to splash around. Here, three limestone rocks, or cays, are plonked right off the turquoise shore of this beach in Turks and Caicos.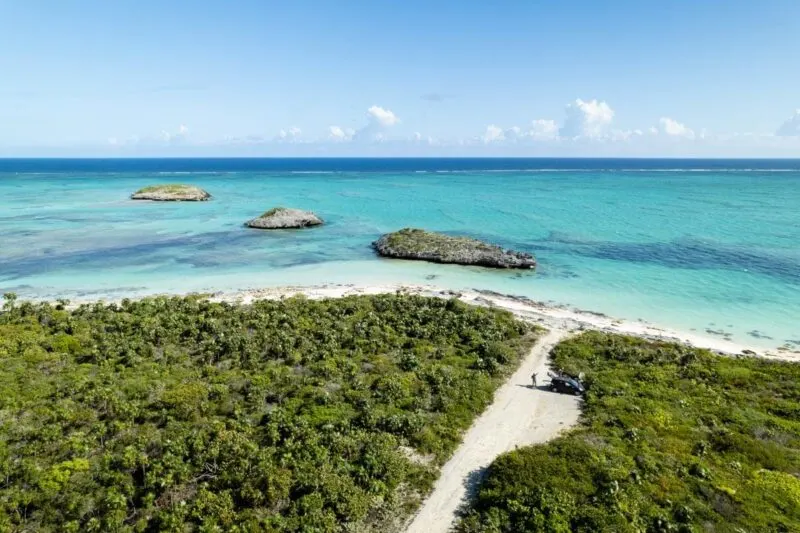 Hop in with a snorkel if you want to take a look, although Provo has the better snorkeling spots. Keep your eyes out for herons, egrets, and ospreys flying around, but for the best bird sightings, Cottage Pond, just behind Three Marys Cays, has flamingos!
You'll pass this pond on the way to the Cays so be on the lookout for them (and for the mosquitos that are inevitable!).
Do note that the road to the Cays is very narrow and rocky. You have to go slow, and it's likely you'll add some scratches to your rental car, but ours came with plenty already, so it wasn't a big deal.
Where to Stay Near Three Marys Cays:
Designer Villa: This stunning modern home is the only property on a two-mile stretch of beach, with three bedrooms spaced out over different buildings for privacy even in a group.
15. Governor's Beach—Best Beach in Grand Turk
Close to the cruise ship harbor yet long and far enough away to avoid the bustle, Governor's Beach is a favorite on Grand Turk. You'll find wide shores filled with white sand between your toes and shallow blue water before you.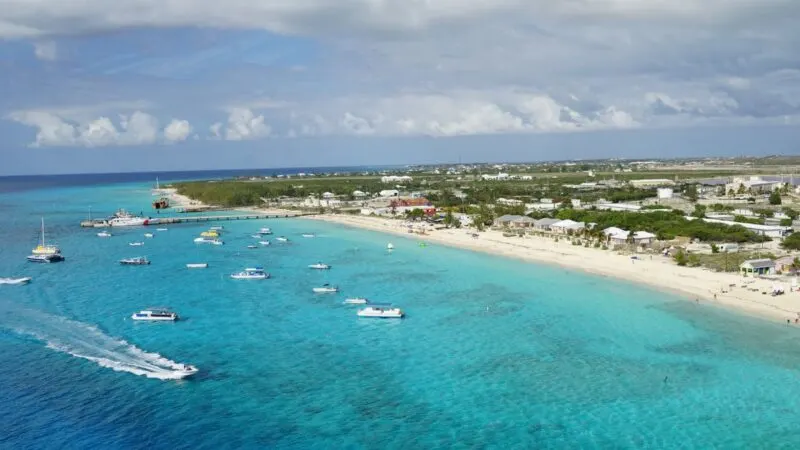 Depending on the cruises that are coming you'll find some vendors selling refreshments here should you need any. Down the way, you'll find Mega One Triton, an old shipwreck from hurricane Sandy in 2012.
While the water is as clear as can be, the snorkeling here isn't the greatest as there isn't much marine life swimming about but that's all the more reason for you to just sit and relax on one of the best beaches in Turks and Caicos!
More Around Turks and Caicos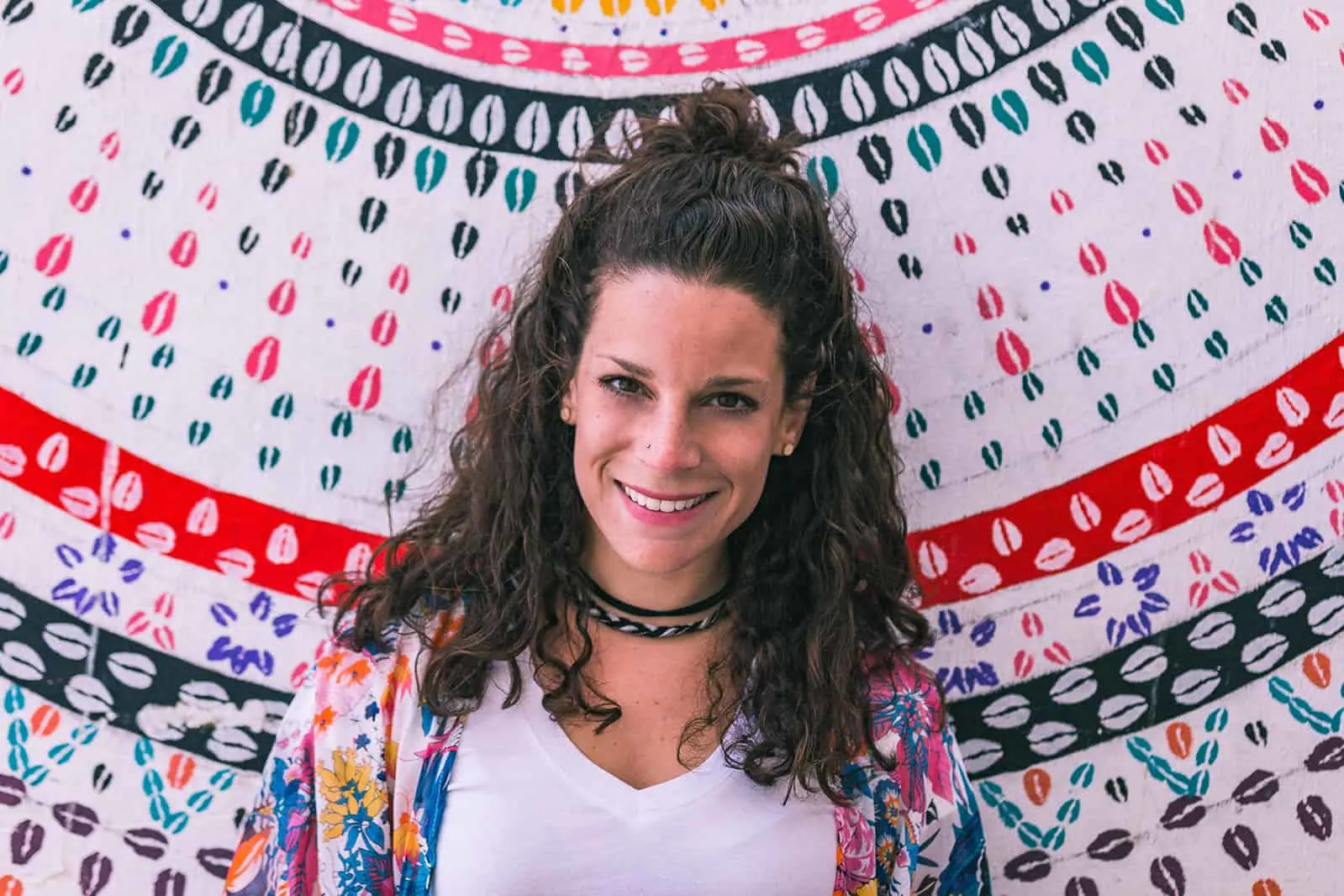 Nina Ragusa is an adventurer, messy bun master, breakfast fan, and full-time travel blogger. She's been abroad since 2011 and blogging on Where in the World is Nina? for nearly as long. Nina helps people like you move around the world while making money. She loves talking about how to work abroad and online to travel longer!