Famed for its soft white sand and clear turquoise waters, Turks and Caicos is a bucket list destination for beach bums worldwide. But there's a lot more to these islands than just their stunning stretches of sand. There are tons of adventurous things to do in Turks and Caicos!
You're in for a wild ride, from paddling and snorkeling to jet skiing and kitesurfing. You can also expect plenty of tasty grub and a hearty helping of rum and beer while your toes are in the whitest sand you've seen.
Rest assured, no matter where you are or what you're doing; you're sure to enjoy the infectious island vibes and incredible scenery. Continue reading to learn about the best things to do in Turks and Caicos.
Things To Do in Turks and Caicos
---
There are 40 islands and cays that make up Turks and Caicos, but only six of them are currently inhabited. Here, we will cover tons of things to do in Turks and Caicos, but not every island and cay is accessible. This list will surely keep you busy during your time here, though!
Things To Do in Turks and Caicos: Providenciales
Lovingly nicknamed "Provo," this island is where the most action is. It only takes about an hour to drive from end to end, which means adventure is always at your fingertips! Here are the best things to do in Providenciales in Turks and Caicos. We will visit some of the other islands a bit later…
1. Jet Ski to La Famille Express Shipwreck
Those searching for more adventurous things to do in Turks and Caicos can rent a jet ski and head to La Famille Express Shipwreck. The grounded shipwreck is above water about two miles off Long Bay Beach.
The history of La Famille dates back to 1953 when it served as an oil rig service ship in the Soviet Union. It's been planted off the coast since 2004 when Hurricane Frances dragged it from the south dock area of Providenciales.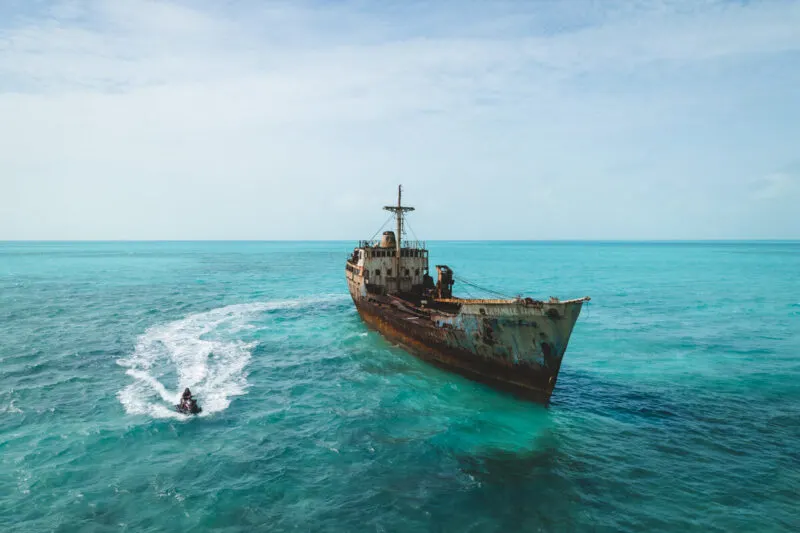 Although the guy I rented my jetskis from had a much more entertaining story about swashbuckling pirates, whichever story you believe, this is a must-visit spot!
The best ways to visit are by boat tour, jet ski tour, or simply renting jet skis and going out on your own. Any choice is a good one as the rusty mega-ship beckons you from the shores of Long Beach.
While it may be tempting to play the captain of this ship, be aware there's extreme damage to key components of the boat, with sharp metal shards, broken glass, and other hazardous materials onboard. If you want to board, 100% bring shoes.
Some people like diving off but be sure to ask locals first or check the tides because if it's low tide, you could seriously injure yourself. The water is very shallow here.
2. Kiteboarding and Kitesurfing at Long Bay Beach
When you visit Long Bay Beach, the first thing you'll notice is the colorful sky. The clear blue is bedazzled with vibrant fabric from the myriad of kiteboarders on the water at any given time. The soft sandy bottom combined with the steady wind makes Long Bay Beach a mecca for kitesurfers.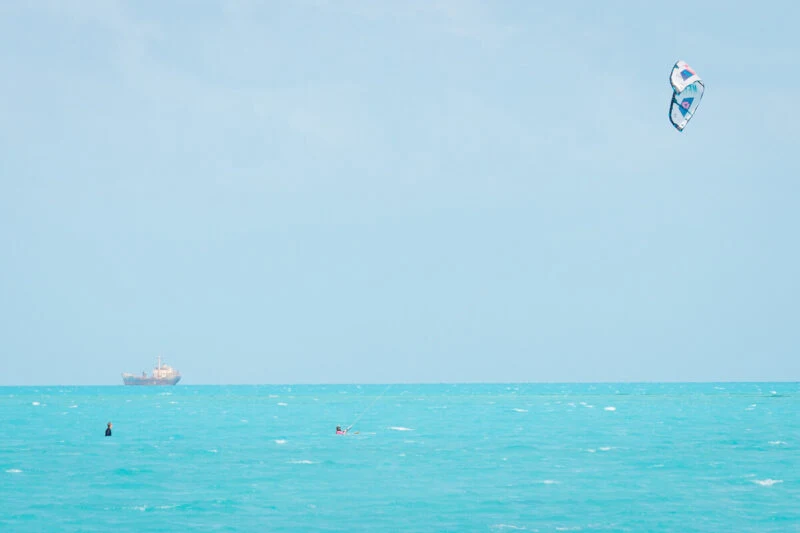 Both beginners and experts flock here en masse. So, if you've ever dreamt about giving this extreme sport a go, this is the perfect place to try it out. You can rent gear or take lessons. You don't need any experience to sign up and try it.
3. Eat!
A cornucopia of fresh seafood surrounds the islands, so it should be no surprise that one of the best things to do in Turks and Caicos is eat! While you're here, try some local favorites, including conch, peas n' rice, and all the fresh fish and lobster you can physically fit into your body.
The best place to indulge your taste buds is the Thursday Fish Fry. On Thursday nights, both islanders and tourists come to the PTV headquarters at Stubbs Diamond Plaza (formerly at Bight Park) to sample fresh seafood from some of the island's best seafood joints.
Grilled conch, lobster, and other catches of the day are grilled or fried up fresh, and you'd be hard-pressed to find a better spot for seafood on the islands (OK, fine, good seafood is EVERYWHERE but still, this place is a vibe!).
This is a popular spot, so arrive early to ensure some food is still left. Should you want a few trinkets to bring home, there are little local stands here selling handmade goods. Stick around for dancing, people watching, or simply listening to the sound of the local band.
4. Potcake Place K9 Rescue
If you're looking for the world's cutest souvenir, make a beeline for Potcake Place K9 Rescue. Of course, you don't have to take home one of the pups to visit this charity-based dog rescue facility.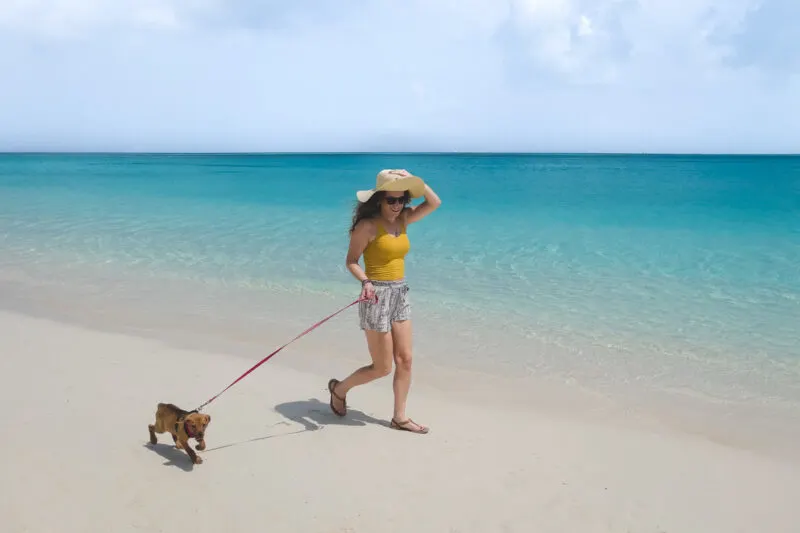 They welcome visitors to learn more about their mission and socialize the puppies by taking them out for a walk for an afternoon. This is a great way to pass an hour or two, but it helps the rescue stay open. Potcake Place runs solely off of the support from sponsors and volunteers!
This is a favorite thing to do in Turks and Caicos, so much so that people line up before they open to nab a cute pup for the day. Come by Monday through Saturday at 10 am to go on walkies with these cute pups, but I'd say come a bit earlier to get in line.
This activity is free but don't forget to leave them a donation!
RELATED: Where to Stay in Turks and Caicos: 13 Perfect Resorts and Hotels
5. Snorkeling at Smith's Reef
Snorkeling is one of the number one things to do in Turks and Caicos. The waters are clear, the marine life is thriving, and the sheltered cays protect from choppy waves.
Located off of central Providenciales, Smith's Reef is one of the top snorkeling spots on the islands. It boasts several distinct coral heads and reef systems, making excellent homes for various underwater life. As you snorkel, you'll likely see eagle rays, turtles, shrimp, crabs, and many colorful tropical fish.
The two best spots to snorkel are at the west end (park at the end of Coconut Road) and Coral Gardens. The best and safest areas are marked with buoys so you can't miss them. There is some boat traffic here, so don't wander beyond the marked areas.
6. Visit Split Rock
Also known as West Harbour Bluff or Pirate's Cove, Split Rock is a stunning area located on the southwest shores of Providenciales. Named for the oddly shaped sea cliffs that dot the horizon, Split Rock also features one of the more secluded beaches in the area.
In addition, there is a wide variety of bird species that call this area home, including ospreys, brown pelicans, green herons, and white-tailed tropicbirds, among others.
If birding and bumming on the beach isn't your thing, you can hike to the top of the peninsula and take in sweeping views of the coastline below. If you're lucky, you may even spot some sharks swimming off the shore.
Visiting this area is one of the best things to do in Turks and Caicos if you want to escape the crowds for an afternoon. It's located far enough off the beaten path to deter large swaths of visitors yet close enough for those who want some peace and quiet (about five miles from the developed parts of Provo). There is a bit of a rough road to get here as well for the last mile or so.
*Note: this area looked stunning but there was some recent theft and some locals advised us not to go, so we skipped it. Please check to make sure before heading out here. It seems this is recent, and we hope it's cleaned up by the time you visit!
7. Kayak Chalk Sound
The Chalk Sound area is located on the southern tip of Providenciales. Paddlers searching for paradise need not look any further. Chalk Sound is chock full of incredible vistas, from the turquoise blue lagoon to the exposed marine limestone.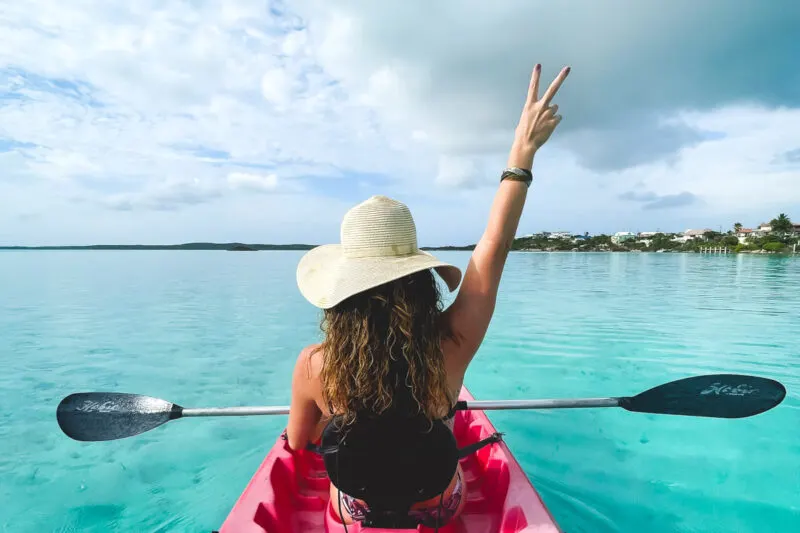 Kayaking is the best way to get a real feel for this area, and you can easily rent one from the nearby Las Brisas Restaurant ($35 for an hour). It's incredibly calming and a way to paddle out into the abyss of insanely milky blue water.
If getting out on the water isn't your thing, though, you can head to Monika viewpoint for a short trail to walk around with gorgeous views of Chalk Sound!
8. Clear Kayak to Mangrove Cay and Iguana Island
Famed for its abundant marine life, taking to the water is one of the best things to do in Turks and Caicos. Whether from above or below, getting out into the water is a rite of passage when you visit the islands.
You can enjoy the best of both worlds with a clear kayak, which allows you to stay dry while exploring the crystal clear waters.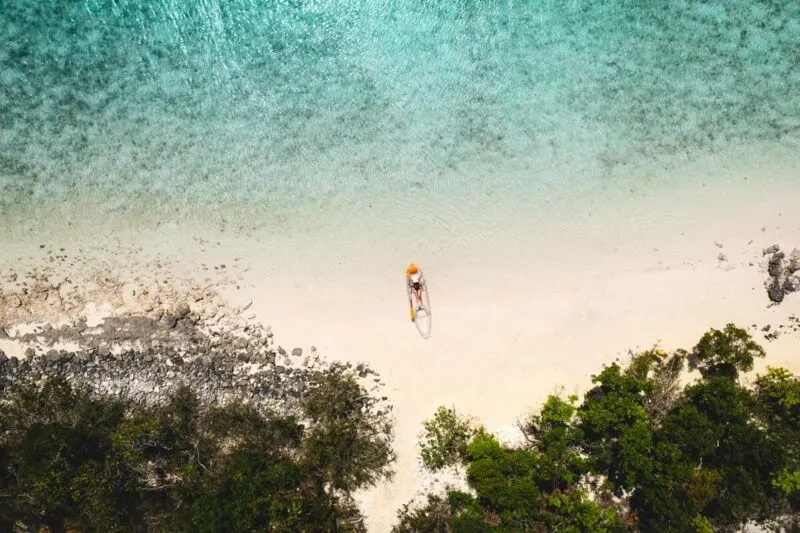 Mangrove Cay is, without a doubt, one of the top spots for clear kayaking. The mangrove sanctuary hosts some of the most diverse underwater life in the Caribbean. From the safety of your kayak, you'll see turtles, stingrays, baby sharks, jellyfish, and tons of species of tropical fish as you paddle around the cay.
However, the real draw to the bay is the chance to see one of the endemic Turks and Caicos rock iguanas. After paddling through the mangroves, the nearby Iguana Island (Little Water Cay) is a great stopover.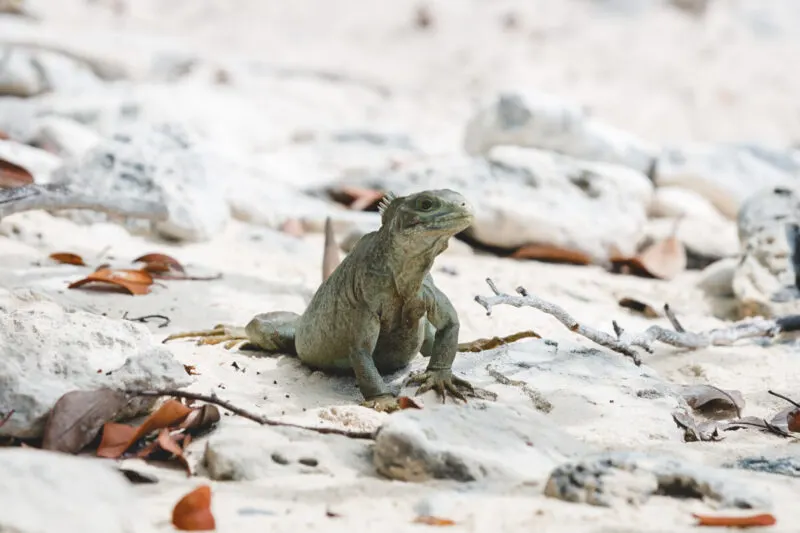 You can get out on a tiny beach and see if you can spot one but be sure to stay on established paths and never feed these rare creatures if you're lucky enough to see one.
How to get here:
The easiest way to obtain a clear kayak is by taking a guided tour. The expert guides will give you a quick rundown of kayaking basics, and they'll help point out wildlife and coral along the way.
If you want to go solo, make sure to still reserve ahead of time, as most operators bring their kayaks to the beach for the day. So if you pop by, they might not have any extra to give you as they only bring enough for their bookings.
9. Kayak, Paddle, or Boat to Half Moon Bay on Little Water Cay
There are plenty of places to paddle around the islands. However, one of the best things to do in Turks and Caicos is kayaking out to Half Moon Bay. Situated on Little Water Cay (also known as Iguana Island), Half Moon Bay is part of the greater Princess Alexandra National Park.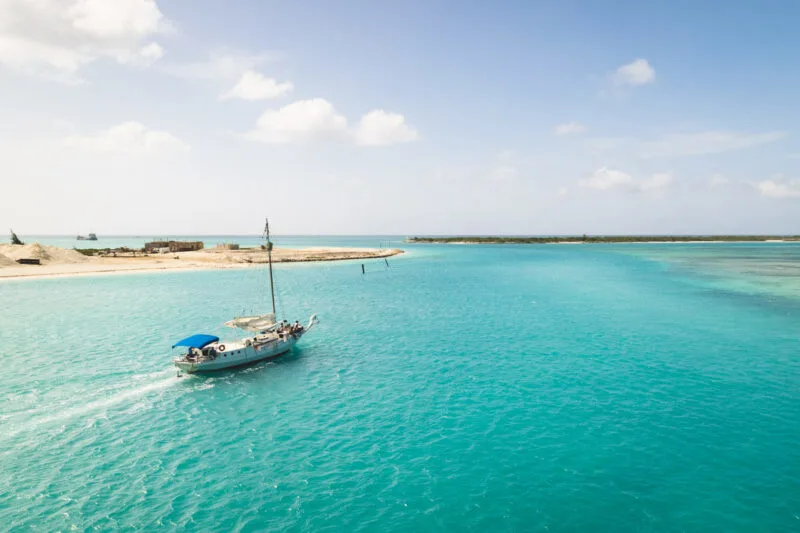 The beach here is considered one of the best on the islands. But paddlers should note that making the approximate one-mile journey out to Half Moon Bay from Providenciales is more challenging due to strong winds, especially on the way back.
This can be done in combination with kayaking to Mangrove and Iguana Island that we mentioned above, but it's quite a bit longer and shouldn't be done unless you're pretty strong. No kayak tour, unless arranged privately, does this either. So you'd be solo.
Alternatively, a better and more relaxing way to see Half Moon Bay is by taking a leisurely boat ride to this stunning beach.
More Things to Do in Providenciales in Turks and Caicos
There's a crazy amount of things to do here; here's a quick rundown of a few more epic activities that you can check out while exploring this island.
Things To Do in Turks and Caicos: North and Middle Caicos
While Provo is the main island with the most activities, one of the best things to do in Provo is to take a day trip to North and Middle Caicos!
It's totally possible to see everything listed below in one busy day and the visit is worth it. There are two options to explore Middle and North Caicos.
You can take a well-organized tour that hits up everything you'd want to see. You can sit back and relax, not worrying about ferry schedules and enjoy a full day of fun.
Or you can explore on your own. You can contact Caribean Cruisin' and schedule their ferry and car rental package. You'll take the ferry over, and the rental car will be there waiting for you; all you need to do is explore and make it back to catch the ferry back.
Either choice will bring you to Middle and North Caicos (connected via a bridge) to explore some different islands! Here's everything you can do…
10. Three Marys Cays and Cottage Pond
This uninhabited and scenic spot is a cool place to make a picnic, sunbathe, or hop in the water to splash around. Here, three limestone rocks plopped right offshore seemingly float in the tranquil turquoise water.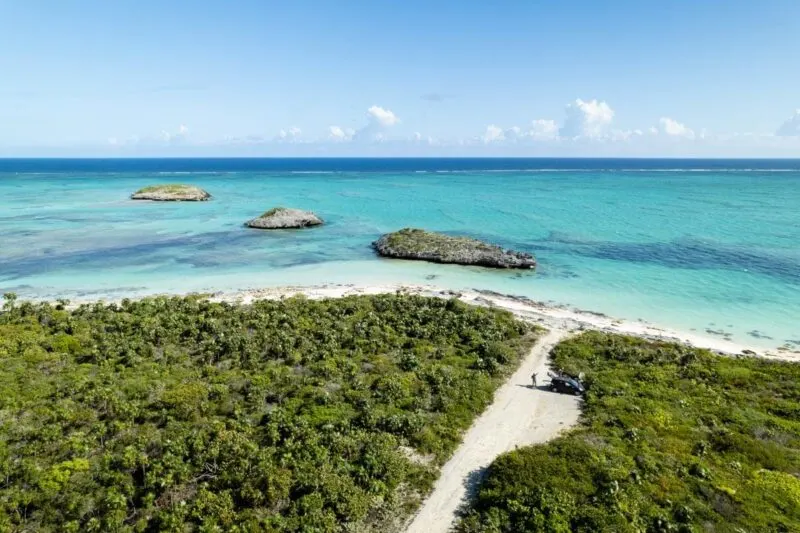 Hop in with a snorkel if you want to take a look, although Provo has the better snorkeling spots. Keep your eyes out for herons, egrets, and ospreys flying around, but for the best bird sightings, Cottage Pond, just behind Three Marys Cays, has flamingos!
You'll pass this pond on the way to the Cays, and yes, those pink things in the distance are flamingos! You might need some binoculars just in case, but some of them were hanging pretty close to shore for us.
Many will recommend that you go to the Flamingo Overlook down the road, but we found this spot way better as with the overlook, you MUST use binoculars to see anything.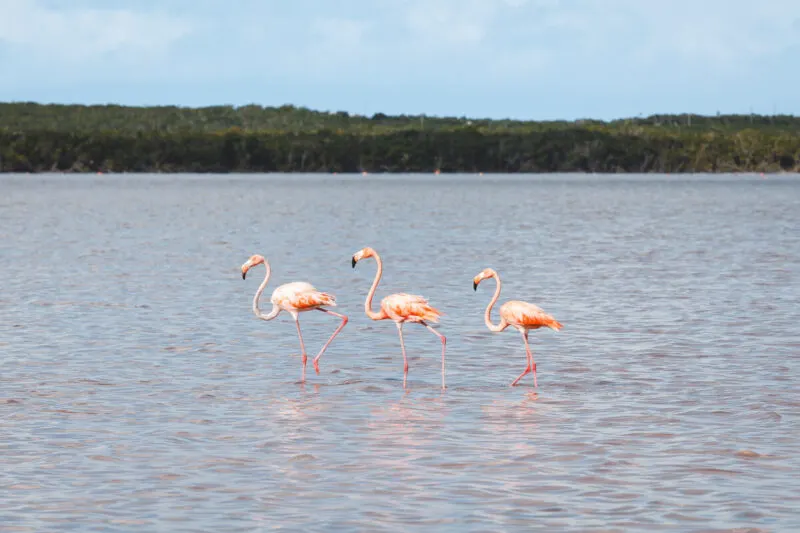 Just be aware of two main things: The road to the Cays is very narrow and rocky. You have to go slow, and it's likely you'll ad some scratches to your rental car, but ours came with plenty already, so it wasn't a big deal.
The last thing is to spray yourself down with mosquito spray because they are everywhere at this pond.
11. Horse Stable Beach Pier
A gorgeous beach that most people skip over! You'll probably have it to yourself, or at most, have the occasional person come by for the epic photo opportunities at the pier here.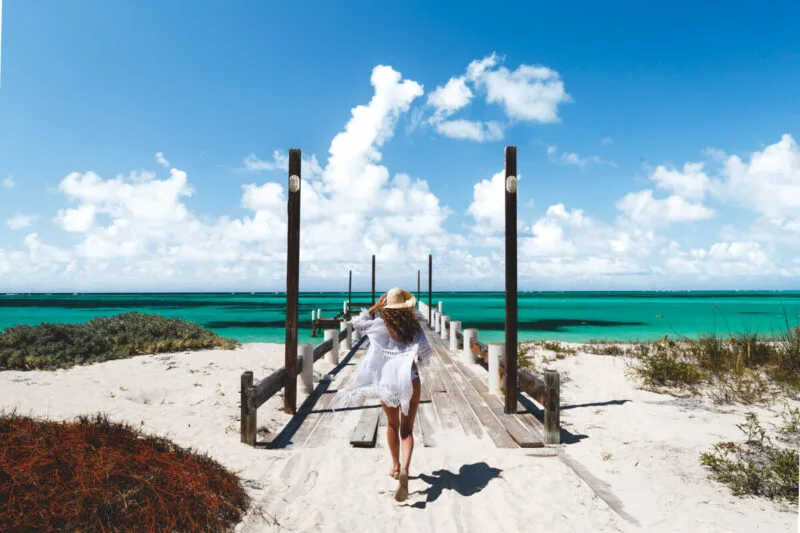 Just be careful of swimming as rip tides are prevalent at this beach.
12. Stroll and Eat at Mudjin Harbor
If you're heading to Middle and North Caicos, chances are, this is the spot that convinced you to come! Mudjin Harbor is a stunning location, complete with a cool cave-like structure and access to Dragon Cay.
You'll walk down a sandy path that will bring you to the overhang/cave and then lead you to an exquisite white sand beach that seems to go on forever. Walk down for a bit, and you'll be greeted by a sandbar that leads you to Dragon Cay, a rocky outcrop with a small beach just in front.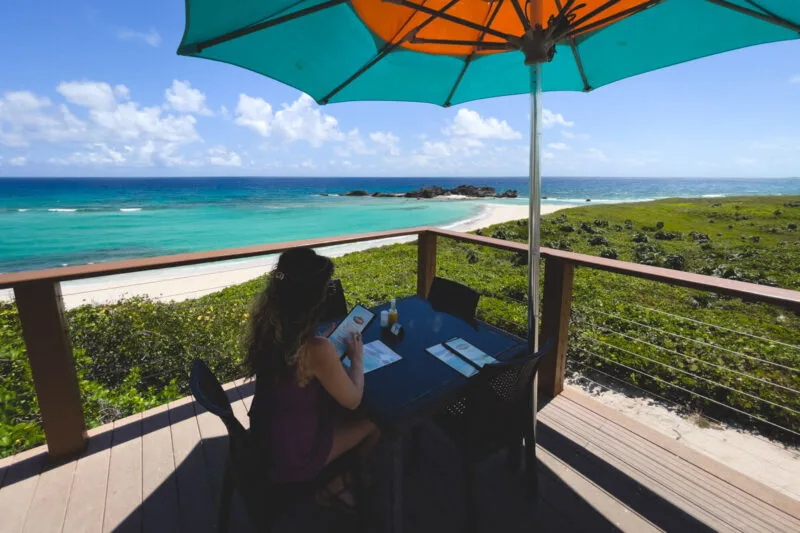 You've likely built up an appetite by this time, but you don't have to leave just yet! Head to the Mudjin Grill for perfectly marinated and tender fish with a crisp salad or some other delightfully fresh seafood feast while you take in more views of this spot.
You'll also notice from here you can stroll on top of the cave to walk off your lunch a bit for more great views of this area.
13. Explore Indian and Conch Bar Caves
Indian Cave makes you feel like you're in Tomb Raider because some crazy cool tree branches are hanging down into the cave. Certainly one of the most remarkable and most distinct caves I've been to! This one is free and easy to get to.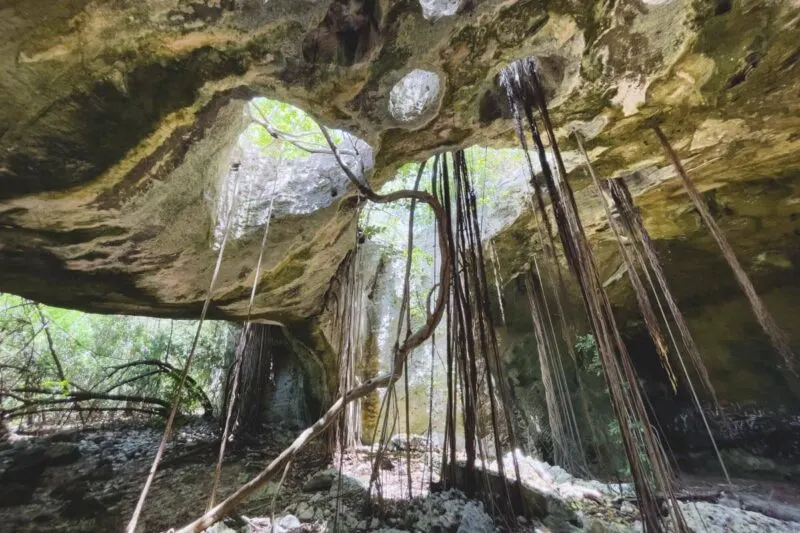 Conch Bar Cave is a bit more what you picture a cave looking like, with insane-looking stalactites and stalagmites scattered about. This one requires a guide to explore at $20 pp.
You must know that the mosquitoes here can get pretty insane, so don't forget to douse yourself before heading to the caves.
14. Drinks on Bambarra Beach
This is one of the best beaches in Middle and North Caicos. It's about an hour from the ferry, so make sure you visit with plenty of time to get back if you're only here for the day.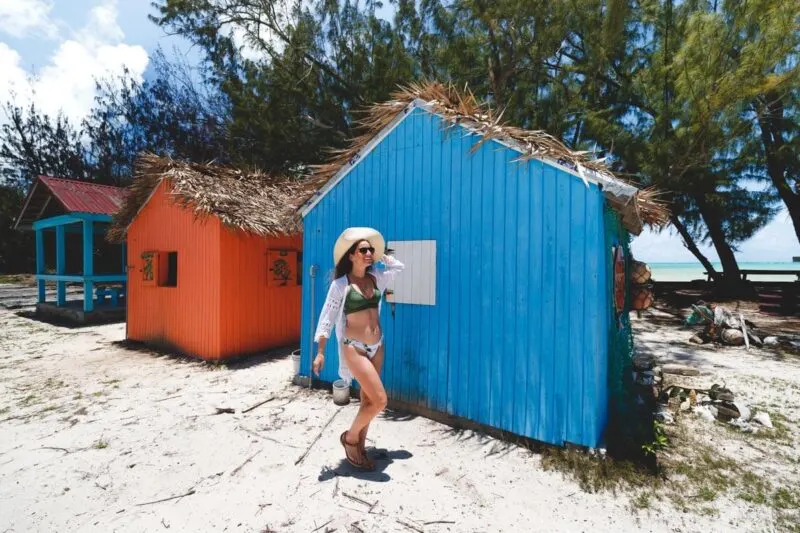 There are two cute colorful shacks on the beach serving up some snacks and drinks, and that's about it!
The water here is calm and perfectly blue, much like you'd expect from these islands by this point. The cay out in the distance is possible to walk to at low tide, but it's much further than you think, so be aware.
The best thing to do here is to grab a drink and lay on the beach.
More Things To Do in Turks and Caicos: Other Cays and Grand Turk
There are tons of the other cays and islands that make up this beautiful country; here are a few more things to do in Turks and Caicos.
15. West Caicos and French Cay Boat Tour
While there are plenty of great snorkeling spots off Providenciales, you can discover more underwater landscapes and escape the crowds by venturing a little further afield.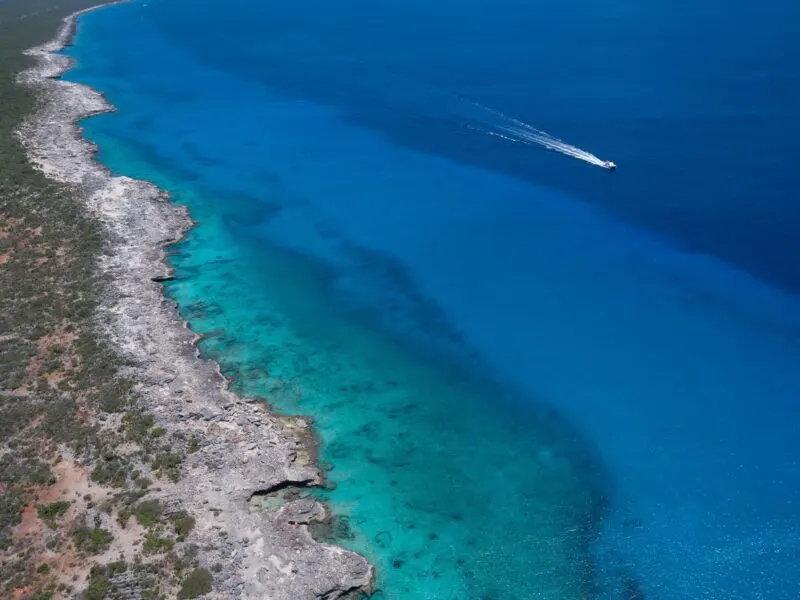 Both West Caicos and French Cay are about an hour's boat ride from Grace Bay, so you'll get to experience the ocean scenery along the way.
West Caicos has incredibly clear waters and a sandy floor, making it a great place to see colorful fish. The whole of French Cay is a protected area and here you'll find vibrant coral and even sharks.
Choose one of the two to visit, or book a tour that will pick the best destination on the day based on conditions and what wildlife is around – you might see dolphins or whales depending on the season.
16. Snorkeling with Whales on Salt Cay
Contributed by Lindsey Puls of Have Clothes, Will Travel
Looking for a once-in-a-lifetime adventure while still being able to chill on a secluded beach? The tiny island of Salt Cay in Turks and Caicos has you covered! With a population of just about 100 people, you won't have to fight for beach space on this quiet island.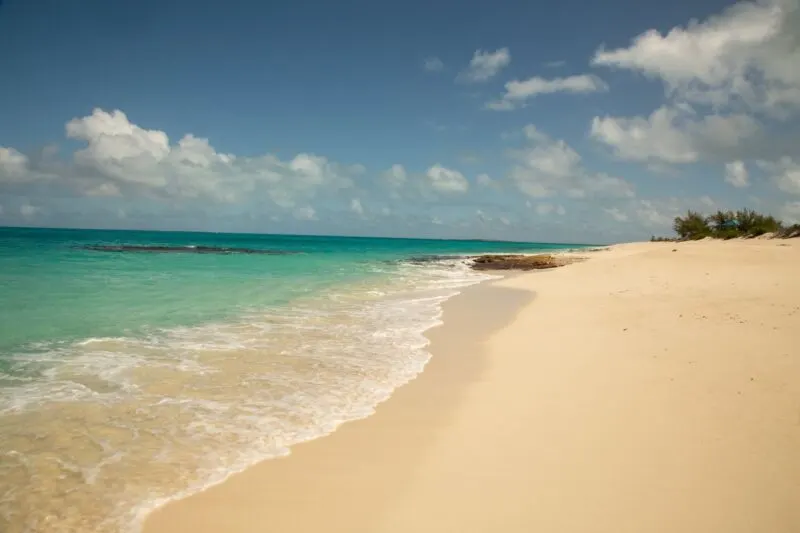 However, the main draw to Salt Cay is its prime location for spotting humpback whales. Not only can you see these magnificent creatures from the shores (they get that close!), but you can get in the water and snorkel with them! It's an incredible experience.
January-March is the best time to experience the whales. If you want to snorkel with whales while you visit Salt Cay, you must book a tour with a reputable whale watching company.
Salt Cay Divers is one of the best companies to book with – Richard is a fantastic captain. He will have your safety and the whale's safety as a top priority for the entire experience.
It's best to spend at least a couple of nights on Salt Cay to ensure you have plenty of opportunities to get out on the water. As with all wildlife experiences, it's never a guarantee you'll see whales on your first try.
This adventure is also weather dependent, and the behavior of the whales will be closely monitored before you get in the water.
This means that even if you spot whales while you are out, depending on their behavior, they may not be open to having a visitor in the water at that time (your captain will have to make this judgment). The more time you give yourself out on the water, the greater your chances of seeing the whales.
17. Explore Grand Turk by Golf Cart
Contributed by Chantelle of Flannels or Flip Flops
Grand Turk is the largest of the Turks and Caicos Islands and a very popular port of call on Caribbean Cruise itineraries. While it's the largest island in the country, it's still small enough that it can be explored in one day. The best way to do this is by renting a golf cart!
Golf Carts are relatively inexpensive and easy to navigate around the streets of Turks and Caicos. Just remember to drive on the left! If you arrive on a cruise, you can pick up your golf cart right outside the cruise port. You will still pick up your golf cart from outside the cruise port if you are at a hotel.
After leaving the cruise port in your, head straight for Governors Beach. This long sandy stretch of beach is one of the best on the island. If you get there early, you may even have it all to yourself. Walking out into the water is a little rocky, so bring water shoes.
After Governors Beach, an excellent place to go is the lighthouse. As you drive to the lighthouse, be on the lookout for the wild donkeys that roam around the island. You can also look at the salt flats for flamingos!
The lighthouse is fun to walk around and explore, and there is plenty of parking for your golf cart. You can pay extra and zipline or do the ropes course there. There are also incredible views of the water from here.
Once you leave the lighthouse, head to Cockburn Town to have lunch. There are some local vendors there if you want to souvenir shop. Barbies has great local food (conch fritters for the win), and you can eat right outside there and watch people coming and going.
As you head back toward the cruise port, you can either return your golf cart now or drive just past the beach past the port and explore what they call the "Conch Graveyard." The beach is full of conch shells, and is interesting to walk around here. Be sure and check out the John Glen Memorial too!
You can do all of this in about 5 hours on Grand Turk when renting a golf cart; just remember to fill up the gas before you drop it back off!
Beaches in Turks and Caicos
You might be wondering about the best beaches and while we mentioned plenty above, you might be curious for more! I couldn't fit in all my favorite beach spots in this post, and I've been babbling about Turks and Caicos enough! It's hard to shut up about it.
But don't worry, I won't leave you hanging. I made you a full-on guide on the best beaches in Turks and Caicos!
READ THE GUIDE: 15 Best Beaches in Turks and Caicos and Where to Stay Nearby!
Where to Stay in Turks and Caicos
The Atrium—Where I Stayed!
Situated in the upscale Leeward community of northeastern Providenciales, The Atrium Resort is one of the best places to stay while visiting Turks and Caicos. It's conveniently situated near all the action of Grace Bay but provides a sense of peace and quiet for resort guests.
You can choose from studios or one, two, three, and four-bedroom suites. Each suite is fully furnished and features air conditioning, a private balcony/patio, a full kitchen, a TV, a washer and dryer, and a safe.
Resort amenities include a large swimming pool with a swim-up bar, a hot tub, free guest parking, a fitness center, a business center, a coffee shop, a game room, 24-hour front desk service, and free Wi-Fi throughout. This was my home away from home!
Wymara Resort
The powdery white sands of Grace Bay will be right on your doorstep at this luxury resort. Enjoy ocean views from your spacious suite or private villa, take a dip in the infinity pool, or relax at the full-service spa.
H20 Resort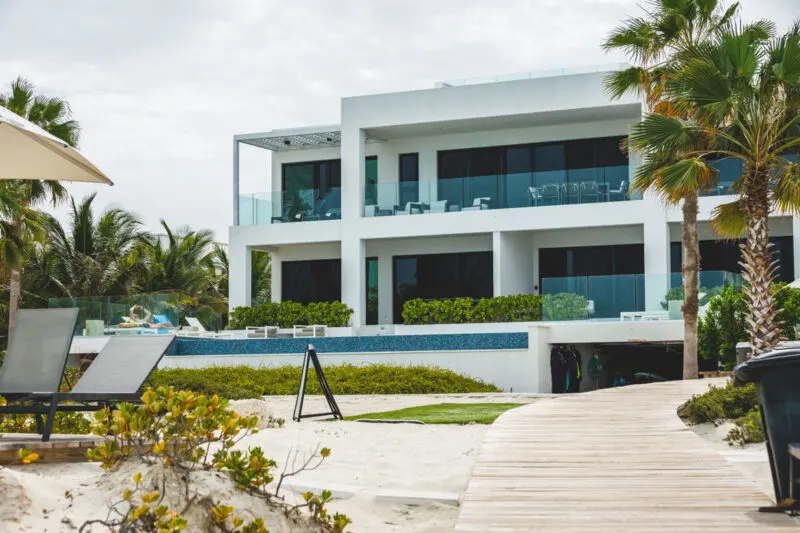 Overlooking Long Bay Beach, this resort caters to the more adventurous traveler. On-site you'll find two swimming pools, a tennis court, and a basketball court, plus complimentary yoga sessions and kayak rental.
Neptune Villas
These private villas offer all you need for a comfortable stay, including a full kitchen, jet tub, and a spacious balcony. When you're ready to venture out, you can kayak Chalk Sound from right here or you'll find the waters of Sapodilla Bay just across the street.
Zenza Hotel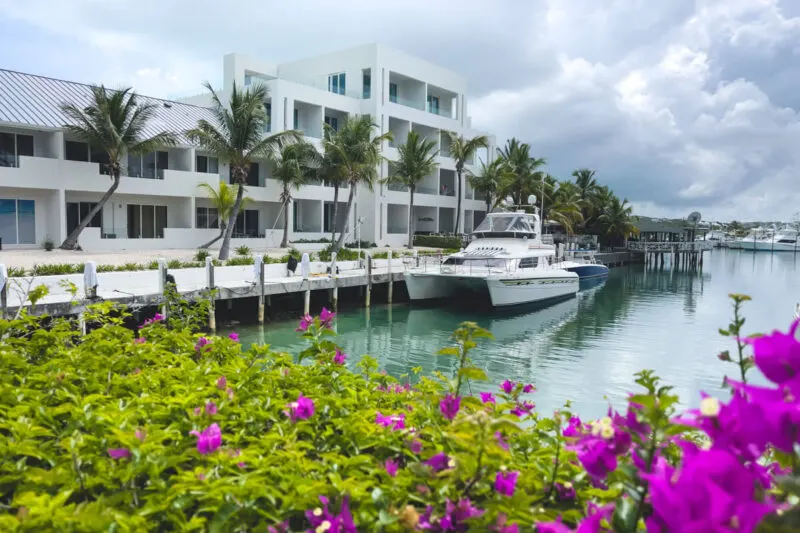 This hotel is within easy reach of three fantastic beaches, making it a great choice if you like a little variety. All rooms offer water views, or you can take in a spectacular sunset from the rooftop.
Point Grace Resort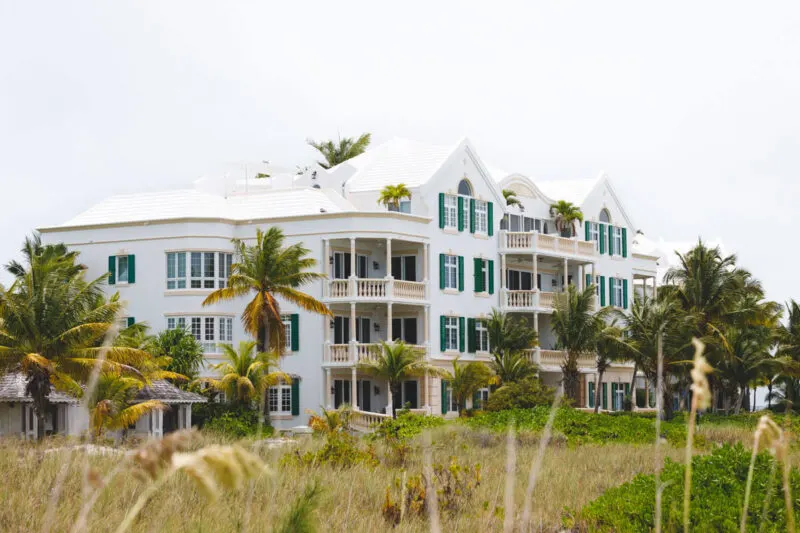 Inspired by classic West Indies architecture, this hotel offers romantic, old-world charm. Choose from lush garden cottages, oceanfront suites, or luxurious three-bedroom accommodations.
Bohio Dive Resort
As the name suggests, this hotel is a great option if you've come to Turks and Caicos for diving. Located on Grand Turk, it has an on-site dive center offering tours and dive packages, as well as oceanfront rooms.
Osprey Beach Hotel
A stay at this Grand Turk hotel will offer you everything you would hope from a beach holiday. There are waterfront rooms, a poolside restaurant, an on-site spa, and even a Saturday night barbecue.
Tips for Turks and Caicos
1. The Islands of Turks and Caicos
Knowing which island you want will help make your stay in Turks and Caicos a lot easier. If you're coming in by plane, you'll land at Providenciales, which is also the most developed for tourism. North Caicos and Middle Caicos are known as the garden islands and are connected by a causeway.
Grand Turk was previously the hub of activity but now serves as the only cruise ship port. Salt Cay and South Caicos are sparsely populated but worth considering if you want to escape the crowds.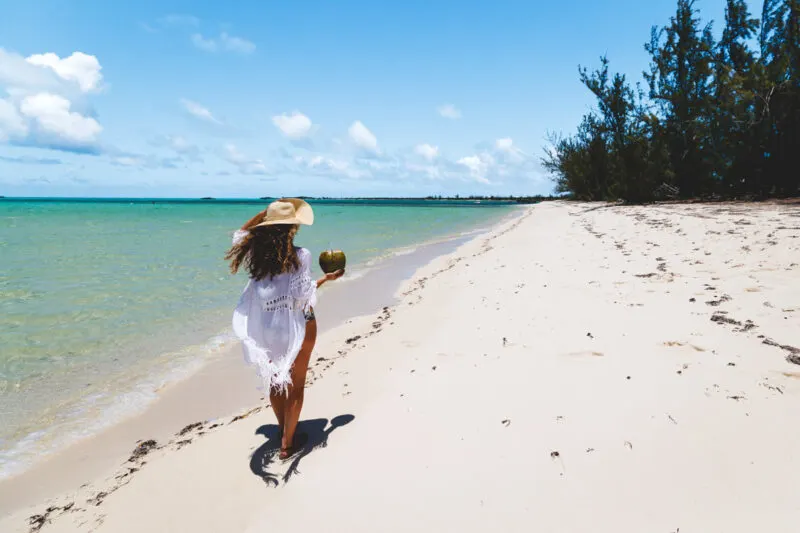 2. Best Months to Visit
Turks and Caicos is blessed with excellent weather all year round, but April and May are the best months to visit. This is off-peak so prices will be better, and you'll be avoiding peak tourist season (Dec-Jan) and hurricane season (Jul-Oct). Avoid flying on a weekend if you can, as long queues develop at the tiny airport.
3. Entry and Exit Requirements
U.S., U.K., Canadian, and European passport holders do not need a visa to enter Turks and Caicos for stays up to 90 days. You'll need to show a return ticket and a passport with at least six months of validity from your return date. Currently, all visitors over 18 must also be fully vaccinated against COVID-19.
4. Getting Around Turks and Caicos
Be aware that there is no public transport on the islands, so you'll need to rent a car or take taxis, which can be expensive. Cars drive on the left here, and you'll also need to be well versed with roundabouts, as there are no traffic lights. If you're staying in Grace Bay, Leeward, or on Grand Turk, there are golf carts for rent.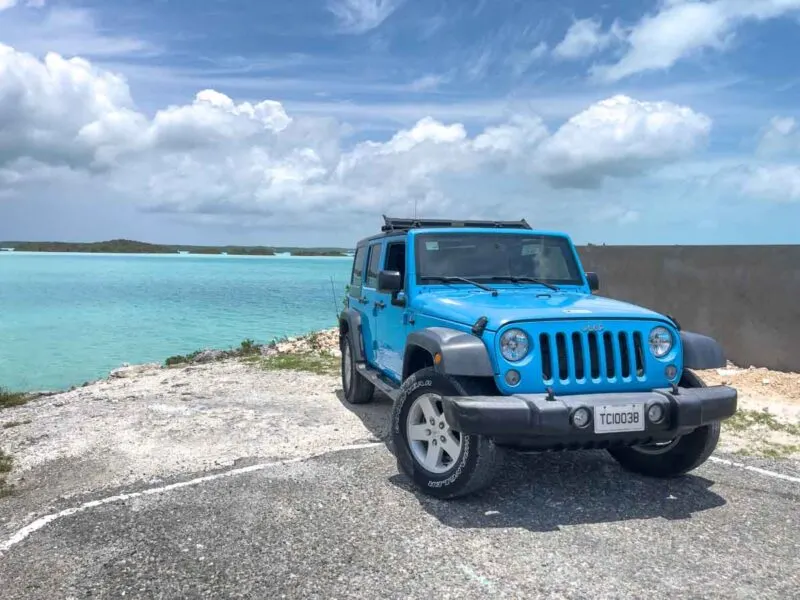 5. Safety
Turks and Caicos is one of the safest places to visit in the Caribbean. Theft is the most common crime but still a rare occurrence, mainly if you stay in a resort or hotel. One thing to be aware of is speeding boats – so try to stay close to shore when swimming.
6. No Private Beaches
All of the beaches on Turks and Caicos are open to the public and free. Parking is also accessible across most of the country, but you might not always be able to get a spot at busier beaches.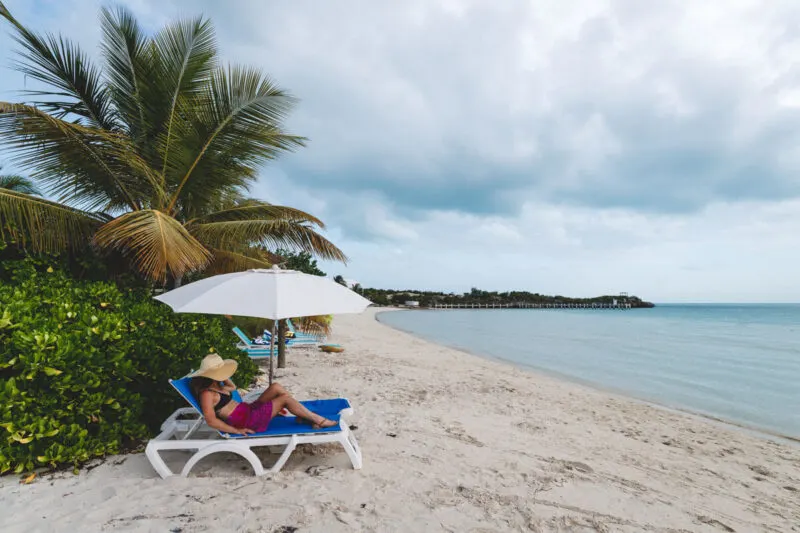 7. How to Save Money in Turks and Caicos
There's no way around it, this is an expensive place to visit, but there are a few ways to save on costs.
Flights and tours will be cheaper in the off-season (but be aware that some restaurants close for hurricane season).
Renting a car will be much cheaper than getting taxis. The next cheapest would be to just book a tour, taxis are crazy!
Groceries prices are astronomical, but you can bring your food and some alcohol into the country.
Shop where the locals do and cook your meals at the hotel. Sunny's and IGA Graceway are the grocery stores to go to but you'd need a car. The Graceway Gourmet is the most conveniently located but will be more expensive.
8. What to Eat
Fresh seafood is the one thing not to be missed in Turks and Caicos. Conch and lobster are the staples, though they're only available from Oct-Jul and Aug-Mar, respectively. Other local specialties include peas n' rice, jerk, and rum punch!
9. No Alcohol Sales on Sunday
If you want to drink at your resort or hotel room, you'll need to stock up ahead of time. Otherwise, you can still enjoy a drink at a bar or restaurant.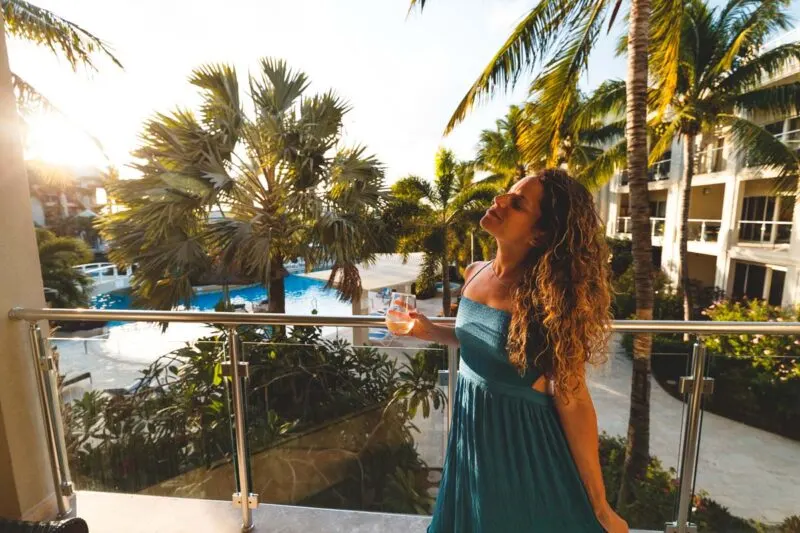 10. What to Pack
You won't need much beyond your beach gear, but there are a few extra things to bring if you don't want to pay the high prices on the islands.
Cash – ATMs are scarce, so pack some bills or withdraw at the airport on arrival.
Plenty of sunscreen and a hat
Mosquito repellent for after dark
Snorkeling gear – it's easy to rent but very expensive
11. Tipping and Taxes
The rules here are the same as in the US, with about 15-20% tipping as standard. What can be confusing is that some bars and restaurants will automatically add a 10% service charge to the total, so check before you calculate your final tip. Also, taxes aren't always included in menu prices, so be prepared for your bill to be higher than expected.
12. Language and Currency
As British Overseas Territory, everyone in Turks and Caicos speaks English (and are SO nice!). However, the currency is in US dollars, and you'll find that the power outlets and voltages are the same as in the US.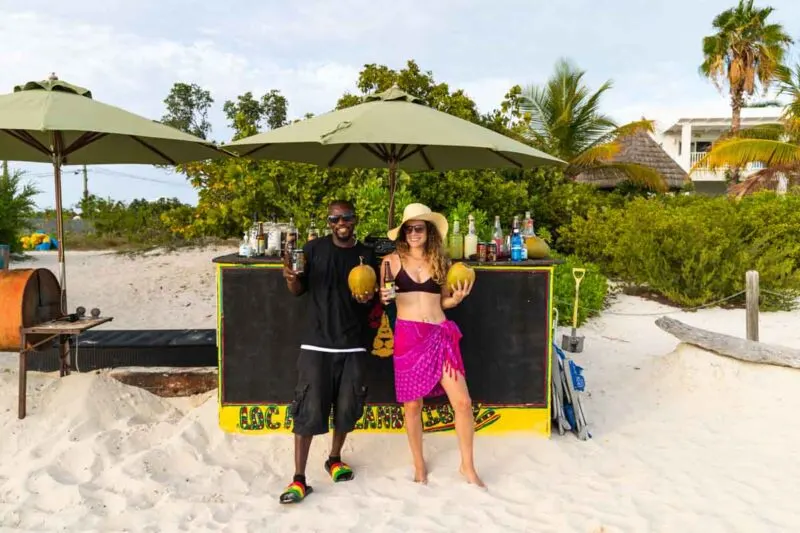 13. Booking Ahead of Time
Part of a relaxing beach holiday does not have too many plans, but just remember these islands are heavily touristed. If you want to take a particular tour, booking ahead is best to avoid disappointment. Even things like kayak rental are best checked in advance.
I hope my list of things to do in Turks and Caicos helps you better plan your trip!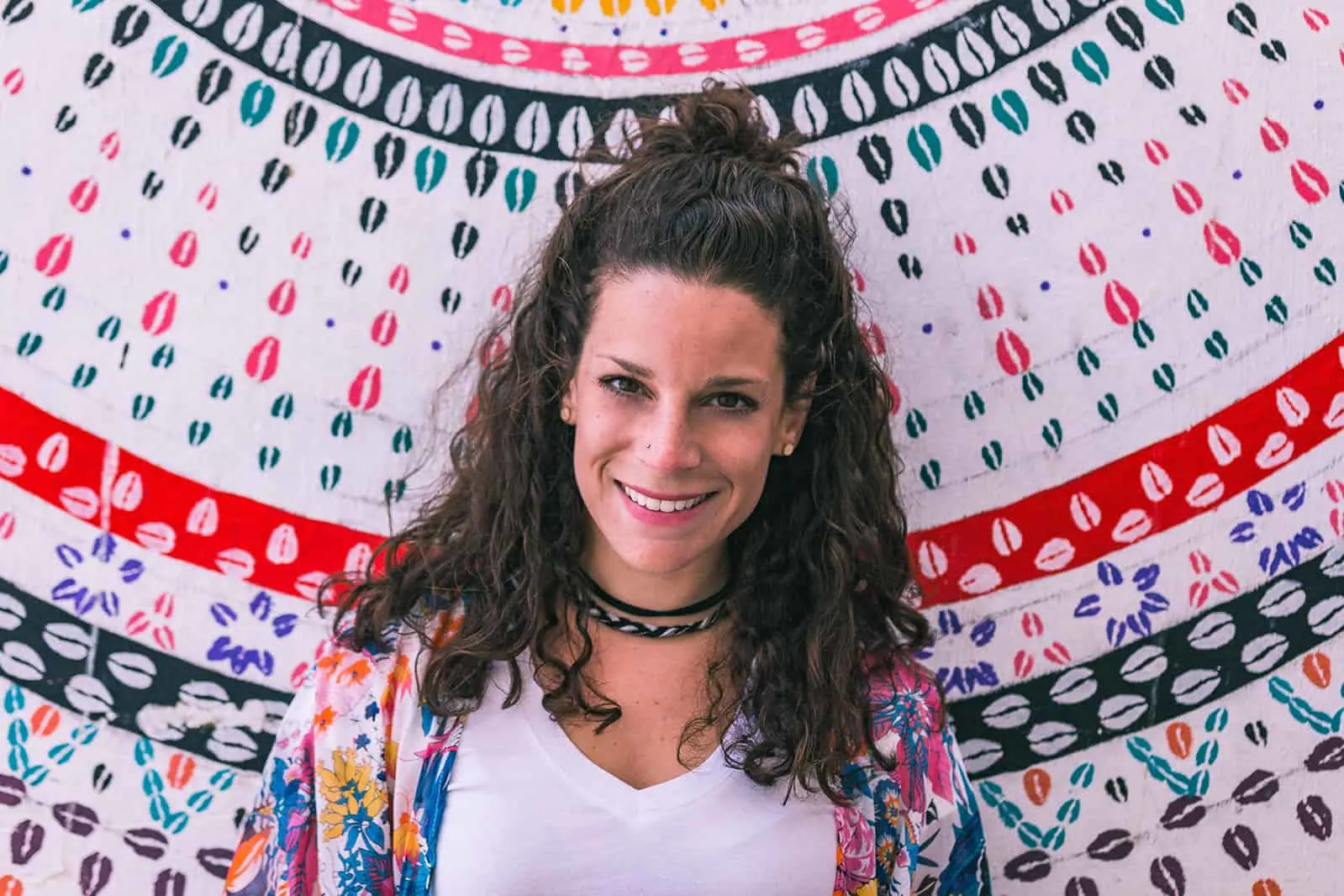 Nina Ragusa is an adventurer, messy bun master, breakfast fan, and full-time travel blogger. She's been abroad since 2011 and blogging on Where in the World is Nina? for nearly as long. Nina helps people like you move around the world while making money. She loves talking about how to work abroad and online to travel longer!