As an East Coaster who had never visited the West Coast until recently, I just didn't know what I was missing out on.
I'm from Florida. The West Coast, before visiting, was a place of gloomy dreary weather that was cold and rainy, or… California beaches. That's it. There wasn't much in between. Maybe wine and Portland's "weirdness" too… but that's about it.
It wasn't ignorance, it just simply was "home" so I didn't think much of it.
The cobbled streets of Europe were far more fascinating, wandering in the chaos that's almost any mega city in Asia was way more enthralling and having the chance of running into a kangaroo or man-eating spider in Australia was terrifying yet much more intriguing…
So the West Coast, in short, was always too "close" for me to be that interested.
Oh, how wrong I was…
After finally visiting Oregon a few years ago, my first time on the West Coast, I fell in love. It's probably my favorite state! And after this West Coast road trip, this East Coaster is truly a West Coaster at heart.
The West Coast is my people, it's my vibe, it's me.
I want nothing more but to spend months on the west waterfall chasing, hiking, soaking up those west coast feels and breathing in the fresh mountain air…
I fell hard and after this West Coast road trip that I did in September and October, I only want to go back for more and more!
I think you'll feel the same. Here's everything I loved about driving this Seattle to San Fransico road trip and all the info you need to do it too.
To preface, we were in a campervan named La Fonda (yes, we named our van and "we" is my friend Jess and I) and got to take our home everywhere, parking rather feely along the way. There were zero worries about finding hotels for the night.
For more info on the logistics of road tripping from Seattle to San Francisco, what van we used, where we slept, what we ate, budget, tips etc, I have these posts…
Related:
Road Trip Essentials Checklist
How to Plan a USA Road Trip and What Vehicle I Used
Mistakes to Avoid While on a USA Road Trip

Don't lose this! Click to pin it now.
West Coast Road Trip: Seattle to San Francisco in 2 Weeks
---
Here's the thing about this Seattle to San Francisco road trip… I didn't really do it!
Wait, what? Hold on, I DID do it, I just didn't do it exactly like this. My trip was actually nearly three weeks and I started in Vancouver, Canada.
If you're interested in starting even more north, like all the way in Canada north, and I suggest you do… Here's some more info on that and this too.
Below you'll find my favorite stops along my West Coast road trip. There were plenty more stops along the way not listed here and actually a few extra places that I wish I went to instead.
Below is the best of the best and I hope you love everything as much as I did.
Just note that there are a few days unaccounted for because, well, life. There's bound to be a delay or a moment where you want to chill somewhere for longer or a detour that took 3 hours instead of 3 minutes… So I padded this itinerary a bit for you already.
There's also SO much along the way not on this list because as per usual, we always need more time. So is life.
A Few Notes About This Seattle to San Francisco Road Trip:
The below West Coast road trip DOESN'T go along the coast at all.
I know that's the most popular route and like, why would I not drive that route?! Well, I actually have a few valid reasons…
The coastal route is no doubt gorgeous but I was curious about the inland route. There's plenty to do inland too! Why not road trip that bit?
The highways inland are going to likely be less busy. As in, everyone road trips the coast so I'd rather explore the areas not visited by everyone and their mom.
This road trip happened between September and October, which is my perfect shoulder season time! I rarely go anywhere during high season and it pays off. Also, the weather was PERFECT. Fall colors, hello!
On that same note, the West Coast doesn't really exude "beach vibes" (unless you're in SoCal) and staring at a cold ocean for two weeks didn't sound like the best time to me, I'm from Florida, remember?
The weather on the other side of the mountains and away from the coast is regularly way better. I've spent a lot of time in Oregon, Bend specifically, and people just a few hours closer to the coast are ingrossed in rainy weather while we're basking in the sun… This side of the mountains has much better weather particularly at this time of the year.
Lastly, I was interested in some adventure! So I wanted to hike and chase waterfalls, those are mostly inland.
There's no knocking the coastal route, it's just not what I did for this trip so in case you were expecting that, this isn't the right post (unless you're willing to be swayed that is).
So! That's it, that's why this Seattle to San Fransico road trip is cruising inland, so let's go, shall we?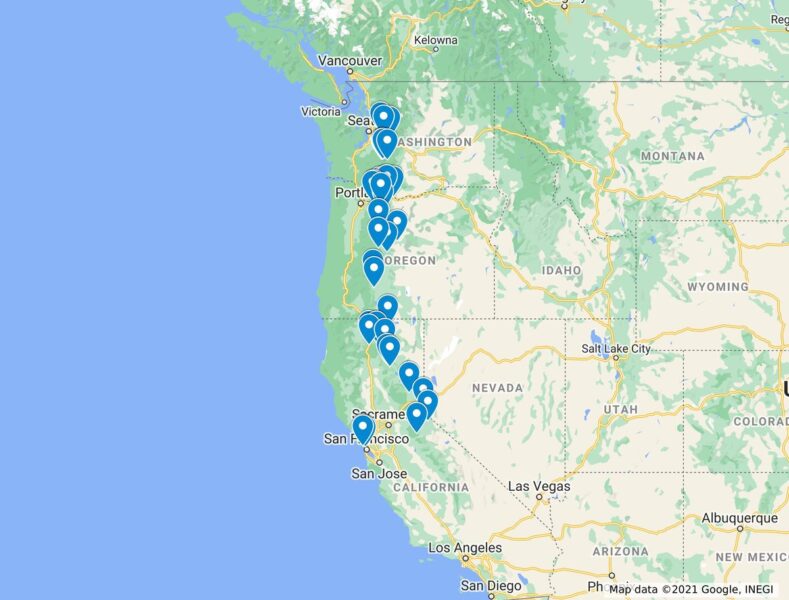 West Coast Road Trip Through Washington—2 Days
As this itinerary is not about exploring the cities, we drove on the outskirts of Seattle and headed straight to our main attraction: Waterfalls!
We got the party started as soon as we made it into the USA. There's no time to be spent wandering concrete jungles, and really, who wants to drive a van through that and deal with parking anyway?
Not I! So here's what we did with our few days driving through Washington…
I-90 Snoqualmie
Snoqualmie Falls was a great first stop. It's extremely easy to get to and is only a few minutes strolling to the viewing platform. Should you want to take it further, there is a one-mile (there and back) pathway that goes down to the falls.
Getting down won't be too hard but it's quite steep going back up.
The waterfall is actually a Hydroelectric Plant and was the world's first completely underground power plant. Yay for fun facts!
Franklin Falls was probably my favorite waterfall in Washington. The hike was pretty easy with the last few minutes being over some sharp and slippery rocks. And at the end of it, you get a perfect waterfall!
Twin Falls was another relatively easy trail although the path got a bit muddled here and there the closer we got to the falls. And there will be clambering over branches and fallen trees too. Not sure why they named it twin falls as we didn't see any twins while here but it's still pretty!
NPH 706—Mount Rainier
Mount Rainier could enthrall you for days on end… And to be perfectly honest with you, we didn't mean to drive through Mount Ranier!
It was overcast, Mount Rainier had been in hiding since we entered the state, and the morning we arrived here didn't look any better.
Most West Coast road trips wouldn't dare miss this on the itinerary, and I couldn't believe we almost missed out!
The fact that it was overcast and Mount Rainier was nowhere to be found didn't matter. The park is still totally worth a visit, even if it's just a quick drive through!
Luckily, there's so much to see that's also easy to reach, we drove through in one day and got to see SO much.
TIP: Make sure to have $30 in your budget for this trip! Mount Rainier costs $30 per vehicle regardless if you're just driving through or want to check it out. If you want to use NPH 706 / Paradise Road, then you'll have to fork over the money. Good news is, the pass lasts a week if you're hanging out or driving back through in a few days.[/box]
Check out Christine Falls viewpoint, and if you're up for it, keep on trekking out to Comet Falls.
It's another 4.3 miles out from Christine and isn't too hard but will require some stamina and skill. Considering our dismal weather and the fact the trail was already so muddy, we didn't make it out there.
Christine Waterfalls is right there along the road though and you can walk two seconds to the viewing platform, although, Comet does look amazing and I want to go back to check it out.
Narada Falls is just another wander down the road and again, a short walk down and then back up!
There's a longer (2.4 miles) and tougher hike if you want to go all the way down to the falls if it's not too muddy out.
There's a place here called Paradise and honestly…
That name is usually thrown around without a care. But I think we did actually find it to be a paradise! We were graced with some of the most incredible fall foliage to roam around, and we were definitely digging it!
When you do this West Coast road trip, I can't encourage you enough to come in fall, fewer people, beautiful colors, cool breeze, what's there not to like?
I'm not sure what this area is regularly used for as there was just a parking lot near the meadow but we were the only people here for about an hour as we enjoyed the colors of fall.
The drive around Mount Rainier is equally as beautiful as everything we saw in it.
Winding roads, trees bursting with color, waterfalls, streams, and dense valleys… I'm so happy we drove through on accident!
Before we headed out, we took one last stroll through the Grove of the Patriarchs that was maybe a 30-minute loop filled with giant trees and a mini suspension bridge over a stream.
RELATED: 21 Epic Waterfalls in Washington
Road Closed
Unfortunately, our plans to wander through Gifford Pinchot National Forest via NFD-25 was quickly halted due to road closure for repiping.
We didn't want to drive all the way back through Mount Rainier either.
We were left with NF-23 which was a small lonely road with nothing on it. We didn't have any high hopes for NFD-25 either, however, there are a few more hikes and waterfalls down that way that we planned to visit.
Just know that the roads in this area of Washington are small and rough, and can turn into a dirt road all of a sudden, as we encountered.
If you want to stick to bigger roads, you're only options are I5 or I82 towards Yakima until it breaks off to H97.
Both of these options are definitely more out of the way which is why we chose the crappier smaller road. It did save some time and made for an interesting adventure!
RELATED: 17 Legendary American Road Trips
West Coast Road Trip Through Oregon—4 Days
Oregon has become a second home to me. OK, wait, Thailand was second, so maybe third?
Oh but Portugal is a home too…I digress…
I LOVE Oregon and I actually have more to offer than what's on this list.
Something to note before you venture off in the natural beauty that is Oregon, in 2017 the Columbia River Gorge (a gorgeous area just east of Portland) was ravaged by a fire.
In short, a teenager lit a firework when there was a fire ban and next thing you know, over 40,000 acres went up in flames.
Even when we visited this area, in October of 2018, a lot of the area was still closed. I hope when you do this West Coast road trip more things will have opened.
Everything that's listed below was open and safe when we went. There are DAYS worth of gorgeous hikes, waterfalls, and nature to explore in this region alone.
Lastly, I love Bend and this is where I spend a lot of time when I'm in The States. If you have extra time, play around there!
RELATED: Your Adventurous Nevada Road Trip
Columbia River Gorge
With a waterfall hike named Dry Creek Falls, how high can your expectations be?
We took the chance anyway and drove La Fonda (the van) as far as we could but she started getting stuck in the loose gravel and we had to park and add some time to our hike out there.
This place is a bit in the middle of nowhere and you'll feel like you're parking in someone's backyard.
Luckily, the waterfalls were not at all dry and instead, we rocked up to a totally empty area with a gorgeous streaming waterfall.
It was so peaceful, we spent a good chunk of time hanging out and soon a few people on horses came galloping through. Otherwise, not another soul to be seen.
Our next waterfall was called Starvation Creek Falls. Who is naming your attractions, Oregon?!
This one was OK, it was a quick run in and run out stop as it's two minutes away from the parking lot.
For a badass viewpoint, Rowena Crest Viewpoint is gorgeous.
First, there's the cool horseshoe road view but you can also see straight down the Columbia River Gorge which is a mighty beautiful site to see.
Take a drive down the Columbia River Gorge, all the while enjoying the views just outside your window.
Make your way to the famous Multnomah Falls.
This is probably the most famous waterfall in Oregon, and most West Coast road trip itineraries will mention it. You're right here, come take a look. If you're low on time, there's an easy viewing platform at the bottom.
But if you have extra time, you should definitely scramble up, however, at the time of writing, the trail going all the way up is still currently closed due to the fire I mentioned above.
One thing to note, this place gets SUPER packed. Finding parking can be a feat and getting a good picture can be annoying, but it's a quick stop over and still worth it.
Bridal Veil Falls is a gorgeous little waterfall not too far from Multnomah and a great alternative if you're not wanting to share your space too much.
It's quite an easy hike in, and there's a big boulder to climb up to get a better view of the falls. Just down the road is Vista House which offers you your last glance at the Columbia River Gorge!
RELATED: Waterfall Hikes Near Portland
Mount Hood Area
Make your way down towards Mount Hood and stop at Trillium Lake.
This is perhaps the prettiest lake I saw on my West Coast road trip! And it's all because Mount Hood finally decided to show its face. Usually, he likes to hide behind the clouds and be all mysterious. But today, he was out to play—finally!
There are easy trails around the lake or you can simply bring a picnic and sit at the lake's edge and just enjoy the view.
Another great lake to see Mount Hood is at Lost Lake.
Unfortunately, when we got there, he went back into hiding for the day. But there are some great trails around here too and would even be a great place to camp out.
RELATED: Your Adventurous Arizona Road Trip!
Santiam Pass on the Way to Bend
Speaking of mystic mountains who want to hide behind clouds…
The next mountain we came across riding south was Mount Jefferson. We saw him ALL DAY. He was in plain sight around every bend.
However, when we made our way through the beautiful hike up to Triangular Peak, he had disappeared. This hike is incredible and even without Mount Jefferson in sight, I was pretty blown away.
From up here, you have some truly spectacular views of the dense green forests below, yet you're ironically standing amongst a forest of burnt up trees.
The fires came down hard here too (not sure if it was the same fire though) and the trees will eventually come back, but for now, it was a cemetery.
It was hauntingly beautiful but to bring the mood back up… Keep on hiking.
As you continue past the forest of dead trees, you'll come across Boca Cave.
A massive cave that perfectly frames Mount Jefferson… If he shows up.
Even without Mount Jefferson out to play, this was a perfect reward after our hike!
Have some extra time? Squeeze in a visit to Smith Rock State Park just outside of Bend. There's rock climbing and hiking opportunities galore and the setting is stunning. Hiking Misery Ridge is a good call if you have a few hours and want to break a sweat. You can get a great view on the fly if you can't hike around, simply park and enjoy the incredible views from the valley below alongside the river.
Tumalo Falls is a really beautiful waterfall that's pretty quick to get to as you don't need to hike too far but the last waterfall to visit before making your way out of Oregon is Proxy Falls.
This waterfall has eluded me.
I've lived near this waterfalls for two summers in a row and just kept putting the visit off.
During our road trip, we got lost about 10 times on the way to Triangular Peak, so we didn't make it here but I'm including it on this list because it was literally the only place that was a must-visit for me, and funny enough, was the one place I didn't get to see.
Visit it for me, please? Luckily, I'll be back in the area to visit soon…
I absolutely LOVE Bend, Oregon and its surroundings. I actually spend a lot of time here. Want more info on what to do around Bend? Check out what Bend offers.
You're almost on the way to California… But first, two more gorgeous lakes, cool?
One is super famous, and the other isn't but maybe should be!
Diamond Lake features the mighty Mount Thielsen and while there isn't much to do about there, the views are worth a quick drive-by on the way to Crater Lake.
One of the world's deepest and purest lakes…
It's pretty damn impressive! I must say, I think it looked far more magical in winter when I was here last but it's pretty damn incredible any time of the year.
TIP: If you come on offseason and a bit later in the day, you may not get charged the entry fee as the booths aren't always manned. We got here a bit before sunset. ($15-$25 in winter/summer per vehicle).
There's a whole loop to drive around or you can drive just one side of the rim if you're low on time. Do note if you come in winter the rim road may be closed, so just double check what's open.
If it is closed, you will likely still be able to visit but only to one viewpoint and not the whole loop.
RELATED: Your Southwest Road Trip Itinerary (1 Week – 2 Months)
West Coast Road Trip Through California—6 Days
In short, California is overwhelming.
What a massive state with an incredible amount of diversity to get your hands dirty… Like where does one start?
I had no clue, so my strategy was to literally "drive through the green." Yeah… Why are you even here on this blog and listening to me? I'm clueless, like totally and completely. Wtf tactic is that?
OK, for real, thanks for hearing me out, the strategy stemmed from me wanting to explore the beautiful "inner" parts on my West Coast road trip.
So off I went into this weird green patch in California with national parks I've never heard of. Here's what I found…
RELATED: California Road Trip Itinerary: 19 Must-Visit Stops!
I5 and Highway 89
The first national park we stumbled upon and drove through was Lava Beds National Park.
It sounded weird and intriguing!
While I wouldn't say to hang around for a whole day, a quick drive through would be perfect.
Take a hike around the Captian Jack trail, visit a few caves, spots some bats, and maybe even a rattlesnake too!
After experiencing the vast and dry Lava Beds, Feary Falls was paradise.
This was such a perfect find and I'm so happy we didn't skip it! It's not the easiest find and we almost gave up. But we took the chance on the trail with no sign and found it.
Feary Falls did feel a bit like a fairytale considering there was almost nobody else here!
Mossbrae Falls is on private property! We wanted to go here really bad but after trying to find it and then finding out it was not open to the public, we left. There were tons of people ignoring the signs and walking through private property to get to this waterfall. You can't access without breaking the rules, trespassing, and parking illegally. There are signs everywhere, don't be that tourist. They are trying to build another path that will be open to the public soon.
McCloud's Upper and Middle Falls were a nice and easy stop over after our Mossbrae fiasco. Mount Shasta was a beaut to see in the distance and we got some good views on a random turn off around McCloud Falls! Keep an eye out for a good angle.
Castle Crags State Park looked remarkable but by the time we got here and looking at the hikes, we just didn't have enough time. I'd totally go back and explore the trails here though!
Burney Falls put some of these other waterfalls to shame in terms of its size, power, and beauty, no wonder it's so popular!
Luckily, I was here during shoulder season, as I do, so it was bad at all, but I've heard it gets pretty crowded. Burney Falls is probably the top waterfall on most West Coast road trips, particularly any road trip going through California!
And obviously, the pictures show you why. It's simply stunning and offers both the powerful falls and the "mossy dribbles."
RELATED: West Coast Waterfall Hikes
Highway 89 "Through the Green"
Lassen National Park was quite the surprise, I didn't think I was going to be as entertained as I was! Manzanita Lake first welcomes you as you enter the park with Lassen Peak just beyond.
Enjoy the view, rent kayaks, have a picnic or just snap a picture if you're in a hurry.
Kings Creek Falls offered a wonderful hike through the forest where bears stroll around and swipe their meals from the creek. Unfortunately (fortunately?) we didn't encounter any bears, although, I'd be lying if I said we weren't hoping!
The waterfall offers a viewing platform but I'd hike down the boulder if I were you to get a better look at it.
Lassen Peak will be staring at you all day and beckoning you to challenge yourself and hike up to the top. Being that my friend Jess had hurt her ankle a few days prior, we had to skip it, but it looked like a wicked place to get up high! I'd go back to tackle it.
Just as you ride outside of Lassen National Park you'll see some cool sulfur steam craters with a mighty stench and smoke emanating.
Sardine Lakes was another stellar sight.
The High Sierras are out in full force glinting their reflections in both lakes. The hike to Upper Sardines Lake is worth it—don't try to drive there without a 4×4!
Add-on: Have more time? Drive out a bit further and make it to Lake Tahoe. Take a dip at Kings Beach, check out Emerald View, do some water sports, drive around the lake and make a few stops along the way. It's quite beautiful!


For $10, switch it up and rest those feet from hiking at Grover Hot Springs State Park. There's a cool, or should I say hot, pool for soaking in the mineral water from the area. It also has a shower, which we were in desperate need of. Two birds, one stone here.
We're almost done with our West Coast road trip! We saw all the waterfalls, all the lakes, and all the crazy beautiful mountains we could see… Let's switch it up.
RELATED: Your Adventurous Montana Road Trip!
The Trees
For the last couple of days, we mixed it up and hiked through two gorgeous parks with some pretty famous trees.
Big Trees National Park is pretty much what it sounds like! It's a park with tons of trees and some of them just so happen to be the biggest in the world. No big deal, guys!
When I say big, I'm talking MASSIVE. It would take a small army to fully hug some of these trees and it was humbling to walk among them.
The next is far more famous, Muir Woods National Monument is home to some of the tallest living things on earth, the Redwood tree. At Muir Woods, you get lost in the lush and impenetrable forest before you.
I highly suggest taking a wander out of the "main" trails and going up further and making the larger loop. There are hardly any people the deeper you go in and it's much easier to get lost in the moment up here.
The Tennessee Valley Trail is worth a wander as well as you haven't seen the coast this whole trip! Take a quick hike in and dip your toes in the sand, listen to the water crashing on the rocks instead of the trees whistling among themselves.
Just next door is Muir Beach overlook for an incredible view of the coast. Before you say goodbye to this West Coast road trip, make the iconic stop at the Golden Gate Bridge.
We found the H. Dana Bower Rest Area (Vista Point) to be a perfect spot because, for one, it was a bit out of the madness of the city but also, it's a place with free overnight parking so we slept in this parking lot and woke up to the bridge during sunrise. Pretty sick!
Add-on: Sticking around San Francisco? Here's what I did with my day in San Francisco last I visited… Take a wander through Haight-Ashbury, walk down the 16th Avenue Tiled Steps, get a snap of the San Francisco Bridge from Baker Beach, and then see the Painted Ladies if you're a Full House fan. Yep, pretty much all the touristy things, because, why not?
How to Plan a West Coast Road Trip?
So you know where you want to go but aren't sure how to plan much beyond that… I got you!
I'll be brief here and send you off to read my in-depth guide but in short, I rented a JUCY van and it was the perfect vehicle to get me from A to B. I also have a method for planning road trip stops and what mistakes NOT to make.
Just wanting to rent a car? I usually find my car deals on Holiday Autos, but I always double-check on independent sites too like Hertz and Sixt.
DON'T FORGET! You NEED travel insurance—Especially when renting a car, you don't want to get caught without. Any damage to the vehicle could cost you a fortune.

Your car rental could be covered by your credit card but keep in mind there's always some crazy fine print, so read it! Credit cards rarely include RVs or campervans and are usually only for regular cars.

The vehicle rental company likely offers insurance but it doesn't hurt to shop around to see if your travel insurance or credit card offers you the same coverage for less.

In addition to making sure your car is covered, you'll need to make sure YOU are covered too. Safety Wing and World Nomads are often what I use, depending on where I am in the world.

***BOTH of these also have options to add rental car coverage! Grab a quick quote now and see how much it is to cover you and your rental vehicle…

Quick quote: Safety Wing | World Nomad
My West Coast road trip did not disappoint. I was thoroughly happy with taking the inland route as a great alternative. The coastal route isn't all there is to do! Although, I will save that route for another day.
Did you love chasing waterfall on this itinerary? If so, I have an entire list of badass waterfall hikes to visit, you can add even more if you have time.
When going from Seattle to San Fransico I hope you add some or all of these spots to your list of places to go.
Which of these spots are you most looking forward to seeing? Let us know in the comments!
---
---
Busy? Click the picture to Pin this for later