There's something special about a great hike with a massive reward at the end.
Sometimes you get a great view, other times it's a campsite you've been yearning to reach all day, and then sometimes you get a freaking waterfall, which is perhaps one of the best rewards of them all.
There's something magical about waterfalls, the power, the beauty, and the sheer size of some of them… There are no words.
For my USA road trip, instead of cruising the west coast like most road trip itineraries, I decided to take the inland route, AKA where more mountains, waterfalls, and hikes live. I was NOT disappointed!
My dreams of hiking to waterfalls pretty much every day for a couple of weeks straight came true and were grander than I could ever imagine them to be. I didn't want it to end!
Unfortunately, I couldn't complete every waterfall hike I wanted. In order to make my list of waterfall hikes on the West Coast even better, I asked some friends to share some of their favorites making this a list of 27 hikes that lead to at least one waterfall for your waterfall chasing adventures!
This should keep you busy for a while. Chase on, my friends.
27 Incredible Waterfall Hikes on the West Coast, USA
---
Lace up those hiking boots and get on the trail.
Here's an easy map to see where all these waterfalls are. While I have 27 hikes listed here, many of them have extra loops and trails to tackle should you want to be an overachiever on the trail and see even more waterfalls.
Yep, that's right, MORE waterfalls. Some of the hikes here feature more than one waterfall, so it's your lucky day!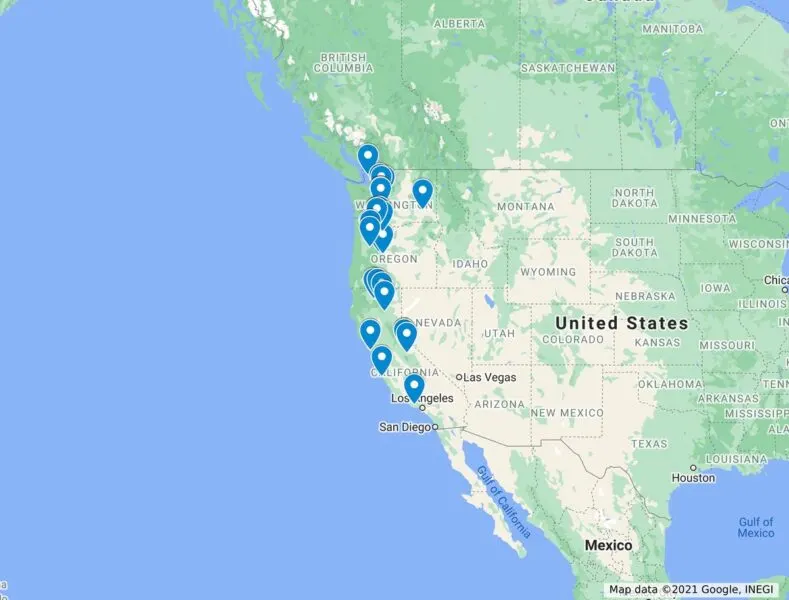 The best way to see any of the waterfalls is by taking your own car, and if I may recommend, an entire road trip dedicate to hiking to waterfalls, as I did. It was a great idea and made for an unimaginably badass trip.
I've included the best time of year to visit each of the falls as well, so keep this in mind as hiking to a dry waterfall would be a bit disappointing. Each of these waterfall hikes are separated per state, Washington, Oregon, California, and then further ordered by easiest to hardest in regards to the hike.
While easy, moderate and hard are relative words, I used alltrails.com, a great hiking information site, to make a standard for rating these hikes.
Busy? Click the picture to Pin this for later
Washington Waterfall Hikes
---
1. Palouse Falls
Recommended by Lisa from TheHotFlashPacker
Difficulty: Easy
Distance: 1.2 miles
Best Time to Visit: February until October
One of the most beautiful and unique waterfalls in the Pacific Northwest is Palouse Falls. Located in the southeast area of the state known as the "Scab Lands", this is a waterfall in the middle of the desert.
The Palouse River drops just under 200 feet to form an eroded canyon flanked by volcanic basalt columns. Despite the desert setting, the plants thrive in the spray of the falls.
Viewing the falls can be seen from the comforts of the edge of the parking lot, but if you're into hiking, there are a couple of hikes to take on here.
One is about 1-mile walk to view the falls. There is also an 8-mile hike along the canyon. The hikes are not for the faint-hearted with narrow paths and loose gravel.
Be especially careful of your step, as several people have fallen and died in recent years.
Palouse Falls was named the official State Waterfall of Washington in 2014 and has gone from relative obscurity to quite popular in only a few years. Palouse Falls is a state park and requires a daily fee of $10. There are a few spots for tent camping only
2. Cascades Falls Trail at Moran State Park in Orcas Island
Recommended by Astrid from The Wandering Daughter
Difficulty: Easy
Distance: 0.8 miles
Best Time to Visit: March until October
A beautiful waterfall hike in Washington state is the Cascade Falls Trail.
Located in Orcas Island's Moran State Park, this trail is a great introductory hike that offers a slight challenge with a stunning payoff.
The Cascade Falls trail is perfect for novice hikers or families with young kids. A short half-mile round-trip hike, the trail begins at the Mount Constitution entrance of Moran State Park and winds through the old-growth forest.
The trail eventually leads to Cascade Falls, Orcas Island's highest waterfall, standing tall at 40 feet.
The trail path is relatively wide, but the steep descent to the base of the falls can be slightly challenging for young hikers.
However, the beauty of the falls is worth the challenge.
It's a stunning hike to take at all times during the year. For those wanting a much longer hike, start at the trailhead at the South End Campground of the state park and continue along Cascade Creek to Mountain Lake. Cascade Falls serves as a midway stop on that hike.
Orcas Island is located off the northwestern coast of Washington state. It is accessible by ferry from the town of Anacortes. Reservations on the ferry going to and from Orcas Island are recommended, as the wait for a drive-on spot can take several hours.
RELATED: The Best Hikes Near Washington DC.
3. Franklin Falls
Difficulty: Easy
Distance: 2 miles
Best Time to Visit: All year round
If you are looking for an easy day hike that has a truly spectacular ending, then Franklin Falls is the hike for you.
The waterfall hike in Washington is a 2 mile round trip in total with 400 feet in elevation gain. The waterfall trail is extremely safe for even the smallest of hikers, with rock steps and solid walls all constructed to make an easy path.
There are even handrails at some points, however, the last couple of minutes do require a bit of scrambling on some jagged and slippery rocks.
This hiking trail with a waterfall takes you through coniferous trees which will keep you cool on even the hottest of day, and after 1 mile you will reach the falls.
The falls themselves are comprised of 3 tiers, yet only the last and most impressive drop can be seen from the trail, which is 70 ft drop!
4. Snoqualmie Falls
Difficulty: Moderate
Distance: 1.3 miles
Best Time to Visit: June to December
Washington has many hiking trails with waterfalls, and Snoqualmie Falls waterfall trail is a great out and back trail for everyone.
Although it is only a few minutes to the viewing platform where you will get some incredible views of the falls, you are also able to head a lot closer to the water following the out and back trail, which is just over a mile long.
This waterfall trail in Washington is short and steep, so although it may be downhill on the way, just remember you will have to climb up on the way back!
The trail itself is made with multiple, long switchbacks, and is wide and covered in gravel in some places.
If you are a fan of Twin Peaks, the falls are featured in the intro to every episode, so following this trail is your chance to see it up close and personal.
The falls themselves are one of Washington State's most popular attractions, and when you see it for yourself you will certainly see why. During high waters, the falls take on a Curtain form and falls for 82 meters.
The waterfall is actually Hydroelectric Plant and was the world's first completely underground power plant.
RELATED: 21 Epic Waterfalls in Washington
5. Twin Falls
Difficulty: Moderate
Distance: 3.6 miles
Best Time to Visit: March to October
Although relatively short, the Twin Peaks Trail is pretty steep, but the climb will be worth it once you see views of the falls.
After reaching a swampy area, the climb will really begin, helped by a series of switchbacks.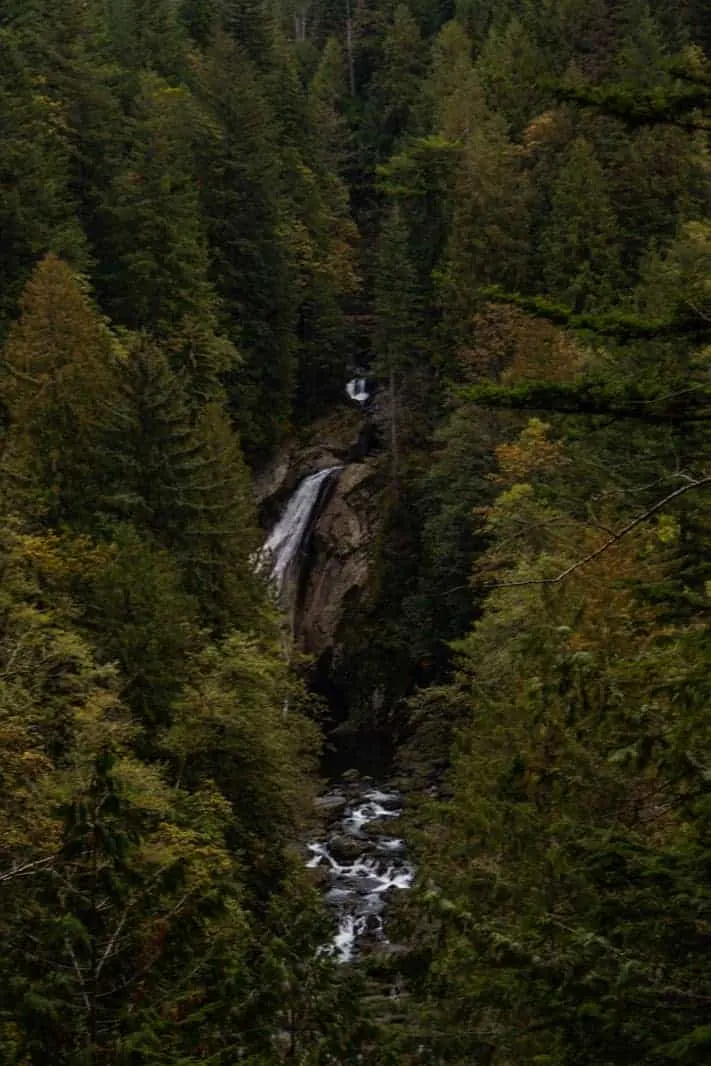 There are three separate falls that collectively make up the 'Twin Falls'. At the top of the first hill, you will get your first glimpse of the lower falls, after another hill, you will reach the best views of the lower falls that you can get.
After a few more slopes and stairs, you will get to the upper overlook for the best views of the Upper Falls but I think I made it here just a bit too late to reach it until the end. The sun had set and I needed to hightail it back out of the trail before it was pitch blackout.

6. Christine and Comet Falls
Difficulty: Moderate
Distance: 4.3 miles
Best Time to Visit: July to October
Christine Falls is, admittedly, not much of a waterfall hike as it's just a few steps from the road.
It will take you just a few seconds to reach the viewing platform.
But if you are feeling up to it, you can continue for 4.3 miles to nearby(ish) Comet Falls. Along the waterfall trail you will see some teaser falls and cascades, but nothing that will prepare you for the real thing at the end.
The falls stretch over 300 feet into the sky, and once you reach it there are also some smaller trails that allow you to stand right at the base of the falls.
The hike does require some stamina and skill, as there are a fair few steep sections where you will have to scramble over rocks, and it is uphill the majority of the way.
Unfortunately, the trail to Comet was incredibly muddy and rained out when I went but I hope to return to do it one day!
7. Narada Falls
Difficulty: Moderate
Distance: 2.4 miles
Best Time to Visit: June to October
The trail to Narada Falls is short and sweet, and you can get a good view out to the falls not far from the road.
If you want a closer view, then you can take the 2.4 mile waterfall hike in Washington that is a little tougher but will let you get very close to the falls.
Along the way, you will pass the smaller Carter Falls, and various spots where you can stop for a swim if you are brave enough to face the chilly water. The trail below the falls is often wet and slippery thanks to the mist, so you have to be very careful, especially in the winter months.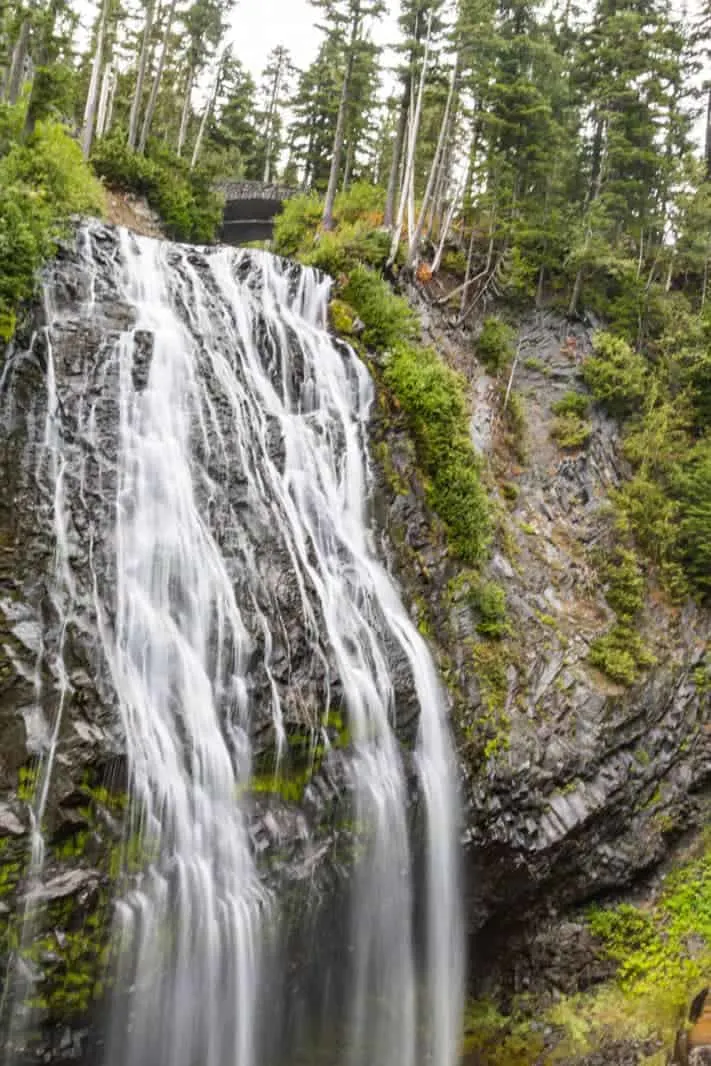 The falls themselves have two distinct features. The top tier is the tallest, falling 159 feet and has a horseshoe fall, with multiple channels running down the rock face. The lower tier plunges just 17 feet into the pool. Just down the road is the incredible Paradise Park which, during fall, is a gorgeous fairy meadow.
RELATED: Seattle to San Francisco West Coast Road Trip! Adventures and Waterfalls
Oregon Waterfall Hikes
---
8. Drift Creek Falls
Recommended by Rhonda from Roaming Red Feather
Difficulty: Easy
Distance: 2.6 miles
Best Time to Visit: All year round
Lincoln City is a beach city but has cool waterfalls too.
Drift Creek Falls is about 10 miles from the south end of town and it's loved because it has an 80ft drop and is easy enough for anyone to hike.
The trail is wide but a little uneven and rough in a few spots. You could see the waterfall from different angles and spots and if you hike along the creek you can get up close.
The trail is surrounded by huge trees, deep gorges, and brooks in a thick forest.
The best part is the suspension bridge that looks over the top of the falls and into the really deep gorge!
This is not for people who are afraid of heights as the bridge does move. The rocks around the creek and falls are slippery and even in the daylight the trees can make the area dark in some areas and can still be wet even on sunny days.
Wear good shoes and please know it is uphill almost all the way out of the trail.
Parking is tight and the road out to the trail is rougher than the actual hike, but you will get some amazing pictures and be on a suspension bridge overlooking a rushing waterfall!
Hint: Go after it's rained-—the falls will be fuller.
9. Bridal Veil Falls
Difficulty: Easy
Distance: 0.5 in miles
Best Time to Visit: March to October
Bridal Veil Falls is a gorgeous little waterfall not too far from Multnomah and is a great option if you are not up for hiking too far.
The waterfall hike itself is easy, and if you want an even better view, there is a large boulder that you can climb up on.
The great thing about this waterfall is that although it is close to the highway, it can't be seen from the roads, so chances are it will be pretty quiet when you arrive.
The hike will take you to the base of the majestic waterfall, then if you are looking for even better views, you can continue the hike along the waterfalls to a cliff overlook that offers stunning vistas up and down the Columbia River Gorge.
The fall is two-tiered, flowing down from the top of nearby Larch Mountain.
10. Proxy Falls
Difficulty: Easy
Distance: 1.6 miles
Best Time to Visit: March to November
Stunning Proxy Falls sits just east of the McKenzie River, and is a waterfall hike in Oregon well worth taking.
You will be rewarded with views of one stream cascading into two shimmering veils of water that drop 226 feet into the pool below.
The hiking trail with waterfalls is quite easy, made up of dirt and lava rock it loops around about a mile and a half. At the end of the trail, you can get two vantage points of the water, from both the lower and upper sections.
At the base, you are able to get close to the water, and may even be able to feel the spray.
Funny/not so funny story about this waterfall for me, I haven't been yet! I've lived in Bend and have been meaning to go yet haven't yet. This was the ONE waterfall I wanted to actually visit when I was on my road trip.
Ironically enough, it was the one waterfall I didn't get to see since we got lost earlier in the day and didn't make it in time.
I'll be back for you Proxy, I'll be back
11. Dry Creek Falls
Difficulty: Moderate
Distance: 3.7 miles
Best Time to Visit: All year round
Although you may feel like Dry Creek Falls would be… dry, it actually offers a lovely waterfall hike in Oregon with some impressive cascades at the end.
For those interested in a relatively short and easy waterfall trail, then this is the Oregon waterfall hike for you, as although the majority is uphill, it is never too steep.
The falls plunge 74 feet over a basalt wall into a secluded amphitheater, which is near Cascade Locks.
RELATED: Hiking Bend, Oregon: How & What It's Like to Hike South Sister
12. Multnomah Falls
Difficulty: Moderate
Distance: 2 miles
Best Time to Visit: March to November
Multnomah Falls are arguably the most famous thing to see in all of Oregon and is a popular hiking trail with waterfalls featured in most West Coast road trips. The falls are a 611-foot tall roaring cascade of icy water, and from the parking lot, it is just a 5-minute walk to the base of the falls.
Currently, much of the waterfall trail is closed due to a fire that took place at the end of 2017, but you are still able to hike to the bridge.
The bridge is located at the misty base of the first tier, so you will still get a great view of both parts of the falls. Bear in mind that the trail and parking lot can get very busy, no matter the time of year, so you might be better off setting off early or visiting on a weekday.
13. Tumalo Falls
Difficulty: Moderate
Distance: 7 miles
Best Time to Visit: All year round
Tumalo Falls is the tallest and most beautiful waterfall on Tumalo Creek. To get to the waterfall, it is only a half mile round trip, but you can take a longer loop of 7.4 miles that visits dozens of other waterfalls along the way.
The trail viewpoint allows you to look down the pine-covered valley to Tumalo Falls, which is a thundering column of water throwing itself off of the edge of a cliff.
A super easy waterfall to see from a viewing platform from the parking lot or just wander down the path below for a few minutes and you'll be able to walk right up to it!
Although it is a little smaller than other nearby waterfalls, at around 97 feet, it is still very impressive.
14. Tamanawas Falls
Recommended by Richa from My Ticklefeet
Difficulty: Moderate
Distance: 3.3 miles
Best Time to Visit: May to October
At the foothill of Mount Hood in Oregon is the trailhead of Tamanawas Falls.
The hike to the waterfall is roughly 2 miles from the start of the trail and is a difficulty level of easy-moderate.
Wearing good hiking boots is recommended since you will have to climb fallen rocks and hop over tree roots along the way. It can take anywhere from 3-4 hours round trip depending on your fitness level.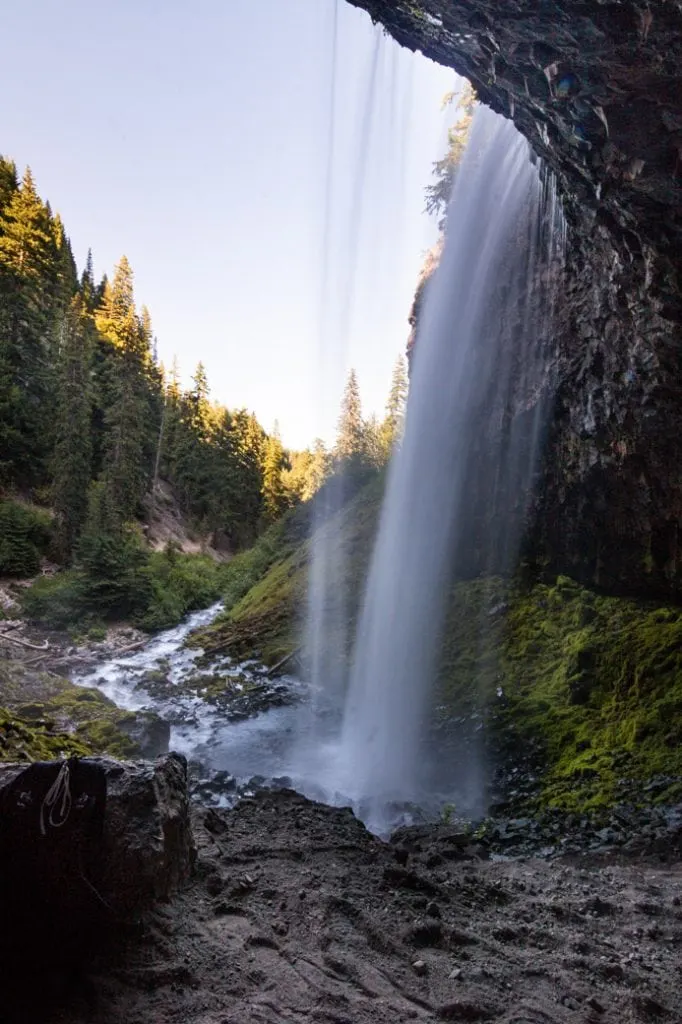 This hike is easy enough for almost anyone and being that it's a popular hike, you will most likely have company along the way.
The trail in itself is particularly beautiful with tall Pacific Northwest fir trees and two wooden bridges to cross the rivers. On the last stretch of the trail, you will pass a path cut between the rocks eventually being greeted by a majestic waterfall.
It is possible to go all the way to the caves behind the waterfall but be very careful of slippery rocks.
The best time of the day for this hike is the morning where you can have lunch by the falls before returning back. It is a hike that can be enjoyed all around the year but it is in the winter you must consider wearing crampons to avoid slipping in the snow.

15. Oneonta Gorge Waterfall
Recommended by Theresa from The Globe Trekker Family
Difficulty: Moderate
Distance: 4.9 miles
Best Time to Visit: All year round
The Oneonta Gorge is a slot canyon-like gorge that sits hidden beside the more famous Multnomah Falls in the Columbia River Gorge area on the Oregon-Washington border east of Portland.
The entire Columbia River Gorge is full of tall, magnificent waterfalls that are very easily accessible.
Although you can't see the Oneonta Gorge from the road, it is a very short, easy hike down to the logjam, which is at the beginning of the gorge.
You can see the entire gorge and take photos here or you can continue to the waterfall at the end, which is about one-quarter of a mile upstream in the ice-cold ankle to chest-deep water.
Although it seems like a short enough trail that's easy, it can be dangerous and you need to be prepared.
If you take your camera, jacket, and keys, have a waterproof bag to put everything in when you cross the deep water. If you have a waterproof cover for your camera, put it on.
Wear clothes that dry out quickly, like a swimsuit or athletic wear. Have towels to dry off and blankets to warm up within your vehicle upon your return. Take a dry set of clothes to change into after the hike.
The waterfall is stunning and if you have time, there are several others to easily explore in the immediate area.
In fact, Oneonta Falls, pictured here, is only a 1-mile in and out trek making this hike quite easy. However, there are three more notable waterfalls to explore should you continue along the trail.
***This waterfall hike is currently closed due to the 2017 fires. Hopefully, it will open again soon. [Source: 1 and 2]
16. Silver Falls State Park
Recommended by Michelle from Intentional Travelers
Difficulty: Moderate
Distance: 7 miles
Best Time to Visit: All year round
At Silver Falls State Park, there's not just one amazing waterfall. The 9,000 acre forest boasts 10 falls that can be seen via a 9-mile trail through lush greenery. Shorter hikes are also possible and still just as scenic.
Even a short and easy walk from the parking lot takes you to an overhead view of the spectacular South Falls, one of two falls where hikers can actually walk behind the cascade.
June through September is the best time to visit, though you can usually hike during winter as well, if you're prepared with waterproof footwear and a warm layers.
There is a $5 a day use fee to access the park. Visitors can also enjoy overnight camping, picnic areas, a playground, lodge with visitor information, and a conference center.
The nearest towns are Stayton and Silverton, Oregon. For waterfall hiking lovers, it's definitely worth the trip from Salem or Portland (2+ hours). The rural drive out to the park is quite nice in itself. The Trail of 10 Falls is Oregon's best-kept secret!
RELATED: 17+ Badass Things to Do in Oregon: Portland and Bend
17. McDowell Creek Falls
Recommended by Melissa from Roax Roamer
Difficulty: Moderate
Distance: 1.6 miles
Best Time to Visit: All year round
There are several areas in Oregon with a collection of waterfalls in close proximity, one of those areas is McDowell Creek Falls County Park near Lebanon.
The park contains a picnic area and a fantastic loop hike that is open year round with no snow and usually not a lot of traffic. There are four very different waterfalls on the loop with Majestic Falls being the most beautiful in my opinion.
It's not the tallest but usually has the best year-round water flow plus an easy staircase to get you from the top of the falls down to the bottom of the falls.
No slipping on mud and rocks or making your own trails. The park makes it easy.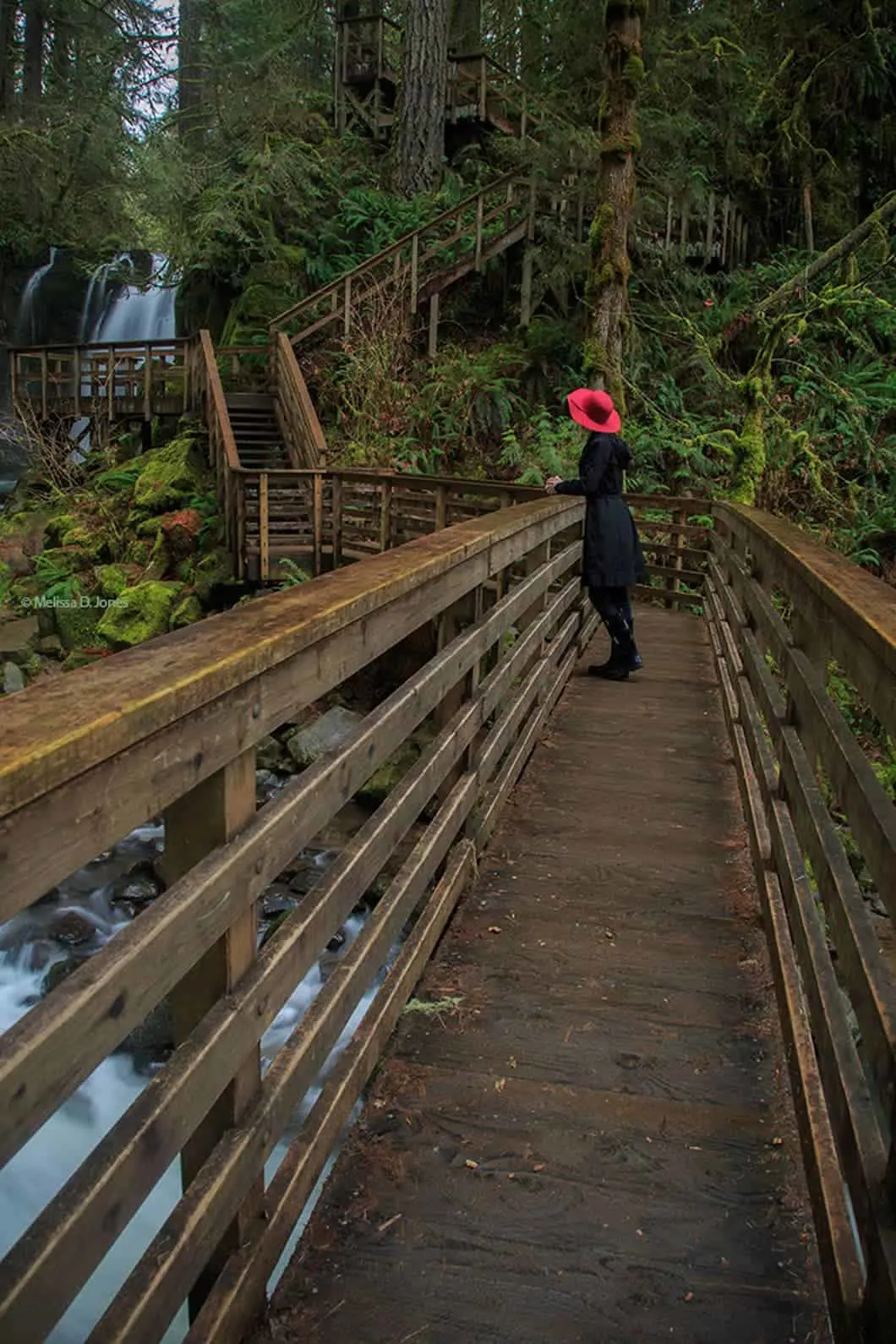 The other waterfalls on the loop are Lower McDowell Creek Falls, Royal Terrace Falls and Crystal Falls.
The hike to all the falls is less than two miles and relatively small in elevation gain. If you go in winter, chances are you could be the only one there and in summer the picnic area near Lower McDowell Creek Falls becomes a popular place to take a dip.
If you don't want to hike the whole thing there is parking at both ends of the loop and one of those parking areas is right next to Majestic Falls for easy viewing.
California Waterfall Hikes
---
18. Hedge Creek Falls
Difficulty: Easy
Distance: 0.5 miles
Best Time to Visit: All year round
Hedge Creek Falls is a waterfall hike that's best done during rainy seasons or, at the least, after a good rain shower. The waterfall dries up very easily but when it's full, it's pretty beautiful!
It projects over a cliffside creating a pathway that allows people to walk behind the waterfall, which is pretty amazing! When it's dry, it's not worth a visit.
19. Feary Falls
Difficulty: Easy
Distance: 1.3 miles
Best Time to Visit: All year round
Feary Falls is paradise, although be aware that it can be a little tricky to find.
This waterfall hike in California is a short 1.3 mile trip, so is suitable for everyone, with a very rewarding sight, a lonely waterfall.
Feary Fall is quite aptly named as it did feel pretty magical to have the place to myself. The falls themselves are around 50 feet tall, and the water can be pretty fast flowing, creating an impressive cascade.
If I didn't have Maps.Me and Google Maps downloaded, I wouldn't have found this hike, so follow what you can on the maps, although it's not exact, you can use the GPS dot to follow the trail. Make your SECOND left turn off the trail, not the first. You'll park on Ney Springs road on a dirt trail.
20. McCloud Falls
Difficulty: Easy
Distance: 3.5 miles
Best Time to Visit: All year round
This is an easy waterfall trail that follows the McCloud River, passing three falls along the way, and ending at a lush meadow.
Along the waterfall trail, each of the significant points of interest is serviced by a paved road accessing an overlook above each one of the three falls.
Picnic areas are located in both the lower and upper falls, making for a very picturesque lunch spot. You are likely to start the hike at the parking area for the lower falls parking area, where you can almost immediately witness the lower falls.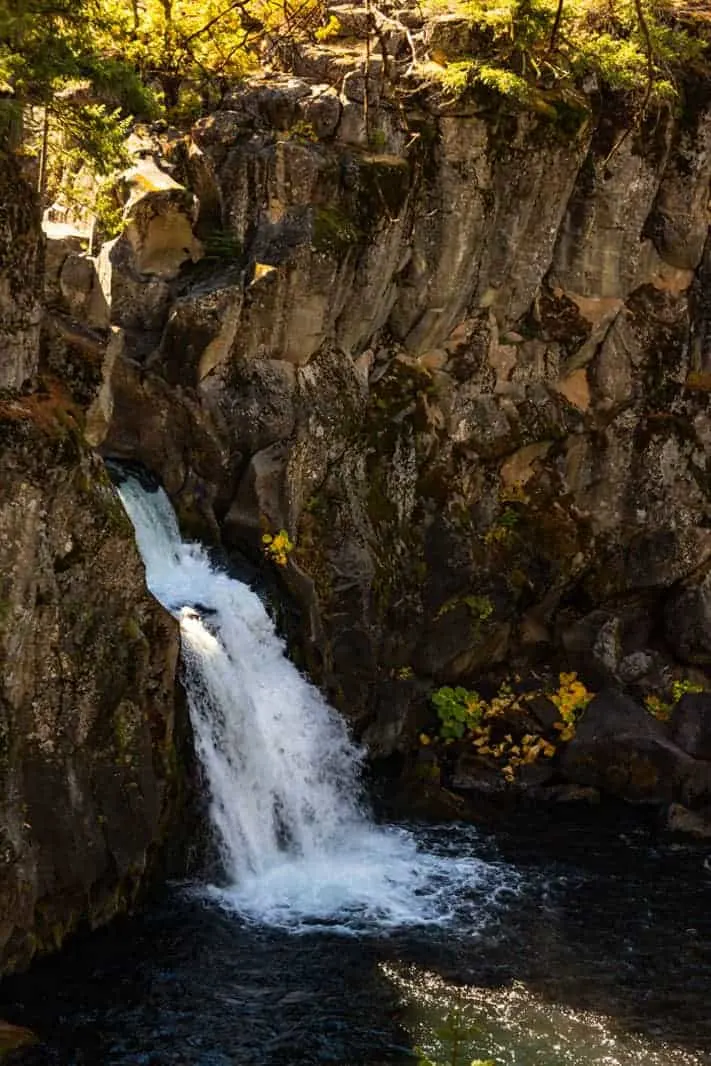 The Middle falls is arguably the most impressive, standing at 50 feet high and 80 feet across.
Just down the road, you'll get some incredible views of Mount Shasta in the distance
21. Burney Falls
Difficulty: Easy
Distance: 1 mile
Best Time to Visit: April to October
Burney Falls puts some of these other waterfalls to shame in terms of its size, power, and beauty, making it a very popular waterfall hike in California.
The falls stand at 129 feet tall, and the fern-draped cascade seems to come out of nowhere.
In order to reach the falls, simply take the short path to the main overlook in the Burney Falls Memorial State Park to get the best views of the falls. You can continue down the path to the clear pool at the bottom which sits at a chilly 42 degrees!
Burney Falls is likely to be the waterfall that's featured on most West Coast road trips, particularly any road trip going through California, it's pretty obvious why
22. McWay Falls
Recommended by Rachel from Adventure and Sunshine
Difficulty: Easy
Distance: 0.6 miles
Best Time to Visit: September to December
The walk to McWay Falls is a must for anyone taking a US West Coast road trip.
Located in Julia Pfeiffer Burns State Park on Highway One between LA and San Francisco, this waterfall hike is just 0.6 miles out and back. But what the trail lacks in distance it makes up for with spectacular waterfall views.
It is an easy, mostly flat walk to the falls. From the parking area, the path takes you down a section of stairs and through a large tunnel before veering to the right.
Follow the path along the cliff a short distance for the best vantage points of the falls and prepare to be wowed by the gorgeous views across to the falls.
It is worthwhile walking to the very end of the path for pretty northern coastal views too. What makes these falls so special is the fact they drop 80 feet straight onto the beach below. There is no access to the cove, so the views are always picture perfect.
For a different perspective, once you have finished admiring the falls from afar, follow the path back around the cove and continue straight instead of turning off to the parking lot. From here you can reach the source of the falls and where it drops over the cliff.
The Highway is subject to landslides and closures, so check the status of the road before making your way to Big Sur and McWay Falls.
23. Kings Creek Falls
Difficulty: Moderate
Distance: 2.7 miles
Best Time to Visit: April to September
Kings Creek Falls offers a wonderful hiking trail with waterfalls through the forest, where you shouldn't be surprised to see bears strolling around, swiping their meals from the creek.
It is one of the most popular hikes in the Lassen Volcanic National Park, and you will be greeted by a mountain stream dropping over 50 feet over a basalt cliff, preceded by a 1000 foot long whitewater cascade.
The path is pleasant, crossing a flower-filled meadow and through thick pine and fir woods. Overall, the path descends gradually, apart from a short steeper section once you near the falls. You'll also want to take the stairs back out to make a loop instead of retracing your steps.
24. Wapama Falls and Tueeulala Falls
Recommended by James from James Kaiser
Difficulty: Moderate
Distance: 4.6 miles
Best Time to Visit: April to October
Wapama Falls (1,100 feet) and Tueeulala Fall (880 feet) are two of the most beautiful waterfalls in Yosemite National Park.
But because they're located in little-known Hetch Hetchy, instead of the world-famous Yosemite Valley, they are overlooked by most visitors.
Hetch Hetchy is located 17 miles northwest of Yosemite Valley (about a 90-minute drive). The hike to Tueeulala Fall and Wapama Falls is 5.5 miles round trip, with just 200 feet of elevation gain.
This is the best way to explore Hetch Hetchy Valley, which was dammed in 1923 to create a reservoir.
Although water now covers the valley floor, you can still hike to the waterfalls. The trail to Tueeulala Fall and Wapama Falls starts next to O'Shaughnessy Dam.
The best time to hike is spring when snowmelt swells the waterfalls
25. Vernal Falls
Recommended by Kimmie from Adventures & Sunsets
Difficulty: Moderate
Distance: 3.6 miles
Best Time to Visit: April to September
Yosemite National Park is a land of true wonder, with monumental granite cliffs towering over waterfalls, hiking trails, forests, and wildlands.
There are too many waterfalls in Yosemite to count, with some accessible from the main road and others located hours of hiking away. Perhaps the one that's still quite a challenging hike yet easier to reach than others, is Vernal Falls.
Vernal is the first waterfall you can access on the most famous Mist hiking trail of Yosemite that leads to Half Dome.
You can see Vernal as a checkpoint on the longer hike, or make it a solid half day's adventure up into the mountains. It won't be an easy one, but it will be worth it!
You begin at a campsite at the very end of Yosemite Valley, and after crossing a beautiful river you will begin walking through some bonafide California forests until you begin ascending up the canyon.
It will get steeper and steeper, but trust that the views in Yosemite National park are always worth a bit of cardio.
Vernal Falls cascades down what looks almost like a tie-dyed cliff, and there are loads of photo ops as you get closer. After taking a look at it from the bottom, you can climb some slightly-precarious-yet-always-exciting steps to an outlook right above the falls.
Make sure to be careful as you watch the water tumbling to the river below, and maybe have an explore of the mirror-like lake that stands above the falls as well.
You can keep hiking to Nevada Falls and eventually Half Dome, or you can sit and take in the view below
26. Paradise Falls
Recommended by Alyssa from My Life's a Movie
Difficulty: Moderate
Distance: 2.7 miles
Best Time to Visit: All year round
Paradise Falls is by far one of the prettiest, actually-flowing waterfalls in the area, and the hike to get to it is quite nice as well. It's located in Wildwood Park which is in Thousand Oaks, just 45 minutes from West Hollywood depending on the lovely traffic.
The hike is super easy and extremely beautiful, especially in February-March when there's actually some rainfall! The entire hike is super-blooming like crazy during spring, and it's completely lush and green as opposed to the normally dry desert landscape.
27. Cataract Falls
Recommended by Lia from Practical Wanderlust
Difficulty: Hard
Distance: 8.4 miles
Best Time to Visit: All year round
In beautiful Marin County, just north of San Francisco across the Golden Gate Bridge, looms Mount Tamalpais, a mountain peak overlooking the Bay Area and blanketed with towering redwoods and lush ferns.
In addition to excellent hiking and camping, the area is home to the Mount Tamalpais Watershed, a protected public space full of biological diversity and natural beauty.
The best hike to explore this area is the stunning Cataract Falls Loop.
The hike runs alongside Cataract Creek and leads to a series of cascading waterfalls running over bright green mossy rocks.
The hike begins with steep stone steps but if you can make it past a difficult start, you'll be rewarded with a babbling brook, lush forest, a glassy reservoir, and sweeping views of rolling hills and the Bay Area peeking through the trees.
Cataract Falls is best hiked in the spring after the heavy winter rains have ceased and given way to blooming wildflowers, a pleasantly gurgling creek, and gushing waterfalls. That said, if it's rained recently you might want to consider a different hike—there are some slippery, wet parts that could be difficult.
Which of these waterfall hikes on the West Coast are you most excited to do? Let us know in the comments!
---
Don't lose this post! Click the picture and pin it to Pinterest!