Taking a road trip around the USA, or anywhere for that matter, will be one of the most epic and memorable trips you'll take—no doubt.
So don't F it up…
No pressure, guys! I got your back with everything you should NOT do on a road trip. You'll be far too busy having fun, snapping pics, chasing waterfalls, hiking to viewpoints, and so much other badassery you don't want to have to worry about making mistakes learning as you go.
Make this a trip to remember with these road trip tips. Learn now, have fun later. It's easy! My friend Jess and I had a super successful road trip together and I want to share everything we learned and did (or didn't do) so yours can be just as awesome too!
Don't lose this! Click to pin it now.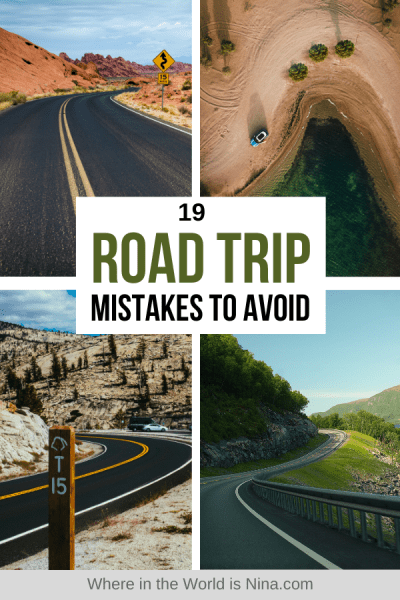 Road Trip Tips—Essentially What NOT to Do
---
1. DON'T Wait for Gas
Fill up here, fill up there, fill up eve.ry.where!
You don't know where the next station will be (I mean unless you're stalking the GasBuddy app, but ain't nobody got time for that).
If you're the adventurous type, the type who wants to wander down random roads, and who will detour in a split second, just fill up when you can.
If you don't, guess who needs to say goodbye to adventurous detours? YOU.
We made sure to fill up at the half tank, every time. We pretended the last half didn't count. What did using this road trip tip result in? Never having to worry about running out of gas. We win!
[box]RELATED: 17 Legendary American Road Trips.[/box]
2. DON'T Underestimate the Cost of Gas
Going on from my last thought, unfortunately, this may mean you are stuck paying higher prices for gas because you're in the middle of nowhere-land and they are charging the same prices as the bigger towns PLUS your first born child.
Sorry little Billy, I sold you for gas money…
Seriously though, small towns are pricier, you may have to pay the price, but you could also top up for just a few bucks just to make it safely to the next big town/city.
Either way, inflate the budget here so you don't get any surprises and make sure you are definitely topping up in the big cities as often as possible.
3. DON'T Forget to Carry Cash
Those small town gas stations may have a charge for using credit cards or worst, they only accept cash! So make sure you have some on you.
Also, some state and national parks require cash payments for parking and using facilities.
There isn't always someone on site and you'll be required to place your cash in an envelope. You'll need exact change too.
I'm all about using my card, but having some cash stashed away was a must.
4. DON'T Forget About Music
I know, you're thinking, DUH, Nina. But seriously, don't forget music. Radio is almost a non-option unless you enjoy the sweet sounds of static and want to give your index finger a major work out by scanning the channels.
Cell service will also be in and out, so while you may be one smart cookie and have Spotify or the like, don't forget to actually download all those cool playlists to your phone so you can enjoy it offline.
Oh, and don't forget an aux cord either.
[box]READ MORE: My badass road trip packing list, don't forget a thing![/box]
5. DON'T Be Unrealistic with Your Time
Did you actually think you were going to be able to fit those two hikes in AND drive five hours? LOL.
You really do need to be realistic with your time.
If you get all excited about a bunch of places and you only make it to half, you may be pretty bummed.
But instead, if you get excited about the POSSIBILITY of going to about half of the places on your list, then you will be ultimately satisfied with what you got done.
Don't get your hopes up and try cramming in too much so you're rushing, speeding, driving too late at night, not sleeping enough…etc.
It's OK to pass on a few places, trust this road trip tip when I say your list will only get longer, not shorter, so don't get flustered when you need to pass things up to gain some more time.
[box]READ MORE: Here's a realistic itinerary for a West Coast road trip![/box]
6. DON'T Sleep In
I would TOTALLY be the annoying friend that pushes you out of the car, shoves a bagel and coffee down your throat, and makes you put clothes on so you're ready to get on the road no later than 9 am.
I'm not talking about getting your day started at 6 am.
While I think it's ideal and probably makes for great sunrise pictures and you check off a bunch more things off the list, let's not get crazy. 6 am is rough.
However, being on the road by 8:30-9ish is totally doable.
Luckily there was no shoving people out of the car, Jess was on the same page and we got up, got dressed, had our brekkie and coffee and got on the road!
There are far too many things to see and do—go to bed earlier and get up and go. You'll thank yourself when the trip is done. (You can sleep when you're dead, right?)
7. DON'T Buy Water and Don't Forget to Fill up Often
Fill up water bottles and jugs instead. It would have been SO wasteful if we bought 100 jugs of water.
Instead, we bought three one-gallon jugs and reused those same three jugs for 17 days. We each had our own reusable water bottle. In the end, we recycled those jugs.
It's very easy to prioritize convenience but try your best on the road trip to not be wasteful.
Filling up water was actually very easy. Many of the parks have drinkable water fountains where you can fill up and Walmarts have water fountains you can use.
Three jugs was the perfect amount for us to have on board, it didn't take up too much room and it lasted us a couple of days giving us plenty of time to find the next water fill-up area.
Fill up every time you can, it goes without saying that water is NOT something you want to be without at any point and time.
Don't forget to factor in the reality that you'll use water to boil pasta and make coffee etc.
Another road trip tip going off this one is don't trash everything, make sure to keep a second bag for recyclable stuff. You'll pass plenty of bins along the way.
[box]RELATED: Your Southwest Road Trip Itinerary (1 Week – 2 Months).[/box]
8. DON'T Forget to Download Maps
Bringing paper maps is not really my thing but I knew I couldn't always rely on my phone to have service. I can't stress how clutch it was to have maps downloaded.
We had Google maps AND maps.me maps both downloaded and we would still be driving around now, lost forever, without them.
9. DON'T Assume All Roads Are Paved
Oops. I'd venture to say that most of us kind of forget this road trip tip, right? I know I did.
If I saw the road on the map, I generally thought it was a legit road with something more than lose rocks to follow. Uh, no. Not so much!
Don't assume you won't come across a bunch of gravel roads, particularly if you're wanting to get a bit adventurous or take some of the less busy roads. If you're riding a JUCY van like I was, I can confirm, they can handle it.
Although, driving on gravel roads when they weren't expected can be a bit stressful, not to mention it will cut into your time since you'll be driving much slower than you thought.
10. DON'T Get Fancy with Your Meals
What are you trying to do on your trip? Spend your time cooking or doing and seeing things?
Yeah, that's what I thought… So why would someone voluntarily choose to make a borderline 5-star meal for lunch is beyond me but let me tell you, you'll be much happier with an easier meal than a fancy-schmancy one or one that is labor-intensive. Here's what we ate…
Breakfast was 1-2 of the following items:
Boiled eggs (we preboiled all of them at once and kept them in the fridge)
Yogurt
Bread /bagels (untoasted because ain't nobody got time for that…nor a toaster)
Oatmeal with fruit and granola
Lunch was always a sandwich and or a snack such as:
Sandwiches were usually cheese and spinach and sometimes we'd get "fancy" with adding a hardboiled egg, pickles, and or avocado. We had mustard and mayo for condiments.
Dinner was one of the following:
Lentils and rice (found these amazing, tasty, and easy to make packets to make lentils and rice, literally takes 2 minutes and it's healthy)
Pasta and sauce
Frozen vegetables which we would add to both of the items above.
Beer and or wine 🙂
On a similar note, eating out costs a lot and if you're trying to be quick, it's often pretty unhealthy.
We ate everything above the entire trip with an exception of a meal or two which were random McDonald's meals (gross, but also desperate for wifi and to get out of the car on this day).
And also us trying out "Canadian things" like Tim Horton's and poutine.
We saved a bunch of cash AND time.
[box]RELATED: Your Adventurous Utah Road Trip.[/box]
11. DON'T Be Disorganized
In terms of the van, it has everything you need. However, it's still just a van, which means space is precious and limited.
Get everything in its "home" on day 1 and make sure that item lives in that spot forever and always.
Jess and I had a system down from day 1 and I'm super happy and surprised that we kept it SO clean and organized the entire time. There were zero casualties of items flying out a window, falling out of the car or go mysteriously missing.
Get your car in order and keep it there!
12. DON'T Plan Too Much… or Too Little…
I must be toying with you, right? Hear me out!
Road trips are supposed to be fun and a bit spontaneous so planning too much and keeping yourself to a rigid schedule doesn't allow for fun and adventure and random detours.
Plan too little? And you'll be wasting a large chunk of the day figuring out what you want to do (if you even have internet).
We had a few "rules" in place…
We wanted to drive on a certain route (the inland route, not the coastal route). We wanted to be outdoors and in nature (so no stops in big cities and walking around buildings), and we wanted to do pretty hikes with waterfalls and great views.
We did a rough route with plenty of places to stop at that seemed to match our criteria but nothing was set in stone.
If we didn't have the time or if it was too out of the way or if the road was closed (wait for it…) there was no disappointment and plenty of other things just a few miles away to explore.
Keep your options open but also have a few options on the table. Find a balance, don't set expectations too high, and don't pigeonhole yourself to an exact itinerary. It will be nothing short of miserable.
This is one of my best road trip tips because it's really one of the most important to keep in mind for the trip.
[box]READ MORE: How to plan a road trip[/box]
13. DON'T Assume All Roads Will Be Open
Yeah, revolutionary information, right? Luckily the USA is pretty good at announcing when a road will be closed. There will likely be signs and even info on a state's website.
This happened to Jess and I and it threw a wrench in our plan…for a whole two seconds.
Since we were loose with plans (hello, #12!) it wasn't the end of the world but it did cause us to end up in a place we didn't expect.
It wasn't a big deal but just something to keep an eye out for, particularly if you're taking the smaller roads like we did or are driving during fall and winter when road closures are more common.
14. DON'T Drive at Night
It wouldn't be the worse thing in the world but the reason I'm mentioning this is because depending on where you are, you're increasing your chance of putting yourself (or adorable animals) in danger.
Cute woodsy animals like to come out at night and graze and hop around. Sometimes they wander in traffic. If it's a little guy, poor thing but at least your car will be fine. If it's a big boy, you're totally screwed.
Overall, night driving can be a bit more challenging and you also need to be a bit more careful with choosing your sleep spot for the evening in the dark.
We always made it a goal to find a place by sunset and if we went a bit later, it wasn't too big of a deal but we wouldn't push it.
[box]RELATED: Your Adventurous Arizona Road Trip![/box]
15. DON'T Choose the Wrong Person to Go With
Seriously though, don't underestimate the amount of time and closeness with the other person. Make sure they are cool and make sure you're cool too…
This trip will be a disaster if you both don't jive with each other and work as a team. Jess and I were #TeamWinning every day and didn't have any issues.
16. DON'T Underestimate the Size of the USA
Seriously, my country is f-ing huge. We literally have 48 small to medium-sized countries on the enormous landmass that is the contiguous USA.
Make no mistake, there's no amount of time that is the "perfect" amount to see this place.
Vancouver to San Francisco is only a measly 15-hour drive if you JUST DRIVE. This drive could technically be done by one person in two long days.
Jess and I took 17 days so we could drive a bit more leisurely and we could have doubled that and still not had enough time. There's is an insurmountable amount of things to do and see, don't cut yourself short and try squeezing your trip into a few days, you'll spend the entire time just driving.
17. DON'T Forget to Roll with the Punches
I have to tell you something. And it's going to happen on your road trip! It's a guarantee… Ready for it?
Things won't always go as planned.
Shocking, right? If this road trip tip seems so obvious to you, just remember while on the trip that's how you felt when reading this.
Sometimes we get caught up in the moment, want things to be perfect, and when one string frays, we break apart. You'll run into a delay, a park being closed, a flat tire… Something.
It's a guarantee that SOMETHING will go wrong, so just accept it when it does. You'll only make it worse by having a breakdown.
[box]RELATED: Your Adventurous Montana Road Trip![/box]
18. DON'T Forget to Check on the Season (And Not Just for What to Pack)
It goes without saying that you'll need to check the specification of the states you'll be rolling through to be sure that you pack accordingly. Do you need more scarves or more swimsuits? Both?!
You'll have to do the research to make sure but aside from clothing, you'll need to know what else happens in certain states.
Being from Florida, I can tell you right now, road tripping around August and September could mean potential hurricane weather.
I spend a lot of time in Oregon and the entire West Coast the past two summers have been LIT. And not in a good way; forest fires during July can get really bad and make the air quality terrible, obstruct views, and even close down roads.
While our road trip on the West Coast was just after a lot of the fires that died down, there was tons of signage warning of potential dangers from the loose ground from the fires and also a fire ban in most places (AKA don't make a fire anywhere!)
There were even trails and campsites that were closed because of this.
19. DON'T Be a Jackass and Have Fun!
Remember there are people from all around the world, the USA, and Canada on the road!
The USA is diverse, avoid getting road rage, don't be the ass who doesn't let someone merge, don't stop in the middle of the road for pictures, don't litter, recycle when you can, and just overall be a good person. There are so many different people on the road, try to be accommodating and understanding.
Oh, and have fun! 🙂
[box] OH! And DON'T forget travel insurance. But you're smart and knew this already, right? Jess and I both went with World Nomads for this trip. Just grab a quote real quick and check this off your list. [/box]
I hope these road trip tips were helpful!
Where are you road tripping to? Let us know in the comments!
---
---
>>> Even More About USA Road Trips <<<
How to Plan a USA Road Trip & Choosing a Vehicle
Your Road Trip Essentials Packing List and Tips (+ Printable Checklist!)
Your Adventurous Nevada Road Trip!
---
---
Click the picture to pin this for later!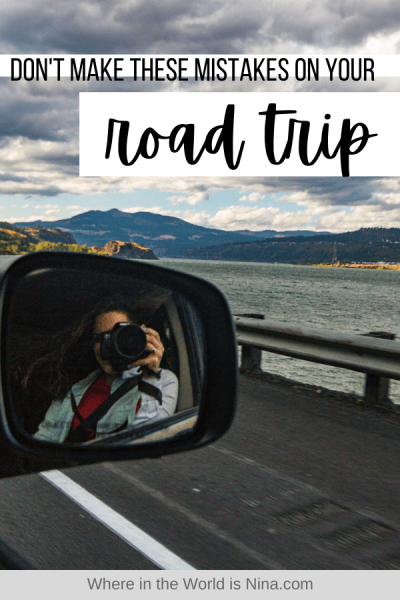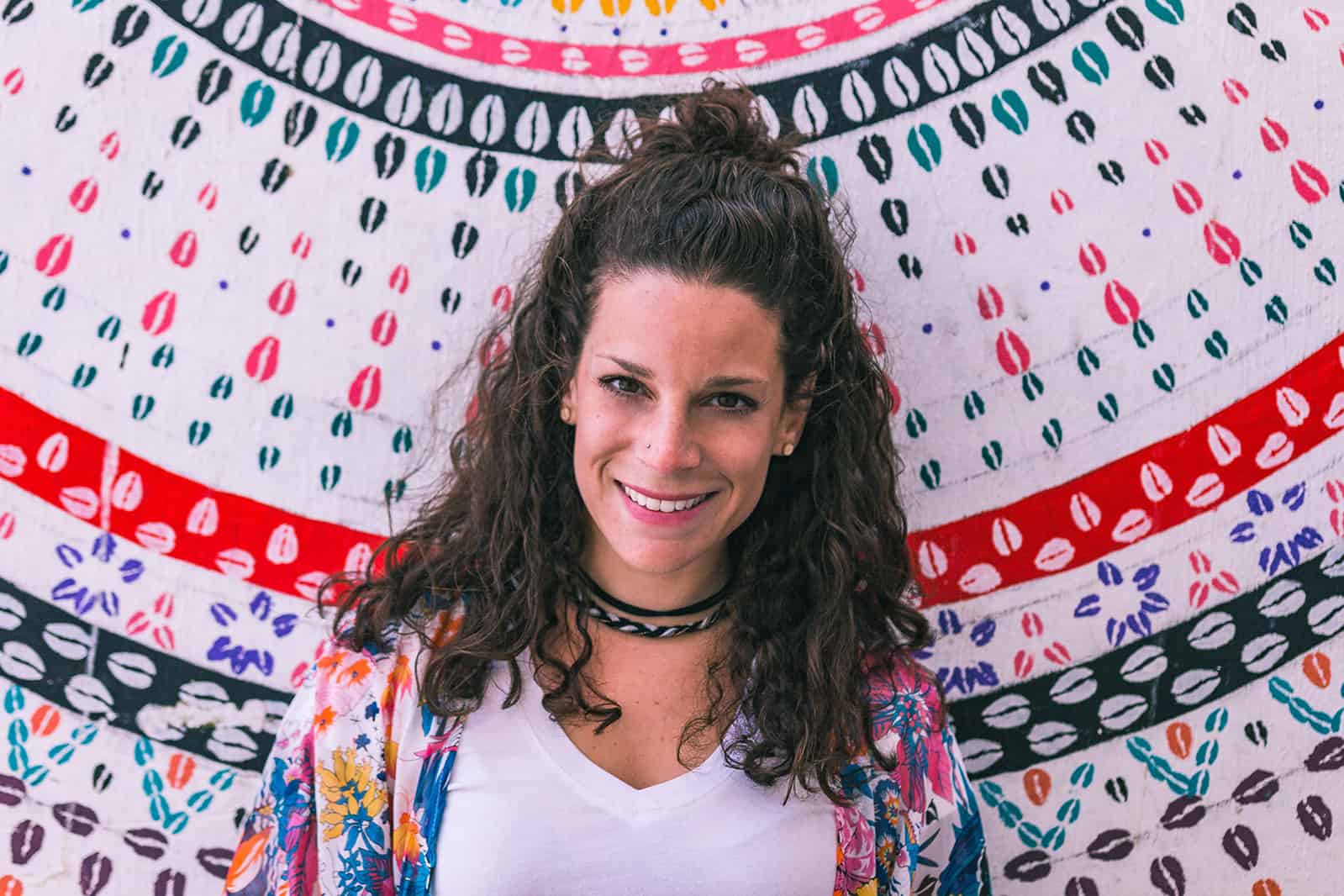 Nina Ragusa is an adventurer, messy bun master, breakfast fan, and full-time travel blogger. She's been abroad since 2011 and blogging on Where in the World is Nina? for nearly as long. Nina helps people like you move around the world while making money. She loves talking about how to work abroad and online to travel longer!