This San Diego itinerary is authored by Ali.
Are you going to San Diego and have no idea what to do while visiting?
The charming city of San Diego is California's second-largest city and is even the eighth-largest city in all of the United States. Although you probably wouldn't even know this when you visit.
The vibe of this city is pretty laid back and relaxed, which is why we found it surprising it was the second-largest!
Although San Diego is known for being a Californian beach town, it also has mountains nearby that you can hike along and is an excellent city to visit that boasts a large variety of outdoor activities for you to do with friends, family, or solo.
Whether you're flying or driving to this beautiful city, it is definitely a great place to visit year-round and where you should take your next vacation.
There is a ton to do in San Diego, and it can be a bit overwhelming, which is why we are excited to go share our San Diego itinerary so you can plan an epic vacation!
Your 3-Day San Diego Itinerary
---
San Diego Itinerary Day 1
On your first day in San Diego, you'll spend the day exploring some of downtown San Diego, like exploring Balboa Park and Sunset Cliffs Park.
Visit Balboa Park
Balboa Park is an urban public park that is 1,200 acres wide, located near downtown. The park features 17 museums, gardens, art installations, beautiful architecture, and more.
If you were to explore everything in Balboa Park, you could easily spend a week just checking everything out, which is why we recommend making a plan before you visit for what you want to see in the park.
A few spots we recommend checking out when visiting Balboa Park are the Spanish Village Art Center, the Japanese Friendship Garden, and the Botanical Building, just to name a few.
While you're out and about exploring the park, if you get hungry for lunch there are a variety of restaurants in the park where you can grab a bite to eat at.
Eating Around Balboa Park
One spot we recommend is Panama 66. This restaurant is located in the sculpture garden of the San Diego Museum of Art. The food is made with local ingredients and it's in a pretty location!
If you are wanting to grab an afternoon pick me up you can visit the Tea Pavilion at the Japanese Friendship Garden and pick from a variety of black, white, and green herbal teas to sip and enjoy.
Or swing by the Prado Perk for a coffee and pastry. The Prado Perk is located in the House of Hospitality courtyard across from the Visitor Center
Admission to the park grounds is free and admission into some buildings, such as the Botanical Building and Timken Art Museum are also free. Some museums and buildings you do have to pay for.
However, on the weekends there are free garden shows inside of the Casa Del Prado building as well as lawn programs outside of the International cottages on Sundays at 2 pm. There is also a free concert series during the summer as well as other free events happening throughout the year.
Sunset Cliffs Park
End the day at the rather fittingly named Sunset Cliffs Park. This 68-acre piece of land separates the ocean from the city along the western shoreline of the Point Loma peninsula. The trail is just 1.4 miles long, so it's perfect for an easy stroll, and there's lots to see along the way.
Highlights of the walk include Sunset Cliffs Cave at Luscombe's Point and the small secluded beach found near Cordova Street. Visit from December to early April and you might also catch a glimpse of whales migrating off the coast.
Just be sure to keep your wits about you, especially near the cliff edges, as there have been accidents.
RELATED: California Road Trip Itinerary: 19 Must-Visit Stops!
Day 2: San Diego Itinerary
On the second day of your 3-day San Diego itinerary, you'll head to some popular local neighborhoods to explore. You'll also visit a popular donut shop, as well as go on a sidecar adventure.
Visit Little Italy
To kick off the second day of the San Diego Itinerary, first, you'll head over to the Little Italy neighborhood. Located in downtown San Diego this quaint neighborhood is full of shops, hotels, cafes, bars, restaurants, and more.
You could spend more than a day exploring the neighborhood and seeing everything it has to offer.
Check Out Seaport Village
After you've checked out the Little Italy neighborhood and grabbed a bite to eat, you'll head over to the popular neighborhood of Seaport Village.
This vibrant neighborhood is located on the waterfront in downtown San Diego and is full of a variety of shops, restaurants, and beautiful scenery. You'll even find fun events happening in this neighborhood in the summer months and around the holidays such as Easter, Halloween, and Christmas.
Devil's Dozen Donut Shop
After you've worked up an appetite exploring Seaport Village, you'll want to stop by the Devil's Dozen Donut Shop. These donuts are a local favorite and are made using high-quality ingredients.
The donuts are fresh and made every hour. You can pick from a variety of flavors that range from classic to unique. This is definitely a great spot for a snack during your day.
Go On a Sidecar Venture
End your day with a bit of adventure. Rent out a sidecar with Sidecar Venture and go for a ride. This rental company lets you be the driver and you can choose to rent a 2, 5, or 24 -hour ride.
Sidecar Venture even offers picnic packages that will include a picnic basket, blanket, and charcuterie box. The rental fits up to 3 people, 2 on the motorcycle and 1 in the sidecar. You don't need a motorcycle license to drive the sidecar.
If you prefer not to do the driving, this sidecar tour lets you sit back and enjoy the ride with your own private driver. You'll pass by some of the city's top tourist spots including Waterfront Park, the Arts District, and the Maritime Museum.
Up to three passengers can travel on the tour, and there's even an option to take your dog along too!
RELATED: 17 Legendary American Road Trips
Day 3: San Diego Itinerary
Visit Mission Beach
A popular spot in San Diego is Mission Beach. This white sandy beach is a great place to start off your third day in San Diego.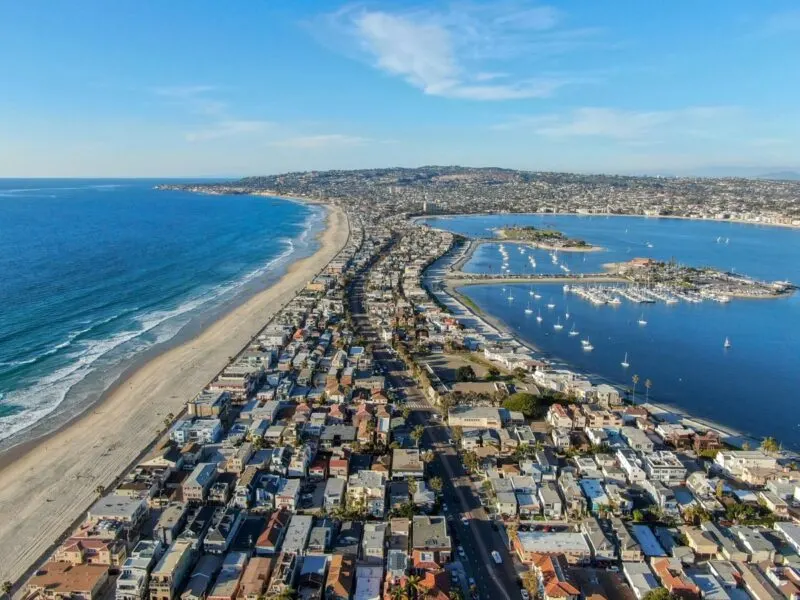 There is a lot to do at and around the beach. You can simply relax on the beach, go for a walk on the paved sidewalk, go swimming, surf in the water or check out the amusement park.
Right by Mission Beach is Belmont Park, an amusement park for all ages. At the park, you'll find roller coasters, swimming pools, wave pools, mini-golf, an arcade, restaurants, tourist shops, and ice-cream shops.
Go Whale and Dolphin Watching
After you've spent a fun morning at Mission Beach you'll head over to Mission Bay to go on a whale and dolphin-watching cruise. It's about an 8-minute drive from Mission Beach. You'll want to book your tickets ahead of time because the cruise often sells out.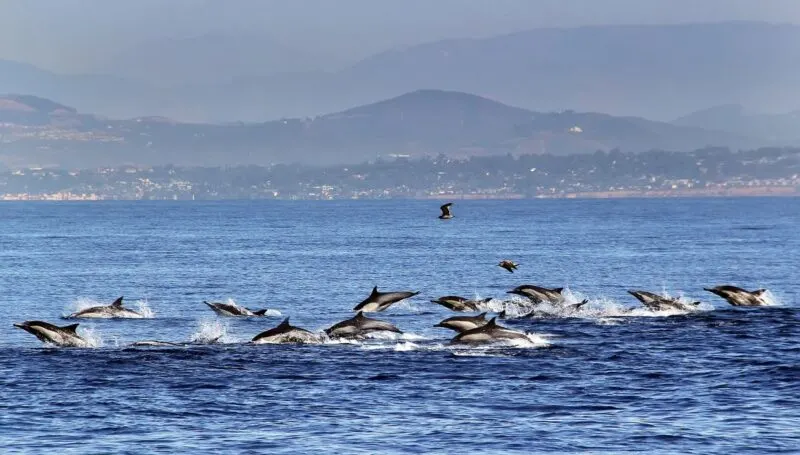 You'll get on the boat at your designated time and be taken out about 10 minutes from the bay where you'll likely get to see whales and dolphins, along with other sea creatures.
The tour is led by marine biologists who share facts about the animals you are seeing in the water. The tours last three hours and are a fun way to get out into nature and see some marine life while on your vacation in San Deigo!
Rent Pedal Boats
After you get back from your whale and dolphin watching tour, you'll stay in Mission Bay to rent pedal boats. There are a few places you can rent pedal boats in Mission Bay, such as the Mission Bay Sport Center.
Pedal boats are almost impossible to flip over and will be a fun way to get on the water and have fun while pedaling around the calm bay.
If you've never been on a pedal boat before, they're powered using your legs pushing pedals on the boat, like you would push pedals on a bike. You don't have to pedal the whole time, it can be fun to pedal out near the middle of the bay and just relax/chat with whoever you are enjoying the pedal boat ride with.
If you are wanting to do something a bit more active in the bay, you can also rent a stand-up paddleboard or kayak too!
Grab Dinner at Cesarina
To end the day, you'll head to Cesarina for dinner. Cesarina is an Italian restaurant serving authentic fresh Italian food. In this charming restaurant, you can sit inside or you can sit out on the patio.
At Cesarina, you'll be able to find anything from non-pasta dishes such as deep-fried calamari, mussels, and clams, filet mignon, slow-roasted chicken, to a handful of salads to choose from.
Of course, it wouldn't be an authentic Italian restaurant without pasta. You can either build your own pasta dish by choosing what type of noodle, sauce and topping you want or you can choose a pasta dish that is on the menu. They also have a vegan portion of the menu for those with dietary restrictions.
If you're not pooped, check out one of the many speakeasies San Diego has to offer!
Wrapping It Up in San Diego
San Diego is a beautiful city full of vibrant scenery and so much to do. Visiting San Diego is a great vacation spot for anyone.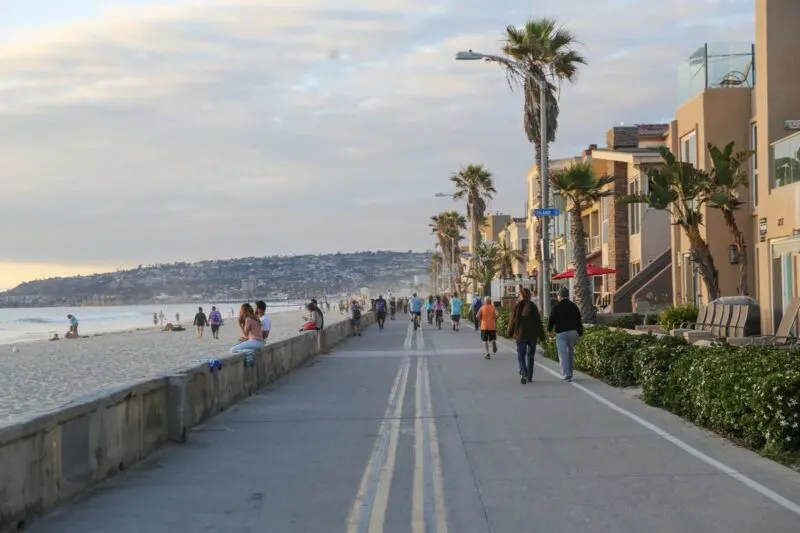 You can choose to relax on the beach, explore different neighborhoods in the town, and spend the day on the water either whale watching or on a pedal boat, just to name a few. San Diego is one of my favorite places to visit and is a place you'll fall in love with!
Whether you're driving or flying to this beautiful city we hope you enjoyed our San Diego 3-day itinerary for your next visit and you have fun exploring everything San Diego has to offer! Happy travels!
Pstt, checking out more than just San Diego? Here are some more California adventures to read about!
---
---
>>> BIO
Inspired Lifestyle Blog is a travel blog founded by Ali Redmond, a travel enthusiast located in Colorado. As someone who has grown up traveling and continues to travel as much as possible, she loves sharing her best tips and tricks with her audience on everything she's learned along the way to help make their travel plans easier and stress-free!