Let me help you plan your epic California road trip itinerary! Trust me; you'll need all the help you can get to tackle this enormous and diverse state.
After visiting the state several times, getting blown away each time, and realizing the hype is REAL—I had to share what I did and how I did it so you can have an equally fantastic time visiting this gorgeous state. California has literally everything. There are incredible coastlines, verdant forests, unreal national parks, sparkling lakes, snow-capped peaks, and barren but beautiful deserts… What more can you ask for?!
On this California road trip, you get a taste of them ALL. While the entire state has thousands of things to do, I don't think any of us have time for a year-long road trip just in California, although that does sound amazing.
I had to narrow it down for you to get a taste of everything in just a few weeks. So here we go; here are 19 must-visit stops on a California road trip!
California Road Trip Itinerary
---
As we've discussed, California is massive. Like literally… It's the third-largest state in the country, and it also holds some of the country's most epic, gorgeous, and incredible natural landscapes.
It's impossible to fit everything into one trip, so while you're planning this California road trip, you might need to also start planning your return because you'll undoubtedly want to come back!
The main thing to note about this California Itinerary is that we will focus on the central and some southern parts of the state. If you want to check out some of the other things to do in the north, check out my Seattle to San Francisco road trip or this post on awesome things to do in Northern California.
Where to Start Your California Itinerary
Honestly, there isn't much of a difference. As you'll see below, I'll tell you where to rent a vehicle from, and from there, you might find starting in a particular city might be cheaper than the other depending on the time of year and your vehicle choice.
It would be best if you started in a big city as it's much easier to rent a vehicle and your pool of cars to choose from will be ideal as well. So beginning in Los Angeles, San Francisco, and Sacramento would be your best choice. For me, my friend lives in LA, so I started there.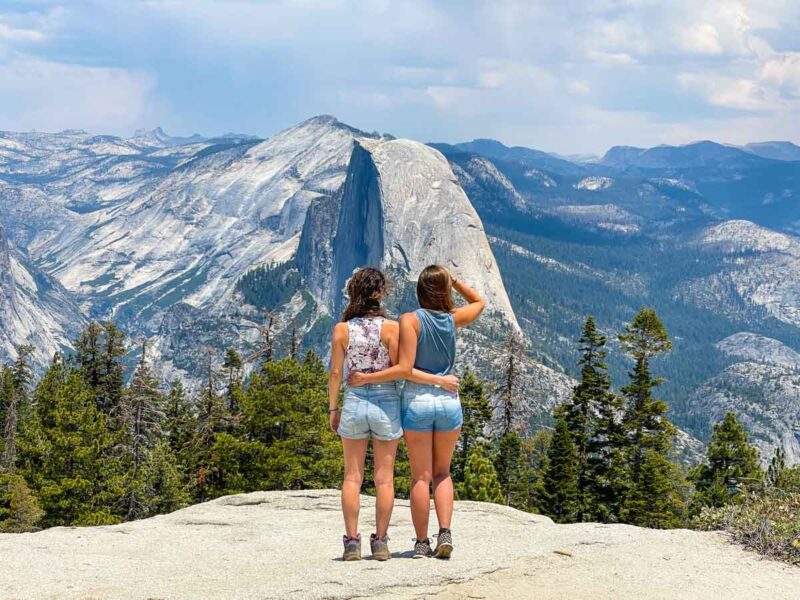 With that said, we started there and immediately left the city and instead checked out LA last, which was perfect, in my opinion.
Starting in the desert, then getting into the national parks while leaving the populated cities and the coast as our refuge for the last part of our trip worked well. We had way more energy at the start of the journey, so we did the "harder" areas first, where resources were slimmer and more energy was needed.
Then towards the end of our road trip, we got tired. So being near proper stores and having the coast as a relaxing spot towards the end of our trip was awesome.
California Road Trip Itinerary Tips
Download the GasBuddy app to get the cheapest gas around, any amount of money saved is worth it when road tripping California!
California has some intense weather and it varies so much across the state. Winter closes roads, and during the summer fires can spread quickly. Always stay up to date on the weather and nature around you.
With that in mind, also think about seasons. California ia great year round, but I accidentally ended up doing this road trip during one of the worst heat waves! Oops! You kind of have to be prepared for EVERYTHING in California.
Bring tons of water at all times. I loved having my Grayl so I can drink pretty much any water I want and it filtered it to be safe and tasty. Defintiely bring a filter water bottle!
Download Google Maps and the specific areas of California before you trip. I also download Map.me as another back up. It also has more trail info while Google doesn't.
You'll be in and out of service, download tons of playlists too.
I also starred tons of possible campsites on Google Maps just in case before the trip too so if I had no service or access to apps that need the internet, I at least have known campsites in the area starred and the ability to navigate to them.
Get the National Park pass! If you plan on popping into a few national parks and spreading your time out too, then you'll need one.
Getting Around on Your California Road Trip
Well, you're going to need a car, that's for sure! Unless you have your own, there are two places I would look:
Car Rentals – You can check here for current car rental deals anywhere in the world.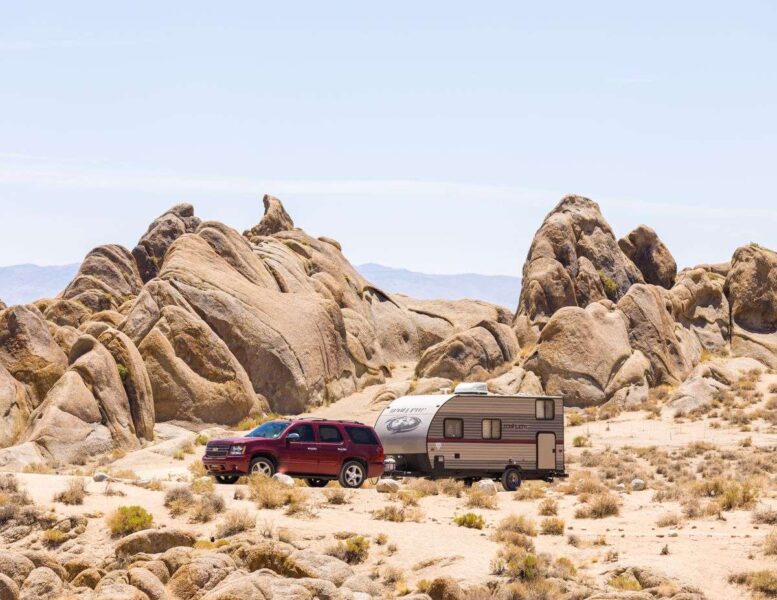 Outdoorsy – The #1 site for renting vans and RVs, which are by far the best way to go! A road trip is better when you can sleep where you adventure, in my opinion. In fact, you can rent my friend's RV that we used to do this trip right here.
How Long Should Your California Road Trip Be?
Like we already discussed, you could take a whole year and probably not see it all!
The below itinerary took me about three weeks! I started in LA, and this is roughly how my weeks went…
California Itinerary Week 1 – Mojave, Death Valley, Alabama Hills
California Itinerary Week 2 – June Lakes and Yosemite
California Itinerary Week 3 – The Coast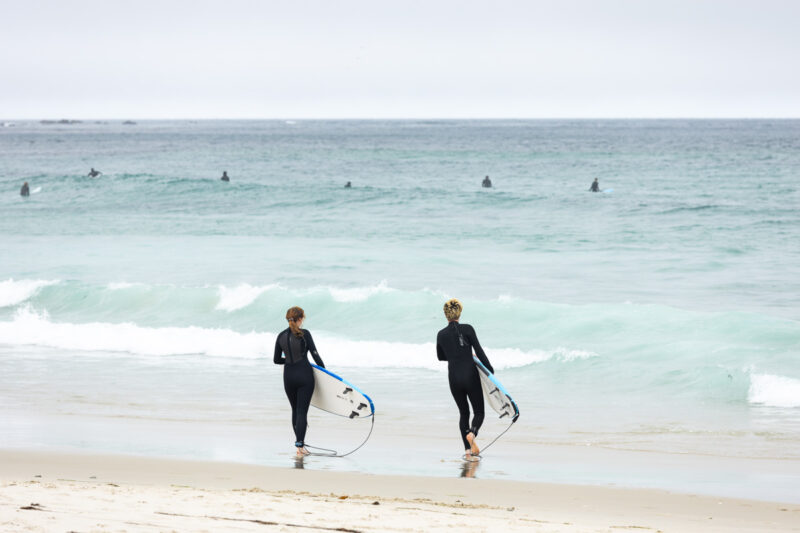 Don't forget how massive this state is, and don't underestimate your drive times. You'll also need to re-up your food, get gas very frequently (and pay through the nose, AH!), as well as bathroom breaks and other stops.
This road trip will take time and LOTS of driving. So while you may only spend 4-5 days total exploring, you'll need those extra two days for driving between places, chilling, and random stops. Take this all into account when planning your road trip.
You'll need to add even more time if you plan on adding some of these northern California stops too!
Alright, I think that's enough prepping, let's get into the good stuff. What to do on your California road trip!
California Road Trip Itinerary: Mojave National Preserve
Although the Mojave Desert is one of the smallest in North America, it still packs a lot of punch, and its small size means you'll be able to witness many of its highlights with relative ease.
To many, it may seem like a pretty stark and desolate place. Still, if you look beyond the miles and miles of sand, you can uncover treasures such as the bright, colorful flowers that spring from drooping cacti, the iconic Joshua Trees that dot the horizon, accompanied by rugged mountain peaks. Just a few reasons it should be a solid first stop on your California road trip.
1. Kelso Dunes Hike
The Kelso Dunes are a great stop on any California itinerary if you are headed through the Mojave Desert. The undulating dunes seem to go on forever, only interrupted by the fragile plants that help to make up this unique ecosystem.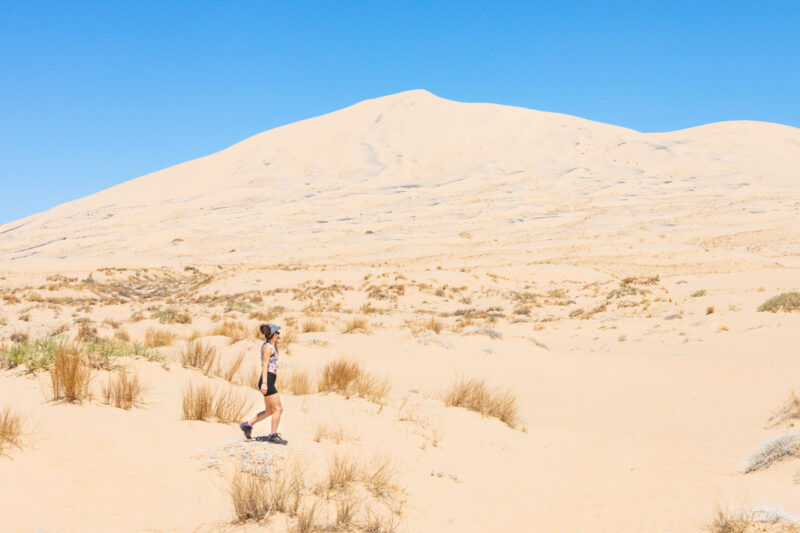 Although there is quite a bit of sand in the Mojave Desert, this area of dunes is pretty impressive, with the tallest dune rising to a towering 600 feet! The area is dominated by a central ridge, where many of the tallest sand dunes can be found. In total, the dunes span an area of around 45 square miles, so if you don't find the central ridge, there is still plenty to see.
You can easily walk around, up and down the dunes all day, and get clear views in every direction. But to get to the top of Kelso Dune, you'll need to hike up 1.5 miles through sand! Not easy.
Just past this trailhead is a campsite, so you might want to plan to hike this in the morning after you camp or perhaps hike it later in the afternoon before setting up camp for the evening. I went frolicking around the sand dune in the morning when it was a bit cooler, and it was perfect.
2. Explore a Lava Tube
Ever fancied venturing inside a tube of rock created by lava? Well, that's exactly what you can do at the Mojave Preserve. The lava tubes are a must-see in this region, taking you to a subterranean world of rock.
However, it's not just the fact that you're inside a lava tube that makes this spot so popular; when the light hits the holes at the top of the tubes just right, you'll be greeted by a picture-perfect stream of sunlight that graces the cave's floor. The way the sun breaks through the skylights is magical and worth waiting around for.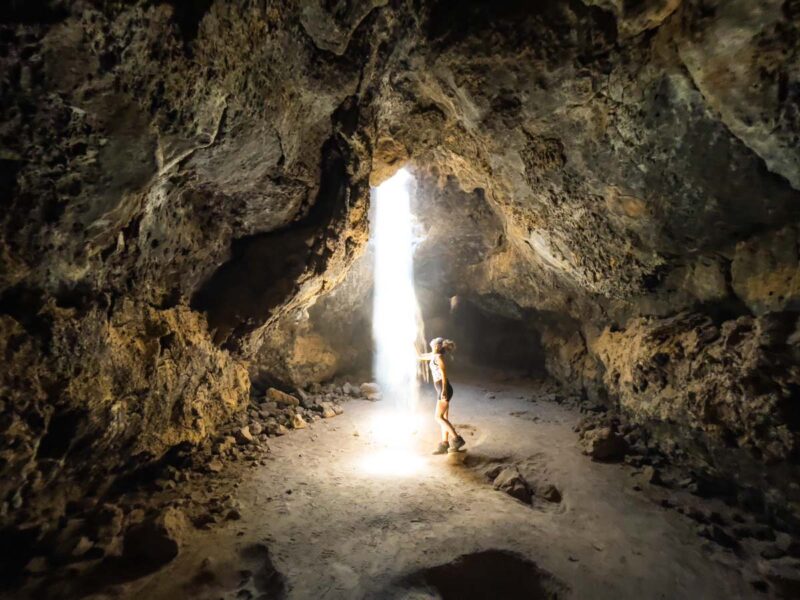 You have to take a really crappy dirt road about five miles to get to this spot, but it's worth it. Just be slow and careful. Make sure you come on a clear day, so the sun is popping through the holes and not too early or late in the day, so the sun is above the skylights. I arrived around 2 pm in June.
After walking about a quarter of a mile (depending on how close your car made it to the "trailhead"), you'll reach a hole in the ground with a ladder leading inside. The tubes are short and sweet, as they don't go back too far once you enter. Head in and let your eyes adjust. You'll see the light at the back of an opening, head towards it slowly, and it will open up into a gorgeous cave cathedral!
Where to Stay Near Mojave Desert
Kelso Dunes Camping – Just past Kelso Dune Trailhead, you can find free camping. There are a few vault toilets here, and the site has a campfire ring. You have views of the dunes, and the entire sky is lit up with stars at night! Highly recommend staying here.
Shoshone RV – This is excellent camping and RV spot with a nice natural water hot spring pool. We stayed here after exploring Mojave on the way to Death Valley.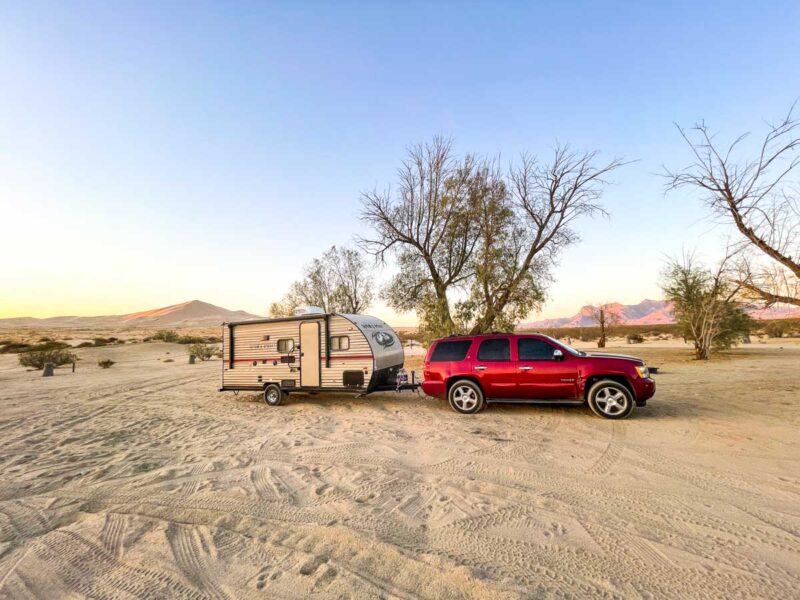 Tiny House in Sandy Valley – This charming tiny house with a rooftop deck sits in the middle of a working ranch.
The Hummingbird – A handcrafted tiny house that lets you wake up in complete tranquillity.
RELATED: Your Southwest Road Trip Itinerary (1 Week – 2 Months)
California Road Trip Itinerary: Death Valley National Park
Death Valley—the national park of extremes. It is the lowest point below sea level in North America and the hottest place on earth!
At times, this dramatic landscape can reach unbearable temperatures even for the hardiest of beachgoers, with very little rain throughout the year. Yet sometimes, the heavy rain can cause flash flooding that pours and gushes into the dry valleys.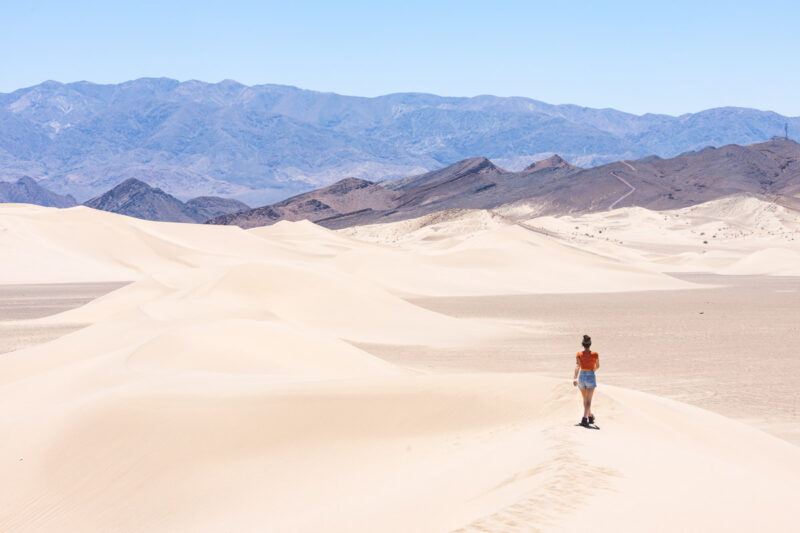 Death Valley is surreal, otherworldly, and at times you may feel like you are tracking across Mars. Still, with so many mind-bending and impressive features, it is unmissable on any California Road trip itinerary. There are mountains, brightly colored rock formations, miles and miles of bright white salt flats, along with plenty of viewpoints and hikes to help you take it all in.
The yellow and brown striped hills of the badlands that make up much of the Death Valley landscape have been shaped over many years by water, which may seem quite surprising as you stand there sweating in the pounding sunlight, without a drop of water in sight.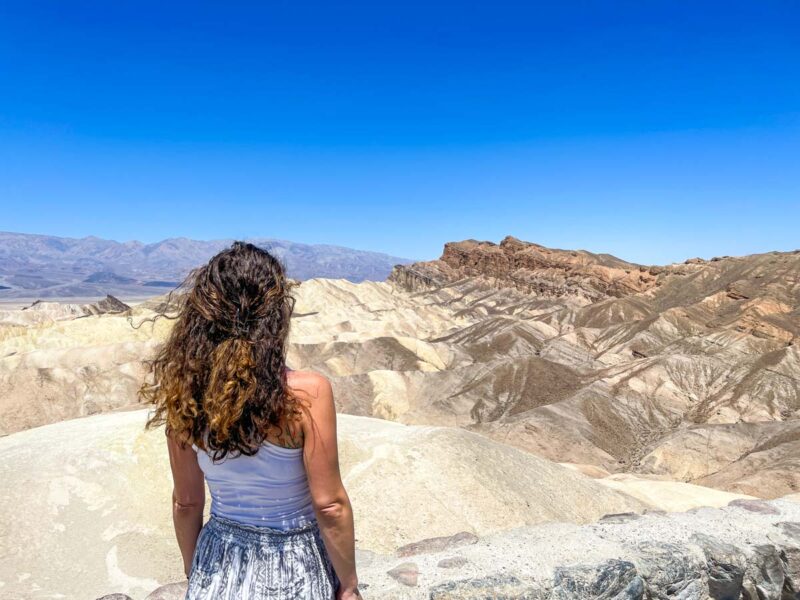 We happen to be riding through Death Valley during its hottest June ever! As a Floridian who is quite used to some heat, I can assure you I have never felt this kind of heat before in my life. It was borderline unbearable and challenging to be outside for more than 10-20 minutes. Be careful visiting the area, particularly during the summer.
3. Zabriskie Point
Want to see Death Valley in a nutshell? You pretty much can at Zabriskie Point, one of the most photographed spots in the whole of Death Valley. You'll be able to take in an incredible view of the badlands in all their glory from this easy-to-access, elevated viewpoint.
The undulating landscape seems to spread down from the distant Black Mountains, easily visible just a few miles east of Death Valley. Looking far in the distance, the white salt plains will just be visible, with the twisting badlands spread out below you.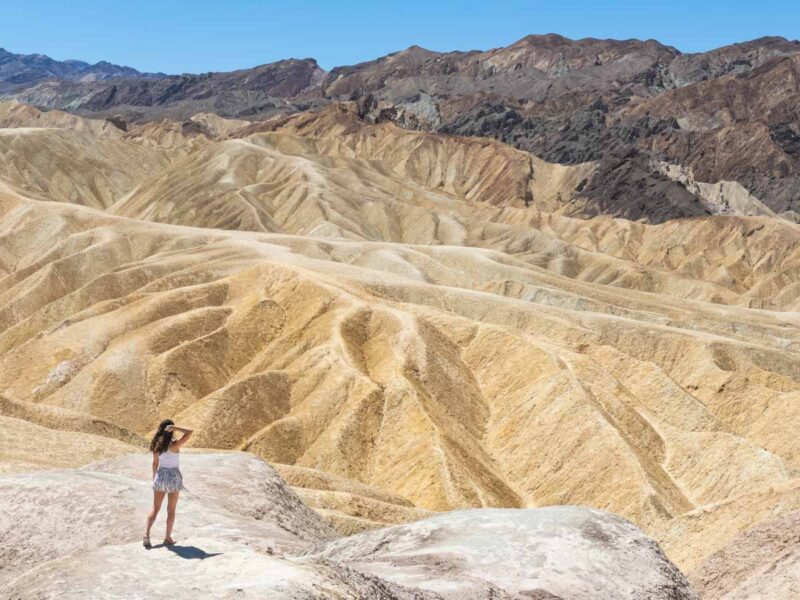 One of the most noticeable points from this view is what is known as Manly Beacon, but with all the other varying landscapes, your eyes will be spoilt for choice.
Although you'll be able to get a fantastic view from the point, which is just a short, uphill stretch from the parking area, the crowds tend to thin if you venture up into some of the surrounding hills. This is especially useful at some of the area's busiest times, like sunrise.
From the top of the point, you'll notice narrow trails twisting and traversing over the ridge leading you further into the alien landscape.
4. Artists Pallete
The colorful gem that is Artists Pallete has to be seen to be believed. Yes, the colors are as bright and vibrant as the pictures you've seen.
You'll be able to pick out the pockets of bright rock in varying shades of purple, yellow, green, and oranges right from the parking lot, making it an ideal spot on any California Road trip. However, if you want a truly magical spectacle, I recommend venturing down and getting up close and personal with this glorified stone.
Artists Pallete can be reached relatively easily via Artists Drive. However, pay attention to the time of day you are planning to visit, as the sun's placement can have a massive impact on the vibrancy of the colors. The best time to visit is in the late afternoon and evening, as harsh bright light can mute the colors rather than make them pop.
The road itself can sometimes feel like a bit of a rollercoaster, with lots of twists, turns, and sharp dips, but it is all just part of the fun. The road is one way and 9 miles long, so make sure you plan enough time to reach it and get back.
*NOTE: No vehicle over 25ft can drive down Artists Pallete.
But how did such a natural phenomenon come about? Well, if you combine elements such as flash floods, the heat of the desert, volcanic ash, and mineral-rich deposits, Artists Palette seems to be the outcome, a rainbow of soft pastel hues spreading across the rocks like spilled paint!
5. Golden Canyon
Although some may head to Golden Canyon in the hope of finding their fortune, this scenic part of the park gets its name solely from the golden hue of the rocks, and sadly not, as some might hope, what lies beneath the rock's surface.
The Golden Canyon is a destination in itself, but the 6-mile hike to get there can be just as impressive, so much so that it is one of the most popular hikes in Death Valley and a highlight of California road trips. However, it can easily be shortened if you don't have much time, so you can still gawk at this natural wonder.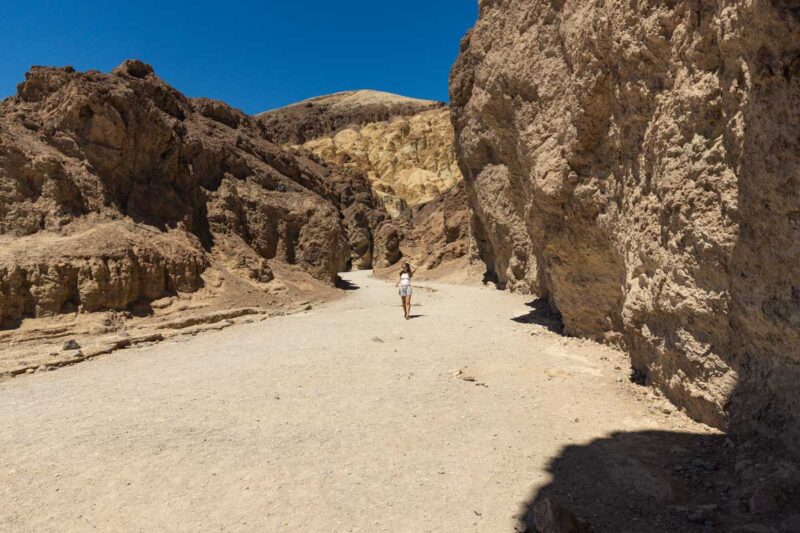 In fact, just a quick look into the mouth of the canyon a few steps away from the parking area is enough to take your breath away; however, if you can dive into the labyrinth of twisting hills to take in the vast rock formations and inspiring scenery.
It's worth mentioning we got here a bit later in the day, so we didn't get to hike too far in. At the start of this hike, there are even warning signs not to hike after 10 am because it's literally that hot.
It is hard not to delve into every side canyon you see, as they beckon and tempt with their colorful walls. Golden Canyon certainly has the 'wow' factor. It's not just gold, it's every shade of gold, yellow, and orange you could ever imagine, all crammed haphazardly onto the rocky walls. Visit when the light is not too bright, like early morning or late evening, to really see the canyon at its best and so you don't roast yourself!
Where to Stay Near Death Valley
Furnace Creek Campground – Excellent campground right in the middle of the park! It has all the facilities needed, views over the park, but little to no shade. Make sure to check the weather before coming as you will be ROASTING when it's hot out. Hopefully, your vehicle has air conditioning.
Stovepipe Wells Campsite – This place was a godsend when we were driving through. They had a nice pool, and it was SCORCHING outside. We happily stayed here at their basic but enough campground and vegged out in the pool to keep cool. They have a restaurant with food as well, which was convenient after a hot day adventuring.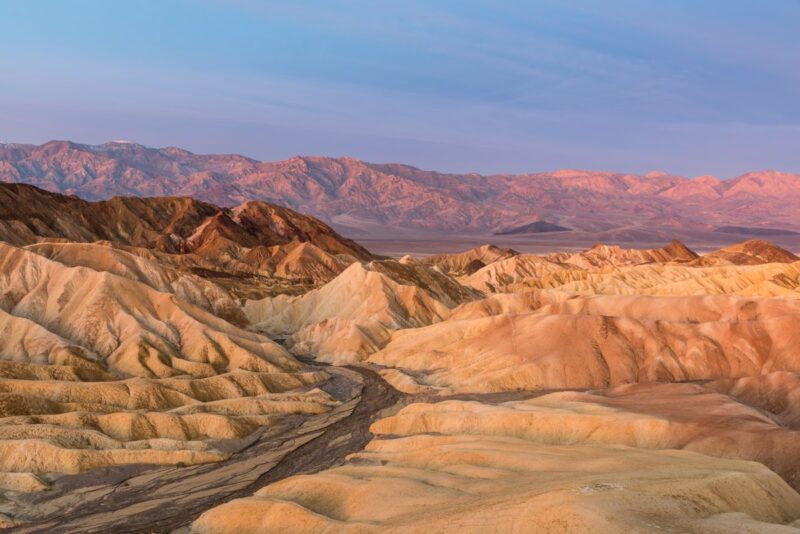 Villa Anita – A truly unique stay in the town of Tecopa that's more like an art installation than a guesthouse.
Artist's Oasis – A cozy home in Pahrump surrounded by pine trees and one-of-a-kind sculptures.
RELATED: Your Road Trip Essentials Packing List and Tips (+PRINTABLE Checklist!)
California Road Trip Itinerary: Alabama Hills
If you were not reading a post about the best spots on a California Road trip, you might be surprised to find out that the Alabama Hills are not found in the state of Alabama. These towering rocky peaks can actually be explored just off of Highway 395, at the base of the Eastern Sierra mountains.
It is quite an impressive sight with some incredible rock formations, including several natural arches and towering Mount Whitney in the background.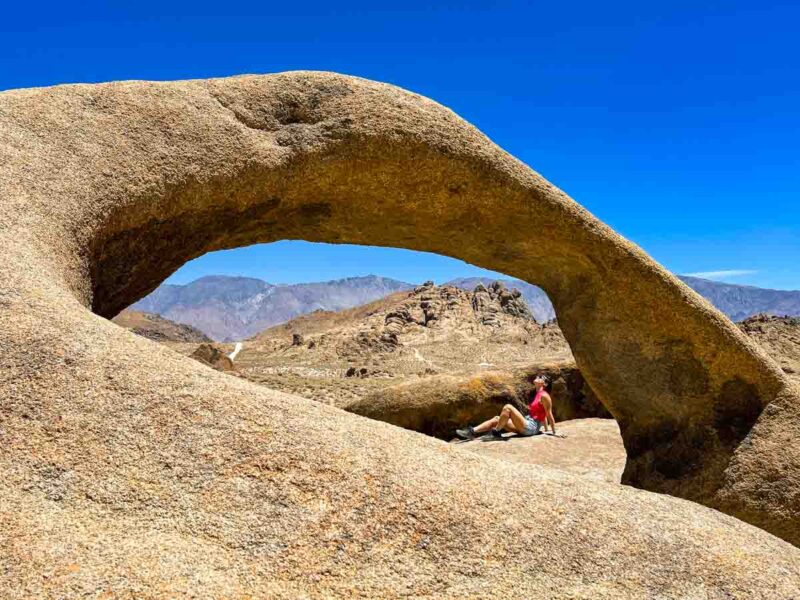 So impressive are the sights that many Hollywood blockbusters have been filmed in the area, such as Iron Man, G.I Jane, Transformers, The Lone Ranger, and many others.
6. Movie Road
An Instagrammers delight, Movie Road has you covered for some incredible shots during your California Road Trip. There are many scenic spots dotted in the Alabama Hills, but Movie Road certainly takes the top spot.
You'll have prime viewing of the rocks and mountains that make up this part of California from the relatively straight road. As you start to head out onto the drive, you'll notice the road's surface gradually begin to change from asphalt to dirt, but it still doesn't make for too bad driving conditions.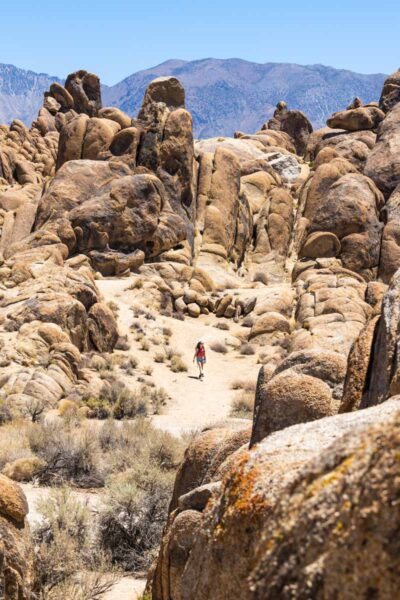 From the road, you'll truly be able to take in the ever-changing colors that surround you, but arguably what is the most impressive is the clear views of Mount Whitney towering ahead.
You can simply drive along this road and stop at the small pullouts to explore a bit closer on foot. Use Google Maps for ease if you'd like; highlights like Mobius Arch, Heart and Boot Arch, and Lone Ranger Canyon are all well marked, so you know which pull out is which! The small trails would likely total a couple of miles at most, and nothing is strenuous at all.
Where to Stay Near Alabama Hills
Numerous Campsites – There are quite a few campgrounds around Alabama Hills, making it easy to stay in the area and catch the Hills during sunrise or sunset. Tuttle Creek and Lone Pine Campground are two of the closest to the Hills.
Keough's Hot Springs – This is just an hour north of the Alabama Hills, and again, we were looking for a way to cool off! We found a huge pool and some natural spring water pools here, plus they had a charming little campsite.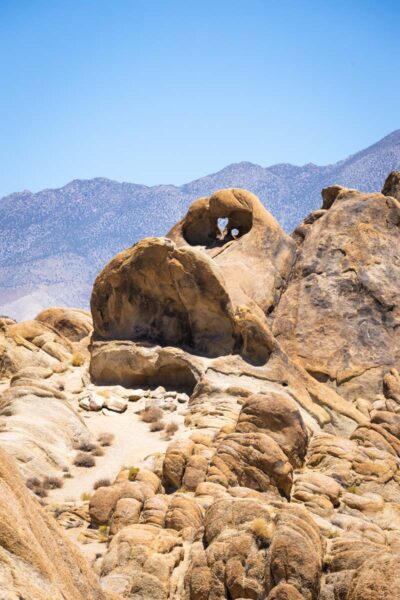 Mount Whitney Views – This 2-bedroom home in Lone Pine has a private deck and stunning views of the surrounding mountains.
Lone Pine Cottage – A cozy cabin in the center of the town of Lone Pine that makes a great base for exploring the Alabama Hills.
California Road Trip Itinerary: June Lakes
Is it a mirage? Could it really be water? Dust yourself off from the sandy desert and head to this little area of oasis that is the June Lakes. After days in the desert and the literal hottest place on earth, June Lakes was absolute perfection and came at a perfect time in my California road trip!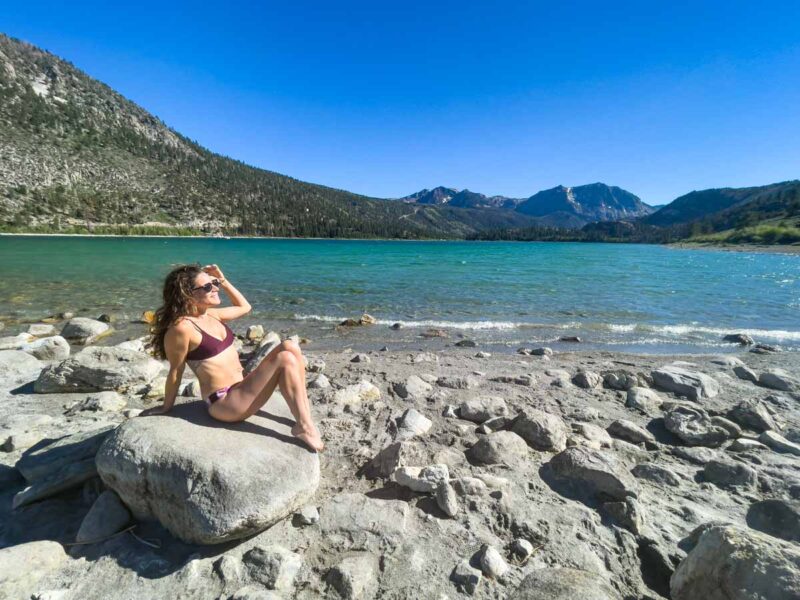 The lakes are a mecca for a range of water-based activities but are also just a great place to chill out.
If you don't fancy getting out onto the water, then just use this time to chill by the glistening lakes and enjoy paddling in the shallows; the icy water is the perfect way to cool down after days in the harsh landscapes of the desert.
PS – TONS of people rush to Mammoth Lake since they are more popular. If that's your scene, you can switch this out, but I'm so happy we went to June Lakes instead! We took a peek at Mammoth Lakes, and it was PACKED. We almost couldn't fit our RV down the road near the lake. So we decided to high-tail it to June Lakes and were immediately greeted with more camping spots, plenty of space, and far fewer people. (Without sacrificing the beauty either!)
7. June Lakes Loop
One of the best ways to see the lakes is to take the June Lake Scenic Loop, a 16-mile scenic drive, as you pass through aspens reaching up to the blue skies and crystal glacial lakes. June Lake is one of the first lakes that you'll hit and is just a great place to chill and go for a swim, thanks to its gorgeous beach.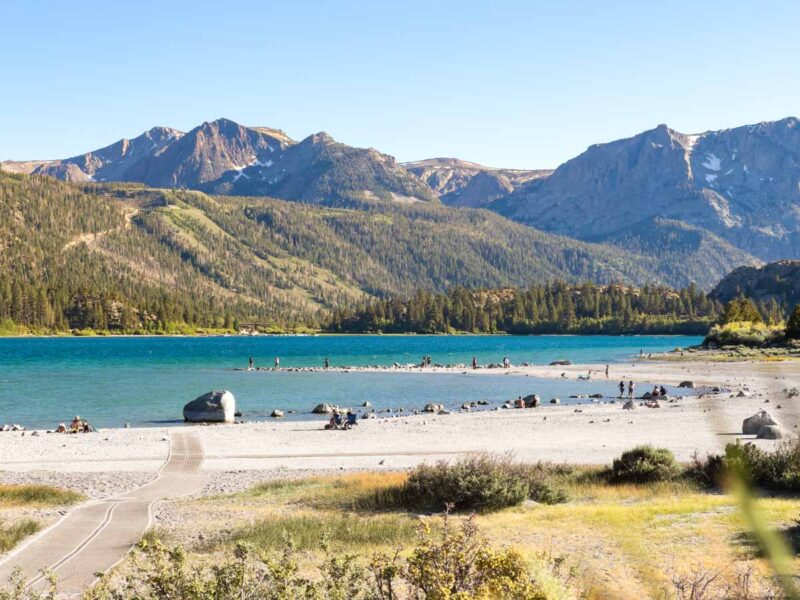 There are four sparkling lakes in total, surrounded by the tall Sierra Mountains, the others being Gull Lake, Silver Lake, and Grant Lake, all of which have something special to offer.
Bring your kayak, canoe, or even try your hand at stand-up paddleboarding. If you don't have your own gear, then you could always hire them from the retail units around the shore, such as from Mammoth Kayaks. You can boat in any of the four lakes on the loop, and again you can always hire a boat from the marina if you don't have your own.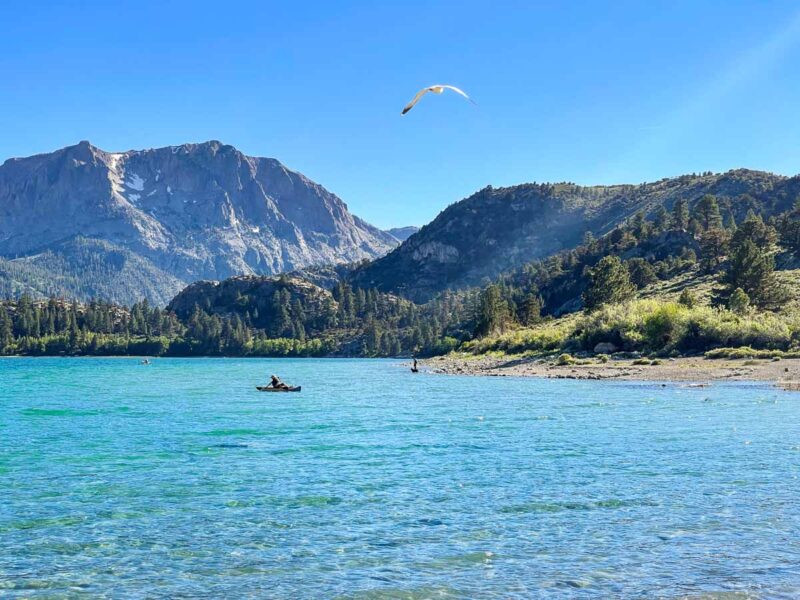 Grant Lake should be your go-to for a bit of an adrenaline rush, as it is the largest of the four. Go wakeboarding, jet skiing, kneeboarding, and water skiing, and take in the scenic surroundings at speed. It is also a huge angling destination, and you can fish from the shore or by boat.
There are also tons of trails surrounding these gorgeous lakes, but all I could do was chill at the water after being in the desert for a week.
Where to Stay Near June Lakes
Oh Ridge and June Lakes Campground – Awesome campsites both within walking distance to June Lake! It's a perfect spot for camping and much less crowded than the campsite we tried at Mammoth.
Silver Lake Campground – A 10-minute drive from June Lake and a short walk to the Silver Lake shoreline.
June Lake Villager Motel – Stay right by the lakes in cozy, chalet-style rooms.
Mammoth Condo – A spacious 2-bedroom condo in nearby Mammoth Lakes with stunning views of the mountains.
California Road Trip Itinerary: Yosemite National Park
Located high in the Sierra Nevada mountains, Yosemite has to be seen to be believed. It is undoubtedly one of the most incredibly stunning places in all of California and possibly the world. The area deserves at least a few days on a California road trip itinerary, with new vistas and natural wonders around every corner!
It is hardly surprising that people come from all over the globe to visit it. There is no end to the things to do and see in the park, whether you want to stay on the valley floor and simply gawk at the waterfalls and granite cliffs that surround you or if you're going to take the more adventurous option of hiking or climbing them.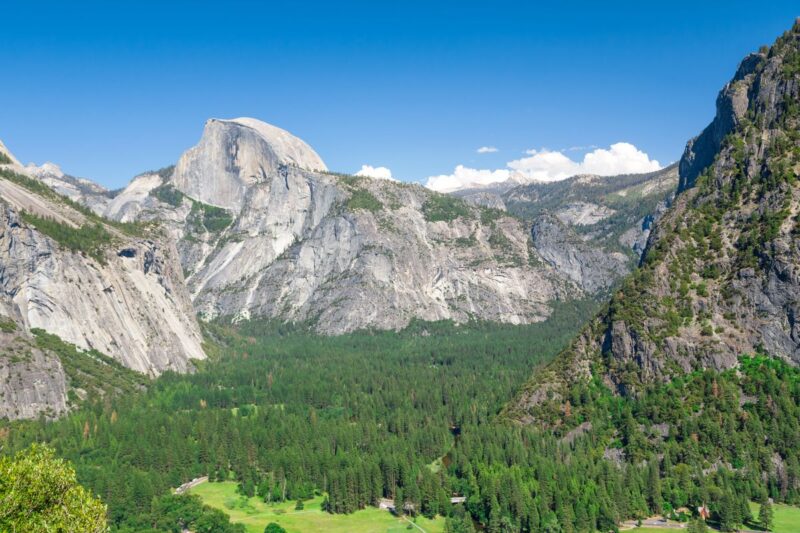 You may have seen many pictures of Yosemite when planning your road trip, but nothing will quite prepare you for the sheer size and scale of everything; with the rocks surrounding you towering 3000 feet high, even the trees are enormous. I honestly thought it wasn't going to be worth the hype—but it is!
No matter what you do, be sure to visit some of the more famous landmarks, including Yosemite and Vernal Falls, the iconic Half Dome, El Capitan, and some of the more scenic viewpoints. However, all the views would be worth seeing if you had enough time.
Oh, and keep your eyes peeled for bears, especially if you're walking the trails alone!
8. Glacier Point
Glacier Point provides one of the best views of the Yosemite Valley. Seriously, you won't get a much better vantage point than this, and it isn't even that hard to get to. The vista that surrounds you when you reach the point will allow you to take in some of the biggest and best landmarks, such as the Half Dome and Yosemite Falls, 3214 feet above the valley floor.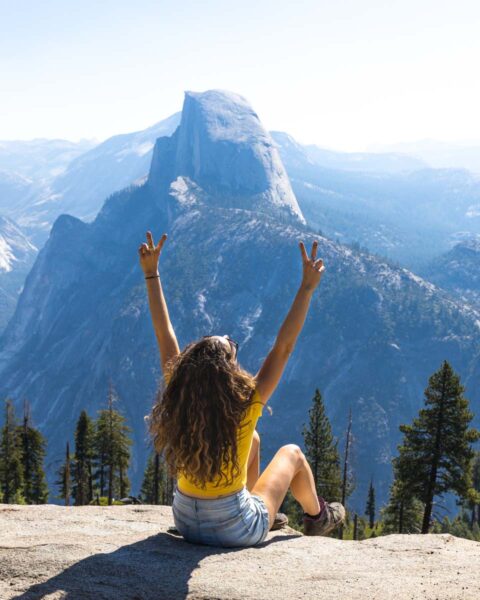 Although Glacier Point is incredible, try not to get too excited thinking you're about to witness a glacier, as unfortunately, that disappeared thousands of years ago. Still, the name at least seems to have stuck around.
If you decide to stay until the evening, not only will you have much of the commanding view to yourself for some even more incredible photos, the darkness of the night's sky means that on a clear day, the view of the Milky Way is just about flawless.
If you're driving from the valley, give yourself an hour to reach the point as you have to go along some long and twisting roads, but from the parking lot, it is only a short paved trail between you and the views. You could always hike from the valley floor, but if you think of the elevation gain, you'll have some idea about how strenuous this hike is!
Just make sure you visit before the road closes at the end of the season, or you may be very disappointed. Make sure to read my Yosemite itinerary for more info and tips because the park is huge, and you'll need some preparation to explore it better.
9. Sentinel Dome
Reaching the top of Sentinel Dome is one of the easiest ways to see miles and miles of Yosemite landscape surrounding you. The views are 360 degrees, so you'll get a different landscape no matter which way you turn your head.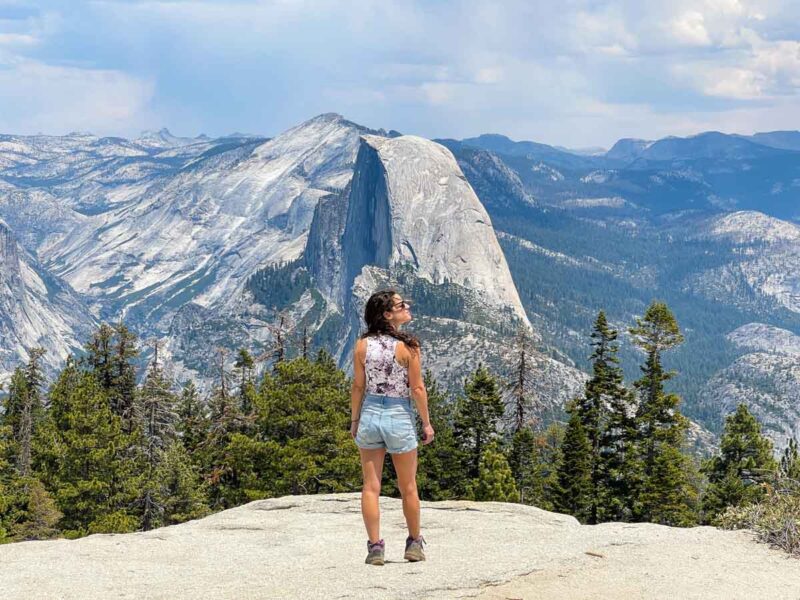 The north arguably provides the best views, as you'll be able to take in El Capitan and Yosemite Falls, although to the east, you should spot the iconic Half Dome and Nevada Falls.
The Sentinel Dome Trail itself is short and sweet, with nothing too remarkable to report along the way, but it is a great way to get a pretty impressive panorama from the top with relatively little effort. To get more views, pair this with Taft Point Trail for one epic loop!
10. Vernal Falls
Yosemite is certainly not short of waterfalls, but there is something a little bit special about Vernal Falls.
One of the best ways to see the falls is via the Mist Trail, a great way to spend half a day in Yosemite. It will not only take you to the falls but also other few scenic vistas and falls along the way too. The ascent can be very tiring, but the 317-foot waterfall smashing against the rocks will take your mind off the climb.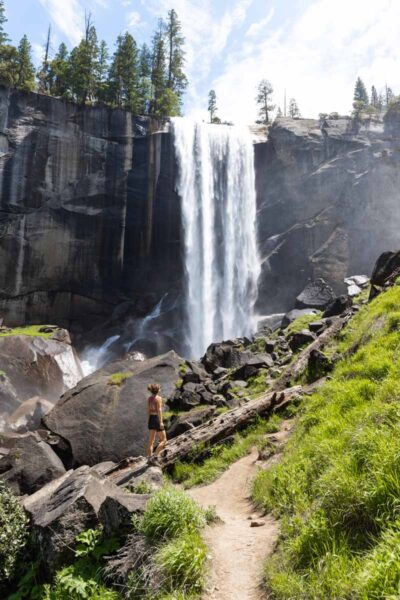 Once you reach the falls, you have a choice to make, you can either turn around or head back the way you came, or I recommend carrying on the trail and heading back via the John Muir Loop. Not only will you get different scenery and a more leisurely descent via a series of switchbacks, but you'll also tick off Clark Point and get views of Nevada Falls too!
RELATED: 27 Incredible Waterfall Hikes on the West Coast, USA
Where to Stay Near Yosemite
Yosemite Flats RV Park – This is one of the closest and cheapest places just outside the park! It was an excellent base for us. It was located just across the road from a beautiful river too!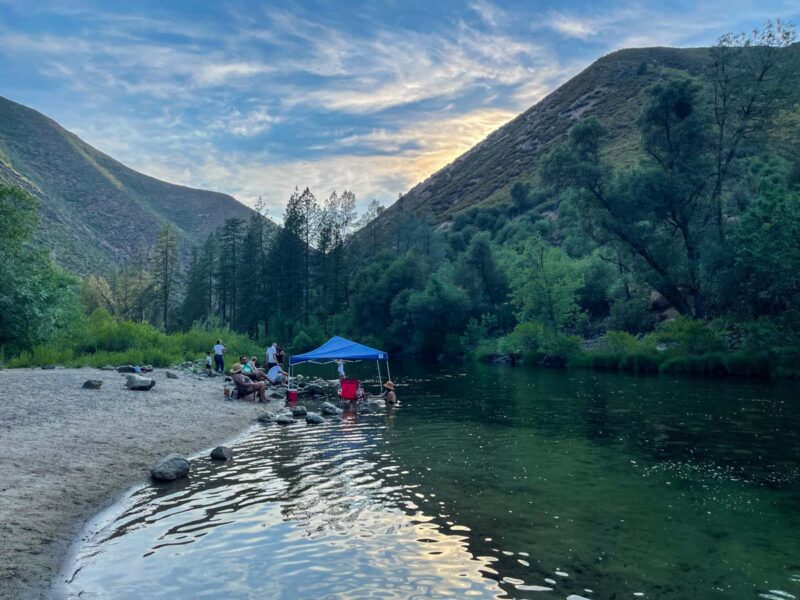 Edna's Hearts Desire – In the small town of Wawona, inside the entrance to Yosemite, you'll find this delightful cottage. The one-bedroom cabin has a small patio, views of the surrounding forest, and full wood paneling inside.
Yosemite Mountain Hideaway – This one-bedroom cabin can be enjoyed at any time of year. For summers, there's a private deck with stunning views over the valley below, and when it gets cold, you can snuggle up by the open fire.
Sage Cabin – Here you can have complete peace and quiet while still being close to the action – it's just 15 minutes to the Valley floor. This one-bedroom cabin sleeps four and has a private deck with views over open meadows.
California Road Trip Itinerary: San Francisco
San Francisco is a stark difference from what some may think of as a Californian city, especially when comparing it to Santa Barbara or even LA. Yet, it has a certain rustic charm that makes you want to come back time and time again, plus all those hills will leave you with calves to die for.
The city has it all, surrounded by nature and adventure, with plenty of places to eat, drink, shop, and sightsee within its borders. Of course, there are the main tourist hotspots it would be rude not to hit up, such as Alcatraz, the famed prison on the rock, Pier 58 and the many attractions it holds, and of course the majestic Golden Gate bridge.
If you're driving, be sure to try heading down Lombard Street, which is often called the most crooked street in the world. There is honestly a laundry list of things to do around here, but this California road trip is pretty full already! Here are the highlights…
14. Muir Woods National Monument
The dense canopy of trees in the Muir Woods is a gem of San Fran, which is why it has earned a spot on this California itinerary. The main reason to visit? The magnificent redwood trees! Some of these incredible trees are between 400 and 800 years old, and in that time, have stretched to over 250 feet tall.
Exploring the area is easy thanks to the numerous short and flat trails that weave themselves around the thick trunks of these natural giants.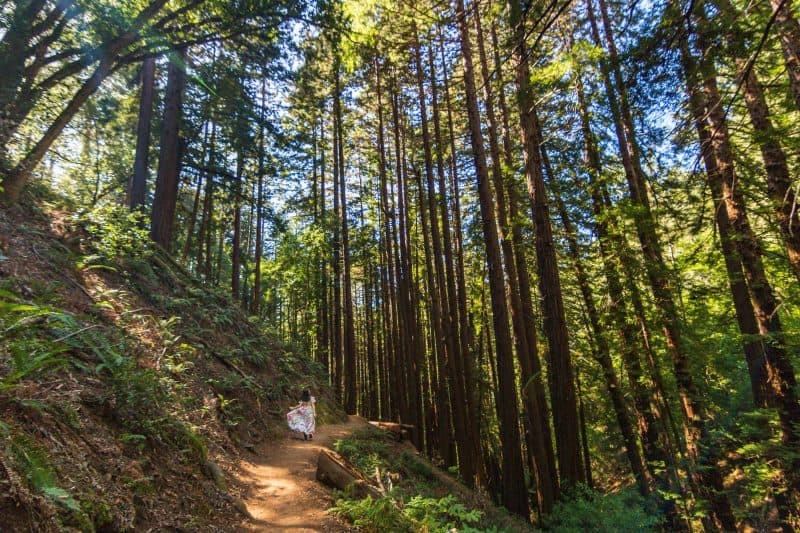 The Bootjack Trail Loop is the one to do if it's the redwood trees you are interested in or take the Muir Main Trail, which follows the stream, although it still has a fair few Redwoods. The normal-sized trees look miniature in response, but you should be able to make out red maples and Douglas fir, to name a few, their canopies dappled by the light above.
In the summer months, there is a shuttle that will take you directly to the woods, saving you from dealing with the traffic in the area, which is always a handy option.
15. Golden Gate Bridge
Golden Gate Bridge, a true icon of San Fran, is a glimmering pathway connecting the city of San Francisco to Marin County. The impressive bridge can be seen from various points throughout the city, but there are a few viewpoints where you'll be able to take in this vast engineering masterpiece in all its metal glory.
For an easy-to-access view, Crissy Field is a good spot, located right on the waterfront; your views will be pretty much unobstructed.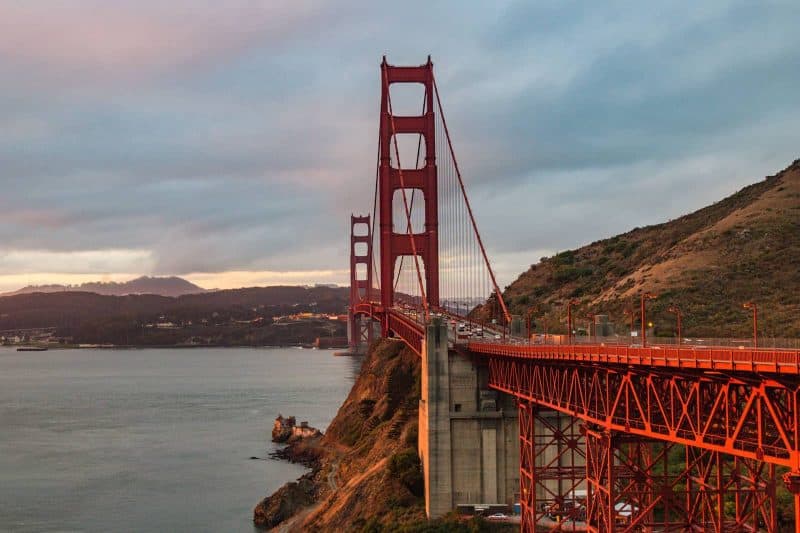 Want the hilly landscape of San Fran city in the backdrop? Hawk Hill provides the perfect vista and access from the north side of the bridge. The hill offers a unique lofty vantage point that is quite different from the usual bridge pictures that you would expect to see.
Both Baker and Marshall Beach will not disappoint either; there are so many options to choose from.
Where to Stay Near San Francisco
Golden Gate Camping – The state reserve has four campgrounds dotted around the Marin Headlands.
City Cottage – A tiny historical cottage hidden right in the heart of San Francisco, next to Park Presidio.
Private Garden Studio – Perfect for two, this studio features a deck surrounded by lush plants with views over the SF Bay.
Dogtown Suite – Across the Bay in Oakland you'll find this tranquil, renovated studio, close to restaurants and a vibrant art scene.
RELATED: Seattle to San Francisco West Coast Road Trip! Adventures and Waterfalls
California Road Trip Itinerary: Monterey
Monterey is a California Coast hotspot, and for a good reason. It has a great vibe, plenty to do, and some delicious food and drink options. Delve underneath the waves to get an insight into life in the kelp beds, or head to the pier and say hello to the hundreds of sea lions before making your way to Cannery Row.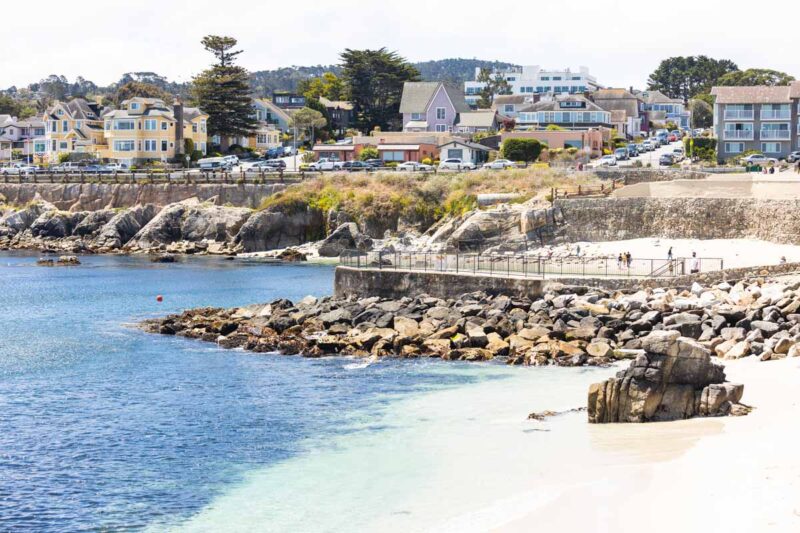 Spend the evening sampling the delights of the many local eateries and bars. Sure it may be touristy, but people come here for a reason, and it never feels completely overrun and is very deserving of a spot on a California itinerary.
11. 17 Mile Drive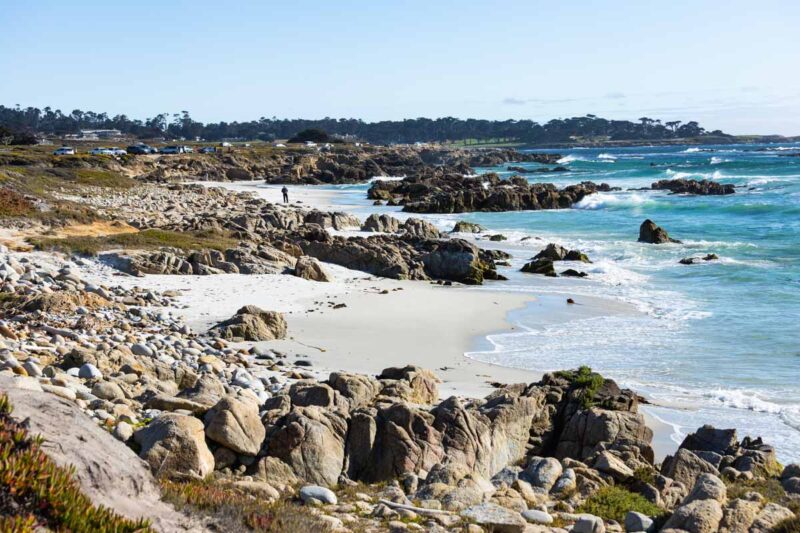 There are so many stops on Monterey's 17 Mile Drive; you might want to block out a whole day of your California road trip itinerary to enjoy it. The drive takes you past some of the most scenic spots in this section of coastline, including magnificent beaches, clusters of giant, impressive trees, rocky outcrops, and plenty of places to pull over and simply take in the views.
12. Carmel by the Sea
Suppose you need a little break from the natural wonders of the California coast (but really, why would you). Carmel by the Sea is a picture-perfect little town. The charming streets are the perfect place to rest up and refuel at one of the many local restaurants or bars, or get a little retail therapy in one of the many shops, be it for road trip gear or simply some souvenirs.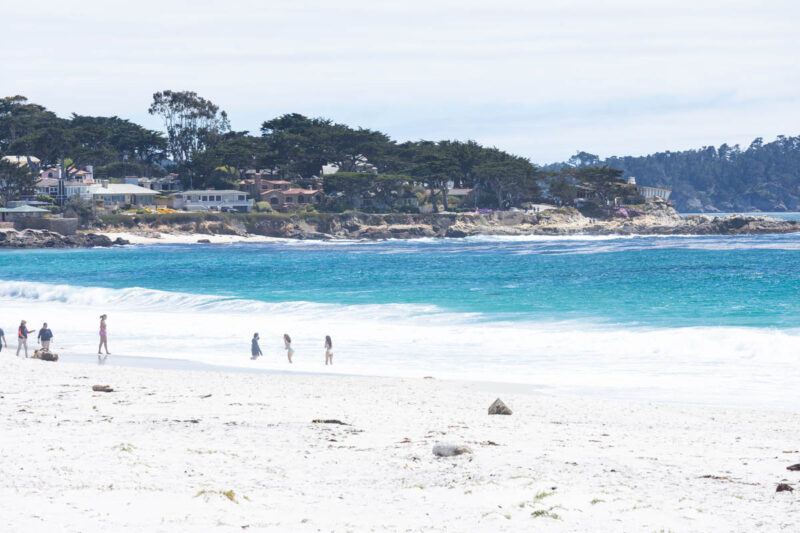 If you can't help get out and about in nature when in Carmel, there is an abundance of hiking trails in the surrounding area, such as the short and sweet Carmel Meadows Trail.
This town is just TOO adorable, and I wish we had more time here. It's was so chill and charming; I'd love to return to stay a bit longer.
13. Point Lobos
With 280 state parks in California alone, it's hard for one to stand out from the crowd, but Point Lobos does a pretty good job of it. People come from miles around in the hope of spotting the numerous sea lions, whales, and sea birds that gather in huge numbers throughout the year. It is also considered one of the best scuba diving spots on the west coast.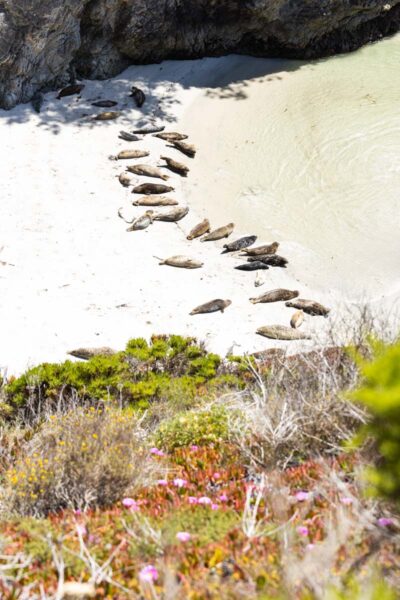 Want to hike, not swim? The park is crisscrossed with several hiking trails, all of which have been carefully designed to show off the best that the park has to offer.
Some of the best include the Point Lobos Loop Trail around the park or the shorter Cypress Grove Trail. Essentially, it is the California coast, condensed into a small area that's explorable in a day; you might as well end your road trip here (definitely don't!).
The park gets PACKED, so parking is often impossible, and you're left to park on the side of the road! Come early and be prepared to walk a lot.
Where to Stay near Monterey
Laguna Seca – Yes, this is a raceway and a campground in one! While this is a bit of a weird spot with nonpotable water and a raceway surrounding it, it also happens to have great views of Monterey and is one of the cheapest spots in town.
Veteran's Memorial Park Camping – Just a mile from downtown Monterey you'll find 50 acres of park with 40 campsites – 30 of them suitable for trailers.
Ocean Wave – The famous Cannery Row will be at your doorstep with this bright and modern condo.
Pacific Grove Cottage – Cosy guesthouse on a quiet tree-lined street, but within walking distance of all the action.
Little Jewel Box – Beautifully renovated cottage in the heart of Monterey with a private terraced garden.
READ MORE: 12 Marvelous Things To Do in Monterey, California
California Road Trip Itinerary: Highway 1
Highway 1 is the iconic American road trip road. It hugs the Pacific Ocean all the way from Dana Point to Leggett for 650 miles, with countless places to stop and gawk at the views and attractions along the way.
The most well-known and well-driven stretch is between Santa Barbara and Monterey. No matter if you're driving from north to south or vice versa, there are some unmissable stops along the way. While Highway 1 goes through San Francisco as well, the other spots on the list aren't nearly as major so enjoy these smaller California coastal towns all the way down until you hit the next big one, LA, where your trip will end.
16. Big Sur
As seen in the intro to countless films and TV shows, the dramatic Big Sur area is something special. At roughly 90 miles in length, Big Sur can quickly be done in a day, but it will leave you with memories that will last a lifetime.
For much of the time, the highway hugs the cliffs, passing just far enough away from the plunging cliffs, but just close enough that you still feel a little bit of a thrill. When the highway is not passing the sea, it twists its way around mighty groves of redwood trees and deep canyons.
Bixby Bridge is likely to be the most iconic sight in Big Sur. The vast bridge stretches across the rock, adding rather than taking away from the raw beauty of the landscape, hemmed in by the Santa Lucia Mountain Range behind the highway.
Avid hikers can take the trail that leads down to Partington Cove, which, although is short at just 2 miles, heading back, you'll be scrambling up a 300-foot climb. Once you've reached the bottom of the path, a mysterious tunnel awaits you, and as you break through the exit, you'll be greeted with the picturesque cove.
17. Pismo Beach
Pismo Beach makes for quite a destination on a California road trip with a sophisticated culinary scene, endless recreational opportunities, and beautiful landscapes.
Take a stroll along the 1200-foot long Pismo Beach Pier or the oceanfront boardwalk, which will give you a very different experience to the one at nearby Venice Beach. If you're a beach lover, why not abandon the boardwalk and head directly onto the sand, where the hard-packed grains make it extremely easy to walk on.
Of course, it's also a surfing haven. Check out the Sandbar Surf School for some lessons, or hop in with your board. It's a good spot for all levels and has consistent waves that are best at high tide.
You can also explore the waters by boat, so you'll be able to get a glimpse inside the numerous sea caves. Central Coast Kayaks offer an excellent tour for this. Take to the dunes in a dune buggy for a bit of a thrill, or for those that prefer a more leisurely pace of life, a ride on horseback could be the way to go.
One unmissable event is when thousands upon thousands of monarch butterflies grace the Pismo Beach Monarch Butterfly Grove between October and February.
18. Santa Barbara
Known lovingly by locals as the American Riviera, Santa Barbara has everything you could want from a beach escape and more on a California itinerary. Here you'll get a beautiful climate throughout the year and some lovely beaches, all of which provide all sorts of beach-based recreational activity.
Each beach has its own distinct charm, so you might as well visit them all. Helping to add to the Mediterranean vibes are the red tiles that seem to cover every available roof space. You can get a great view of the city and these tiles from the lofty viewpoint of the courthouse clock tower.
Wine lovers can rejoice, as the microclimate of Santa Barbara just happens to be perfect for growing grapes, which means vineyards and wineries aplenty. As well as many vineyards out in the country, there is also an urban wine trail, where there are many different wineries within walking distance of each other.
19. Venice Beach
When you think of Los Angeles, likely one of the first things that spring to mind is the Venice Beach area, but this surfing hotspot has more to offer than its reputation allows.
Take the Venice Canals, for example, tucked away behind the beach. The majority of tourists wouldn't even know they are there, let alone visit them. Luckily my friend lives here and took me to a fantastic party here during Pride!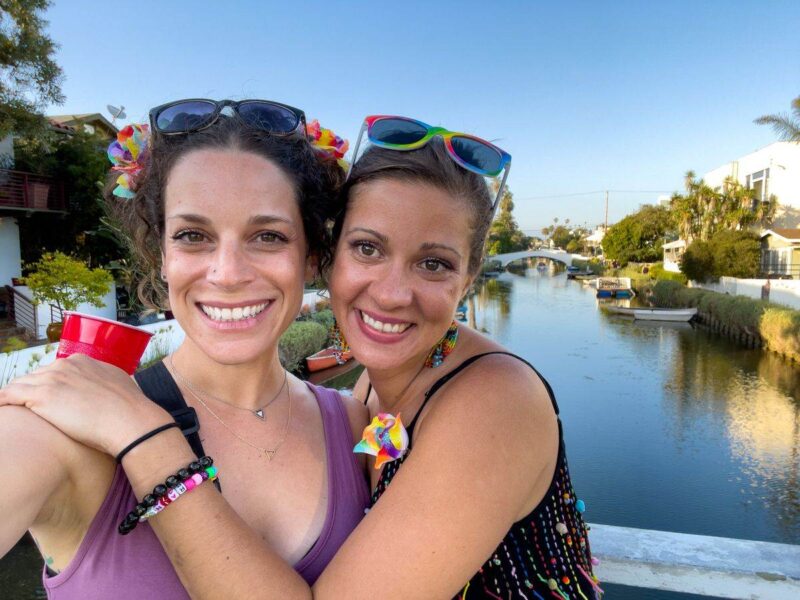 As the name suggests, the canal system was built inspired by the infamous waterways in Itlay and offered a completely different side to the classic beach vibe.
Pedestrian bridges stretch their way over the canals, small houses line the waters, and there are very few tourists, apart from the odd paddleboarder who has ventured in to explore. Walking paths on both sides of the canals make for a lovely alternative to stretch your legs.
That isn't to say that its most well-known attractions are not worth visiting as well. Probably the most famous of which is the iconic boardwalk. In the mile and half stretch, you are likely to encounter dog walkers, buskers, surfers, rollerbladers, shops, cafes, performers, tattoo artists, and a whole other assortment of exciting people and attractions.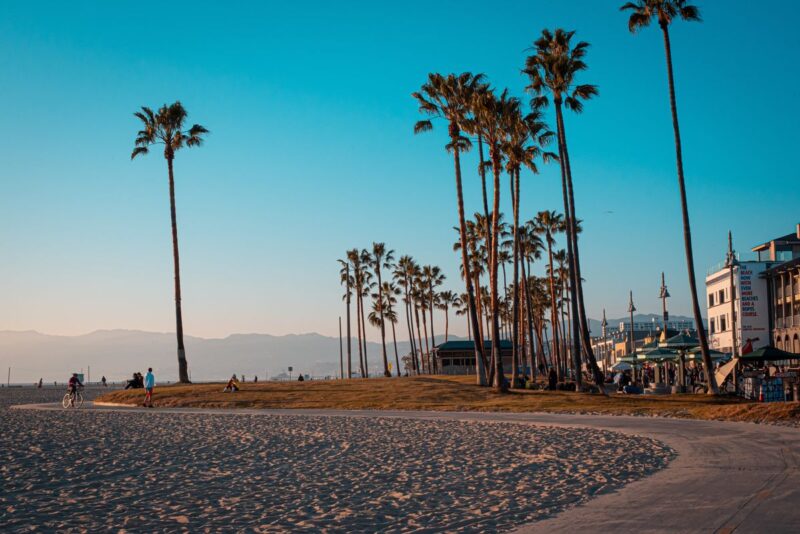 Make a stop at the fishing pier where you can watch the many surfers try to catch a wave, or even give it a go yourself, or have a game of volleyball on the courts adjacent to the pier.
Where to Stay Along Highway 1
Pismo State Beach Camping – Both North Beach Campground and Oceano Campground have direct access to the beach, with hook-up sites at Oceano.
El Capitan State Beach Campground – You'll see this popular camping spot just before you reach Santa Barbara, sitting over the bluffs at the beach.
Tuscan Estate – A private studio set on a 1 ½ acre estate in the foothills of Santa Barbara.
Hollywood Studio – Indulge in a little glam with this private studio, complete with a four-poster bed.
RELATED: 17 Legendary American Road Trips
My California road trip was EPIC! See below for more nearby road trip inspo and have an amazing time exploring California.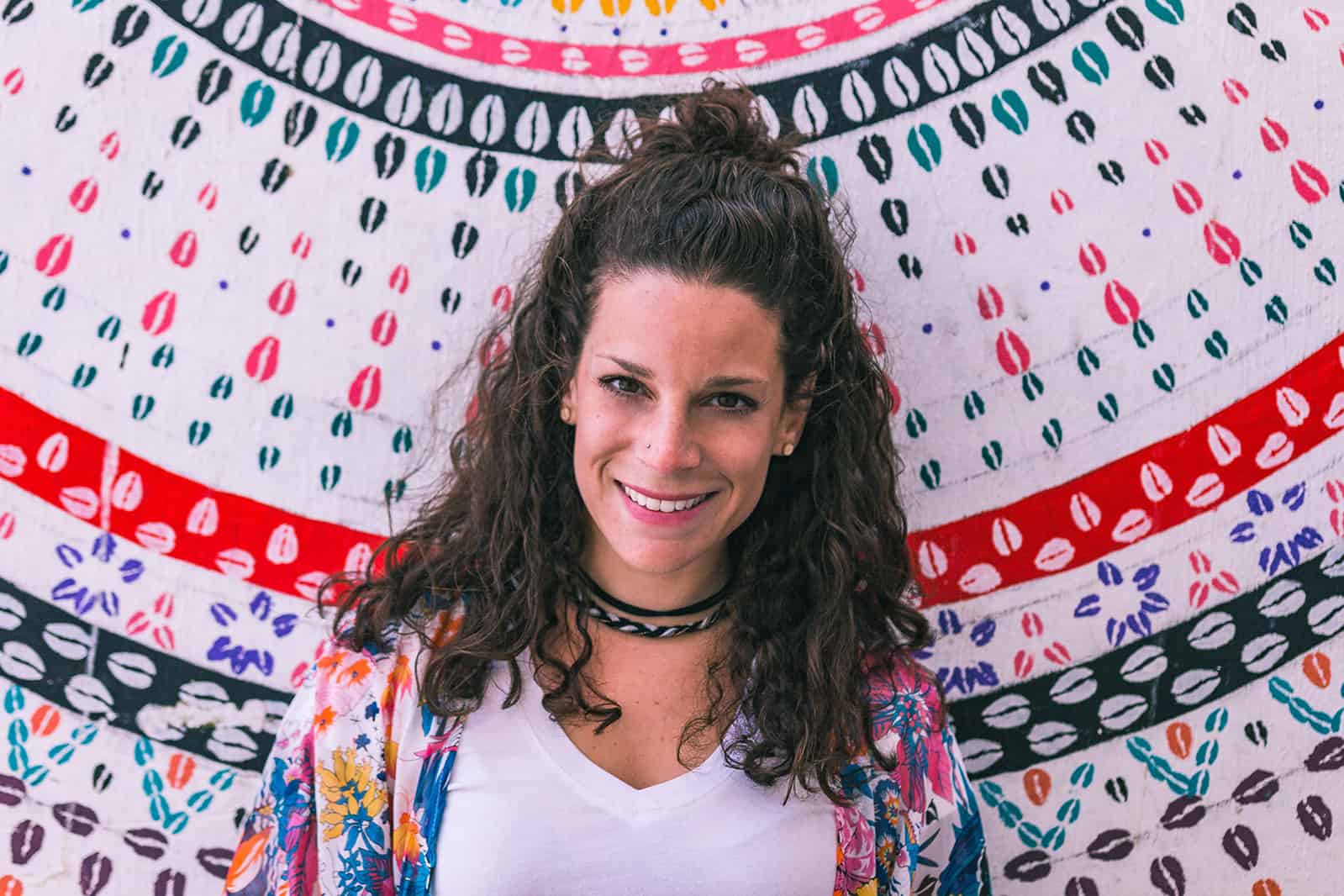 Nina Ragusa is an adventurer, messy bun master, breakfast fan, and full-time travel blogger. She's been abroad since 2011 and blogging on Where in the World is Nina? for nearly as long. Nina helps people like you move around the world while making money. She loves talking about how to work abroad and online to travel longer!