I was on the hunt to do some day trips in Vancouver but as soon as I arrived I was wowed by the city itself! As I drove up the hill and the car peeked over the edge, I was in awe. THIS is a city?! This type of beauty can be in a city? Really?
The backdrop to Vancouver, Canada is unlike any other city I've seen. Surely this metropolis was misplaced?
Backed by towering and snowy mountains and the skyscrapers glinting in the nearby harbor and inlet, it's hard to believe a sprawling city can mingle so well with nature.
And to make it better? Vancouver has a lot to offer in the town center and surrounding countryside. Those mountains aren't there just to look pretty, they're there for adventuring…
With endless options for adventure, sights, and attractions, here are some of the best Vancouver day trips, tours and adventures that you can take around or from the city.
Busy? Click the picture to Pin this for later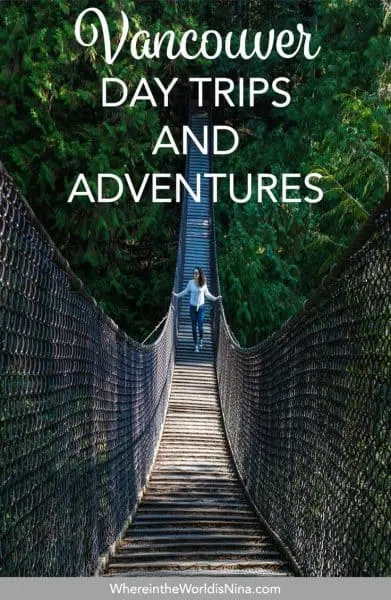 Vancouver Day Trips & Adventure Tours
---
1. Kayak and Snorkel with Seals
Yes, this magical experience can happen to you.
If you're a lover of wildlife and want a true and natural interaction, this is one of the must-do Vancouver day trips.
Set sail on a boat and cruise through the incredible Howe Sound. Surrounded by mountains, some choppy water, and brisk air, you'll soon come across the friendly sea pups.
All suited up in a wetsuit (because, yes, it will be freezing), you'll get to hop in the water and swim around with adorable seals. Snorkel, swim and then kayak around small islands that the seals hang out on all while trying to forget how cold it actually is.
The seals can be curious but sometimes they are a bit shy and swim away or keep their distance.
It's still such a cool experience and for those weary about animal attractions, there's nothing "unnatural" about this one.
We didn't feed them or entice them to come over or anything. We naturally "ran into them" while kayaking and swimming around. I made damn well sure of it before I took part.
2. Ziptrek Zip Line Tour
Weeee! Well, ziplining sure is fun. And it's made even more fun when you have the incredible mountains around Whistler whizzing passed you and streams, verdant fields, and canopy trees just below your toes.
Ziplines with a quick zoom over some trees aren't my thing, I need more and this tour provided it.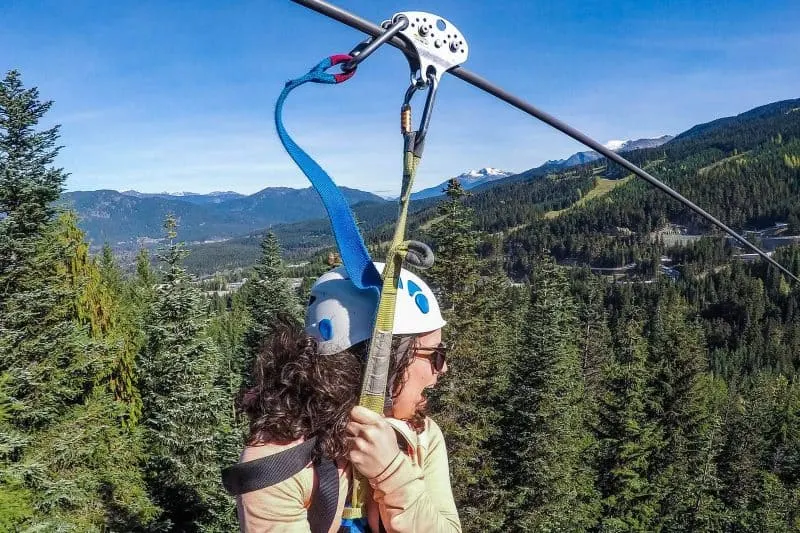 There were five thrilling zip lines and all provided some really nice views of the surroundings. Not just a blur of green below me. If you're looking for a really fun and adventurous day trip from Vancouver, this one can't be beat!
3. Sea to Sky Gondola
This isn't just a gondola ride, there's nothing too adventurous about that, but you'll get a multitude of activities at the top which certainly are.
Casually glide up 2,900 feet in a gondola and get a glimpse of all of Squamish, The Chief (see below), and the Howe Sound below. This is one of the most popular day trips from Vancouver.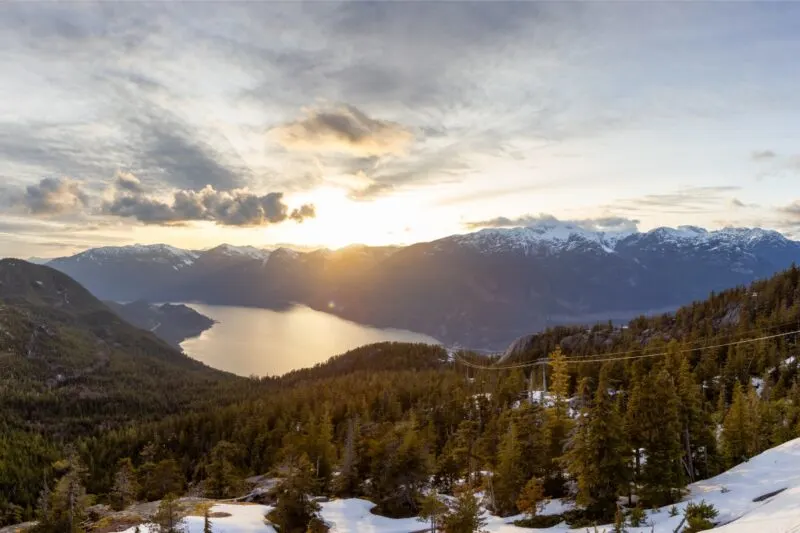 From up here, aside from views, are a bunch of hiking trails leading you to even more great views of the Sound below or the surrounding mountains. There's a suspension bridge to walk across, a quick loop for those not wanting an intense hike, Shannon Waterfalls, and a cafe.
Should you feel super adventurous, you could even hike up the mountains instead and simply purchase a gondola ride back down.
However, make no mistake, this hike is for advanced hikers only. It's 9km one way and involves scrambling, ropes, and rough terrain.
If you think you're going to ride the gondola up and then hike down, be prepared for a toe-crushing few hours.
4. Stawamus Chief (My Fav Day Trip From Vancouver Hike!)
If the thought of breaking a sweat while you're roaming around BC, Canada isn't your thing, skip to the next item! Stawamus Chief, or "The Chief" is a b*tch to climb.
Don't let anyone fool you, this isn't a walk in the park but the views, the adrenaline, and yes, even the buckets of sweats are all worth it.
Feel like you're on top of the world when you make it up here with the tiny ant people and mini cars below.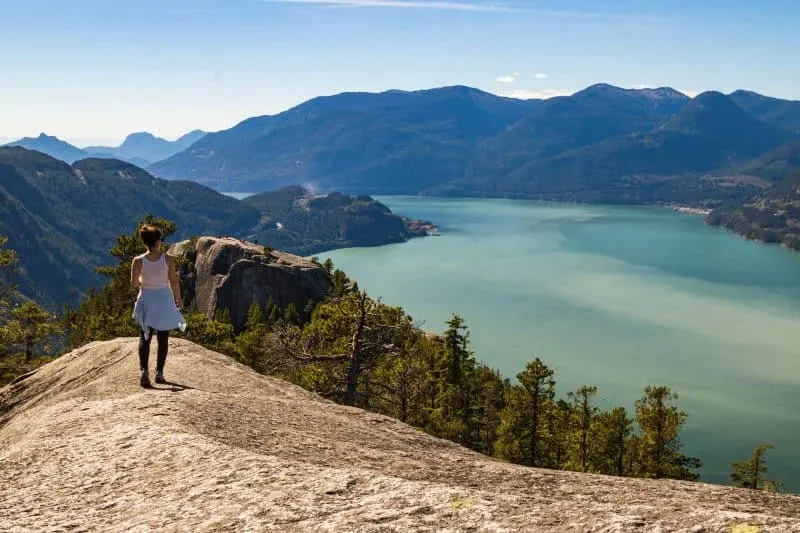 The boats cruising along the sound, Squamish bustling, and even the people over at viewpoint #1 waving hello, this may have been my favorite day trip from Vancouver, even though I wanted to die several times going up.
I personally wasn't able to go to all three of the viewpoints, I would have needed to start earlier in the day (and have traded out my legs with Lance Armstrong), so I decided to go to view #2.
This seemed like a reasonable middle ground and I was right.
This is the best view if you can only choose one because you can see view #1 and #3 from here, so you can get an idea of what those views look like. I climbed up to view #2 and then went down a different way, towards #3, which involved lots of scrambling downhill on craggy and crazy rocks.
There was nobody on the trail going this way, which I loved.
But definitely, be prepared for this hike!
Wear hiking shoes. At the least, runners.
Bring more water than you think you need.
Download maps.me because it always helps to know where on the trail you are (aka how much longer you have)
Tell someone where you are if you go alone, again, this isn't a walk in the park, it can get hairy.
Definitely bring your camera.
5. Joffre Lakes
Don't you just love it when you find out about a place because you chatted up a local? Yeah, me too, thanks random dude at the zipline in Whistler for this recommendation!
Heading up here was an ace choice!
There are three magnificent lakes set up high in the snow-topped mountains featuring a waterfall…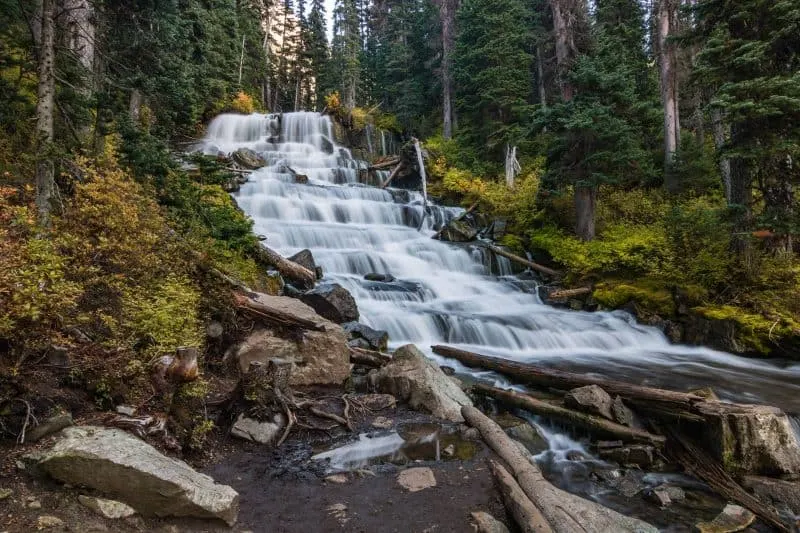 Yeah, it was pretty damn magnificent and not too bad of a hike either.
If you're in a hurry, the first lake is only a few minutes in and is certainly still a stunner, you'll need to trek a bit further to get to the next two.
Ethereal reflections of the surrounding mountains stare back at you from the placid lakes and sun setting behind the towering beasts creates this warm embrace around them, all while you freeze your ass off running around this incredible playground you've stumbled on…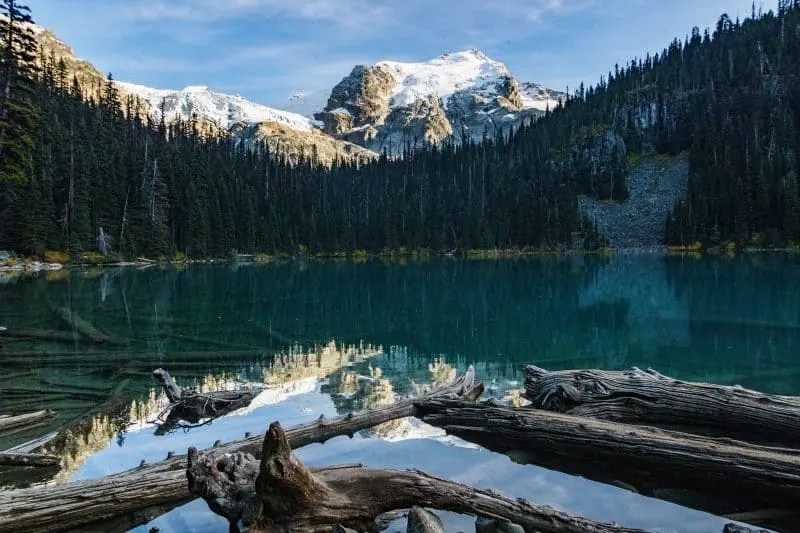 This day trip from Vancouver was a bit of a surprise since I had no idea what to expect and went here on a whim of a recommendation. Spoiler alert: I won, it was amazing.
6. Cheakamus Lake
This was another random recommendation for a Vancouver day trip and another hashtag win for me.
Particularly because the view here was rewarding but unlike the other trails, this one was pretty easy. So easy, I did it in flip-flops because it was bright and sunny out and I was feeling a bit warm (It was September in Canada, people! This is crazy!).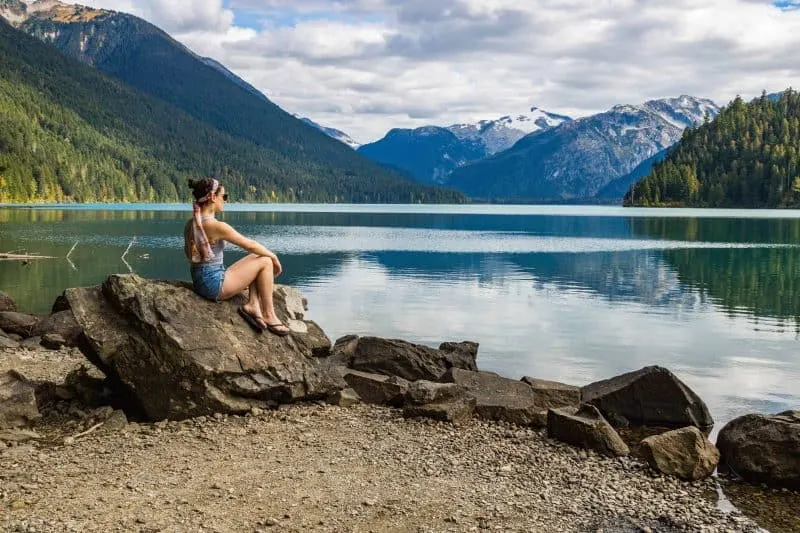 Mini sandy and rocky beaches dot this lake so feel free to stop as many times as you want to chill on the sidelines of this tranquil spot nestled in the mountains. The peaks in the distance and the few tents set up ready to camp will be all that's around you.
If you're a bit low on time, you can simply walk as far as you want down the trail. We did it in 3 hours in and back out with chilling and picture taking. The trail did go on for longer.
How to get here:
The trailhead is down a dirt path. Turn down Function Junction off the main road, then less than 1km downturn off on Main Logging Road West, then take the east side route at the fork. It's 7km on a dirt road to the parking lot and trailhead.
RELATED: 15 Vancouver Hikes That'll Take Your Breath Away (& Make You Sweat!)
7. Whale Watching and Wildlife Day Tour from Vancouver
There is nothing more exciting than seeing a whale break through the waves, and that is exactly what you are likely to see on this Vancouver tour. Whale watching around Vancouver is nothing short of spectacular.
The cruise lasts 3 to 5 hours, and you may be lucky enough to spot killer whales, seals, porpoises, and eagles.
Vancouver Day Trip Tours and Quick Trips
---
8. Capilano Suspension Bridge

(Easy and Popular Vancouver

Day Trip)

Just minutes from downtown Vancouver lies the Capilano Suspension Bridge Park, where the stunning temperate rainforest of British Columbia is at your feet.

The highlight of this Vancouver tour is the Capilano Suspension Bridge, where you will feel like you are floating on air. Other options include the Treetop Adventure and the new Cliffwalk, which offers unobstructed views of the canyon and beyond.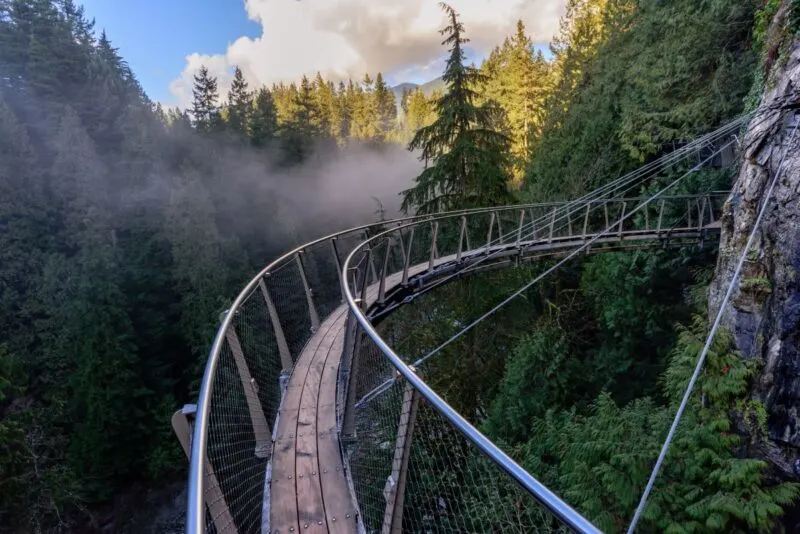 There's just one problem… This place gets crowded AF.
The bridge is often full, even during shoulder season, when I went. This doesn't make for the nicest photos or a nice chill day. There are a few other suspension bridges that weren't as crowded (mentioned in this post), so if you're low on time, you may want to skip this one.
With that said, people love it, and it is a good spot for everyone.
9. Lynn Canyon Suspension Bridge
Here's a quick easy hike without a suspension bridge that has half a million people on it and oh, bonus, this one is FREE.
While there may not be anything super spectacular to see at Lynn Canyon on the front, the suspension bridge is fun and the trek is peaceful and nice.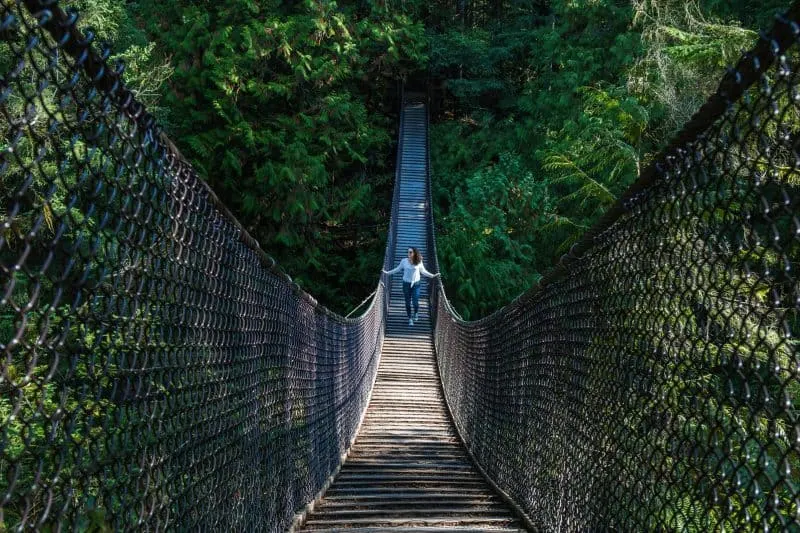 Because ain't nobody wants to hikes while rubbing shoulders with tons of other people…
If you continue up the moderately rated trails here, you will get to a waterfall! This will take a large chunk of your day but it makes for a great day trip from Vancouver.
10. Granite Falls and Zodiac Tour
One of the best tours from Vancouver is this 3-hour Zodiac boat tour. From your position on the water, you will get a stunning view of the iconic stone spire of Siwash Rock as you cross False Creek.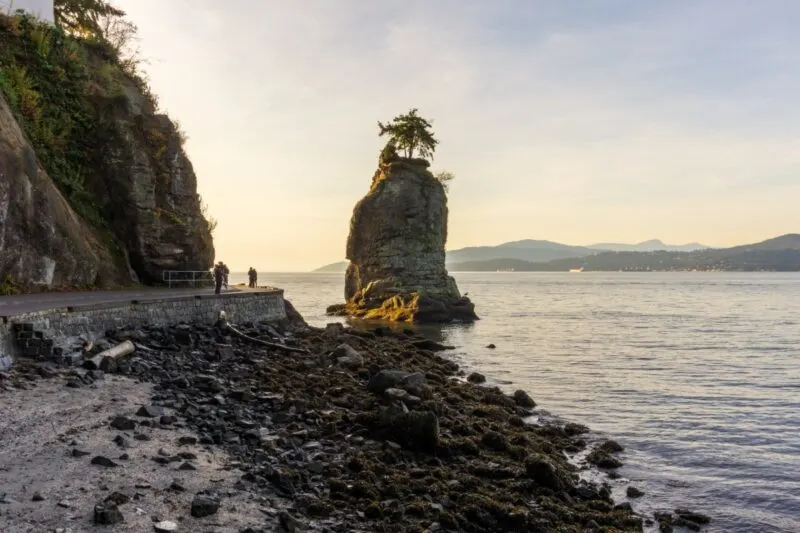 You will also venture into Deep Cove and the glacier fjord of the Indian Arm for a view.
Once you reach Vancouver Harbour, you'll get the lowdown on the many stunning waterfront landmarks.
11. Seaplane

Over Vancouver

If you feel like you have seen all there is to see on foot, then it is time to take to the air. Vancouver day trips don't get better than this, as you soar above the city and nearby mountain peaks on this 20-minute flight.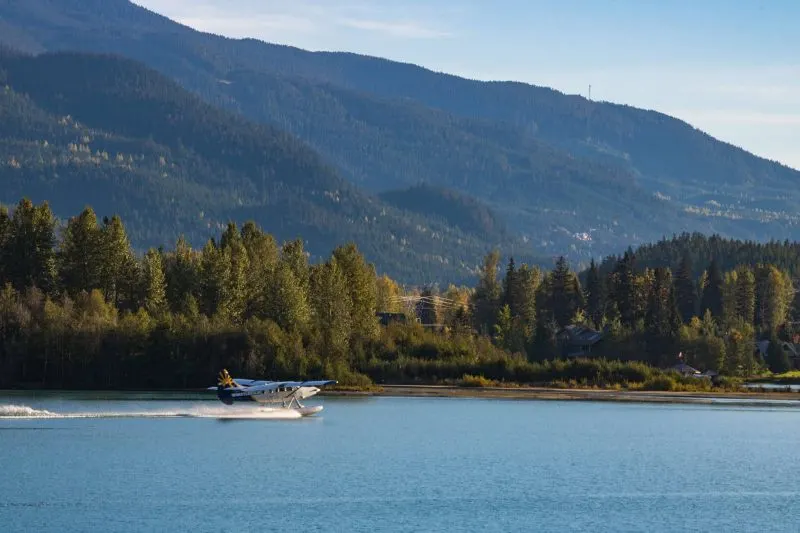 If you think the city is beautiful from down below, imagine flying above it!
12. Vancouver Bike Tour
Vancouver tours by bike are one of the best ways to see what the city has to offer.
Feel the wind in your hair as your small group follows a guide along dedicated bike routes to explore the city's natural wonders. This 5 hour Vancouver day tour takes you to neighborhoods such as Chinatown, West End, and Olympic Village, while also taking to the trails of Stanley Park.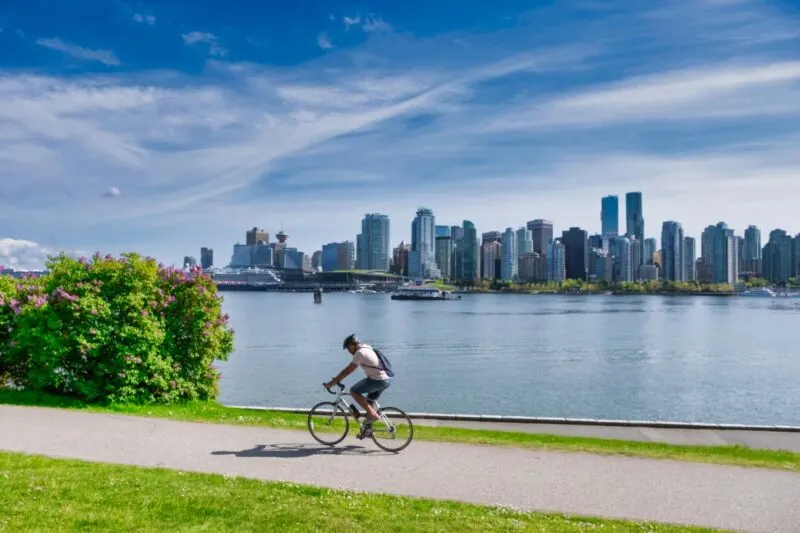 While I love exploring cities, bikes aren't usually my thing but I know some people love them. (Full disclosure: I don't like them because I'm too clumsy walking, no less biking…)
This is a perfect tour to get the lowdown on Vancouver's food scene, check out some cute shops, and see some neighborhoods that you can go back and revisit on food!
13. Sunset Dinner Buffet
On this 2.5 hour Vancouver tour, you can take in the city skyline from the Pacific Ocean, as you cruise along enjoying a buffet dinner of West Coast-style cuisine.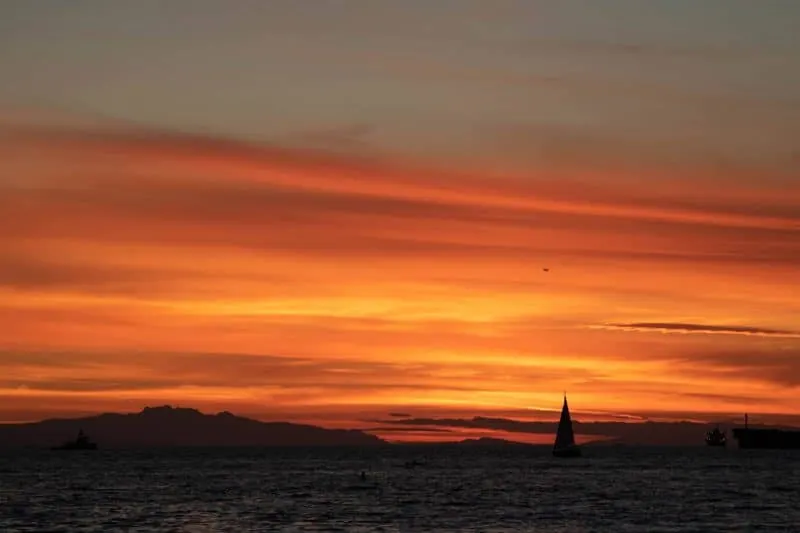 To make your tour of Vancouver even better, you can enjoy it all to the sounds of live music. Sunsets, cityscapes, and sipping on a drink of your choice, life.is.good.
14. Foodie and Beer Tour
Some of the best Vancouver day tours have a focus on food, and this one is no exception.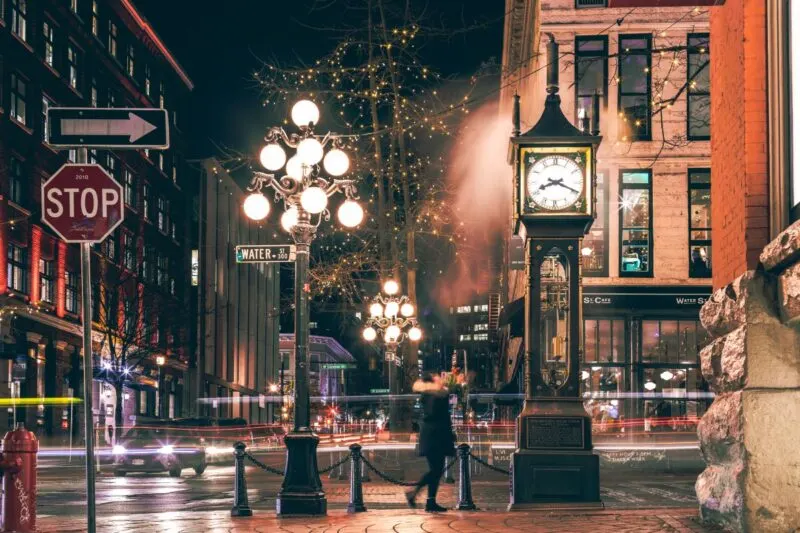 Take a guided culinary walking tour of the historic Gastown part of the city while visiting award-winning bars and restaurants. Along the way, you will be able to sample a range of different foods and drinks while learning about the area's vibrant history.
15. City of Vancouver Tour

(A Great Intro Day Tour in Vancouver!)

If you are not in the city long, one of the best ways to explore all that Vancouver has to offer is by taking a Vancouver tour of the city. Your guide will escort you to some of the best attractions in the city such as Stanley Park and Granville Island.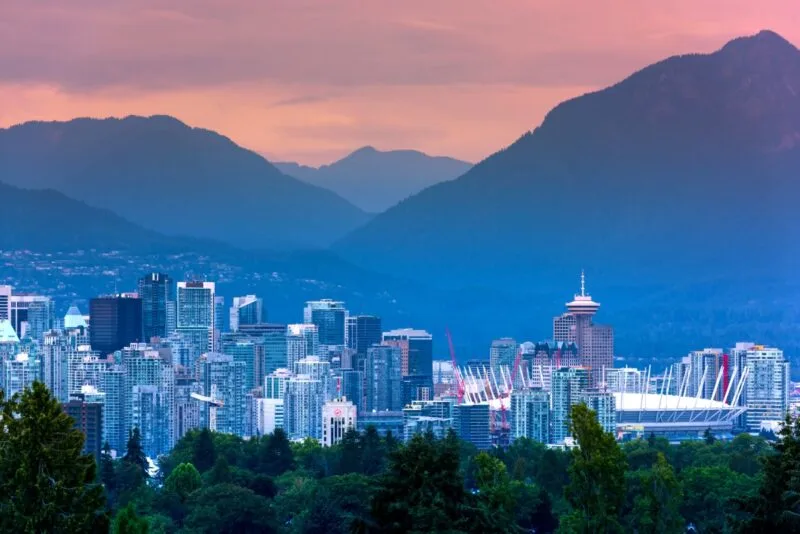 Tours range from 4 to 7 hours, with the 7-hour tour also taking you to the nearby Capilano Suspension Bridge, so if you want to squash a few things into your limited time, this might be the ideal Vancouver tour for you to choose.
The City Highlights tour allows you to get a bird's eye view of the city from the Harbour CentreTower, while the City Sightseeing tour allows you to visit the Vancouver Art Gallery or Flyover Canada.
More info on:
Which of these day trips in and from Vancouver are you hopping on?
Don't lose this post! Click the picture and pin it to Pinterest!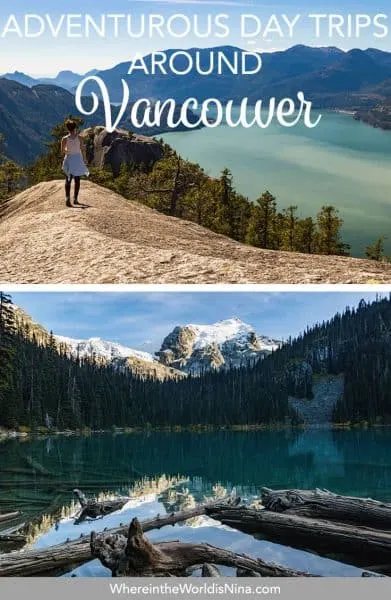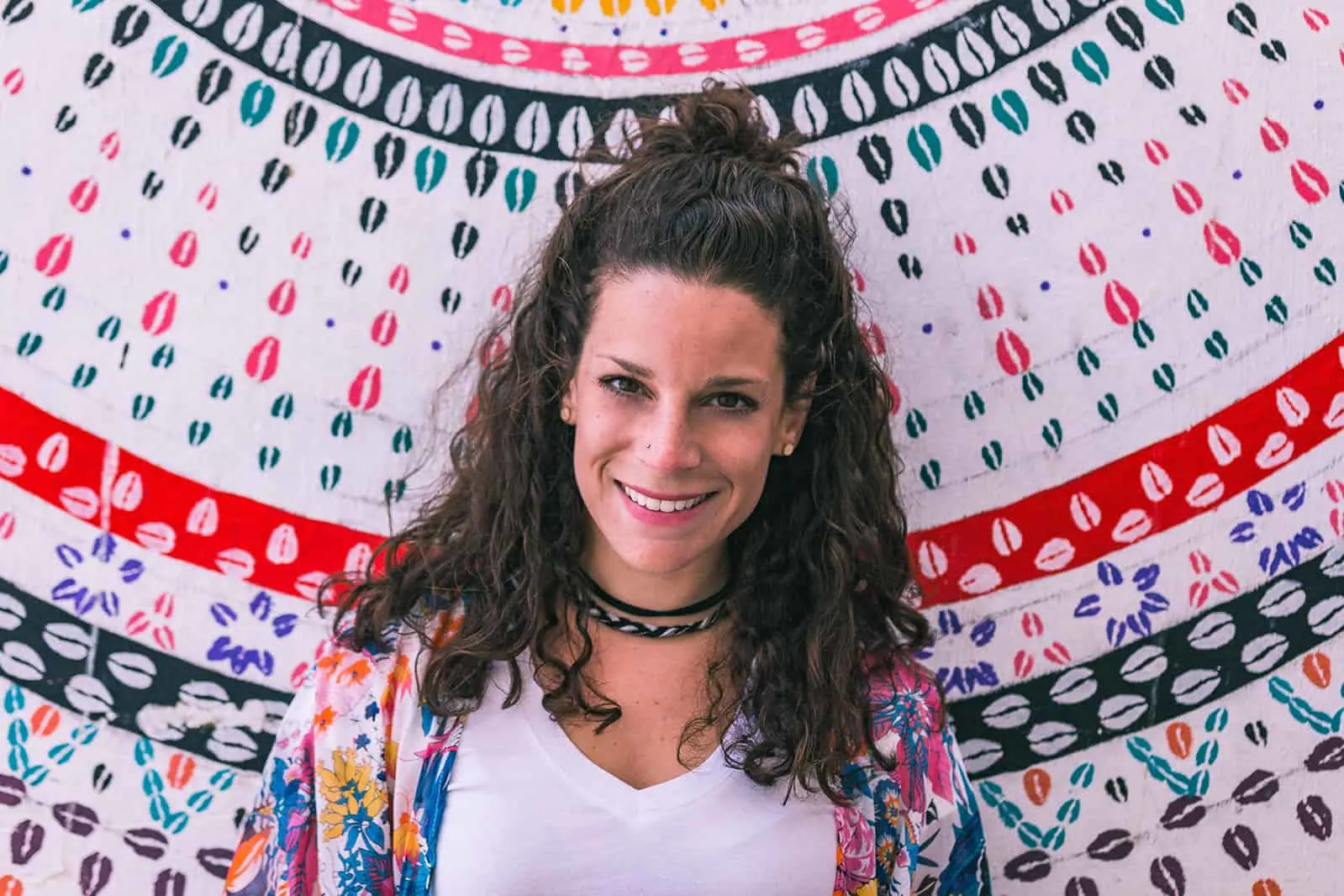 Nina Ragusa is an adventurer, messy bun master, breakfast fan, and full-time travel blogger. She's been abroad since 2011 and blogging on Where in the World is Nina? for nearly as long. Nina helps people like you move around the world while making money. She loves talking about how to work abroad and online to travel longer!