Adventure is just outside your door when you visit Vancouver—and it's damn beautiful.
There are few cities that I've visited that have so much opportunity to be in nature within a mere few minutes from the bustle. While I thought I was a city girl for most of my life, I've come to realize I'd give up the bright lights, traffic, and nightlife in a heartbeat if it meant I got to spend my time in the mountains, sitting at a lake, or playing at a waterfall.
All of these adventures are totally possible from Vancouver which essentially makes it a great base for anyone who is totally spoiled and wants BOTH (ahem, me). Because let's get real, we all want our cake and to eat it too (who doesn't?)
And while Vancouver has plenty of day trips involving being outside and in nature, the hikes are probably some of the best. Here are 15 Vancouver hikes that you should check out without actually having to check out of your hotel…
Busy? Click the picture to Pin this for later
15 Vancouver Hikes for You to Tackle
---
To preface, all of these hikes are doable from Vancouver… If you have a car. Most, if not all, of these hikes, will be difficult without your own transportation or at the very least, very precisely organizing public or private transfers.
There are also a few hikes which would be far more comfortable to do if you if you camped for a night, or at least slept in a campervan as I did, although technically all of them can be done in a day.
Additionally, the terms "easy, moderate, and hard" are all relative and while some of these hikes will be easier or harder for some, there was a standard for rating all of these Vancouver hikes.
I found alltrails.com to be a fantastic resource for sourcing information for trails and that is what I used for the rating and the distances you'll see here to keep everything as uniform as I could.
Here's a quick map to give you taste of where the hikes are, blue is easy, yellow is moderate, and red is hard.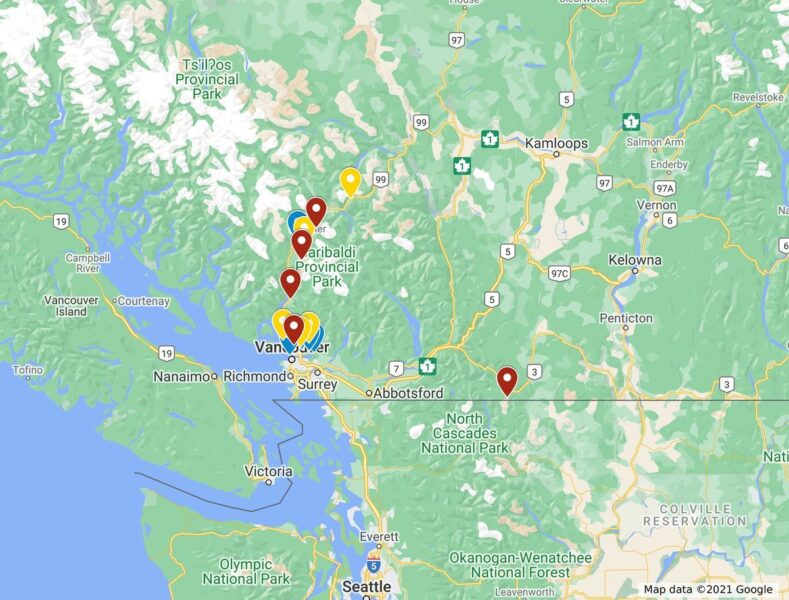 Hopefully, you'll get to knock a few or maybe even all of them off during your visit!
Easy Vancouver Hikes
1. Lynn Canyon
30 minutes from Vancouver
Distance: 1.9 miles
Type of trail: Loop
Difficulty: Easy
This is a great mini hike to get you started on what may be your future if you choose to take on all or more of the hikes around Vancouver. Lynn Canyon is a super easy loop but you can go far deeper if you have the time (see #10).
The best feature at Lynn Canyon is definitely the suspension bridge, which is also free! If you hang around BC, you'll notice tons of suspension bridge, the famous one is Capilano, which is quite overrated and a bit pricey too, so this hike is a great alternative and far less touristy.
There's a little gorge, a river, and even a small waterfall. While most of it is flat, there are some steps up towards the end.
Tip: The trail can be a bit muddy so wear good shoes and take advantage of the water fill up station that's here if you're campervanning.
2. Sasamat Lake (Belcarra Regional Park)
1 hour from Vancouver
Distance: 2 miles
Type of trail: Loop
Difficulty: Easy
From downtown Vancouver, take the 180 Bus towards Belcarra and stop at White Pine Beach Road. From there you can embark on a relatively short but very picturesque hike that goes around the lake forming a loop.
There are a few deviations that you can take (such as the upper or the lower trail) depending if you prefer to be deep in the forest or to be always by the shoreline of this scenic lake.
Tip: Be sure to avoid going during weekends since it will be crowded and if you want to feel super Canadian, be sure to bring a nice Tim Horton's meal to enjoy a pleasant picnic at White Pine Beach.
If you go high enough, you can see the Indian Arm National Park and be amazed at how different the color of the water is between Sasamat Lake and the Indian Arm river that leads to the open ocean!
Recommended by: Raphael | Journey Wonders
3. Stanley Park (Seawall and Beaver Loop)
10 minutes from Vancouver
Distance: 5.5 miles
Type of trail: Loop
Difficulty: Easy
Stanley Park is easily accessible from downtown Vancouver and walking in it provides outstanding views of the city skyline.
The park spans over 400 hectares and its footpaths allow panoramic views of English Bay and Vancouver Harbour, in which a steady stream of float planes can be seen taking off and landing throughout the day.
From Canada Place, the convention center overlooking the harbor is approximately 1.25 miles of flat walking to Stanley Park.
Ultimately, hiking in the park is relatively easy. Anyone with a basic level of fitness should have no problem completing a 5.5-mile loop of the park.
In places, the ground undulates a little, but it's relatively flat going, meaning it's a good option for families, including those with strollers, seeking a day out with great views of the cityscape.
Specialist footwear is not required while walking in Stanley Park and there are plenty of places to pause for refreshment and snacks, so daypacks don't need to be stuffed full.
A handful of marked trails lead inland from the seawall. A loop of Beaver Lake is always an option if you don't want your hike around Vancouver to end.
Tip: Don't miss the totem poles at Brockton Point, which count as British Columbia's most-visited tourist attraction.
Recommended by: Stuart Forster | Go Eat Do
4. Whistler Train Wreck Hike
1.5 hours from Vancouver
Distance: 2.8 miles
Type of trail: Out & back
Difficulty: Easy
Whistler is well known for the Whistler Blackcomb Ski resort, but there is so much more to do in the area than just ski.
An adventurous outdoor option for Whistler, which is just an hour and a half north of Vancouver, is the Whistler Train Wreck Hike. This hike is a mere five-minute drive north of Whistler town.
The hike is accessible during any time of the year and is relatively flat making this a really easy Vancouver hiking trail. The path, which also features a mountain bike trail, snakes through the forest.
The walk to the main attraction, the wrecked train cars, is only approximately 30 minutes.
In summer, it's an easy route to navigate as the path is clear. Winter, however, since the path is not marked by any postings can be more difficult to navigate. But you can navigate the terrain with a map application on your phone and find the train cars in relation to the river that runs along the trail.
The main attraction for the hike is the train cars. Little is known about the actual train wreck, as the city was not largely populated when the wreck occurred.
It is speculated that the wreck occurred in the 1950s, and following the wreck, the cars were merely moved off the train tracks (which you will cross during your hike) into the nearby forest.
Since then graffiti artists in the area have been marking the rusted train cars making vibrant pieces of art in the middle of the forest. The contrast of bright paint on train cars compared to the white snow is beautiful. Additionally, just pass the train cars is a suspension bridge over the Cheakamus River.
Tip: If hiking in winter, do not follow the mountain bike ramps, use a phone map application to navigate to the train wreck around the river.
Recommended by: Amy Dodd | Oceans to Alpines
5. Quarry Rock
30 minutes from Vancouver
Distance: 2.2 miles
Type of trail: Loop
Difficulty: Easy
Quarry Rock is one of the most beloved hikes you can do in North Vancouver, simply because it offers the best value for physical turmoil. In other words, it's relatively easy, AND you can still get a braggy Instagram photo at the top. A lazy millennial's dream!
Accessible through a discrete trail opening on Panorama Drive in Deep Cove, this well-marked 2-mile loop is a local's favorite for stunning views of the Indian Arm fjord and the adorable community of Deep Cove below… Plus there's donuts to enjoy at the bottom, so head to Honey's after for a life-changing treat.
During the summer months, crowds and parking can be a bit of a pain, so if you're able to plan your visit for off-peak periods (like weekday mornings), you'll be far less likely to get jabbed with a selfie stick, or lapped by annoyingly fit people who will literally run the whole thing.
Tip: Remember to bring a lunch or some snacks! Quarry Rock is a wonderful place to perch and picnic. You could easily spend a few hours up here people-watching. After all, this hike is a favorite for aspiring Instagrammers, and trust me: the poses and outfit changes are a theatrical treat.
Recommended by: Christina | Happy to Wander
Moderate Vancouver Hikes
6. Bowen Lookout at Cypress Mountain
1 hour from Vancouver
Distance: 2.5 miles
Type of trail: Out & back
Difficulty: Moderate
The incredible view at the end of this relatively easy hike is worthy of a much more difficult trek. Such is the beauty of hiking trails in Vancouver. In less than an hour, you can be away from the busy city and on top of a mountain!
The hike to Bowen Lookout on Cypress Mountain is just a 2.5-mile round trip and can be done in about 1.5 hours at a comfortable pace.
The path is wide, and mainly gravel, so there is no real need for hiking boots, a comfortable pair of runners is just fine. There are some steep bits but nothing too long and strenuous.
Regardless of your pace once you reach the viewpoint, you will be breathless, not so much from the hike but from the vista in front of you.
The scene looks out over the tops of evergreens to the pristine Howe Sound dotted with islands, including the trail's namesake of Bowen.
Tip: This hike can be done year round but once the snow falls you will be tackling it with snowshoes. There is very little shade so during the summer months be sure to wear a hat and sunscreen and bring water. The hike can also be done as a side-trip on the way to St Mark's Summit.
Recommended by: Sarah Hughes | Live Dream Discover
7. Joffre Lakes
2.5 hours from Vancouver
Distance: 4.8 miles
Type of trail: Out & back
Difficulty: Moderate
Joffre Lakes was perhaps the best hike from Vancouver that I personally did, however, it's also one of the furthest from the city on this list. With that said, it couldn't be any more worth it. Majestic mountains, three gorgeous lakes, and a waterfall all await you here.
If you're low on time, getting to the first lake is just a few minutes from the parking lot but the second and third will require a bit more of a trek in. The waterfall sits between the second and third lakes and is the perfect motivation for you to keep going just about 15 minutes more to the third lake where there's a campsite, should you not want to leave (wouldn't blame you!)
While the hike is rated as moderate, the elevation isn't super drastic making it quite tolerable.
Tip: Hiking shoes or at the least, running shoes, are a must. The trail can be a bit muddy and there are protruding rocks on the path to stub toes on. Definitely leave Vancouver early to get here so you have enough time to chill and enjoy the hike.
8. Cheakamus Lake
1.5 hours from Vancouver
Distance: 4.8 miles
Type of trail: Out & back
Difficulty: Moderate
Cheakamus Lake is a great hike from Vancouver because you get rewards along the hike without needing to do the whole thing if you don't want to or have time to.
While this hike is rated moderate, it's quite easy most of the time.
The hike is an out and back trail that goes along Cheakamus Lake with plenty of "cut-ins" to get to little rocky or sandy patches to chill on. The little beaches are perfect for a picnic or even to set up camp for the night. The water is so placid and clean, if you're brave enough to hop in the fridged water, you could have a swim!
Tip: Make sure you're prepared to drive along a dirt road for a few miles to reach the trailhead.
9. Mount Seymour Trail
40 minutes from Vancouver
Distance: 5 miles
Type of trail: Out & back
Difficulty: Moderate
During winter, Mount Seymour is one of three local ski resorts for Vancouverites. Come summer, it's one of the best local areas to go hiking around with amazing views of the city, mountains and even Mount Baker across the border on a clear day!
This hike is rated as moderate as there are a few steep sections, some narrow paths and the trail is uneven for the whole 5 miles. You'll need to be fit as there's a fair bit of elevation gain and you'll find yourself going up and down two other peaks on your way to the Mount Seymour summit.
Make sure you wear sturdy shoes and bring plenty of water as the hike is exposed most of the way. If you're hiking in summer, you're going to find you get super hot.
The Mount Seymour summit trail isn't always well marked, especially between the peaks. While there are usually enough other people around to ask for directions at the weekend, you should make sure to have the AllTrails app at the very least. Ideally, you'd take a topo map and always pack your hiking essentials.
The first peak you reach is Pump Peak which has great views of downtown Vancouver. Many people choose to hike to this peak, but if you continue, you'll get an emptier trail AND better mountain views. Plus, most of the hike is already done by this point!
The second peak is called Tim Jones Peak; if you're feeling tired at this point, then you can give this a miss and save your energy for the third peak as Tim Jones Peak doesn't offer any substantially different views to either Pump Peak or Mount Seymour summit.
From here your final climb involves a very narrow path; take it slow and pay attention.
Once you've summited Mount Seymour, you'll enjoy 360-degree views.
You'll be able to see Vancouver and the rest of the Lower Mainland, Mount Garibaldi, Mount Baker and the endless mountain layers to the north too.
Tip: Take a lot of water as the trail is very exposed and don't forget your bear spray.
Recommended by: Hannah | That Adventurer
10. Norvan Falls at the Lynn Headwaters Regional Park
30 minutes from Vancouver
Distance: 10.5 miles
Type of trail: Out & back
Difficulty: Moderate
Lynn Valley is a popular place for hikers of all levels and with good reason.
The scenery at Lynn encompasses everything that is great about the West Coast—looming mountains, mystical forests, a million shades of green, gushing rivers, and magical waterfalls.
Lynn Valley is divided into two parks, Lynn Canyon and Lynn Headwaters, each with their own attractions.
One favorite trail among hikers is Norvan Falls at the Lynn Headwaters Regional Park. At 10 miles round-trip, this isn't a short hike, however, the minimal elevation gain still makes it an accessible day hike.
The trail starts flat and wide as you walk along the river. You will then wind your way through a second-growth forest where you can see old remnants of the forestry industry. There is some up-and-down and rock hopping across several creek beds as you enter into an older forest.
You will hear the sound of the falls as you arrive at Norvan Creek. There is a small suspension bridge that leads to backcountry trails but continues up the hill to your right for up-close views of the 30-meter Norvan Falls.
Tip: Although this hike isn't overly technically challenging, the trail can get very muddy, and the streams can be impassable during wet seasons. Allow 5 hours to complete the hike without having to rush. Lynn Valley is also accessible by transit if you don't have access to a vehicle.
Recommended by: Jennifer | The Rainbow Route
Hard Vancouver Hikes
11. Frosty Mountain
3 hours from Vancouver
Distance: 16.7 miles
Type of trail: Loop
Difficulty: Hard
This long hike climbs nearly 3800' to the top of Mount Frosty, the tallest peak in Manning Provincial Park.
The first section of the hike climbs steeply through the forest before reaching a flatter section with a small campsite and lots of larch trees. After the larch plateau, the trail rises above the treeline.
The last 1.5 miles of the trail is a scramble up a steep rocky slope, then along a narrow ridge. The view from the summit is spectacular! You can descend the way you came, or make a loop by descending to the Pacific Crest Trail from the ridge.
Tip: This is a long and challenging hike with lots of elevation gain. Start early since the hike takes about 9 hours. Remember to carry plenty of water. A small stream at the campsite about halfway up the mountain is the only place to fill up.
Try to plan your visit for late September or early October when the larch trees change color. These unique trees have needles like pine trees, but turn yellow in the fall like maple trees.
Recommended by: Taryn | Happiest Outdoors
12. Panorama Ridge
1.5 hours from Vancouver
Distance: 17.5 miles
Type of trail: Loop
Difficulty: Hard
Panorama Ridge in Garibaldi Provincial Park near Whistler is around a 17-mile long loop hike (depending on whether you stop off at the lake) with a lot of elevation gain. However, the views at the top of the ridge are absolutely stunning and more than worth the effort of getting to the top!
You do need to be fit for this hike as there is a lot of uphill, especially at the beginning. Since hiking to Panorama Ridge is a long way, you want to feel comfortable hiking this far in one day.
If you don't, you can break the trip up into an overnighter by booking a spot at the Taylor Meadows campground. Note that you have to reserve in summer and at other times of year it's first come first serve.
It's a busy hike, and it's very well marked, but it's a good idea to have an app like AllTrails just to keep track of where you're going.
For the hike to Panorama Ridge, you'll need good hiking gear. Sturdy shoes are a must as the terrain is uneven, walking poles are beneficial if it's snowy and make sure you've packed plenty of water, snacks, and layers.
Note that for most of the year there's likely to be some snow on the ridge – check the conditions before you go as you may need microspikes.
The Panorama Ridge hike begins with a relatively steep incline up through the forest for the first 1-2 hours. Once you've passed this first section, you'll get fantastic views of BC's mountains for the rest of the hike.
There's the well-recognized landmark of Black Tusk, snow-capped Garibaldi Mountain, glaciers and the beautiful blue of Garibaldi Lake which you can choose to stop off at on the way back down.
As you walk through Taylor Meadows, in particular, keep an eye out for bears and remember to make noise so that they know you're coming and keep out of your way. You must pack bear spray and ideally a bear bell too for this reason.
Both grizzly and black bears live in this area. This is a busy hiking area and the trailhead parking lot is often full by 9 am during weekends in the summer.
Tip: Since hiking to Panorama Ridge is a long hike you'll want to start early (ideally around 8 am) which will help you get a parking spot. And pack bear spray!
Recommended by: Hannah | That Adventurer
13. Stawamus Chief
1 hour from Vancouver
Distance: 3.8 miles
Type of trail: Loop
Difficulty: Hard
Lovingly called "The Chief" around town, this hike ain't no joke.
You'll be cursing The Chief all the way up hill and wonder why you decided you take on this trek to begin with if you're not prepared properly.
It's not for the faint of heart, the weak, or the up-hill loathers, get ready to work for it! The trail starts off relatively easy, as in, you're going uphill but at least there are convenient steps.
The trail gets progressively worse and steeper and you then have the option to visit the first, second, or third viewpoint. Or if you're brave and crazy, you could do all three.
The second viewpoint was an ideal one to reach should you not have time to do all three. You can see viewpoint #1 and #3 from this viewpoint. The views are stunners (as they should be for such a grueling hike) and you can see the gorgeous Howe Sound and the town of Squamish from above.
Taking the trail back toward viewpoint #3 and then turning to back loop around will take you over jagged rocks while steeply descending. The "crab walk" back down could very well be your reality, embrace it, #TeamNoBrokenAnkles.
Don't underestimate this beast! It's worth it but if you have a few locals tell you it's easy and go in with that perception, it may be a slap in the face! (Speaking from experience in case you didn't notice).
Tip: DON'T take the "back way" to viewpoint #1. The backway consists of a metal ladder of sorts that goes up a massive boulder. There's a sign that says people have perished here, back out and go up the trail "normally" to avoid this or continue on to viewpoint #2 and hit up #1 on the way back.
14. Grouse Grind
20 minutes from Vancouver
Distance: 2.2 miles
Type of trail: Point to point
Difficulty: Hard
If you are looking for a stimulating exercise with a feeling of accomplishment once you reach the top of a mountain, take a hike up Grouse Mountain on the trail known as "The Grouse Grind".
Similar to exercising on a Stairmaster at the gym, the Grouse Grind requires physical strength and endurance going up a 2.9 KM steep hike from the bottom to the top of Grouse Mountain.
Almost every Vancouver resident will know about The Grouse Grind trail since anyone who accomplishes "The Grind" wears the accomplishment like a badge of honor. Athletes, fitness enthusiasts, and locals who like to stay active hike the Grouse Grind regularly.
The trail is well-marked and each quarter mark is clearly shown with signs to show how much progress you've made. If you are struggling at the first quarter mark, or have run out of water, it's recommended you walk back down as the rest of the way can be long and even more difficult.
The hike up can be challenging, but what's great about hiking up Grouse Mountain. On a clear day, the view from the top is beautiful. There is also a chalet at the top to reward yourself with food or drinks, and the option to take the Skyride gondola down the mountain.
Tip: The Grouse Grind trail is closed during fall and winter. The trail can take between 90 minutes to 2 hours to complete, so it's recommended to pack water, snacks and a rain jacket if it rains. Make sure to wear comfortable hiking attire to climb up and bring money to take the gondola back down or treat yourself at the Grouse Mountain Chalet.
Recommended by: Ryan Thomas Woods | Out with Ryan
15. Wedgemount Lake Trail
2 hours from Vancouver
Distance: 6.4 miles
Type of trail: Out & back
Difficulty: Hard
There are few hikes close to Vancouver that'll take hikers right to the foot of an ice-age-old glacier, but the Wedgemount Lake trail does just that.
The Wedgemount Lake trail lies within Garibaldi National Park and is considered one of the parks most difficult hikes.
For those who enjoy the burn of the Grouse Grind, Wedgemount will offer a similar challenge with an elevation gain of 1200 meters in just 6 miles.
Its a steep uphill climb through new growth forest with minimal scrambling to a stunning glacial lake.
Hikers who push for the extra mile are rewarded with the experience of standing toe-to-toe with the magnificent Wedgemount Glacier. As one of lesser frequented hikes it's a perfect opportunity to escape from the hordes of selfie stick-wielding tourists.
Most attempt Wedgemount Lake as a day hike, but the trail boasts one of Garibaldi's most beautiful backcountry campgrounds, so if time is on your side then it's recommended to spend the night on the edge of the lake.
There is nothing like unzipping your tent to the view of an azure blue lake backed by snowcapped mountains.
Tip: Be aware that the Wedgemount Trail isn't patrolled as much as other hikes in the park and the campsite is very basic, so always be prepared. It's only advised to hike the trail between the months of July – September. Never step onto the glacier without correct equipment and training as the ice is constantly shifting.
Recommended by: Kate | Globe Surfing
What to Pack Before Tackling Vancouver's Trails:
Before tackling the trails, make sure you're geared up. Some or all of the items below are absolute musts to bring while hiking around Vancouver.
Which of these Vancouver hikes are you taking on? Let us know in the comments!
Don't lose this post! Click the picture and pin it to Pinterest!