This guide to Things To Do in Sequoia National Park is authored by Jenna.
Sequoia National Park is known for its natural surroundings, epic hikes, incredible vistas, and of course, world-famous giant sequoia trees. The latter form one of the most spectacular natural canopies on earth.
There are things to do in Sequoia for travelers of all ages and fitness levels, and the park is bound to be a highlight on any California road trip.
Sequoia National Park Overview
Within the park's 404,064 acres, you'll find trails, meadows, waterfalls, forests, rivers, canyons, caves, and diverse ecosystems teeming with wildlife. Hiking, fishing, backpacking, climbing, and swimming are popular activities.
84% of Sequoia (and adjoining Kings Canyon) is a backcountry wilderness area only accessible by foot or horseback, so there are plenty of off-the-beaten-path places to explore.
Sequoia National Park was the first of its kind implemented exclusively to protect a living species. Still, the giant sequoias are not the only living things thriving in the park! Keep your eyes peeled for black bears, deer, coyotes, and various birdlife.
There are many places to stay in Sequoia National Park ranging from lodges to cabins, campgrounds, and glamping. This Sequoia Lodging Guide includes every lodging option inside the national park and is categorized by area.
Most Popular Things to Do in Sequoia National Park
1. Take a Walk Through the Giant Forest
One of the most popular things in Sequoia National Park is exploring the Giant Forest via one of the trails weaving through more than 8,000 enormous sequoia trees. Situated more than 6,000 feet above sea level, the Giant Forest features 40 miles of trails that twist and turn around the trunks of these giants.
Don't forget to glance up at the amazing canopy. The trails vary in length but are short enough that you can do them all during your visit.
Tip: If you can only take one trail, make it the Congress Trail. At the start of this two-mile hike, you'll see the forest's top attraction, the General Sherman Tree.
This giant sequoia is over 2,000 years old and stands 275 feet tall. By volume, it's the most giant known tree on earth. Another notable tree is the President Tree, the third-largest in the world.
2. Visit the Giant Forest Museum
No visit to Sequoia National Park is complete without learning about the park and what you'll see while exploring it. Inside this museum, you'll not only learn about the giant sequoias but also about the human history of the region.
Tip: Several interpretive trails near the museum take visitors to Round Meadow and Hazelwood.
3. Climb to the Top of Moro Rock
Distance: 0.5 miles
Type of Trail: Out & Back
Difficulty: Moderate
Elevation Gain: 177 ft
The hike to Moro Rock is less than a mile but strenuous—though the reward at the end makes it all worthwhile. At the top of this giant granite rock, you'll find spectacular views of the Kaweah River and San Joaquin Valley. You'll need to climb a rock stairway with almost 400 steps for the best views!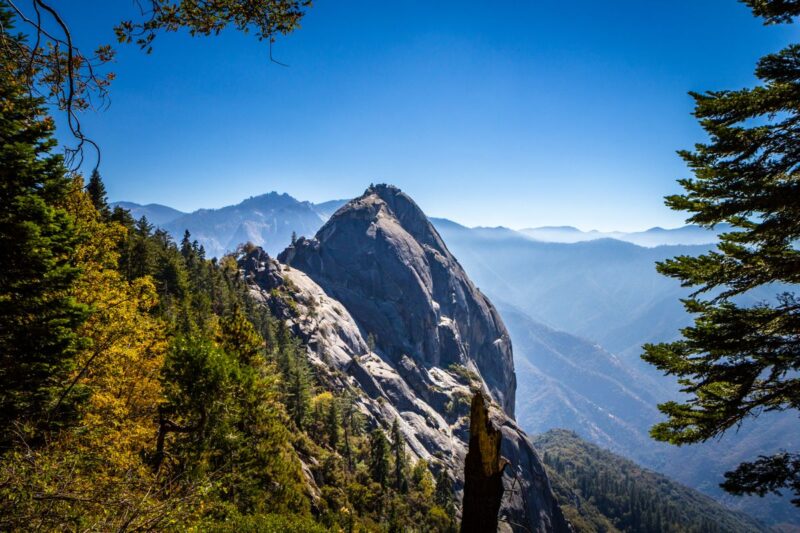 Tip: Although you can only use the stairs to get to the top of Moro Rock, there are several other morros in the area you can climb, including Black Hill, Cerro Cabrillo, Bishop Peak, Cerro San Luis, and Islay Hill.
These morros can be reached via a series of trails, and since Moro Rock tends to get all the attention, you may have the others all to yourself!
4. Drive Through Tunnel Log (Iconic Thing To Do in Sequoia National Park!)
You have a pretty good understanding of just how big the giant sequoia trees can get, but a visit to Tunnel Log will put their size into perspective.
This giant sequoia fell across Crescent Meadow Road in 1937, and visitors can drive their cars through the tunnel carved through it. Yes, that's right. You can drive your vehicle through the trunk of a tree! This tree is 275 feet tall with a trunk that's 21 feet around.
Tip: One of the most iconic things to do in Sequoia National Park, don't be afraid to stop and take some pictures of this attraction. If you're traveling with another driver, go to the other side of the tunnel and take a photo or video of your car driving through.
5. Marvel at Crystal Cave
Note: Crystal Cave is currently closed due to the effects of the KNP Complex Fire but is due to re-open in 2023.
While the giant sequoias are the main Sequoia attraction, there are many other fascinating natural wonders, including caves. Crystal Cave is open to the public but can only be visited via a guided tour.
You'll walk along a subterranean path inside this marbled cave and see incredible stalactites, stalagmites, and underground streams.
Tip: It's recommended that you purchase tickets online a few days in advance, though you can also purchase them at any visitor's center in the park. Dress for damp, cool conditions even when it's a warm sunny day above-ground.
6. Hike Tokopah Falls
Distance: 10.8 miles
Type of Trail: Out & Back
Difficulty: Moderate
Elevation Gain: 1,627 ft
The best thing about the hike to Tokopah Falls is that it's not just about getting to the falls; it's also about what there is to see and do along the way.
Along this 10-mile moderate trail, you'll have opportunities to view many bird species and enjoy views of canyons, meadows, and forest areas, all before you even reach the falls! And the falls? Spectacular is an understatement! At 1,200 feet high, Tokopah Falls is the highest waterfall in Sequoia National Park.
Tip: Stop along the trail to enjoy a dip in one of the many swimming holes along the river.
7. Take In the Night Sky (Best Thing To Do in Sequoia National Park at Night)
Sequoia National Park's backcountry areas are known for being one of the best places in the country for stargazing. However, you don't need to trek into the backcountry to enjoy the night sky because the entire park has minimal light pollution.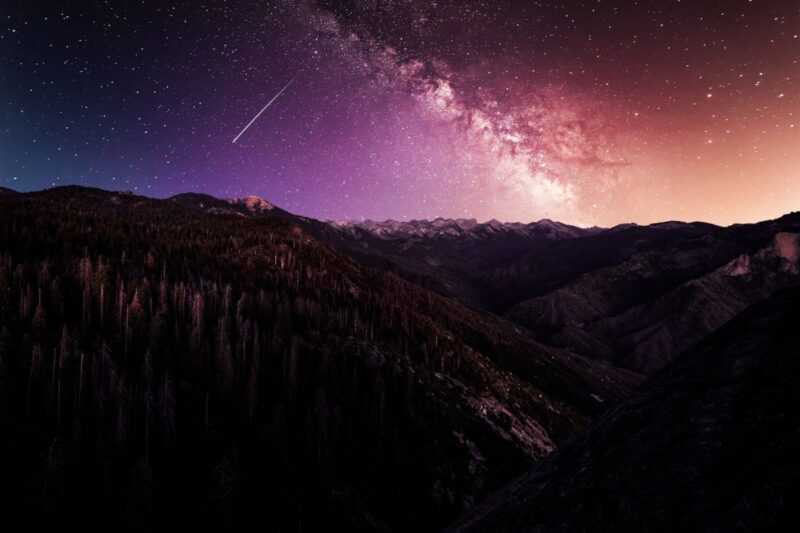 Grab a blanket, find a comfortable place outdoors, and look up to see the Milky Way, shooting stars, and a meteor shower if you're lucky. Some of the best places for stargazing in the park include Moro Rock, Wolverton, and Lodgepole.
Tip: Wuksachi Lodge offers a selection of astronomy programs, and Dark Sky Events are often held in the park. Make sure to get your hands on a schedule to see if any events are happening during your visit! This is one of the things to do in Sequoia National Park that you don't want to miss.
RELATED: Your Southwest Road Trip Itinerary (1 Week – 2 Months)
Offbeat Things to Do in Sequoia National Park
8. Visit Hanging Rock
Distance: 0.5 miles
Type of Trail: Out & Back
Difficulty: Easy
Elevation Gain: 111 ft
The hike to Hanging Rock only takes 15 minutes, but it's a great place to stop for a break or a snack in an outdoor setting with fabulous views. It's one of the most accessible trails to take to get a birds-eye view of the national park and is underrated.
You'll see a giant sequoia with two holes at the base that you can crawl through if you want some unique photo ops. You'll know you've reached Hanging Rock when you see the colossal boulder balancing on a ledge over the canyon.
Tip: Several footpaths lead to other scenic ridges in the area.
9. Hike Cedar Grove Trail
Distance: 2 miles
Type of Trail: Out & Back
Difficulty: Moderate
Elevation Gain: 600 ft
While the Cedar Grove Trail is only two miles, it'll get you off the beaten path and into one of the deepest canyons in the Sierra Nevada.
This moderate, uncrowded trail will take you through a woodsy ravine that offers stunning views of the Monarch Divide and Cedar Grove area. Eventually, you end up at the small waterfall at Sheep Creek Cascade.
Tip: At Sheep Creek, you can turn back the way you came or keep hiking along the Don Cecil Trail to see even more majestic canyon and mountain vistas.
10. Hike to Marble Falls
Distance: 7.4 miles
Type of Trail: Out & Back
Difficulty: Moderate
Elevation Gain: 1,627 ft
This 7.4-mile hike is an unmissable thing to do in Sequoia National Park for adventure seekers and nature lovers. Stream crossings, beautiful wildflowers, flora and fauna, stunning scenery, and, of course, Marble Falls. At 70 feet high, the sound of the water falling into the sparkling pool below is thunderous.
Tip: Keep going upriver to reach Upper Marble Falls, where you'll find several swimming holes.
RELATED: 17 Legendary American Road Trips
Adventurous Things to Do in Sequoia
11. Climb to the Top of Mount Whitney
Mount Whitney is the tallest mountain in the lower 48 states at 14,494 feet, and there are a few ways to get to that coveted summit. From Sequoia National Park, you can embark on a multi-day backcountry adventure via the High Sierra Trail.
At 60 miles, this isn't for the faint of heart and requires planning and preparation. One way, it takes a minimum of six days to complete and requires a Sequoia Wilderness Permit.
A shorter route, which is 10.7 miles (one-way), leaves from Whitney Portal near the town of Lone Pine but also requires a permit.
Tip: If you want to see amazing views of Mount Whitney without doing a hike, or you want to see it from a different angle, head to the Eastern Sierra Visitor Center along Highway 395 near the town of Lone Pine.
12. Backpack the Mineral King Loop
It's long, there's some climbing involved, and it's strenuous, but hiking the Mineral King Loop is worth it if wildlife, scenery, and backcountry adventure are your kind of thing. At 50 miles, you'll need to put aside at least three days to complete this.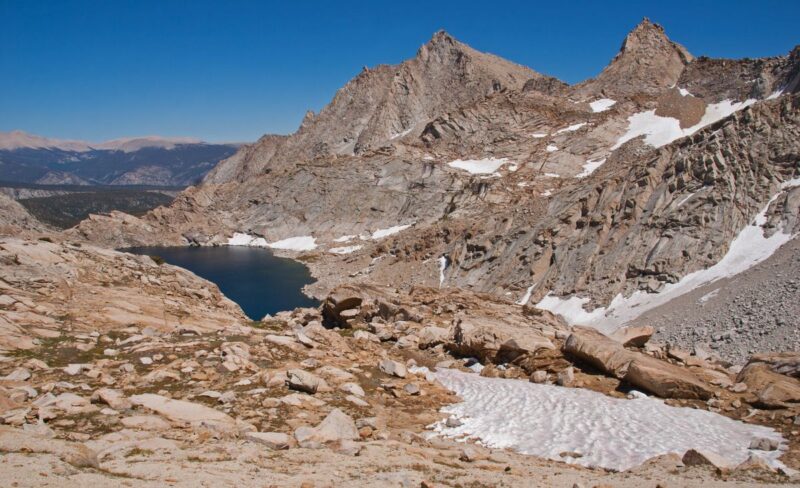 You'll cross High Sierra territory, Sawtooth Pass, Kaweah Gap, Timber Gap, and dense forest areas. The views are amazing, but the best thing about this hike is the solitude. It rarely gets crowded, so you're unlikely to meet many people along the way.
Forester Lake, Little Five Lakes, and Cliff Creek are great places to spend a night under the stars.
Tip: This trail is not officially marked, so you have to rely on strategically-placed rock cairns, a map, and a compass to stay on track. If the 50-mile route is too long for you, you can take a shortcut at the Sawtooth Glacier Pass Class III trail.
13. Take On Kings Canyon and Rae Lakes Loop
Some say this trail is the one to do if you're fit, adventurous, and up for an epic backpacking excursion into pristine backcountry landscape.
It's almost 42 miles long, so you'll need a few days to complete it, but the effort is worthwhile when you're enjoying stunning views of alpine lakes, canyons, snow-capped mountains, rivers, and waterfalls.
Tip: The best way to do this route is clockwise. You need a special permit, and only a few are available each day. Get yourself to the ranger station early or risk being turned away.
14. Hike Alta Peak Trail
This trail is shorter than many other multi-day treks, but it's quite the challenge if you're up for a one-day adventure.
Views of The Great Western Divide, Kaweah Peaks, the San Joaquin Valley, the Tablelands, and the Kaweah Valley are your reward for having reached the 11,204-foot summit. You'll pass through Panther Gap and along the north side of the Middle Fork of Kaweah Valley.
Tip: Hikers who wish to take their time along this trail can camp overnight at several places, including Panther Gap, Mehrten Meadow, and Alta Meadow, but you'll need a permit if you plan to overnight on the trail.
Further Afield Things to Do from Sequoia National Park
15. Visit Yosemite National Park
Not far from Sequoia National Park is another must-see national park. Add a 2.5-hour extension to your trip and see Yosemite in all its glory.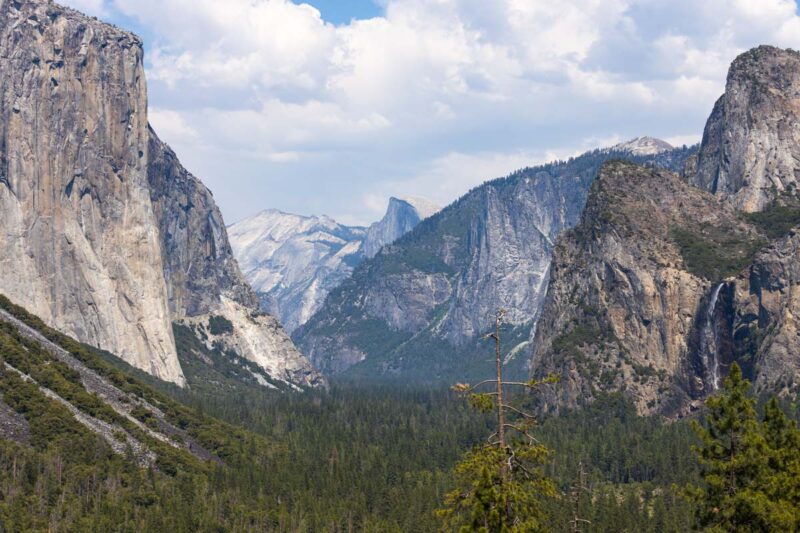 Situated in the Sierra Nevada Mountains, Yosemite has its groves of giant sequoia trees. Still, it is also home to many other iconic attractions like El Capitan, Half Dome, and Yosemite Falls. The park offers some of the most beautiful vistas and natural scenery in the world.
Tip: If time allows, Yosemite warrants at least a three-day visit and is often visited in combination with Sequoia National Park. This Yosemite Lodging Guide includes 20 of the best places to stay inside and outside the national park.
We hope you love this list of things to do in Sequoia National Park!
---
---
>>> BIO
Jenna, from Up and Away Magazine, creates curated road trip itineraries and lodging guides to America's most beautiful outdoor spaces with the aim of inspiring others to opt outside in a way that is practical, accessible, and suitable for all budgets.