If you're anything like me, you likely had no idea what was in Utah before Googling. When I thought of Utah, I thought of… nothing, middle of nowhere, barren, not fun, and maybe Mormons.
When I finally visited Utah, my jaw was on the floor half of the time. There's a lot of nothingness, but it's sprinkled with TONS of incredible, jaw-dropping, and mesmerizing alien landscapes. Sometimes, you don't even need to get out of your car when road tripping Utah to get good views.
Here are a million choices of crazy cool spots and Utah adventures to have around the state!
Don't forget to check out what other adventures are in the Southwest. And before you head off, I have a few more posts that will be crazy helpful for your road trip, be sure to check them out:
Don't lose this! Click to pin it now.
Utah Road Trip
---
Below you'll find some of the coolest and most adventurous places to visit in Utah. You can do a few highlights in a week, get to know half of the location pretty well in a few weeks, and to see it all, you'll likely need over a month!
It's no secret the USA is massive and to drive and enjoy even just one of the states can take quite a while. Always add on more time than you think, take your time, and perhaps try to focus on one region of the state if you don't have a lot of time. You don't want to spend half of your visit driving across the state!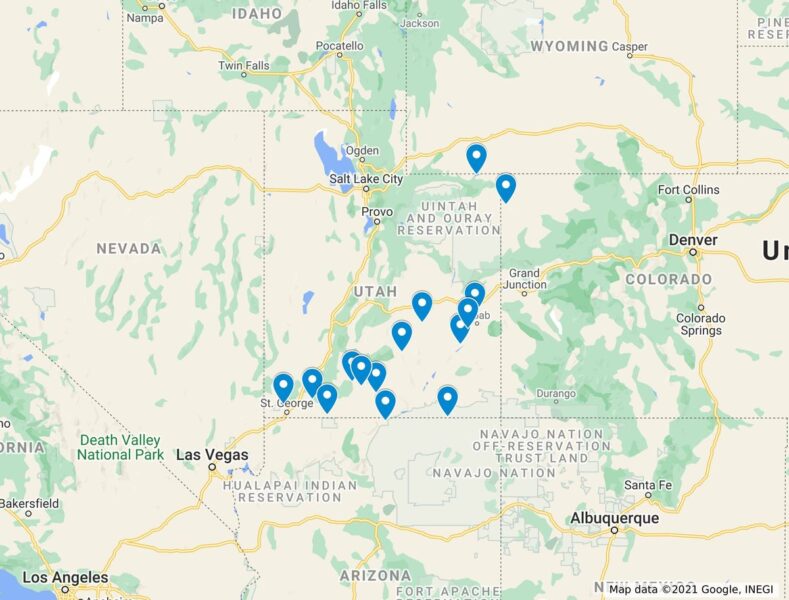 Bryce Canyon National Park
Bryce Canyon is one of the most unique areas in the whole of Utah; therefore, it can't be missed on your Utah road trip. Erosion has caused the landscape to transform into an almost alien-like vista, with hundreds of monstrous hoodoos covering the area. In fact, this is the largest concentration of hoodoos anywhere on earth.
It is made up of a series of natural amphitheaters, but the most well known and photographed is the Bryce Amphitheater, which is completely filled with the spires of rock.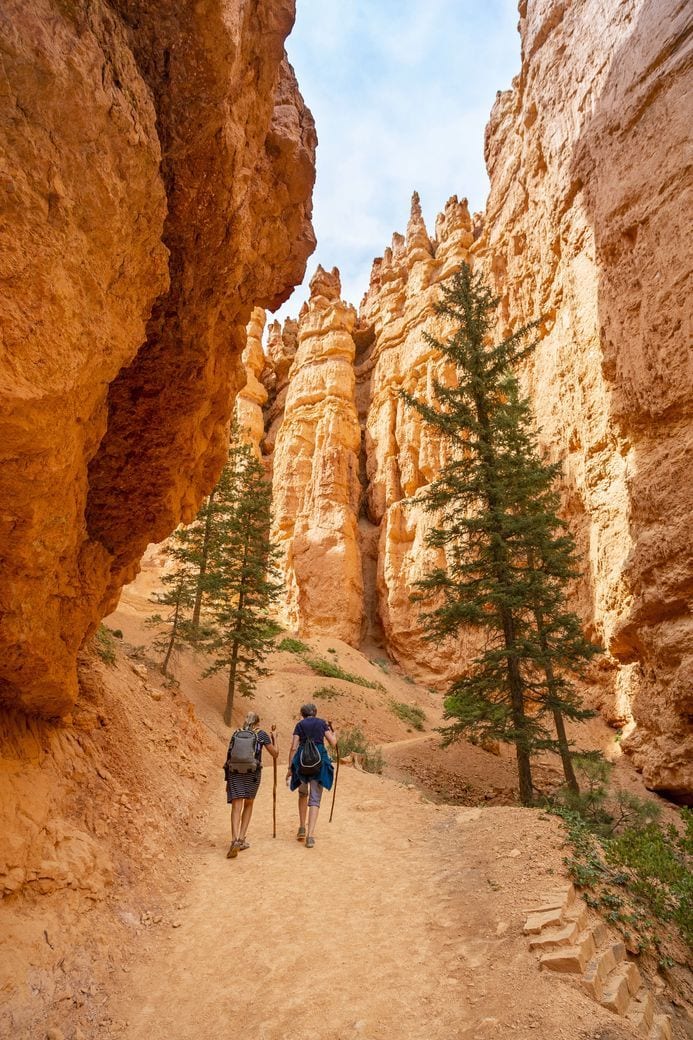 Bryce Canyon National Park is located in southern Utah, situated on a high plateau at the top of the Grand Staircase.
Camping
There are plenty of places to stay in and around Bryce Canyon to make your Utah adventure easier. The canyon has two campgrounds, North and Sunset. North is a first-come, first-served campground, but you can reserve a spot at Sunset to ensure you have a place to stay.
Hiking
Fairyland Loop: (17.8 miles – moderate) – This is a longer hike and can be pretty strenuous in places. The route will take you past some incredible landscapes and rock formations, allowing you to get up close and personal to some intricate hoodoo architecture.
Sunset Point: (0.9 miles – easy) – This is a nice and easy walk that allows you to get a lot of bang for your buck. Sunset Point is arguably the best viewpoint in the park and can be reached via a short walk. The route is paved, so it's perfect for those that are new to hiking.
Navajo Loop: (1.5 miles – moderate) – This is one of the most popular hikes in the park, and if you are only going to do one trek during your visit, be sure to make it this one. The hike starts with the sweeping vista of goblin towers at Sunset Point, and winds past Silent City all the way to Wall Street, where you will enter a narrow slot canyon with tall walls surrounding you.
Other Activities
Cycling: The canyon and the surrounding area provide some incredible red rock mountain biking opportunities. In Bryce Canyon National Park itself, cycling is only allowed on the paved road, but this is a great way to see a lot of the park at once if you don't want to be stuck in a car or an RV.
The winding main road to Rainbow Point is 17 miles in length, twisting through forests and meadows with plenty of viewpoints along the way. There are some great cycling routes in the surrounding area, such as Dave's Hollow, Casto Canyon, and Skunk and Badger.
ATV: Although not strictly within the park limits, as motorized vehicles are not allowed on the trails in Bryce Canyon, a number of trails for ATV riding have been developed nearby. Pansaugunt ATV Trail is in neighboring Dixie National Forest, with several paths that'll take you into the forest, accompanied by red rock views.
RELATED: 8 of The BEST Hikes in Southern Utah You've Got to Check Out!
Capitol Reef National Park
Capitol Reef National Park could be described as a pinch in the earth's crust, resulting in a crazy landscape that you should add to your Utah road trip itinerary. This geological monocline extends for almost 100 miles and is known as the Waterpocket Fold. The rock layers on the west side of the Waterpocket Fold have been lifted more than 7000 feet higher than the layer to the east.
The park is located in the center of southern Utah, and although it is a little out of the way, it is still well worth a visit. This natural treasure is filled with cliffs, domes, canyons, and a number of natural bridges.
This is definitely the most peaceful of Utah's mighty 5 National Parks. Whereas some of the other national parks are filled with incredible rock formations and exciting cliff faces, Capitol Reef gives you a real sense of what the earth might have been like before life arrived.
Camping
There are three main campgrounds in the area that will allow you to enjoy your spectacular surroundings while also being close enough to the action for an easy, early start. The sites are Fruita, Cedar Mesa, and Cathedral Valley. Fruita is the only developed campground in the park, with 71 sites that are available on a first-come, first-served basis.
Cathedral Valley is about halfway around the Cathedral Valley Loop, it is primitive, and there are only six sites available. Lastly is the Cedar Mesa Campgrounds that are 5,500 feet in elevation. There is no charge to stay here, but there are only five sites available.
Hiking
Hickman Bridge: (1.8 miles – moderate) – The hike to Hickman Bridge ends in an incredible natural bridge. Although this is the main attraction on this Utah adventure, you'll also be able to see the Nels Johnson Bridge and the Fremont Pit House. For just a moderate amount of effort, these are three great points of attraction, making it quite a popular route.
Cathedral Valley: (length dependent on how much you want to explore) – In Cathedral Valley, you will be able to wander through some genuinely spectacular red rock formations. When you are done exploring the Temples of the Sun, Moon, and Stars, as well as various other stone monoliths, you can continue to hike to either the giant Gypsum Sinkhole or the Glass Mountain – a towering hill containing beautiful crystals.
Goosenecks Overlook: (1.9 miles – easy) – If it is a viewpoint you are craving, the route to Goosenecks Overlook is the one to choose. This vista overlooks the beautiful Sulphur Creek, which wiggles it's way below you through a rainbow of colorful rock.
Other Activities
Scenic Drive: Many of the park's most beautiful natural wonders can be seen directly from the road, therefore taking the scenic drive is a great way to really take it all in. The scenic drive is 25 miles long and offers some breathtaking views along the way.
ATV: There are a few designated routes when it comes to off-roading within the park boundaries. These routes lead to some very scenic areas and offer a great way to get around while getting an adrenaline rush. Some of the best drives include Cathedral Valley, Hartnet Road, and the Burr Trail.
Mountain Biking: There are four designated mountain biking trails within the park that allow visitors to explore the surroundings on two wheels. The most popular ride is Scenic Drive, a paved but rocky road that runs for 25 miles before you must turn back, leading you past some of the park's most incredible natural wonders. South Draw Road, the Burr Trail, and the Cathedral Valley Loop are all much more strenuous due to trip length, uneven ground, and steep climbs.
Canyoneering: Many of Utah's incredible slot canyons can be found in Capitol Reef National Park, making it a hotspot for those that are a fan of canyoneering. There are many popular routes that will take you through some incredible canyons, although many of these routes are pretty advanced.
RELATED: Your Southwest Road Trip Itinerary (1 Week – 2 Months)
Canyonlands National Park
Made out of carved out canyons, dramatic drop-offs, and narrow passageways through the rock, Canyonlands National Park will take your breath away. Both the Green and Colorado Rivers slice their way through the rock, and this, combined with wind, has created the landscape that can be seen today, dividing the land into distinct districts.
Island in the sky is the most accessible of all the districts as it is the nearest to the city of Moab. It has a paved, scenic drive offering an easy way to explore the area. The Needles is a bit less accessible, taking a long time to go to with the need for a four-wheel-drive to navigate the terrain.
The Maze is even more remote, offering challenging backpacking and off-roading for seasoned explorers. Horseshoe Canyon is a district separated from the others. The main point of interest here is the impressive rock art panels, such as the Great Gallery.
No matter what part you chose to explore, it will certainly add some excitement to your Utah adventures.
Camping
There is nothing quite like looking up at the night sky when camping at Canyonlands. On a clear night, you'll never see so many stars in your life. There are several campgrounds in all three of the main districts.
Because of how huge the park is, a multi-day Utah adventure is often necessary, and camping allows you to stay close to the area you want to explore so you can get a nice early start.
Backcountry camping is only allowed in some areas, and you must have a permit, but developed campgrounds can be found in the Islands in the Sky and the Needles districts. Some of the most commonly used campgrounds include the Willow Galt Campground in the Island in the Sky District, which has 12 sites, and the Squaw Flat Campground in the Needles district with 26 sites available.
Hiking
Grand View Overlook: (1.7 miles – easy) – Located at the end of a mile-long sandstone staircase, you'll reach the Grand View Overlook. Here you'll really appreciate the size of the park as you take in the panorama of Monument Basin, with its impressive spires.
Mesa Arch: (0.9 miles – easy) – Another great hike is to Mesa Arch, a 50 foot stone archway that sits atop a towering 500-foot cliff. When you reach the arch, take some time to simply sit and take in the valley stretching out before you, with the La Sal Mountains in the distance. It is an easy roundtrip in the Island in the Sky district.
Peekaboo Trail: (10.3 miles – hard) – If you make it to The Needles, there are some seriously great hikes in this area too. Many of these will take you past towering sandstone spires that jut up into the sky. This well-marked trail takes you through the maze of sandstone canyons. Just be aware there is a little bit of scrambling required to get up some of the ridges, and you will have to climb two ladders.
Upheaval Dome Overlook Trail: (1.5 miles – moderate) – This hike takes you to an overlook where you will have an impressive view of the Upheaval Dome below you, a truly geographical oddity. This is a simple roundtrip, but you don't even have to go that far, as there is a smaller overlook after just 0.3 miles. The crater is a mile wide, and is of mysterious origins, possibly caused by a meteorite.
Other Activities
Rock Climbing: The Island in the Sky District is very popular with rock climbers, all eager to ascend the sandstone towers that dominate the landscape. This is one of the only areas you are able to climb in the park; therefore, it's here you'll find the established routes.
Mountain Biking: Canyonlands is actually known for its incredible mountain biking terrain. You can pedal for miles through the rock, with views out over pinnacles and butte filled canyons. One of the best multi-day biking tours is the 100 mile White Rim Road in the Island in the Sky District. There are some other biking routes that can be found in the Maze district.
4×4 routes: All vehicles inside the park must be street legal, which means although ATVs may not be allowed, 4x4s certainly are. It is one of the best places for an off-roading adventure, with a huge range of routes available ranging from moderate to difficult.
RELATED: Your Adventurous Nevada Road Trip
Monument Valley
No Utah road trip would be complete without a stop at Monument Valley. Filled with stand-alone red rocks surrounded by bright blue sky, Monument Valley is an iconic American scene. This southeast corner of Utah looks like it did 300 years ago, or even 3000 years ago, and that's just one of the reasons why people love it.
Vast and sunbaked, it's most distinctive features are the huge buttes that jut dramatically out of the ground in seemingly random locations, surrounded by an empty, sandy, red desert. Yet despite the empty, desolate scenes, there is surprisingly a lot to do in the area.
Camping
There are many options when it comes to camping near Monument Valley on a Utah road trip. Some well-known campgrounds in the area include The View Campground, Holiday Tribal Park Campsite, and Goulding's Campground. The View is located in the Tribal Park itself with availability for both RVs and tents. If you want a unique camping experience, you could always try Monument Valley Tipi Village.
Hiking
Natural Bridges Owachomo Trail: (4 miles – easy) – Hiking opportunities within the park are pretty diverse thanks to the varied landscape, and this trail is nice and easy. The 4-mile round trip will take you to the very photogenic Owachomo Natural Bridge, leading you into the canyon and actually under the bridge itself.
Grand Gulch Trail: (14.5 miles – hard) – For those advanced hikers out there, a more challenging hike is the Grand Gulch Trail. The canyon that you traverse through seems almost as though it is a natural museum, filled with rock art, pottery, and stone houses. Most people only go as far as they feel they can in the canyon before heading back, but experienced hikers may be able to go as far as Bullet Canyon.
Wildcat Trail: (4 miles – moderate) – This is a loop hike that will take you to some of the most scenic areas in Monument Valley. You'll go around some of the most famous of the rock buttes in the park, such as Mitten Buttes and Merrick Butte.
Other Activities
Scenic Drive: if you don't have the time to properly stop in Monument Valley, then at least take the scenic Byway 163, which travels northeast through the valley, taking in some of the biggest and best buttes along the way. The byway also crosses the San Juan River on a historical suspension bridge and covers around 45 miles. It should take you around 2 hours, but plan extra time for side trips and photos.
Jeep Tours: First-time Monument Valley visitors could consider a jeep tour with a Navajo guide, learning more about the area as you go and stopping at plenty of scenic viewpoints.
RELATED: 17 Legendary American Road Trips
Arches National Park (One of the Most Famous Utah Road Trip Stops!)
Arches National Park is one of the visited national parks in America, and it is not hard to see why. This 73,234-acre natural playground is filled with over 2000 arches, resulting in an incredible, eroded landscape that needs to be included in your Utah road trip.
In addition to the arches, you'll find fins, towers, hoodoos, and balance rocks, creating a landscape quite unlike anywhere else on earth. The great thing about the park is no matter where you are, you can rest assure your surroundings will be mind-meltingly gorgeous. Whether you are a hiker, a photographer, an explorer, or a lover of beautiful places, Arches National Park will not disappoint.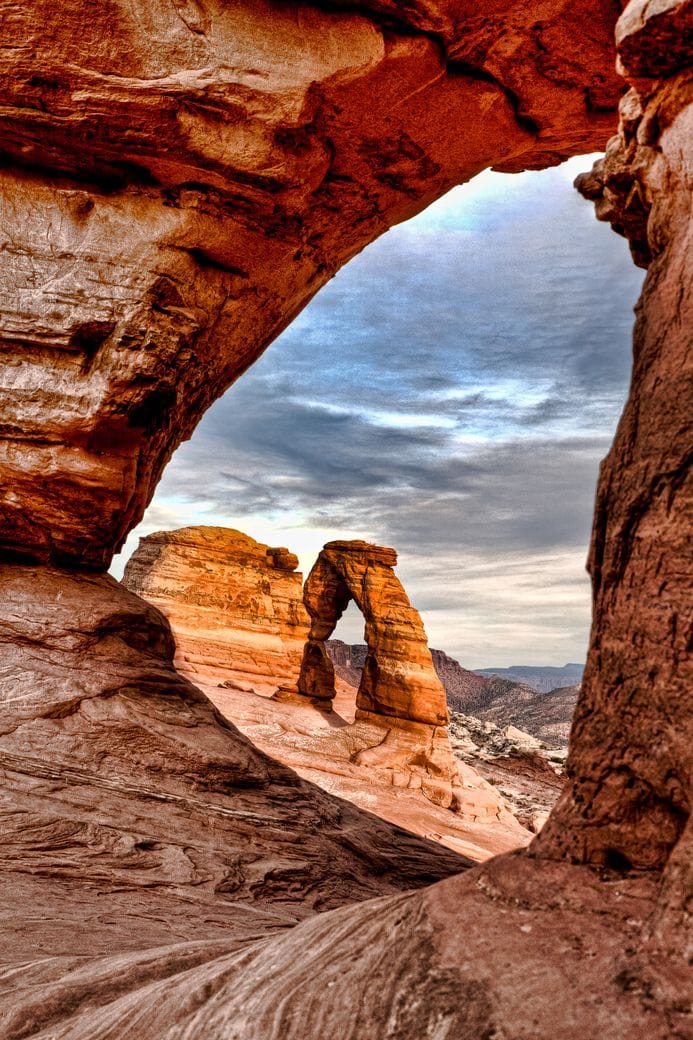 There are so many incredible things to see, it would be impossible to list them all, but some of the best include the La Sal Mountains Viewpoint, Courthouse Towers Viewpoint, Balanced Rock, Windows District, the Skyline Arch, and the Fiery Furnace Viewpoint.
Camping
There is a single campground located within Arches National Park, although there are plenty of other camping options nearby. Devils Garden is the main campground, open year-round and around 18 miles from the park entrance. There is potable water, picnic tables, grills, and pit and flush toilets.
Hiking
Delicate Arch: (3 miles – moderate) -You can't visit Arches National Park without taking the Delicate Arch Trail, the most famous in the park, and known all over the world. Delicate Arch really is the icon of the park, looping 65ft in rich, red rock. You'll likely have seen it on a postcard, but it is nothing in comparison to seeing it in person.
Landscape Arch: (1.9 miles – easy) – The 290-foot sandstone spiderweb of Landscape Arch is arguably just as impressive as Delicate Arch. The hike starts at the Devil's Garden Trailhead. If you are eager to see even more arches, there are a few other hikes you can tack on to this one to continue the adventure.
Fiery Furnace: (1.7 miles – moderate) – Don't let the name put you off this fantastic hike. Follow this route through a labyrinth of rocky fins. You'll have to get a permit to tackle this one as there is no set 'trail' to follow, but there truly is no other hike quite like Fiery Furnace.
Park Avenue: (1.8 miles – easy) – This is one of the first hikes you will come across when entering the park. It follows the bottom of a canyon along the base of some massive monoliths such as the Courthouse Towers and the Towers of Babel.
Other Activities
Stargazing: The darkness of night at Arches really is breathtaking, away from the artificial light of urban areas.
Rock Climbing: Rock climbing is popular within the park, though it is largely for the more experienced climber, requiring advanced technical skills. Some of the best climbing areas include Elephant Butte, Tower of Babel, Sunshine Wall, and the Great Wall, to name a few.
Mountain Biking: Hit the trails on your bike to cover more ground and feel the desert wind in your hair. Bikes are allowed on all paved and unpaved roadways within the park, such as Willow Flats Road and Salt Valley Road. Ditch the car and explore the park on the back of a bike for a unique trip.
Scenic Drive: The road through Arches National Park is the epitome of scenic drives. You could easily spend the better part of a day driving the 36-mile road trip, stopping to take panoramic shots and taking in the sights along the way.
RELATED: Your Adventurous Montana Road Trip
Lake Powell
Scenic Lake Powell is a true gem in Utah, located near the Arizona border. This man-made reservoir may be oddly shaped, but it offers the opportunity for a huge array of lake activities, including boating, beaching, and hiking.
The beautiful blue waters are in stark contrast to the surrounding red and brown rock, with the flooded canyons running right into beautiful sandy beaches.
Camping
There are plenty of places to go camping around Lake Powell. One of the biggest campgrounds is Lees Ferry Campground, which has 54 designated sites. Other large sites include Wahweap with 112 sites, Bullfrog Campground, which as 78 sites, and Halls Crossing Campground, which has 43 sites.
In addition to these developed campgrounds, primitive camping is permitted along the shoreline. Lone Rock Beach offers a unique camping experience as you are able to camp directly on the sandy beach or in the dunes.
Hiking
You don't have to stay on the water to have a great time exploring Lake Powell, as there are many great hikes to be found around the shores.
Rainbow Bridge South Trail: (24.5 miles – moderate) – Rainbow Bridge is said to be the largest natural bridge in the world, making it one to tick off your Utah adventures. This is a very long trip, so you should allow multiple days to complete the hike it and will require a little bit of a climb. Alternatively, you can take a tour boat out to the bridge.
Antelope Canyon: (0.6 miles – easy) – Antelope Canyon is one of the most photographed canyons on earth, and it is not hard to see why. The canyon is actually located in Arizona, but it can easily be reached from the shores of the lake.
West Canyon: (6 miles – moderate) – If you are up for a difficult and strenuous hike, try West Canyon. This long and narrow slot canyon above Lake Powell requires both a bit of a scramble and a swim, and the higher up the canyon you get, the more difficult the hike becomes, getting pretty technical at the upper end.
Other Activities
Kayaking and Paddleboarding: One of the best ways to fully experience the beauty of the lake is on a kayak or paddleboard. You are able to paddle along at the pace that suits you, taking in the many views along the way. There are plenty of places along the shores that offer rentals, lessons, and tours.
Boat Tours: Lake Powell is one of the premier boating destinations in the world. There are plenty of places around the shore, such as Waheap, which offer boat excursions out onto the lake, such as to the Rainbow Bridge National Monument.
Scenic Driving: The roads that traverse the area offer some incredible scenic driving opportunities. Be sure to drive to see the Glen Canyon Dam, where the landscape here looks a bit like that of Monument Valley.
RELATED: Your Road Trip Essentials Packing List and Tips (+Printable Checklist!)
Zion National Park (A Popular Stop on a Utah Road Trip)
Zion National Park, the oldest national park in Utah, is also one of the most incredible. The park is nestled in the center of three geographical regions – the Great Basin, the Mojave Desert, and the Colorado Plateau – all of which have helped shape the landscape into what it is today.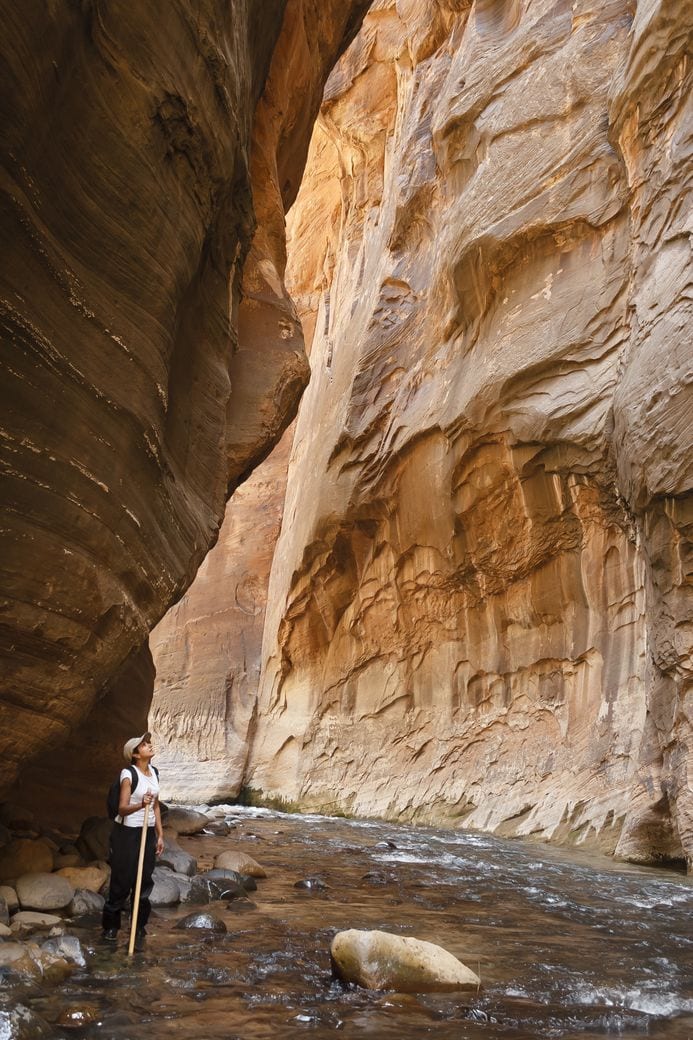 The many viewpoints will take your breath away, containing an exciting mash-up of bright red rock, dramatic canyons, and rich vegetation.
Camping
There are a number of places to camp at Zion National Park for both tents and RVs, giving you immediate access to the activities and surroundings from the minute you wake up in the morning. There are a few main campgrounds, although if you prefer to get away from the crowds, backcountry camping is available on some trails to add to your Utah adventure, although a permit is needed.
Lava Point Campground is one of the main sites, with six primitive campsites available on a first-come, first-served basis. Another option is South Campground, with 117 reservable sites and located near the south entrance to the park. Alternatively, you could camp at Watchman Campground, with over 60 RV sites, over 60 tent sites, and 6 group sites.
Hikes
Grotto Trail: (1.2 miles – easy) – Following Grotto Trail means you won't have to work hard for some spectacular views. At a mile round trip, it is perfect for families and inexperienced hikers. It is level but will give you a great glimpse at some of the canyons and the Emerald Pools, a beautiful three-tiered pool, and a waterfall system.
Purus Trail: (3.3 miles – easy) -This easy paved trail will take you along the Virgin River in Lower Zion Canyon. This round trip connects the ranger station, museums, and campsites.
Canyon Overlook: (1 mile – moderate) – The short and sweet one-mile Canyon Overlook trail does what it says on the tin – it will lead you to one of the most spectacular viewpoints in Zion. The expanse of Zion Canyon will open up before you with many notable rock formations visible such as the Towers of the Virgins, the Streaked Wall, and the Beehives.
Angels Landing: (5 miles – hard) – Angels Landing is generally described to be more like a climb than a hike. With just a metal chain bolted in the rock to aid your ascent, this hike is certainly more than a little hair raising but has incredible views for the reward.
Observation Point: (6.7 miles – moderate) – The trek to iconic Observation Point is interesting in itself, but once you reach the summit, the views are pretty breathtaking.
Emerald Pools: (3 miles – easy) – You would never expect to see such blue oases in the heart of Utah, but the Emerald Pools really are the jewel of the park, separated by lush vegetation and waterfalls. The hike to the first pool is short and easy, making it great for less experienced hikers, then you always have the option of continuing on to the other pools.
The Narrows: (15.5 miles – hard) – Hiking the narrows can get a little hairy as it involves getting waist-deep in water, but it is a lot of fun.
Other Activities
Canyoneering: The park is home to some of the world's best canyoneering routes. Adrenaline junkies will enjoy hiking, swimming, and rappelling through the narrow canyons. Some of the most popular routes include The Subway, Orderville Canyon, and Pine Creek.
These routes are very technically difficult, so should only be attempted by experienced canyoners, as a lot of climbing and swimming through debris-filled water is involved!
Climbing: Many people think of Zion as a red rock Yosemite, meaning it is great when it comes to climbing. Moonlight Buttress and Cherry Crack are particularly popular climbing routes.
Cycling: Cycle your way through millions of years of history in Zion, a great way to cover a lot of ground. Cyclists must stay on the established routes, but there is no reason to leave them as they will lead you under sheer cliffs and past scenic points.
Dinosaur National Monument
For a window to the past, head to Dinosaur National Monument, a protected 210,854 acres of quarry area. Dinosaurs once roamed these lands, and many of their incredible remains are still visibly embedded into the rocks.
At the Quarry Exhibit Hall, visitors are able to see over 1,500 dinosaur fossils right there in the exposed cliff face.
Camping
There are six campgrounds around the monument, so you have plenty of options to choose from, with over 120 sites in total. Only three of these campgrounds are on the Utah side of the monument, with Green River being the closest.
Hiking
Taking a hike is a great way to enjoy the rugged scenery of the park. The most popular hikes all begin at the Visitor Center and vary in length. For your best chance of seeing some fossils, take the Fossil Discovery Trail, or alternatively, try the River Trail or Desert Voices Trail.
Other Activities
Rafting: Rafting is a popular way to experience the remote canyons of the park. Both the Green and Yampa Rivers make their way through this incredible landscape, with the mountains forcing the water into tight channels, surrounded by magnificent cliff faces. The result is some exciting and fast rapids such as Warm Springs and Hells Half Mile, which can challenge even the most experienced white water rafter.
Flaming Gorge National Recreation Area
Limitless recreational opportunities combined with relative solitude is what can be found at Flaming Gorge. This is one of the less-visited National Monuments in the state, which is exactly why you should add it to your Utah road trip.
This huge reservoir is a gold mine when it comes to water-based activities, with three full serviced marinas, and cool water no matter the time of year.
Activities
Hiking: The recreational area around the lake offers plenty of hiking trails that wind their way through thick forest, along mountain slopes and up to the peaks. The 5-mile Canyon Rim trail is particularly popular.
Rafting: Just below the Flaming Gorge Dam, the Green River has some fun Class II rapids as well as some calmer sections, perfect for a spot of swimming or wildlife viewing from the boat. This is an ideal section of the river for first-time rafters or families.
Grand Staircase-Escalante National Monument (A MUST on a Utah Road Trip!)
Grand Staircase-Escalante is pretty big. In fact, it is the size of Delaware, so you'll have to pick and chose where you head when adding it to your Utah road trip. The area got its name thanks to the series of plateaus that head down from Bryce Canyon all the way to the Grand Canyon.
The 'stairs' are pretty evident, with vertical drops of rock made up of Pink Cliffs, Grey Cliffs, White Cliffs, Vermillion Cliffs, and Chocolate Cliffs.
The monument is split into distinct sections. The Escalante Canyons is the most popular section, especially for those that like hiking. There is plenty to appeal to hikers here, including waterfalls, sculpted Slickrock, and narrow canyons just waiting to be explored.
The Grand Staircase section is much less visited due to its remoteness. It is still pretty impressive, with the most extensive network of slot canyons in the state. The last section is the Kaiparowits Plateau, which covers 8000,000 acres, and consists of some of the most remote places in the states.
Camping
Find the true meaning of sleeping under the stars, by camping at the Grand Staircase-Escalante National Monument. There are three established campgrounds within the park that work on a first-come, first-served basis. These include Calf Creek Campground and Deer Creek Campground, both of which have basic amenities, and Whitehouse campground, which is very small and only offers walk-in sites.
Hiking
The Escalante Canyons is one of the premier hiking destinations in the region. Endless backcountry is available for those willing to lace up their hiking boots and explore the trails, with day hikes and multi-day treks.
Calf Creek Recreation Area: (lower 6.7 miles – moderate – upper 2.1 miles – moderate) – Some great day hikes can be found in the Calf Creek area, such as the hikes to both Upper and Lower Calf Creek Falls. To get to the lower falls, follow the route of the creek atop the east of the canyon. The falls are 130 feet high with a deep swimming hole at the base. The upper falls are not as impressive at 88 feet in height but is a relaxing place for a swim.
Spooky Gulch: (3.2 miles – moderate) – This is a cool hike to a short slot canyon, named for how dark it gets when you are deep in the slot. This hike can be combined with Peekaboo Gulch to make a great loop hike.
Death Hollow Trail: (14.8 – moderate) – Death Hollow Trail should only be attempted by the more advanced hiker. This strenuous round trip is exceptionally scenic, following the twisting and narrow depth of Death Hollow, one of the most dramatic canyons in the area.
Other Activities
Scenic Drive: As the area is so vast, one of the best ways to cover a lot of ground and see some of the hot spots is via a scenic drive. A great drive is the Johnson Canyon/Alton Amphitheater Scenic Backway, which is a 32-mile loop that provides fine views of the Pink Cliffs and many other landmarks.
ATV: The Burr Trail that runs through the monument runs for 68 miles and takes you to some of the state's most beautiful areas. It offers extraordinary views of the Henry Mountains, with plenty of places to stop and take a short hike. The upper section is paved, and the lower is graded dirt, so it is always worth keeping an eye on the weather.
Coral Pink Sand Dunes State Park
As the name suggests, the incredible area of Coral Pink Sand Dunes is made up of huge hills of warm, pink sands, formed by the erosion of the nearby Navajo Sandstone. Head into this moving sea of bright sand, which is continually changing shape depending on the winds, for a unique Utah adventure.
The mounds of sand can move by as much as 50 feet every year, so no visit will ever be the same. The dunes are estimated to be between 10,000 and 15,000 years old, yet this photogenic marvel only became a state park in 1963.
Despite being so picturesque, it receives a good deal fewer visitors every year than other red rock destinations, a fact that makes it even more appealing.
Activities
Off-roading: The area is known as an off roader's playground, used by four-wheelers all year long. About 90% of the dunes are open for riding, yet most four-wheelers tend to head to the Sand Highway, which is a narrow trail that runs in a canyon, or the Boundary Trail on the eastern dunes.
Hiking and Playing: The whole area is open for visitors to explore. Whether you want to take your shoes off and leave your mark in the sand, go for a hike or build sandcastles with the family, it is a great place for a quick stop.
Snow Canyon State Park
Located in southwestern Utah is Snow Canyon National Park, a place that would easily be a national park if it was located in any other state. The park is surrounded by a backdrop of red and white sandstone cliffs and jumbled black lava rock caps.
You can explore the beautiful trails and dunes on a bike, on foot, or on horseback. There are more than 38 miles of hiking trails, a mile paved trail, and over 15 miles of equestrian trails.
Camping
There is a small campground nestled amidst the red rock scenery offering both tent and RV sites, some of which have electrical and water hookups.
Goblin Valley State Park
Who wouldn't want to visit a place named Goblin Valley? This awesome state park is named for its incredible geological formations that, with a bit of imagination, look a little bit like goblins. In some places, the rock formations are all in close proximity to each other, resulting in a maze-like playground of twisting rocky paths.
It is one of Utah's most popular state parks, with people visiting from miles around to have a picnic, go camping, take some incredible photographs, hike, and take in the views from the overlooks.
Hiking
The main attraction is the Valley of the Goblins, located in the heart of the park. There are three established trails here that take you to some stunning viewpoints and deep within the maze of rock. If you don't fancy sticking to the path, you are allowed to hike off-trail here and explore the alien-like structures on your own.
Other Activities
Cycling: Be sure to bring your mountain bike along and take the 21 mile Wild Horse Mesa Mountain Bike Trail. The dirt road is not too strenuous, with the incredible highlight being the 360 views of nearby Capitol Reef.
RELATED: Seattle to San Francisco West Coast Road Trip! Adventures and Waterfalls
Deadhorse Point State Park
Located 32 miles from the city of Moab is the scenic Deadhorse Point State Park. It is one of the state's most spectacular state parks, perched at least 2000 feet above the Colorado River, making it a must-stop on a Utah road trip.
You can't visit the park without going to the overlook, which provides an awe-inspiring panorama of the sculpted pinnacles and buttes of Canyonland.
Hiking
There are miles of developed hiking trails within the park, but the most well-trodden is the paved path which leads directly to some of the most spectacular lookouts along the ridge.
Other Activities
Mountain Biking: Those on two wheels will love exploring the Intrepid Trail System at Dead Horse Point. The paths here really are great for mountain bikers, with a combination of slip rock, looping singletrack, and sandy washes. There are plenty of easy sections as well, which makes it the perfect place for both experienced and non-experienced riders.
Kodachrome Basin State Park
The Kodachrome Basin State Park is so photogenic, it's actually how it got its name. The whole area is covered in Chimney Rocks along with 67 monolithic stone spires, which are known as sedimentary pipes.
In addition to the colorful rock columns, there are also natural arches and plenty of incredible views. Some of the most popular spots to visit are Shakespeare Arch, the Chimney Rock, and Ballerina Geyser.
Camping
There are campgrounds located directly within the park which offer 23 basic sites, ten full hookups, and two group sites.
Hiking
Nature Loop Trail: (0.4 miles – easy) – This is an easy hike that starts at the campground, designed to give you just a glimpse of some of the natural wonders in the area and make you crave more.
Panorama Loop Trail: (2.9 miles – easy) – This trail does what it says on the tin. Although there is quite a climb on this route, the views make it all worth it when you reach the peak, with incredible views in all directions. If you are up for a bit more of a challenge, you can always add on an additional 2.5-mile walk with the Big Bear Geyser Cool Cave Loop Spur.
I hope this post helped you plan an epic Utah road trip. Which one of these places are you most excited to visit? Let me know in the comments below!
---
---
Don't lose this! Click to pin it now.