I've perhaps been living under a rock (or maybe a glacier for that matter), but I must admit, I knew almost nothing about Glacier National Park. In fact, I wasn't even sure what state it was located in.
This trip was actually my first time in the central USA! *cue shock and horror*
Yeah, I will admit I haven't traveled my own country very much at all, but lately, I've been changing that by spending more time in Oregon, road tripping the West Coast. and by recently doing an epic central USA road trip through Montana, Wyoming and South Dakota.
I'm so happy I've been traveling my own country more, and I'm constantly surprised at how much is on offer here.
I'm incredibly grateful I had the chance to visit, and now I want to share all of the fantastic things to do in Glacier National Park with you. Here's everything I did in extreme detail. I hope this will help you plan your trip!
Don't lose this! Click to pin it now.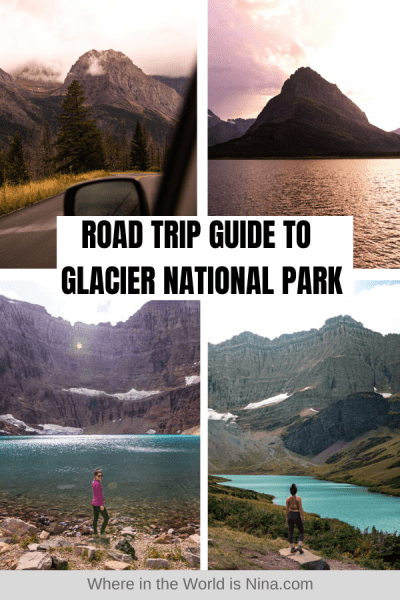 Things to do in Glacier National Park
---
After spending nearly a week in the area, I'm hoping my list of things to do in Glacier National Park, hikes, and points of interest, help you plan your trip better! I've even made a handy little map to assist you in your travels, a packing list, tips, and itinerary suggestions below, as well.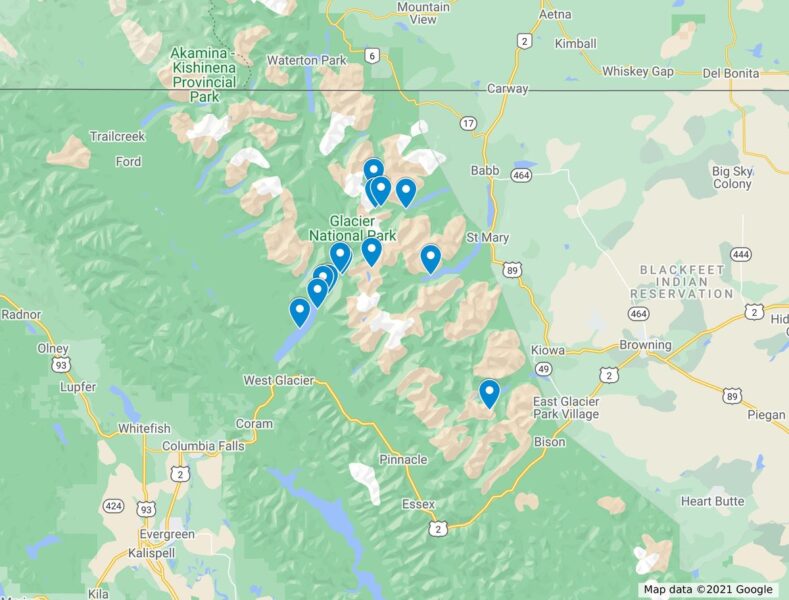 Glacier National Park is massive, but the number one thing I noticed when I was there was… Where TF are all the glaciers!? Yes, it's true, Glacier National Park is, unfortunately, losing its glaciers as the years go by. It was a bit surprising to be in a park with the word glacier in it, yet, I only saw a handful.
It doesn't mean this magnificent park isn't worth a visit, just don't be surprised when you get limited views of epic glaciers. Luckily, there's still plenty of beauty to be seen when you visit Glacier National Park, and the best way (if you ask me) is by hiking…
RELATED: Your Adventurous Montana Road Trip!
Best Hikes in Glacier National Park
It would take months, or even years, for hikers to scratch the surface of backcountry hikes inside Glacier National Park. Over 700 miles of hiking paths stretch across the park with trails suitable for every skill level.
From relaxing day hikes to rugged journeys into the depths of the wilderness, there is a trail for every park visitor. Here are my favorite hikes in Glacier National Park.
1. Two Medicine Lake Loop
• Distance: 9.7 miles
• Type of Trail: Loop
• Difficulty: Moderate
Located just outside of East Glacier Park Village, this near 10-mile loop will take you around one of the clearest lakes in Glacier National Park.
The trek sees regular foot traffic and does not present an overwhelming challenge for moderately conditioned hikers. With an elevation gain of just over 700 feet, the loop may be difficult for inexperienced trekkers.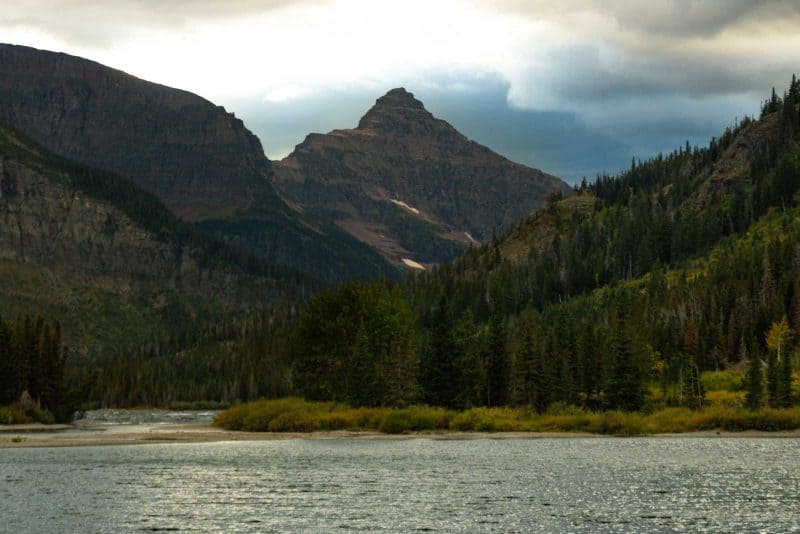 The path offers splendid views of the shimmering Two Medicine Lake, trailheads to cascading waterfalls, and magnificent wildlife sightings. Wander down the paths to Twin Falls and Aster Falls to bask in the peaceful surroundings of pine and spruce forests. Make sure to keep bear spray handy as bears are known to frequent this area of the park.
Those searching for a peaceful stroll through the majestic scenery will receive a warm welcome of snow-covered peaks, tranquil forests, beautiful wildflowers, and dreamlike vistas.
2. Iceberg Lake Trail
• Distance: 9.3 miles
• Type of Trail: Out & Back
• Difficulty: Moderate
Nestled behind the Swiftcurrent Motor Inn, the 1,450-foot climb of the Iceberg Lake Trail provides some of the most breathtaking views in Glacier National Park. Although much of the trail avoids treacherous hills, the beginning of the hike has a steep ascent that could leave inexperienced hikers short of breath.
Iceberg Lake is among the best hikes in Glacier National Park for scenic vistas with stunning imagery of craggy cliffs and sparkling alpine lakes. On bright, sunny days, the water glistens a dazzling shade of turquoise blue and emerald green.
The surreal, iceberg-filled lake encircled by sharp peaks is a thrilling reward after a 9+ mile hike. If you hit the trail during the early hiking season, the icebergs may be large enough to stand on.
Be aware that this is among the popular hikes in Glacier National Park, and arriving early will help you beat the hordes of afternoon hikers. When I was here in September, there were quite a few people on the trail but nothing too much or annoying.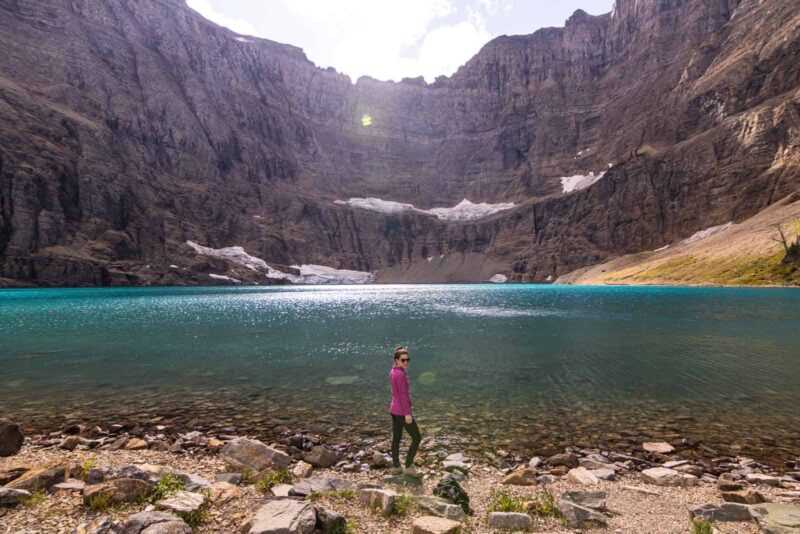 Do note this was my first hike in the park, and within the FIRST MILE, we saw a bear! It was incredible! We also saw him around the same area on the way back, with our bear spray in hand, we made sure it was safe to pass on the trail, and he was a safe distance away. Luckily he was pretty occupied with berry picking.
3. Swiftcurrent Pass Trail
• Distance: 15.9 miles
• Type of Trail: Out & Back
• Difficulty: Hard
Parking at the Swiftcurrent Motor Inn or walking over from Many Glacier Campsite gives you access to another, more intimidating nearby hike. The Swiftcurrent Pass Trail snakes nearly 16 miles and climbs almost 3,800 feet amongst secluded lakes and wild mountain landscapes.
This adventurous trail is less explored than the Iceberg Lake Trail but offers the journey of a lifetime for avid hikers up for the challenge. Sweeping panoramas of forested valleys, pristine waterfalls, and gorgeous wildflowers will take your breath away.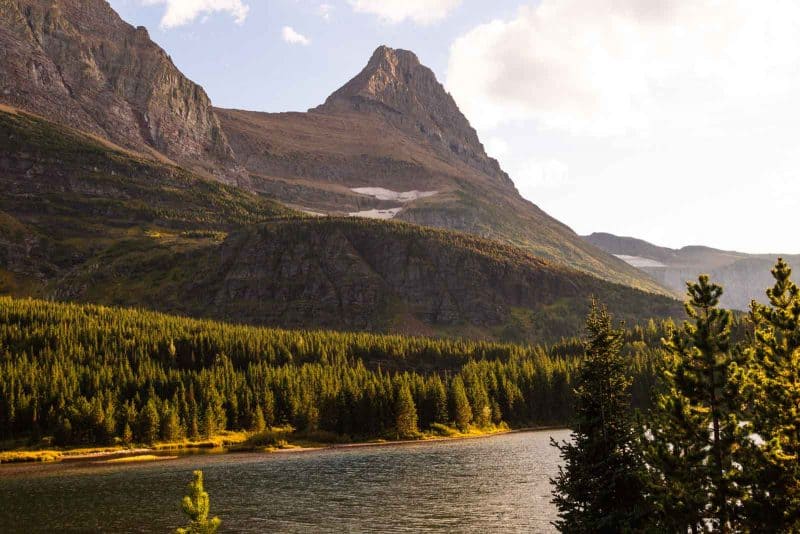 The bird's eye view overlooking the lakes at Swiftcurrent Pass offers one of the most striking portraits along the trail. Seasoned trekkers frequently list Swiftcurrent among their favorite hikes in Glacier National Park. However, there are several sudden drops along the path, and those weary of heights may feel uneasy at times.
Along the way to the pass, Fishercap, Redrock, and Bullhead Lakes each present spectacular views of the surrounding peaks of 8,000+ feet. The tumbling streams of Redrock Falls are a perfect resting spot to enjoy the wilderness.
If you're up for another climb, head towards the Swiftcurrent Fire Lookout to reach the tallest developed path in Glacier National Park.
4. Redrock Falls via Swiftcurrent Pass
• Distance: 3.6 miles
• Type of Trail: Out & Back
• Difficulty: Easy
An easier hiking path meandering off the Swiftcurrent Pass Trail, Redrock Falls boasts enthralling scenery for all skill levels. The mostly flat terrain is terrific for those looking for a quick stroll in the wilderness.
Wildlife sightings are among one of the major highlights along this straight-forward hike. Moose can often be found grazing beside the lakes and bears, deer, foxes, and rabbits can also be found along the trail. Pack bug spray for this hike as the areas closer to the lakes may be swarming with pesky mosquitos.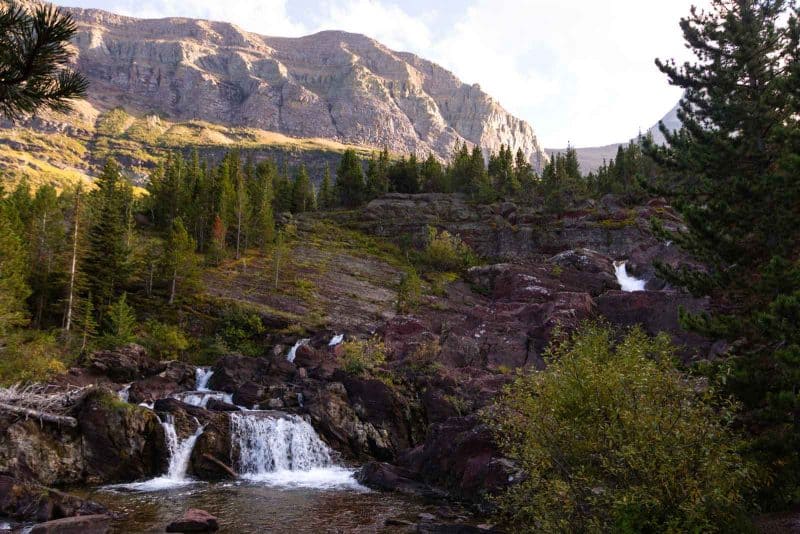 Rugged peaks soaring above the trail make this one of the most underrated hikes in Glacier National Park. The striking contrast of the cascades against the red rocks creates a marvelous vista at the end of the trail.
Redrock Falls receives lots of foot traffic, and it would be wise to hit the trail early in the morning for a more peaceful outing. Alternatively, if you have the energy, you can do what we did and tack this hike on after tackling the Iceberg Lake trail.
5. Cracker Lake Trail
• Distance: 12.0 miles
• Type of Trail: Out & Back
• Difficulty: Moderate
The route to the turquoise Cracker Lake offers a little bit of everything for nature enthusiasts. Beginning at Piegan Pass near the Many Glacier Hotel, the route passes through muddy terrain, alpine forests, blissful meadows, glacial valleys, and dramatic cliffs.
There is a steady climb of 1,650 feet, but the final stretch to Cracker Lake is relatively flat. Sturdy hiking boots are recommended for this trek, especially the first 1.5-2.0 miles.
This section is often muddy and frequented by horses that roughen the terrain (and can cause poopy covered hiker boots). Since we were here in September, we did not encounter any horses as those tours seemed to have been finished for the season.
Keep bear spray handy for this hike as the thick forest encompassing significant sections of the trail are known for bear activity. Make lots of noise and always hike in groups.
Once you exit the forest, the views become spectacular as you approach the mind-blowing waters of the lake. The trail opens to enchanting meadows blooming with wildflowers and peeks of your final destination glinting in the distance.
As you reach Cracker Lake, towering granite peaks create a backdrop worthy of exceptional praise. The contrast of the rugged mountaintops and the aqua blue lake is simply an alpine paradise. Surprisingly, this hike in Glacier National Park was nearly empty! We only ran into a couple of hikers the entire walk.
You can camp at the shores of this lake as well, which we wish we could have done! There are proper tent areas, a food pole to keep your food safe out of the hands of bears, and even a toilet.
6. Hidden Lake Trail
• Distance: 5.3 miles
• Type of Trail: Out & Back
• Difficulty: Moderate
The best place to begin this magnificent stretch of the terrain is just behind the Logan Pass Visitor Center. Keep your eyes peeled for the Hanging Gardens Trailhead to begin your journey through unbelievable open scenery.
Make sure to check with park rangers before beginning your hike as a bear activity often shuts down the trail. Crowds may also hamper the tranquility of the path due to its convenient location off Going-to-the-Sun Road—This is a pretty popular hike in Glacier National Park. Depart at the crack of dawn to increase your odds of finding a parking spot and having a more relaxing time.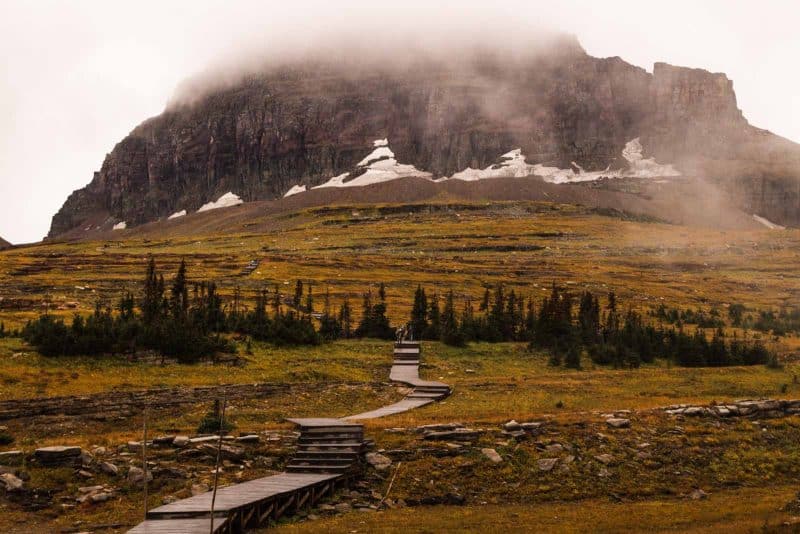 The boardwalk path is surrounded by fields of breathtaking wildflowers and climbs uphill to meet dramatic peaks directly ahead. Wildlife sightings are frequent, and you're likely to meet squirrels, marmots, goats, and bighorn sheep during your trek.
Although the length of the hike is on the shorter end, the sharp ascent and steep decline past the overlook may be difficult for novice trekkers. Fortunately, the boardwalk lining portions of the path make it easier to reach the sensational views of Hidden Lake.
The trail's descent provides astonishing scenery of the surrounding peaks and leads to the enchanting shores of the lake. A perfect location for a picnic, fishing, or even a swim if you can brave the frigid waters.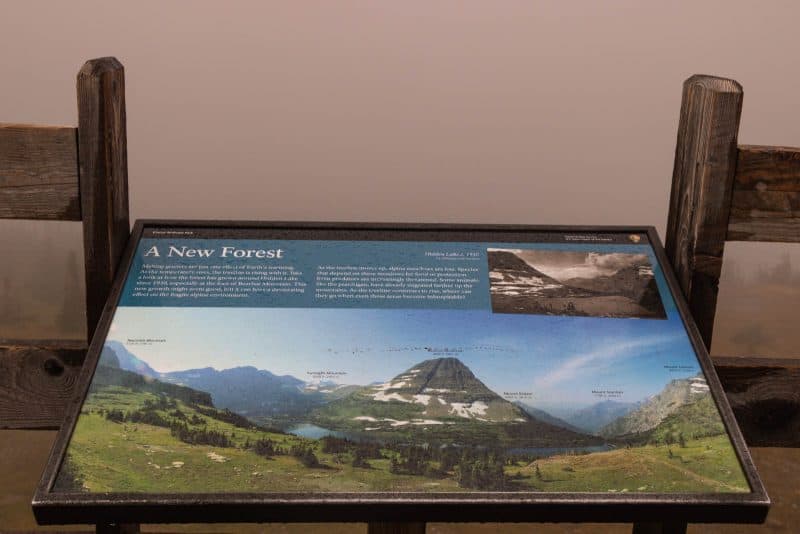 Hidden Lake is one of the most remarkable day hikes in Glacier National Park, and we knew we had to do it. Unfortunately, Mother Nature did not want to cooperate with us, and we got views of the fog instead of anything else! Luckily the walk up was still gorgeous, but we did miss out on the epic views, as you can see in my picture.
You can choose to turn around at the viewpoint making the hike more like 3 miles round trip or so or continue down closer to the water for more views. Of course, since the weather wasn't the greatest for us, we turned around after the viewpoint that didn't offer a view. Hopefully, you have better luck!
7. Trail of the Cedars/To Avalanche Lake
• Distance: 0.8 miles/5.7 miles
• Type of Trail: Loop/Out and Back
• Difficulty: Easy/Moderate
Located just off Going-to-the-Sun Road, this brisk walk is great for all fitness levels. The near 1.0-mile loop is one of the more relaxing hikes in Glacier National Park. Unsurprisingly, this hike is among the most popular along the scenic drive, and arriving early is a must for a parking spot in peak season.
The path offers a pristine forest setting decorated with red cedars and ferns. Admire the mesmerizing vantage point overlooking Avalanche Gorge as the water tumbles downstream.
An optional detour from the loop is down the Avalanche Lake Trail to reach the crystalline waters of Avalanche Lake. The rest of the circuit meanders through the forest and provides a relaxing change of pace compared to more adventurous hikes in Glacier National Park.
Other Things to Do in Glacier National Park
---
Hiking may be the main attraction, but Glacier National Park offers endless opportunities to enjoy the splendor of Mother Nature.
Spellbinding drives, majestic vistas, and untouched beauty await inside the park. Nature enthusiasts and explorers will be chomping at the bit to discover the magic of this world-renowned national park.
8. Drive Going-to-the-Sun Road
Spanning 50 miles, Going-to-the-Sun Road is the premier highlight of Glacier National Park. This magnificent drive across the Continental Divide gives visitors the most jaw-dropping views the park has to offer.
Soaring mountaintops, gushing waterfalls, dramatic valleys, and diverse wildlife will surround you at every turn. If you don't want to miss a minute of the action, there are services available that allow someone else to do the driving for you (check out the Red Bus tours but I really recommend doing this drive yourself).
With an infinite number of scenic viewpoints, it can take hours to complete the driving route. Logan Pass, the highest point along the road, is a must-see with astonishing vistas, alpine lakes, and incredible animals.
Stop at Jackson Glacier Overlook to marvel at one of the park's largest glaciers and the surrounding forests. The sharp turns at the 'Loop' may rattle some drivers, but the panoramic views of steep-sided valleys are worth the rapid pulse rate.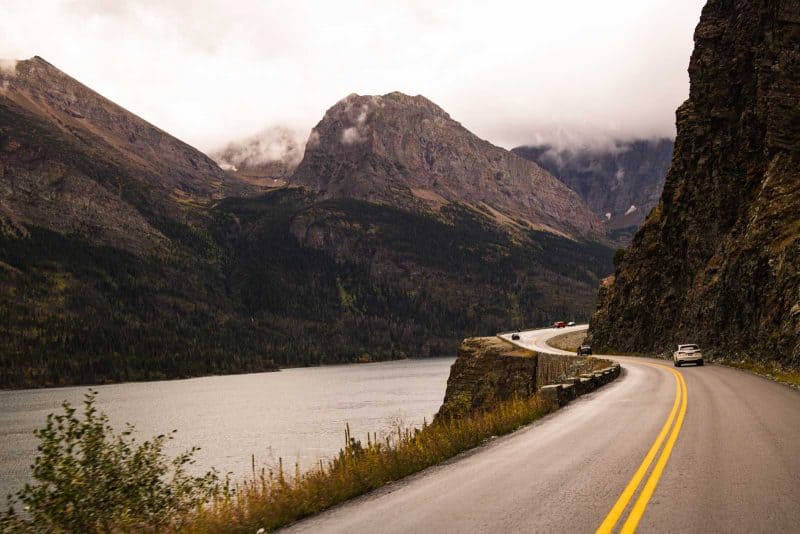 The glistening waters of St. Mary Lake hit the big screen for two world-famous Hollywood blockbusters, The Shining and Forrest Gump. Rising Sun is a beautiful rest area along the lake to enjoy the rugged vista and refuel with a snack.
Going-to-the-Sun Road is among the most famous drives in the United States, and this once in a lifetime experience should top any Glacier National Park bucket list.
*Unfortunately a small section was closed for construction when we were here. Make sure to double-check the road conditions and if there are closures prior to driving!
RELATED: 19 Mistakes to Avoid on a Road Trip
9. Soak Up the Views at Sun Point
Sun Point provides one of the most sensational vistas in all of Glacier National Park. Snow-covered mountaintops and forested valleys cling to the heavens above the transparent waters of St. Mary Lake. You may have to fight off the crowds, but capturing a snapshot at this legendary overlook is simply a must!
The trail to reach this majestic viewpoint starts just off Going-to-the-Sun Road and only spans 1.7 miles. The flat terrain makes the trek easy for all fitness levels, and it is a wonderful spot for a scenic picnic.
The marvelous views of St. Mary Lake alone make this one of the top sights in the park, but the trail gives you access to multiple waterfalls. Sun Point is a fantastic starting point to see Baring, St. Mary's and Virginia Falls around the lake. Witness the roaring falls dance off the granite and red rocks before making your return to the Sun Point viewing area.
10. Watch the Dancing Cascade & McDonald Falls
This delightful rest area on Going-to-the-Sun Road brings you up close to Mother Nature's power and beauty. Walk along the overlook at McDonald Creek to witness rushing streams race along the rocks.
Alpine forests and sharp cliffs complete a splendid panorama soaring above the creek. The contrast of the turquoise water flowing against the stairway of boulders is a must-see landmark.
Walk along the rocks to get a closer glimpse of the cascades and feel the cooling mist of the stream. Make sure to wear shoes with proper traction and always take precautions to avoid slipping on the rocks.
Further downstream, the creek continues to flow along the eroded rocks until plunging down McDonald Falls. Feel the rush of the falls at the overlook before the water trickles into the nearby Lake McDonald.
11. Check Out Lake McDonald and The Lodge
This is probably one of the most well-known and beautiful lodges in the area. We didn't get a chance to stay here as it was booked out, but it didn't stop us from visiting.
They have a cute cafe with simple but delicious food to nosh on. We got a few appetizers and some beers, because why not have a local craft brew at 2 pm on your last day hiking in Glacier National Park?!
There's also a charming little boat ride on offer here, which we were dying to do, but the on and off again rain kept us on shore instead. Lake McDonald Lodge's name doesn't lie; it's directly on the gorgeous lake of the same name.
Walk out back and grab a boat ride or admire the incredible views from the shoreline.
Either way, a visit to Lake McDonald isn't to be missed when visiting Glacier, it's an iconic spot and at the west end of the Going-to-the-Sun Road. It was dreary and misty when we were here, adding a mood, which I loved! However, this lake is usually known for its crazy colorful and beautiful rocks IF the sun is hitting it right.
Lake McDonald Lodge is a great spot to enjoy the lake as is the shores of Apgar, which is at the very west-tip of the lake.
Where to Stay in Glacier National Park
Luckily there are quite a few options around the park, but since we love the outdoors, not spending tons of money, and wanted to be right where the action happened, we camped most nights.
Many Glacier Campsite was GOLD since you can access quite a few of the best trails right outside your tent. I had some friends love the Many Glacier Hotel, down the street from the campsite, which is set on the gorgeous Swiftcurrent Lake and also has some trails right outside the door.
Two-Medicine Lake has a gorgeous place to set up a tent just a few yards back from the lake, and of course, the famous Lake McDonald is a must-visit. Lake McDonald Lodge has a stunning location, and the lodge itself is quite beautiful with antlers adorning the walls, and mountain cabin feels.
I won't get in any more detail here as I have an entire post on where to stay in Glacier National Park, including tons of campsites, lodges, and hotels.
Things to Pack For Glacier National Park
Bear spray and bell – Spray is NOT an option, it's 100% needed.
Jacket – Even in June, it can get down to the 40s! You'll need warm items year-round and a waterproof shell as well.
Base layer – Essential for staying warm but light.
Beanie – I lived in mine, even when sleeping, it's COLD!
Anything thin and breathable that can be layered – With that said, even in September, I got hot hiking in the sun, so bring light items that can be layered.
Hiking shoes – Pretty much not an option if you plan to hike, ankle support would be smart, but I wore these and I was fine.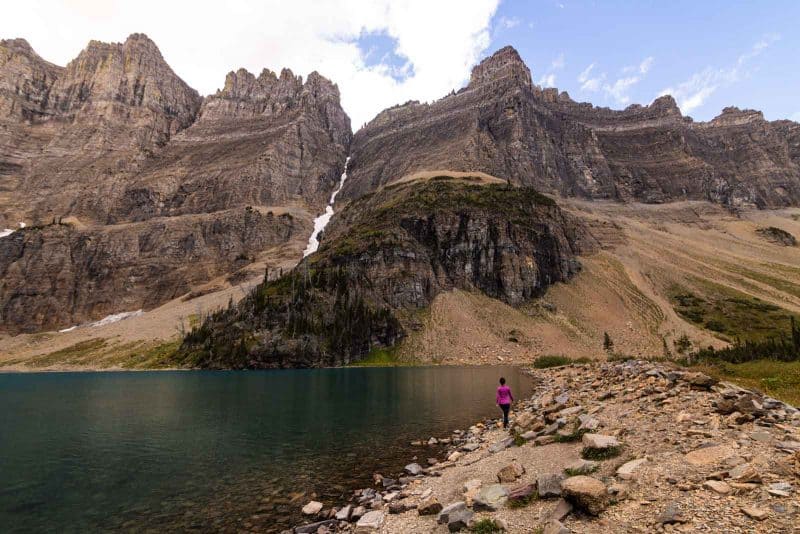 Merino socks – I swear by these. They dry quickly, are breathable, and are precisely what you need for hiking in Glacier.
Tent – If you plan on camping, you'll need to bring your own. We use this one.
Sleeping bags – And proper ones too! Don't think your old sleeping bag from summer camp will work; you'll freeze.
A mat – If you don't bring a mat to sleep on while camping, you won't be sleeping. The ground is hard, has rocks, and is overall not comfortable, even with a mat. (I'm also the lightest sleeper ever which doesn't help)
Firewood – You'll need this to make a fire at the campground, and I'd highly suggest purchasing it on the outskirts of the park before getting in. When we were here in September, there wasn't ANY nearby; they ran out. Not sure how this is possible. We finally found some at the store at St. Mary's, but we never saw any in the park.
Tinder – Anything to start your fire. You are not allowed to collect sticks and such in the park. And sometimes the wood you buy is slightly damp, which makes starting a fire even harder.
RELATED: Road Trip Packing List (+ A Free Printable Checklist)
Glacier National Park Itinerary
Even though we spent around five days exploring the area, it felt like we barely scratched the surface of the park. I won't tell you how to structure your every moment here, but I'll give you some ideas on what you can realistically do.
Don't forget about the map I made you too, any other visual learners out there? I HAVE to see things on a map.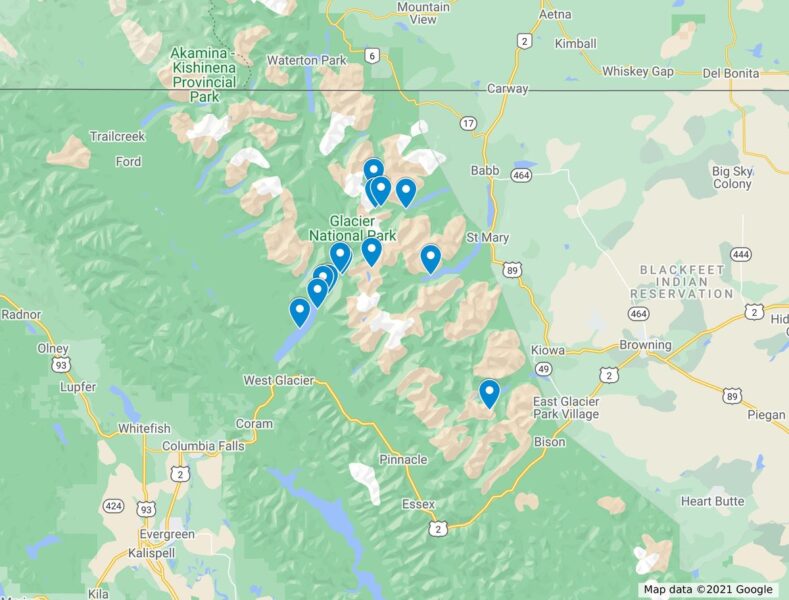 The main areas of Glacier National Park:
Going-to-the-Sun Road – About a two-hour drive with scenic stops and trails
Lake McDonald Area – Lodges, campgrounds, a beautiful lake, more trails (at the end of the Going-to-the-Sun Road)
Many Glacier – Lodge, campsite, and a ton of trails here (A bit "detached" from the main area)
Two-Medicine Lake – The most "detached" area with beautiful lakes and trails (if you're low on time, this would perhaps be the thing to cut off your list.)
If you're planning on hiking, keep in mind some of the most incredible hikes (mentioned above) will take you pretty much an entire day! Especially if you're camping as we did. Waking up, making breakfast, maybe packing your tent (try to stay numerous nights at a campsite to avoid this hassle), and then getting ready and heading out on the trail—Takes time!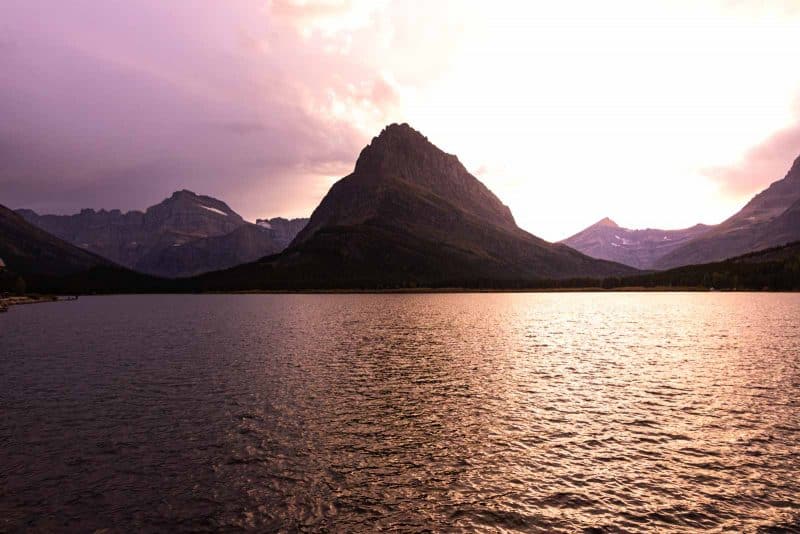 For example, hiking Cracker Lake was essentially an entire day for us. In September, the sun is setting around five something as well, which means you want to be back at camp and cooking dinner around that time.
If I were you, I'd structure my days with one significant hike per day; you may be able to add on something shorter like a loop around a lake, sunset photos near to your camp, or something like that.
The Going-to-the-Sun Road can be done in a day, and while it's only about a two-hour drive, it is traffic dependant. It's a narrow two-lane road, and if you're here in the peak season (summer), it can get majorly crowded.
You'll also be stopping frequently as it's an incredibly beautiful road. You'll probably want to do a hike or two as well, like HIdden Lake, which is around five miles round trip.
Each of the areas I mentioned above would need at least a day to explore, and that's just scratching the surface and without accounting for much driving or setting up camp.
We did almost everything on this list in about five days. I say "almost" because we didn't hike all the way down Swiftcurrent Lake trail as it was getting late and we didn't make it all the way down to Hidden Lake because of the weather. I'd say you'd need at least seven days to fully do everything on this list.
Tips for Visiting Glacier National Park
The entrance to Glacier National Park is not free. Either get yourself a National Park pass or purchase a week pass for $35. More fee info here.
The lodges and campgrounds virtually all close in winter. If you plan on visiting during this time, do make sure you keep this in mind and plan accordingly. Here is more info on Glacier in winter.
Speaking of winter, road closures are prominent due to the amount of snow that dumps in this area. The famed Going-to-the-Sun Road is closed as well except a short distance on the west and east sides. Check road closures – winter or not!
Do NOT underestimate the amount of driving that's involved with visiting Glacier National Park. You will be driving for large chunks of the day going from trailhead to trailhead if you try to cram a lot in. It's best to focus your energy on certain sections per day to minimize your driving.

Bear spray is not a recommendation or an option; it's a MUST. We saw a bear within our first mile, on our first hike, on our first day (and had another come to visit our campsite at 2 am too!) I'd HIGHLY recommend purchasing bear spray ahead of time as it's more expensive at Glacier National Park. If you forget, then try to get it at a Cabelas outdoor store in a big city. You can find it within the park at small stores, but you'll pay a lot more. Grab a bear bell for cheap as well as another preventative. We had one spray and one bell in our group of three.
Do your shopping for food at a big nearby city, like Great Falls or Missoula, or find a Walmart nearby like in Kalispell. As you get closer to the park, things get more and more expensive and scarce (especially when you come close to the end of the season). The stores nearby leave a lot to be desired in terms of food.
As the season gets closer to winter, things close. Cute cafes advertising delicious huckleberry items were closed, and we visited Many Glacier Lodge on its LAST DAY of operation in September.
Things will book out, even at the end of the season. We tried booking a lodge for our last night in the park (we had been camping for a few days now), and while we did find Apgar Lodge as an opinion, almost everything else was booked out in September!
Plan a decent amount BEFORE you get in the park. There is no service while in the park. You may get a bar in St. Mary's, but otherwise, you will be serviceless while in Glacier.
Lastly, Glacier National Park is no secret, and this place gets busy if you haven't gathered that yet. I encourage you to help the park manage its numbers better by coming in shoulder season, as we did in September. Don't let some closures put you off. We had many trails almost to ourselves, no issues finding camping, and no traffic. There are A LOT of perks coming in shoulder season, so give it a thought!
Well, I think I've done enough here, I really hope this helps you figure out what you want to do in Glacier National Park and how to enjoy your time here!
Don't forget! I have a guide on where to stay in Glacier National Park as well.
Which hikes in Glacier National Park are you doing? Did this guide help you plan? Let us know in the comments!
---
---
Don't lose this! Click to pin it now.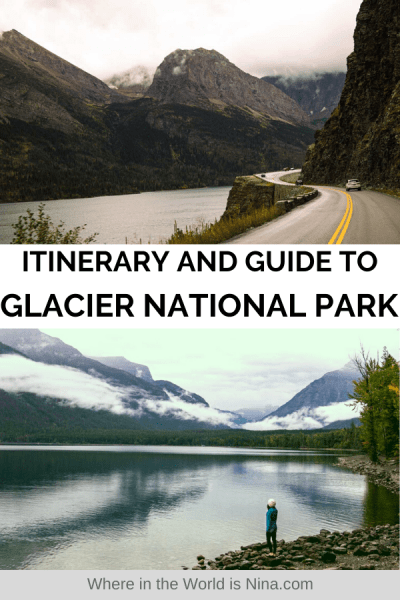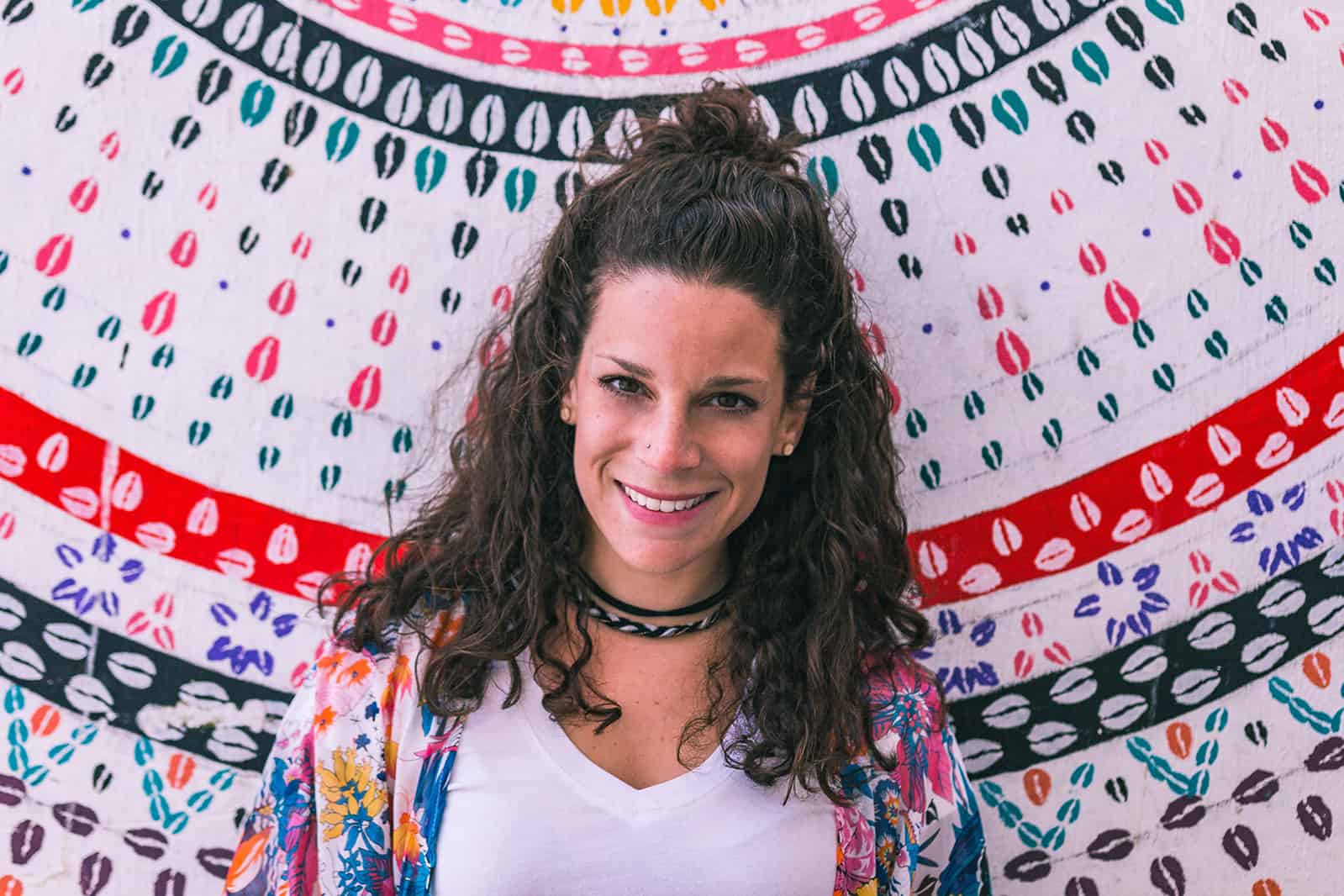 Nina Ragusa is an adventurer, messy bun master, breakfast fan, and full-time travel blogger. She's been abroad since 2011 and blogging on Where in the World is Nina? for nearly as long. Nina helps people like you move around the world while making money. She loves talking about how to work abroad and online to travel longer!