There are so many options when choosing where to stay in Glacier National Park but good news, I've done the hard work for you! With so many options across a massive park that spans over 1,500 square miles, you may not know where to even start.
Below you'll find some of the best-located campgrounds in Glacier National Park as well as great hotels and lodges to choose from. Nothing is far from the park, in fact, some trailhead are just outside your door (or tent!)
At the end of the day, adventures and hikes are probably what you're here for so don't spend most of your time in your car. Grab all my tips for where to stay in Glacier National Park at the bottom as well.
Don't lose this! Click to pin it now.
Where to Stay in Glacier National Park: Camping to Lodges
---
There really isn't a bad choice when choosing where to stay in Glacier National Park. Every campsite, lodge, and hotel is set under some magical towering mountains, along a gorgeous placid lake, or right at the base of some epic trailheads to get your adventure on first thing in the morning.
If you're asking me, camping in Glacier National Park was my favorite, mostly because you got to wake up in nature, make a fire at night, and it's a hell of a lot cheaper! But there are great lodges as well if you can nab a reservation in time, that is.
All of the places listed below I've been to and stayed at a handful of them. I hope this list helps you plan your time in Glacier.
Camping in Glacier National Park
Camping inside Glacier National Park is the ultimate way to immerse yourself in the great outdoors. Pitching a tent and rolling out your sleeping bag brings peace of mind when relaxing underneath the night sky.
You will find numerous campgrounds with adequate facilities, easy access to trailheads and even the option to plug in your RV.
1. Two Medicine Campground
Neighboring Two Medicine Lake, the campground offers basic amenities for a comfortable night underneath the stars. The grounds provide 100 sites and charges a summer fee of $20 per night.
Flushable toilets, drinkable water, and 10 spaces equipped for RVs are among the available amenities. Visit the historic Two Medicine Chalet to restock on camping supplies if needed before embarking on the many hiking trails nearby.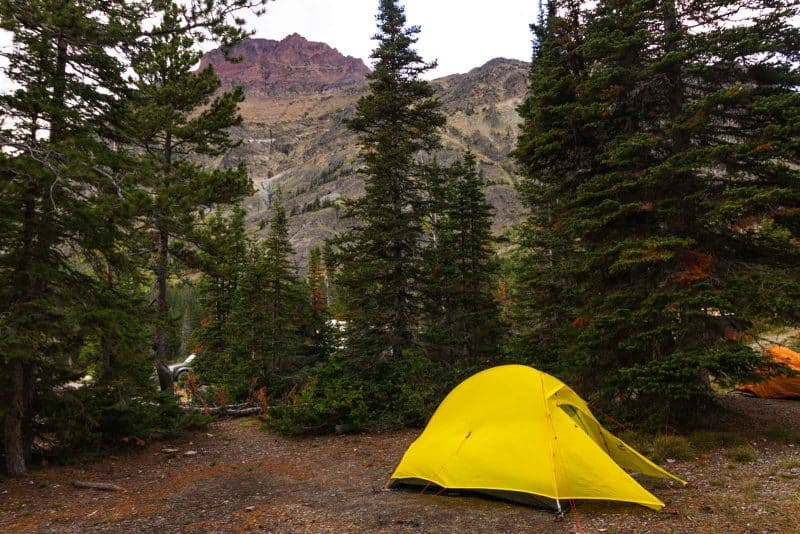 The campsite is just a few yards away from the lake making it an excellently located campsite in Glacier National Park. Night photographers will have nice time here as you don't need to go far for a view and you catch the sunset on the lake just down the road from your tent.
Hikes nearby: Upper Two Medicine Lake, Appistoki Falls, Dawson, and Pitamakan Pass.
2. Apgar Campground
With 194 camping sites, Apgar holds the title as a largest campground in Glacier National Park. Unlike other popular camping locations, Apgar has the capability to host RVs up to 40 feet as opposed to 35 feet.
The nightly rate runs at $20 per night and is a bargain for the nearby attractions.
In particular, the location of the site stands out among other notable campgrounds in the park. You're a brisk walk from Apgar Village, the sparkling shores of Lake McDonald and only a couple of minutes from Going-to-the-Sun Road. Drinkable water, flushable toilets and showers are available throughout the grounds.
Hiking trails are tougher to reach from Apgar but the park has a free shuttle to reach your desired destination if you perhaps have a long camper and don't want to drive to trailheads/deal with parking at the trailheads in general (some get busy!)
3. Many Glacier Campground
Many Glacier is one of the busiest places to go camping in Glacier National Park and early arrival is advised to secure a spot. We aimed to get here around 9 am which is around the time people are packing up and leaving the campground.
Just a few hours later there were tons of cars coming around trying to secure a spot, but it was full. In September. Before noon. Wow! The camp host told us it's usually full by 9-10 am in high season by the way!
Yeah, this place gets extremely busy so it's advised to book ahead if you can (which is allowed for around 40 sites and then the rest is first come first served.)
The campground contains 109 total sites and 13 are suitable for RVs. The tent sites are pretty basic as are most in national parks are the US. You get a site that can hold a tent (or two), a fire pit, and a picnic bench.
Peak season fees are a little pricier at $23 per night but you are based in a prime hiking location inside the park. Many of the best hikes in Glacier National Park are at your doorstep and the rugged wilderness is a hiker's heaven.
Hikes nearby: Swiftcurrent, Red Rock Falls, Iceberg Lake, and Grinnell
4. Avalanche Campground
Avalanche sits in a magnificent location of the park but only offers 87 total campsites and 50 sites large enough for vehicles 26 feet max. Despite the limited space, prices run at $20 per night to stay at Avalanche.
Make sure to arrive early since you are unable to reserve a space at the campground.
Flushable toilets and running water are available to ensure a comfortable stay, and the grounds are in a splendid location to begin a day of hiking. Glacial lakes, snow-lined peaks and plentiful wildlife sightings are within easy access.
Hikes nearby: Trail of the Cedar and Avalanche Lake
5. KOA Campgrounds
KOA boasts two sites along the eastern and western entrances of Glacier National Park to kick off your adventure.
West Glacier KOA was voted as the company's top camping site in North America and is a fabulous place to base yourself for outdoor fun. The grounds are located minutes from Going-to-the-Sun Road, Lake McDonald and spectacular hiking trails.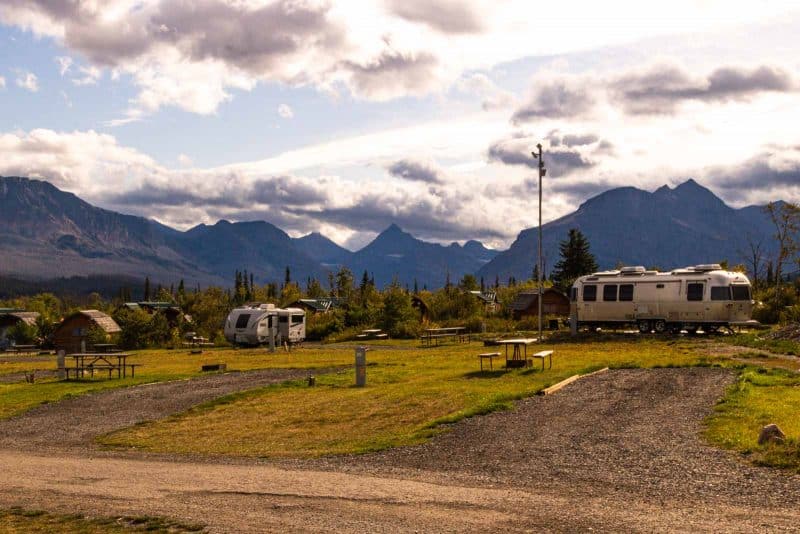 The Highline Trail and Gunsight Pass are just two of the astounding hikes within a short drive away.
On the opposite side of the park, St. Mary/East Glacier KOA is situated next to the glorious backdrop of St. Mary Lake. Grab a paddle and kayak along the enchanting waters of the lake. With the stunning Going-to-the-Sun Road beginning only a mile away, the location of the grounds is hard to match.
Both KOA sites offer a wide range of accommodations to fit all camping styles. Tents, RVs, shared cabins and luxury cabins are all available to enjoy your time camping in Glacier National Park.
Each campground has beneficial amenities such as propane, firewood, a snack bar, and shuttles to provide extra comfort.
RELATED: Your Adventurous Montana Road Trip!
Best Hotels & Lodges in Glacier National Park
If you desire a little more luxury during your stay, Glacier National Park boasts several beautiful alpine resorts with unbeatable locations.
Enjoy a cozy stay inside a cabin, relax on the couch with a cup of joe and tackle the great outdoors with the comforts of home. From lakeside retreats to charming villages, the hotels inside the park provide a grandiose mix of pampering and adventure.
6. St. Mary Village
From snow-capped peaks to sweeping plains, the scenery surrounding St. Mary Village is second to none! The beautiful location is perfect for those looking to begin a drive along the iconic Going-to-the-Sun Road.
From delightful tiny homes to lavish accommodations, the 127 rooms at the hotel offer something for every type of traveler.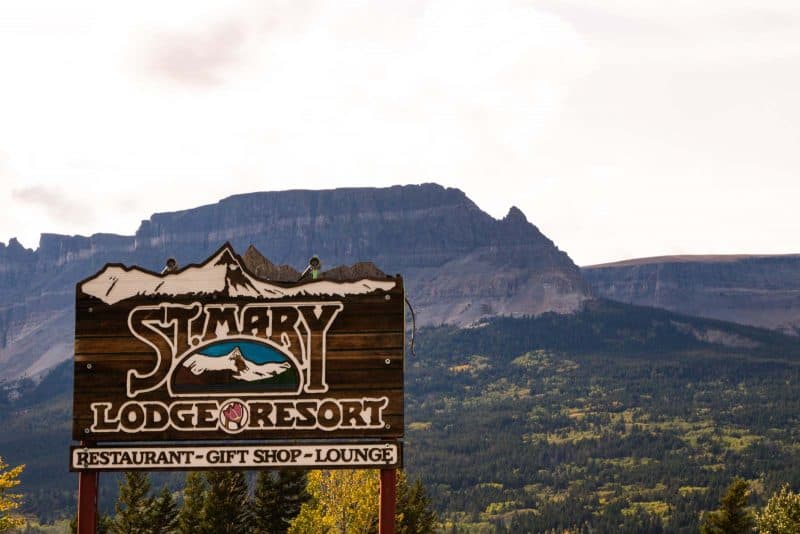 This lodge is also near the St. Mary store, which is your best and pretty much only bet for getting last-minute supplies on the east side of Glacier National Park. You can find some limited food, firewood, bear spray, etc here but as I mentioned in my guide to Glacier National Park post, it's smartest to purchase everything beforehand and use this store as a backup.
7. Apgar Village Lodge & Cabins
With a plethora of outdoor activities at your doorstep and comfy cabin-style lodging, Apgar Village provides a magical Glacier National Park experience.
The glistening shores of Lake McDonald are in your backyard and you can partake in swimming, kayaking and other lakeside activities. Whether you need a kitchen to accommodate a large group or simply a place to rest your head, Apgar Village has lodging for all budgets at this pristine location.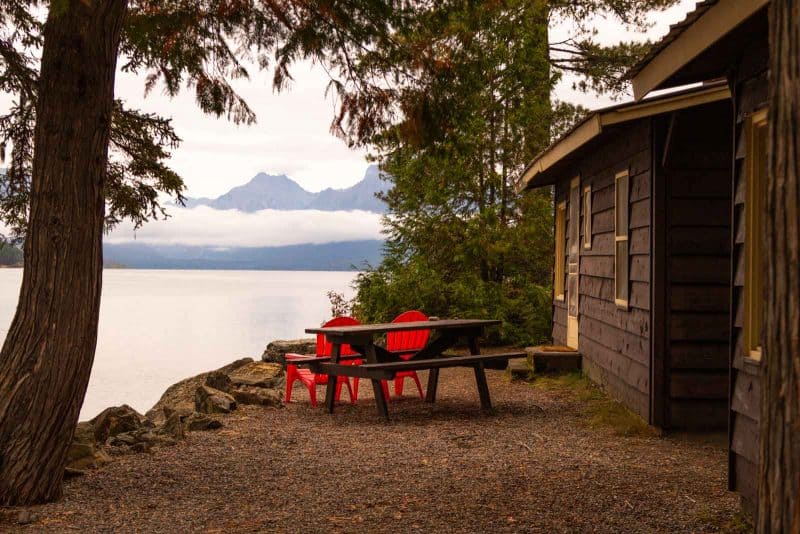 With that said, I must say our experience here was a bit shadowed by a negative experience. We were three people, Garrett and I and our friend Mike. So we wanted a bit of space as we are three grown adults. We were under the impression, as we spoke to a real human over the phone, that we were getting a hotel room with a separate room and another bed in the living and dining area.
Unfortunately, they first tried to put us in a room with just two beds in it, not a separate room with a living and dining area! Then, when they switched us to another cabin we found out the separate room for Garrett and I DID NOT have a door (I didn't know this was something I needed to ask when it was advertised as a separate room!?) and the other bed in the other area was actually a pullout couch – something we specifically asked about and were told it was a queen-sized bed.
At the end of the day, there's nothing wrong with the lodge, it was just that a real human spoke to us and made our reservation and did a poor job presenting the reality of the rooms. This is one of the budget lodges in Glacier National Park so I'm not deterring anyone from staying here, just make sure your expectations are in line with the reality.
*As a side note, we always book online, but as you'll find out service is almost nonexistent here so with our very little service we decided to call and reserve as this was better than 10 minutes for a page to load. And this was the LAST lodge in Glacier National Park with an opening for a next night booking so we kind of had no choice.
8. Lake McDonald Lodge
Located on the opposite side of the famous lake, the Lake McDonald Lodge is conveniently set on the Going-to-the-Sun Road. The lodge has 82 rooms for guests to enjoy fishing, boat cruises, kayaking, rafting and hiking before hopping back on the scenic drive.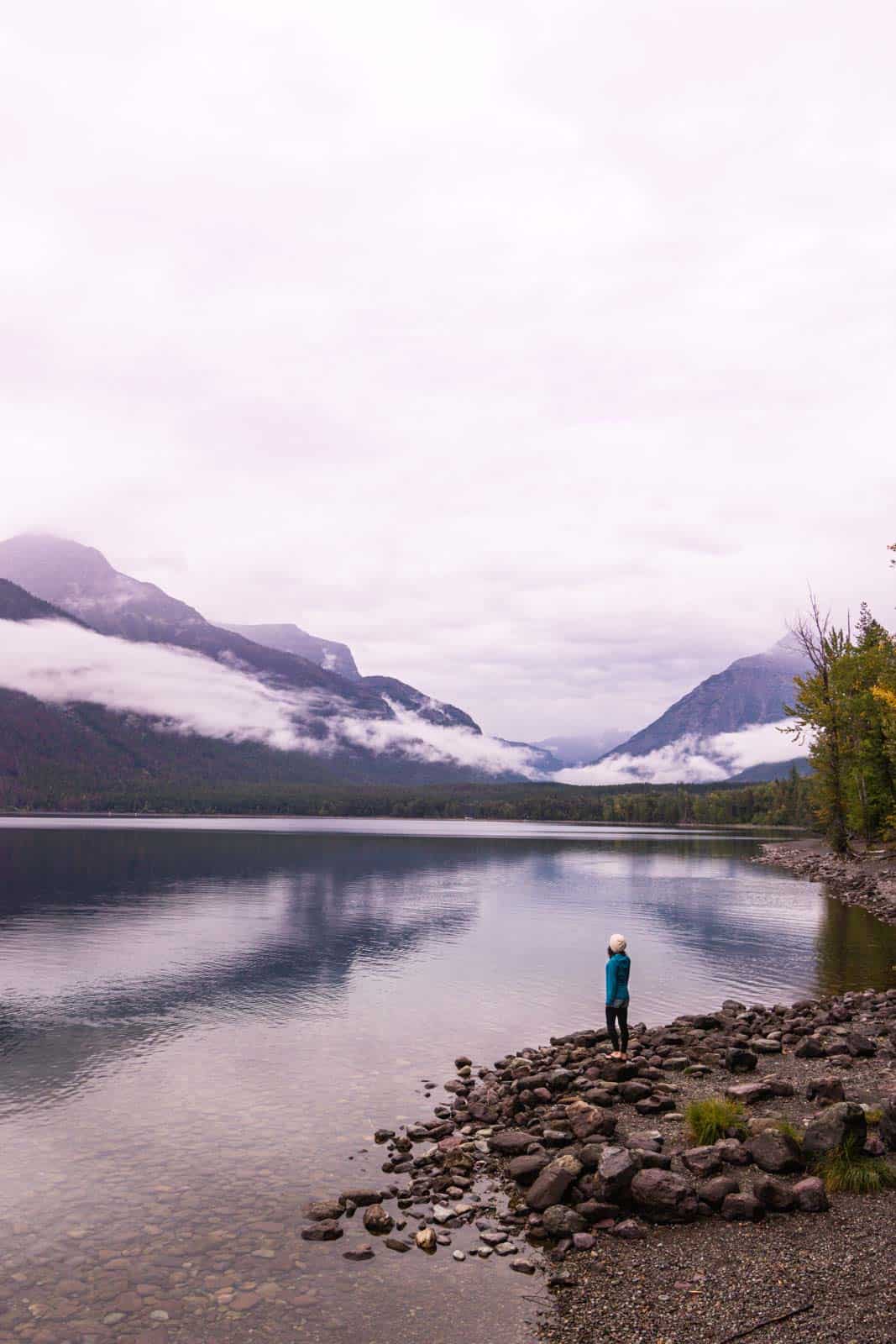 From shared rooms to opulent cabins, you are sure to find lodging to fit your travel style at this cozy stopping point.
We hung out here for almost a whole day! There's a nice cafe serving up some craft brews and decent food, and on a cloudy day after hiking miles and mile on the previous days, this was sweet relief. They offer boat rides on the grand Lake McDonald just outback from the Lodge but just hanging out on the shoreline of the lake here is spectacular as well.
9. Many Glacier Hotel
We desperately wanted to stay at this lodge but a visit is all we got as it was totally booked out, mostly by blogger friends who were in Montana for the same conference we went to before departing on our Glacier National Park trip! It's a gorgeous hotel set on the edge of Swiftcurrent Lake with absolutely epic views of the towering mountains on the other side.
This hotel in Glacier National park has over 200 rooms, offers boat cruises, and Red Bus tours to all the highlights.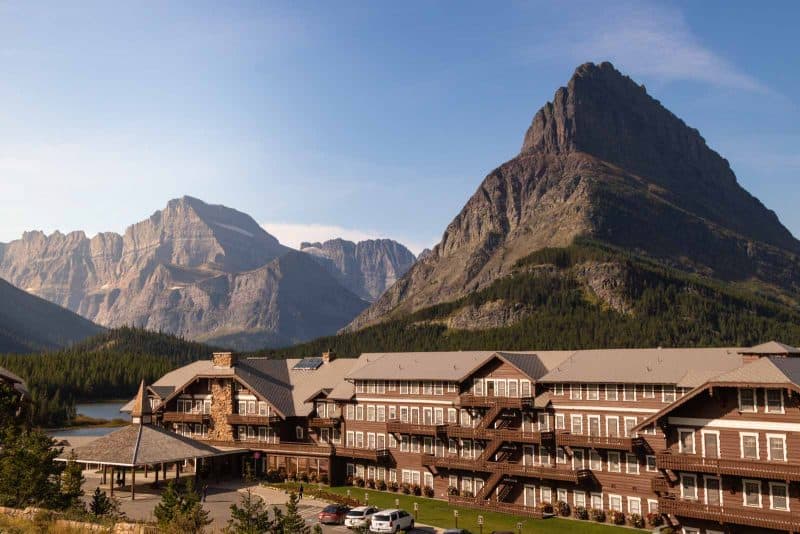 It has a bar, restaurant, store, and pretty much everything else you need to have a comfortable visit in Glacier National Park. Do note this place closes in mid-September each year. We literally visited the hotel on its last day of operation!
Hikes nearby: Piegan Pass. Swiftcurrent Lake, and Cracker Lake
Tips on Where to Stay in Glacier National Park
Places don't stay open year long, like the Many Glacier Hotel, as I mentioned. Plan accordingly!
With that said, things start to run out as the season comes to an end. They don't restock items, food and beverage wise, so make sure your expectations are in line keeping that in mind if you visit towards the end of season.
Campsites are not "immune" to animal visitors! We had a bear come to visit our campsite at Many Glacier. Keep your bear spray close, even in your tent, and keep an eye and ear out when you hear something. Our neighbor was smart and when the bear came to her tent, she set off her car alarm and yelled out "bear, bear!" to alert others and try to get the bear away from her.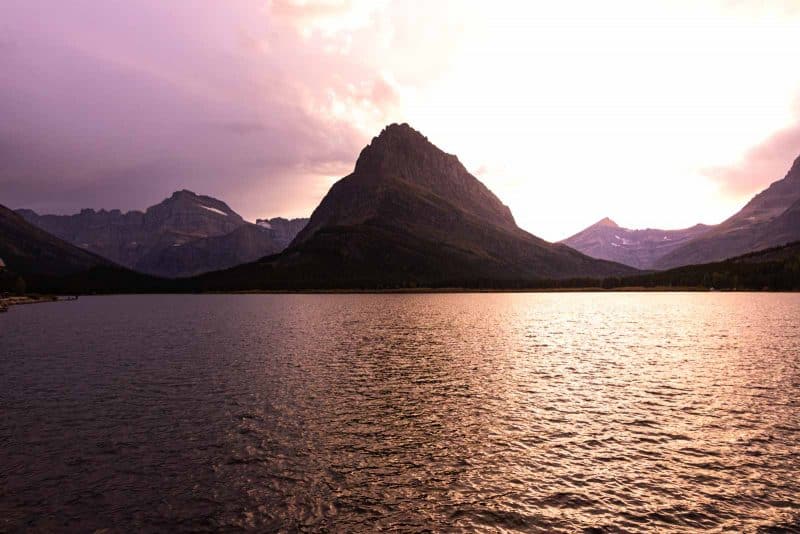 Book ahead! Yes, even in the shoulder season, I was here in September and places were booked out as you can see from above, so plan accordingly and have a back up if you don't want to book ahead of time.
With that said, campsites are the same! I'd highly recommend when switching campsites that you arrive when people are leaving so you can nab a spot. So between 8-9 am is when we found is a good time to arrive to get a spot. This way you can also quickly set up, and then get on with your day. DON'T set up your site at night, that's just annoying to get done with a hectic hike only to come back to camp and set up a tent.
If you know your exact schedule, some campsite allows pre-booking but not for all of the sites. Most sites will leave a hand full or most of their campsite open for first-come-first-serve.
For those who are tired of driving, don't want to move their car, or are here when it's a bit busy and think they won't get good parking at a trailhead, there's a free shuttle to look into. Many of the main hotels, lodges, and campsites in Glacier National Park have a bus stop at them.
That should do it, I hope this has helped you choose where to stay in Glacier National Park.
Don't forget to read my guide on things to do in Glacier National Park.
So where will you be staying in Glacier National Park? Will you camp or lodge? Let us know in the comments!
---
---
Don't lose this! Click to pin it now.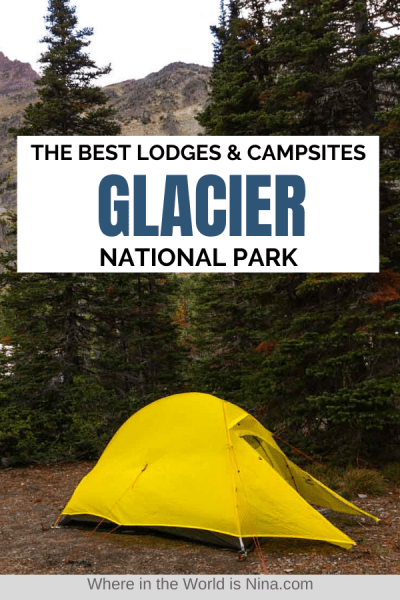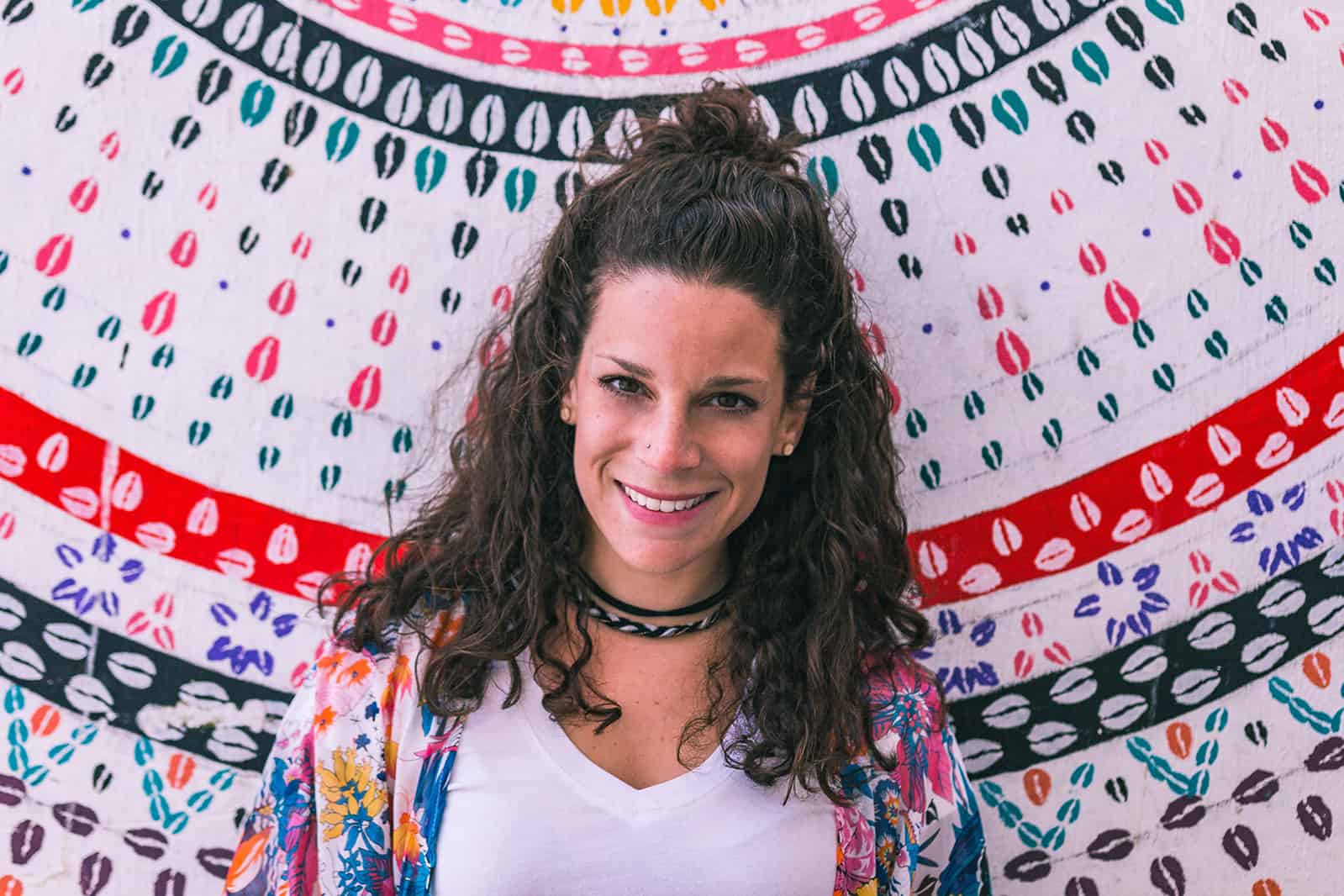 Nina Ragusa is an adventurer, messy bun master, breakfast fan, and full-time travel blogger. She's been abroad since 2011 and blogging on Where in the World is Nina? for nearly as long. Nina helps people like you move around the world while making money. She loves talking about how to work abroad and online to travel longer!