This guide to things to do in Grand Teton National Park is authored by Sarah and Matt.
Located in the northwestern corner of Wyoming, just south of Yellowstone, Grand Teton National Park is one of the country's most beautiful and most visited national parks.
The Grand Teton mountains, known for their distinctive jagged peaks, tower over an expansive wilderness filled with diverse wildlife, alpine lakes, old-growth forest, meandering rivers, hundreds of miles of hiking trails, and innumerable opportunities for outdoor adventure.
With so much natural beauty, there are plenty of things to do in Grand Teton National Park, from hiking to camping, rafting, and kayaking. In this article, we have listed all of our favorite things to do in Grand Teton so that you can plan your own epic adventure in one of the most iconic areas of the American West.
About Grand Teton National Park
Grand Teton National Park is huge, covering an expansive 300,000 acres. Within its boundaries, there are hundreds of miles of hiking trails, countless lakes, moose, bears, elk, rivers, wildflowers, and, of course, the striking Grand Teton mountains.
In all of our travels, no place has captured our hearts quite like the Tetons.
Located about 30 minutes north of Jackson, WY, and just south of Yellowstone National Park, Grand Teton is ideally located for any western adventure.
However, with so many awesome things to do and great hikes in Grand Teton National Park, it can be a challenge to figure out what to do when visiting the park. But don't worry, we are here to help!
Best Things To Do in Grand Teton National Park
---
Below we've rounded up 14 of the best things to do in Grand Teton National Park to help you plan an epic adventure.
We have spent tons of time exploring the area, so you can be sure that everything we recommend is top-notch!
1. Go Kayaking on Jackson Lake
There are beautiful lakes scattered throughout Grand Teton National Park, and getting out on the water is one of the best ways to explore the park! Jackson Lake sits just below the majestic Teton peaks and is the largest lake in the park.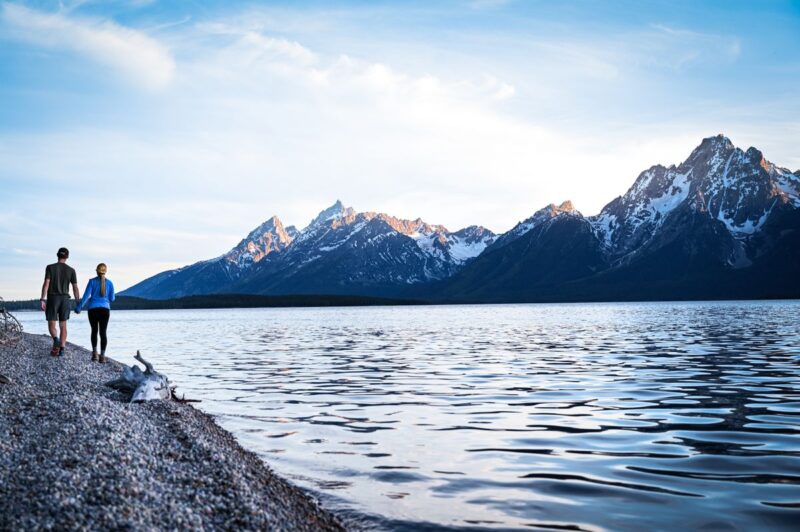 With towering mountains providing a dramatic backdrop, spending a day exploring Jackson Lake is a fun adventure and definitely one of the best things to do in Grand Teton.
Several small islands and rocky beaches you can easily reach with a short kayaking trip that makes the perfect spot to go swimming or have a picnic!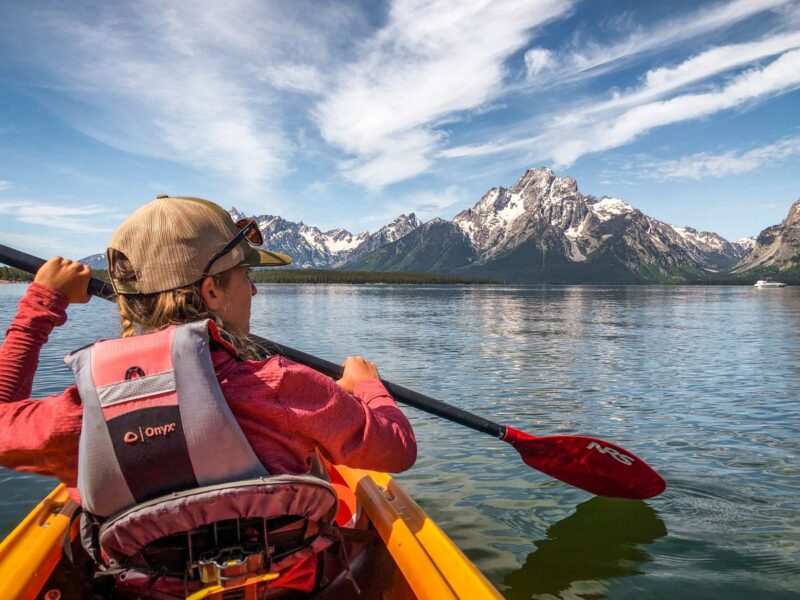 The Grand Teton Lodge Company (GTLC) is located right on the shores of Jackson Lake and makes renting kayaks super simple. However, the convenience will come at the cost of $30 per hour for a single kayak, with a 2-hour minimum.
Alternatively, Rendezvous River Sports in Jackson offers a more affordable option, with single kayaks costing $50 for the full day. However, to save money, you'll have to transport the kayaks from Jackson to Jackson Lake (about an hour's drive).
2. Hike to Delta Lake
Distance: 7.2 miles
Type of Trail: Out & Back
Difficulty: Hard
Elevation Gain: 2,247 ft
Hiking to Delta Lake is one of the best things in Grand Teton National Park! This challenging, 7.2-mile round trip trek brings you above the foothills and up close to the craggy Teton peaks, reaching a shockingly teal lake and one of the best views in the park.
Reaching Delta Lake is not an easy feat. The trail is steep, gaining 2,247 feet of elevation gain over just 3.6 miles to reach the lake. The final half-mile to Delta Lake is an unmaintained trail that is steep, rocky, difficult to follow and involves some moderate rock scrambling.
Nonetheless, you will quickly see that the destination is worth the journey when you climb up the last stretch and lay eyes upon the most stunning view of Delta Lake with the pointy Tetons towering in the background.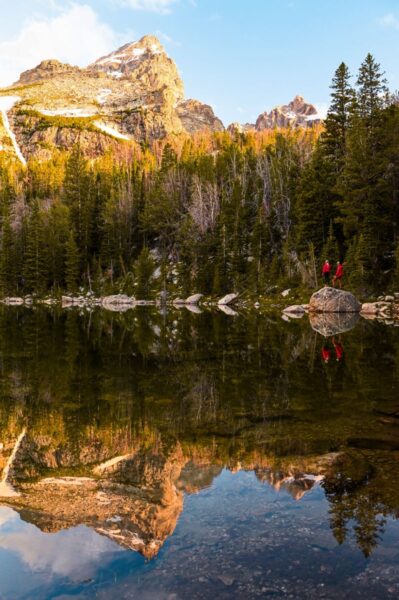 If you want to extend your adventure, you can continue to Surprise and Amphitheater Lakes, which share much of the same trail as Delta Lake.
Tacking on a detour to Surprise and Amphitheater Lakes will add about 4.3 miles and 1,500 feet of elevation gain to your hike, so only continue if you have plenty of time and energy left.
3. Spend a Morning at Bradley and Taggart Lakes
Distance: 6 miles
Type of Trail: Loop
Difficulty: Moderate
Elevation Gain: 761 ft
Bradley and Taggart Lakes are nestled in the foothills of the Tetons and provide stunning views of the massive granite peaks in the distance. Bradley and Taggart Lakes can be reached via a moderate 6-mile round trip hike, with the option for a shorter 3.5-mile out-and-back hike that only goes to Taggart Lake.
Although the lakes get busy later in the day, you can find a bit of solitude here if you visit during the morning. In addition, the wind tends to be calmer in the morning, which means you've got a good shot at seeing an epic reflection of the Tetons on the still waters.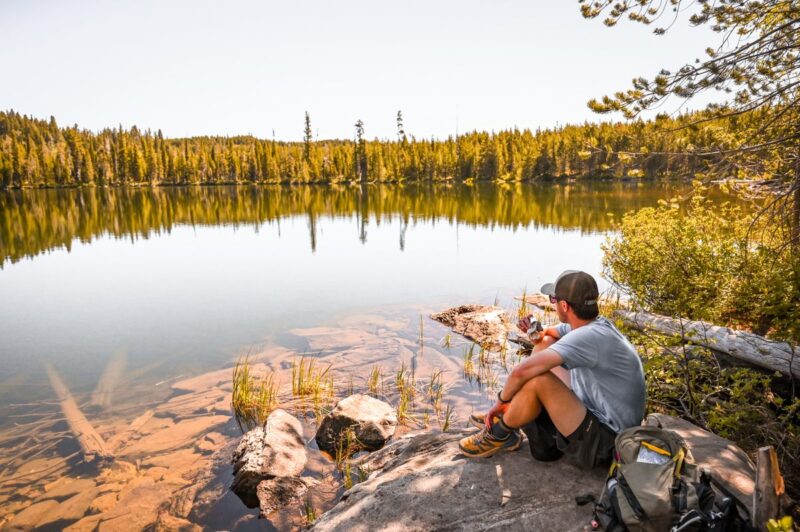 Packing a breakfast and spending a serene morning hanging out by one of the lakes while basking in the peaceful morning air is undoubtedly one of the best things to do in Grand Teton!
4. Take a Boat Ride Across Jenny Lake (Popular Thing To Do in Grand Teton National Park)
One of the most popular things to do in Grand Teton National Park is to take a boat across Jenny Lake. The boat departs from the eastern shore of Jenny Lake and docks on the western shore for a roughly 15-minute ride.
The Jenny Lake shuttle is a popular way to cut off about 2 miles (each way) to the Cascade Canyon trailhead on the western side of Jenny Lake.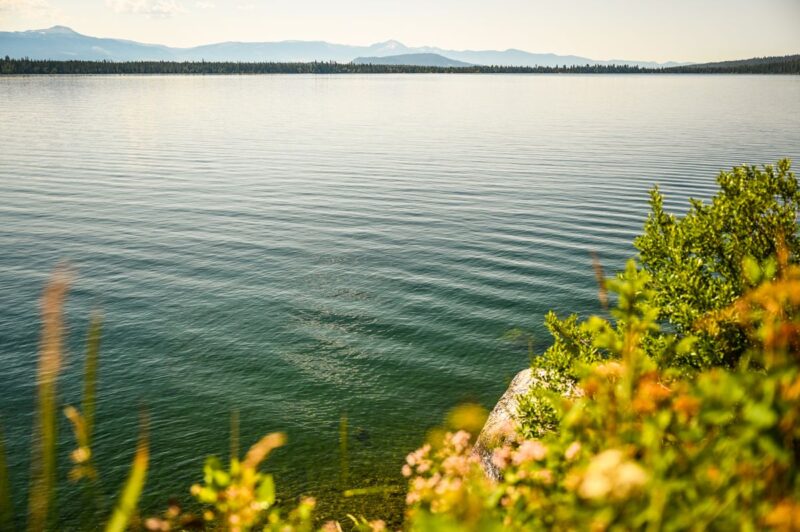 You can also continue hiking to Hidden Falls and Inspiration Point from the western shore, two very popular viewpoints. Whether or not you plan to continue hiking after taking the boat, getting out on the water offers incredible views and a unique experience.
The shuttle is operated by Jenny Lake Boating and costs $18 per adult and $10 per child round trip or $10 per adult and $8 per child one way.
Distance: 4.9 miles
Type of Trail: Loop
Difficulty: Easy
Elevation Gain: 590 ft
In a park that is filled with alpine lakes and tall granite cliffs, can you believe there is only one accessible waterfall in Grand Teton National Park?! Hidden Falls is reached via a 1-mile round trip hike if you take the Jenny Lake boat shuttle or a 5-mile round trip hike from Jenny Lake Trailhead.
As the name implies, the 100-foot waterfall is "hidden" from the main trail. You'll have to take a short detour onto a spur trail to get a straight-on view of the falls.
From Hidden Falls, you can continue less than half a mile to Inspiration Point, a nice viewpoint looking across Jenny Lake and one of the most popular spots in the park.
RELATED: Yellowstone National Park Itinerary + Yellowstone Country & Grand Tetons
6. The Best Thing to Do in Grand Teton to Catch an Epic Sunrise: Visit Schwabacher Landing
No visit to Grand Teton National Park is complete without seeing the sun light up the Teton peaks in shades of pink and yellow!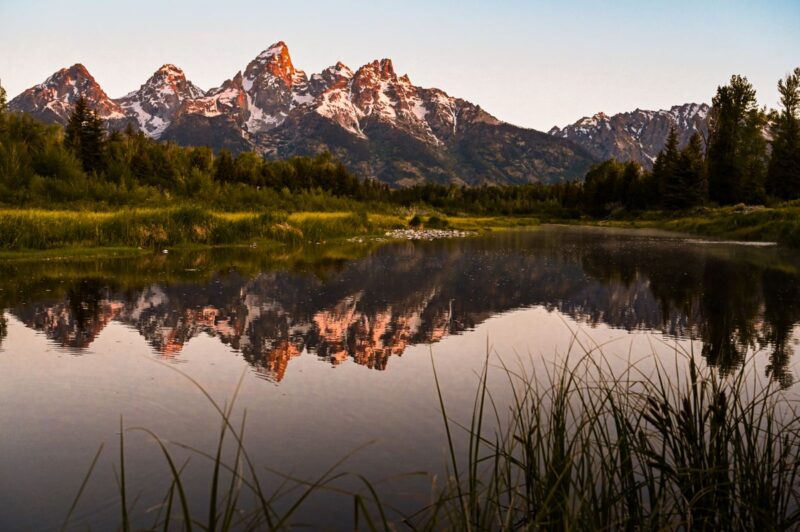 While there are many great sunrise-viewing spots throughout the park, our all-time favorite is Schwabacher's Landing, featuring a stunning reflection of the distinctive Teton peaks onto a twisting stream surrounded by lush vegetation.
To be clear, we aren't the only ones who think catching a sunrise at Schwabacher's Landing is one of the best things to do in Grand Teton, and the area will be busy.
However, most people tend to bunch up close to the parking lot. If you continue along the path that follows the stream for a bit, you may be able to escape the crowds while getting the same epic view.
7. Sleep Under the Stars
Sitting around a warm fire with a cooler full of beer and a star-filled sky is the perfect way to wind down after a long day of adventure.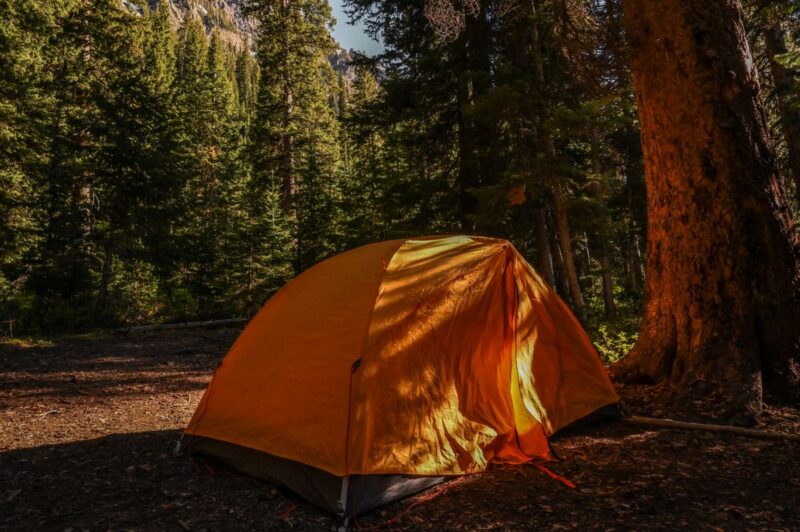 There are six campgrounds throughout Grand Teton National Park, offering hundreds of individual campsites to make outdoor memories. All of the campgrounds can be reserved in advance, and you can expect spots to be booked shortly after being released.
Our favorite campground is Colter Bay, which sits right on the banks of Jackson Lake and offers prime access to epic views of the Tetons.
8. Keep an Eye Out for Wildlife
No matter where you are in Grand Teton National Park, wildlife is never too far away. The park is home to 61 different mammal species, over 300 types of birds, and dozens of fish species.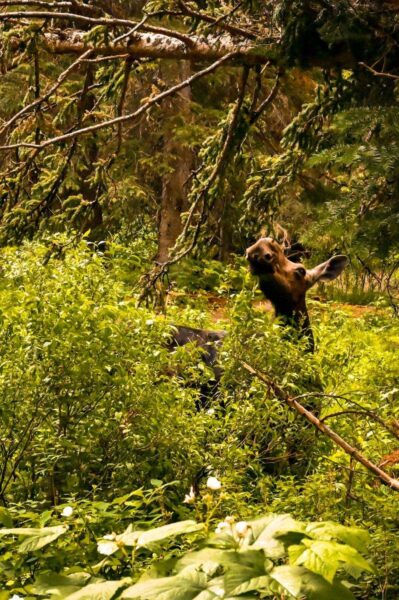 Whether you are out on the trail, driving on a scenic road, or lounging by a lake, there is always a chance to see a moose, bison, bear, eagle, marmot, elk, or one of the many other species.
Of course, some wildlife friends may be a more welcome sight than others, and bear safety is crucial no matter where you are in the park (there are grizzlies in Grand Teton).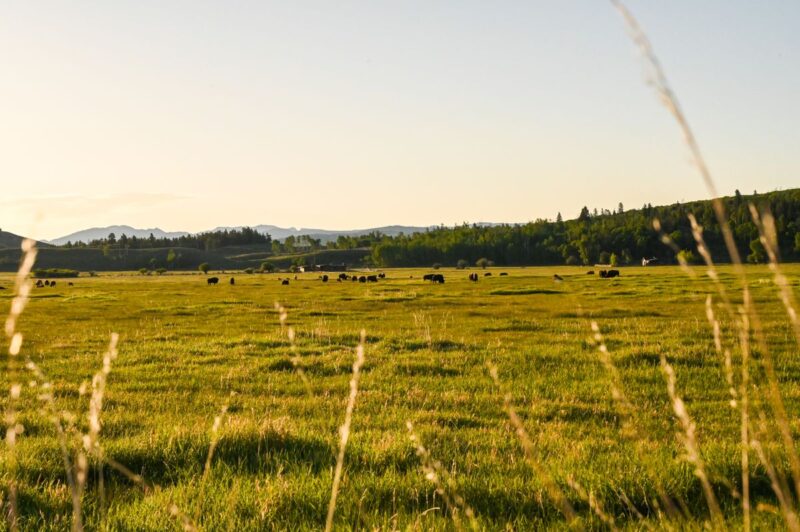 In addition, it is essential to always remember that you are a visitor in the animal's home, and you must maintain a safe distance from all wildlife. A good rule of thumb is you are too close to an animal if they notice you or change their behavior because of your presence.
→ Book a 4-hour wildlife safari adventure.
9. Complete the Best Thing to Do in Grand Teton: The Cascade Canyon – Paintbrush Canyon Loop Hike!
Distance: 21.9 miles
Type of Trail: Loop
Difficulty: Hard
Elevation Gain: 4,229 ft
The Paintbrush Canyon – Cascade Canyon Loop is easily one of the best things to do in Grand Teton and is, in our opinion, the best hike in the park. This hike is a beast, though!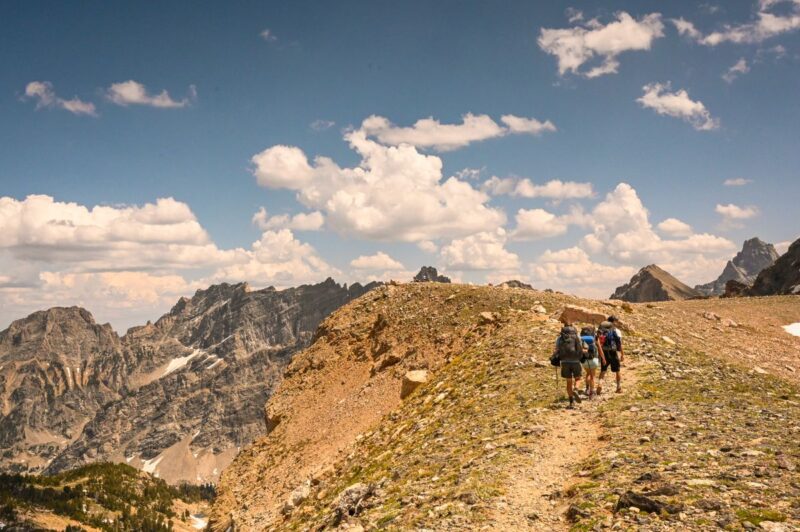 Covering almost 22 miles and 4,229 feet of elevation gain, it is best done as a one-night, two-day backpacking trip but can be completed as a very long day hike if you are motivated, fit, and mildly crazy.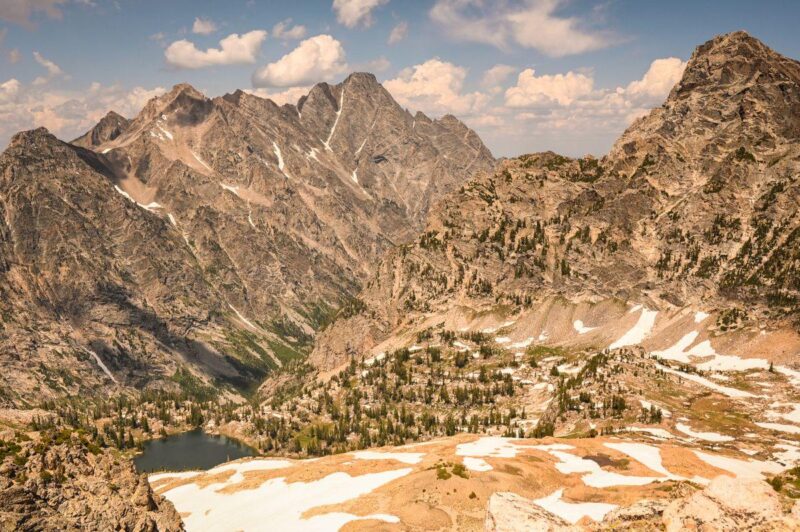 On this hike, you will pass by multiple alpine lakes, and cross over Paintbrush Divide, which is easily our favorite view in the park. Then you'll descend Cascade Canyon with its head-on view of the Grand Teton before reaching Inspiration Point, Hidden Falls, and Jenny Lake.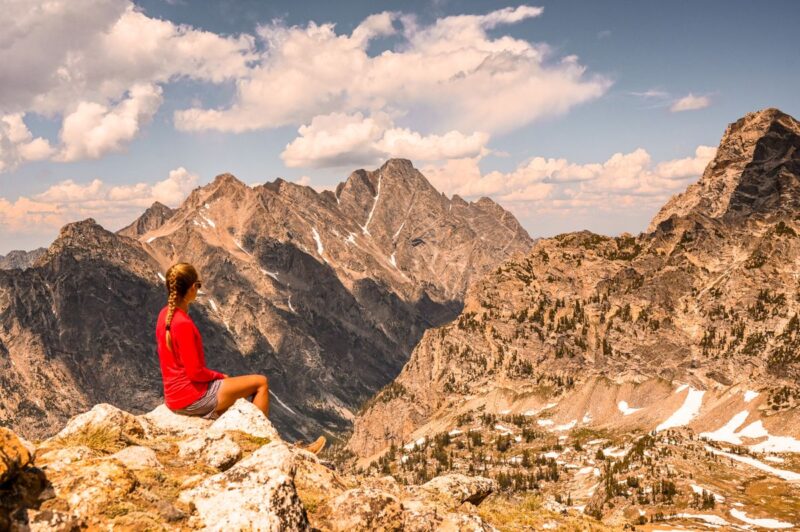 The hike is 22 miles, but you will be entertained the entire way! You might be exhausted, but you will see why it is one of the best things to do in Grand Teton.
10. Go on a Backpacking Trip (an Extreme Thing to Do in Grand Teton!)
We highly recommend getting out into the backcountry on a backpacking trip! The Paintbrush Canyon – Cascade Canyon loop (described above) is an excellent option for one-night backpacking.
If you want to explore the best the park has to offer, the incredible 40-mile Teton Crest Trail leads through some of the most beautiful and remote parts of the park. Backpacking to Surprise Lake is another great option for an easy, one-night trip.
There are dozens of potential backpacking trips in the park, and while some are certainly better than others, any time spent in the backcountry will be on your list of best things to do in Grand Teton!
Permits are required for backpacking in the Grand Tetons. Two-thirds of permits are released on the first Wednesday of January on recreation.gov for dates throughout the entire season. The remaining permits are available for walk-ins on a first-come-first-serve basis up to one day before your trip.
You can read more about backcountry permits here.
11. Photograph Mormon Row
The Grand Tetons are a photographer's dream, with unbelievable views around every corner. But one of the most popular spots to take pictures in Grand Teton is Mormon Row, a settlement established by a group of Mormon homesteaders in the 1890s.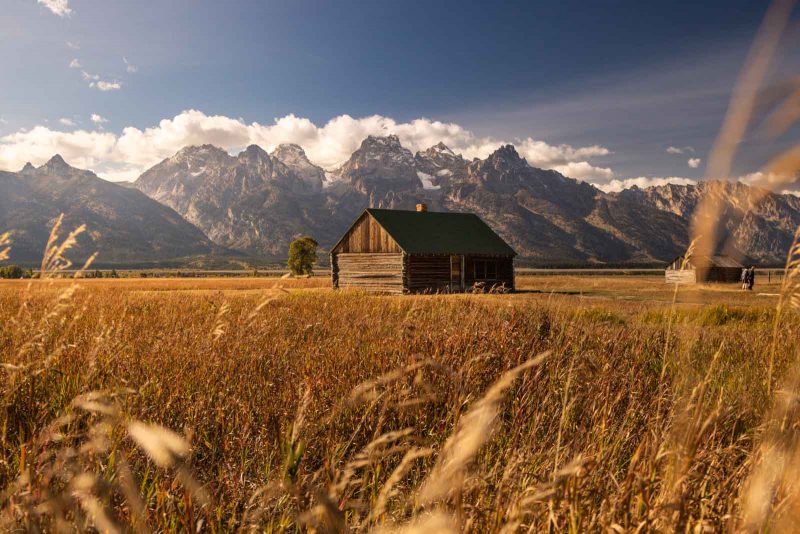 The old wooden barns provide the perfect foreground for epic shots of the Teton peaks in the background!
12. Spend an Afternoon Exploring Jackson, WY
If you need to give your legs a quick break from all the hiking, you're in luck! The charming, growing, and frankly, expensive town of Jackson, Wyoming, is located just 20 minutes outside of Grand Teton National Park.
Although everything in Jackson is a bit pricey, it is still a great place to spend an afternoon strolling through the various shops, grabbing a bite to eat, or enjoying a cold beer.
Many people make Jackson their home base for exploring Grand Teton National Park. However, if you are looking for more budget-friendly accommodations, we highly recommend checking out Victor, Driggs, and Tetonia, just across the border in Idaho.
Though a bit farther from the park, these towns offer more reasonable rates than Jackson and have beautiful views of the Western side of the Tetons (a view you can't see from the park!).
Tip: If you are interested in really good craft beer, check out the Grand Teton Brewing Company, a brewery located near Victor, Idaho. Located about 40 minutes from the park, we promise the beer is worth the drive (and you may find yourself stocking up on 6-packs to take with you…)
RELATED: 17 Legendary American Road Trips
13. Go Rafting on the Snake River
Rafting down the winding Snake River is another great way to experience Grand Teton National Park. Along the way, guides will share expansive knowledge of the local wildlife and history, giving a unique perspective to the area.
While there are other outfitters in the area, this one has a strong track record and is a great tour to book.
→ Book this Snake River Rafting Tour
14. Watch the Sunset from Colter Bay Lakeshore Trail
Distance: 2.5 miles
Type of Trail: Loop
Difficulty: Easy
Elevation Gain: 85 ft
The Colter Bay Lakeshore Trail follows along the eastern bank of Lake Jackson, opposite the towering Tetons.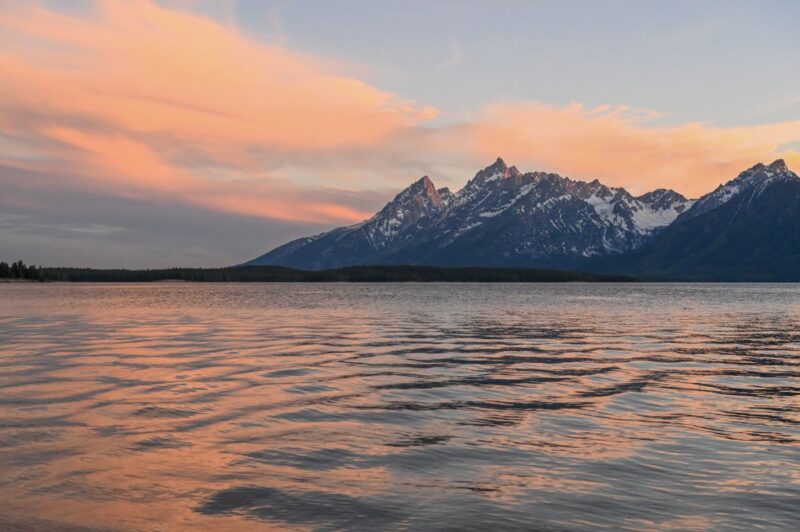 While many people will be huddled along with the beach areas of Jackson Lake for sunset, if you walk a bit down the trail, you are likely to find some solitude to enjoy an amazing Teton sunset away from the crowds.
There is also a rocky beach area alongside the trail that makes for a great spot to hang out and go swimming.
The full hike is 2.5 miles, but you don't need to go the full way. As soon as you find a good spot for sunset, pull out your camera and be ready to snap away!
We hope our favorite things to do in Grand Teton National Park helped you plan your trip!
---
---
>>> BIO
Hi there, we're Sarah and Matt, two digital nomads, outdoor enthusiasts, and the creators of Two Outliers, an adventure travel and photography blog dedicated to helping you plan your next adventure! We road trip full-time across the United States along with our cat, Fitzgerald, while working full time and spending all our free time hiking, camping, backpacking, kayaking and exploring new places. We hope that our experiences will inspire you to be an outlier!