This post about hikes near Washington DC is authored by Cecilia.
Washington DC draws large crowds to reflect on our country's political history and current state of affairs, however, there is so much more to the city beyond politicians, lobbyists, half-smokes, and trendy street art.
With the majestic Blue Ridge Mountains and the expansive Allegheny Mountains only a short drive from DC, outdoor enthusiasts are flocking to nearby hiking trails in search of adventure and some fresh air.
Here is a list of some of the distinct hiking areas in Greater Washington DC. Each area has a number of trails with varying degrees of difficulty. The trails highlighted below are deemed the more popular routes by locals and visitors alike who seek outdoor adventure and hiking near Washington DC.
Virginia Hikes Near DC
Sky Meadows Loop – Paris, VA
Sky Meadows State Park is conveniently located just off of I-66 making it an easy commute from Washington DC. This pastoral park contrasts with other popular hiking trails in the area. Rather than rocky mountainous terrain, Sky Meadows is bucolic with rolling pastures and farmland.
The popular Sky Meadows Loop features wildflowers, scenic overlooks, and even a few grazing cows! This 1,860-acre park has 10.5 miles of bridled trails, 22 miles of interconnected hiking trails including a 0.3-mile sensory trail, and 9 miles of bike trails so there is a little something for everyone.
In addition to hiking trails, Sky Meadows offers historic tours, nature programs like the "Junior Astronomer" program, and some of the best dispersed campsites in the area.
Miles: 6.8 miles
Elevation Gain: 1,322 ft
Route Type: Loop
Difficulty Level: Moderate
Old Rag Mountain Loop – Etlan, Virginia
Just 75 miles from Washington DC, Shenandoah National Park is a natural wonderland of waterfalls, spectacular mountain views, wildlife, and more. Shenandoah has countless trails for exploring, however, there is one route that consistently ranks as a favorite among hikers, the Old Rag Mountain Loop.
This 9.5-mile trail is not for the faint of heart. Hikers will encounter rock scrambling, intense bouldering, and even a section involving lowering yourself down a 7-foot drop. Despite the challenging terrain, Old Rag is one of the most heavily trafficked trails in Shenandoah National Park.
It is not uncommon to see hikers of all ages along the route. If the loop still seems a bit intimidating, there is an out-and-back trail along the fire road which provides an easier and more direct path to the summit.
Miles: 9.5 miles
Elevation Gain: 2,683 ft
Route Type: Loop
Difficulty Level: Hard
Three Ridges Loop – Nellysford, Virginia
The Three Ridges Wilderness is a popular circuit for hikers, trail runners, and backcountry campers. The lengthy 13.1-mile loop begins along the famed Appalachian Trail, following along the flower-lined crest of the Blue Ridge Mountains offering gorgeous vistas of surrounding Appalachia and the valleys below.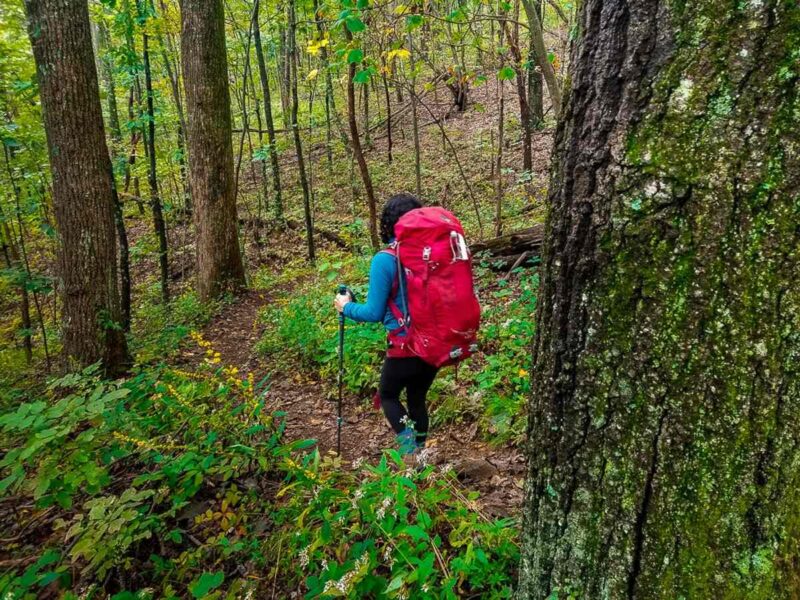 The loop connects into the lower Mau-Har trail which is abundant in small waterfalls and natural swimming pools depending on the time of year.
Those seeking a challenge may opt to complete the circuit in one day, however many choose to set up camp splitting the hike into two days. The Three Ridges Loop has numerous backcountry campsites situated along the creek in addition to two well-maintained Appalachian Trail shelters.
Miles: 13.1 miles
Elevation Gain: 3,917 ft
Route Type: Loop
Difficulty Level: Hard
Cedar Run Trail – Syria, VA
Although there are several hikes near DC with waterfalls and swimming holes, the Cedar Run Trail in Shenandoah National Park stands apart because of a natural "waterslide". Visitors can cool down from the hike by stepping into the stream and sliding down the rock formations into a small pool below.
The out-and-back trail is roughly 3.4 miles, following alongside a stream with intermittent waterfalls. A longer and more strenuous route is available by adding on the White Oak Canyon Trail.
Whether you choose the moderate or more challenging route, don't miss the exhilarating thrill of sliding down the "waterslide"!
Miles: 3.4 miles
Elevation Gain: 1,510 ft
Route Type: Out-and-back
Difficulty Level: Moderate
RELATED: 17 Legendary American Road Trips.
Maryland Hikes Near DC
Billy Goat Trail – Columbia, MD
Located just 30 minutes outside the nation's capital, the Billy Goat trail is ubiquitous with DC area hiking. The trail is divided into three sections (A, B, and C) with A being the most demanding but also the most exciting.
The 4-mile loop of section A involves traversing rugged terrain including angled rocks and boulders. For this reason, this portion of the trail is not dog-friendly and is recommended for experienced hikers. Route B and C are significantly easier and suitable for both children and pets.
While challenging, the trail is incredibly scenic, providing up-close views of cliffs and the Potomac River the entire way. In fact, it is not uncommon to see white water kayakers and rock climbers along this portion of the trail.
Miles: 3.7 miles
Elevation Gain: 280 ft
Route Type: Loop
Difficulty Level: Moderate
Wolf Rock & Chimney Rock – Catoctin Mountain Park, MD
Catoctin Mountain Park, located about 62 miles from Washington DC, forms the northeastern portion of the Blue Ridge Mountains. This area may sound familiar as it is the location of Camp David, the country retreat for the president of the United States.
The exact location of Camp David is undisclosed with restricted access, however, the remaining 6-acres are open to the public for hiking and otherwise exploring.
The Wolf Rock & Chimney Rock trail is a moderately steep but short hike within Catoctin Mountain Park. Visitors pass through mountain laurel and rugged terrain before arriving at two panoramic vistas of the Monocacy Valley. Benches are placed intermittently along the trail for weary legs.
Miles: 3.5 miles
Elevation Gain: 1419 ft.
Route Type: Loop
Difficulty Level: Moderate
Northern Peaks Trail – Sugarloaf Mountain, MD
Sugarloaf is a unique geological feature known as a monadnock or a mountain that remains after erosion of the surrounding land. Today the summit stands about 800-feet above picturesque farmland. Visitors can choose from a number of trails varying in distance and difficulty.
The popular Northern Peaks Trail follows a somewhat rocky path through towering oaks and poplars toward White Rocks overlook, an ideal location for taking in the view and enjoying a picnic.
Sugarloaf Mountain draws large crowds throughout the year, particularly during the fall when the leaves begin to change their colors.
Miles: 6.3 miles
Elevation Gain: 1,574 ft.
Route Type: Loop
Difficulty Level: Moderate
RELATED: 27 Incredible Waterfall Hikes on the West Coast, USA.
West Virginia Hikes Near DC
Maryland Heights Trail – Harpers Ferry, WV
Harpers Ferry sits at the intersection of Maryland, Virginia, and West Virginia state borders. The historic town is home to the Appalachian Trail Conservancy, therefore it is only fitting for there to be a popular hiking trail nearby.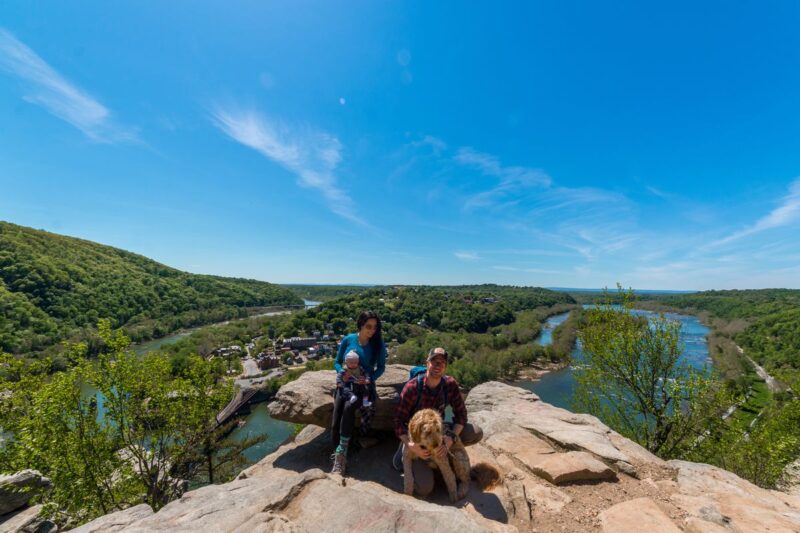 Maryland Heights is undoubtedly the better-known route in the area for its view of the rivers and historic Harpers Ferry below. Although there is some upward hiking involved, the 4.5-mile trail is still considered relatively easy.
Because Maryland Heights is a common activity for visitors to Harpers Ferry, be prepared for large crowds.
Miles: 4.5 miles
Elevation Gain: 1,115 ft
Route Type: Out-and-back
Difficulty Level: Easy
RELATED: Hiking Bend, Oregon: How & What It's Like to Hike South Sister.
Washington DC Hikes
Theodore Roosevelt Island – Washington DC
While the entrance to Theodore Roosevelt Island is located near Fort Myer, Virginia, the 88.5 acre island is actually located within Washington DC city limits. Named after America's 26th President, the land is now owned and managed by the National Park Service and open year round.
There is one primary trail for exploring the island. It is relatively flat and at 1.6 miles, it's more of a relaxing walk making it an ideal activity for a quick DC trip.
The Roosevelt Island trail is popular amongst hikers, walkers, and runners alike. Visitors can take in the sounds of nature as the trail winds through forest before turning into a boardwalk-style path over marsh and swamp.
The trail is deemed fairly accessible so it is not uncommon to see plenty of leashed dogs, strollers, and mobility equipment.
Miles: 1.6 miles
Elevation Gain: 59 ft.
Route Type: Loop
Difficulty Level: Easy
Boulder Bridge Hike – Rock Creek Park, Washington DC
Rock Creek Park is an urban oasis of lush trees and quiet waterways in the middle of Washington DC. It is a peaceful refuge for those yearning for outdoor adventure in the middle of one of the nation's busiest cities.
At 1,754 acres, Rock Creek Park contains over 32 miles of hiking, biking, and horseback riding trails to explore.
The Boulder Bridge is an easy 3-mile hike taking visitors along the creek, past a grove of Mountain Laurel, and eventually to the historic Boulder Bridge. Built in 1902, the historic arch is a symbol of Rock Creek Park and is listed on the National Register of Historic Places.
Miles: 3 miles
Elevation Gain: 210 ft
Route Type: Loop
Difficulty Level: Easy
---
---
>>> BIO
Cecilia Fix is half of the married duo making up Lovicarious.com, an adventure travel website bringing you outdoor adventure, off-the-beaten-path attractions, unique hotels, and thrilling experiences around the world. Through their travel stories, articles, and photography, they hope to inspire others to approach the world with a lens of curiosity and enthusiasm, and to discover their own great adventures.
---