Costa Rica, a country with lush rainforests, towering volcanoes, and abundant biodiversity, also has an abundance of epic waterfalls to chase—Which I made it my duty to do while backpacking Costa Rica!
I have the top waterfalls in Costa Rica to visit right here, you won't need another list! I've also included all the info you need to know, like cost and how to get to these waterfalls. Spoiler alert, you'll have to hike to pretty much all of them!
Best Waterfalls in Costa Rica
---
1. La Fortuna Waterfall
Deep within the Costa Rican rainforest, La Fortuna Waterfall is a marvel and one of the best things to do in La Fortuna. A 230-foot cascade of water greets you after a hike through lush greenery and down some steep steps.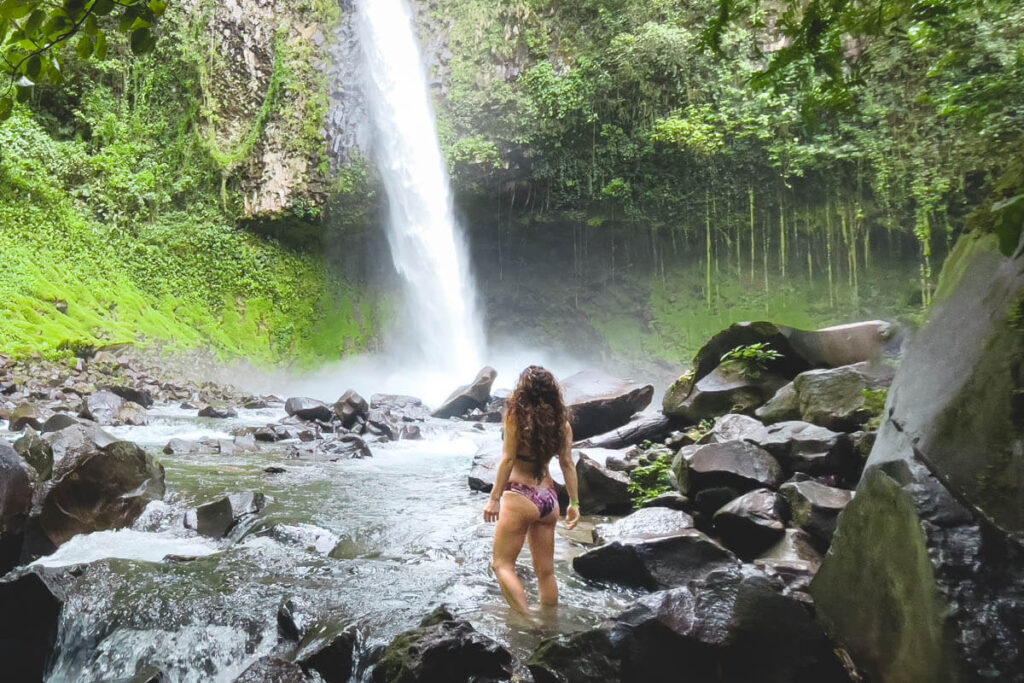 You'll get a bit muddy and have to cross a river to get to it, but it's well worth it. Don't forget the swimsuit! You'll definitely want to take a dip. This is probably my favorite waterfall in Costa Rica, and I bet most would agree!
TIP: There's another (free) waterfall nearby! Read my guide for more info.
How to get here:
The only way to get to the falls is to hike to it, but it's only about a half-mile round trip. To get to the entrance of the hike, you have two options:
Drive: You can drive here yourself or take a shuttle bus from La Fortuna.
Tour: There are great tours that drop you off here, plus add on a bunch of other cool things to do in the area. This is what I did, and it was worth it.
COST: It costs $18 to enter if you drive yourself, or you can pay around $90 and get a full-day tour around La Fortuna, including this waterfall, which I think is the most worth it! Check the tour here.
READ MORE: Hiking to La Fortuna Waterfall: Everything You Need to Know!
2. Uvita Waterfall
You'll venture through the tropical jungle for about five minutes, and the distant hum of falling water will start to get closer. Eventually, you'll happen upon Uvita Waterfall!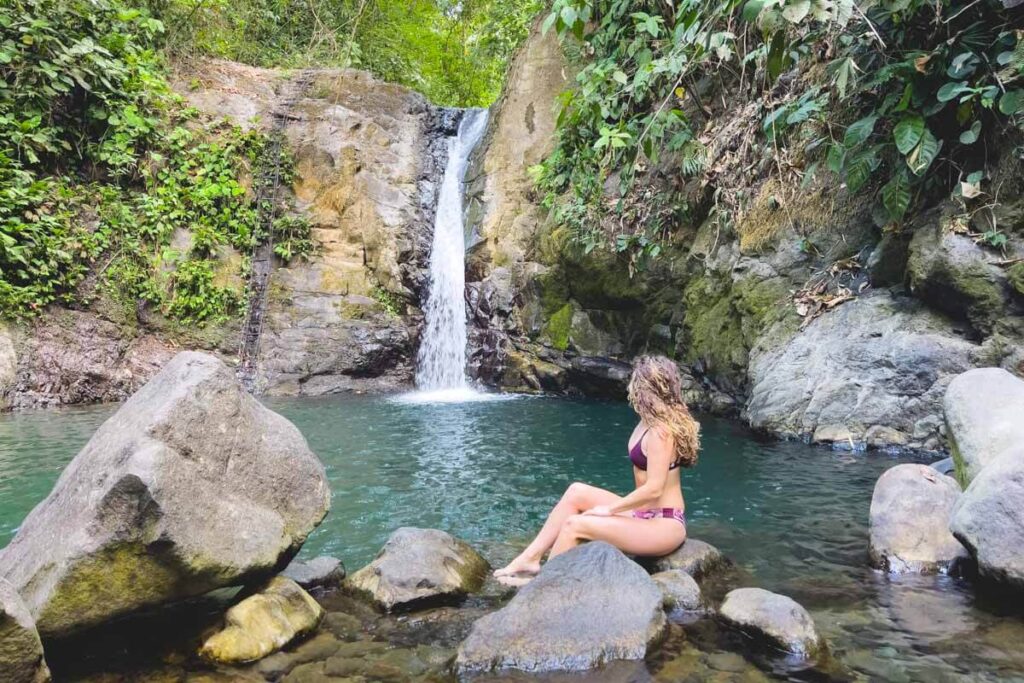 Aside from the waterfall here, there are other chilling pools and mini cascades you can splash around and even jump off of. This is one of the main things to do in Uvita!
How to get here:
Take a taxi from Uvita town or park here and then hike for about 5 minutes down to the falls.
COST: It's $3 to get in.
3. Montezuma Waterfall
I loved the little town of Montezuma, and one reason is because of this gem of a waterfall. It's not huge, but there are two tiers and a cool trail to follow to get to it! It's a great day trip from the nearby picturesque surfing town of Santa Teresa!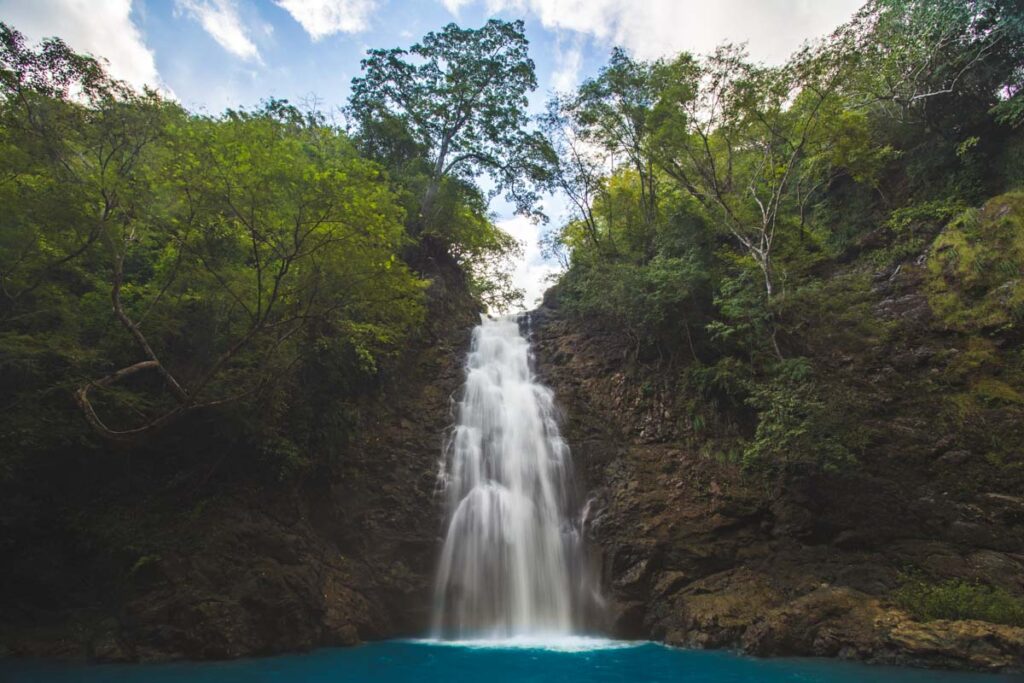 How to get here:
The only way to get to the falls is to hike here, it's about a mile round trip. You can follow this map.
COST: FREE (Appreciate this now, there are NO other free waterfalls in Costa Rica to visit on this list!)
4. Rio Celeste Waterfall in Costa Rica
Rio Celeste Waterfall in Costa Rica's Tenorio Volcano National Park is a popular trip from La Fortuna. You're going to be trekking through the jungle, surrounded by birds and greenery to get to these falls!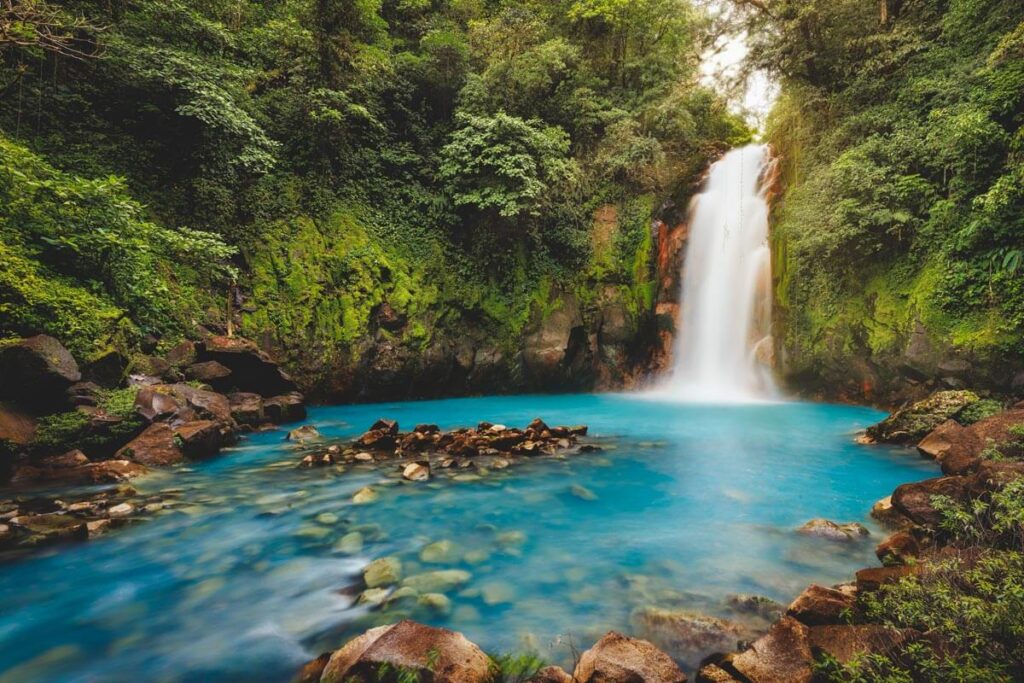 The water here isn't just blue; it's a crazy cool milky blue, making it look out-of-this-world. The waterfall thunders down into a pool below, which looks inviting but unfortunately, you can't swim there. There are swimming spots just down the river though.
How to get here:
It's a moderate 3-mile hike to get to the waterfall, but to get to the entrance, you have two options:
Drive: You can drive yourself to the entrance and then hike in.
Tour: This is a popular tour from La Fortuna so if you aren't driving, this is your best bet to visit!
COST: If you drive yourself, you'll pay just $12 to get in, or you can take a tour which includes pick and drop-off from La Fortuna for under $100. Check tour here.
5. El Tigre Waterfalls
This Costa Rican waterfall is just outside of Monteverde and is a must-visit if you're in the area! It's not just one waterfall but four waterfalls on one epic trail! El Tigre Waterfalls might have been my favorite hike in the country because of how stunning it was.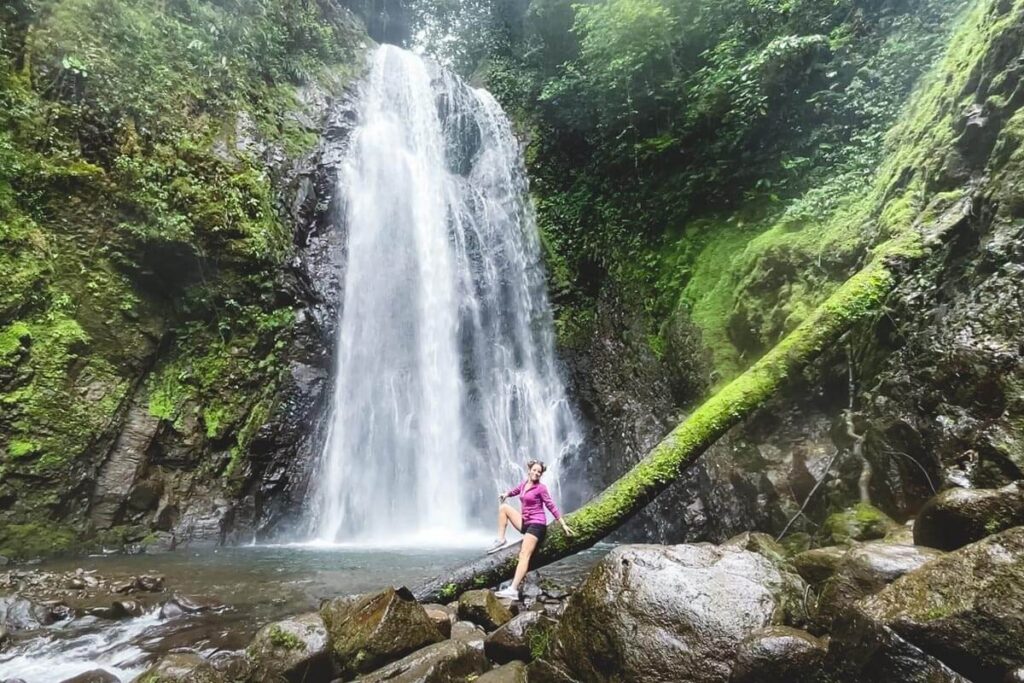 There was the big El Tigre Falls but tons of others of varying sizes plus some very cool suspension bridges to assist you over the rivers during this hike. They also have some free juices and coffee waiting for you when you get back from the hike plus a restaurant in case you get snacky.
How to get here:
The only way to see the falls is to hike the trail, which is a 2.3-mile, moderate loop hike. There are a few other options, though.
Once you check at the front desk for the hike (yes, there's a front desk for this hike!), you'll have the option to just hike it or do several other activities like horseback riding or zip-lining! You can drive to the entrance yourself or pay extra for them to pick you up.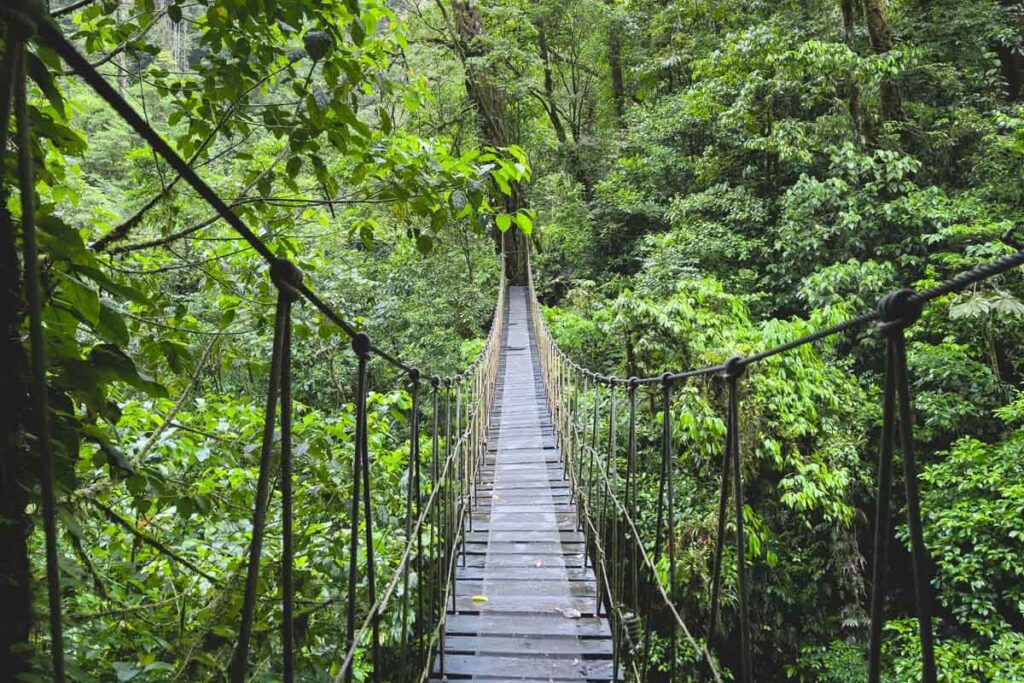 If you pick another option aside from just the hike, your hike can be cut short with a detour route so you can move on to the next activity.
COST: Prices start at $33 to hike this trail (I know, I know), and it goes up if you add on anything else like horseback riding. You can also add on $10 if you want round-trip pick-up from your hotel.
READ MORE: El Tigre Waterfalls in Monteverde, Costa Rica: What to Know!
6. Nauyaca Waterfall in Costa Rica
Nauyaca Waterfalls in the lush rainforests of Costa Rica are a breathtaking natural wonder near the towns of Dominical, Manuel Antonio, and Uvita. If you're visiting one of these towns, a day spent going to Nauyaca is worth it!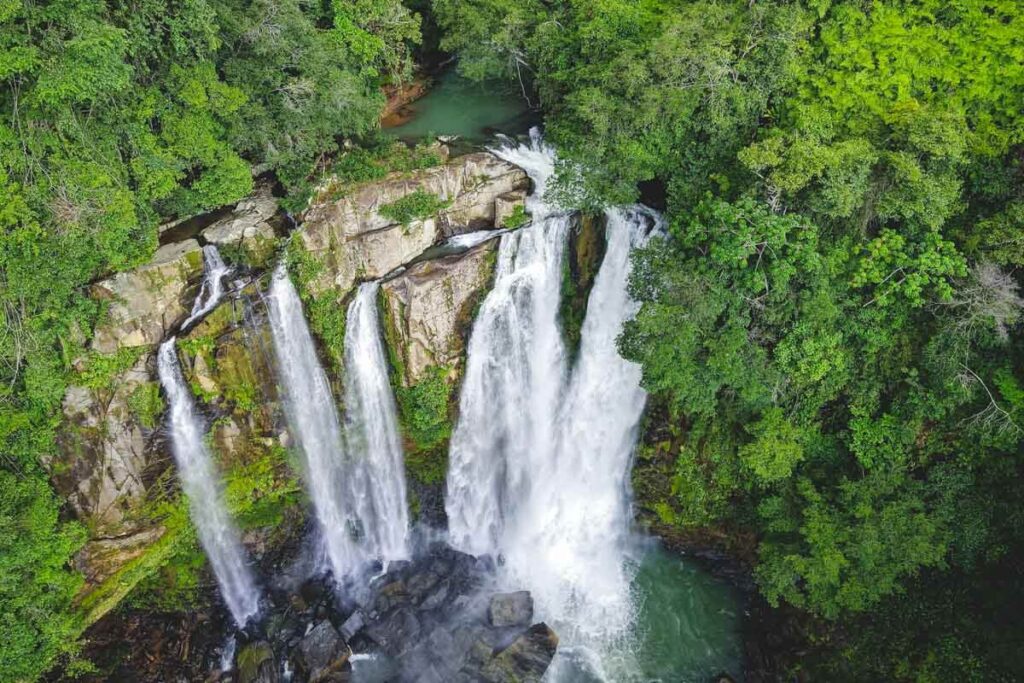 The first waterfall, plunging dramatically from a height of over 150 feet (45 meters), creates a pool at its base, inviting you to take a refreshing dip in the cool, crystal-clear waters. You won't need too much enticing if you hike here in the hot sun, I'm sure. A short hike through the rainforest leads to the second tier of Nauyaca Falls, an even more majestic cascade with a drop of approximately 65 feet (20 meters).
How to get here:
You can take a taxi, a bus or drive to the entrance of this waterfall. You can hike the moderate 6.2 miles out and back or pay for a 4×4 to take you down closer to the falls.
COST: It's just $10 to get in if you're going to hike in, but you can pay more if you want to use their 4×4 to get down and skip the long walk. Alternatively, if you don't want to figure out the bus system to get out here, and want to hike less, take a tour instead. Check out this tour from Manuel Antonio.
7. La Paz Falls
La Paz Waterfall Gardens are located just an hour's drive from San Jose, making it a great day trip from the city. The highlight of La Paz is its series of five waterfalls, each distinct and beautiful. The waterfalls are on a well-maintained trail that winds through the tropical rainforest.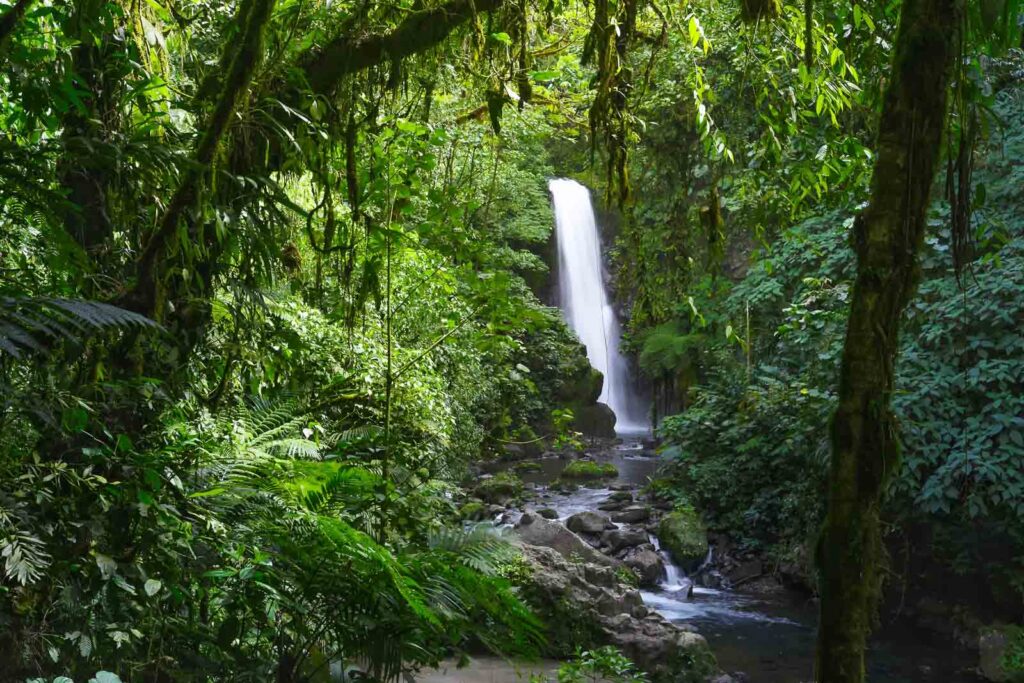 The main waterfall, Magia Blanca, cascades dramatically from a height of 120 feet (37 meters), creating a misty spectacle! You'll be wandering through a garden full of orchids, hummingbirds, and butterflies; it's not just about the waterfall here!
How to get here:
You'll only have to take an easy stroll through the gardens to see the falls here but there's a lot of other things to see too! There are two ways to make it out here:
Drive: You can easily drive out here if you have a car.
Tour: If you aren't driving, you'll want to grab an easy tour from San Jose out here.
COST: It's going to cost around $50 to get in as a foreigner, but it includes the whole garden and wildlife. Get a ticket here. If you aren't driving out here, take a tour for around $100, which also takes you to other nearby highlights like a volcano and picks you up from your hotel! Check here for a tour.
8. Catarata del Toro
Catarata del Toro, located in the central highlands of Costa Rica, will be a cool escape with very few visitors nearby since it's so well tucked away! In the lush cloud forest near the town of Bajos del Toro, you'll find a captivating cascade that plunges an impressive 295 feet (90 meters) into the extinct volcanic crater below! But that's just the start.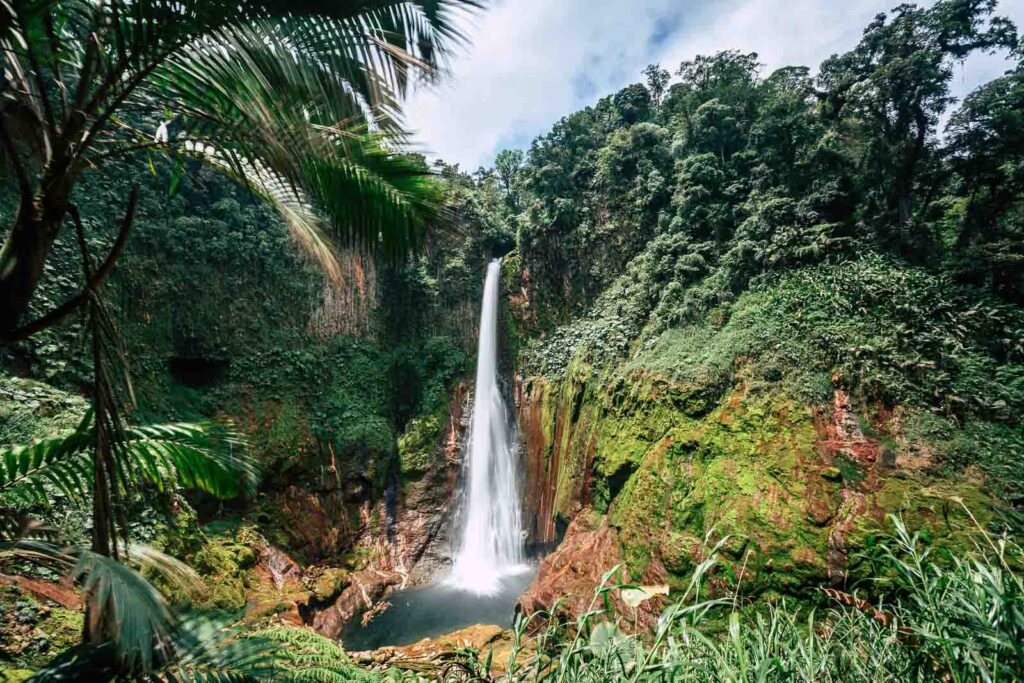 You'll have to navigate through winding mountain roads to get here but it's worth it if you want to frolic amongst some of the coolest waterfalls in Costa Rica. Yep, I said waterfalls with an 's.' There's more! This is another epic jungle hike where you can encounter several beautiful waterfalls. But you'll have to make it out here first!
How to get here:
You'll have to hike to get to the falls. Depending on how much you want to see, you can hike more or less. There are several waterfalls to visit out here. You have two options for getting out here:
Drive: You can drive out here and self-guide yourself around to the waterfalls.
Tour: If you don't want to deal with driving the crazy windy road out here, you can easily take a tour that does all the hard work for you and takes you to the best falls all from San Jose!
COST: If you drive here, it's a $14 entrance fee. If you want a tour out here, it's going to cost around $200! Ouch! You can check prices here. It's a really long day with a good amount of driving.
9. Oropendola Waterfall in Costa Rica
This is another stunning waterfall in Costa Rica that you'll want to explore during your visit. This cascade is located in Parque Nacional Rincón de la Vieja, which is a beautiful park of volcanoes, hot springs, and waterfalls!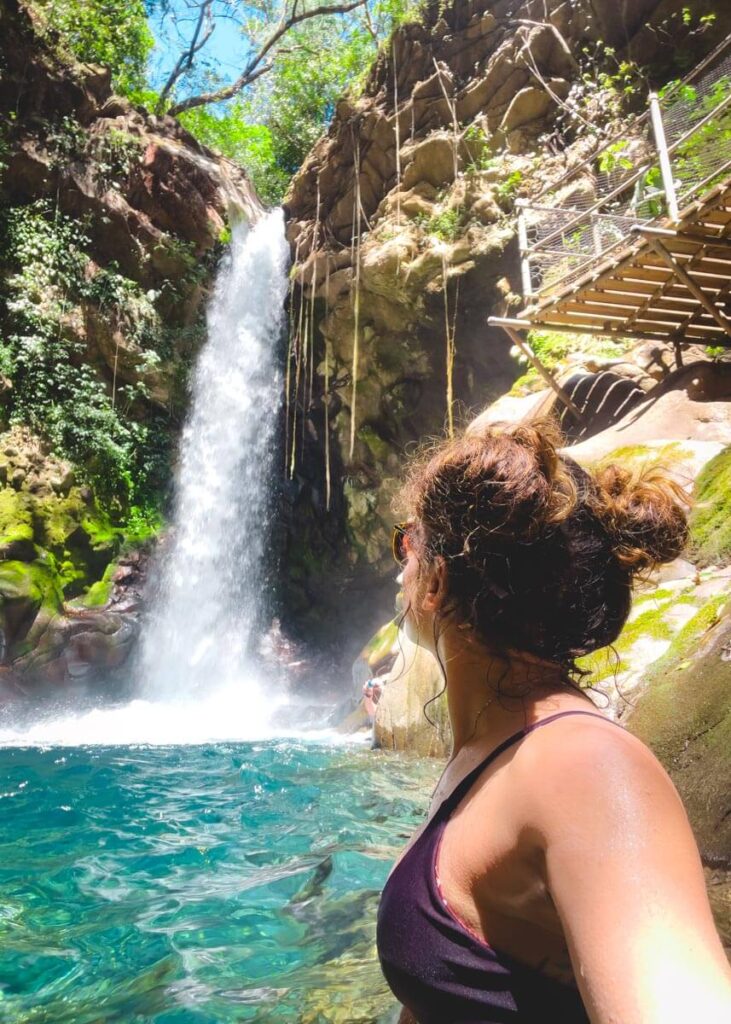 Oropendola Waterfall is really easy to see and can be reached with just a short hike down a dirt path and then over a cool suspension bridge. You'll then find a deck overlooking the stunning and powerful falls, and if you'd like, you can hop in. It was a hot day, and I jumped in right away! It was pretty cold but felt amazing!
How to get here:
It's a short walk that most people can easily do. To actually make it out here, you have two options.
Drive: Drive out here yourself and explore the whole park, not just this waterfall!
Tour: This is the easiest option and it's even what I did; there's much out here! The tour includes hot springs and a volcano hike, so it's super worth it! It's impossible to do without a car, so a tour makes it so easy.
COST: If you drive out here, you must get a ticket at this website. Prices vary as there are packages. In my opinion, the best way to do it is to take a tour which includes other things. It's about $100 for a full day trip, including this waterfall. Get a ticket here. (Day trip from Tamarindo, Playa del Coco, and Playa Hermosa)
10. Catarata Los Murciélagos
Hidden in the cloud forests of Monteverde, this waterfall is a good spot to visit for a couple of hours. Not many people in Monteverde want to make it down here, but I did and I'd do it again!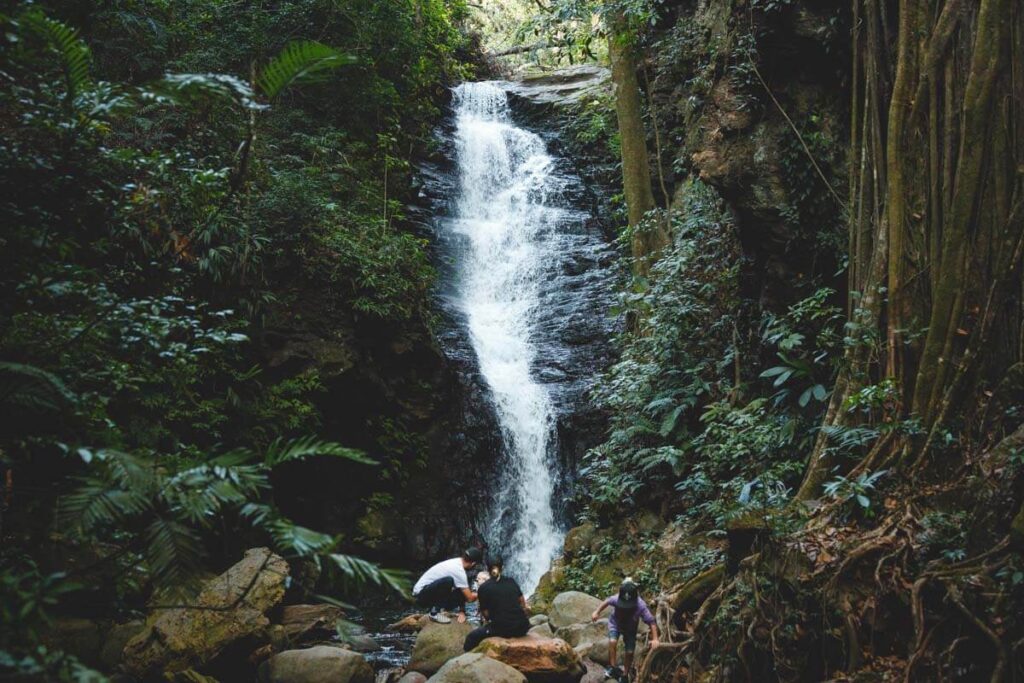 It's a quick hike down, but don't forget, you'll have to save some energy for the walk back up. It's not a huge waterfall, but so beautiful to splash around in and soak your feet peacefully.
How to get here:
This waterfall in Costa Rica is easily reached by walking from the center of Monteverde; that's what I did! And the hike is maybe a mile round trip and not difficult, just uphill on the way back.
COST: $6
I hope this helped you plan your visit to some of Costa Rica's best waterfalls!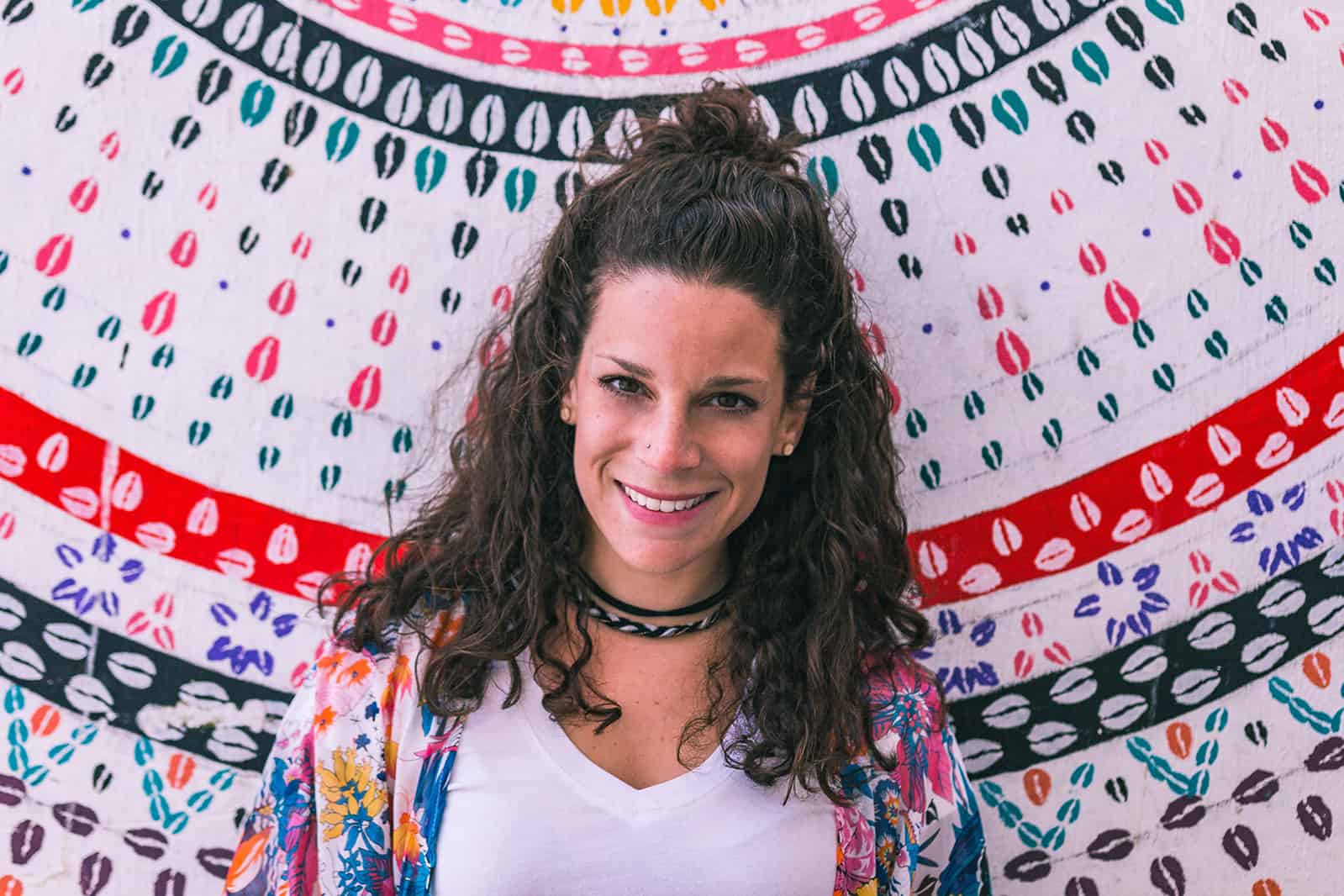 Nina Ragusa is an adventurer, messy bun master, breakfast fan, and full-time travel blogger. She's been abroad since 2011 and blogging on Where in the World is Nina? for nearly as long. Nina helps people like you move around the world while making money. She loves talking about how to work abroad and online to travel longer!