Situated along the southern tip of the Nicola Peninsula, Santa Teresa is a must-see destination for anyone backpacking Costa Rica. This not-so-hidden gem has gained in popularity in recent years, and it's not too shocking once you realize all that this small town has to offer.
With sandy beaches, great surfing opportunities, and some incredible natural areas on its outskirts, Santa Teresa is the perfect combination of relaxation and adventure. And as a Blue Zone destination (AKA a rare area in which people live longer), this beach town is slowly becoming a haven for those looking for a reset from the daily grind.
So, whether you're here for a digital detox or an adrenaline-inducing getaway, you'll find plenty of things to do in Santa Teresa. Let's dive in!
Things to Do in Santa Teresa
---
Santa Teresa Town
Yes, the town itself is a thing to do in Santa Teresa. It's pretty easy to navigate, as it's just one long road. This stretch is about 2.5 miles (4 km), making it pretty straightforward to travel on foot or by bike if you don't have a rental car or four-wheeler.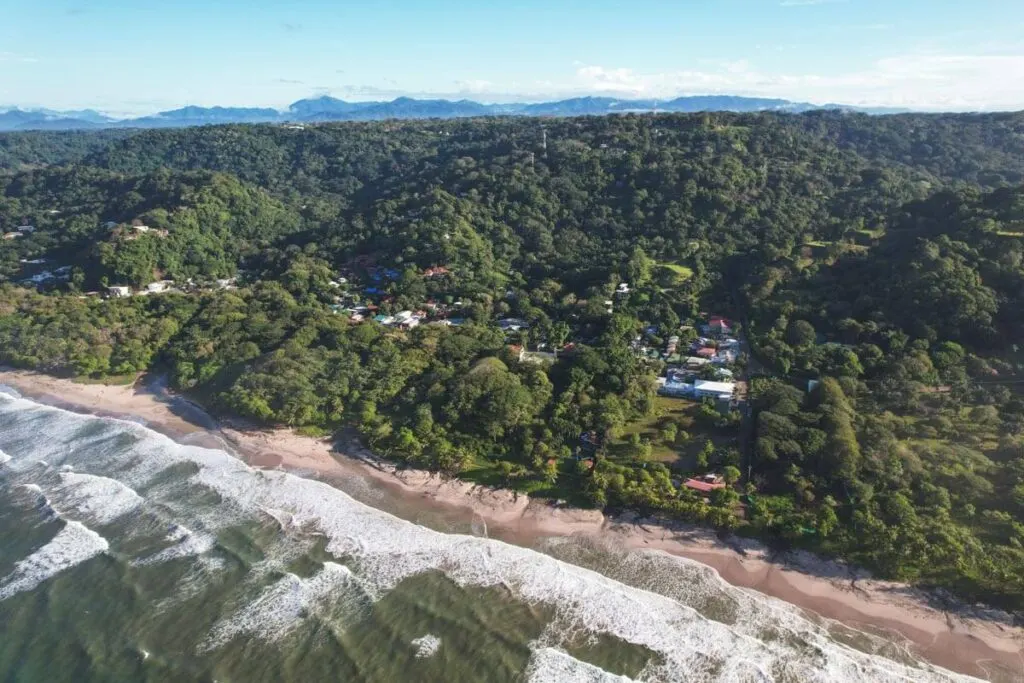 It's worth a wander when you first arrive so you can get your bearings and see all that San Teresa offers. Spoiler alert: there are many restaurants, yoga studios, and beach access points. In other words, it's a paradise for small-town beach lovers. More on getting around and the best spots to eat etc., in a bit.
Keep your eyes aimed at the lush treeline to see howler monkeys and iguanas!
Surf Santa Teresa
Of all the great things to do in Santa Teresa, surfing is a rite of passage, even if you don't know what you're doing! Above all, this little village is a surf town. Three main breaks follow the coast, and the constant swell beckons surfers to these scenic shores year-round.
Experienced surfers will love the strong currents at Playa Carmen and Playa Santa Teresa, while beginners will have the best luck in the calm conditions at Playa Hermosa. There are also plenty of spots to take lessons and rent boards on the beach.
If you're looking to just rent a board, you can head to Del Soul Surf in the north, or DELMAR in the south.
For the most recommend surf classes, check here!
When to Surf in Santa Teresa
If you're itching to catch some waves in Santa Teresa, the wet season is where it's at! This awesome surf window stretches from May to August every year. Although truth be told, there's no shortage of swells throughout the year at this hotspot. And guess what? Summertime is like a gift for those new to the surfing game.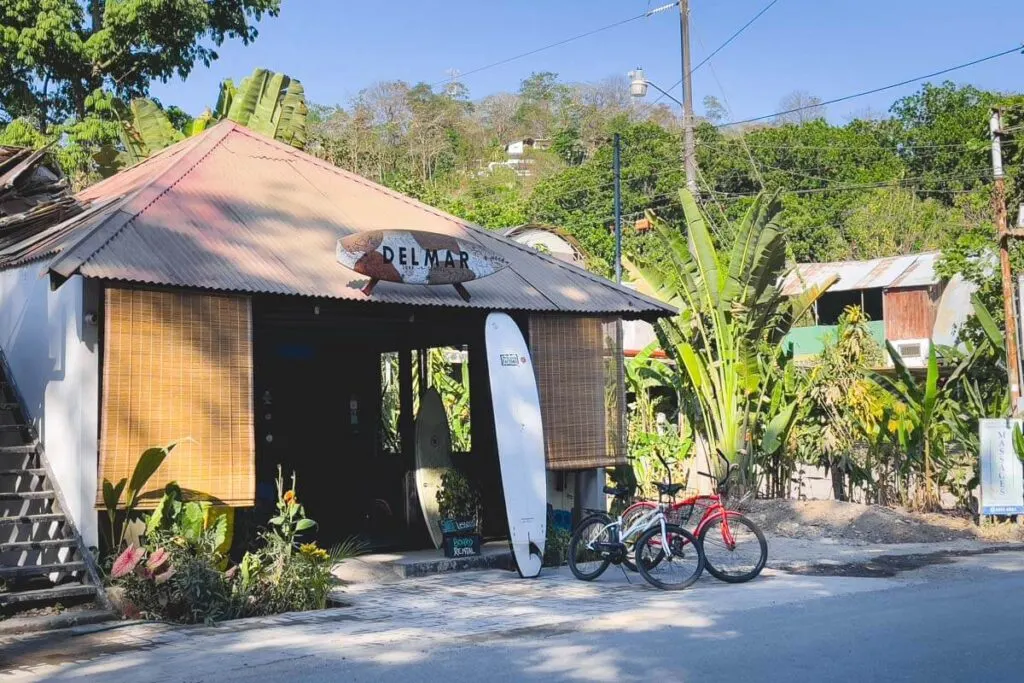 When it comes to Costa Rica, it's a simple split: dry season and green season, which is basically the wet season. The green season is your golden ticket for riding waves along the Pacific coast and specifically in Santa Teresa.
Brace yourself for super dependable SW and NW swells that practically guarantee you surfing action on the daily. And even when things cool down a bit during the low season, it's not half bad. Sure, it's a tad less intense and predictable, but hey, the weather's warmer, so there's that!
Dry season (October to April)
As October rolls around, things mellow out and warm up along the Pacific coast near Santa Teresa. It's paradise for sun seekers, though not exactly prime time for surfers but the relatively consistent surf ensures you've got rideable waves about 70% of the time. Newcomers often dig this time of year since the waves are a bit gentler.
Green Season (May to August)
Down on the coast, those rainstorms are cooking up some signature swells in the SW and NW directions of the Pacific—the waves are rocking almost 90% of the time! The midpoint of the wet season/Green Season brings out the big guns, making it the ultimate time to visit if you're chasing the most intense and tubular breaks.
Best Beaches in Santa Teresa
Beach bumming is a close second regarding the best things to do in Santa Teresa, and you won't be short on options. There are several sandy stretches to park your bum around town, each with its unique charm. Here are a few fav beaches in Santa Teresa:
– Playa Santa Teresa
Playa Santa Teresa is probably the most popular beach in town, and it's just as renowned for sunbathing as it is for surfing. The scenery here is top-notch, featuring a wide patch of white sand lined by the jungle.
– Playa Carmen
Situated just south of the main drag, Playa Carmen is another of Santa Teresa's best beaches. It's less crowded than the popular Playa Santa Teresa, with big waves that are great for surfing.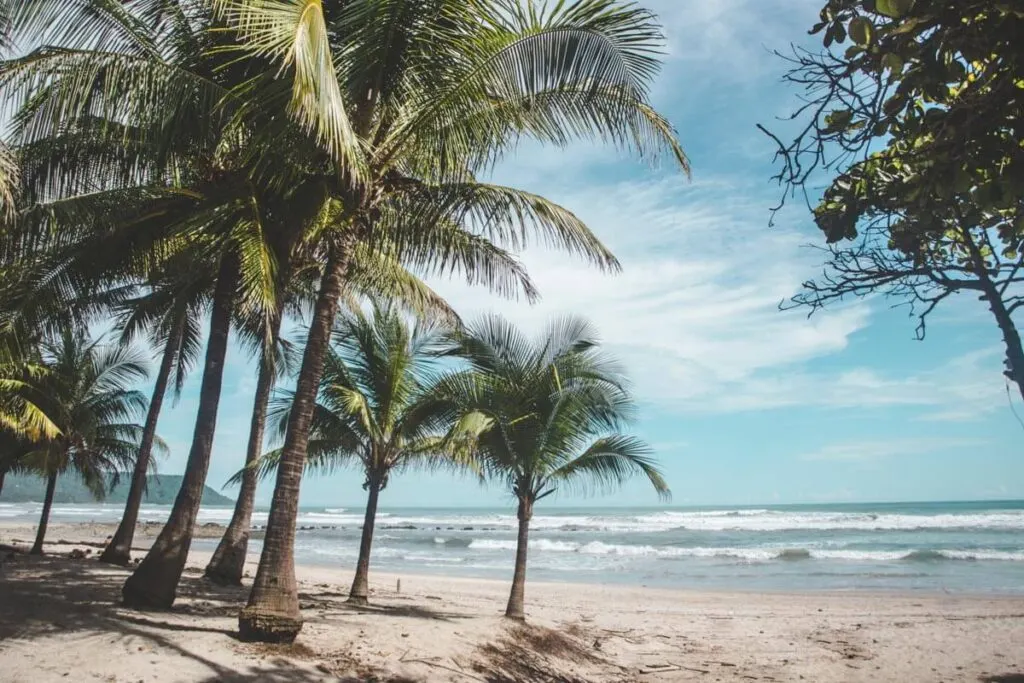 – Playa Hermosa
Literally translating to 'beautiful beach,' Playa Hermosa is an obvious choice for a scenic beach day. Palm-lined shores and soft white sand make this a great place to park your bum and a great spot for learning how to surf!
Mal Pais Tide Pools Near Santa Teresa
Mal Pais is a little town south of Santa Teresa that boasts some seriously cool tide pools. These aren't just little puddles with several sea creatures hanging out. No. These are literal POOLS carved into the rocky coastline.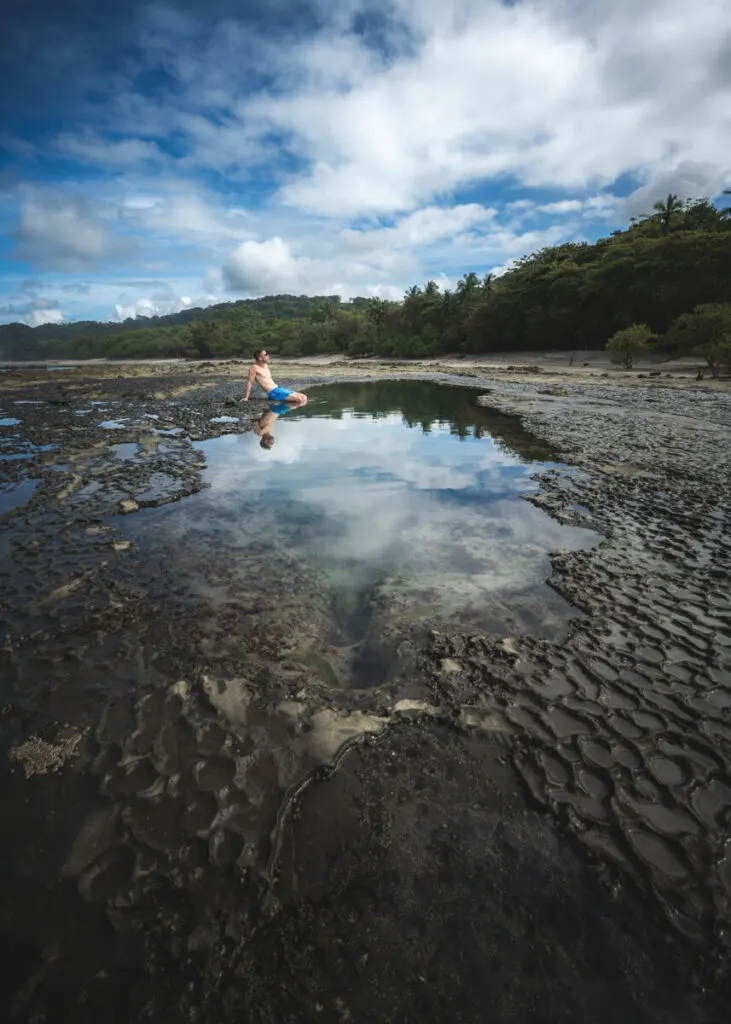 The pools come in all shapes in sizes, and the views across the bay of Santa Teresa are reason enough to visit. Spend time crawling around this rocky outcrop at low tide, and check the pools for excellent fish, crabs, and other marine life. Beware of sea urchins, and wear some sturdy waterproof footwear!
Find a Spot to Grab a Drink and Laze Around
Don't be afraid to just chill and do absolutely nothing in Santa Teresa! If you don't want to roast your buns on the beach, there are a few cute cafes and hang out along the beach. The Shambala at Hotel Tropico Latino was my fav spot.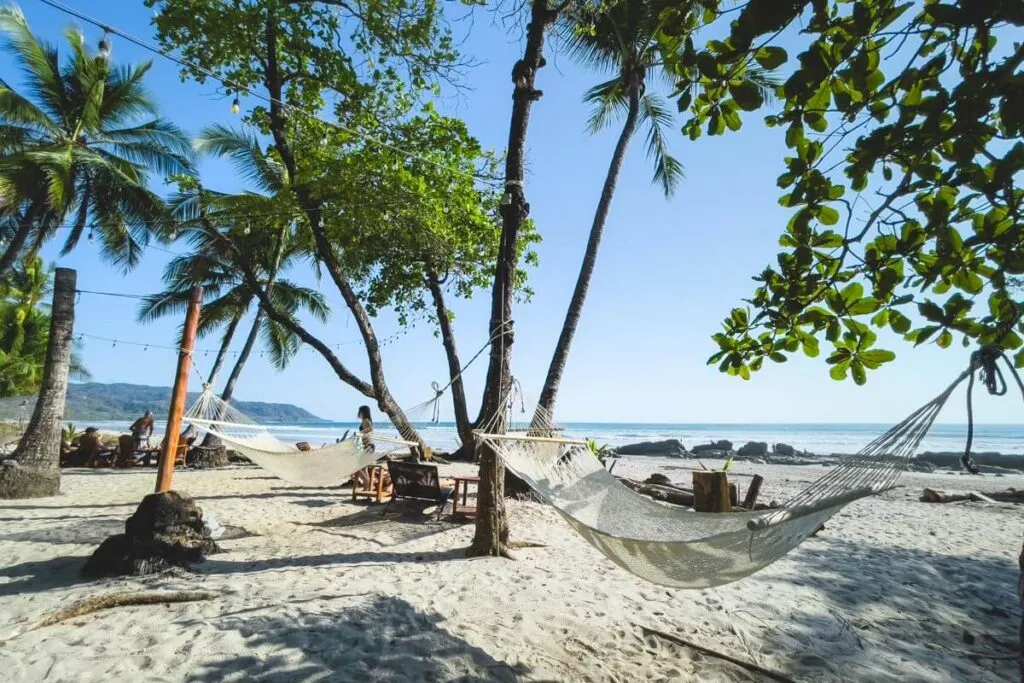 There have great drinks, both alcoholic and non, that are so good, and taste even better when hanging out in one of their hammocks with the sand between your toes. I loved their homemade sodas!
I literally spent hours here eavesdropping, reading, napping, drinking, and doing NOTHING. Which, if you know me, is absolutely wild because I literally don't know how to do nothing. Something about this place got me to do nothing—SHOCKING!
Things to Do in Santa Teresa: Best Day Trips
The town is cool, but one of the most exciting things to do in Santa Teresa is actually get out of the central area. Some pretty awesome natural areas are outside the city center, so check these spots out if you have time for a day trip.
Tortuga Island
Imagine the ideal island paradise. If you're picturing turquoise water, soft sand, and lush hiking trails, you're thinking about Tortuga Island (or Isla Tortuga). There are even wild pigs!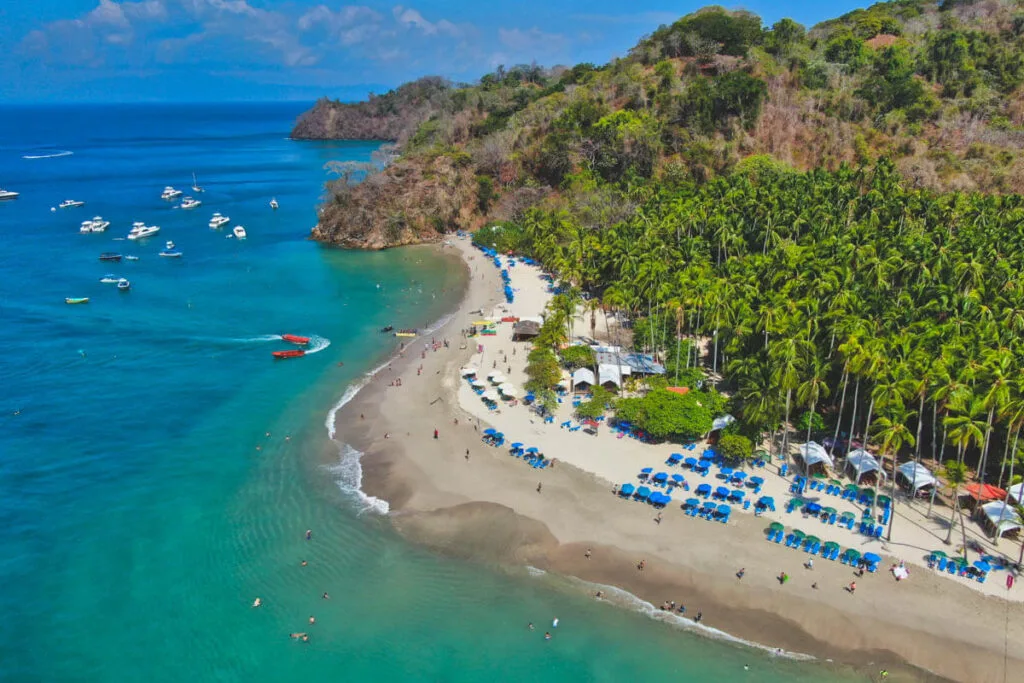 The island sits off of the Nicola Peninsula's southern coast, so you'll definitely need a whole day to get there and explore. Luckily, this is one most popular things to do in Santa Teresa, so you'll find plenty of tours right in town.
They'll whisk you away bright and early, and after taking the boat ride to the island, you'll have all day to bask, drink, eat, kayak, and snorkel!
Montezuma
Montezuma is a wonderful destination for a day trip from Santa Teresa, just about 30 minutes to the east. This charming little hippie village offers a laid-back atmosphere with its beautiful beach, various restaurants, cozy hotels, and even a brewery!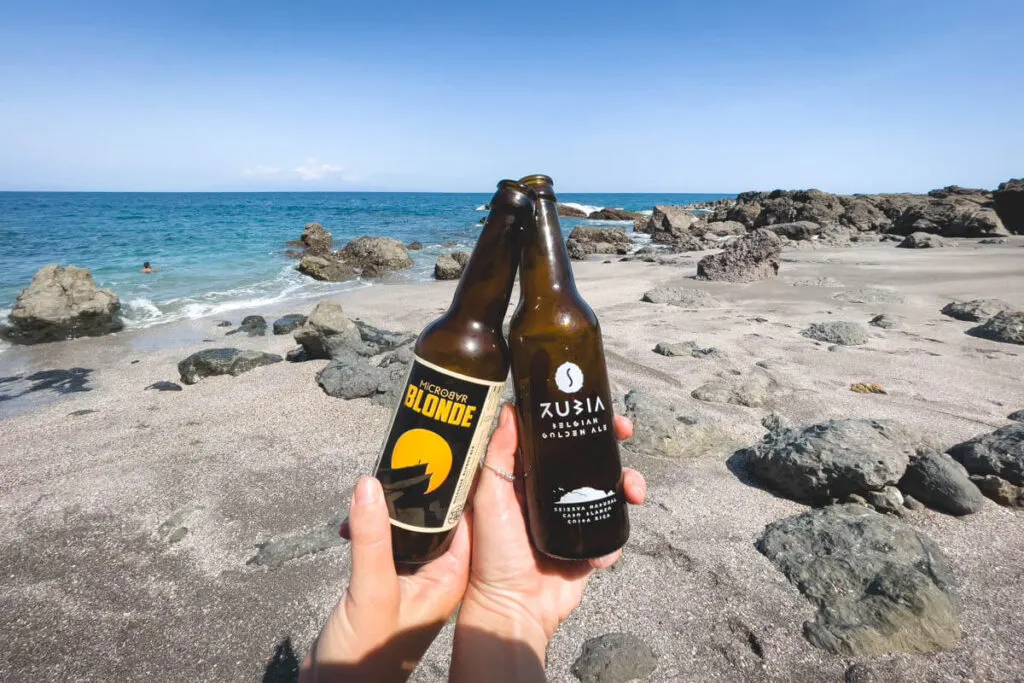 However, the highlight of visiting Montezuma is undoubtedly the waterfall. To get there, you can start by picking up the trail along the southern part of the beach, near where the Rio Montezuma meets the ocean.
The hike to the waterfall is pleasantly short and easy, making it accessible to most visitors. Once you arrive at the falls, a refreshing pool awaits below, inviting you to take a cool dip and immerse yourself in the natural beauty of the place.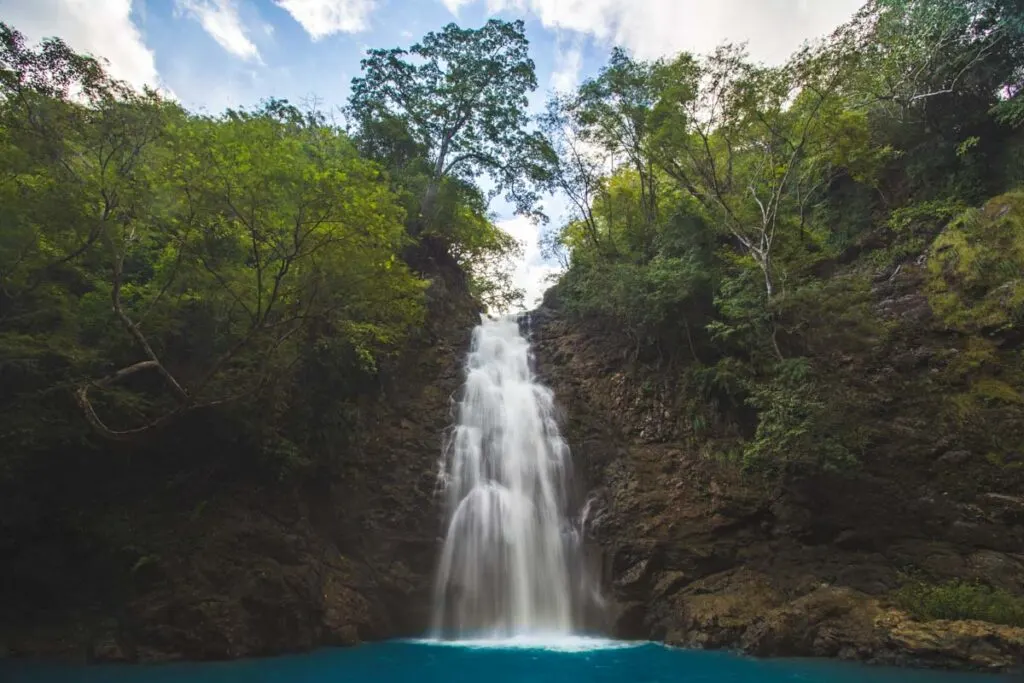 When a storm is brewing, you might get lucky and even catch some waves off the coast of the beaches here. Montezuma's combination of a relaxed village vibe and the allure of its picturesque waterfall makes it a cool thing to do in Santa Teresa.
Make sure to stop at La Selva Cerveza Artesanal to grab some beers from the beach, and if you're hungry after, stop at Soda Tipica Las Palmeras for a bite to eat.
Cabuya Island Cemetery
There's also an interesting island that you can visit, which just so happens to be a cemetery too! The Cabuya Island Cemetery is just off the coast south of Montezuma, and at low tide, you can walk out to it (otherwise, you'll need to pay for a boat).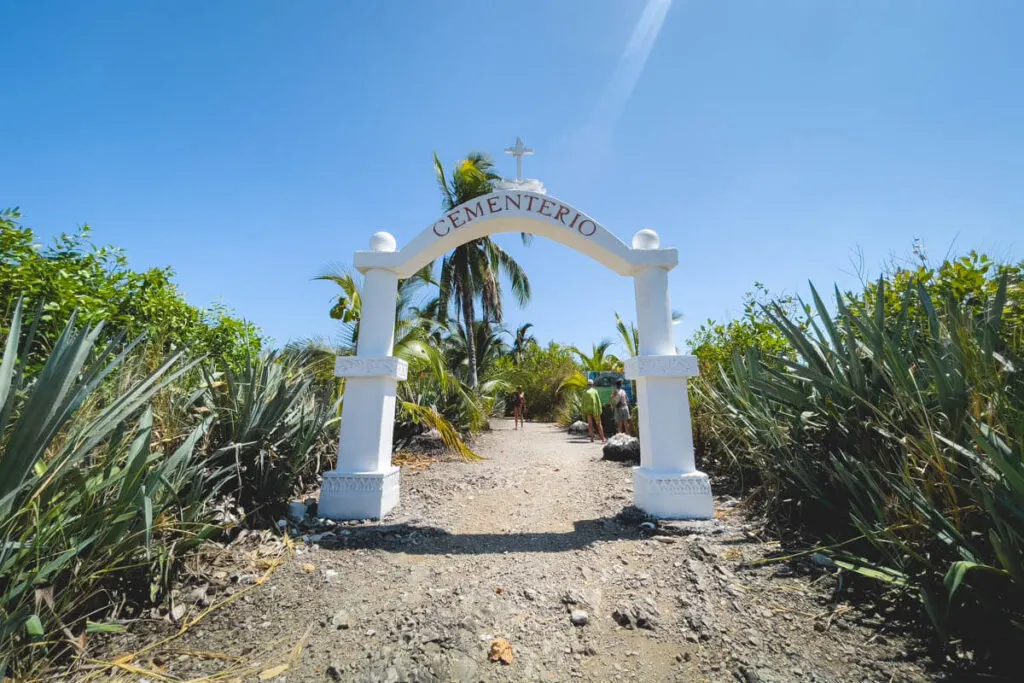 Cabuya Island's mainly used for entombment, but there are two intriguing gravesites worth noting. One has a unique tombstone with a sculpture of a fist and a plane propeller stuck to it. The other features enigmatic sculptures of two heads looking in different directions.
Local lore surrounds these graves, but we don't know much else. What's clear is that the burials are well cared for, adorned with fresh flowers, stones, and shell arrangements left by visitors.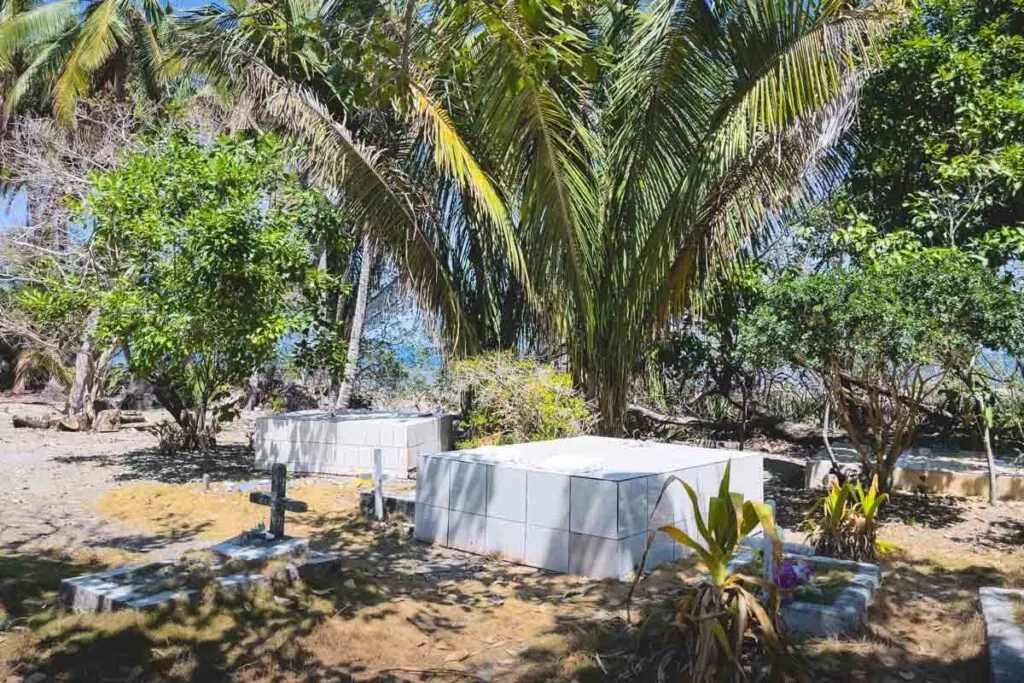 Interestingly, this island has been a burial site for indigenous peoples since the 1700s, and in the last 100 years, foreigners have also found their resting place here.
The tradition reportedly began when local fishermen discovered a drowned body and chose to bury the person where they found them. And so, Cemetery Island's legacy as a peaceful resting ground continues to this day.
Cabo Blanco Nature Reserve
For all my fellow animal lovers out there, don't miss Cabo Blanco Nature Reserve. It's one of the oldest nature reserves in the country, making it a spectacular place to spend a day.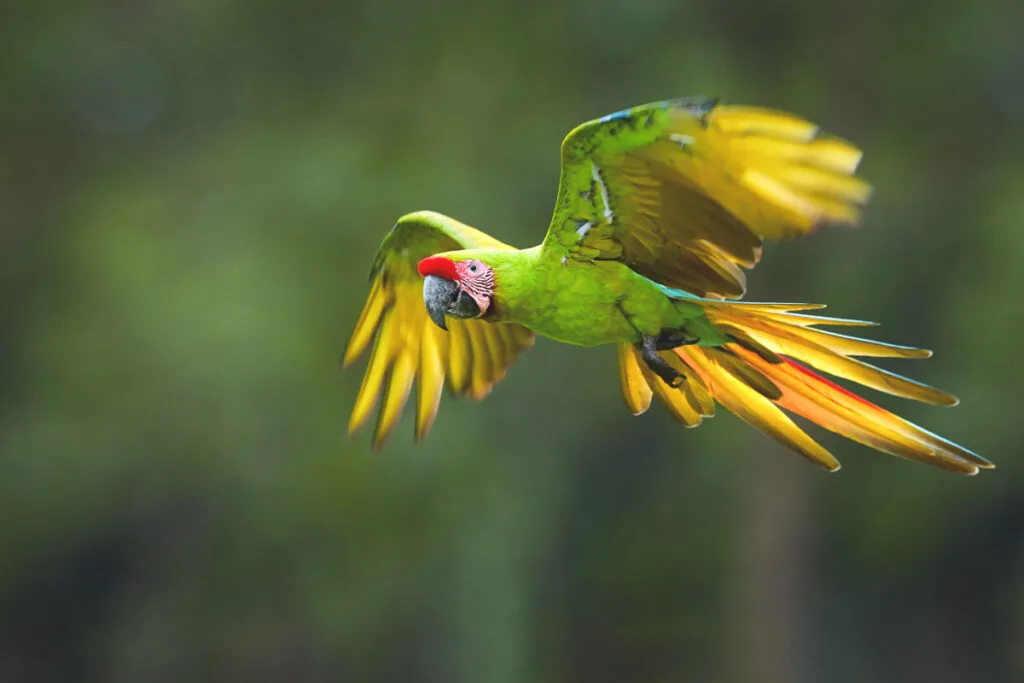 This protected area is home to an impressive display of flora and fauna, with hundreds of species of trees and a wide variety of wildlife. Unique critters roaming this area include anteaters, capuchin monkeys, coati, parrots, and wildcats.
There are a variety of trails in varying lengths and difficulties, one of which leads to a clandestine beach!
How to Get to Santa Teresa
I can't lie, getting to Santa Teresa is a bit of a feat. You'd think it would be as easy as some of the other destinations in the country but out here, almost at the tip of a peninsula? Nah, you'll have to work a bit to get here!
Rent a car: If you enjoy road trips and want to explore the scenic landscapes of Costa Rica, driving can be a fantastic option. From San Jose, you can rent a car and make your way to Santa Teresa. The journey typically takes around 4 to 5 hours, depending on traffic and road conditions. Keep in mind that the last leg of the drive involves some rough and unpaved roads.
Shuttle Service: Many shuttle companies offer transportation services from popular tourist destinations like San Jose, Liberia, or other areas in Costa Rica to Santa Teresa. This option allows you to sit back and relax as experienced drivers navigate the roads, ensuring a comfortable journey. I was able to grab a shuttle here from Samara which made my trip not as bad since I was already on the peninsula.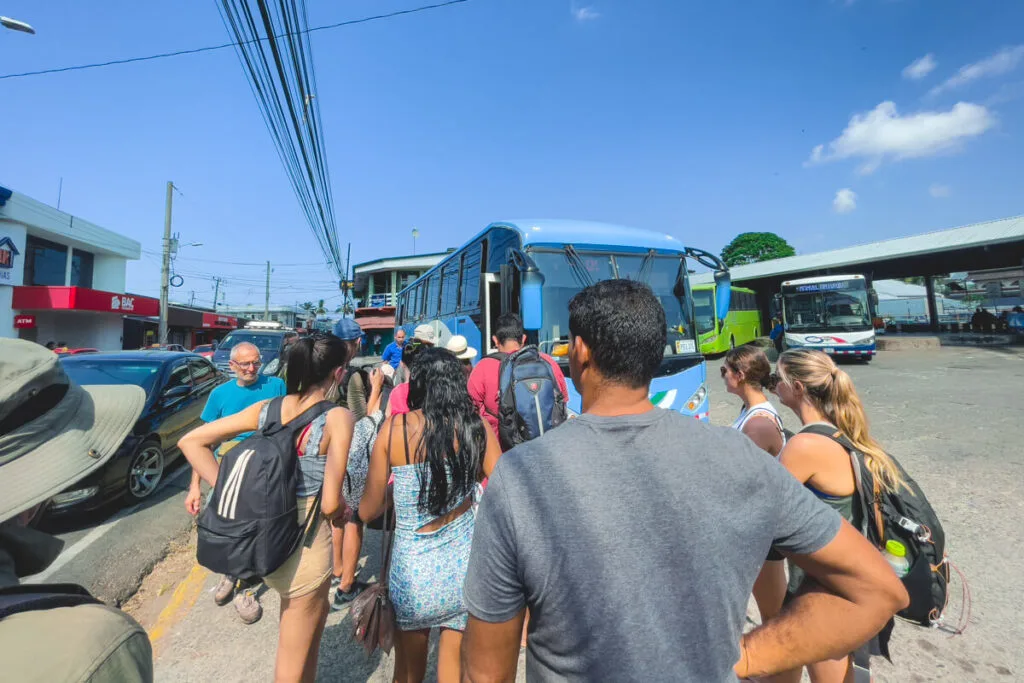 Public Transportation: If you're on a budget, you can take a combination of buses and ferries to reach Santa Teresa. There are ferries coming from Puntarenas to Paquera, then a bus the rest of the way or take the public buses from Nicoya. This will definitely be the slower and longer way to get here, but it will also be the cheapest.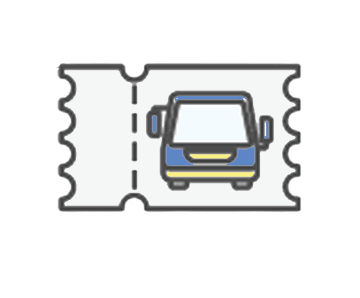 TRANSPORTATION TIP
If you're looking for bus or boat tickets around Central America and Mexico, you can easily book them online! Check Availability
How to Get Around Santa Teresa
Santa Teresa isn't big, but it is spread out along a long road. I actually found this to be the most annoying part of Santa Teresa. I'm a "walker," and it was a bit annoying at times, but overall, it's not that bad! Just depends on you and how you prefer getting around…
Walking: One of the best ways to explore Santa Teresa is on foot. With that said, Santa Teresa is LONG! So depending on where you need to go, it might be a bit further than you think. The sidewalk situation is almost nonexistent, which made walking a bit more annoying and a tad dangerous.
Bicycles: Biking is a popular way to get around Santa Teresa. Many accommodations and rental shops offer bicycles for daily or weekly use. It's about $15 a day.
ATVs and Motorcycles: If you want a bit more freedom and don't mind a bit of adventure, renting an ATV or motorcycle can be a fun way to explore the area. Keep in mind that some of the roads are unpaved and bumpy—This is also not the safest option, so be careful. Parking is also not the greatest.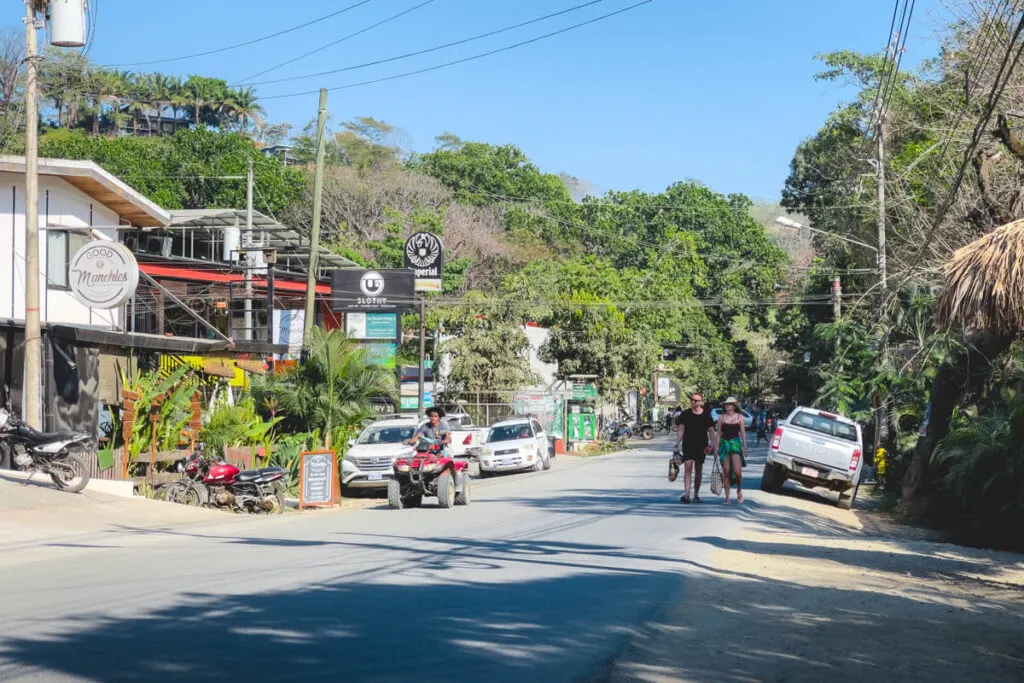 Taxis: Taxis are readily available in Santa Teresa and can be a convenient option for short distances or when you want to get somewhere quickly. It won't be the cheapest, though.
Shuttle Services: If you plan to visit attractions outside of Santa Teresa or want to explore neighboring towns, consider using shuttle services. Many tour companies offer guided excursions and transportation to nearby destinations.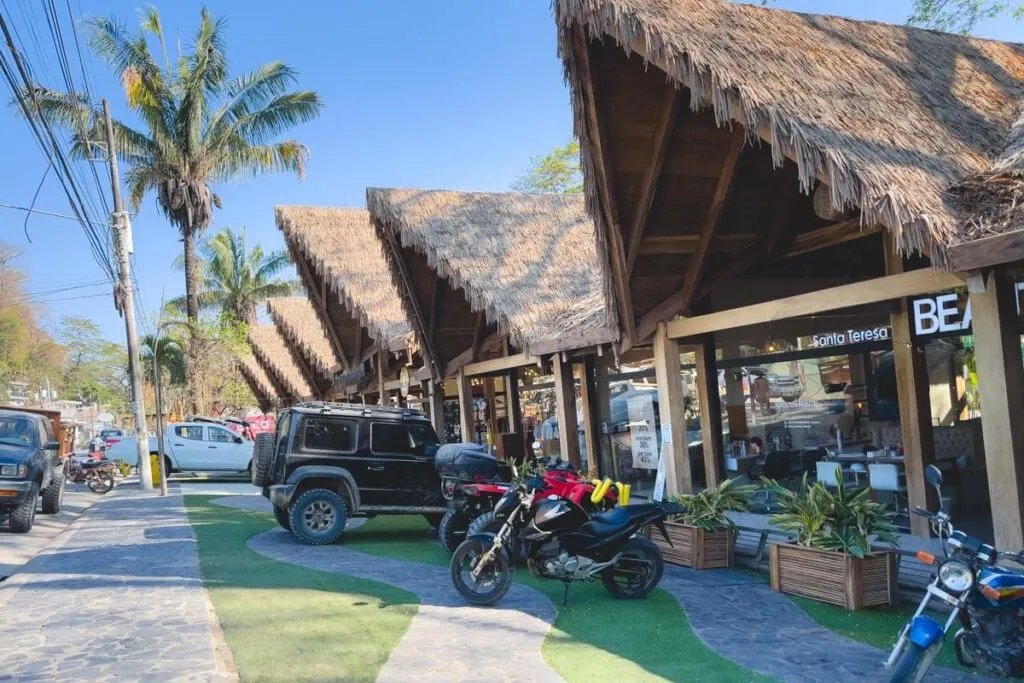 Public Buses: You can use local buses to travel between neighboring towns like Montezuma and Mal Pais. Cobano is the main transportation hub where you can catch connecting buses to various locations.
TIP: A lot of places accept cards in Santa Teresa, and good thing because this is pretty much the only ATM in town!
What to Eat in Santa Teresa
Amici Santa Teresa – Best pizza and pasta in town, probably because it's owned and run by Italians (but you'll pay dearly here—ouch!)
Drift – Here, you'll find vegan options, a gourmet market, a bakery, and even an art gallery!
Mafra's Panaderia Pasteleria y Cafė – Quick and yummy pastries and coffee to take on the run or dine in.
Kaukau Santa Teresa – Delicious and healthy smoothie bowls!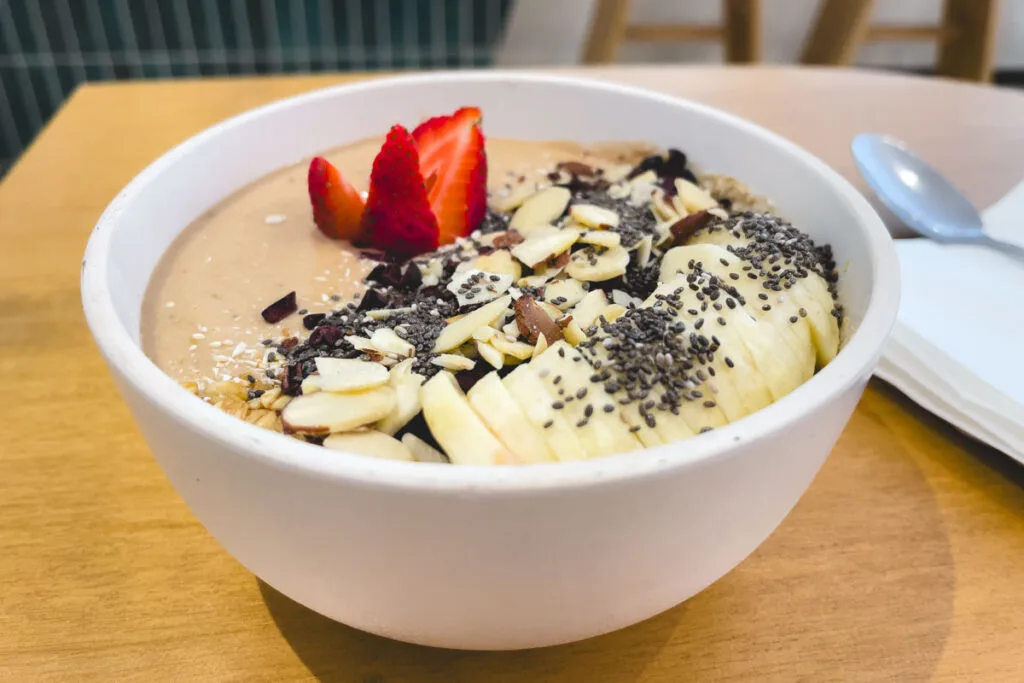 Zwart Cafe – Such a cute spot to grab a bite, with communal tables and art for sale all around the cafe.
Shambala at Hotel Tropico Latino – This is a hotel right on the beach but their restaurant and bar is open to anyone. I loved drinking in the hammocks here until the sun set.
Where to Stay in Santa Teresa
You'll need to choose wisely! Remember, the town is a bit spread out, but you can't really choose a "bad" part of town—the whole area is fine! It just depends where you plan on hanging out and if you're walking or renting a bike etc…
Don Jons Lodge -Surf & Yoga
Welcome to Don Jons Lodge – Surf & Yoga, a 4-star family-friendly lodge in a serene rural location. Enjoy a rooftop terrace, garden, and playground, along with free in-room WiFi, arcade/game room, and library. The 12 individually furnished rooms feature air conditioning, separate sitting and dining areas, and convenient kitchen amenities, such as mini fridges and stovetops.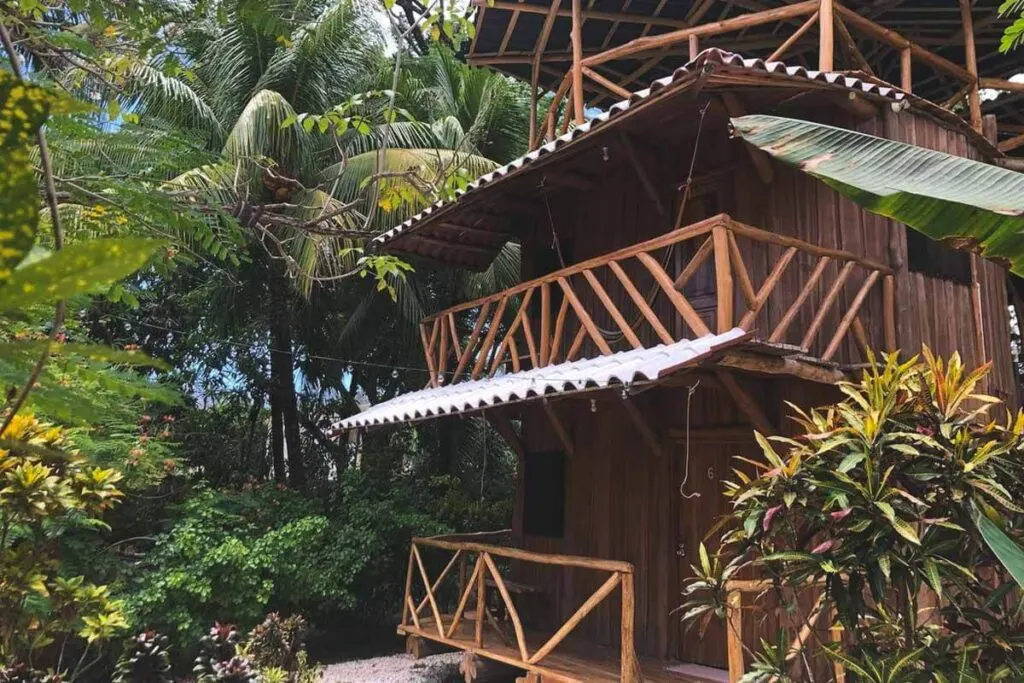 Casa Marbella
Casa Marbella is a 3-star hotel that offers a range of amenities for a comfortable stay. Guests can enjoy spa services, access to an outdoor pool with sun loungers, and free in-room WiFi.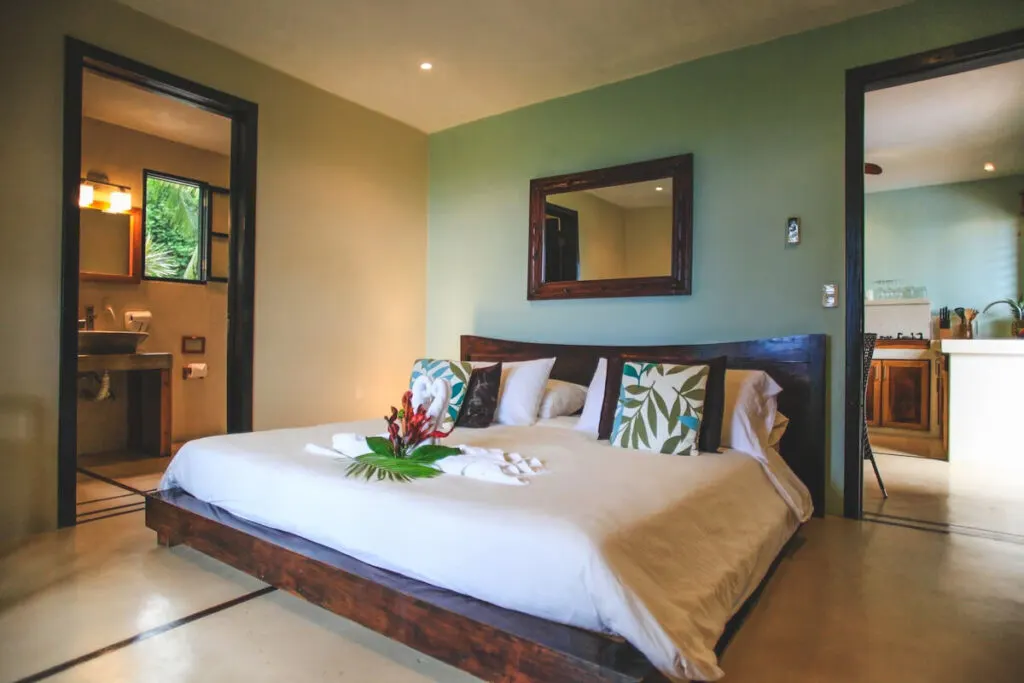 The hotel also provides convenient perks like free self-parking, a roundtrip airport shuttle (surcharge), and concierge services. The guestrooms feature air conditioning, kitchens with refrigerators and ovens, and bathrooms with showers and toiletries.
Funky Monkey Lodge
Funky Monkey Lodge is a charming hotel situated just 200 meters away from Santa Teresa Beach in Santa Teresa. Guests can enjoy an outdoor pool, a spa and wellness center, and free Wi-Fi.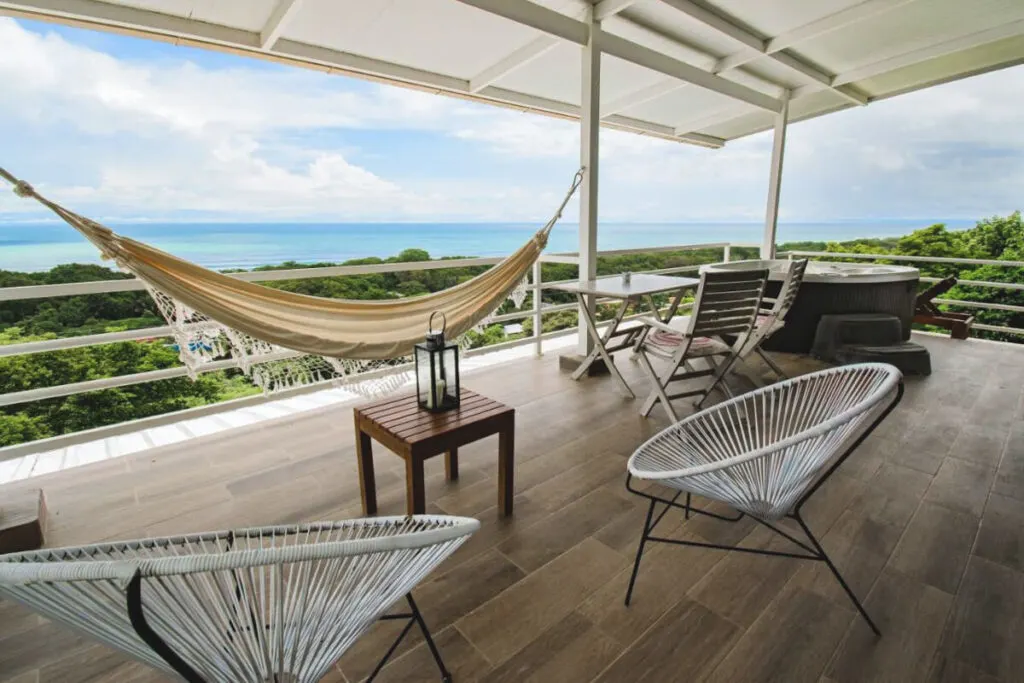 The lodge offers various activities like horse riding, cycling, and hiking, along with an open-air restaurant and a fitness center. Some rooms provide picturesque views of the Pacific Ocean, all equipped with a minibar and private bathrooms.
Santa Teresa Surf Vista Villas
Santa Teresa Surf Vista Villas is a well-appointed hotel located near Santa Teresa Beach and Carmen Beach, offering an array of amenities for adventurous travelers. Guests can enjoy the convenience of free in-room WiFi, an outdoor pool with sun loungers, and access to a full-service spa where they can indulge in a Swedish massage or other treatments.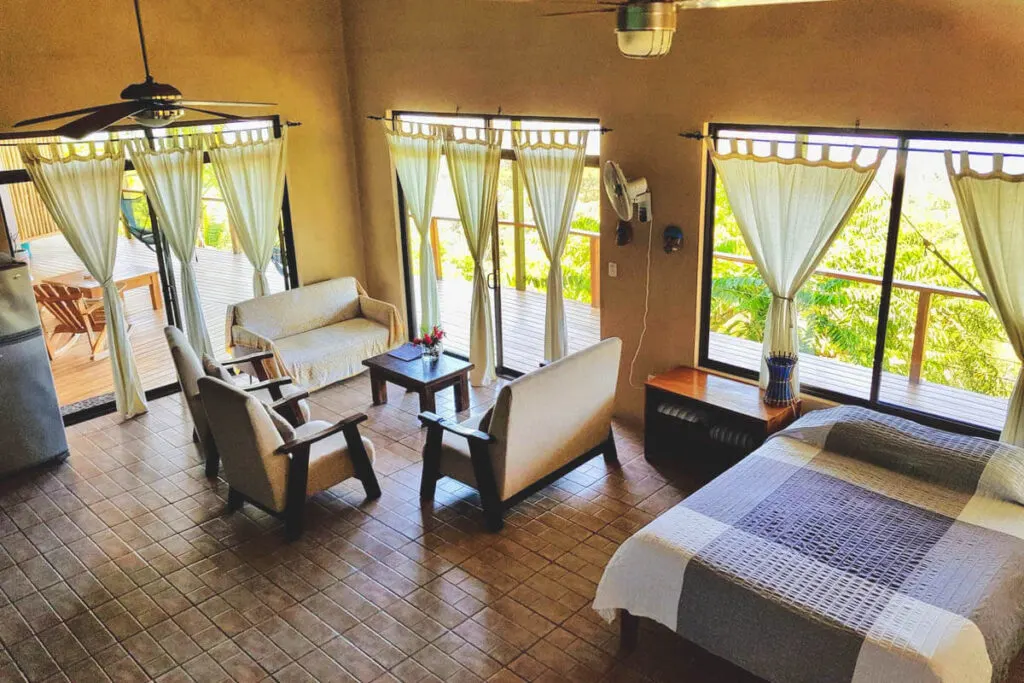 The hotel also provides bike rentals, tour assistance, and concierge services, making it an ideal choice for a relaxing and enjoyable stay!
Where to Go After Santa Teresa
There are plenty of places to head to after Santa Teresa, here are some of my favs!
Uvita
If you're looking to venture further along the beautiful Costa Rican coastline, Uvita should be on your radar! This laid-back and picturesque town is renowned for its stunning beaches and the famous "Whale's Tail" formation at Marino Ballena National Park.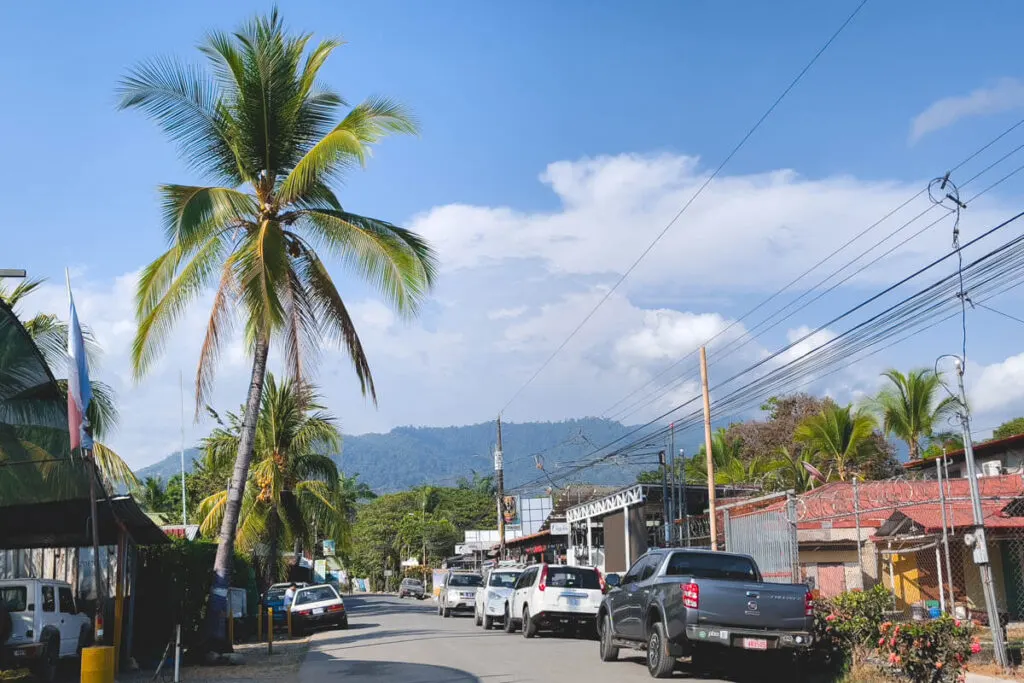 Uvita offers a perfect blend of relaxation and adventure. Whether you want to kick back on the sandy shores or explore the lush rainforest nearby, this hidden gem won't disappoint. Oh, and keep an eye out for humpback whales during the migration season—a truly magical experience!
READ MORE: 11 Best Things to Do in Uvita, Costa Rica
Manuel Antonio
For those seeking a bit of nature's wonder combined with a touch of luxury, Manuel Antonio is the place to be! Nestled along the Pacific coast, this coastal town boasts one of Costa Rica's most celebrated national parks.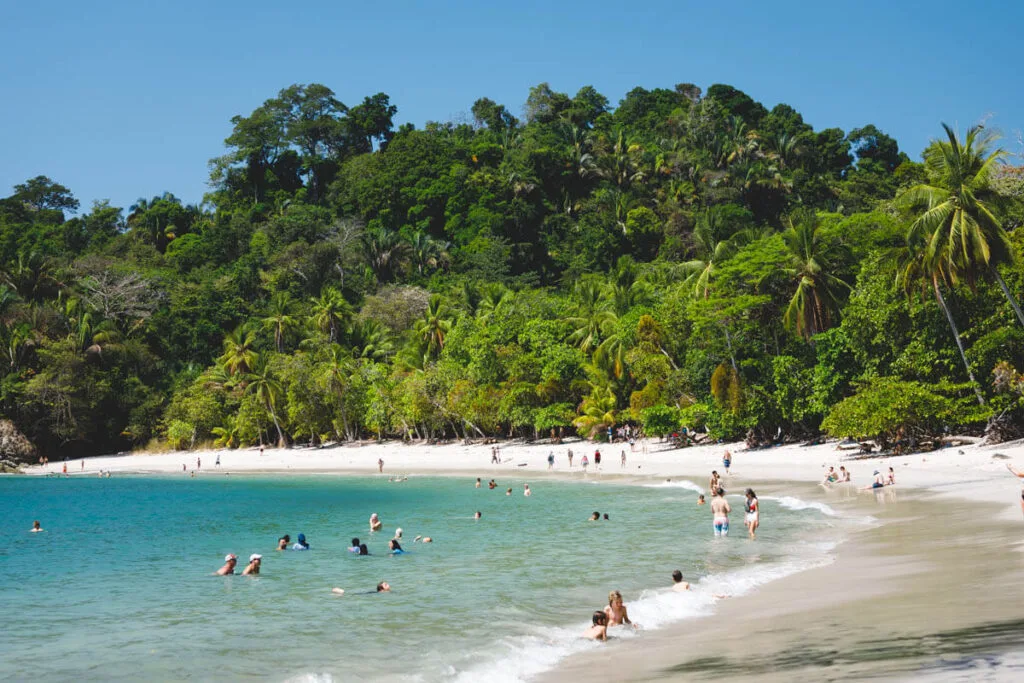 Prepare to encounter an incredible diversity of wildlife as you hike through lush rainforest trails. And don't forget your swimsuit because the park offers some of the most beautiful beaches in the country. If you fancy a mix of adventure and relaxation, Manuel Antonio has it all!
READ MORE: 8 Best Things to Do in Manuel Antonio, Costa Rica + Tips!
Samara
If you're in the mood for a relaxed and charming beach town, Samara has got your back! This quaint little gem on the Nicoya Peninsula is a haven for beach lovers. The laid-back atmosphere and friendly locals will make you feel right at home.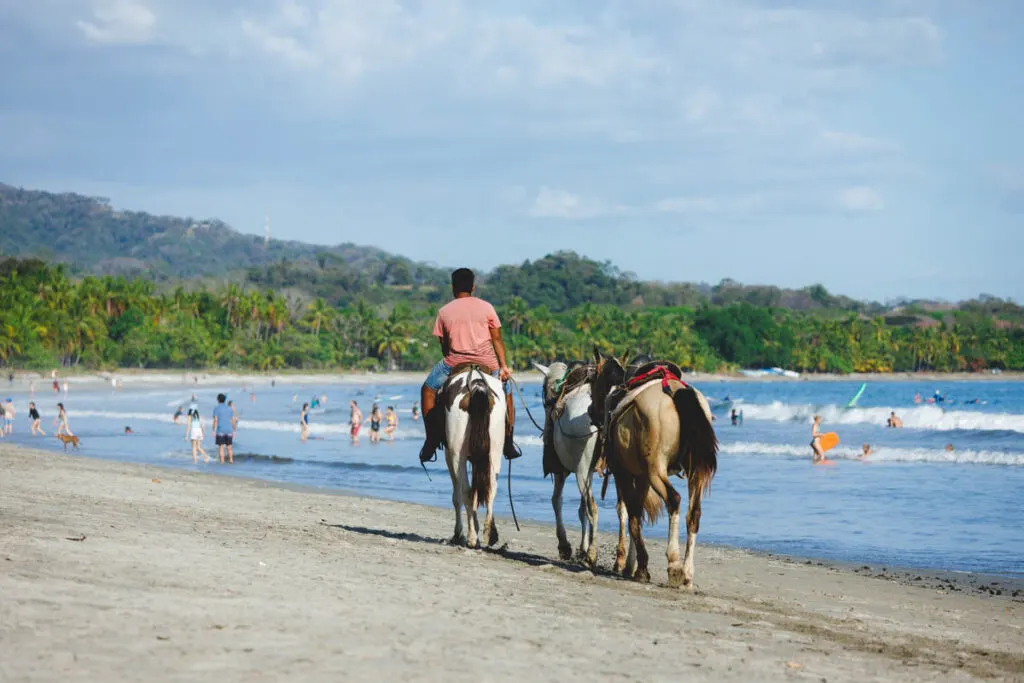 The long, crescent-shaped beach offers plenty of space to unwind, and you can try your hand at various water activities like surfing, snorkeling, and kayaking. And as the sun sets, the beach transforms into a magical spot to watch the sky turn into a canvas of colors. Samara is a delightful place to recharge and enjoy the Pura Vida vibes!
READ MORE: Your Guide to Samara Beach, Costa Rica
If you're backpacking around Costa Rica you might also be interested in my guides to La Fortuna, Monteverde, Playas del Coco, and Puerto Viejo!
I hope this helped you plan your trip to Santa Teresa, Costa Rica!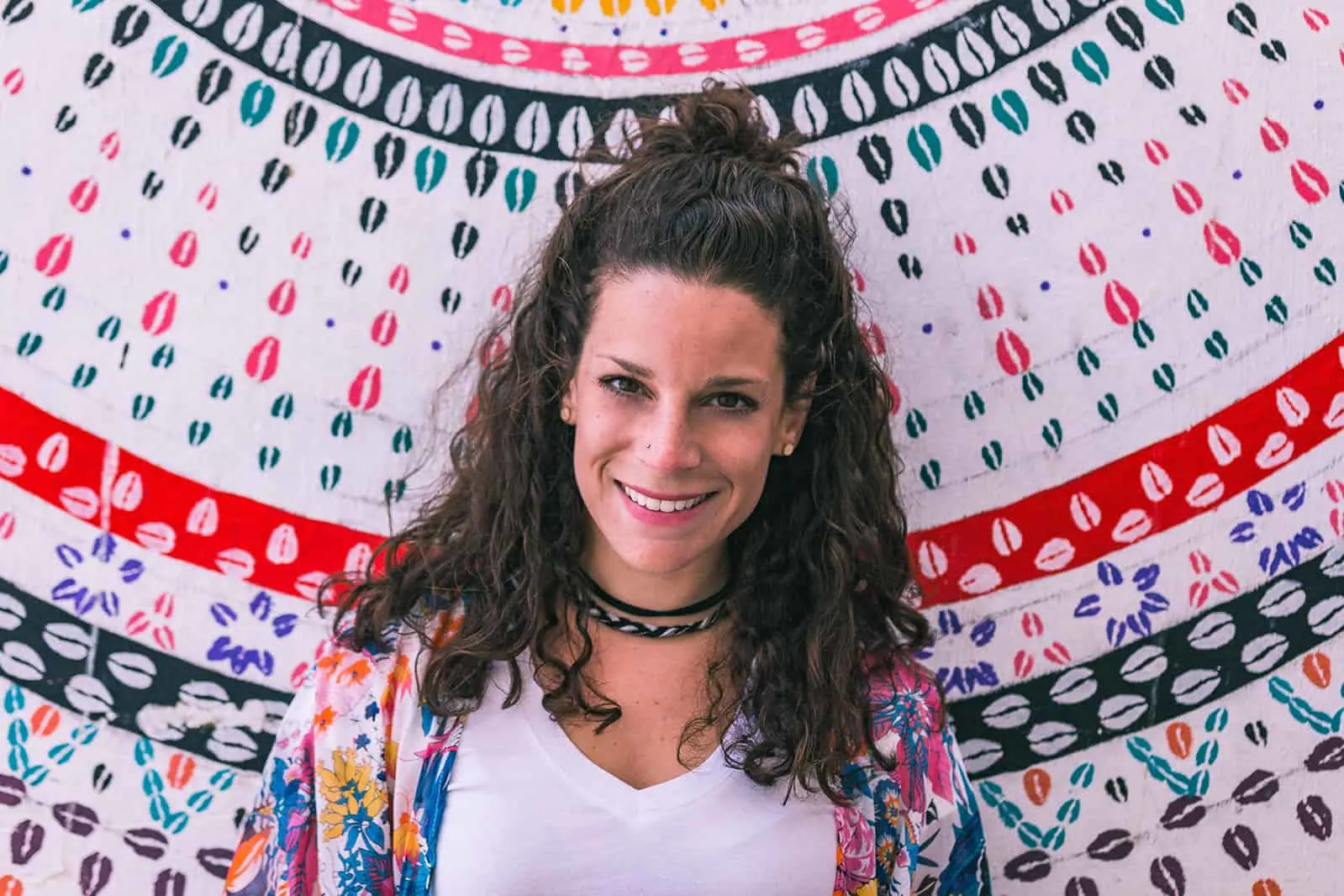 Nina Ragusa is an adventurer, messy bun master, breakfast fan, and full-time travel blogger. She's been abroad since 2011 and blogging on Where in the World is Nina? for nearly as long. Nina helps people like you move around the world while making money. She loves talking about how to work abroad and online to travel longer!