Boasting verdant jungles, gorgeous white sand beaches, and a world-famous national park—There are plenty of things to do in Manuel Antonio!
This paradise is one of the more popular towns in Costa Rica thanks to its rich biodiversity and abundance of tours and activities.
But this lovely coastal city still retains its small-town charm without any flashy tourist resorts. The national park is undeniably a huge draw here, but there are many other awesome things to do in Manuel Antonio if you know where to look. That's where I come in!
Things to Do in Manuel Antonio
---
Before we jump into it, it's important to point out there is Manuel Antonio, the town in Costa Rica, and within this town is Manuel Antonio National Park, one of the most popular parks in the country!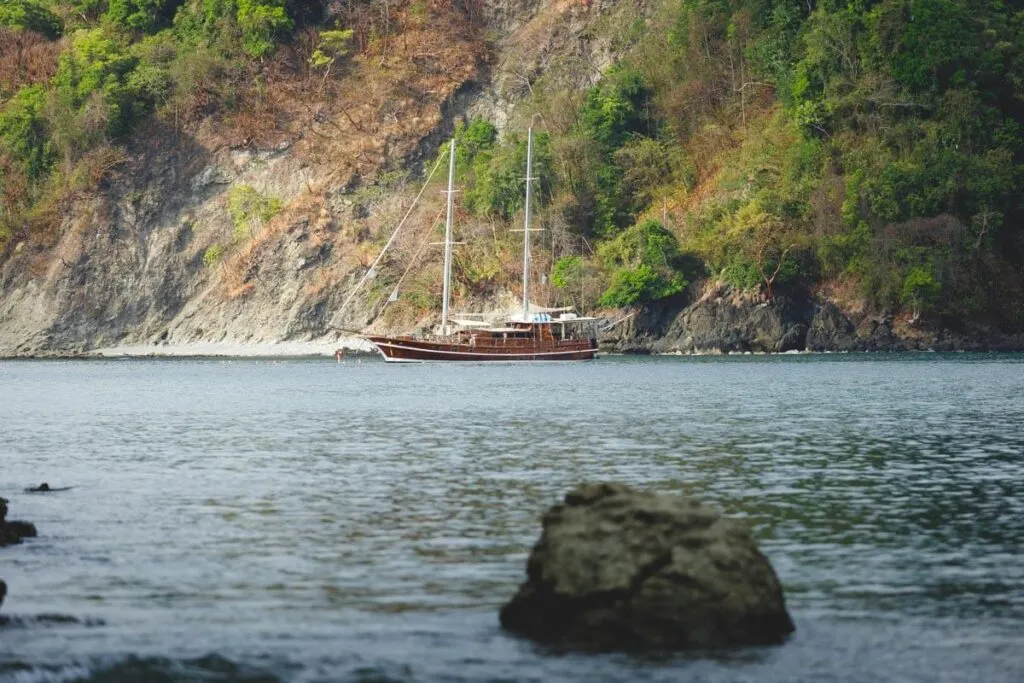 We are talking about things to do in Manuel Anotion in this guide so, of course, Manuel Antonio National Park is on the list. I'll tell you everything you need to know!
Understanding the Town of Manuel Antonio
Manuel Antonio is a charming town located on the Pacific coast of Costa Rica, known for its stunning beaches and vibrant rainforests.
If you're planning to visit, consider staying in the actual town just north of the park—It's where you'll find the most options for accommodations, restaurants, and shopping. This area offers a range of choices to suit different budgets and preferences, making it a convenient and affordable base for your stay.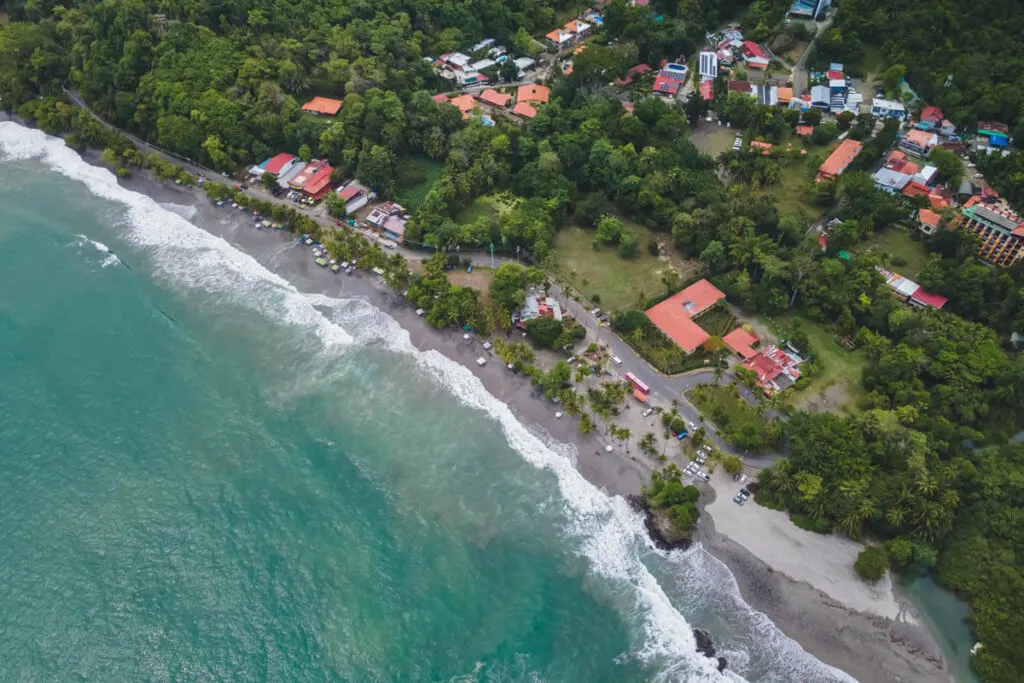 As you venture further down the road and closer to Manuel Antonio National Park, you'll come across more eateries and hotels, but everything gets a bit more expensive the closer you get to the park.
From Manuel Antonio, the town, all the way to the park, you'll find tons of places to stay and eateries to check out along the main road, which is about 2 miles long.
Something to keep in mind while you're in Manuel Antonio is that the terrain is quite hilly. The streets wind up and down slopes, so keep in mind that navigating this part of town may require some effort if you're getting around by foot. Luckily there's a bus too, but more on this later.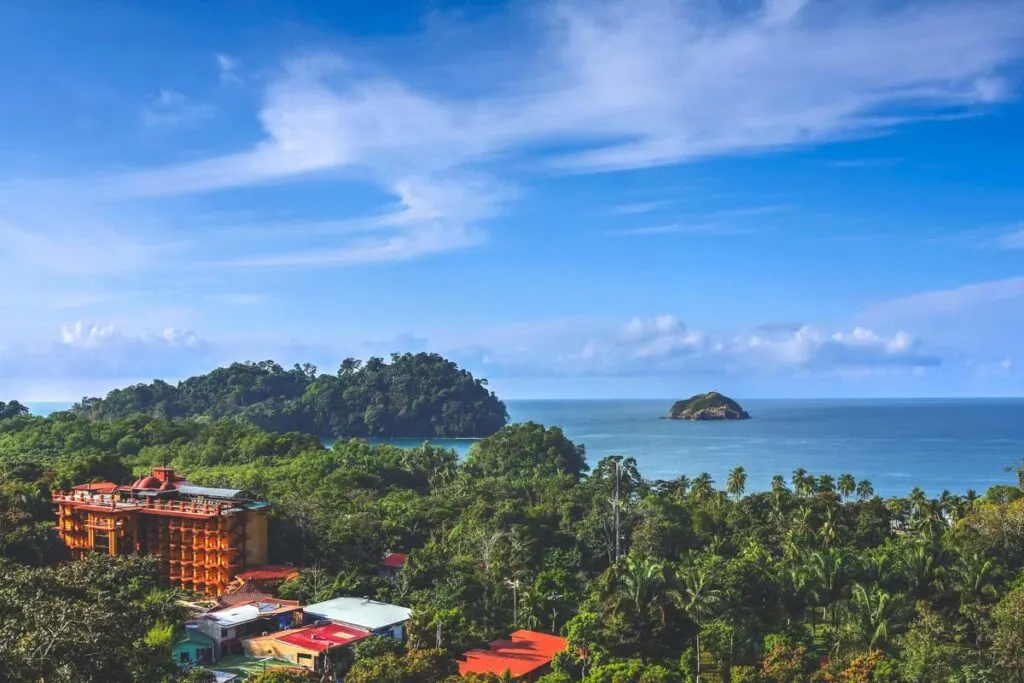 Overall, the town of Manuel Antonio is a bit spread out across a hilly landscape which gives you plenty of opportunities to get nice views off the coast and a calve workout too!
How to Get To Manuel Antonio
If you're coming from the Nicoya Peninsula, from Samara or Santa Teresa, don't worry, you don't need to take the bus ALLL the way around the peninsula and back down. You can just book a shuttle that includes a bus, boat, and another bus! It's much shorter.
From San Jose, you can hop on a public bus (that will be cheap but will take forever) or hop on a shuttle that only takes about 4 hours, but it's the fastest!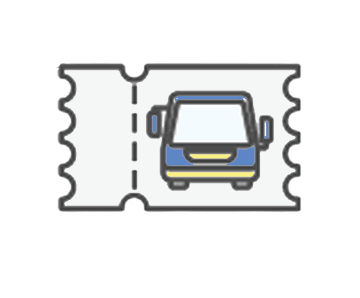 TRANSPORTATION TIP
If you're looking for bus or boat tickets around Central America and Mexico, you can easily book them online! Check Availability
Getting Around Manuel Antonio
Walking: Manuel Antonio town is relatively small and pedestrian-friendly, but if you're exploring beyond the small town, it gets hilly!
Taxis: You can easily find taxis along the main road or at designated taxi stands, but they won't be the cheapest method. Always negotiate the fare before starting your journey.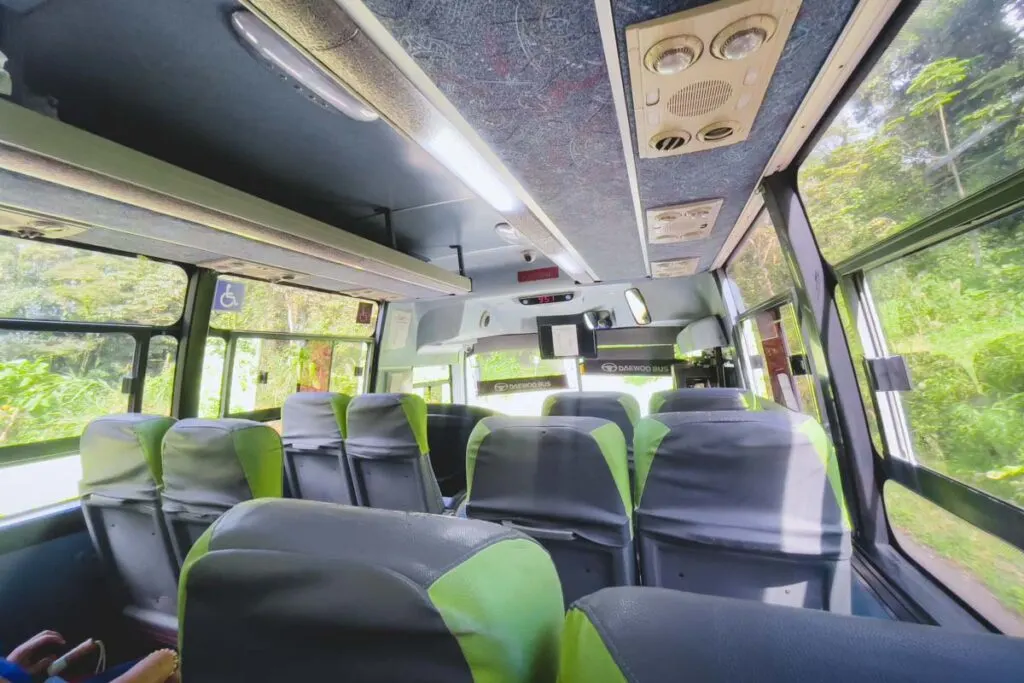 Buses: Public buses are an affordable option for traveling to neighboring towns from Manuel Antonio, the town, and to the park! You can stand at this bus stop and at the time of writing the bus schedule is: 6 am-6 pm – every 15min. After 6, every 30 minutes until 8. The last bus is at 9:30 pm. It's about 10 minutes from the town to the park and costs 390 Colones (75 cents)
TIP: Download Maps.Me app so you can better see the bus stops between the town at the park.
Rental Cars: If you rent your own car, you can easily drive around Manuel Antonio, but parking around the national park can get a bit tricky…
Parking Tips:
There are two recommended parking lots that are available at Manuel Antonio National Park. Upon reaching the beach area from the hill, you should take a left turn between Bar Las Gemelas and Marlins. Continue along this narrow road until reaching the park's entrance.
At the entrance, two parking lots will be visible, one on the right and the other on the left. Parking attendants will guide visitors to available spots. While both lots are acceptable, the right-side lot is preferable if possible. Always be cautious, and don't leave valuable items visible inside the car.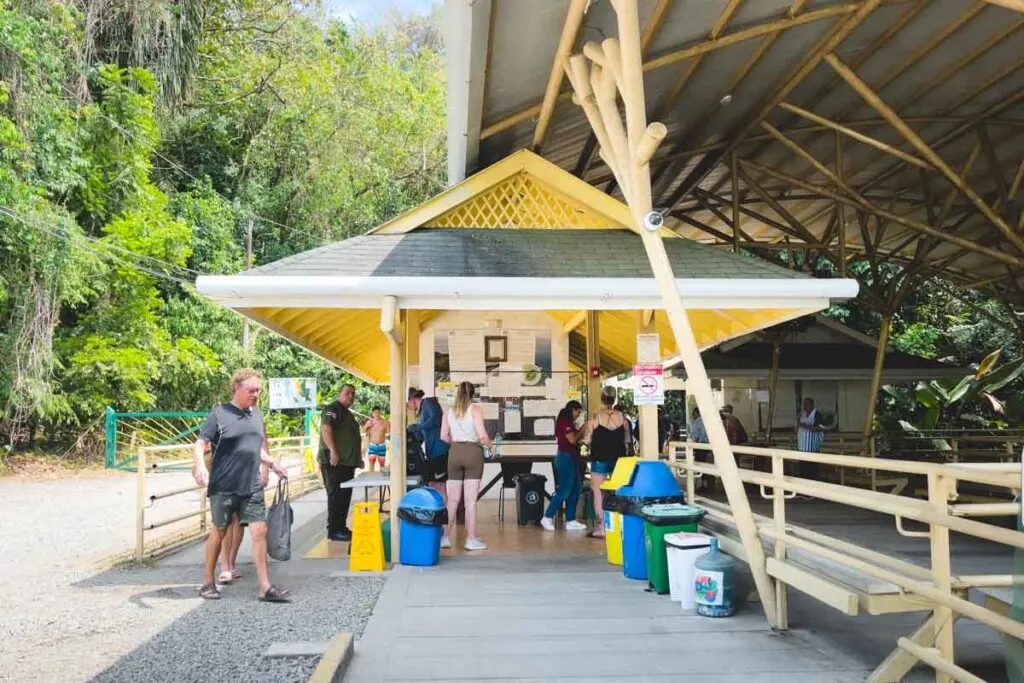 The parking fee is around 3,000 ($6) Costa Rican colones for the whole day in low season. During high season, from December to April, the fee may increase to around 5,000 to 6,000 CRC ($11). It's recommended to pay in Costa Rican colones rather than in USD.
You can park along the street as well for free, but it's pretty crowded and your car might be a tad safer in the lot.
Warning About Parking:
When driving to Manuel Antonio National Park, be cautious of individuals waving at you from random parking lots. These are not official lots, they are NOT at the park entrance, and they may falsely claim you NEED to park there or hire them as guides to enter the park.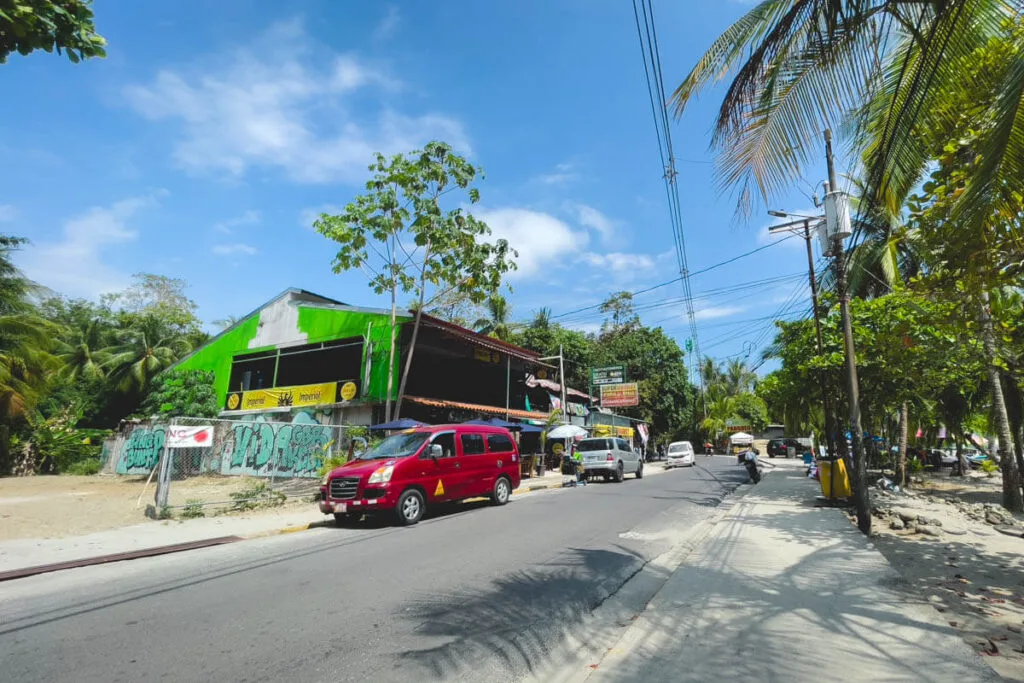 Avoid falling for their tactics and proceed to the parking lots mentioned. You want to aim for this point on the map. This is the entrance to the park!
Where The Bus Drops You Off for The Park
If you're taking the bus to Manuel Antonio National Park from the town or somewhere else in the area, it's important to note they don't drop you off at the entrance. They drop you off here. You will then walk on the "beach trail" you see on Google Maps to the entrance, which is here.
The trail is very easy and is lined with vendors selling souvenirs and other odds and ends. Don't think the bus is taking you to the wrong place! They just don't go to the main entrance, probably because the road is too narrow for the bus to fit down.
The Best Things to Do in Manuel Antonio
1. Enjoy a Beach Day at Espadilla Beach
The northern end of Espadilla Beach is located outside the park, though you'll probably still see some wildlife hanging out where the trees meet the shoreline. The gorgeous white sand is perfect for bumming, and plenty of food and drink stalls keep you fed and hydrated on a beach day.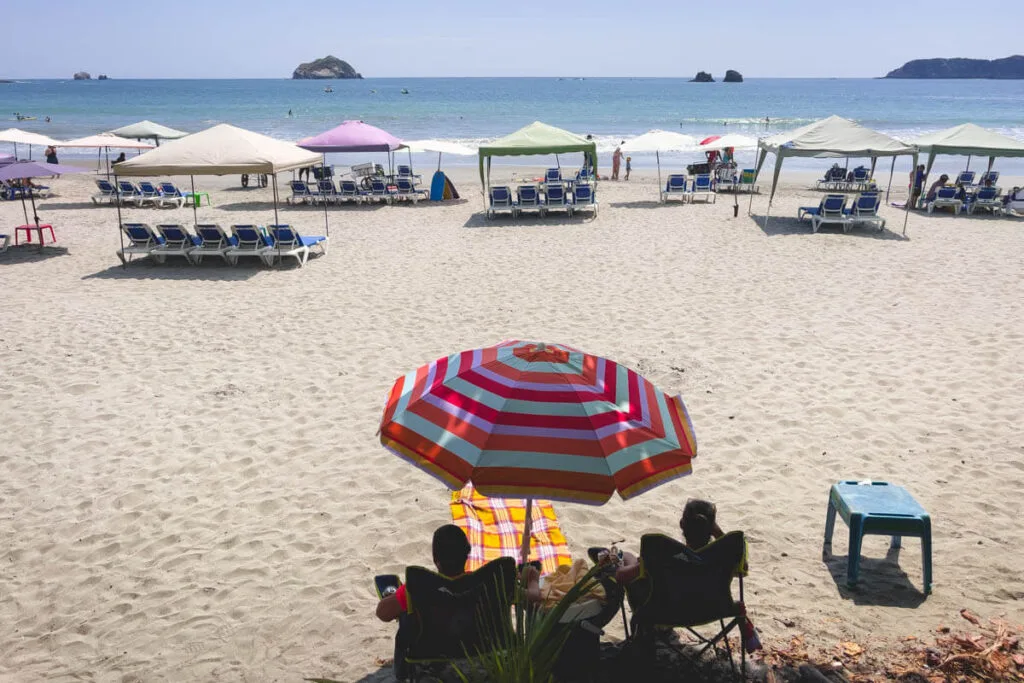 But there are also TONS of activities available on this sandy stretch. You can take surf lessons, rent a kayak, try parasailing, hop on a banana boat, you name it!
This is THE beach to chill on during your visit to Manuel Antonio. It's the most happening, and it's pretty much the only beach "not in the park." More on that soon but in short, you can't just go casually chill on the other beaches because they are inside the national park.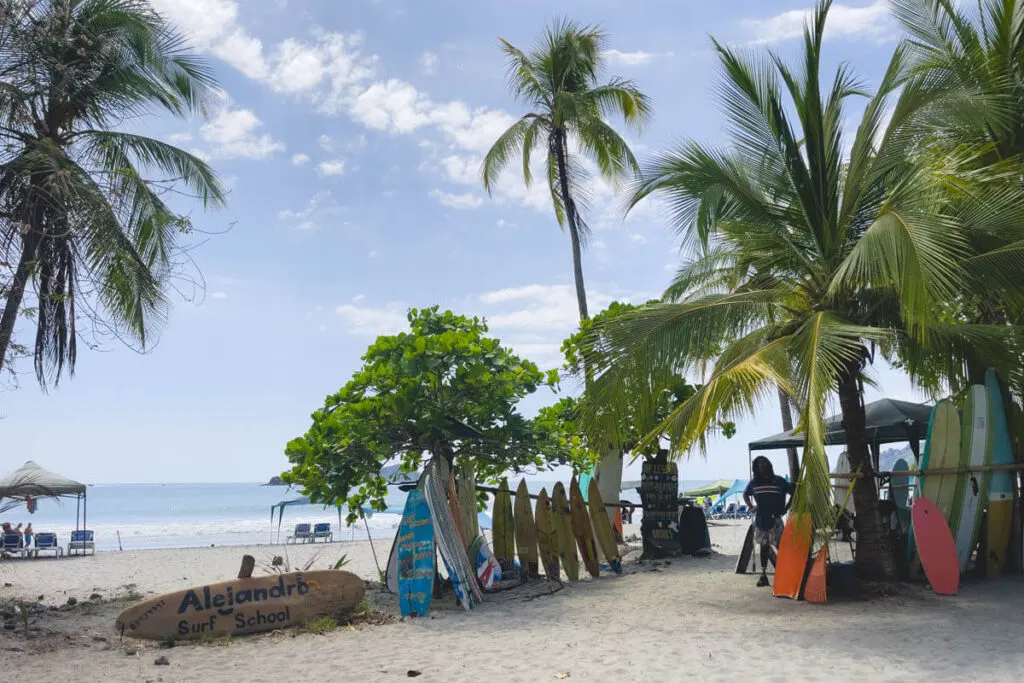 The top activities and tours on this beach are:
2. Relax at Playa Biesanz
For a more relaxing beach day, head to Playa Biesanz. This is one of the best things to do in Manuel Antonio to escape the crowds, and aside from Espadilla Beach, the only other good beach in the area, you can get to that's outside the park.
This spot is a local favorite, and its somewhat clandestine location keeps most visitors away. If you want to check it out, be ready to trek downhill on a road and then through the jungle for about ten minutes or so. And you know what that means—you'll be walking up that steep hill on the way back!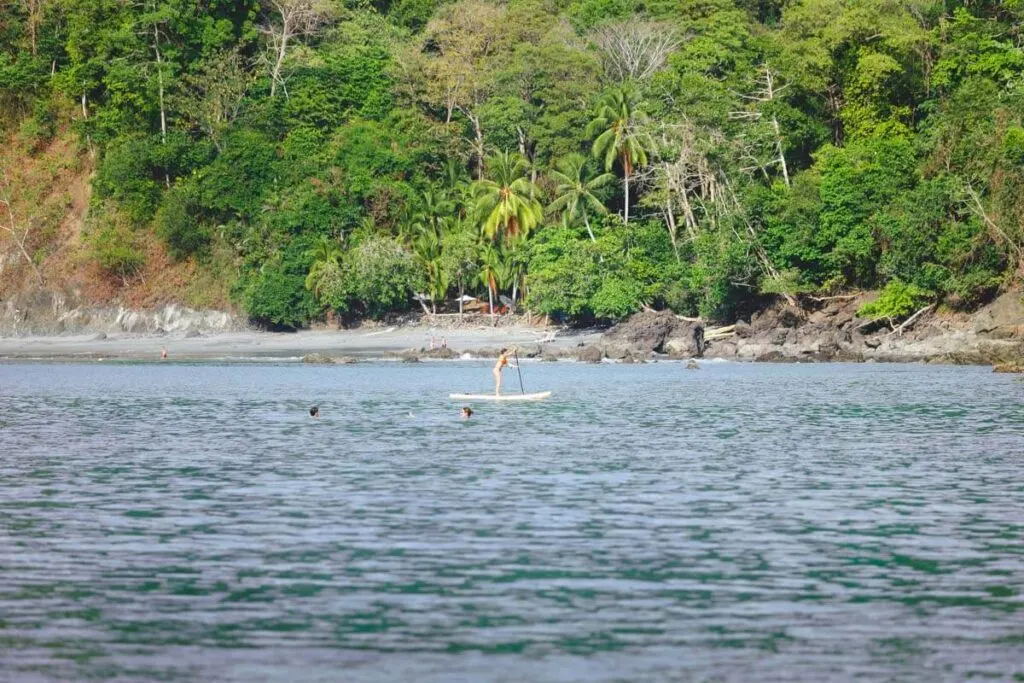 Note that the bus stays on the main road which means you do have to walk here. Your only other option is the spotty Uber service you might get here. There aren't a ton of drivers, but I got lucky and caught one to take me back up the hill because I did not want to walk back up!
Playa Biesanz is definitely more laid back than Espadilla Beach, but there's still plenty to do here. You can rent a kayak, snorkel gear, or beach bum and listen out for howler monkeys!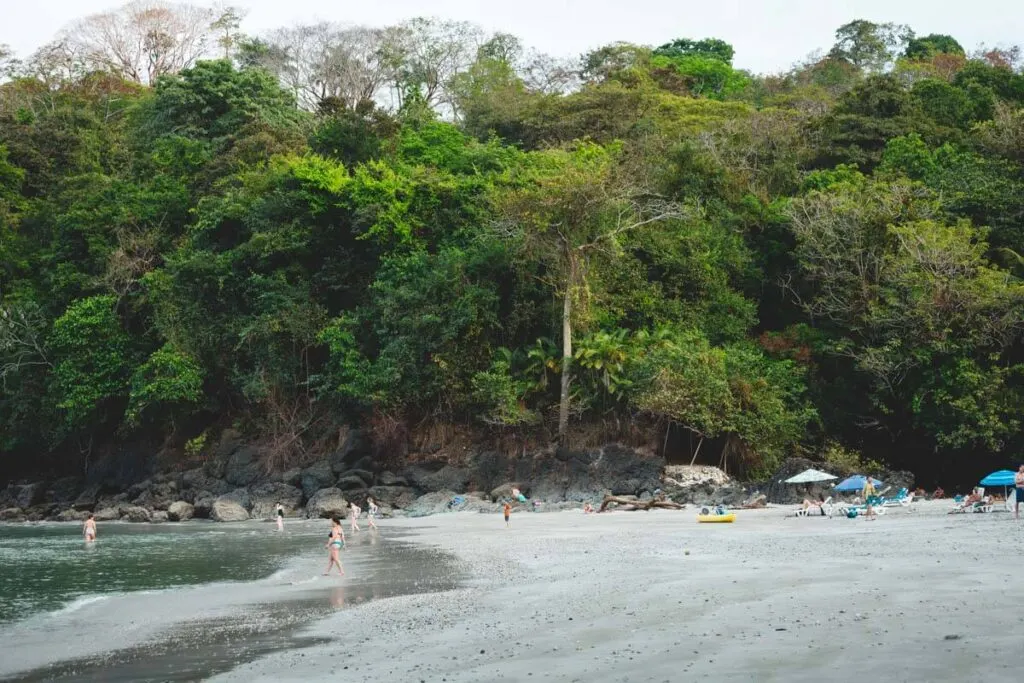 The beach is backed by a verdant jungle and some cliffs and is in a protected bay with calm water and a bit of a rocky shoreline. This will be the chillest spot in Manuel Antonio, but it does take some effort to get here.
3. Visit Manuel Antonio National Park—The Best Thing to Do in Manuel Antonio!
Manuel Antonio National Park is the number one reason people visit this town. The park is on the smaller side, but it has some of the best biodiversity and scenery in the country (if not the whole world).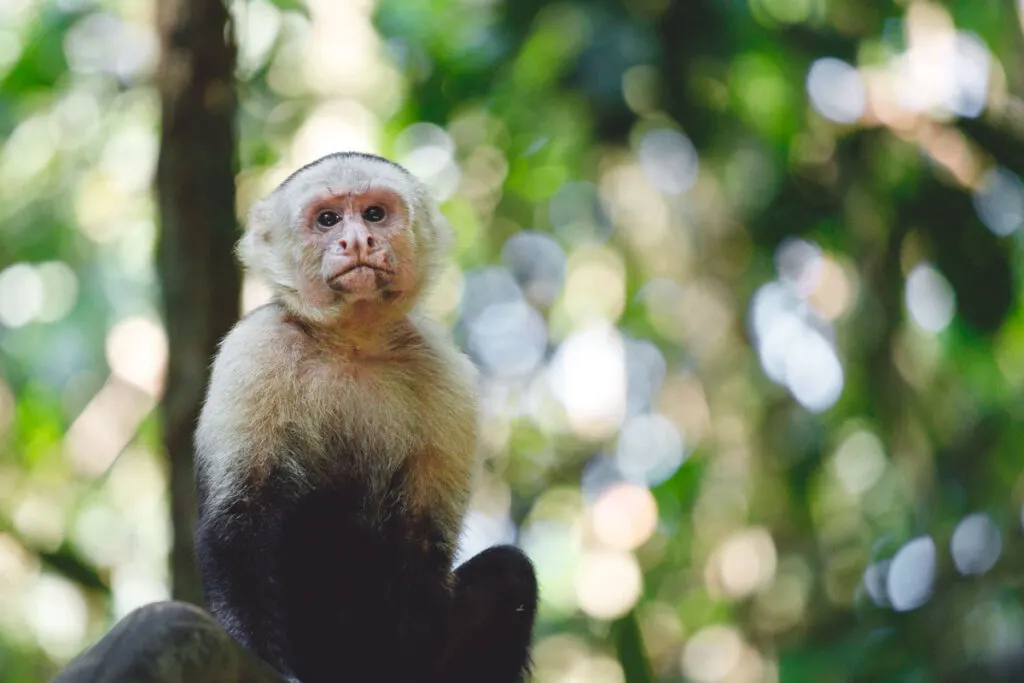 The wildlife watching here is unbeatable; you'll see some cool creatures as you explore! There are also serene beaches to bum on, plus a handful of scenic trails to traverse. The bottom line is that you don't come to Manuel Antonio and miss the national park. It's simply a must.
Strap in—this section is a big one! Here's everything you need to know about visiting the park…
Hiking in Manuel Antonio
There are several trails in the park with varying lengths and difficulties. Most visitors opt for the main trail, a short and relatively easy walk that showcases wildlife like sloths, iguanas, monkeys, and more.
The main path is good, but I recommend continuing along this longer trail. It's less crowded the further you walk and takes you into the other spaces of the park. You'll get to see all the awesome wildlife, scenic lookouts, and incredible beaches!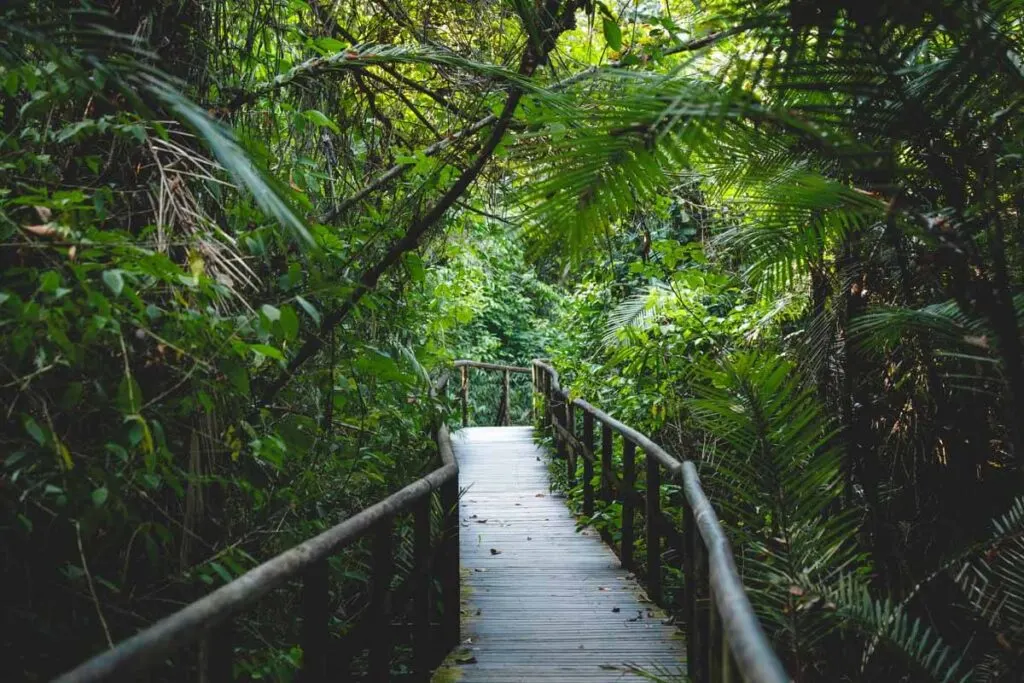 Doing this trail takes you to ALL the highlights and things to do in Manuel Antonio National Park, and the best part is, you really can do it all in one day! You should definitely get here early and hike clockwise so you can complete the hike, then spend the rest of the day on the beaches at the park.
Beach Bumming in Manuel Antonio
Speaking of beaches, there are several within the park. Aside from wildlife watching, bumming on the beach is one of the best things in Manuel Antonio. You'll need to pay to enter the park and access these sandy spots, but I think it's worth it!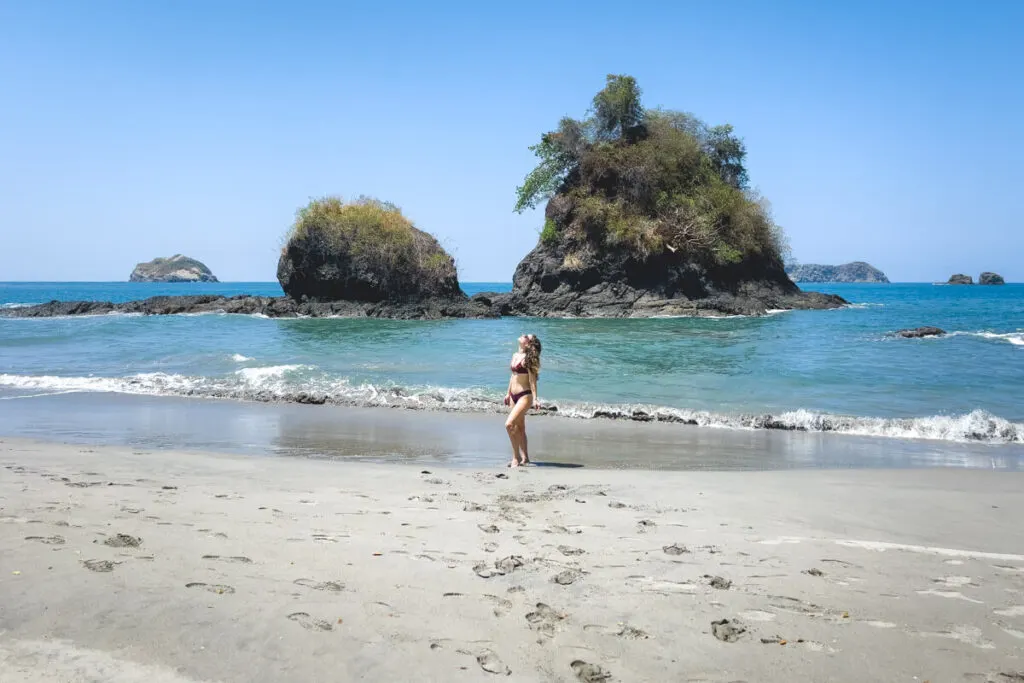 The Manuel Antonio Beach and Playa Espadilla Sur are the most popular beaches in the park. These tend to be crowded, but they're pretty easy to access and offer a great way to cool off after exploring the park.
Playa Gemelas is a bit further off the beaten path, and you'll need to hike for about half an hour to get there.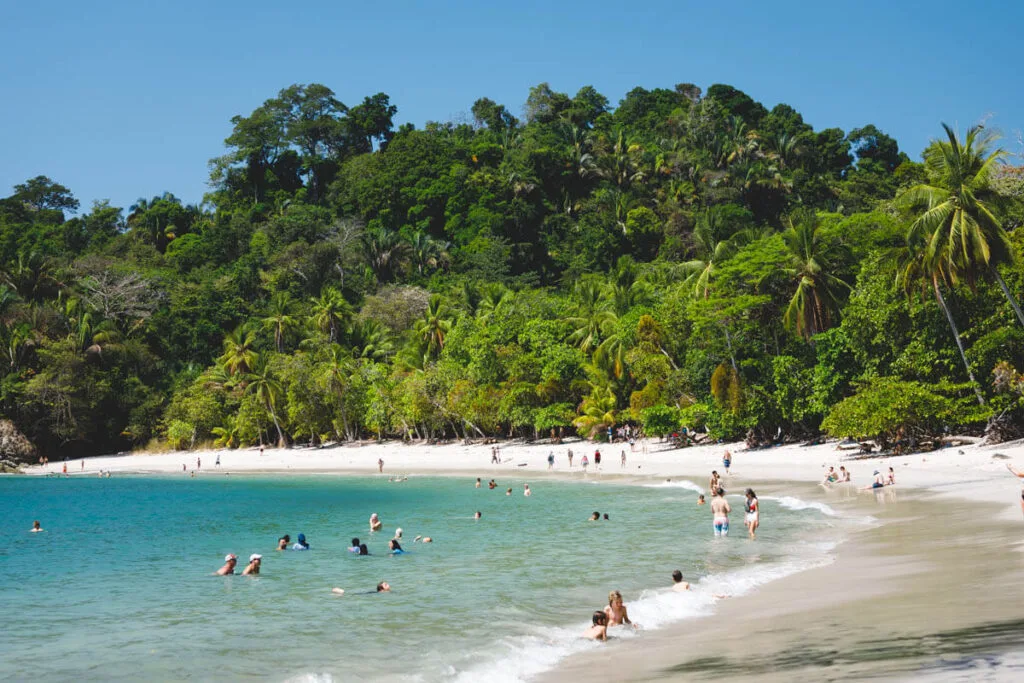 Wherever you choose to park your bum, make sure to keep an eye on your things. The monkeys and coatis in the park are notorious thieves who won't hesitate to rifle through or take your bag when you're not paying attention!
Guide or No Guide for Manuel Antonio National Park?
To help keep the area as glorious as it is, the park only allows a certain number of visitors at once. So, you'll need to book a ticket in advance, and there are two options. You can buy a ticket from the park (around $18) and explore solo, or take a guided tour with an expert.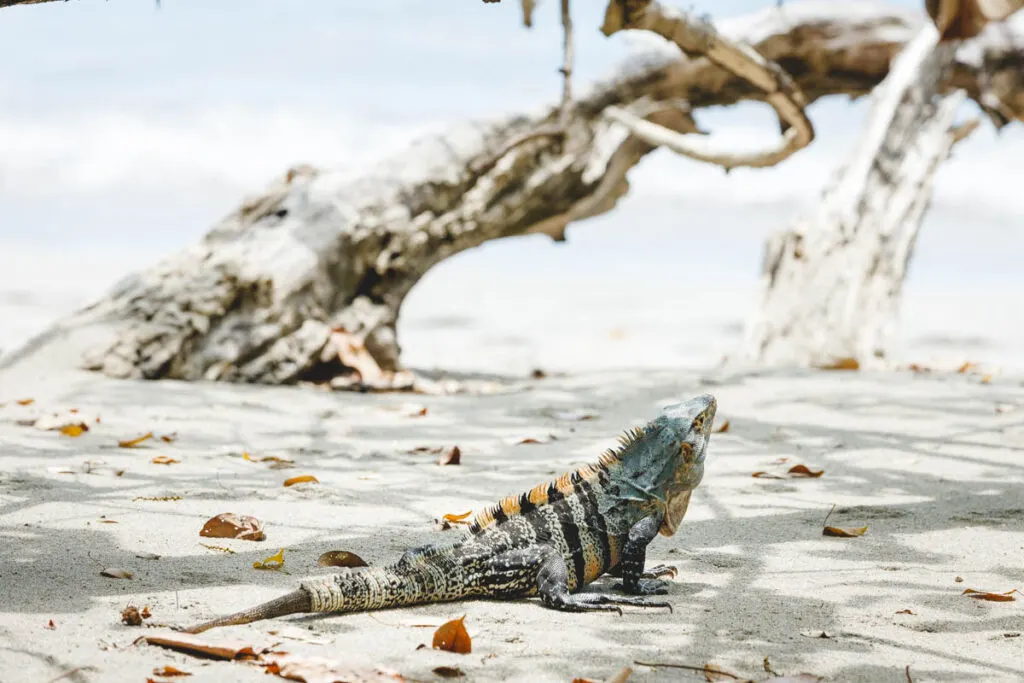 On a self-guided tour, you'll likely see plenty of wildlife, but you'll see more with a guide. Some critters are hard to spot, and the experts know where to look. Spotting most animals, especially a sloth, on your own it's actually challenging!
So it's up to you if you want to do this guided or not.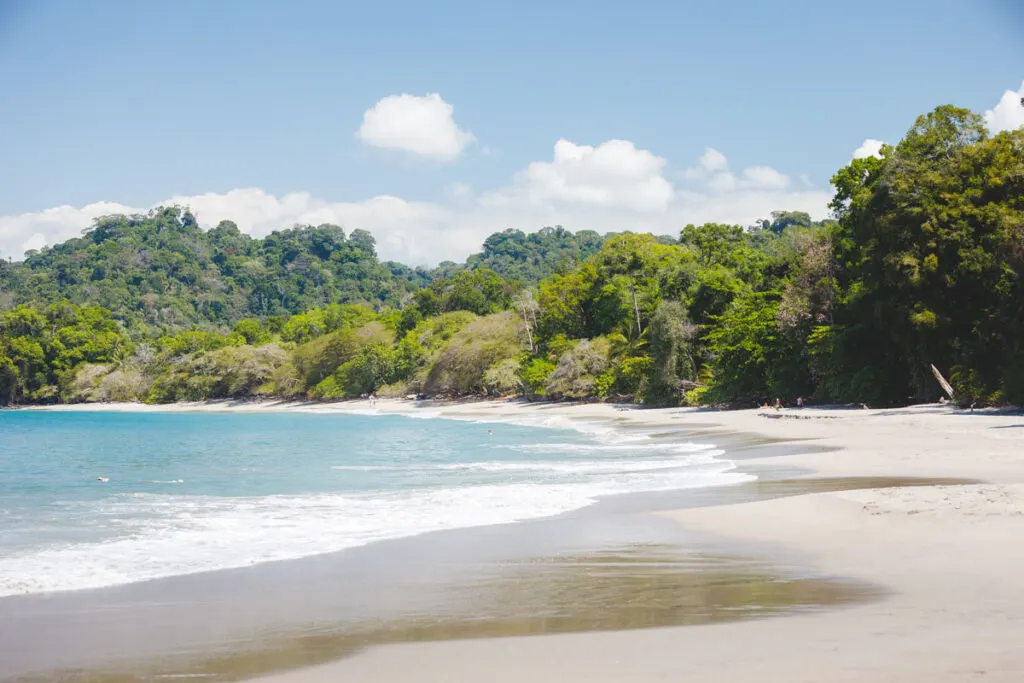 I recommend doing at least 1-2 guided tours during your time backpacking Costa Rica so you can get to know and actually see some of the animals here. But you might not want to spend the money on a guide for every place you visit while here. So up to you!
Just note Manuel Antonio is one of the best parks for wildlife spotting, so no matter what—keep those eyes peeled! This is a highly recommended tour and includes all the fees and even hotel pick-up!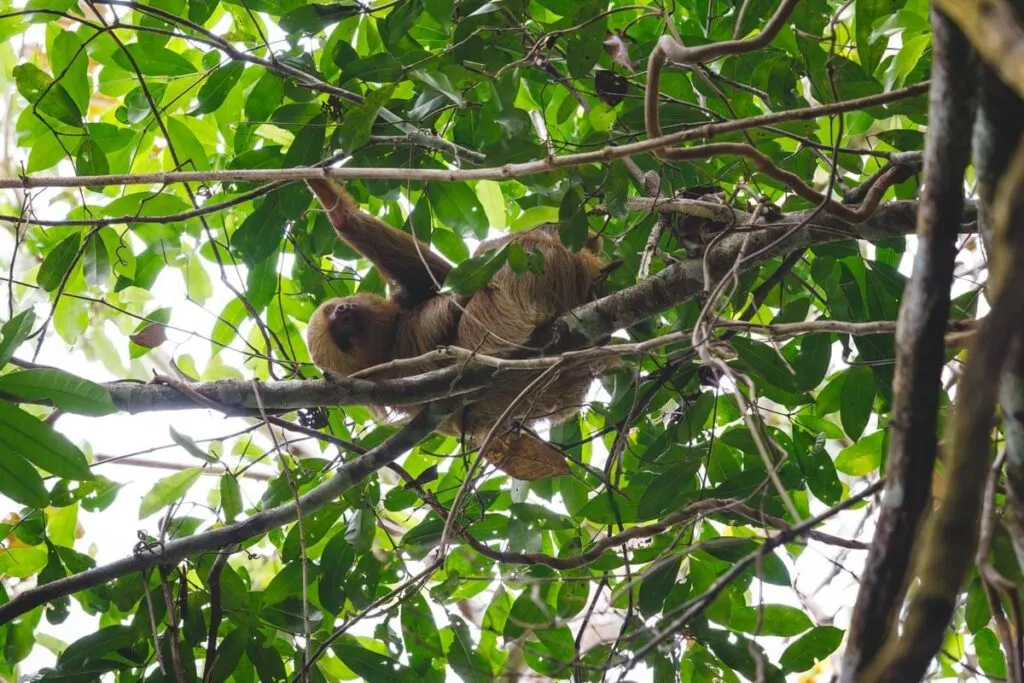 If you're more of a night owl, you can choose to go to a nearby area in Manuel Antonio for a night jungle tour to see which animals you can spot once the sun goes down.
If you don't have enough time to spend numerous days in Manuel Antonio, you can take a day trip to explore the park from San Jose or Jaco!
Tips for Visiting Manuel Antonio National Park
Bring your swimsuit and a towel if you plan on beach bumming, which I recommend you do!
Bring lots of water and sun protection, the hike is decently long, and it's HOT.
You can wear sandals or flip-flops around the park, I hiked in my flip-flops and was fine, plus I didn't want sneakers at the beach! But some people might want to bring BOTH so you can hike, then go beach bum.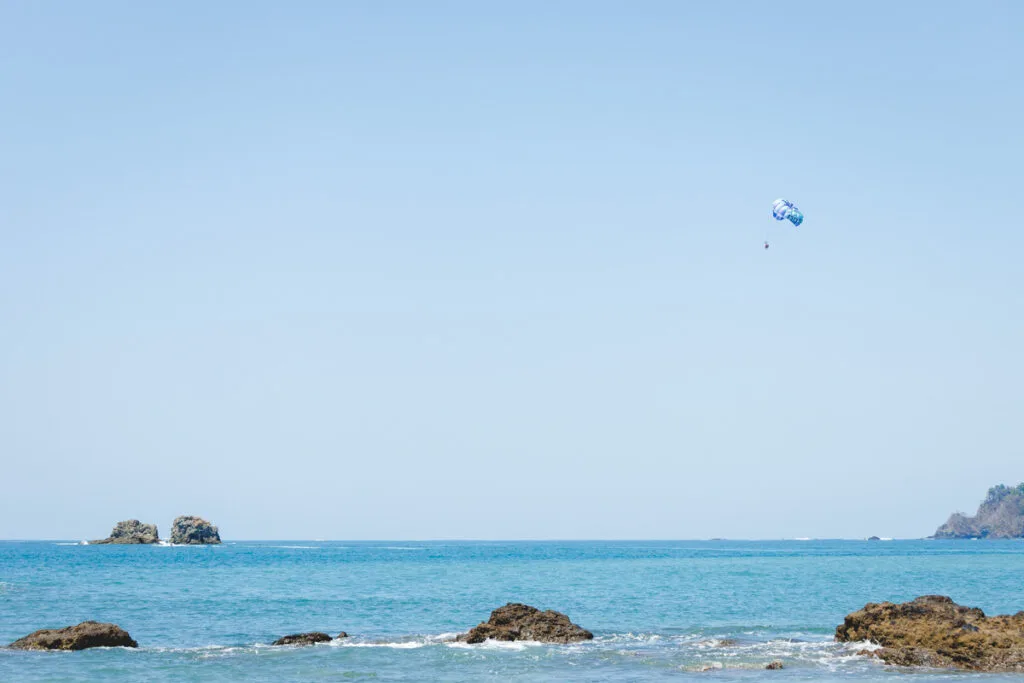 Don't forget to book your tour OR reserve your ticket in advance—they only sell a certain amount of tickets per day. Note that if you don't book a guide and you reserve online, you have to sign up on the Sinac website. And don't worry about selecting a time when prompted, you can still show up at any time on that day!
There is NO food or drink for sale in the park. You can bring in snacks and drinks; however, they only allow sandwiches and fruit?! No packaged nuts or chips etc… I know this sounds a bit silly, but I did see them throwing things away that people tried to take in. You are also not allowed to bring in cigarettes or a drone. They search your bags.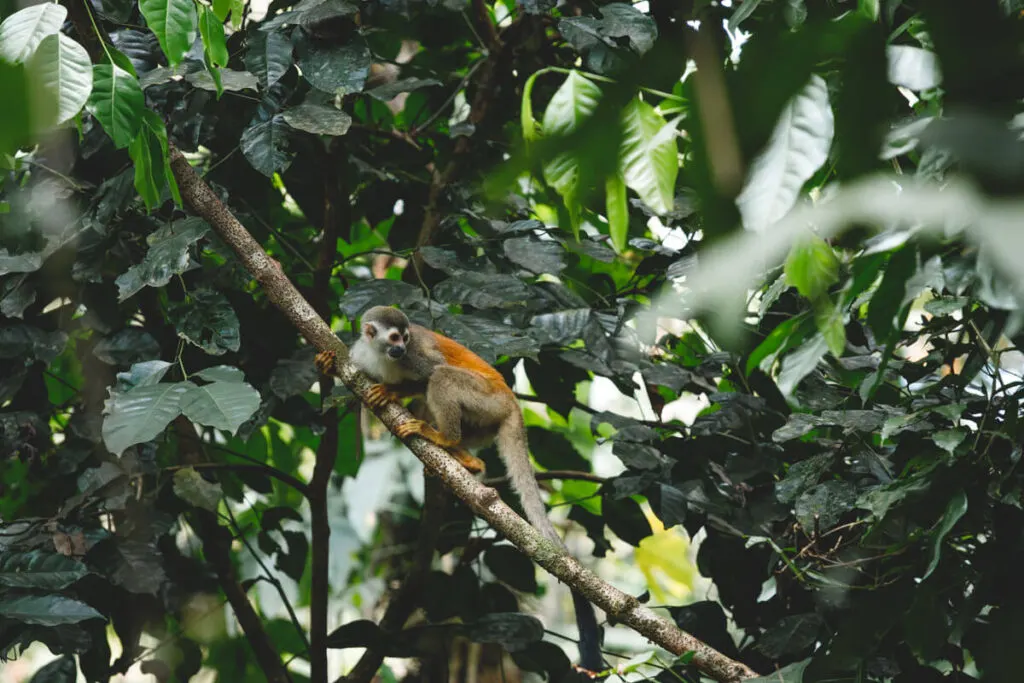 Go back up and read about the parking situation if you're driving here and skipped down to this part—it's a bit chaotic!
4. Visit Nauyaca Waterfalls
One of the best things to do in Manuel Antonio is actually getting out of town and exploring some of the surrounding areas. The Nauyaca Waterfalls sit about 2 hours from the city, making them the perfect day trip.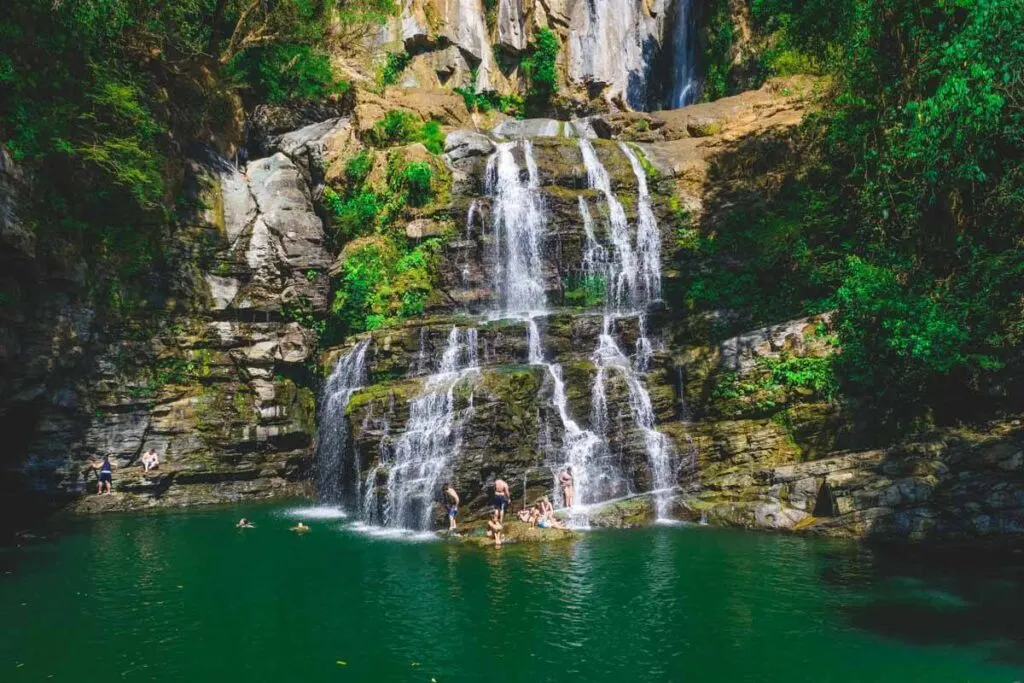 Of all the waterfalls in Costa Rica, Nauyaca is definitely high on the list of best waterfalls! There are two massive falls, plus some great swimming pools beneath to cool off in after your (short) hike to the waterfall.
If you don't feel like driving yourself/figuring out the bus system, you can take a tour of Nauyaca Waterfalls right from Manuel Antonio.
5. Take a Catamaran Tour of Manuel Antonio
Take a catamaran tour for a unique perspective of Manuel Antonio National Park.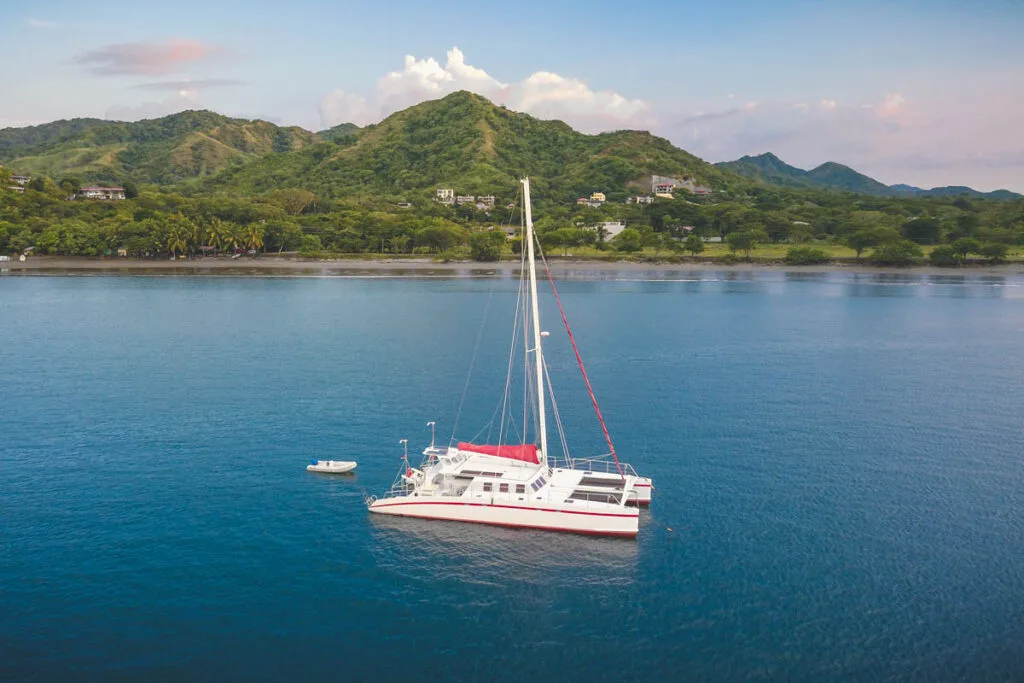 The park's protected bays and lush vegetation are even more breathtaking from afar. The tour takes you along the park's coast, with a chance to see dolphins, whales, and sea turtles. You'll also be able to get in the water to swim or snorkel before enjoying a nice lunch back on board.
6. Take a Day Trip to Rainmaker Conservation Park
If the crowds were a bit much at Manuel Antonio National Park, escape to the serene Rainmaker Conservation Park, about 40 minutes from the city—another great thing to do in Manuel Antonio!
The park is surrounded by dense rainforest vegetation and features waterfalls, hiking trails, suspension bridges, and plenty of wildlife-watching opportunities —all without the crowds! This is Pura Vida at its finest.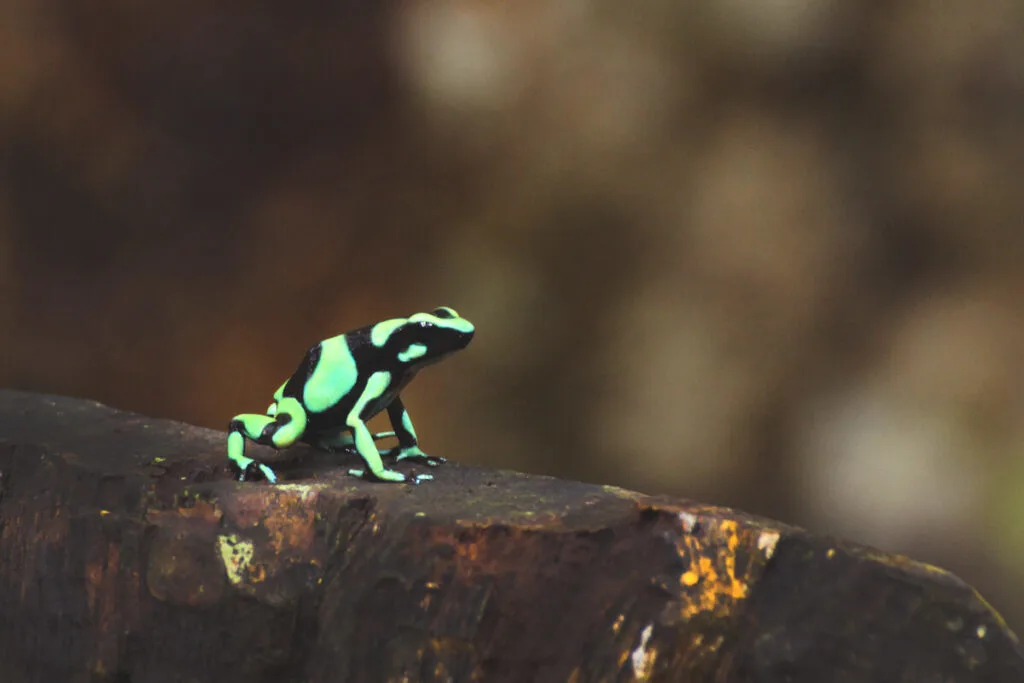 You can explore the park alone or book a tour with an expert guide who will point out the wildlife and unique flora of the rainforest.
7. Get Chocolate Wasted
From start to finish, you'll be involved in the chocolate-making process!
Embark on a journey through Costa Rica's lush jungles, exploring the secrets behind the country's cash crops: coffee, chocolate, and sugar cane. From Manuel Antonio, join a tour to a plantation and traditional sugar cane mill, where you'll witness the fascinating process of producing these delectable treats.
Discover the cultural significance of these crops to the local community and gain insights into their growth and cultivation. With a private guide leading the way, you'll enjoy a personalized experience, delving deep into the world of Costa Rican chocolate making (and eating!).
8. Mangrove Wildlife Expedition
Switch up the scenery and take a mangrove boat tour while in Manuel Antonio. The tour leads you through the other-worldly Damas Islands, home to one of the few remaining mangrove forests in Costa Rica.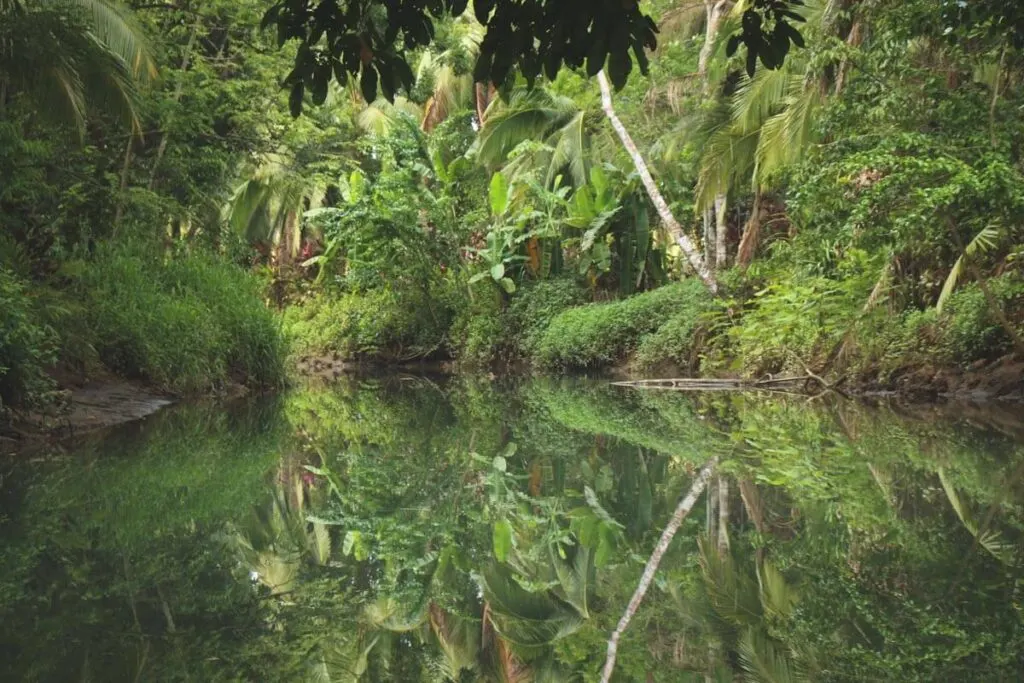 As you glide through the channels, you'll see wildlife hanging in the mangrove canopies overhead. Keep your eyes peeled for birds, sloths, monkeys, iguanas, and more. Don't worry; the guide will point out all the noteworthy creatures along the way—And thankfully so because most are mega incognito!
This is one of the more unique things to do in Manuel Antonio and an absolutely breathtaking experience. It's also only a half-day activity leaving plenty of time for you to beach bum after.
Where to Eat in Manuel Antonio
Rafael's Las Terrazas – Fresh seafood and EPIC views over Manuel Antonio.
El Avion – A great spot to eat for more views all in an old plane!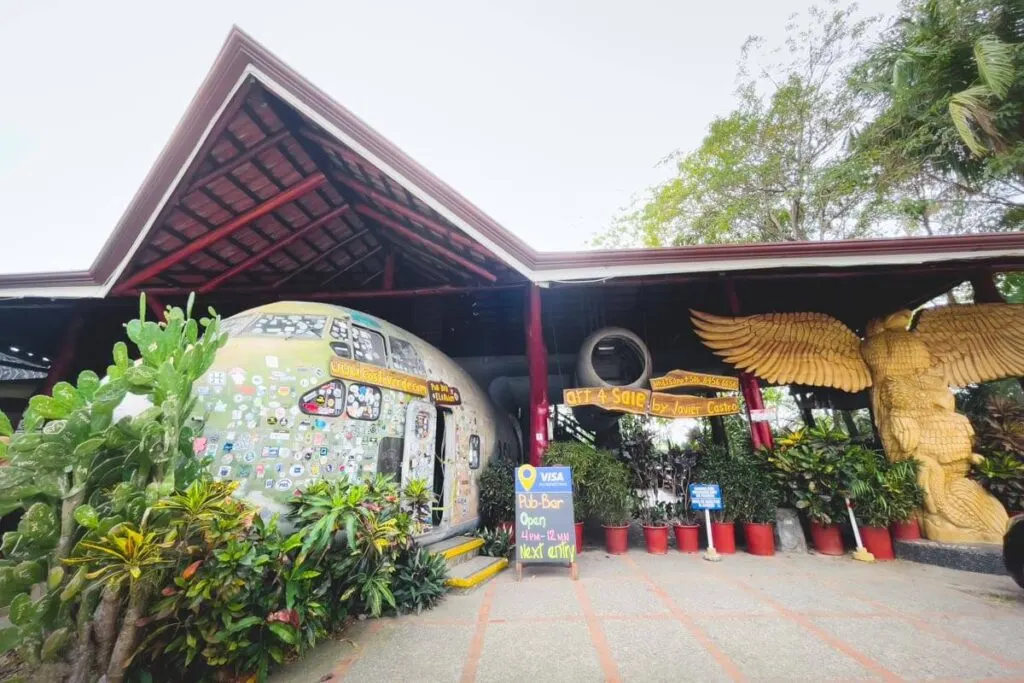 El Patio de Café Milagro – An easy and bustling spot to nosh on some local eats in a patio setting.
Varuna – A yummy spot serving up plant-based food and juices.
Manuel Antonio Falafel Bar – The name says it all, and you get to top your falafel plates with all the toppings and veggies you want.
Soda El Angel – Pretty much the only soda in town, and it's the local's spot to grab a cheap bite to eat.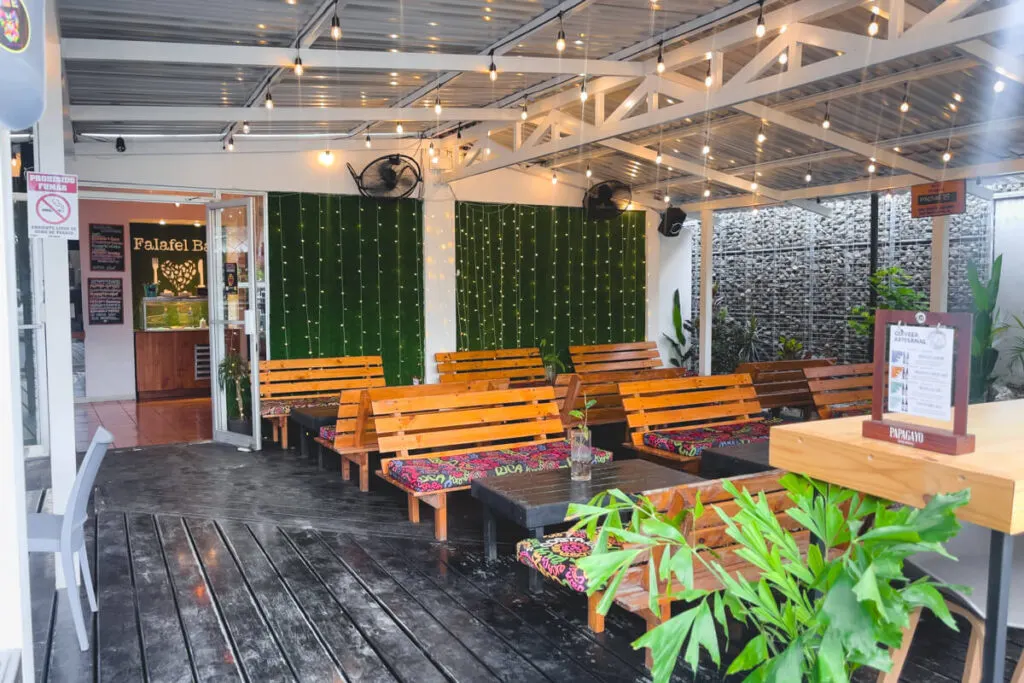 Where to Stay in Manuel Antonio
Blue Morpho House
Blue Morpho House isn't anything too special, but it's a great budget spot with an excellent location and friendly staff. I ended up here and got a whole apartment with a kitchen to myself! They have dorms, family rooms, and private apartment-style rooms to choose from.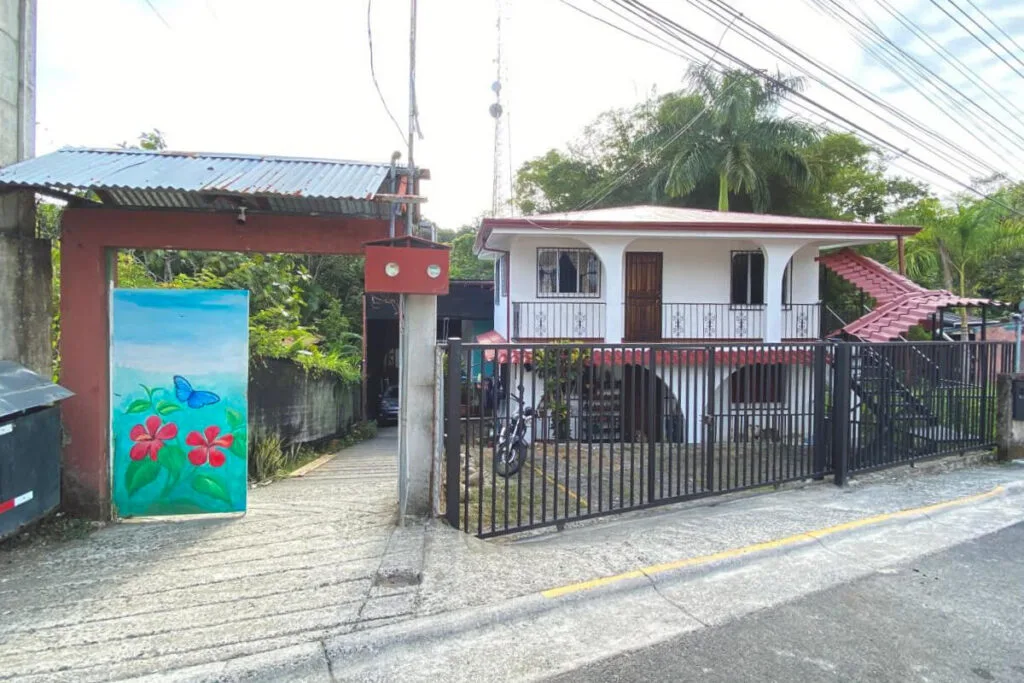 Issimo Suites
Discover a blissful retreat at Issimo Suites in Manuel Antonio, near Playa Biesanz. Bask in breathtaking views of the ocean and lush gardens that surround you, or simply unwind on the terrace or at the bar. To enhance your relaxation, the property offers a spa and wellness center. The best part? This is an adults-only hotel!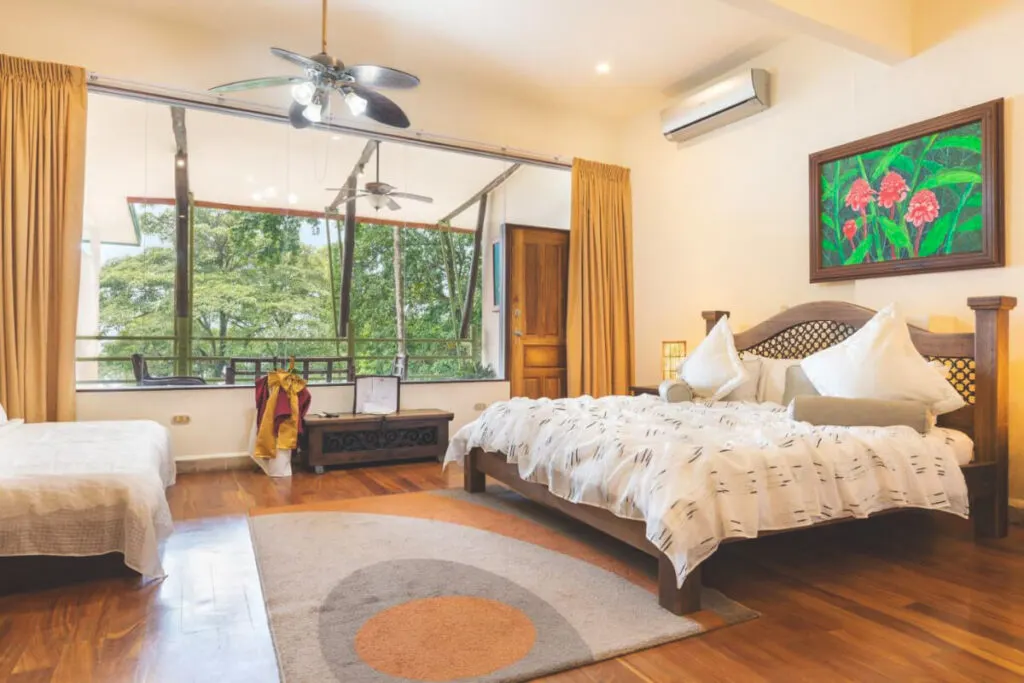 Shana by the Beach Manuel Antonio
Shana Hotel & Spa, a stylish boutique hotel atop Quepos Point's hills, offers chic rooms with garden or ocean views, air conditioning, and even an outdoor pool, and a luxurious spa with a hot tub. Savor complimentary daily breakfast and unwind at the Living Bar and Lounge. This hotel is located near Playa Biesanz!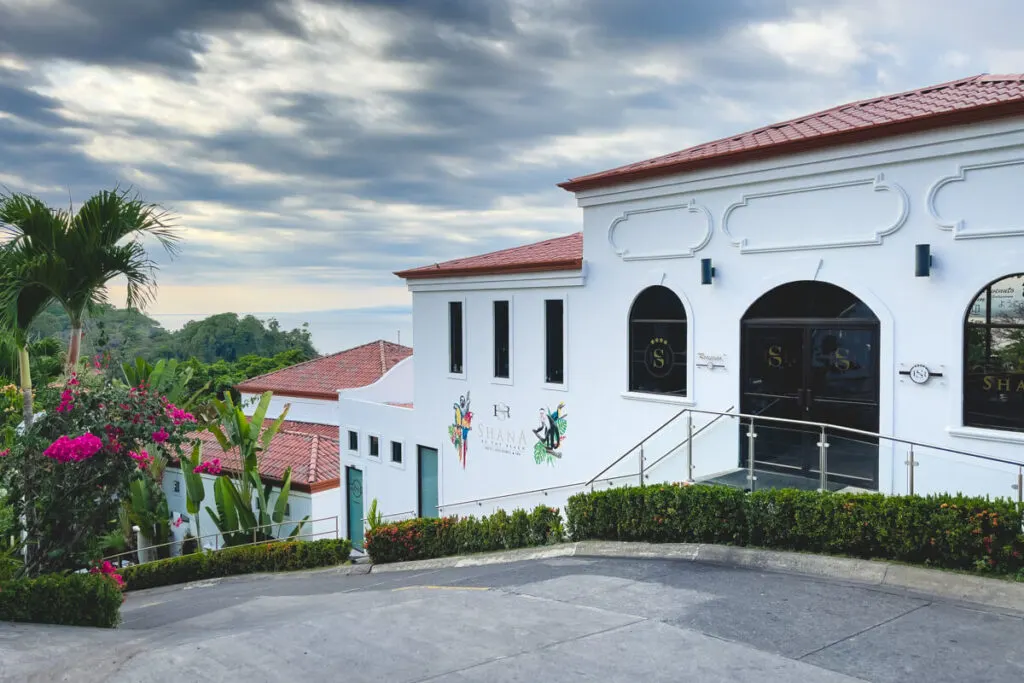 Millenium Manuel Antonio
Millenium Manuel Antonio offers free WiFi and parking and is very close to the entrance of the national park. Select units feature garden and courtyard views, and everyone gets a nice included breakfast. Enjoy the outdoor swimming pool on hot days!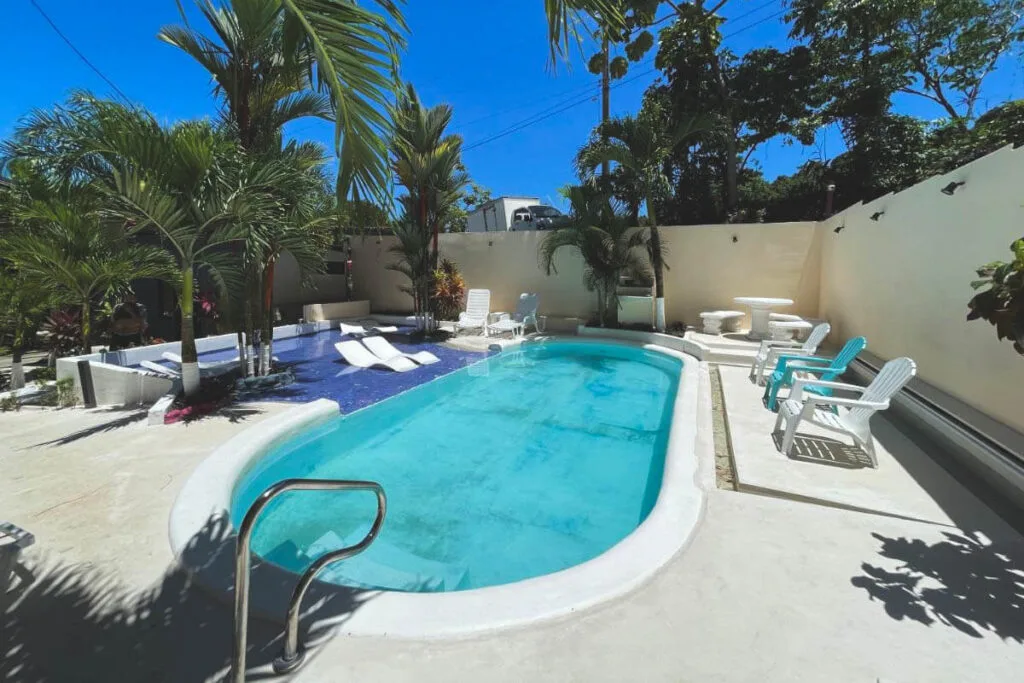 Not sure if these options are for you? Search for more highly recommended places to stay…
MORE ACCOMMODATION OPTIONS IN MANUEL ANTONIO:
Where to Next After Manuel Antonio?!
There are plenty of options, but these two are my favorite nearby spots…
Uvita – A magical little beach town with plenty to see and do! There are waterfalls, another epic national park, and plenty of sandy beaches for beach bumming and surfing.
Santa Teresa – A popular little coastal town that's blown up and perfect for a surfer's beach getaway.
I hope this helped you plan your trip and you find some epic things to do in Manuel Antonio! Make sure to check out my backpacking in Costa Rica guide for more info on the country.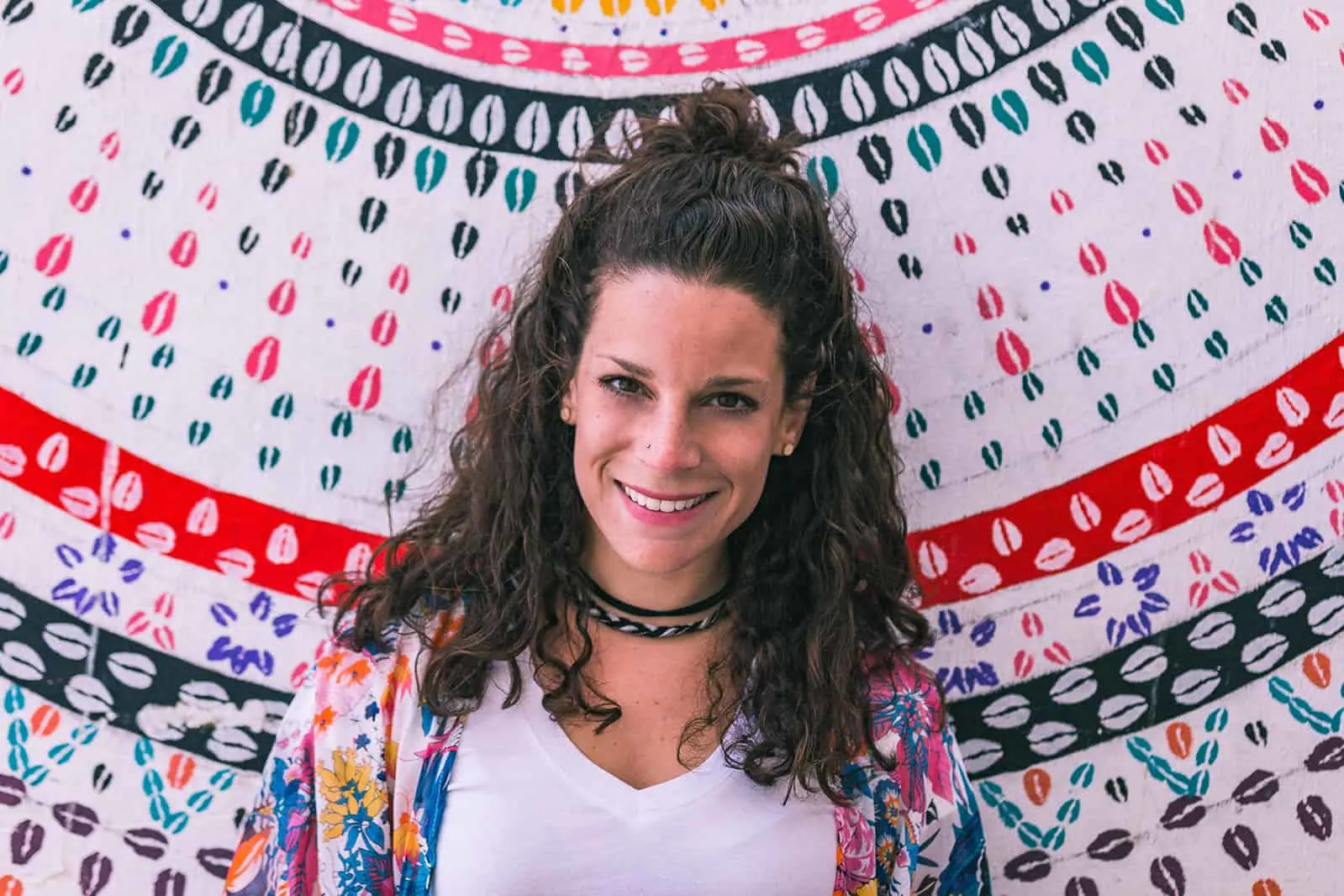 Nina Ragusa is an adventurer, messy bun master, breakfast fan, and full-time travel blogger. She's been abroad since 2011 and blogging on Where in the World is Nina? for nearly as long. Nina helps people like you move around the world while making money. She loves talking about how to work abroad and online to travel longer!