Get ready for an exciting escapade as we journey to the mesmerizing Oropendola Waterfall in the heart of Costa Rica's Guanacaste Province!
This enchanting spot offers a serene haven surrounded by lush greenery and a fascinating hanging bridge, leading to the ultimate prize—a stunning cascade of turquoise waters flowing over a moss-covered canyon! Here's everything you need to know…
Planning Your Trip NOW?
Book the exact tour I did and save time and money!
🗺️ The tour includes:
Swimming at Oropendola Waterfall (of course!)
Wildlife spotting in Rincón de la Vieja National Park
Hiking around volcanoes and craters
Relaxing in the mud baths of Río Negro
All transportation and lunch too
Where is Oropendola Waterfall?
Located in the Guanacaste Province of northwestern Costa Rica, the mesmerizing Oropendola Waterfall presents a fantastic option for those seeking a picturesque cascade while backpacking in Costa Rica.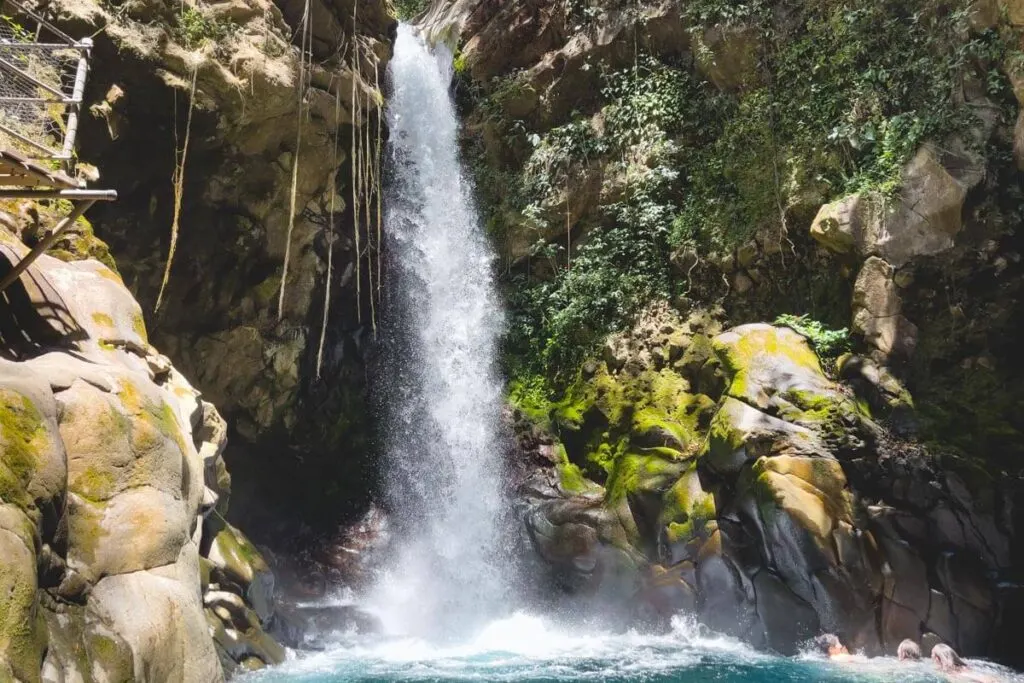 Situated near Rincon de la Vieja National Park, Oropendola Waterfall is easy to access. It's approximately 15.5 miles (25 km) from Liberia which is the closest city. But the road is a bit rough in some spots, so expect to take longer if you're driving yourself.
It's also conveniently reachable on a day trip from various beach destinations such as Tamarindo, Flamingo, Playas del Coco, or Playa Hermosa, the journey takes approximately 1.5 hours, contingent on your starting point.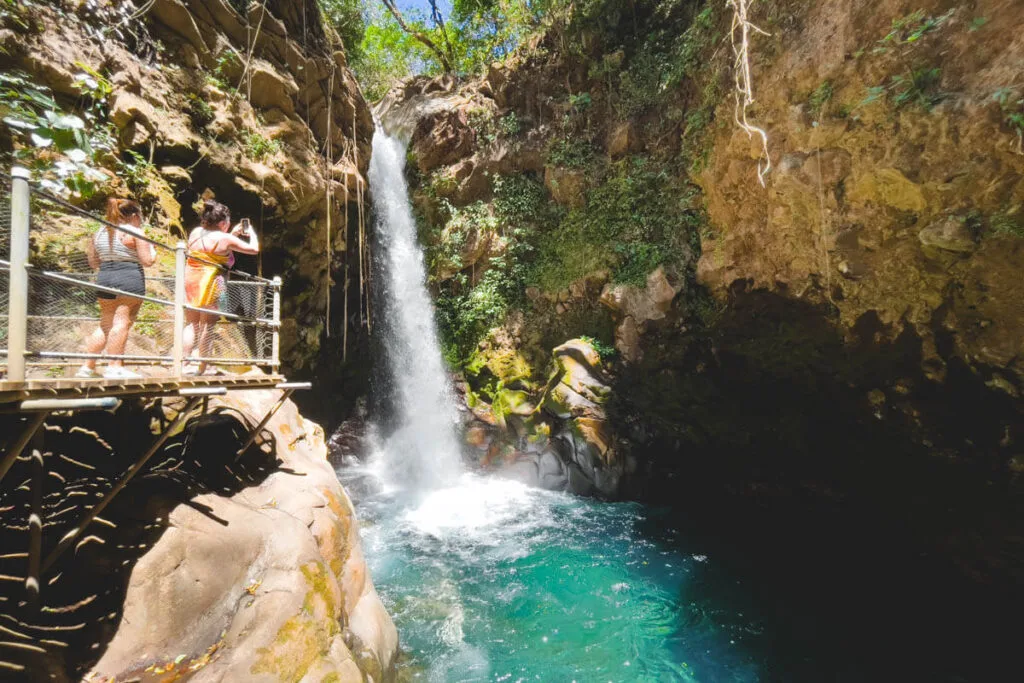 Alternatively, you can immerse yourself in the charms of Rincon de la Vieja for a couple of nights, providing easy access to the waterfall and the chance to explore other captivating attractions in the area (but more on this in a sec!).
Access to this natural gem is exclusively through Hacienda Guachipelin, a splendid hotel that owns the property around the falls.
How to Access Oropendola Waterfall
There are three ways to get into this waterfall.
Drive yourself here in your rental car. Make sure to pay the entrance fee (around $20 USD) at Hotel Hacienda before heading to the waterfall, which is 10 minutes away.
Get free access and take the complimentary shuttle bus service if you're a guest at Hotel Hacienda Guachipelin. Staying at the hotel also gives you access to other waterfalls and hot springs! More on this in a sec…
Take a tour out here that includes other activities. (This is what I did!)
Trail to Oropendola Waterfall
The dirt trail leading to the Oropendola Waterfall is like a perfectly balanced mix of wild and well-maintained. At first, it's wide and mostly flat, surrounded by lush tropical forest. The trail becomes a green wonderland during the rainy season (May through November). But in the dry season, you'll see a bit of a sparse look as it's one of the driest spots in Costa Rica, after all!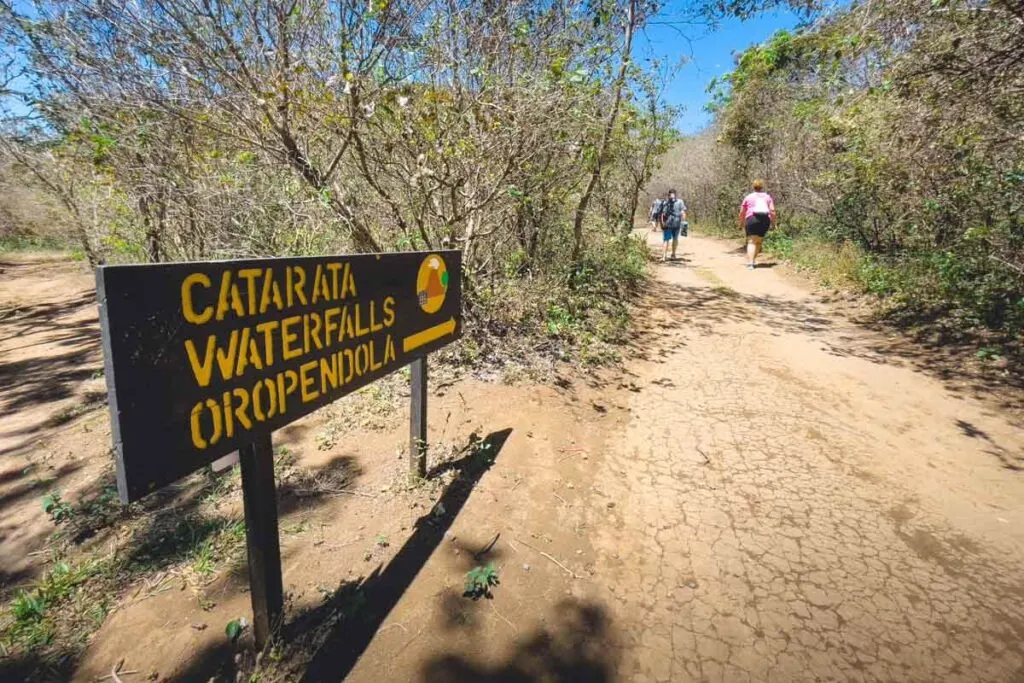 The trail is super easy and is less than a mile round trip. The best part about the trail, aside from the waterfall waiting for you at the end, is the cool hanging bridge!
Right before you reach the jaw-dropping waterfall, an impressive hanging bridge comes into view, stretching over the river gorge. Costa Rica LOVES its hanging bridges, and this one is just as cool as the others I've seen around the country (like in Monteverde and La Fortuna).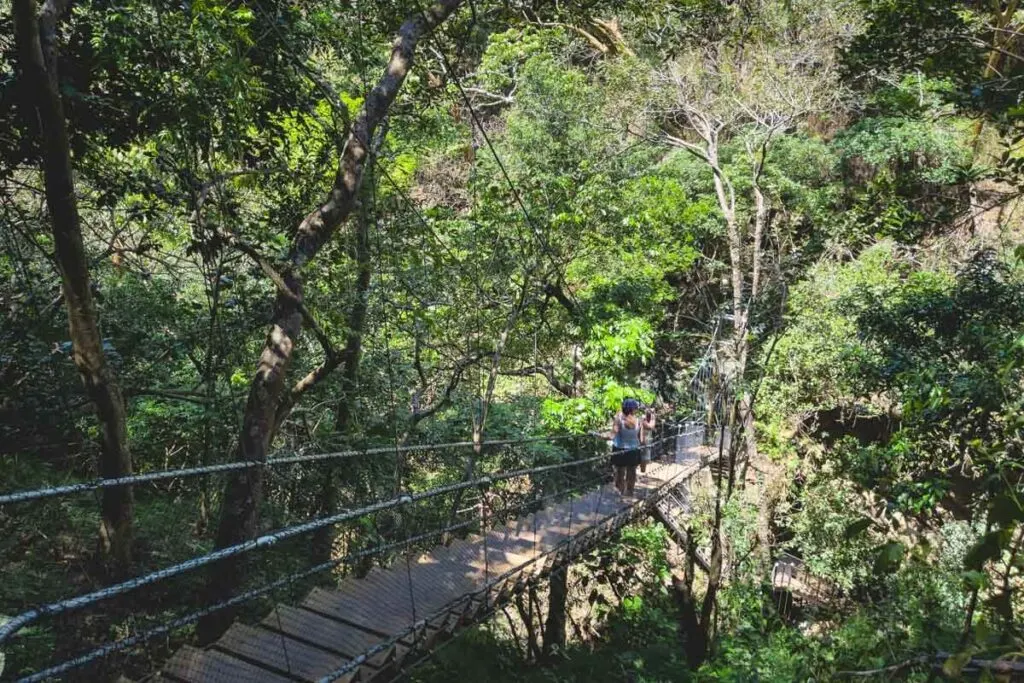 The trail takes about 10-15 minutes each way, and it's a relaxed stroll that almost anyone can do. Enjoy the stunning sights, soak up the jungle vibes, and feel the thrill of adventure as you make your way to the incredible Oropendola Waterfall that you'll hear in the distance.
Getting to Oropendola Waterfall
Once you cross the bridge, you'll reach a landing area with a perfect vantage point to admire Oropendola Waterfall. This platform fits around 10-15 people and is also where you'll find a pile of shoes and towels from those taking a dip.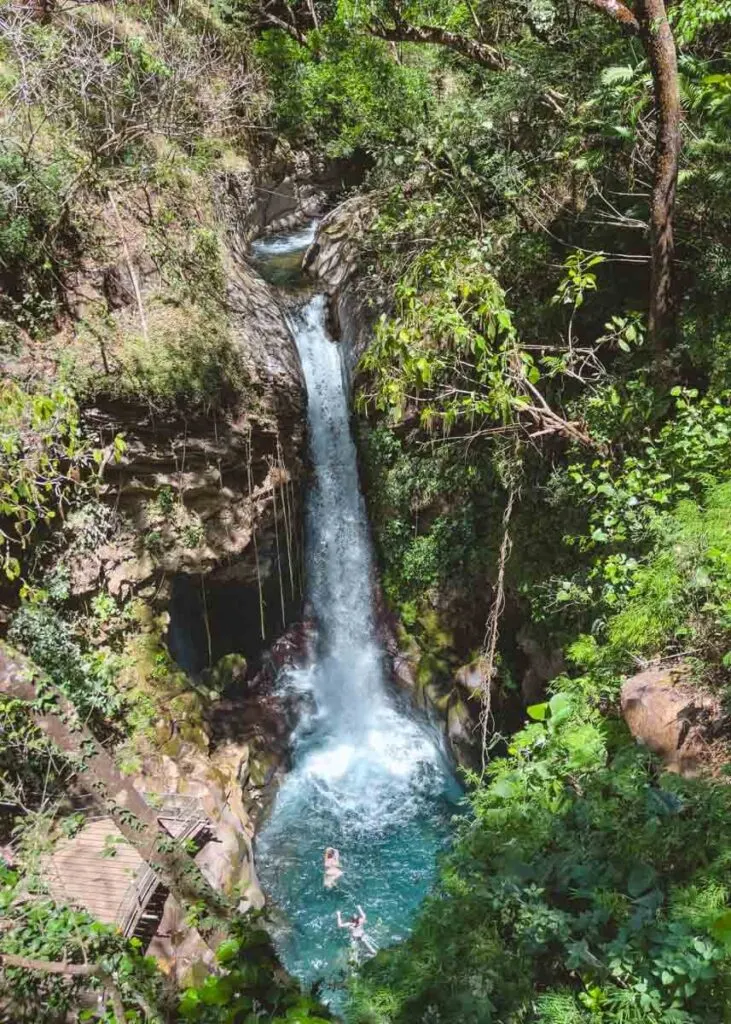 The waterfall gracefully flows 82 feet (25 meters) over a rocky, moss-covered canyon; its water boasts a stunning turquoise hue, a gift from the abundant minerals in the region's volcanic soil.
If it's a hot day, descend the metal stairs leading you to the riverbed, where you can explore the waterfall's base and experience the canyon's grandeur—you're literally right in the middle of it!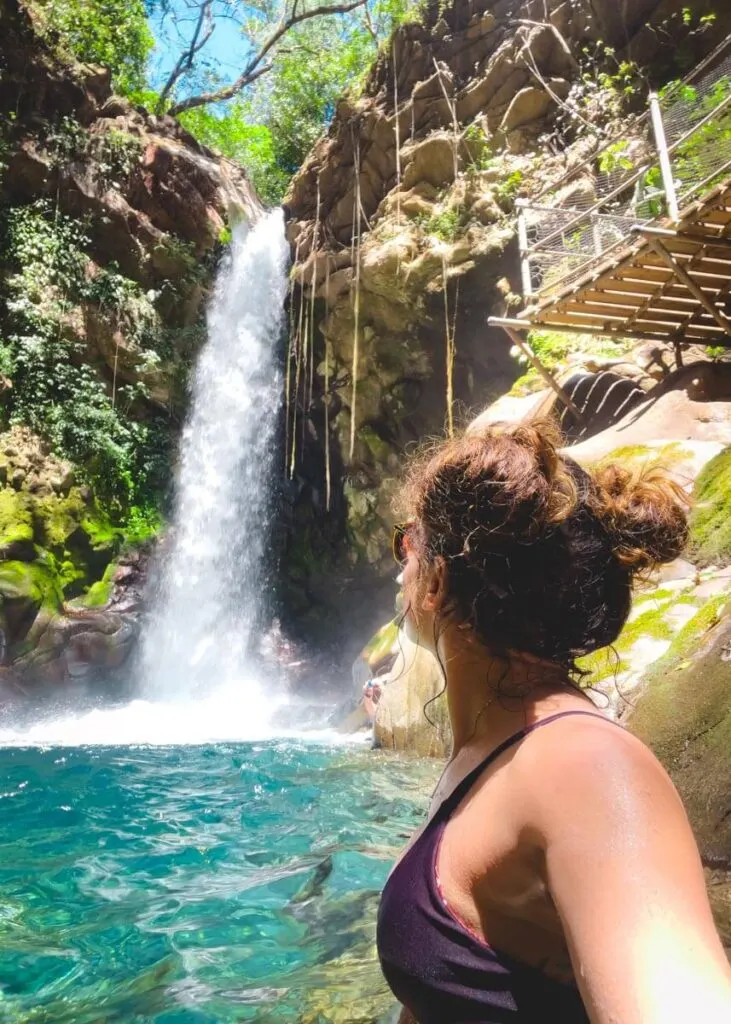 You can swim up to the falls, and in the river, it flows down to. The water was incredibly refreshing and cool when I was here on a very hot day in February! I was dying to get in after hiking around all day.
Tips:
You should know there's a walk to the waterfall and no facilities down there. Make sure you're in your swimsuit already and use the restroom before heading to the falls.
You can stand on the platform above the waterfall if you don't want to swim.
You don't need a guide for this hike! You're free to roam around as long as you pay the entrance fee.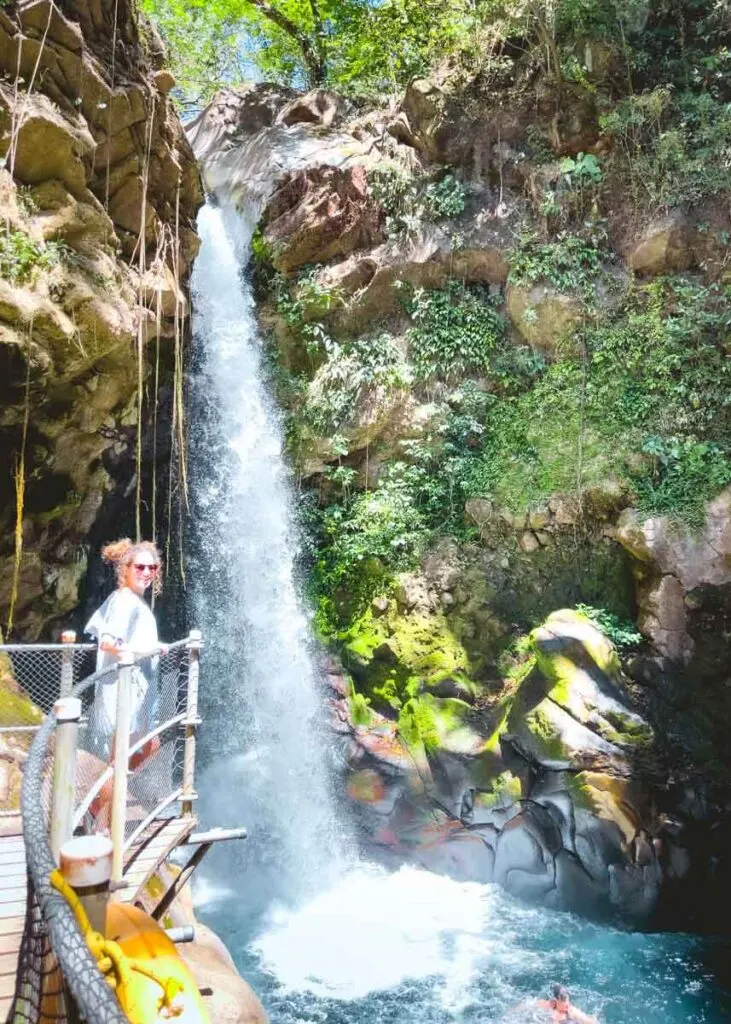 There's a security guard on the platform monitoring all the visitors and checking for wristbands.
Make sure you have a waterproof phone, case, or GoPro to get a picture down in the waterfall!
Remember to stop by Hotel Hacienda Guachipelin and pay your entrance fee if you're coming here in your own car. The falls are 10 minutes away, and you can only purchase your ticket for entrance at the hotel!
What To Bring:
Dry bag – A waterproof bag to hold your things for the day
Swimsuit and towel – If you plan on swimming, definitely bring this!
Flip Flops – You don't want to wear sneakers that you are dripping wet into after you go for a swim.
Sunscreen and hat – It's hot and sunny!
Rincon de la Vieja National Park, Hot Springs, and Oropendola Waterfall Day Trip!
One of the best ways to experience the waterfall PLUS a bunch of other epic things to do in the area is a day trip. You can take a day trip to the site from Liberia, Tamarindo, Playas del Coco, and other nearby beach towns, which might not be a bad idea.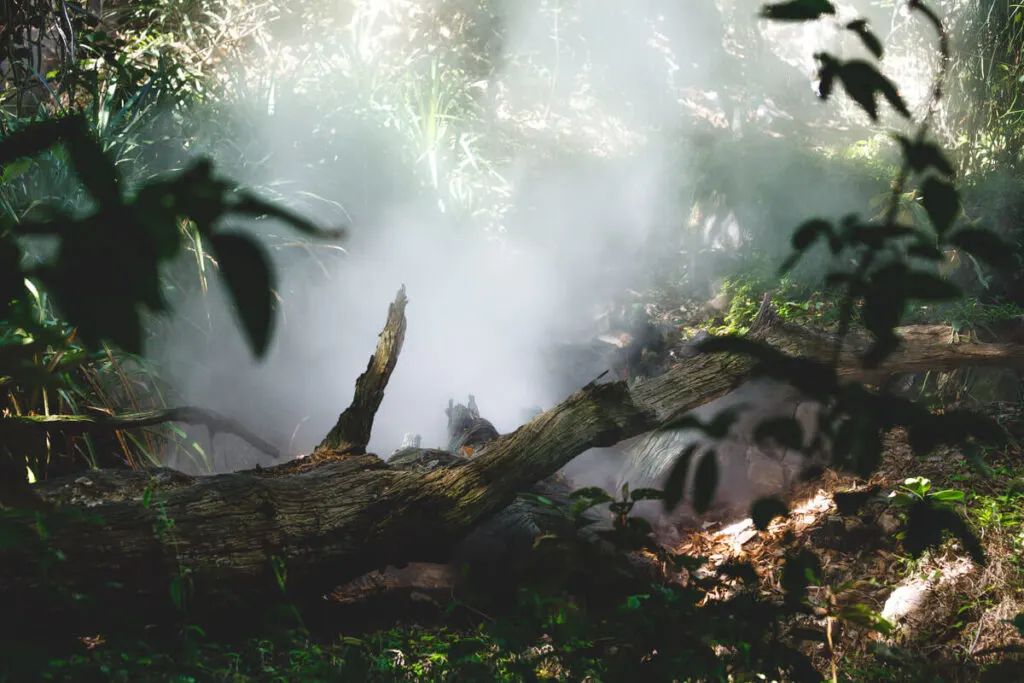 There isn't much of a happening town in the area, so taking a day trip here is what most choose to do, especially if you're not renting a car.
This is the tour that I did, and I loved it! It packs a TON of things into one big day. You'll embark on a thrilling full-day adventure in Rincón de la Vieja National Park! It's a captivating park showing off Costa Rica's stunning nature. The park is comprised of enchanting volcanic landscapes for you to explore.
What You Get on This Day Trip:
You'll trek through the jungle for a few hours, encountering howler and capuchin monkeys, toucans, and coatis along the way. The hike is easy and mostly flat, but it will be pretty hot and exposed in some areas, so bring lots of sun protection.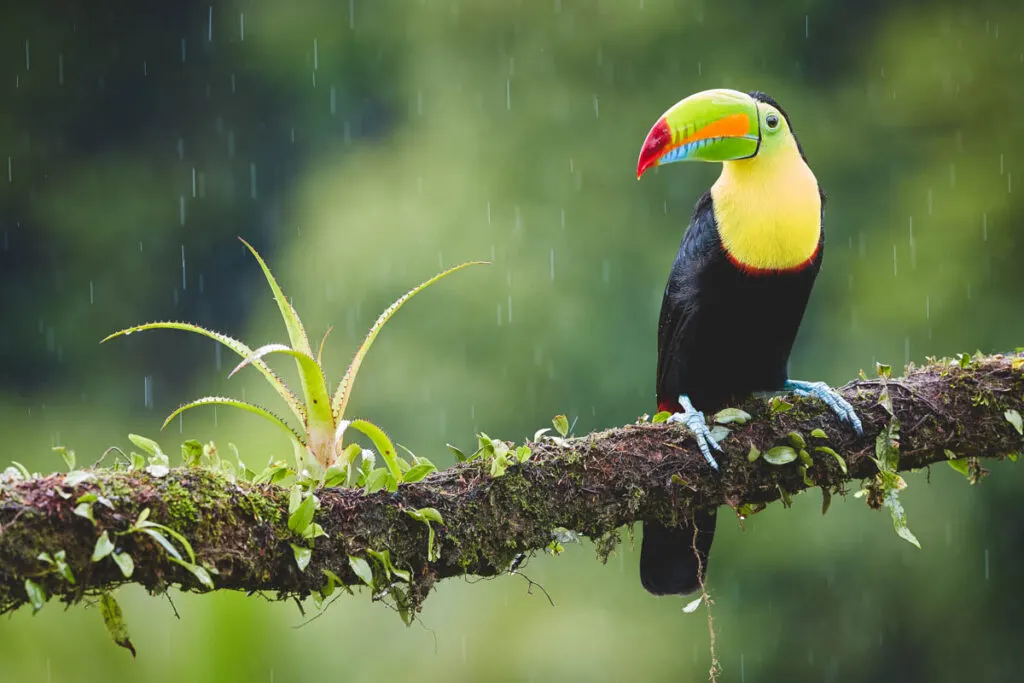 Along the walk, you can witness hissing vents, volcanic craters, and bubbling mud pools. You'll have a guide telling you about the history and landscape while the volcanoes loom in the distance!
Afterward, you'll be VERY ready to take a dip in Oropendola Falls. It's a perfect break after hiking under the hot Costa Rican sun.
Midday, enjoy a delightful Costa Rican lunch to refuel, followed by a blissful soak in the rejuvenating hot springs and volcanic mud baths.
Experience the ultimate relaxation at Rio Negro Hot Springs, enriched with therapeutic minerals from the Rincon de la Vieja Volcano. Nestled in a serene setting, these beautiful hot springs boast ten pools filled with naturally heated thermal waters.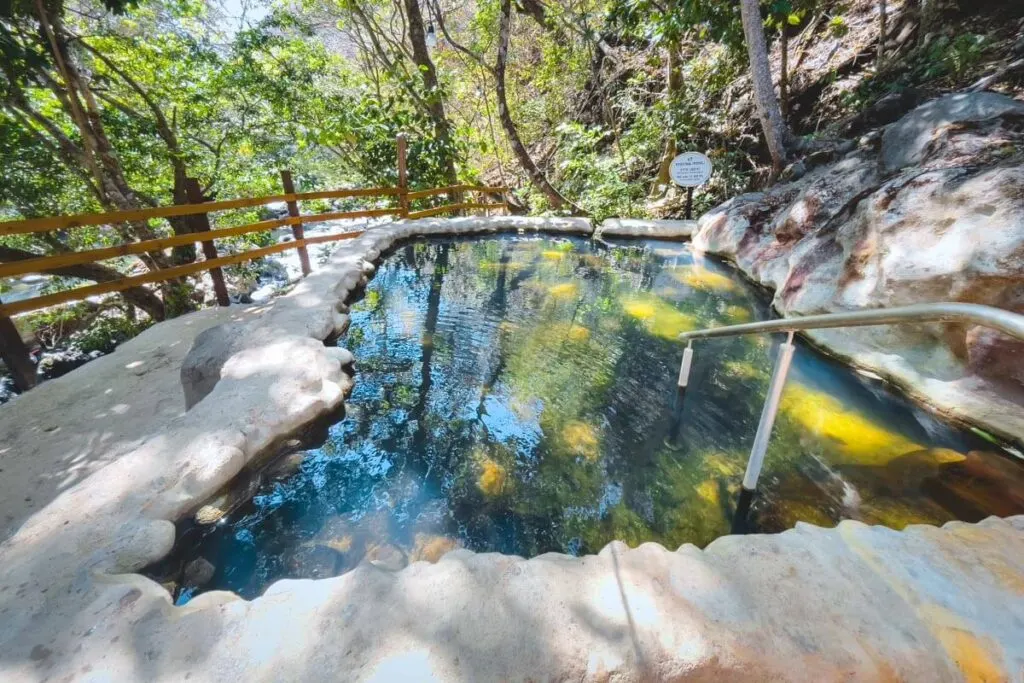 Enjoy the soothing benefits of hot volcanic mud, acting as a body masque, and cool off in the crystal clear (and surprisingly chilly) river before returning to the rejuvenating thermal water pools. While it was hot out, by the time we made it to the mud baths, it was later in the day, and there was shade, so it still felt really good!
Book this tour—The exact one I did! It's a good option if you don't have a lot of time while visiting Costa Rica or are trying to squeeze in as much as you can.
Where to Stay Near Oropendola Waterfall
Don't forget you get access to the falls and hot springs if you stay at Hotel Hacienda Guachipelin. You can stay in the area for a few nights and explore some of the other adventure activities like ziplining, canyoning, and rafting. Plus, there are more falls on offer, too.
I hope this helped you plan your trip to Oropendola Waterfall and around Rincon de la Vieja National Park!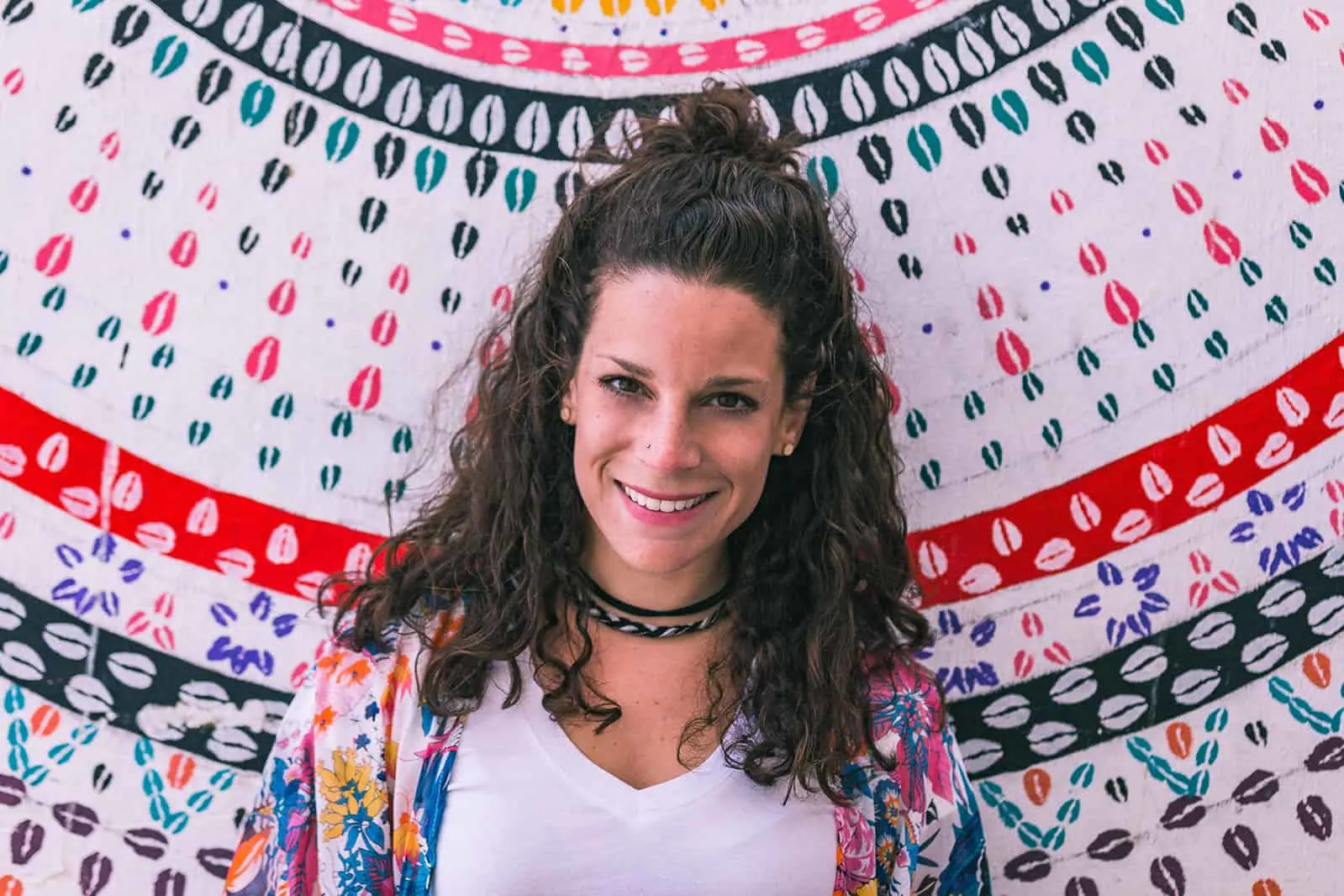 Nina Ragusa is an adventurer, messy bun master, breakfast fan, and full-time travel blogger. She's been abroad since 2011 and blogging on Where in the World is Nina? for nearly as long. Nina helps people like you move around the world while making money. She loves talking about how to work abroad and online to travel longer!