Ahhhh Uvita. A lesser-known slice of paradise situated along Costa Rica's southwest coast.
This small beach town is brimming with natural beauty. And while town might be overstating things (it's really more like a glorified spread-out village), there are TONS of awesome things to do in Uvita.
Obviously, there are the classics: beach bumming, surfing, and waterfall chasing—Of course! But there are also several national parks in the area, some great whale-watching opportunities, and best of all, hardly any crowds!
Intrigued? I bet! Here are some of the best things to do in Uvita and some nearby activities as well.
Things to Do in Uvita, Costa Rica
---
1. Marino Ballena National Park
Uvita definitely isn't a tourist hot spot. But if one thing draws visitors here, it's Marino Ballena National Park—And for good reason too. This marine park is known for its whale tail-shaped sand bar that only makes an appearance at low tide, and if you zoom into Google Maps, you'll see exactly what I'm talking about.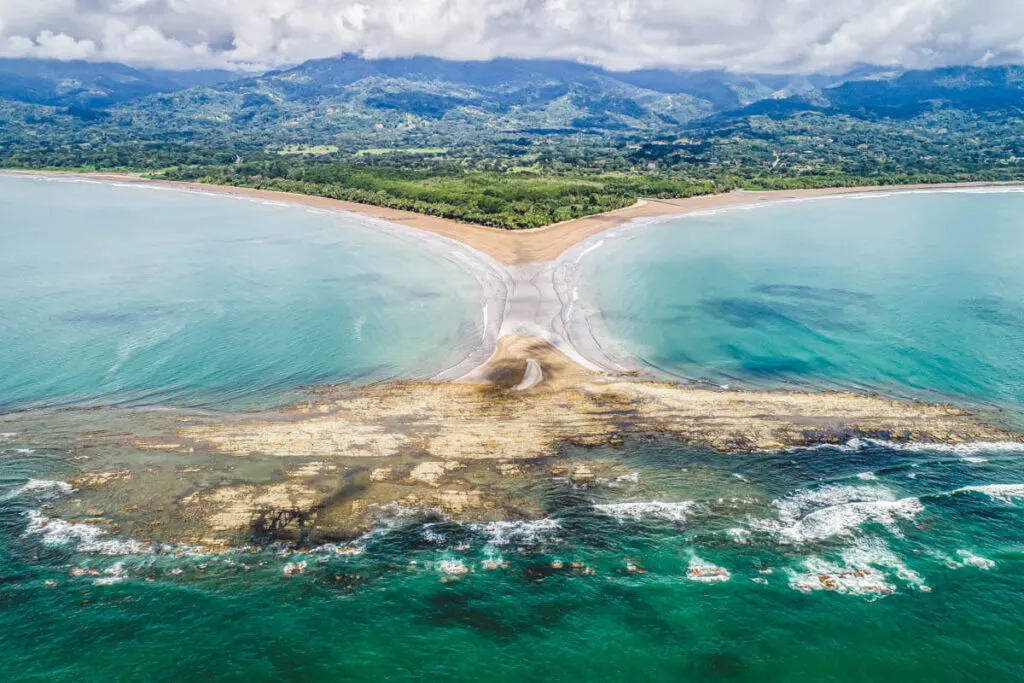 The sandbar is pretty big, so you won't be able to see the actual shape of it as you're walking, but that's not the point anyway (more on this soon)! This area is stunning, and walking along the palm tree-lined beach is the perfect way to take it all in. Obviously, you could spend the whole day on any of the magnificent beaches in the park, but we'll get to that later.
Remember that you'll only be able to walk on the whale tail during low tide, so plan accordingly!
Despite being the main draw here in Uvita, you won't find it too crowded here at all. There are plenty of beaches to spread out and enjoy the gorgeous shores, try and spot some wildlife like sloths and iguanas, and even crocodiles!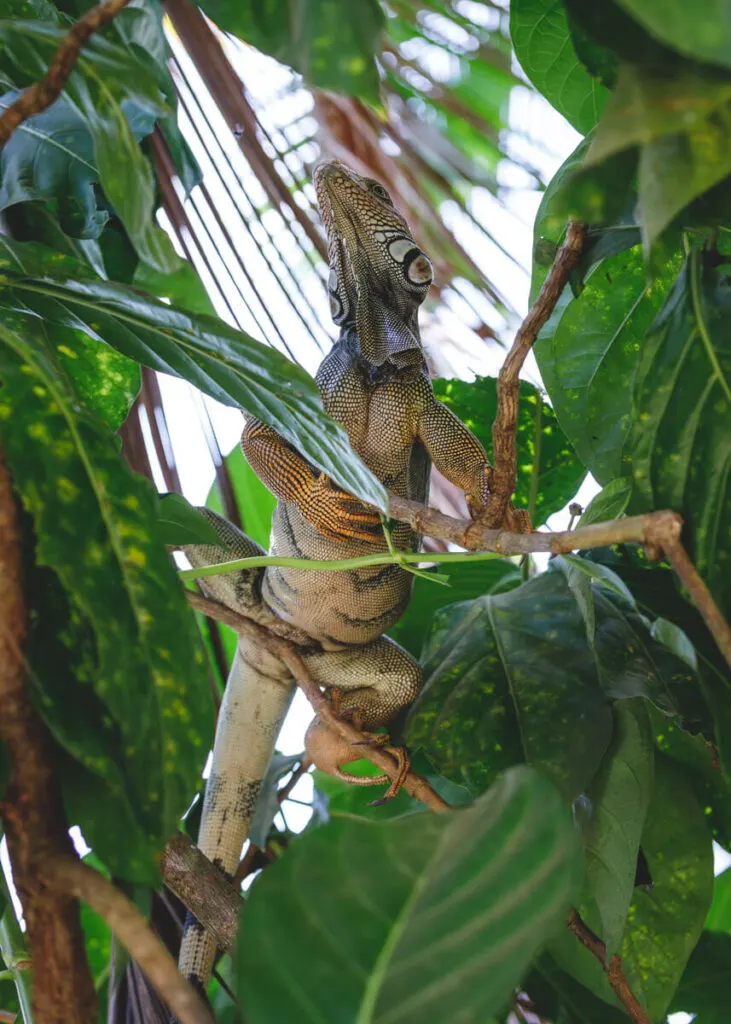 Since this is a national park, there is a fee to enter ($7). You can head to the main entrance here, which will get you closest to the whale tail and the option to walk left or right to find your slice of gorgeous beach to claim for the day.
I walked to the left and found a slice of paradise all to myself, and I didn't see another soul except two surfers way off in the distance. This was definitely one of my favorite spots in the country!
2. Whale and Dolphin Watching Tour
If you want to see some real whale tails, book a whale and dolphin-watching tour!
Uvita is a mating ground for humpback whales from the north AND the south, which means there are TWO whale-watching seasons. Yup. That's some pretty good odds for seeing these magnificent creatures.
If you visit from January to March or from July to October, you'll have a good chance of seeing some whales. You'll probably see dolphins even if you don't see any humpbacks, and the snorkeling part of the tour lets you observe tropical fish and maybe even some sea turtles.
3. Beaches in Uvita
Bumming on the beach is one of the best things to do in Uvita. It is a beach town, after all!
There are a few different sandy stretches in the area, some right in town, some in the national park, and some on the outskirts of the village. Here are some of my favorite places I parked my bum while in Uvita.
Uvita Beach
Uvita Beach hugs the town center, making it the most accessible beach for those not renting a car. This beach is part of the Marino Ballena National Park, where you'll access the whale tail sand bar at low tide.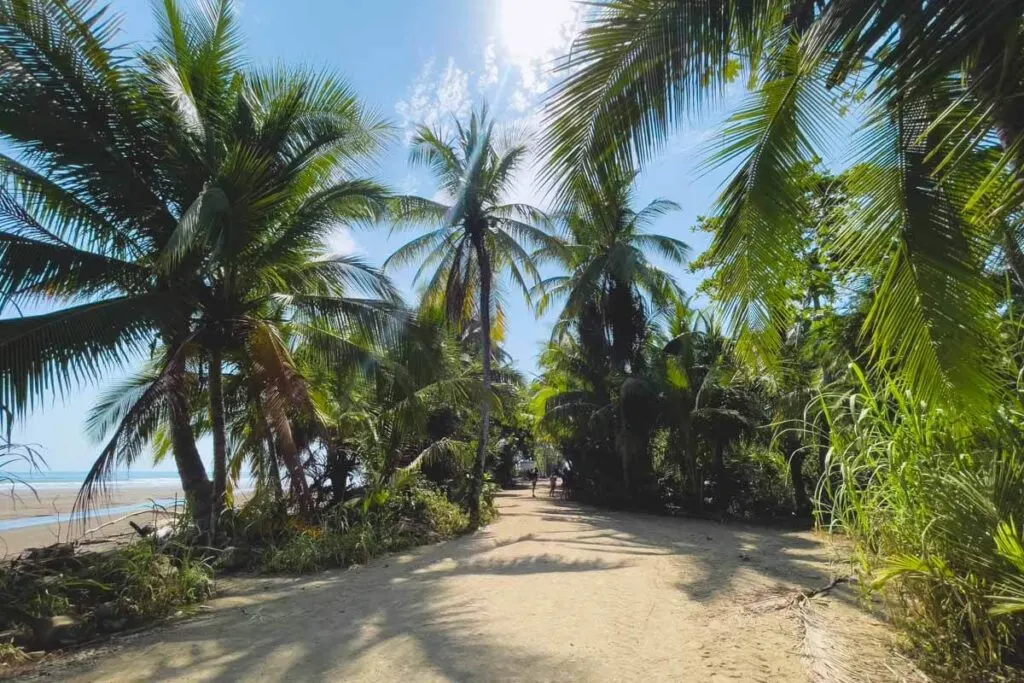 It's also an excellent spot for a lazy beach day, a scenic sunset, or watching wildlife in the tree line. Keep in mind there is a fee to enter this beach because it's in the national park. You can come for the day and lay here all you like, and you can also come and go, just keep your ticket for reentrance.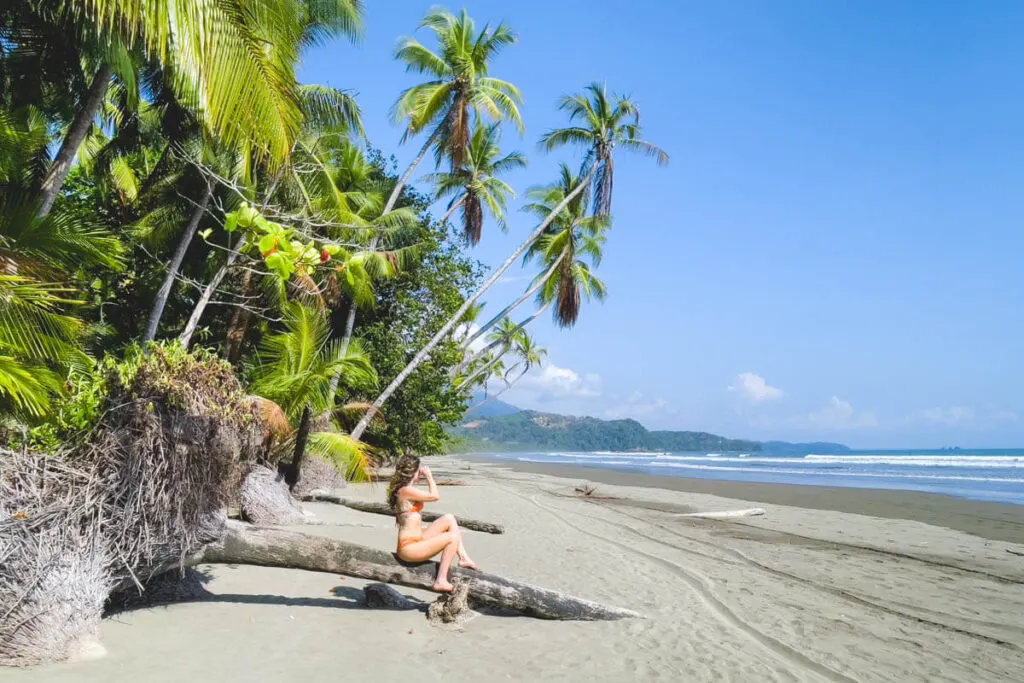 Playa Hermosa
Playa Hermosa literally translates to beautiful beach. Say no more! This spot is a favorite with locals and visitors alike, and it's not hard to see why. The tan sand mixed with the dense jungle certainly sets a beautiful scene for a memorable day at the beach, and the coconut and ceviche stalls are a bonus. Playa Hermosa sits a bit out of town (about 3 miles), so you must rent a car, get a taxi, or hop on the local bus to get here.
I mean, technically, you could walk, but it's a loooong walk.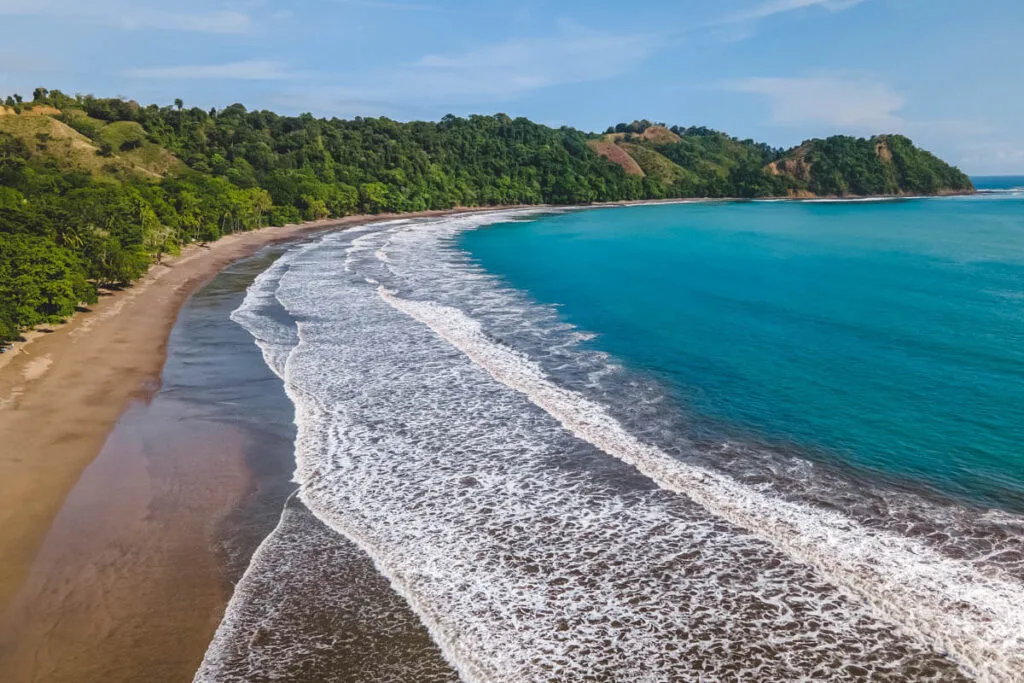 Arco Beach
Arco Beach (Playa Arco) is another secret spot that never gets overly crowded. This might be because it's only accessible during low tide or the fact that you need to take a trail down to the beach, but hey, who doesn't love a little adventure? This beach is also part of the Marino Ballena National Park, though you'll need to take a taxi or drive to the La Cusinga Eco Lodge to access the trail that leads to the sand.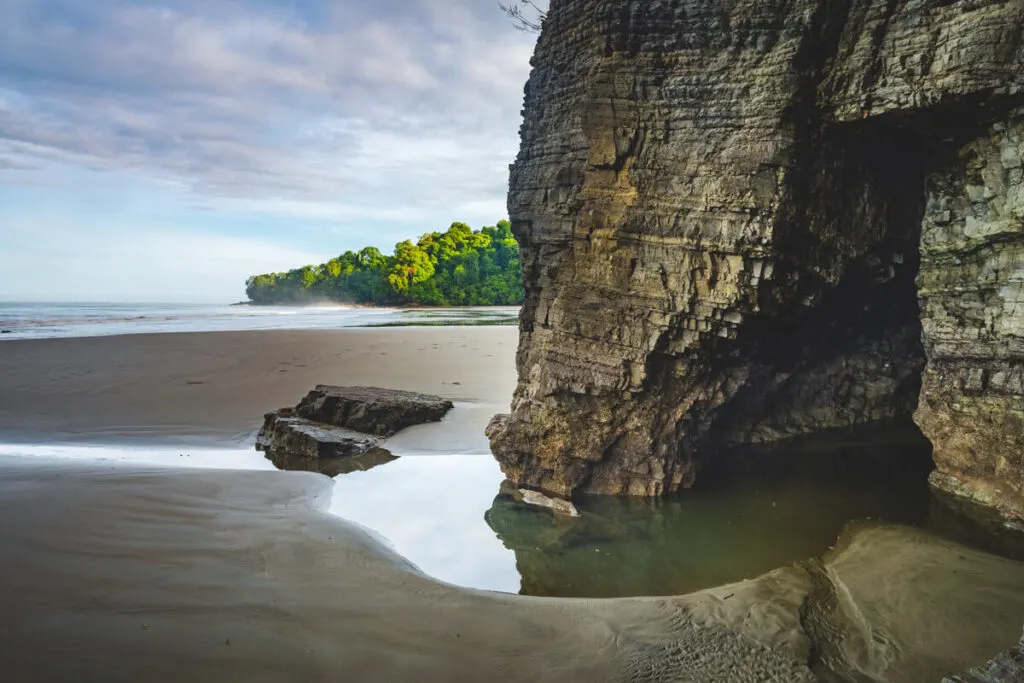 4. Surfing Around Uvita
Beach towns are good for more than just bumming, and surfing is one of the best things to do in Uvita! The warm waters mean that you won't need a wet suit, and plenty of options exist for surfers of all skill levels.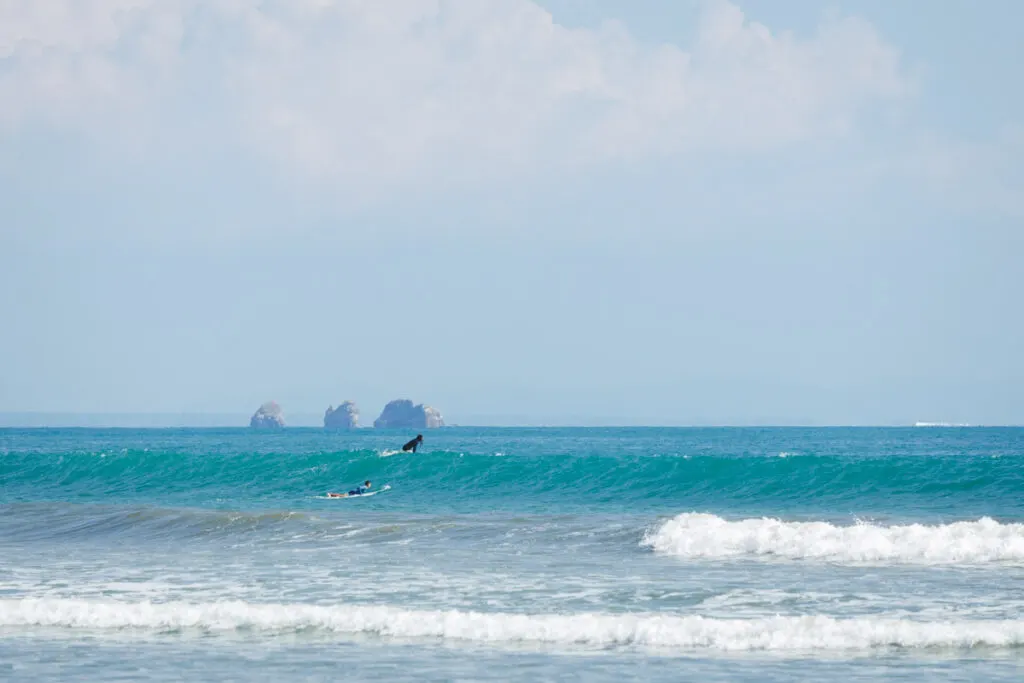 If you're new to the game, Uvita Beach is a great place to learn how to surf. The sandy bottom makes it safe, and many vendors offer lessons to newbies. This is where I captured some surfers from my own little slice of beach, and I watched for them for, like, an hour! I didn't have a chance to hop in and try for myself, though.
Playa Hermosa also has some good options for rentals and lessons, and if you're an experienced surfer, you can search for bigger swells in the nearby town of Dominical.
5. Catarata Uvita (Uvita Waterfall)
I know I've painted Uvita as a beach town. But it's really so much more than that. With a dense jungle as its backdrop, there are plenty of other things to do in Uvita than feeling the sand between your toes.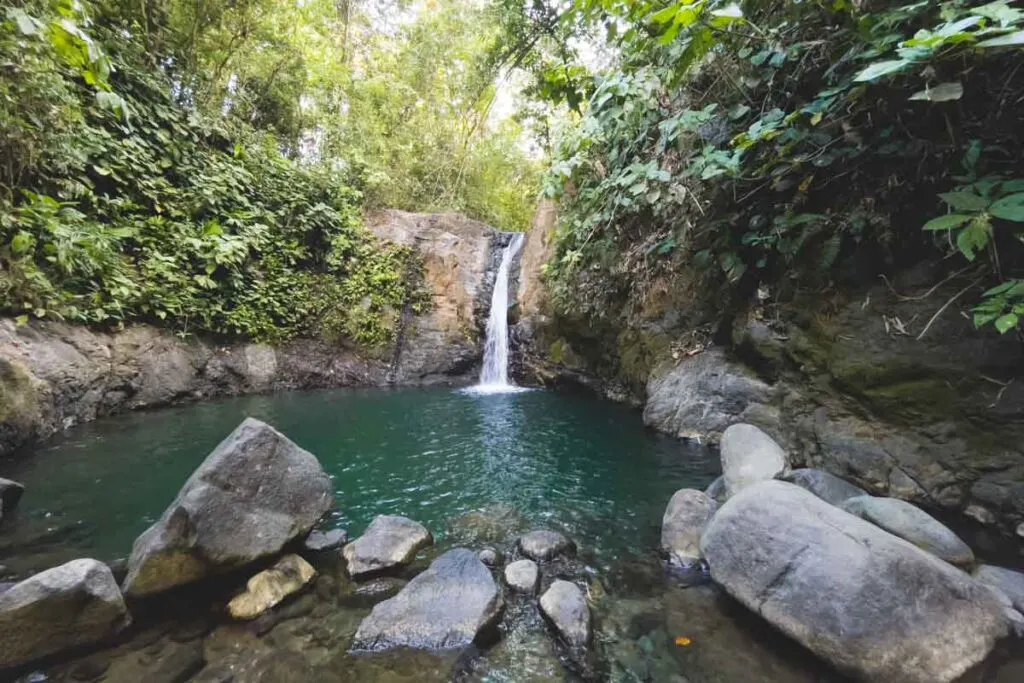 Catarata Uvita (or, Uvita Waterfall) is a must see. It's right in Uvita and pretty easy to access. You can technically walk there from the town center (about 1.5 miles) but a taxi might be more convenient. Then spend the day swimming at the falls or visiting some of the calmer pools below.
Access to the falls has a small entrance fee (2.000 colones or about $4 USD). There's a little bar at the top of the falls as well. The falls are one of the main things to do in Uvita so don't plan to have them to yourself. Of course, if you get here early, you can avoid the masses.
6. Uvita's Secret Swimming Holes
Get ready for an adventure! The journey to this hidden gem is not for the faint of heart. Unless you have a four-wheel drive, you'll definitely want to take a scenic walk through the stunning bamboo forest and the country road to get here.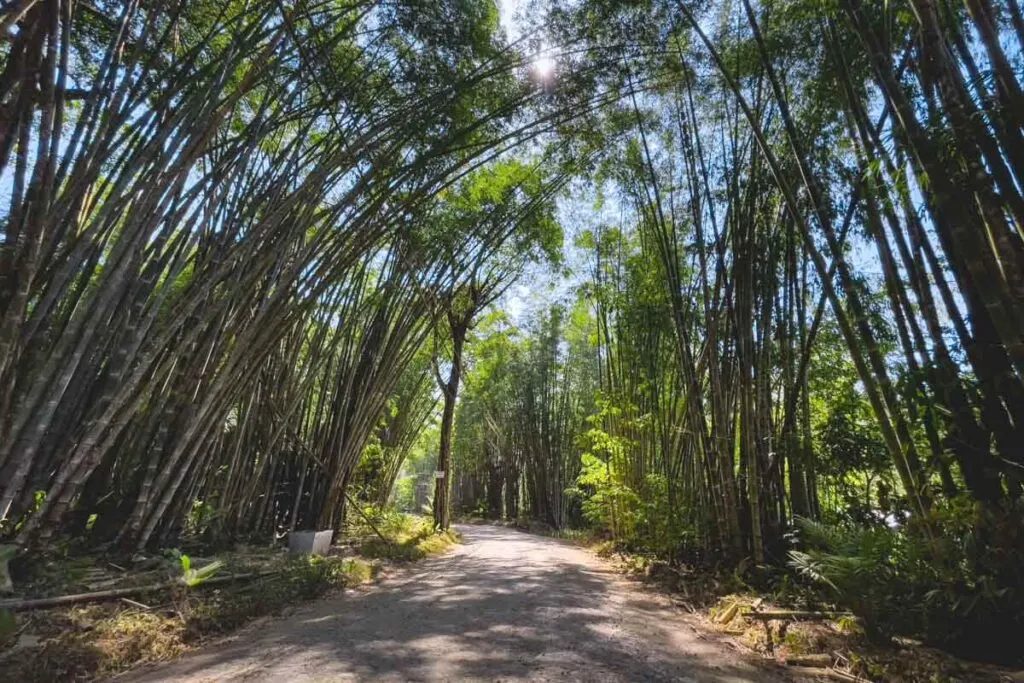 After you cross over the river on a bridge, the road will start to deteriorate a bit, but fear not—you should still be able to handle it. You'll eventually come to a stream crossing that requires a bit of caution. Park here unless your car can handle it! And just a bit after this, you'll make it!
You'll be greeted by a refreshing watering hole, a charming little waterfall, and plenty of places to splash around and enjoy the natural beauty. Not too many people make the trek out here, but it's not a total secret, so feel free to walk along the river among the river rocks to find your own spot!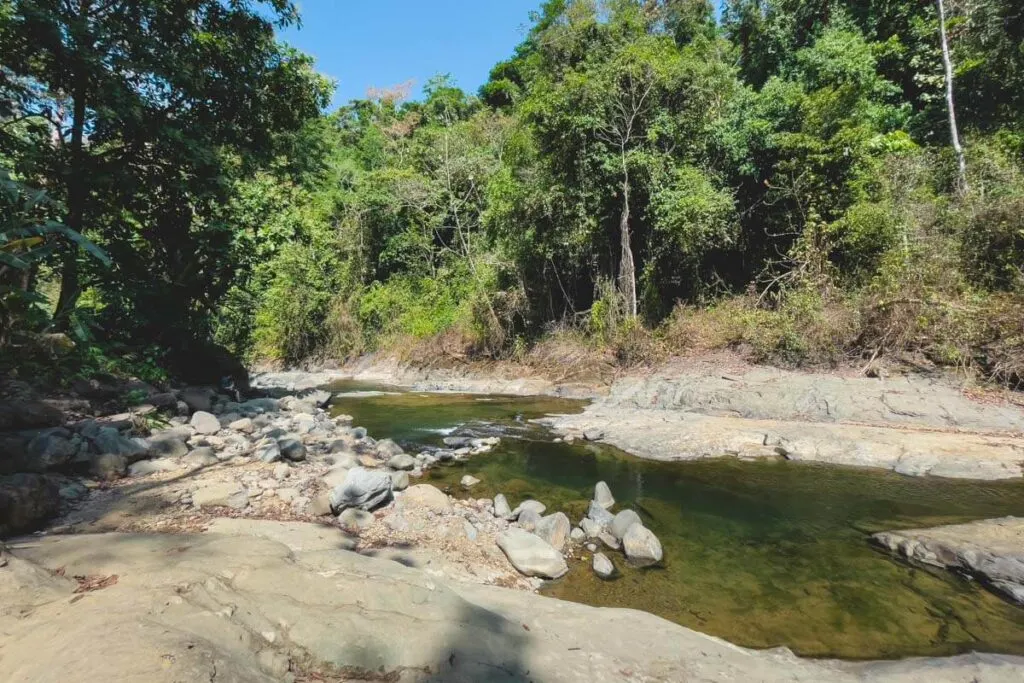 I walked from Catarata Uvita, and it took me around 40 minutes to make it. Taking a dip felt so good as I was melting on the walk over, although it was a nice walk. The swimming holes are located right here.
7. Visit Nauyaca Waterfalls
Costa Rican waterfalls just hit different. And the Nauyaca Waterfalls are amongst the best of the best. There are two falls, both massive and awe-inspiring to observe. You can swim in at the bottom of the lower falls, and there's usually a lifeguard on duty to give you extra peace of mind.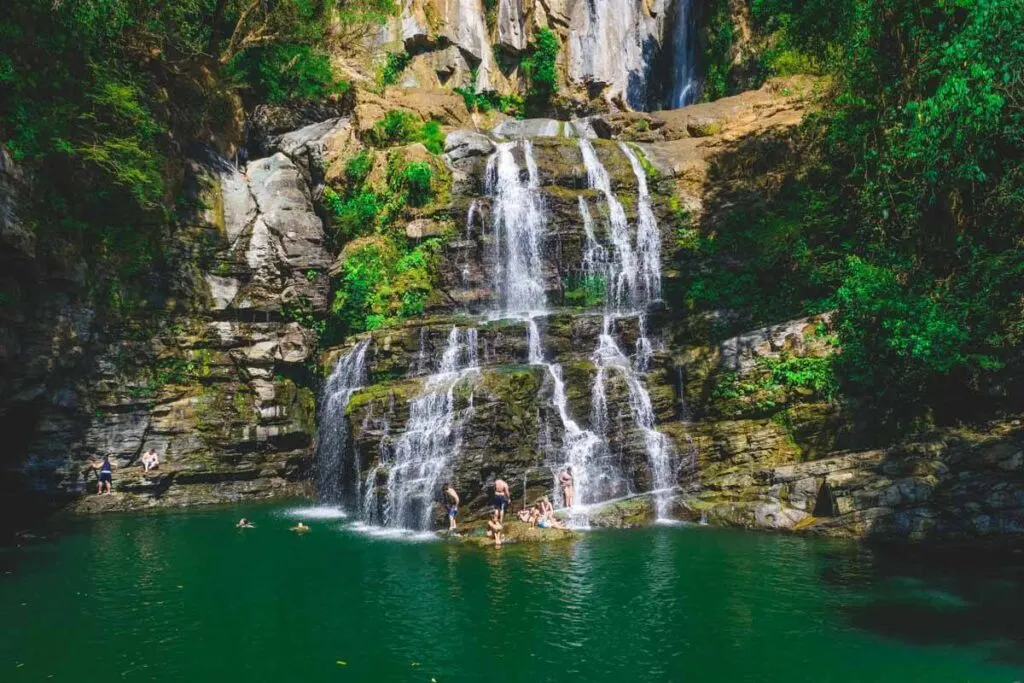 The falls sit outside Uvita, so you'll need to arrange transport to and from Nauyaca. You can drive yourself, hop on the local bus, grab a taxi, or join a tour of the falls.
Once you arrive, there are a few different ways to see the waterfalls:
You can hike down to the falls, a moderate 7.5 mile (12km) trek that takes about 1-1.5 hours each way.
If you're not up for a hike, you can also take a 4WD tour down to the falls,
Or hitch a ride on horseback!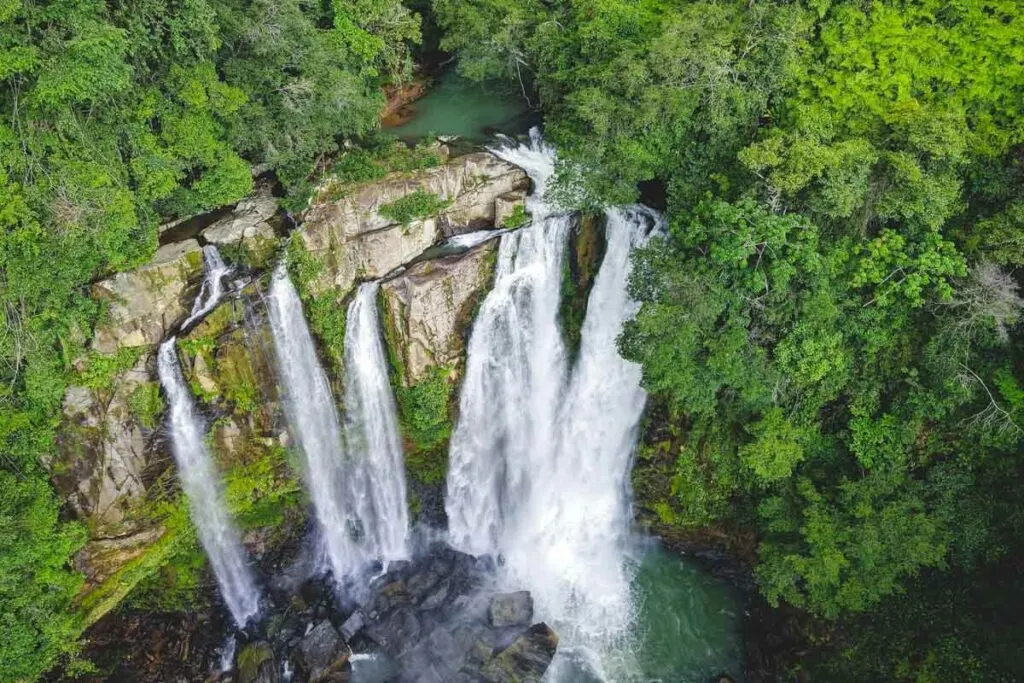 You can buy your tickets online in advance to save some time. You'll also have to take a taxi or get the bus out here as it's around 30 minutes from Uvita.
8. Caño Island
You can't visit Uvita without exploring its epic marine life. And there's no better place to dive below the surface than Caño Island. The island itself is technically off-limits, but it's the marine preserve that surrounds it that we're talking about here.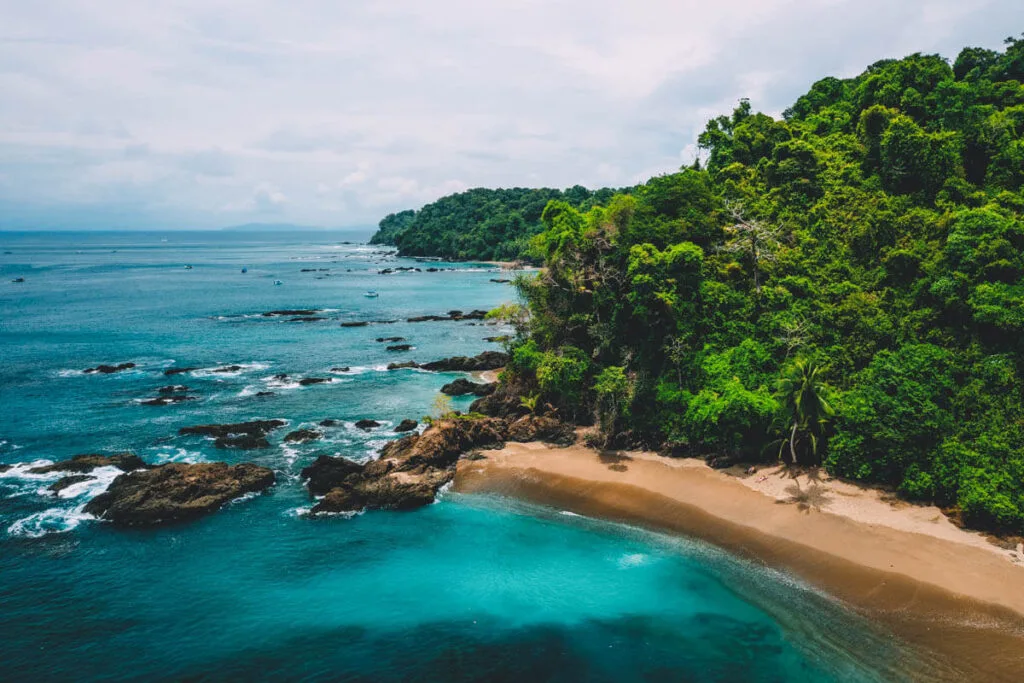 Plenty of outfitters offer snorkeling and scuba diving tours around the coral reefs surrounding the island. As you dive, you'll see tons of excellent tropical fish, and if you're lucky, you might also spot sea turtles, dolphins, rays, and reef sharks!
9. Visit Dominical
If you have time for a day trip while visiting Uvita, head to the nearby village of Dominical. It's only about 15 minutes away; if you can believe it, it's even smaller than Uvita.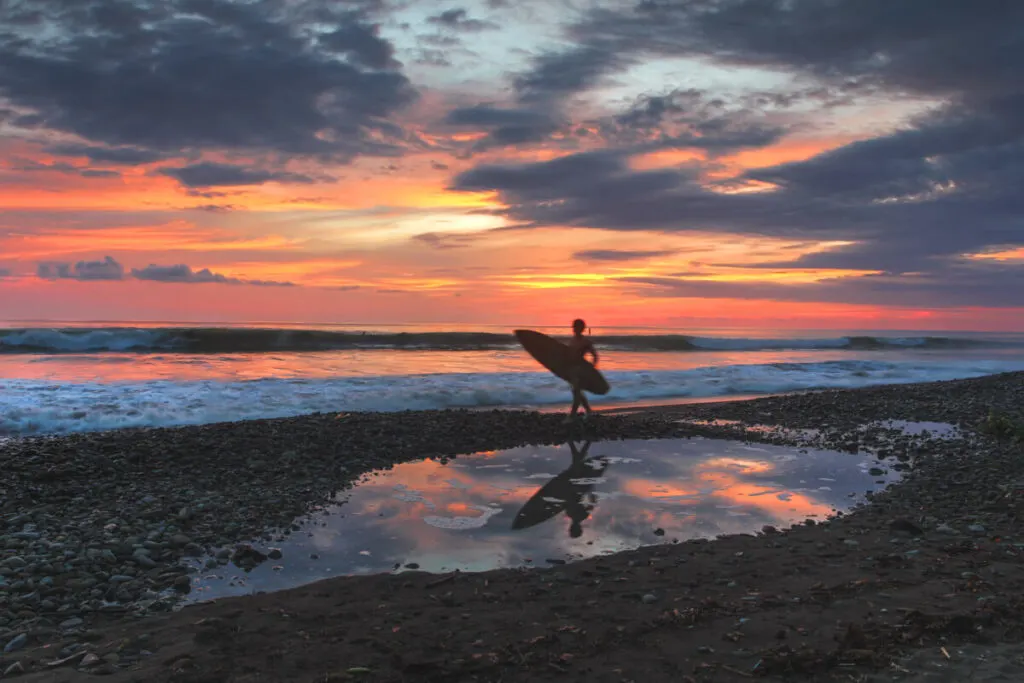 This is a paradise for surfers, but everyone can enjoy the laid-back atmosphere of this little hippie town. This is Pura Vida at its finest, so take your time exploring the beach, downing craft beer at the brewery, or catching a colorful sunset over the ocean.
You can drive yourself to Dominical or hop on the local bus. It's worth a visit when you're so close!
10. Manuel Antonio National Park
Marino Ballena National Park may be the closest, but it's not the only national park in the Uvita area. Manuel Antonio National Park is about an hour up the coast and is one of the best things to do while in Uvita!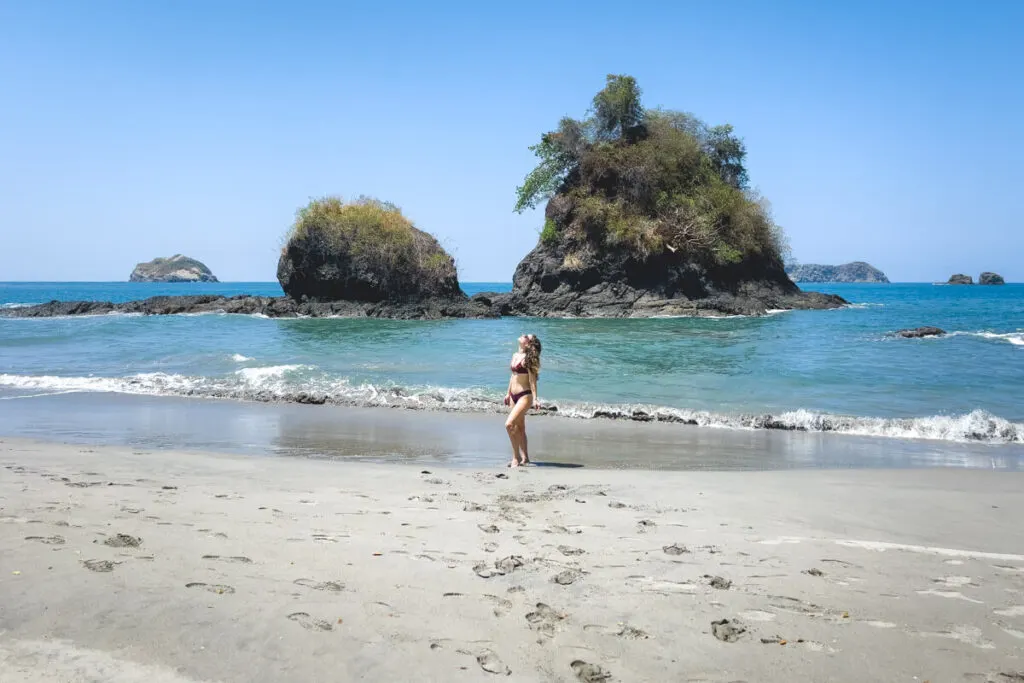 This guided tour of the park will pick you up in Uvita and transport you to the park, where you'll enjoy a guided nature hike, some time on the beautiful beach, and an expert overview of the flora and fauna that call the park home. The critters here are unique, and you'll see quite a variety of them along the tour. Highlights include sloths, monkeys, camouflaged lizards, and many tropical birds.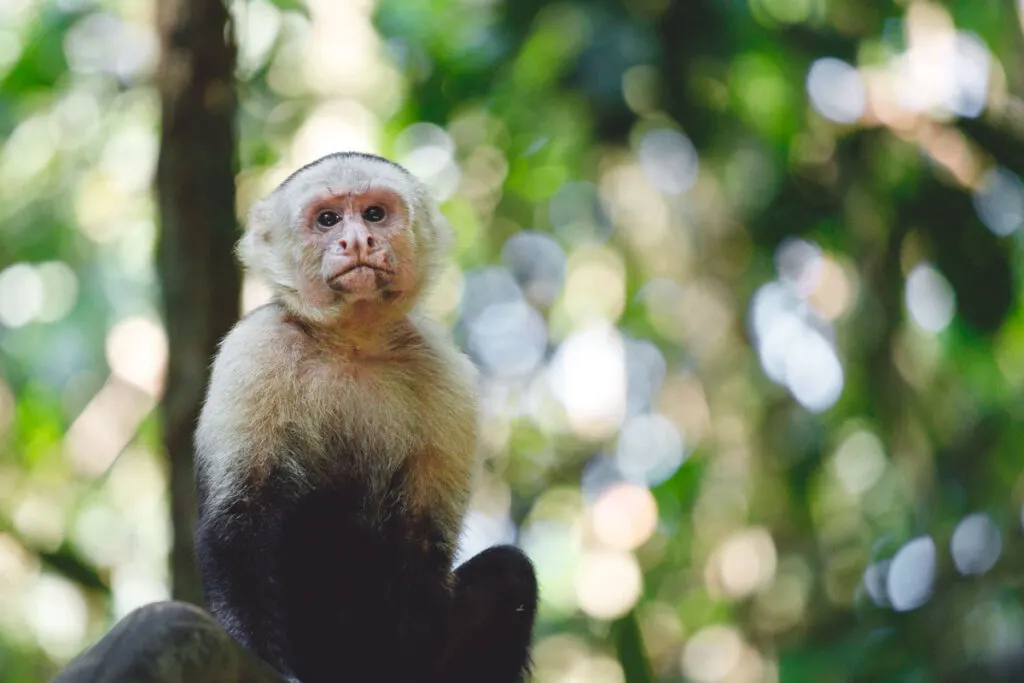 If you decide not to take the tour, you do still need to make a reservation online to get into Manuel Antonio, and you will need to grab the bus to Quepos. It will take about two hours one way on a bus from Uvita, and after stopping in Quepos, you'll catch another bus to the entrance of Manuel Antonio (another 20 or so minutes).
11. Corcovado National Park Day Tour
About two hours south of Uvita, there is ANOTHER national park. Seriously, the abundance here is unreal! Corcovado National Park is often referred to as the Amazon of Costa Rica, so naturally, you don't want to miss out on this area.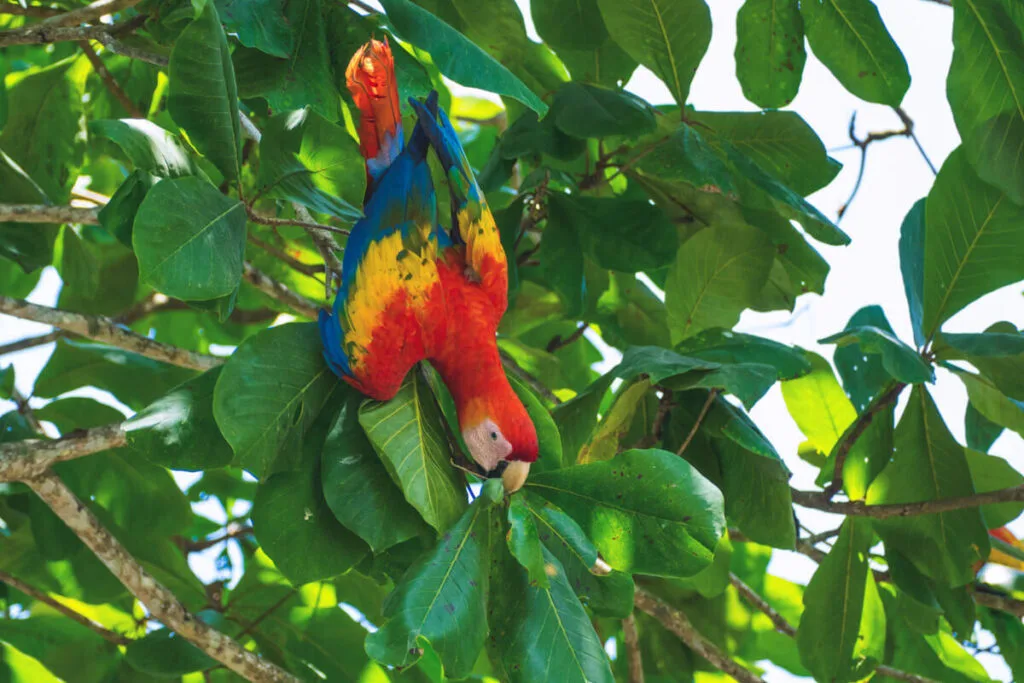 On this guided tour, you'll be transported by boat to the park, and you'll likely see dolphins and other marine life along the way. Once you get there, you'll explore the park with an expert guide who will point out hidden wildlife along the trails.
Where to Eat in Uvita, Costa Rica
These were my fav spot to eat around Uvita!
Mirador Don Roger – If you're looking for a restaurant with stunning views of the ocean and hills, this is the spot. If you really want to see the "whale's tail," it's best from above, and here they have a spacious outdoor terrace to enjoy the view. But remember, you should still come at low tide when it's best seen. Aside from that, this restaurant offers a range of traditional Costa Rican dishes, such as ceviche and arroz con camarones, as well as international cuisine.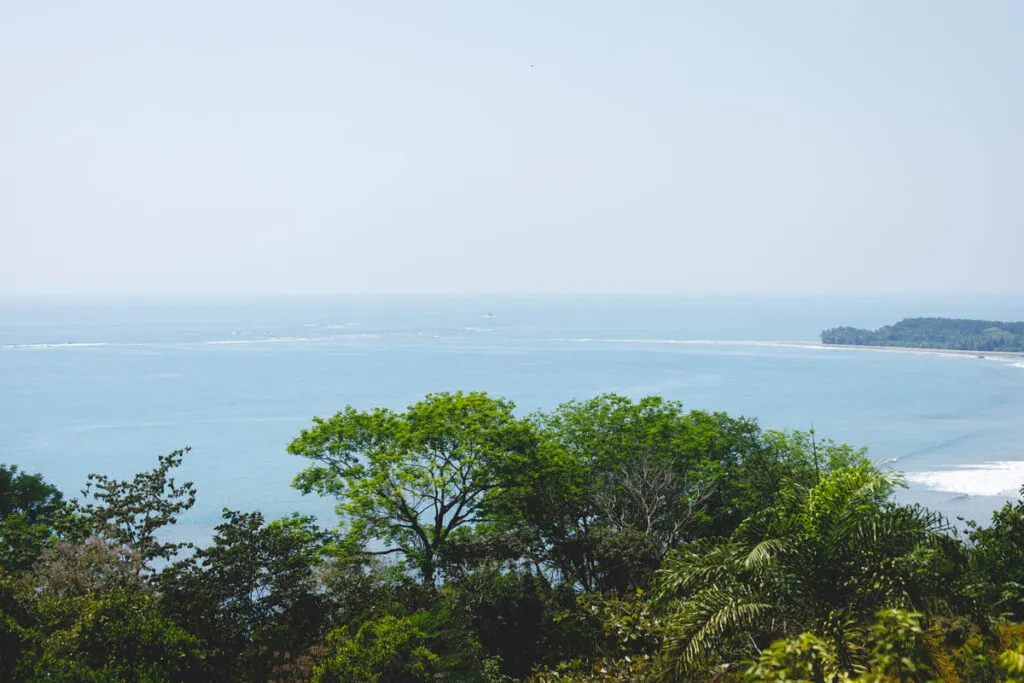 Whale Tail Brewery – After a day of adventuring around, you deserve a beer. The brewery offers a selection of craft beers, including IPA, amber ale, and porter, as well as pub-style food. The restaurant has indoor and outdoor seating with views of the surrounding hills from the bar!
Café Vivo Uvita – For healthy and organic food options in Uvita, head to Café Vivo. This cafe and restaurant offers vegetarian and vegan dishes, such as quinoa bowls, smoothies, and salads. They have indoor and outdoor seating, including a covered patio. Don't miss their legendary cinnamon rolls for a sweet treat, or grab their empanadas for a great snack on the go.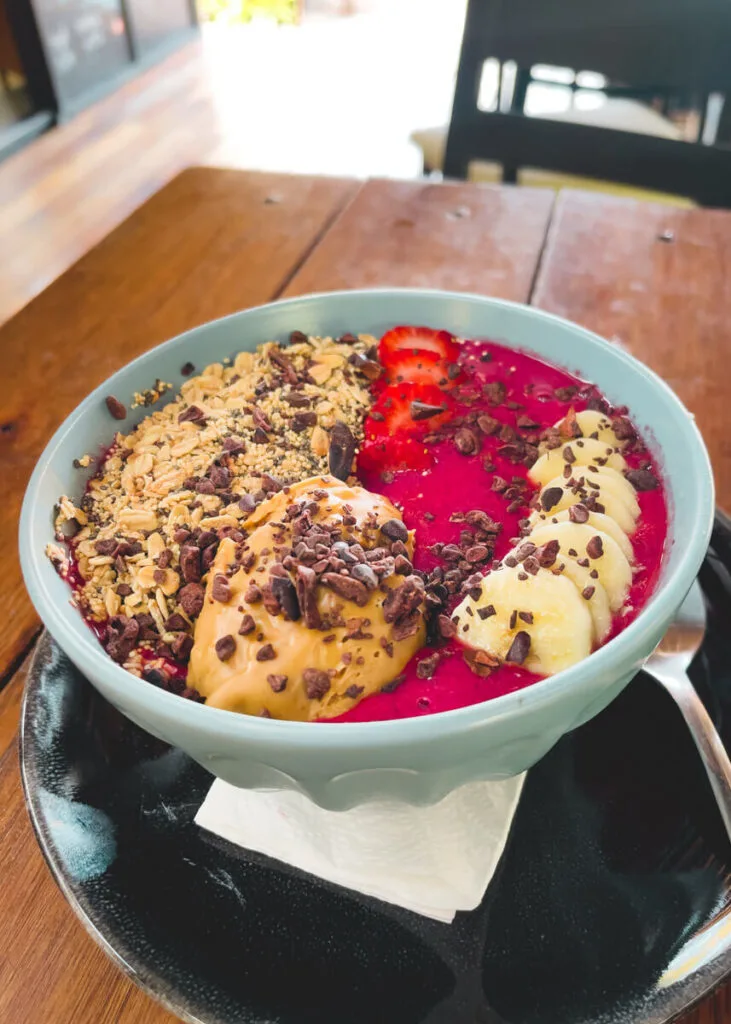 Uvita Gastro Park – Check out this food court-style park with several vendors offering a variety of cuisines. You can find everything from tacos and burgers to pizza and ice cream, making it the perfect spot for the indecisive (like me). The food park is all outdoors.
Indómitos Café & Bar – This boho cafe and bar is beautifully decorated with an outdoor garden patio that is perfect for enjoying the sunny Costa Rican weather. This is a vegetarian restaurant, and they do it right! Everything was delicious, including their in-house sauces!
Sushi Green – They have a really nice and cute outdoor garden setting with a few swing chairs too. Their sushi and bowls were super fresh and delicious.
The Best Time To Visit Uvita
High Season: The high season in Uvita is from December to April, when the weather is dry and sunny, and the beaches are at their best. However, this is also the busiest time to visit, and prices for accommodation and activities tend to be higher. Make sure to book ahead!
Low Season: The low season in Uvita is from May to November when the weather is a bit wetter. However, this is also a great time to visit if you're looking for fewer crowds and lower prices. The lush rainforest is at its most vibrant during this time, and you can still enjoy outdoor activities between the rain showers.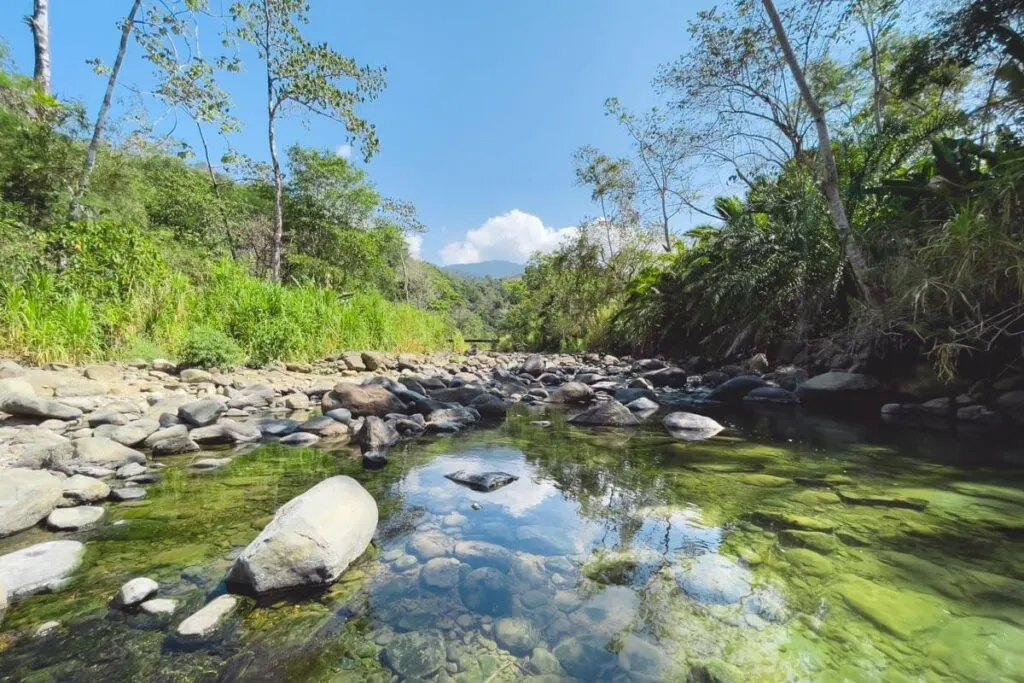 Whale Watching Season: The whale watching season in Uvita is from December to March and July to November when humpback whales migrate to the warm waters of the Pacific Ocean to mate and give birth. You can take tours to see everything up close!
Surfing Season: If you're a surfer, the best time to visit Uvita is from May to October, when the waves are at their biggest and most consistent. During this time, you can catch some of the best waves in the country at Playa Hermosa and Dominical Beach. For cleaner, waves come from December through March.
How to Get to Uvita and Getting Around
Don't skip this part! Uvita isn't super straightforward, so you might want to read up on getting around so you can better plan your visit.
How to Get to Uvita
If you're not renting a car and driving down here, there are several ways to reach Uvita.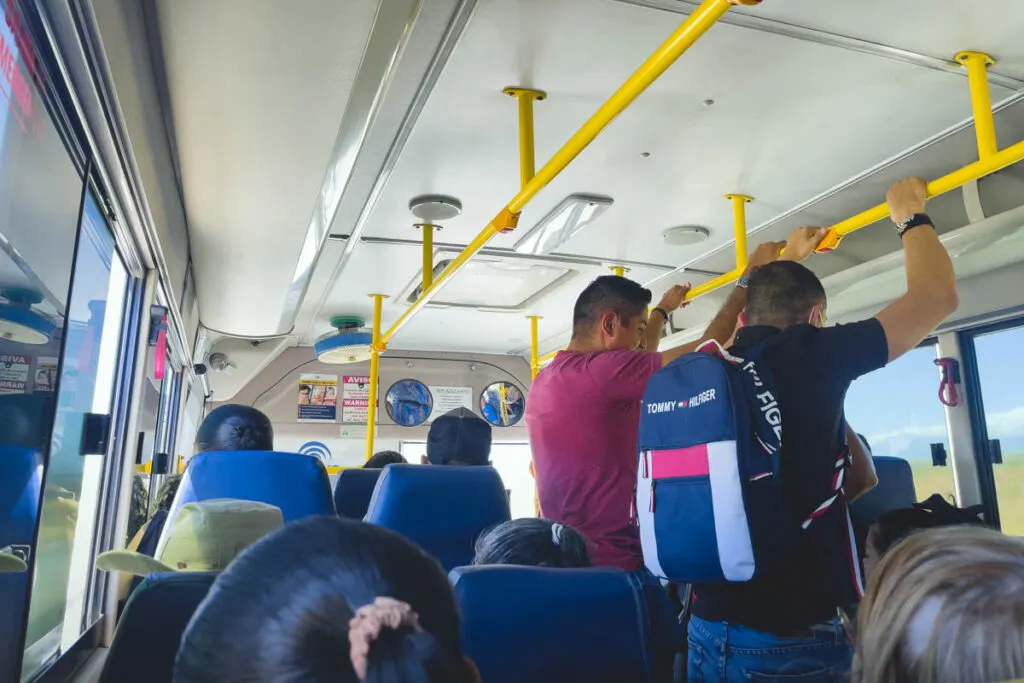 For those on a tighter budget, taking a public bus is a good option. From San Jose, you can take a direct bus to Uvita, which takes around 4.5 hours. From Liberia, you'll need to take a bus to Puntarenas and then transfer to another bus to Uvita.
If you're coming from Manuel Antonio, then you can easily take the bus to Quepos, then switch and take the next bus down to Uvita. The buses run often, and it's just over an hour or so long with a stop in Dominical.
Don't forget, buses don't have air conditioning and people will stand if there are no seats left, so the ride isn't exactly the most comfortable!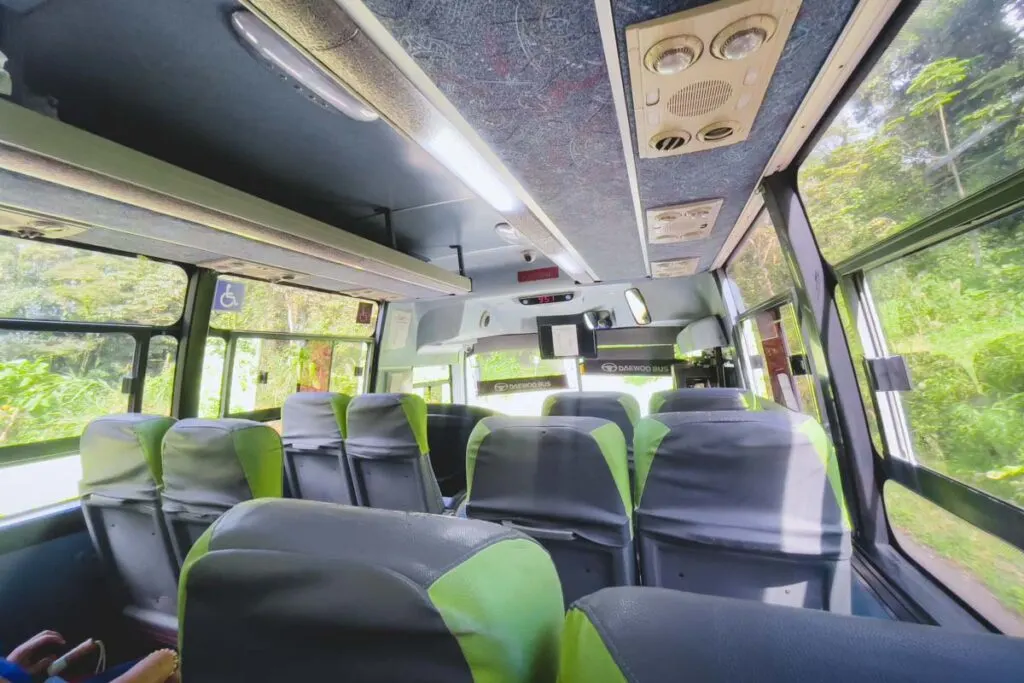 If you want a bit more comfort, just grab a shuttle here from wherever you are in Costa Rica. There are numerous shuttles coming from San Jose or Puntarenas. Check for shuttles here.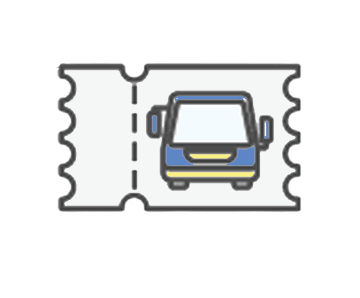 TRANSPORTATION TIP
If you're looking for bus or boat tickets around Central America and Mexico, you can easily book them online! Check Availability
Uvita's Layout and Getting Around
Uvita, Costa Rica is not your typical beach town. It's actually not on the beach, and it's quite spread out. The Costanera Sur highway is the center of activity, with the bus station, supermarkets, restaurants, shops, and banks on both sides.
From the highway, Calle Uvita takes you north and up a bumpy dirt road with some more restaurants, accommodations, and small supermarkets spread out along it.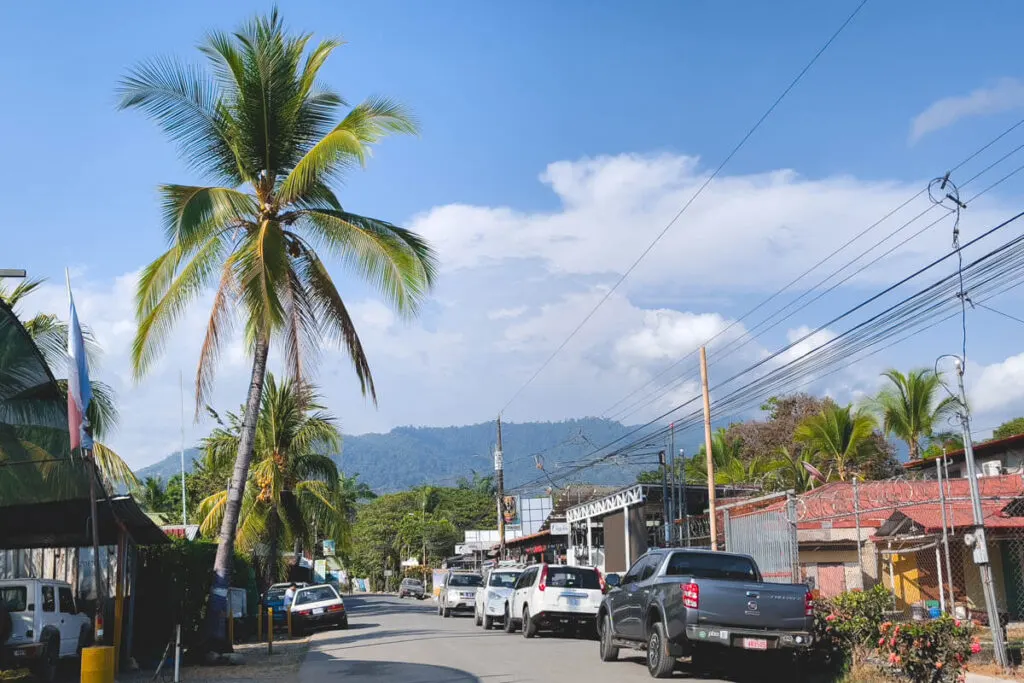 Then there's Bahía, another area south of the highway with even more accommodation, restaurants, and tour companies and is closest to Marino Ballena National Park.
There are essentially three small areas in Uvita, and while it's walkable, it's not going to be the preferred method when the sun is blazing. From the national park and beach to Uvita Waterfall, it's about 2.7 miles (4.4km)—that's pretty far to walk so a taxi makes more sense. You can grab a taxi along the main highway.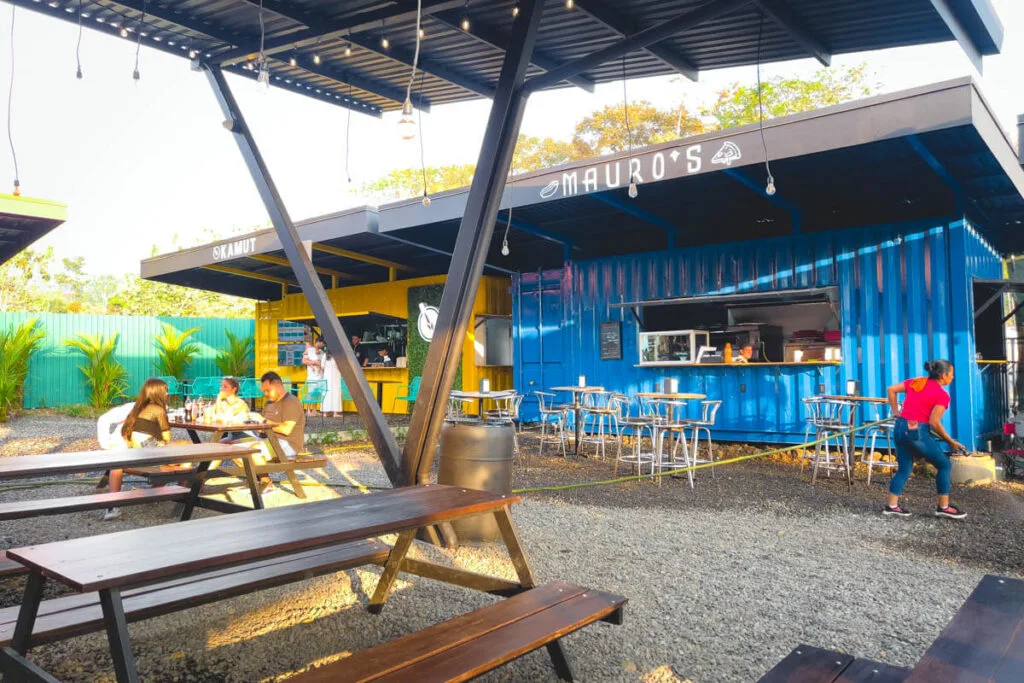 Keep all of this in mind when choosing where to stay in Uvita. I stayed near Catarata Uvita, and it was beautiful and peaceful. I actually had a taxi driver who did not want to drive me all the way because it was a bumpy dirt road, but not that bad. So I still had to walk up the rest of the way.
Otherwise, I loved staying on this side and just got a taxi down to the national park. I found a few Ubers here too, but it isn't the most reliable.
Where to Stay in Uvita
Don't miss my backpacking in Costa Rica article and see what else to do during your visit!
I hope this helped you plan what to do in Uvita, Costa Rica!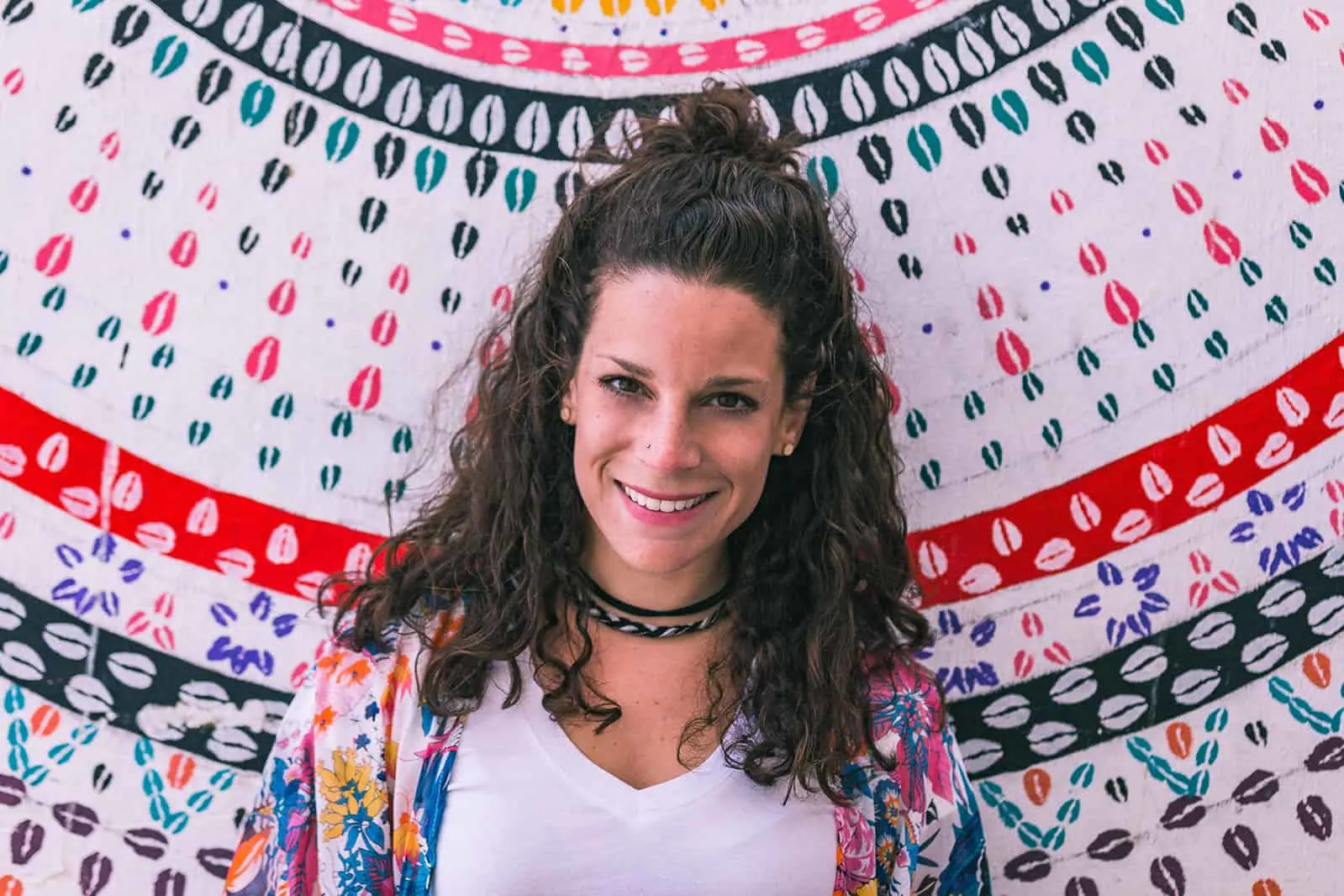 Nina Ragusa is an adventurer, messy bun master, breakfast fan, and full-time travel blogger. She's been abroad since 2011 and blogging on Where in the World is Nina? for nearly as long. Nina helps people like you move around the world while making money. She loves talking about how to work abroad and online to travel longer!