Playas del Coco is a small(ish) community situated along Costa Rica's northwestern coast. It was once a sleepy fishing village, but it's become a popular spot amongst beach bums, expats, and adventurers in recent years.
Admittedly, there aren't many things to do in Playas del Coco proper. There are some great beaches and a vibrant downtown strip, but the true magic of El Coco (as the locals call it) lies on the city's outskirts.
The coastline is dotted with impressive beaches where you can sunbathe or snorkel. And the jungle that backs Playas del Coco boasts national parks, epic waterfalls, and some pretty unique wildlife.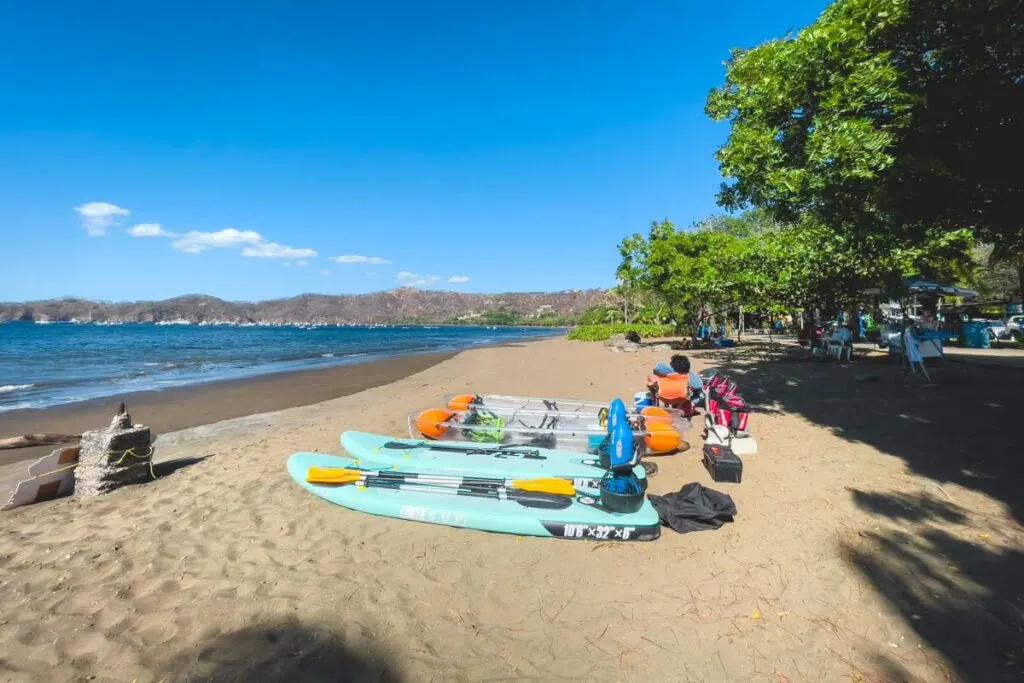 I ended up here while backpacking Costa Rica for a month, and I was able to experience some of the charm and the convenience of basing here for a few days.
Whether you're here to relax or venture into the unspoiled nature that surrounds the town, Playas del Coco is a great jumping point for your adventures.
Things to Do in Playas del Coco
---
Playas del Coco
As I mentioned, there aren't many things to do in Playas del Coco, but there are definitely a few fun options to keep you busy between your day trips.
The small main street is lined with shops, restaurants, and bars, and there's one beach off the main drag. In my opinion, this beach (Playas del Coco) is nothing to write home about compared to other beaches in Costa Rica. That said, if you don't feel like wandering too far out of town, it will do the trick.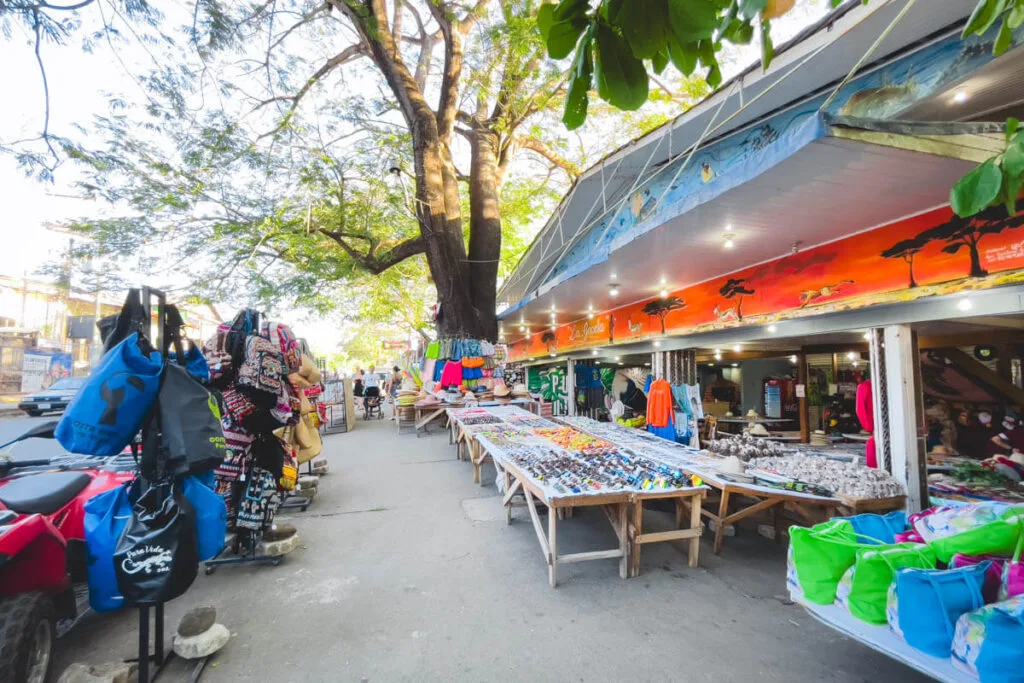 It's your typical dark tan sand beach that stretches for nearly two miles—so there's plenty of space. Your feet will be burning on the sand mid-day, and there's very little shade! Luckily the water is nice and calm, so you can take a dip and get relief from the sun.
If you don't want to beach bum, try renting a jet ski, SUP board, or kayak from the beach vendors.
The nightlife in Playas del Coco isn't too rambunctious, but there are plenty of hopping spots to stop for a happy hour drink along the beach or the main strip.
Diving Around Playas del Coco
Playas del Coco sits along the glittering shores of the Gulf of Papagayo, one of the best spots for diving in Costa Rica (if not the entire world).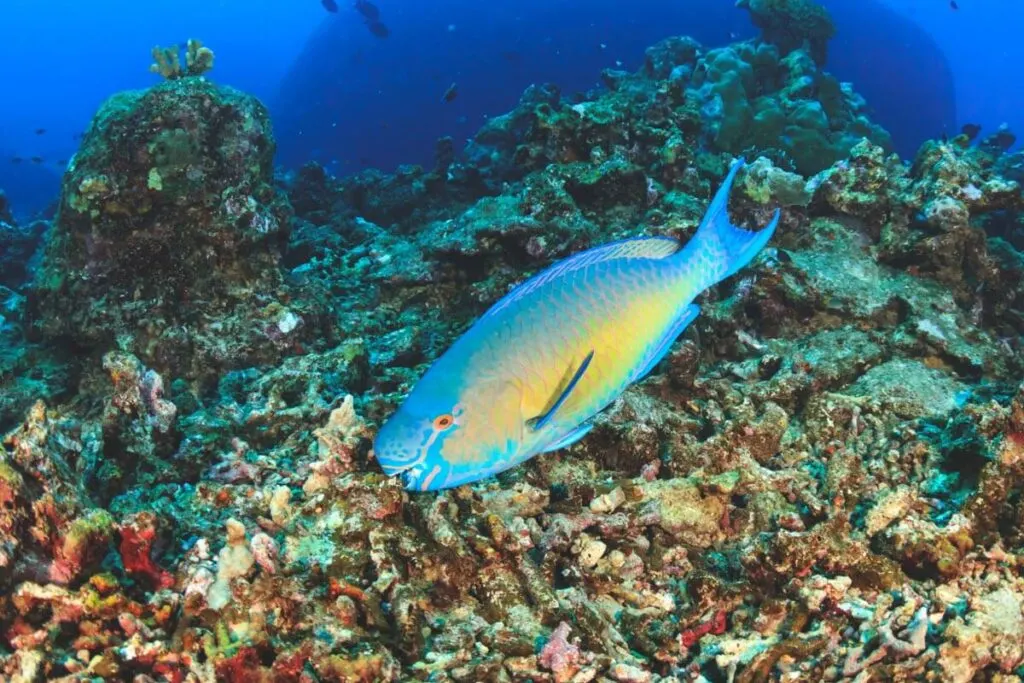 The nearby Pelonas Islands are a popular spot for those staying in Playas del Coco, and you'll find plenty of vendors around town that offer scuba diving trips out to the islands. If you prefer to stay closer to the surface, numerous snorkeling tours are also available.
Beaches Near Playas del Coco
One of the best things to do in Playas del Coco is hit the beach. The only catch is that the best stretches of sand in the area sit outside of town, so you'll need to drive or take a taxi to reach them. But trust me (a fellow beach bum), the journey is well worth it!
This part of the coast is known for its gorgeous beaches; they're all pretty diverse! From the sand types and vegetation to the vibes and the waves, the beaches surrounding Playas del Coco offer an array of experiences. There are seriously so many to pick from. Here are some favs.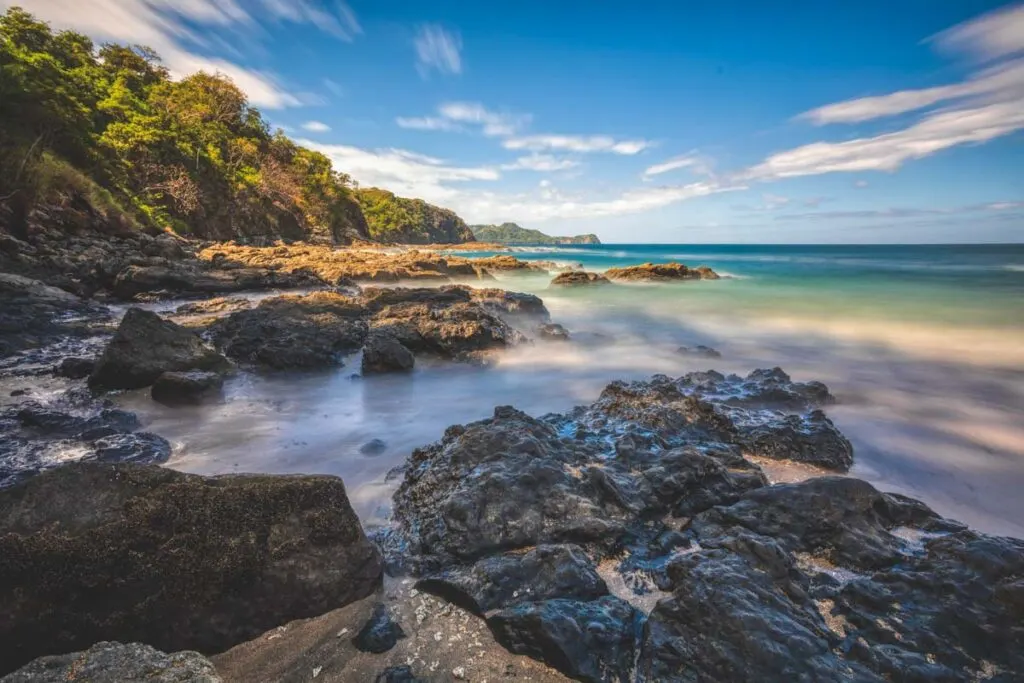 Playa Ocotal: Black sand beach close to Playas del Coco with a chill vibe
Playa Panama: Hidden gem with calm waters
Playa Hermosa: Beautiful beach (literally) with fantastic views and soft sand
Playa Conchal: Crystal clear water and great swimming conditions
Playa Tamarindo: Action-packed beach with tons of water activities and restaurants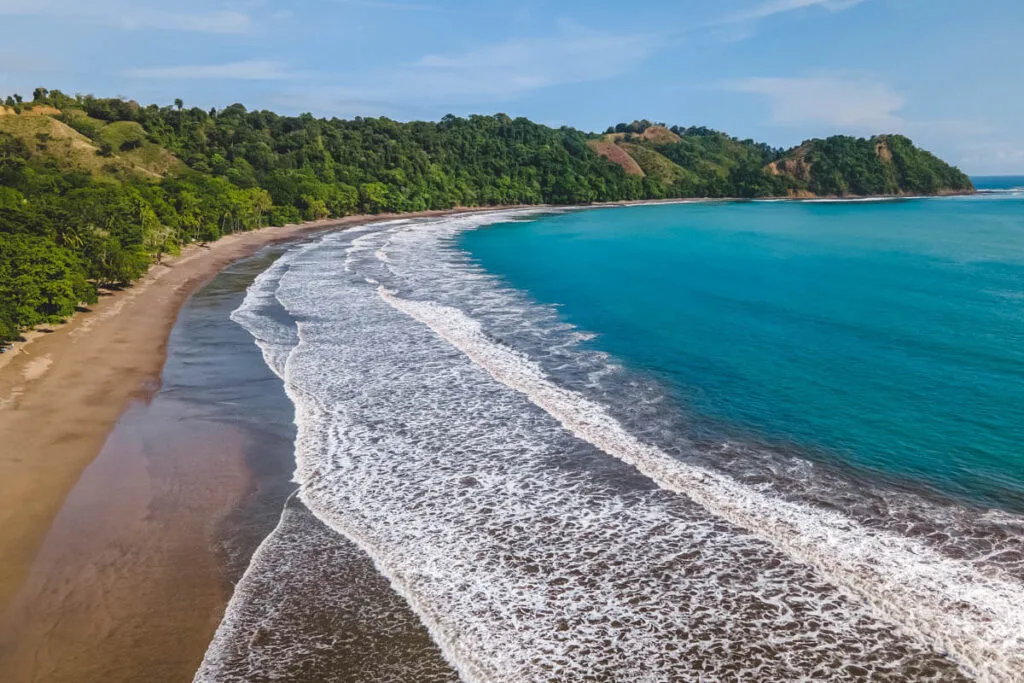 Day Tours from Playas del Coco
As I mentioned, some of the best things to do in Playas del Coco involve getting the heck out of town! Here are a few ideas for exciting day trips from Playas del Coco.
If case you're wondering, some of these spots below aren't located near a cool town or anything, and unless you have your own car, you'll need to take a tour anyway! So that's why I'm recommending Playas del Coco as a chill town to stay in while you explore the outskirts on a nice tour!
Rincon de la Vieja Volcano National Park
Epic hiking trails, gushing waterfalls, and volcanic hot springs. Sound like something you'd be into? This tour of Rincon de la Vieja Volcano National Park includes all that and more for an exhilarating day trip from Playas del Coco. This was my favorite one! You'll also visit the stunning Oropendola Waterfall on this trip!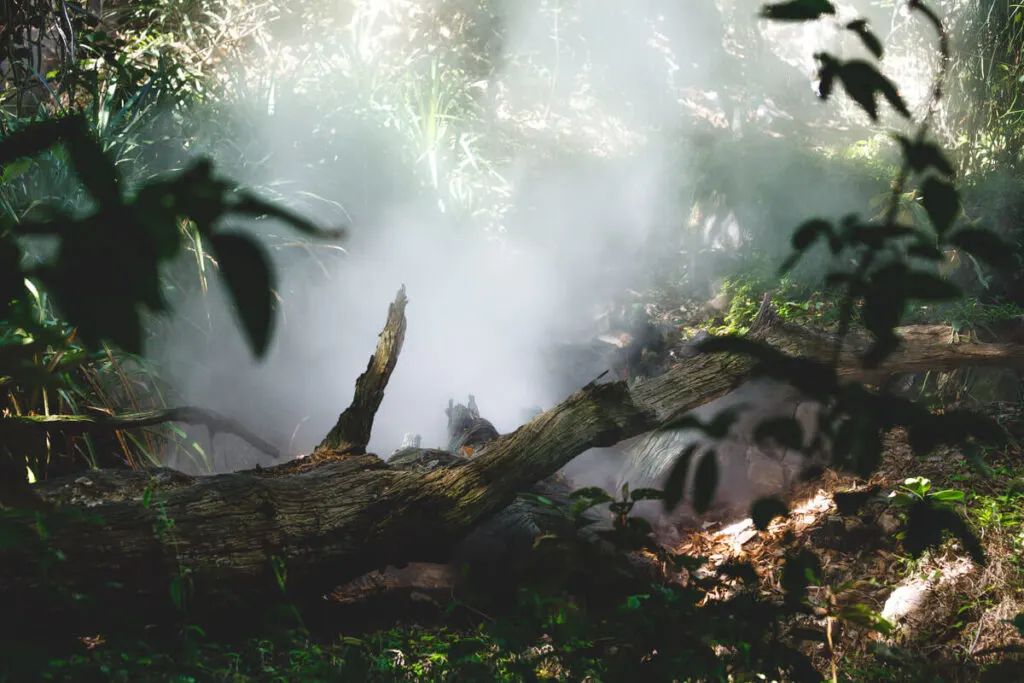 Rio Celeste and Llanos de Cortes Waterfall
Costa Rica is known for its beautiful beaches and towering volcanoes. But it's also famed for its stunning waterfalls and incredible biodiversity.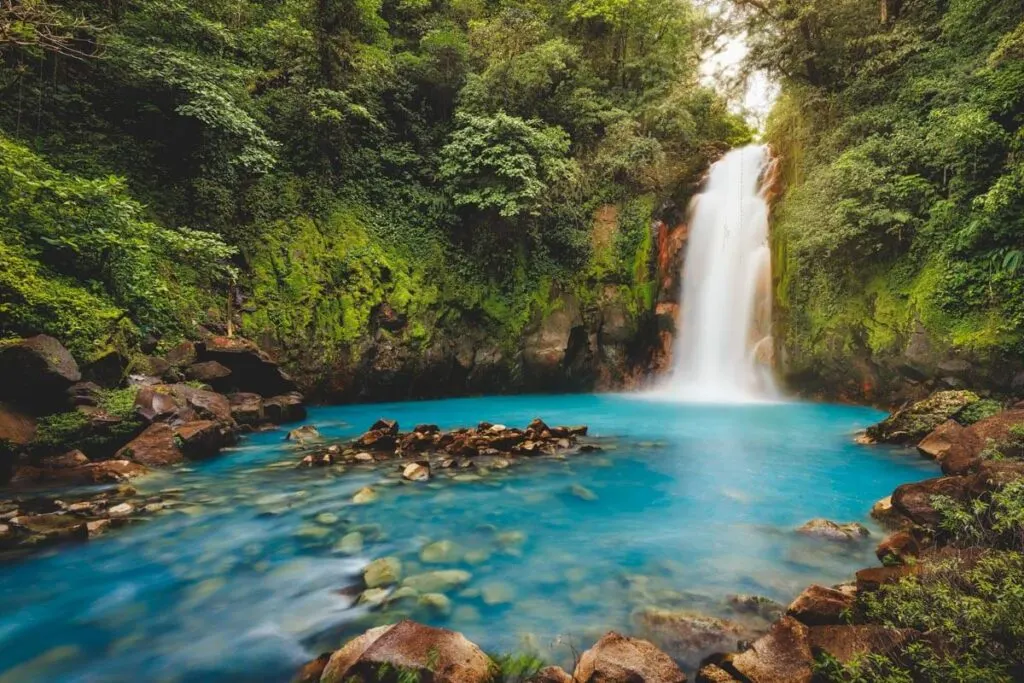 This tour takes you trekking through the lush terrain of Tenorio Volcano National Park. Along the way, you'll encounter unique flora and fauna before you reach the impressive Llanos de Cortes waterfall.
Catamaran Sunset Cruise
Enjoying a sunset cruise is one of the best things to do in Playas del Coco if you want to kick back and relax. The tour starts in the afternoon, and you'll head out on a catamaran to swim, snorkel, and eat. The tour also includes top-shelf alcohol as you watch the gorgeous sunset.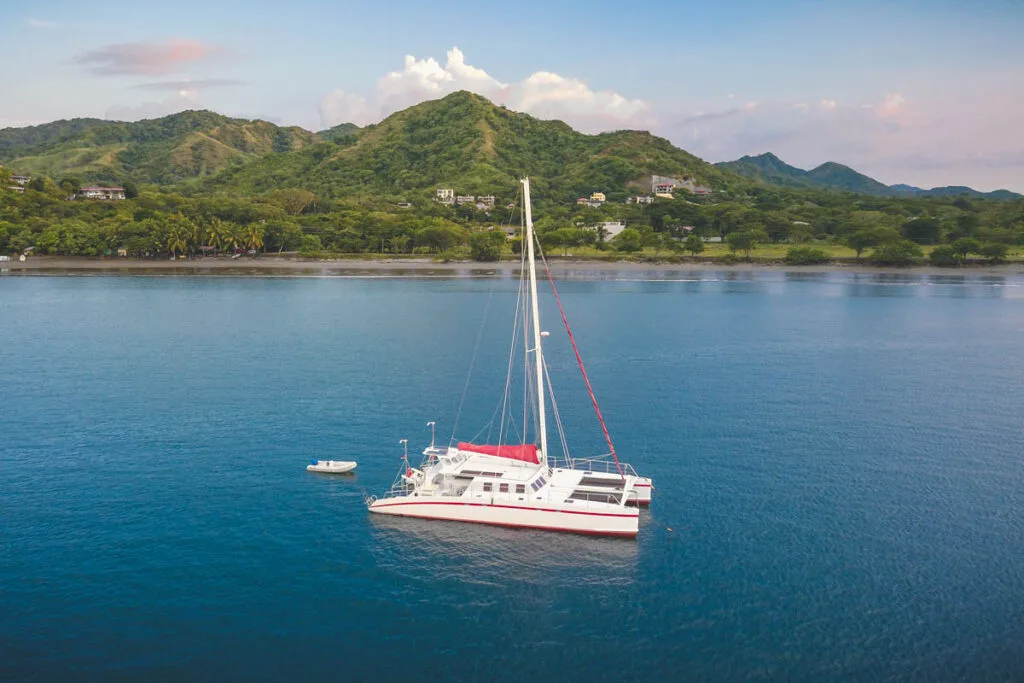 White Water Rafting on the Tenorio River
Go white water rafting on the Tenorio River for a more action-packed day trip. Class III and IV rapids await along this scenic stretch of river, and you'll likely see some cool wildlife as you paddle along. After an exciting afternoon on the Tenorio, you'll have a tasty lunch before returning to Playas del Coco.
Nicaragua Tour
Playas del Coco sits pretty close to the Nicaraguan border. So, why not spend the day exploring an entirely new country? This full-day tour to Nicaragua leads you on a whirlwind journey through some of Nicaragua's top attractions. You'll visit colonial towns, sail across Lake Nicaragua, and even marvel at an active volcano! All in a single day!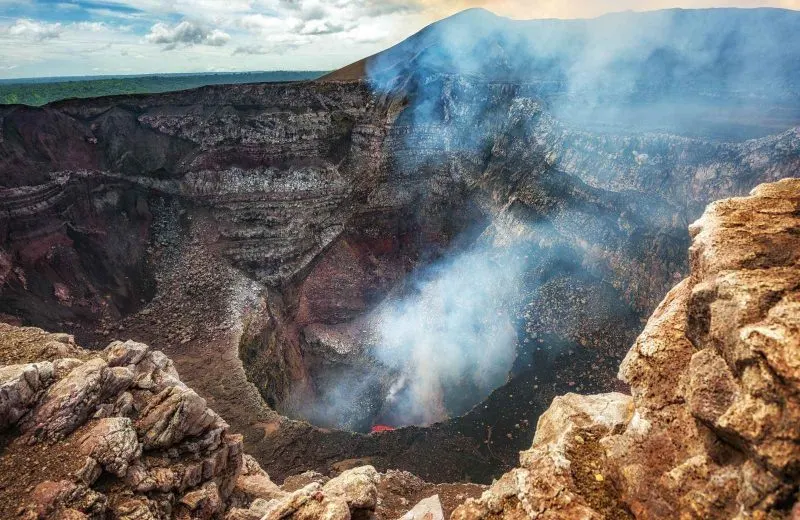 Where to Eat in Playas del Coco
El Pueblito Sur – This is a cute courtyard area with tons of stores and restaurants. There's often live music at night for everyone to enjoy, with tons of outdoor seating. Take your pick of restaurants!
Soda Mediterranea – This is the in the El Pueblito Sur courtyard, and it's a yummy option for anyone in the mood for some seafood with a bit of an Italian flair.
Verde Salvia Ristorante Italiano E Pizzeria – If you're in the mood for pizza while you're here, this is the place to go!
Panaderia Tico's Bakery – This spot is nothing to write home about, but it's the bakery in town with easy and cheap pastries if you need to grab something for your early morning tour, as I did.
Le Coq – They had really good and healthy Mediterranean food, my falafel plate and salad were yummy, and the staff was super nice.
Where to Stay in Playas del Coco
Third Floor Lux Condo
This third-floor unit offers a unique blend of style, comfort, and breathtaking mountain views. Decorated with an artist's touch, every corner of this space exudes charm and personality. The unit is nestled in the heart of Coco, putting you right in the middle of the action.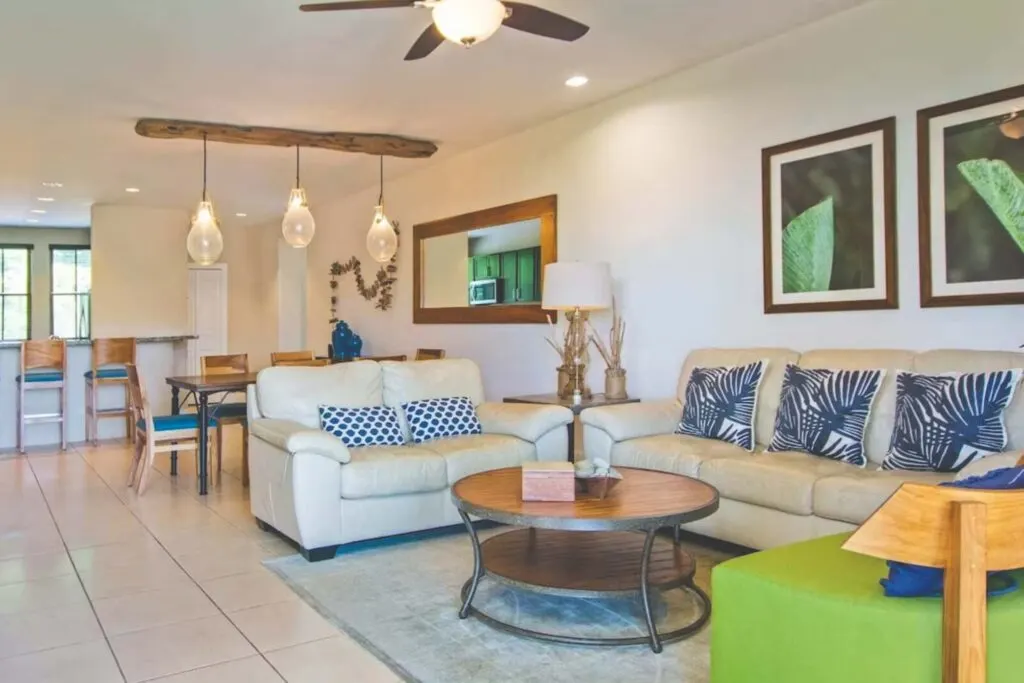 You'll be within reach of the best local attractions and activities, yet able to retreat to your tranquil mountain-view haven after a day of exploration. With its homey yet eclectic vibe, this unit is a great spot to rest your head.
Hotel Villa Del Sol
Your personal slice of paradise in Coco, Costa Rica! This hotel is tucked amidst nature's bounty and promises an enchanting stay. This is a mid-range option that's just a stone's throw from the shimmering Coco Beach.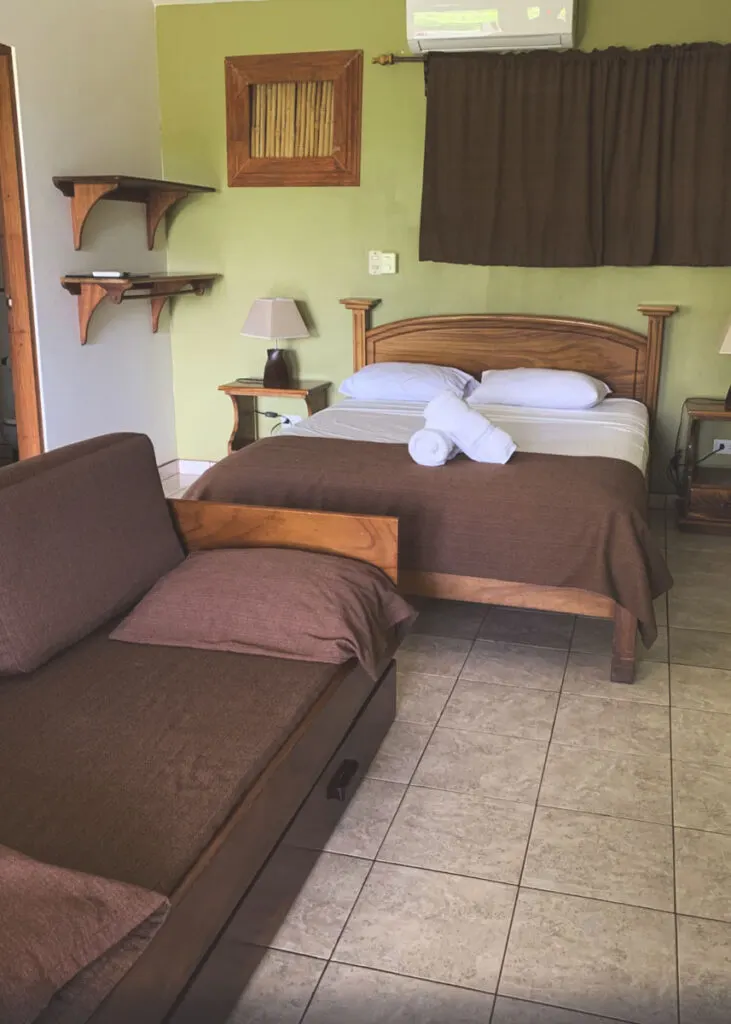 From the moment you step in, the friendly staff and welcoming atmosphere will make you feel at home. And wait till you see your room – a cozy haven with all the modern comforts to ensure your stay is nothing short of fantastic. Whether you're up for some beach-side fun or yearning for the peace and tranquility of the mountains, Hotel Villa Del Sol offers the best of both worlds.
Cabinas Coco Alegre
Nestled in the heart of Costa Rica's vibrant Coco, this charming hotel is your gateway to an unforgettable tropical getaway. Your cozy room, adorned with thoughtful but basic touches, is your personal retreat after a day of beachside adventures.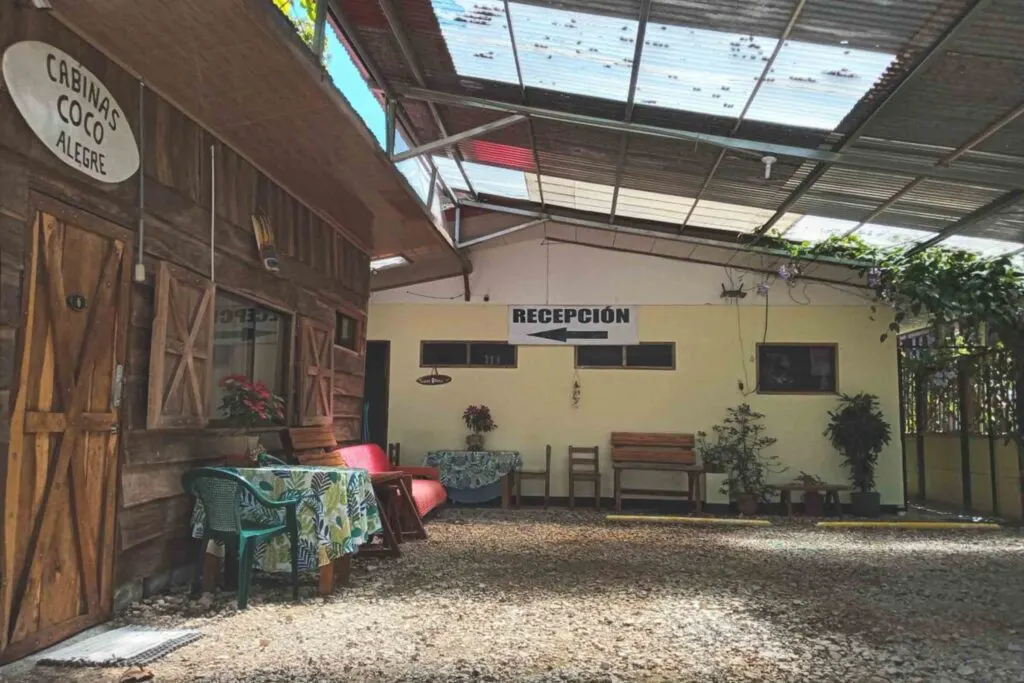 Cabinas Coco Alegre is your budget spot that offers you comfort like AC but without the hefty price tag. It's also very well located, just a block or so away from the beach.
How to Get to Playas del Coco
Getting to Playas Del Coco in Costa Rica is a relatively straightforward process-kinda!
If you're traveling internationally, your journey will likely start with a flight into Juan Santamaría International Airport (SJO) in San José, or Daniel Oduber Quirós International Airport (LIR) in Liberia. Both airports have a number of international connections, with Liberia being the closer of the two to Playas Del Coco.
If you land at San José, you could choose to take another local flight to Liberia, which will get you closer to your final destination. Alternatively, you could rent a car or take a bus directly from San José to Playas Del Coco, which will take you on a scenic, approximately 5-hour journey through Costa Rican countryside.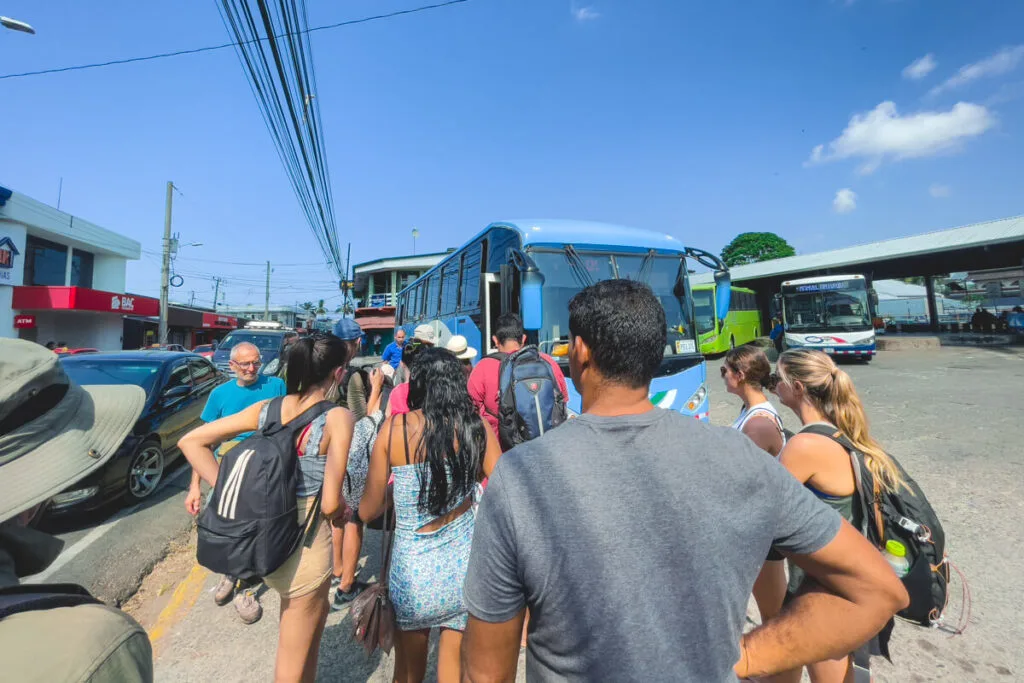 If you land in Liberia, you're only about 35 kilometers away from Playas Del Coco. You can rent a car and drive there in about 45 minutes, or take a local bus which usually takes a little over an hour.
If you're like me and you're coming from La Fortuna, it's a half-day affair on numerous public buses, sweating your butt off! I thought I could snag a shuttle here, but not enough people booked—so be prepared to take the longer public bus option.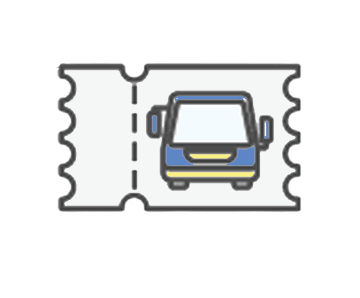 TRANSPORTATION TIP
If you're looking for bus or boat tickets around Central America and Mexico, you can easily book them online! Check Availability
Last Thoughts on Playas del Coco, Costa Rica
Overall I wouldn't tell anyone to go out of their to stay here, there are plenty of cooler towns and things to do in Costa Rica. BUT if you want to get into diving or do some of the day tours I mentioned above, you'll need a town to base in, and Playas del Coco is a good option for that!
I hope this helped you plan your visit to Playas del Coco and beyond! Don't forget to read my backpacking Costa Rica article to help your travels around the country!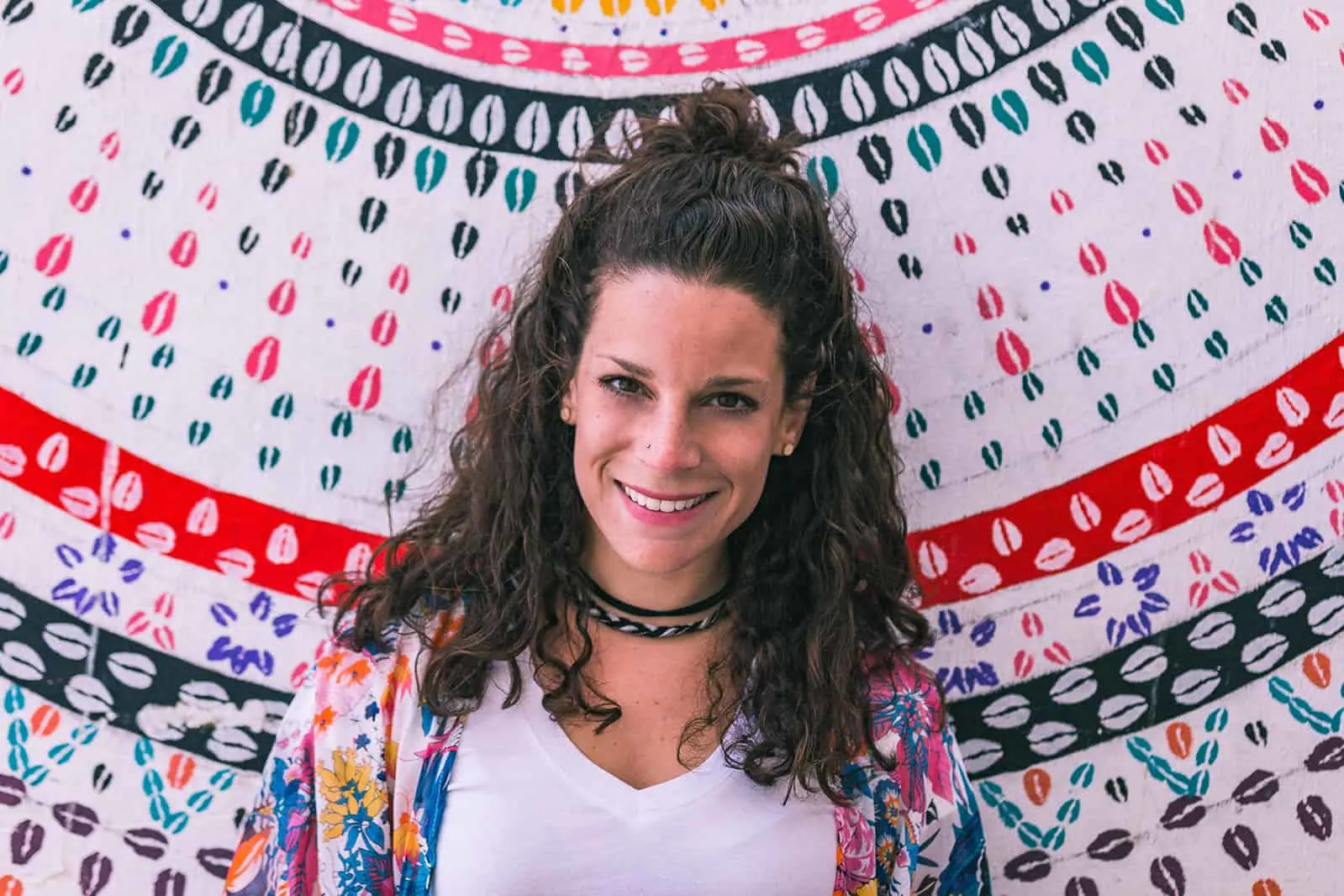 Nina Ragusa is an adventurer, messy bun master, breakfast fan, and full-time travel blogger. She's been abroad since 2011 and blogging on Where in the World is Nina? for nearly as long. Nina helps people like you move around the world while making money. She loves talking about how to work abroad and online to travel longer!