Named for the lush mountains that surround the area, Monteverde is one of Costa Rica's most scenic spots!
This once quiet area is now best known for its epic eco-tourism offerings. There are dense rainforests to hike, misty cloud forests to explore, and plenty of delicious coffee to guzzle in between adventures.
Monteverde sits close to La Fortuna (about 3.5 hours along scenic mountain roads), making it easy to pack a couple of amazing towns into your Costa Rican itinerary, even if you're short on time.
Whether you're looking for adventure or relaxation, here are some of the best things to do in Monteverde and my best recommendations for your visit!
Things to Do in Monteverde
---
1. Monteverde Cloud Forest (Most Famous Thing to Do in Monteverde)
Trekking through a cloud forest is one of the best things to do in Monteverde, if not the number one reason to visit. The Monteverde Cloud Forest Reserve has been around since the 70s and protects more than 35,000 acres and TONS of unique wildlife that call the area home.
Thanks to its high altitude, the forest sits amongst low-hanging clouds, promoting a misty and otherworldly atmosphere. You'll encounter hanging bridges, waterfalls, and some seriously incredible flora and fauna as you hike.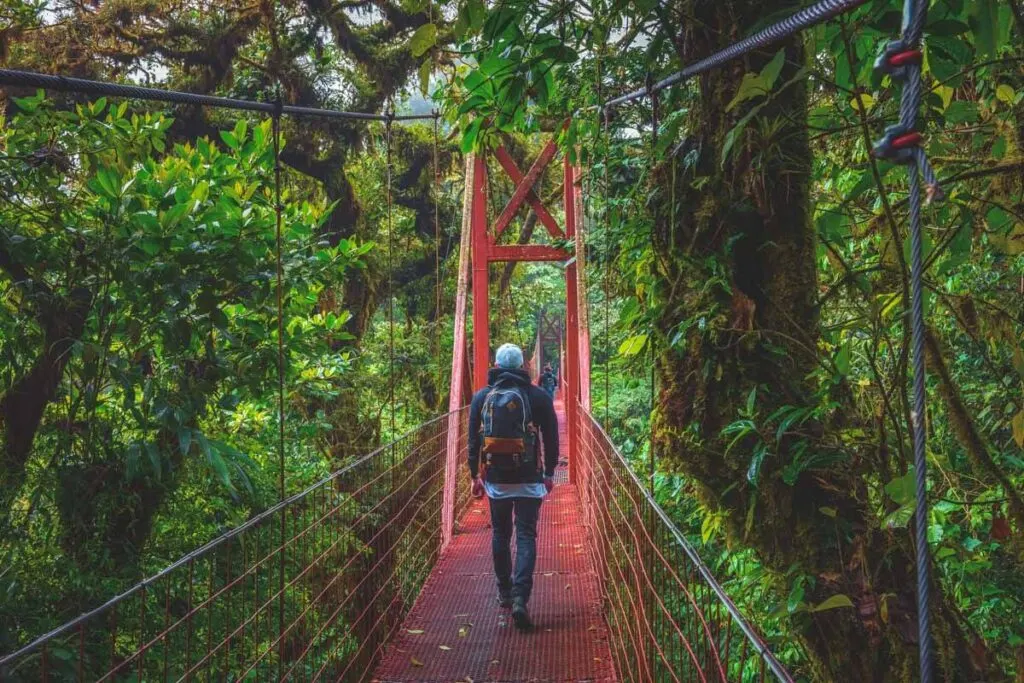 There are a few different ways to explore the Monteverde Cloud Forest. You can do a self-guided tour of the area for $25, but I'd recommend splurging on a guided tour to better your chances of sighting wildlife and learning a little bit about everything you see.
For an even more unique way of exploring the forest, you can take a night tour of the reserve! You'll see nocturnal creatures you missed out on during the day on an informative night walk.
2. La Reserva Bosque Nuboso, Santa Elena
The Monteverde Cloud Forest Reserve is definitely the most popular cloud forest in the area, but it's not the only one! La Reserva Bosque Nuboso sits in the nearby town of Santa Elena, offering a less touristy experience amongst the clouds.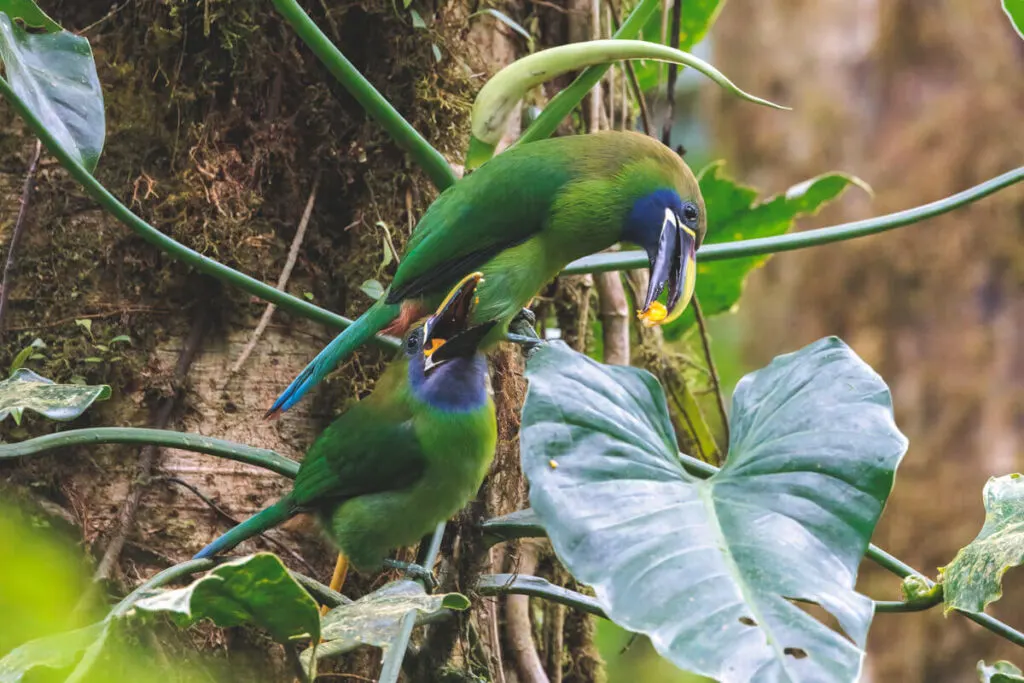 It's quieter, cheaper ($18), and every bit as divine as the Monteverde Cloud Forest. You can explore this area solo(a) or do a guided tour to get the most out of your experience. La Reserva Bosque Nuboso's first tour starts at 4:30 in the morning and comes with a warm cup of coffee and incredible sunrise views over the forest.
3. Children's Eternal Rainforest
Okay, you get the picture that Costa Rica is full of lush rainforests. But exploring these verdant areas is one of the best things to do in Monteverde.
At a whopping 57,000 acres, the Children's Eternal Rainforest is the country's largest private reserve. There are miles of hiking trails through the forest, and the wildlife watching (specifically the bird watching) is hard to beat.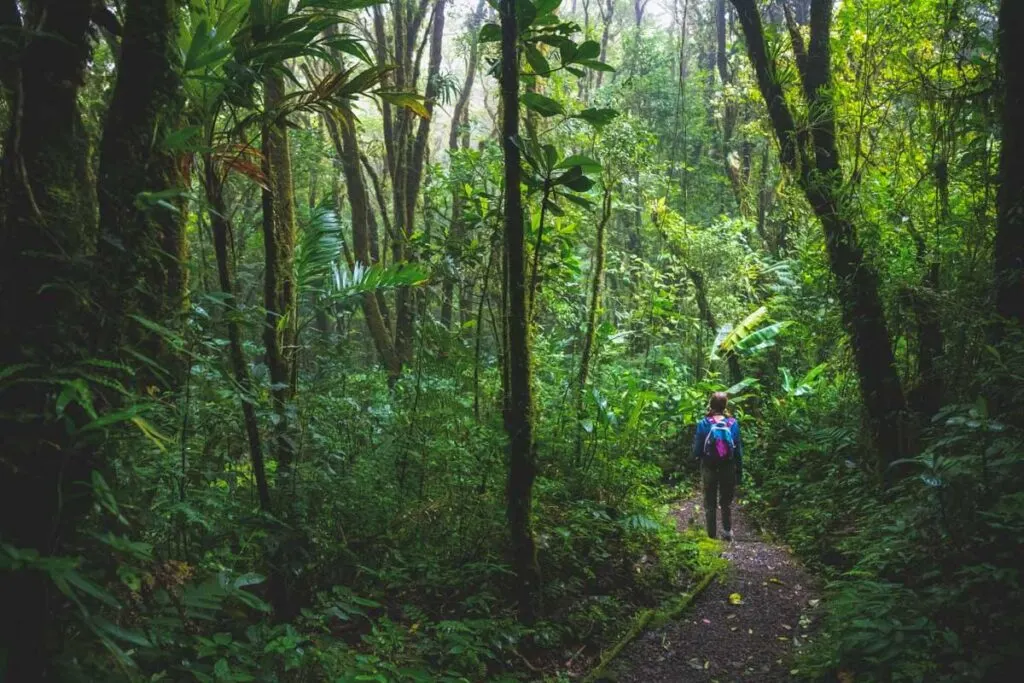 Because the forest is so large, the trails are separated into sections, and you'll need to pay an entrance fee for each one. So do your research and plan your hikes before your visit!
Like many other rainforests in the area, you can explore alone or take a guided tour (day or night). There are also options for overnight lodging and meal plans. Staying overnight in a rainforest? Sign me up!
There's a small visitor center right in town to get more info on this one.
4. Sky Adventures Monteverde Park
I know some of you are wondering if there are things to do in Monteverde that don't involve lots of hiking, and the answer is YES.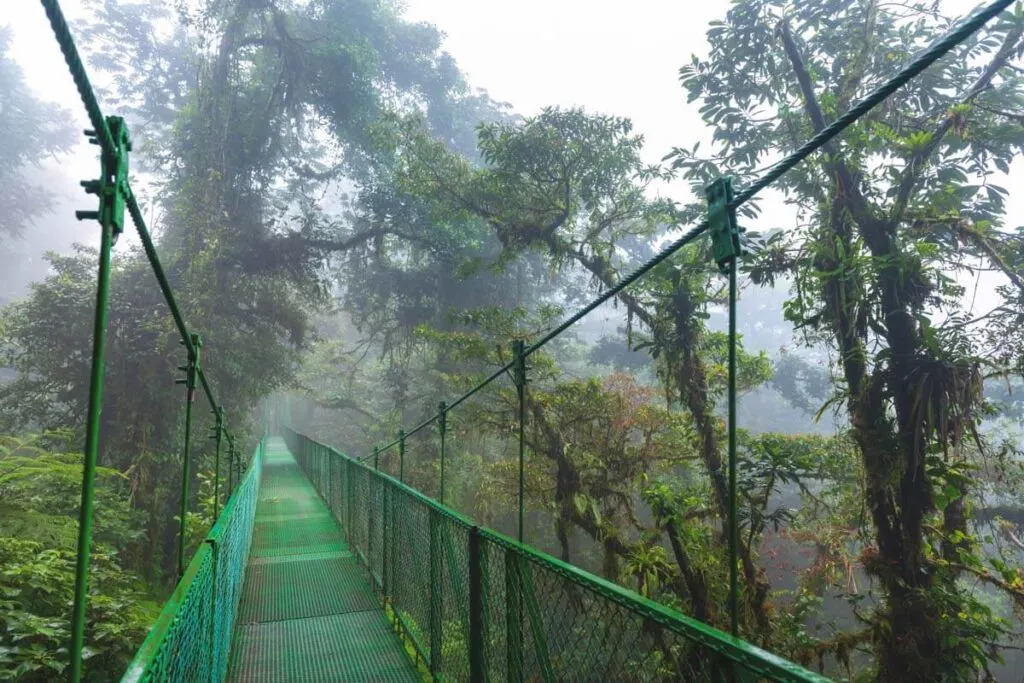 Turn the adrenaline up a notch and experience Monteverde Cloud Forest at a more adventurous pace with this sky walk, sky tram, and sky trek ziplining tour. This is a fun way to explore the forest and offers a unique vantage point that you won't get from hiking trails alone.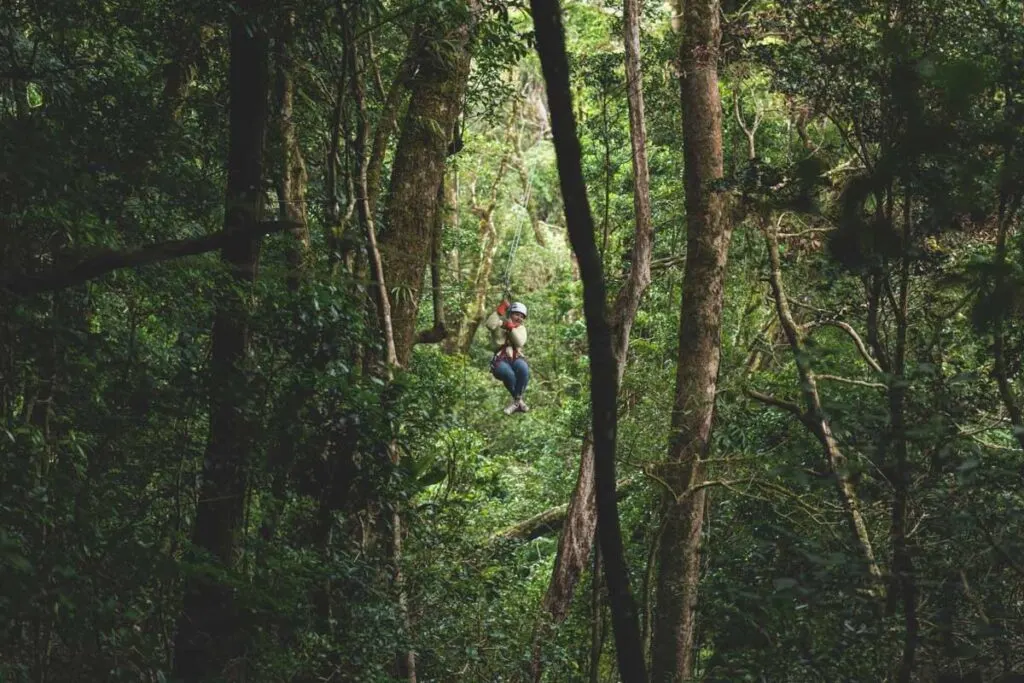 Adventure and epic views – it's a win-win in my book!
5. Coffee + Chocolate Tour
Costa Rica is a massive producer of coffee, chocolate, and sugar cane. Three of my favorite things!
Indulging in these tasty treats is a great way to experience the country's culture, but you can take it further and learn all about the process on this sweet plantation tour. You'll get a behind-the-scenes look at what goes into growing the crops, how the product is produced, and of course, how it tastes.
The tour is just a couple of hours, so this is the perfect activity for those who don't have a lot of time and want to squeeze more into their day.
6. Catarata Los Murciélagos (Monteverde Waterfall)
The actual town of Monteverde is pretty pint-sized, and many overlook it for the (slightly) more developed Santa Elena. But wait! There's a hidden gem tucked away off Monteverde's main road, and it's worth discovering.
Catarata Los Murciélagaos (or Monteverde Waterfall) sits at the end of a short (but steep) trail, and this peaceful area has yet to be overcrowded by tourists visiting the area. After the trek, you can take a dip in the pool below the waterfall – just know the water is F***in cold!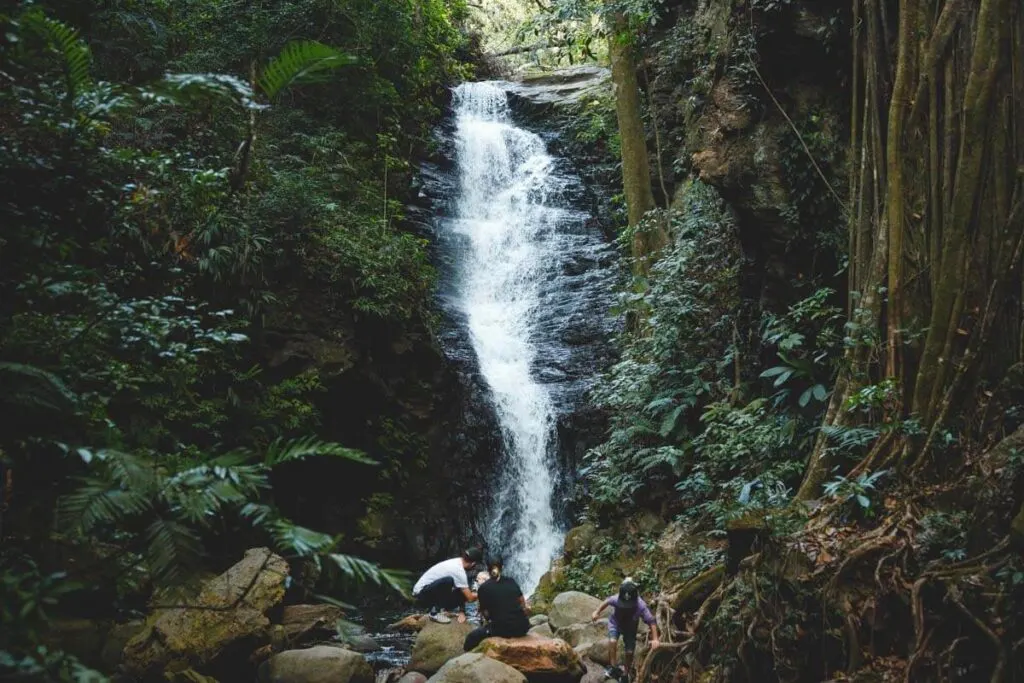 Note that the waterfall is located on private land, and you'll need to pay an entrance fee ($6 USD) to access the trail.
You'll head down steps and tree roots the whole way, then cross a small bridge before reaching the falls. The falls have some rocks to lay on and enjoy and of course, taking a dip will be worth the chills down your spine.
Don't forget you'll have to climb all the way back up so leave yourself enough time to take the steep trail back up, as going up will take longer.
7. El Tigre Waterfalls (My Fav Thing to Do in Monteverde)
Hiking to El Tigre Waterfalls is one of the best things to do in Monteverde. Period. I LOVED this hike.
It's one part adventure and one part relaxation, with about a 2.3-mile hike and ten waterfalls, some of which you can swim in. As you hike, you'll cross hanging bridges, plus an incredible view where you can see several volcanoes on a clear day.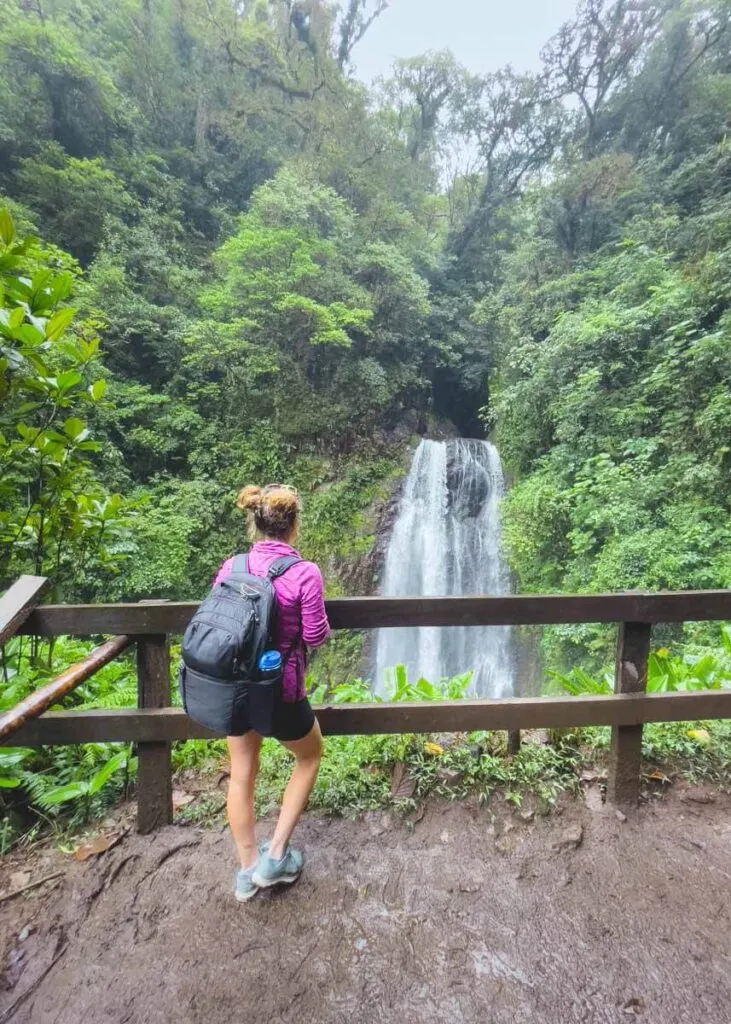 The trail is rated as moderate, so wear good walking shoes and pack snacks to sustain yourself. The trail is a bit muddy at points, with rocks and roots making "nature's staircase," so this is NOT the trail to wear sandals.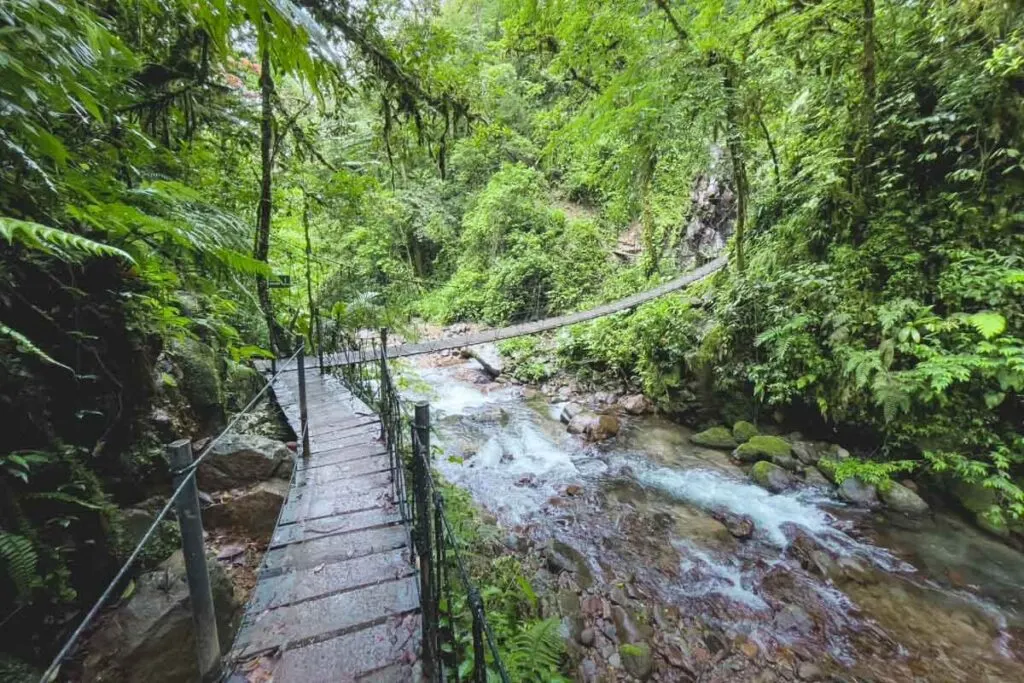 I will be the first to admit that a $30 entrance fee is outrageous, hi, and welcome to Costa Rica! Where nature is expensive! But all in all, I did love this hike. They keep this trail maintained very well and those hanging bridges can't be cheap to upkeep.
There are safety checkpoints that make solo travelers like me feel a bit better as well. The start of the hike will be the best, as the best waterfalls are seen within the first mile. There are also zipline and horseback riding options here as well.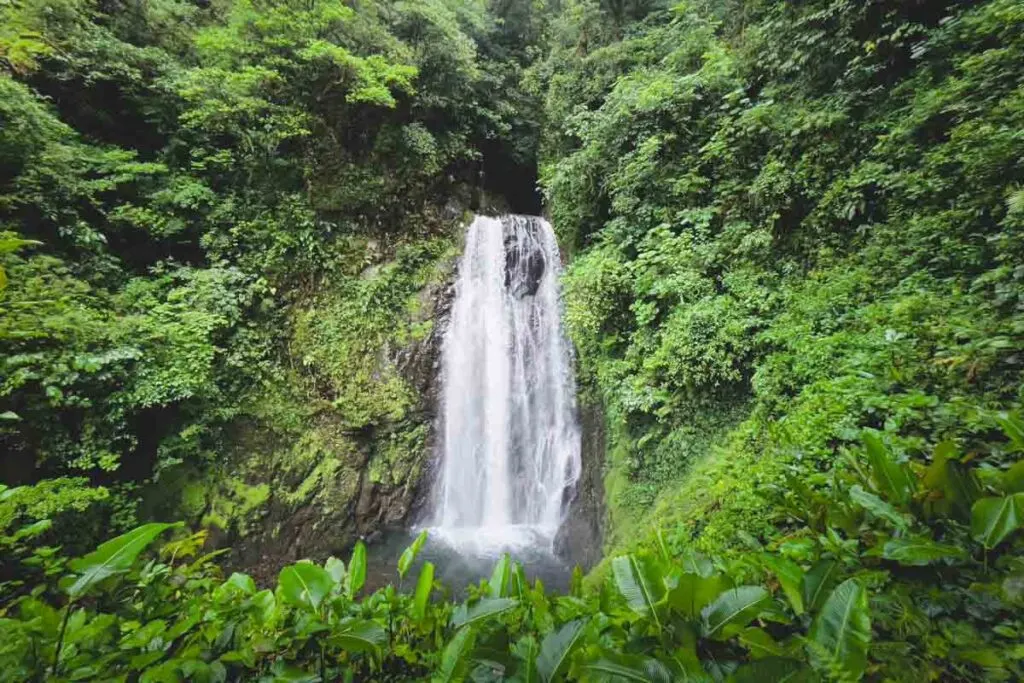 TIP: You don't need a guide for this hike at all. You can also add on $10 and they will provide a shuttle service that picks you up and drops you off at your hotel, as this hike is 30 minutes outside of Monteverde.
READ MORE: El Tigre Waterfalls in Monteverde, Costa Rica: What to Know!
8. Zipline (Most Adventurous Thing to Do in Monteverde)
Glide along Latin America's longest zipline on this adrenaline-inducing adventure park tour. You can soar along ten different zip lines, cross a rope bridge, practice your rappelling, and play Tarzan through the rainforest—all in one epic tour!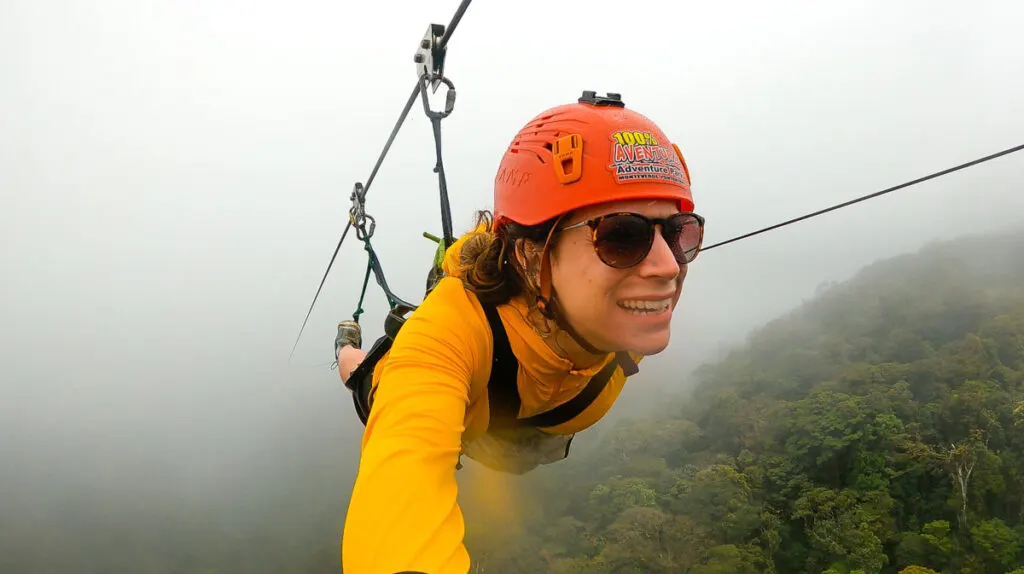 The tour includes all the gear and instructions, so all you need to worry about is showing up and having fun. If you're looking for adventurous things to do in Monteverde, you'd be hard-pressed to find a better spot than this park!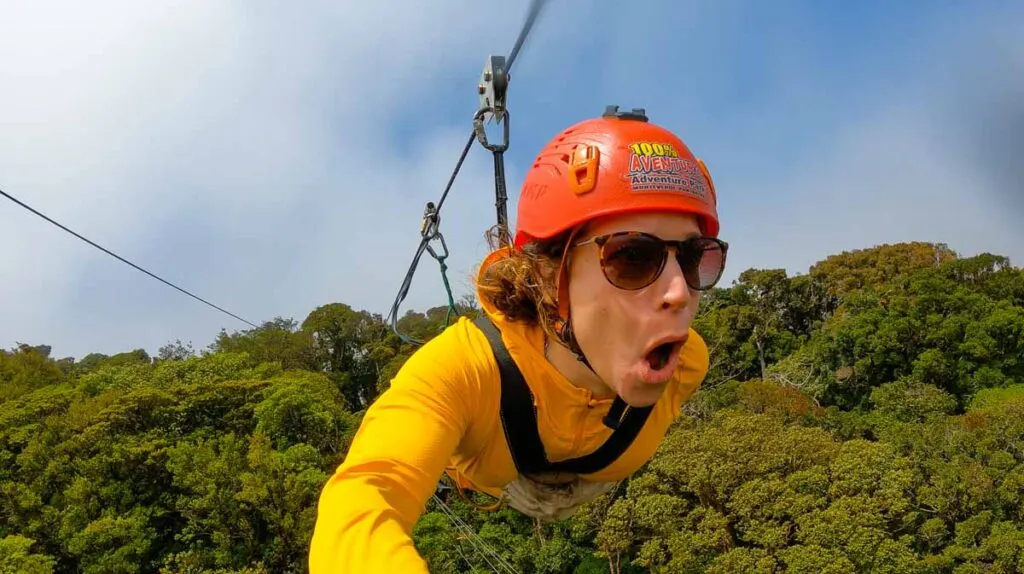 When I did this, the famous Monteverde cloud forest was flowing in and out so sometimes I was zipping through gorgeous trees, and on other lines, I was flying through a white abyss! The clouds literally made me feel like I was in the sky, and I couldn't see the start or the finish of my zipline. And doing it "superman style" was truly wild!
9. Curi-Cancha Reserve
Costa Rica is full of unique wildlife. This rainforest-filled land is an animal lover's dream, from two-toed sloths and coatis to rare birds and armadillos. The Curi-Cancha Reserve is an excellent spot for viewing all these special critters, and the lush forest scenery certainly won't disappoint.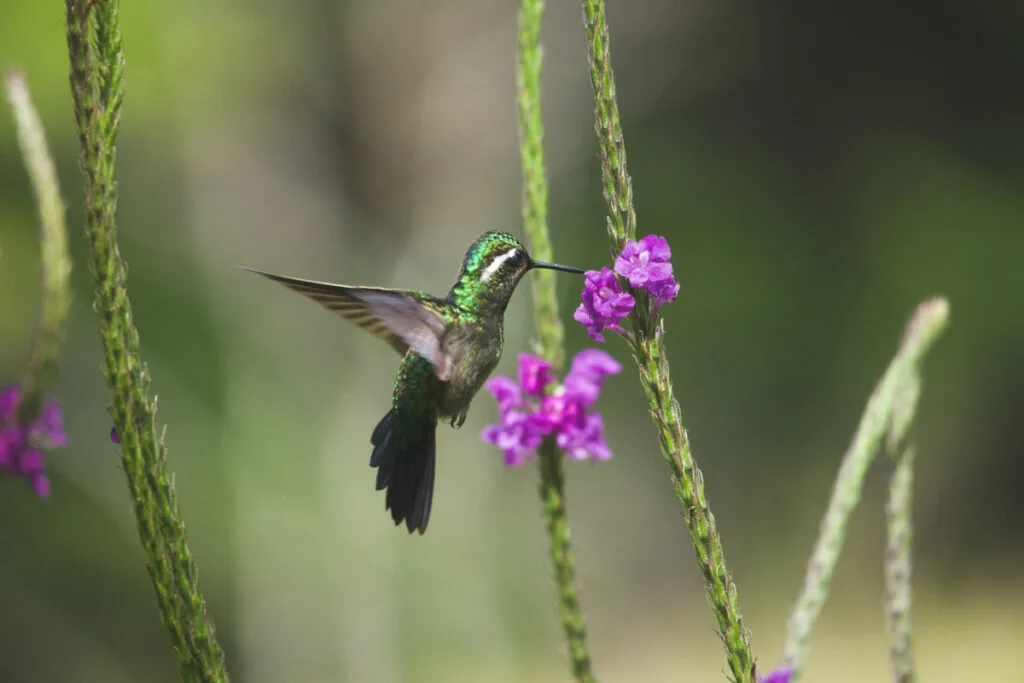 This is one of those experiences I recommend doing with a guide, and I'll tell you why. A local guide can help point out things you might otherwise walk right past without noticing. They'll also be able to give you info about everything you see, plus share some knowledge about the reserve's sustainability practices. The air-conditioned van and hotel pick-up doesn't hurt, either!
10. Monteverde Butterfly Gardens
Also known as the Moteposario, the Monteverde Butterfly Gardens is a sanctuary for 30 different species of these colorful winged creatures. There are also dozens of species of other insects and arachnids, all living across the facility's four unique gardens.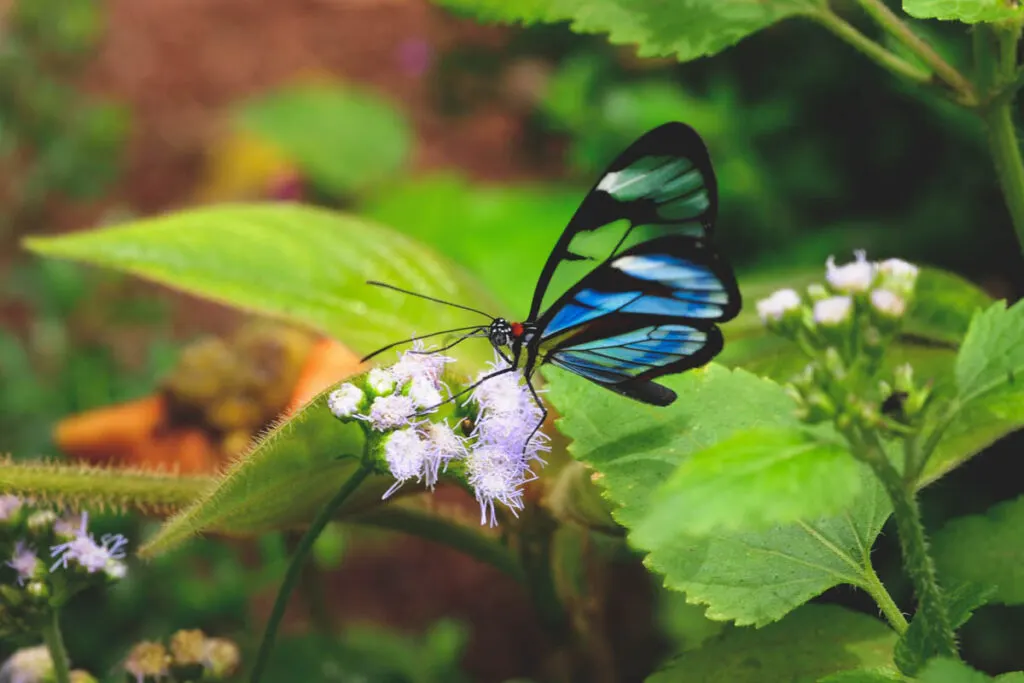 Your entrance fee ($18 USD) includes a tour of each garden and an up-close look at some of the many creatures that call this beautiful place home.
The Monteposario is located between Monteverde and Santa Elena, making it a great activity for those who don't want to venture too far off the beaten path.
11. Ficus La Raiz
For those who DO love a good off-the-beaten-path moment, check out Ficus La Raiz. A true natural wonder sits in the hills around Monteverde and Santa Elena. Ficus La Raiz (also known as el Puente Raiz or the Root Bridge) is a woody "bridge" made up of tangled ficus roots.
The "bridge" crosses a small stream in a quiet nature area and is accessible via a short walking trail. The trail is pretty scenic and also short and easy to reach.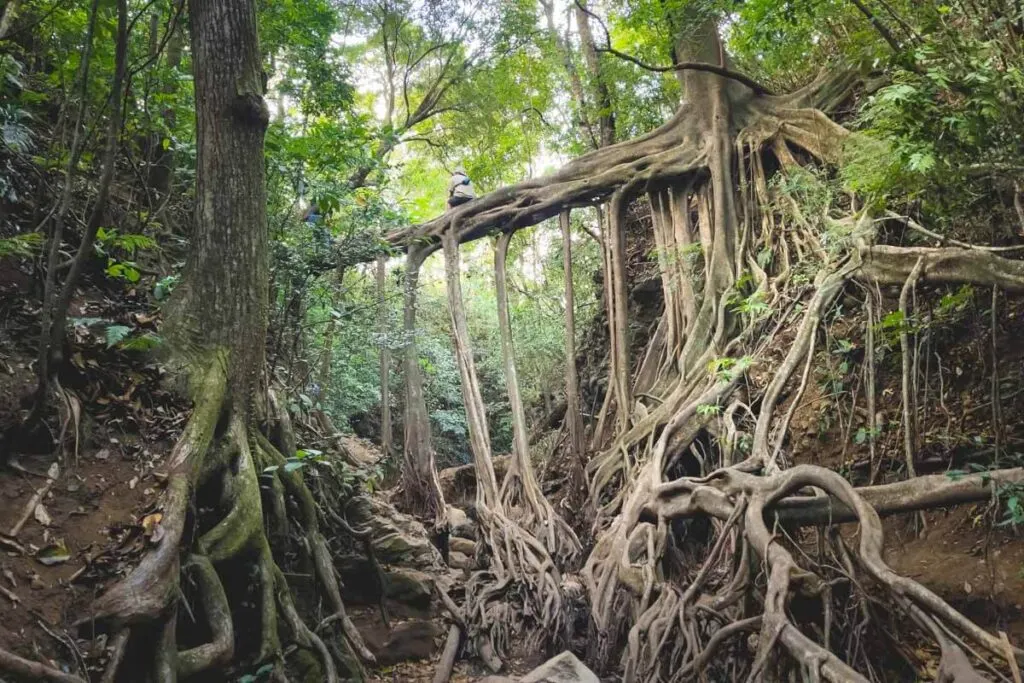 Head here, and you'll turn off the main road to what looks like someone's driveway! Very quickly, you'll see on the left-hand side a sign labeled RAIZ and then the trail from there is obvious.
People have complained that there's sometimes a man trying to get you to pay to visit this spot but this spot is free! I luckily didn't encounter this person.
12. Miradors (Viewpoints)
One of the best free things to do in Monteverde is to find a good viewpoint and watch the sunset. The area surrounding Monteverde and Santa Elena has plenty of scenic lookouts on offer, so you can pick a new spot whenever (if ever) you crave a change of scenery.
This viewpoint is one of the most popular viewpoints in the area with a few benches strewn on the sidewalk for people to enjoy. It's easy to find thanks to its central location, and the views are fantastic. Try to walk or get a ride to this one if you can, as there aren't a lot of places to park at the viewpoint itself.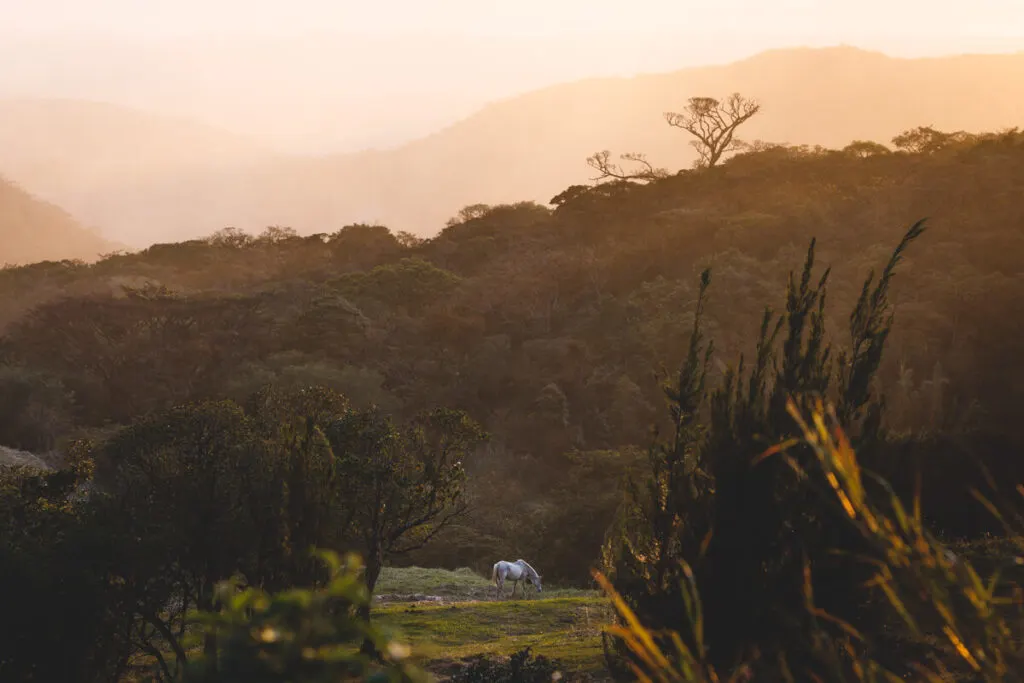 It's usually pretty full at sunset, and if you're lucky enough, you might even catch some majestic horses frolicking in the field below.
Just walking down a bit further south from this viewpoint is another one that's less busy. There's a small platform and a bench to sit and enjoy.
Where to Eat in Monteverde
There are some great places to eat in Montverde. Here are some of my favorites…
Soda La Amistad – Typical Costa Rican fare with fair prices. I came in HUNGRY, and the casado was exactly what I needed.
Cafe Capuchino – Come in for a legitimately good coffee, breakfast, and a nice view over the forest.
Open Kitchen – One of the pricier spots in town but has good Western-style foods. It's beautifully decorated and even has a beer garden downstairs.
La Carreta – One of the favorite local spots in town for quick-budget eats. It was a bit salty for me but still pretty good.
Panadería El Hornito de Pilo – This was my little bakery where I went to grab some quick pastries to have in the morning before an early tour or before heading out on an early shuttle. This is also a super budget-friendly brekkie idea, so you can spend more money on adventures.
How to Get to Monteverde
If you're traveling from San Jose, the capital city, you can take a shared shuttle, which is a cost-effective and convenient option. The shuttle ride takes about 3-4 hours and includes hotel pick-up and drop-off as well as airport pick-up and drop-off. You can find a shuttle here.
TIP: If you're coming from La Fortuna or going to La Fortuna after Monteverde, the shuttle-boat-shuttle option is the best (and prettiest) way to get between these spots!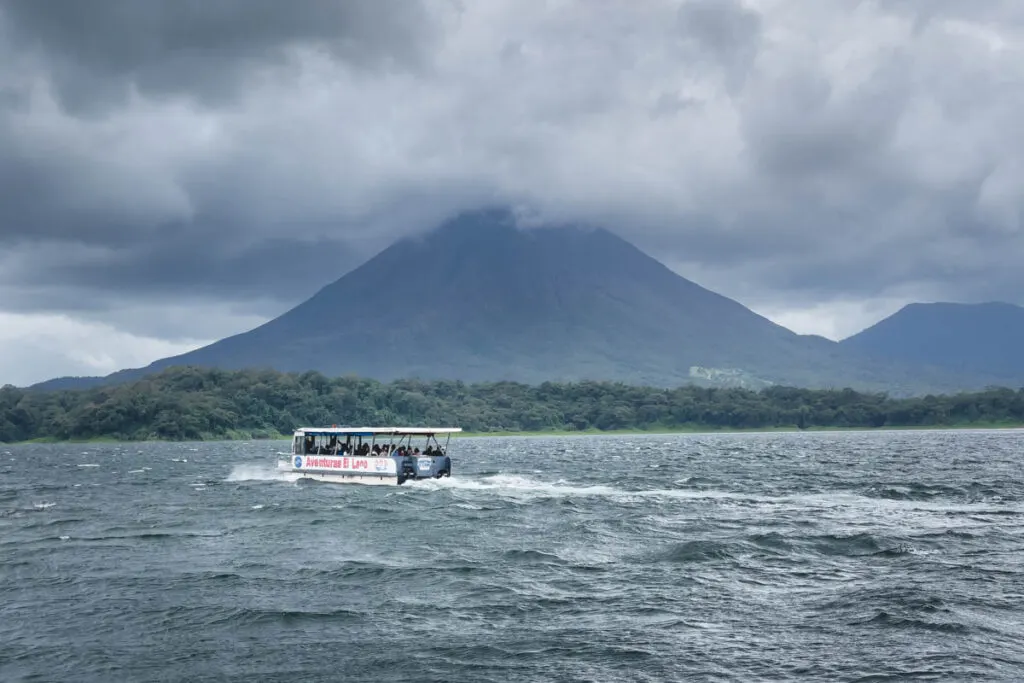 Alternatively, you can rent a car and drive yourself to Monteverde, which offers more flexibility and the opportunity to explore other destinations along the way. But do note that the road here isn't great. It's windy and has a lot of potholes on the last 18 miles to town, which takes around an hour just for that section.
For those who prefer public transportation, you can take a bus from San Jose, and the journey takes about 5-6 hours. While this is a budget-friendly option, it's the least comfortable and slowest.
If you're coming from other parts of Costa Rica, such as the Pacific coast, you can take a direct shuttle or bus to Monteverde. Sometimes there's a stop in Liberia, depending on where you're coming from.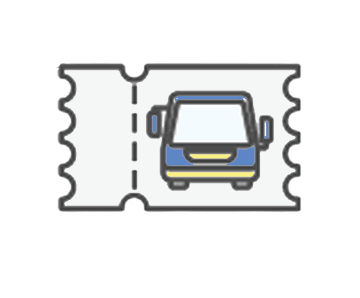 TRANSPORTATION TIP
If you're looking for bus or boat tickets around Central America and Mexico, you can easily book them online! Check Availability
How to Get Around Monteverde
Monteverde is a very walkable town. You'll have no issues getting from A to B if they are in and around town, but do note it is hilly here. There will be lots of up and down getting to some of these spots. I got quite the workout!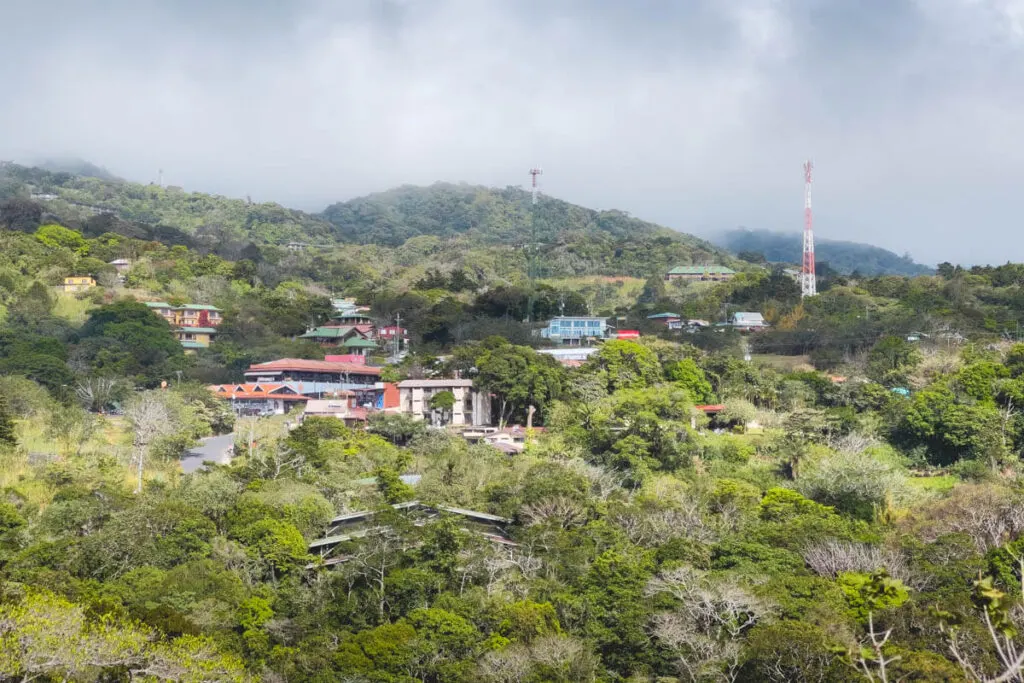 To get to a lot of the activities I mentioned above, like El Tigre Waterfall, you can request hotel pick up and drop off for an extra charge. You can also have your accommodation call you a taxi, there are only a few in town really.
There's also a public bus that operates a few times a day that is cheap but really just goes from town to the Monteverde Cloud Forest.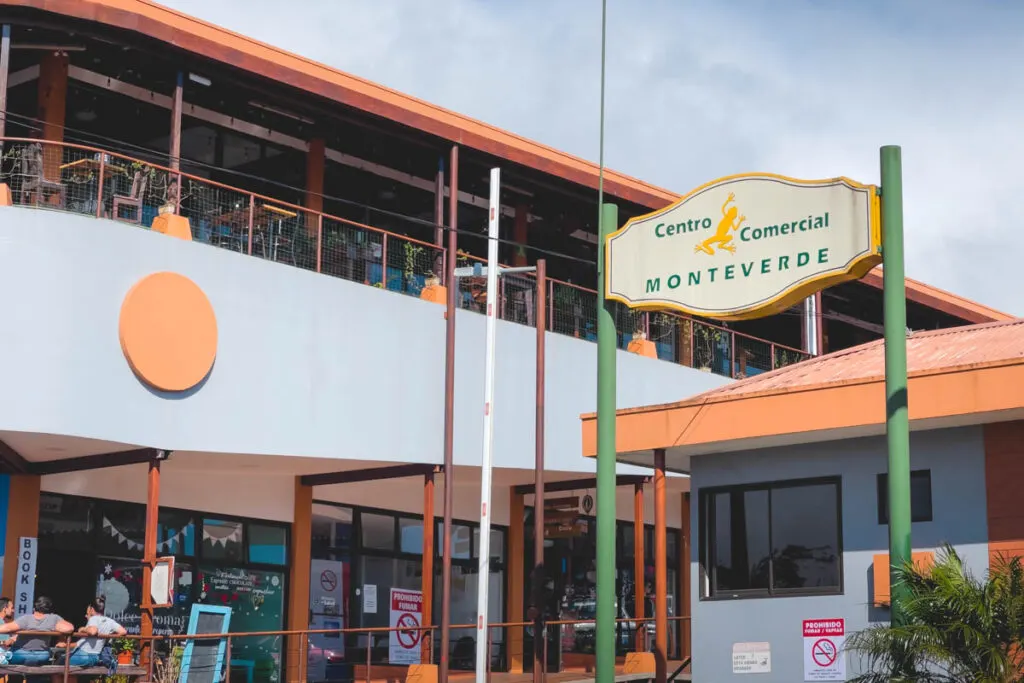 One of the best ways to get around is by simply doing a tour which I've linked above for you. Sometimes after paying the entrance fees, a taxi to and from, and the time it takes to figure things out—it may have been more worth it just to do the darn tour!
It's also the best way to see the animals, so if that's your goal, a guide is NEEDED! Most of the animals are very elusive or are far away, and you'll need a telescope or binoculars (which the guides have for you) to even see them.
What to Pack for Monteverde
Lightweight, breathable clothing – Monteverde's weather is generally cool and wet, so pack clothing that is comfortable, easy to layer, and can withstand some rain.
Waterproof gear – A rain jacket, water-resistant shoes or boots, and a waterproof backpack cover to keep your belongings dry. Just note that rain comes and goes, but even when it's not raining, it's common for you to be in a heavily misty environment. You're literally in the clouds!
Binoculars – Monteverde is known for its abundant wildlife, so it's helpful to have binoculars to spot birds, monkeys, sloths, and other creatures; otherwise, you'll have to share one with the group (if you do a tour). I didn't bring any, BUT I had a 70-200 lens on my camera, which also works! If you have neither and you aren't planning on doing tours where you could at least share a telescope or binoculars, you'll struggle to see animals in Costa Rica.
Sunscreen and sunglasses – Even though the weather is generally cooler and you're in the clouds, the sun can still be strong at higher elevations.
Comfortable walking shoes – You'll be doing a lot of walking and hiking, so don't just rock up here with sandals. You NEED sneakers for hiking around. Also, remember that the town is hilly.
Where to Stay in Monteverde
Random tip, but choosing where to stay in Monteverde is a bit weird because you actually want to stay more in Santa Elena. This is where essentially everything is, as you'll notice if you look at Google Maps. So now that we got that out of the way…
Cala Lodge
A serene and eco-friendly hotel nestled in the lush hills of Monteverde. It offers cozy accommodations with stunning forest views, as well as a restaurant, bar, and outdoor pool.
Casa Jungle Monteverde B&B
A charming bed and breakfast located in Monteverde, Costa Rica. It features cozy rooms with rustic decor, as well as a shared kitchen, garden, and terrace. The B&B is surrounded by lush rainforest and is within easy reach of local attractions.
Cattleya Monteverde
A comfortable and welcoming hotel that's a great budget option. It offers a range of accommodations with simple decor, a shared kitchen and a small outdoor area to enjoy too. This is actually where I stayed and the owner was SO nice and helped me so much. It's a great spot and super affordable.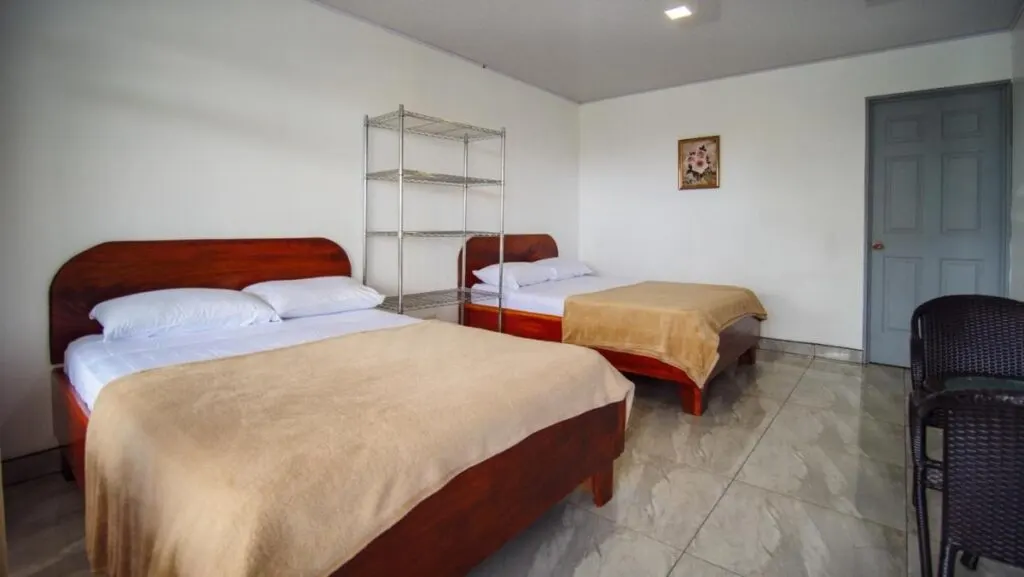 Cabinas El Pueblo Hostel
A budget-friendly hostel situated in the heart of Monteverde. It offers basic accommodations with shared bathrooms, as well as a communal kitchen, lounge, and garden. The hostel is conveniently located near restaurants, shops, and other amenities.
Hotel Ficus
A cozy and charming hotel located in the heart of Monteverde, Costa Rica. It offers comfortable accommodations with rustic decor, as well as an on-site restaurant, bar, and garden. The hotel is within walking distance of various restaurants, shops, and local attractions.
Check Price:
Not sure if any of these spots in Monteverde are for you? You can check out some other top-rated spots…
MORE ACCOMMODATION OPTIONS IN MONTEVERDE:
Where are you headed to next? Don't miss out on my guide to La Fortuna or to backpacking Costa Rica.
I hope this helped you plan your trip to Monteverde!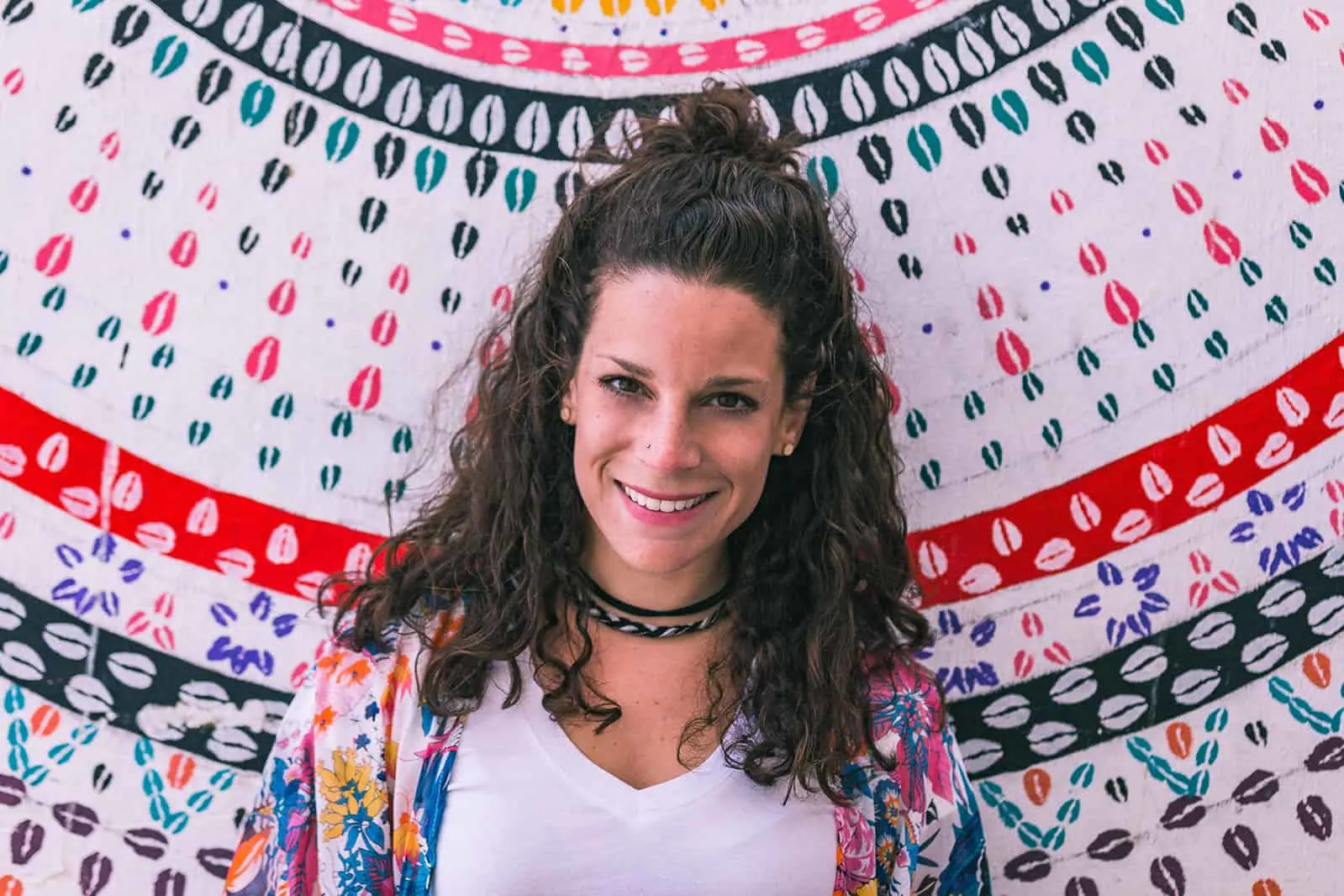 Nina Ragusa is an adventurer, messy bun master, breakfast fan, and full-time travel blogger. She's been abroad since 2011 and blogging on Where in the World is Nina? for nearly as long. Nina helps people like you move around the world while making money. She loves talking about how to work abroad and online to travel longer!