For a small town, La Fortuna really lays the charm on thick.
Maybe you've seen photos of the gorgeous Arenal Volcano, or perhaps you've heard talk of Costa Rica's awesome adventure activities. Either way, you're probably unknowingly daydreaming about La Fortuna.
And let me tell you, this place is way better than you can even imagine in your wildest dreams. I mean, there are chocolate and coffee plantations, trails leading to waterfalls (you know I love a good waterfall hike), and soooo much outdoor recreation. I'm talking ziplining, rope swings, rafting, and hot springs. So, so many hot springs!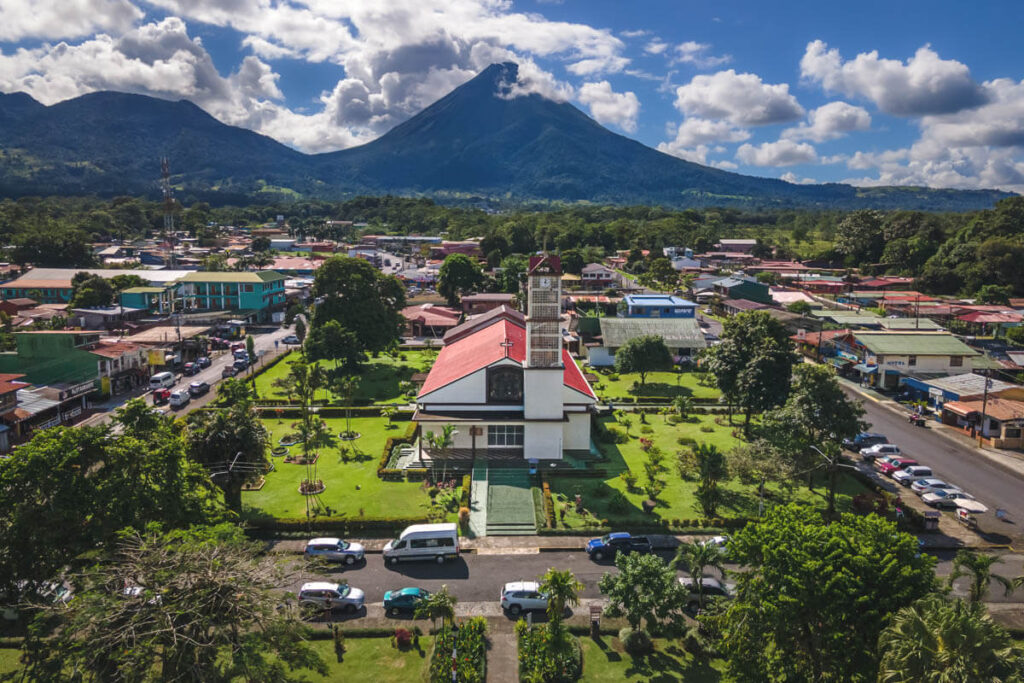 Okay, at this point, I'm thinking you're probably convinced that this place deserves a place on your Costa Rica bucket list, so let's get into some of the best things to do in La Fortuna.
TIP:
Short on time? On a budget and don't have our own car? This is the
ultimate tour
to take in La Fortuna! It includes La Fortuna Waterfall, hiking around Arenal, a visit to a local village, and some drinks at a hot spring to top it off! It's the best bang for your buck—
Book it here
.
Best Things to Do in La Fortuna, Costa Rica
---
1. Parque de La Fortuna
If you want a taste of local life while in town, head to Parque del La Fortuna. This lush area features a wide open field, tropical flora, and views of the Arenal Volcano on clear days.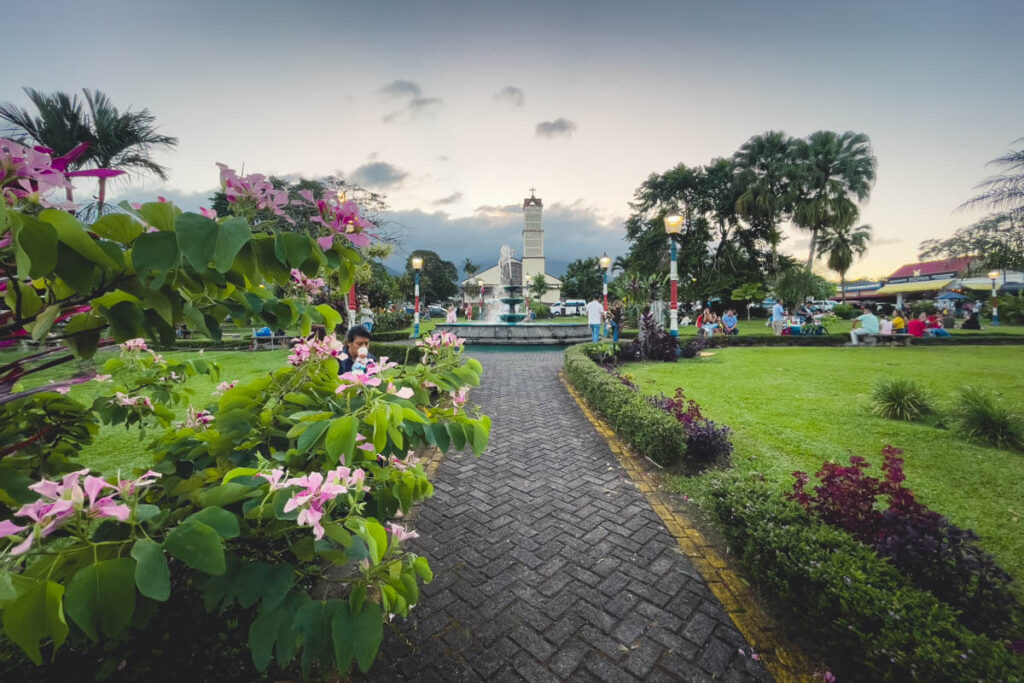 This may not be the most exciting thing to do in La Fortuna, but it's a great way to spend a lazy afternoon. And trust me, there are plenty of other exciting things to keep you busy for the rest of your trip anyhow.
So, grab some ice cream and do some people-watching as you stroll through this beautiful park—This is what the locals do!
2. El Salto (Rope Swing)
Spend a day in the water along the La Fortuna River. El Salto, which means "jump," is perched along the cliff's edge, which adds a layer of fun to playing around in the river.
There is a short path down to the swimming area, and the river is lined with large boulders making small waterfalls into the river. Here you can sit for an afternoon watching locals and visitors alike swinging out over the water and splashing down.
The water level is safe enough for this jump. It's getting out that's sometimes a bit tricky! The rocks are slippery, so be careful climbing out. Some people find wearing water shoes or even sneakers you don't care about helpful for exploring this area and for climbing out of the water.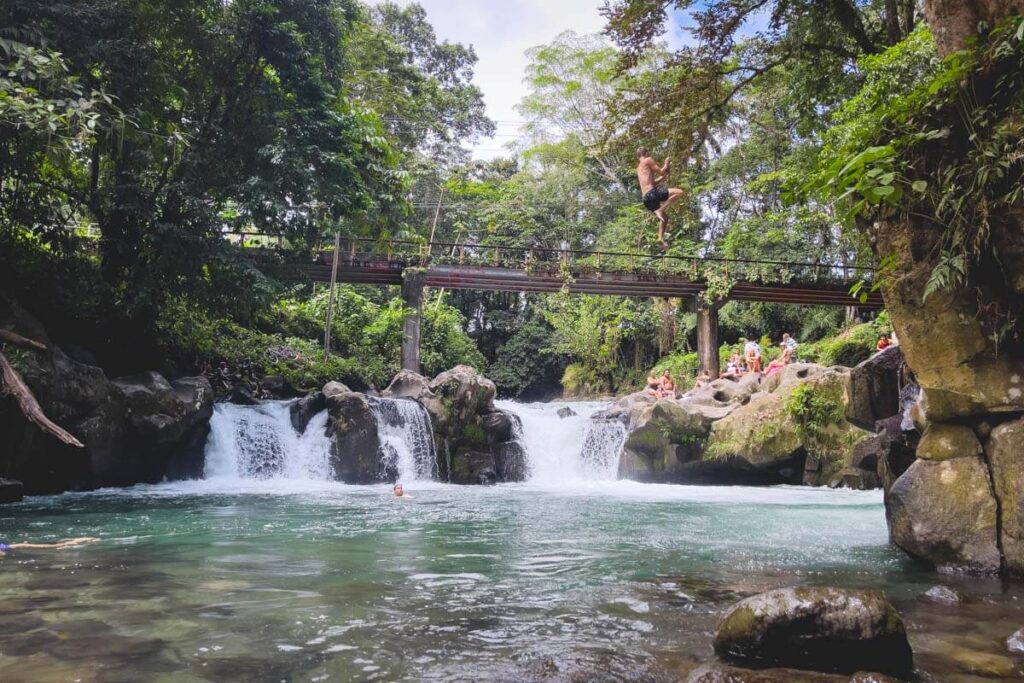 The rope swing is totally free, but you may want to bring some cash to tip the parking attendant (around 3000 colones should suffice). This may seem scammy, but trust. The parking area is around a curve, and the parking attendant ensures it's safe for you to pull out. He also monitors your car while you're gone, which is pretty nice!
El Salto is about a 15-minute walk from town if you don't have a car.
3. Coffee + Chocolate Tour
Coffee. Sugar. Chocolate.
Can you name three better things? I'll wait.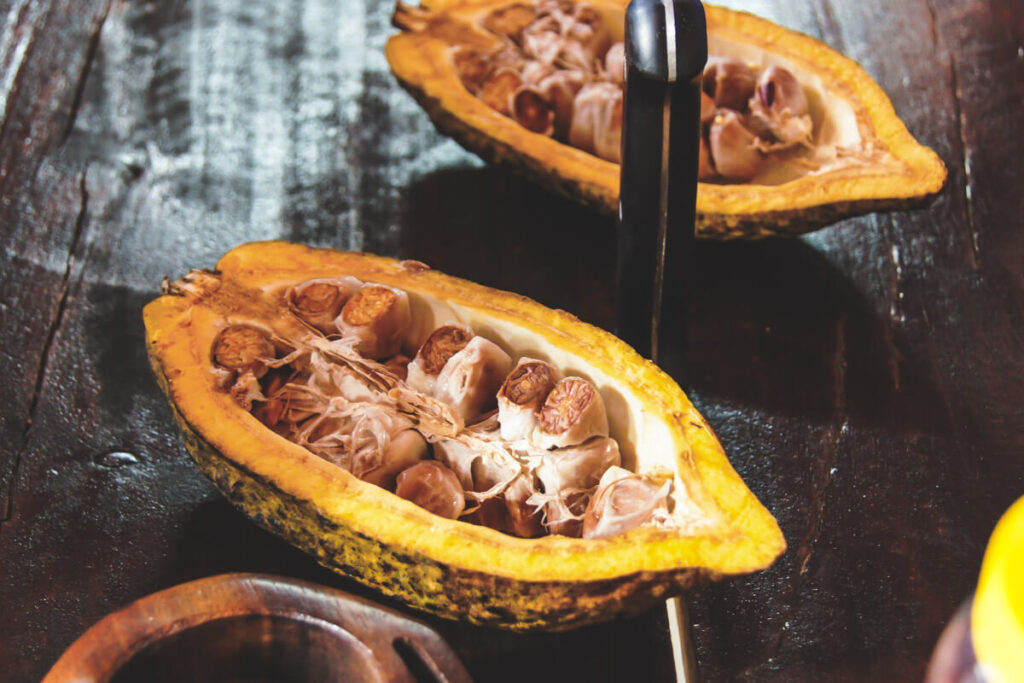 Costa Rica exports all three in great amounts, so they definitely know what they're doing with these tasty crops. If you want to learn more about the country's agriculture, get a look into the farm-to-table process, and of course, taste some of the products, then a coffee and chocolate tour is one of the best things to do in La Fortuna!
This family-owned farm takes you on a ride with these staples of the country, showing you the entire process and letting you have a taste—literally!
4. La Fortuna Waterfall (Most Famous Thing to Do in La Fortuna)
I love a good waterfall—and Costa Rica is full of them!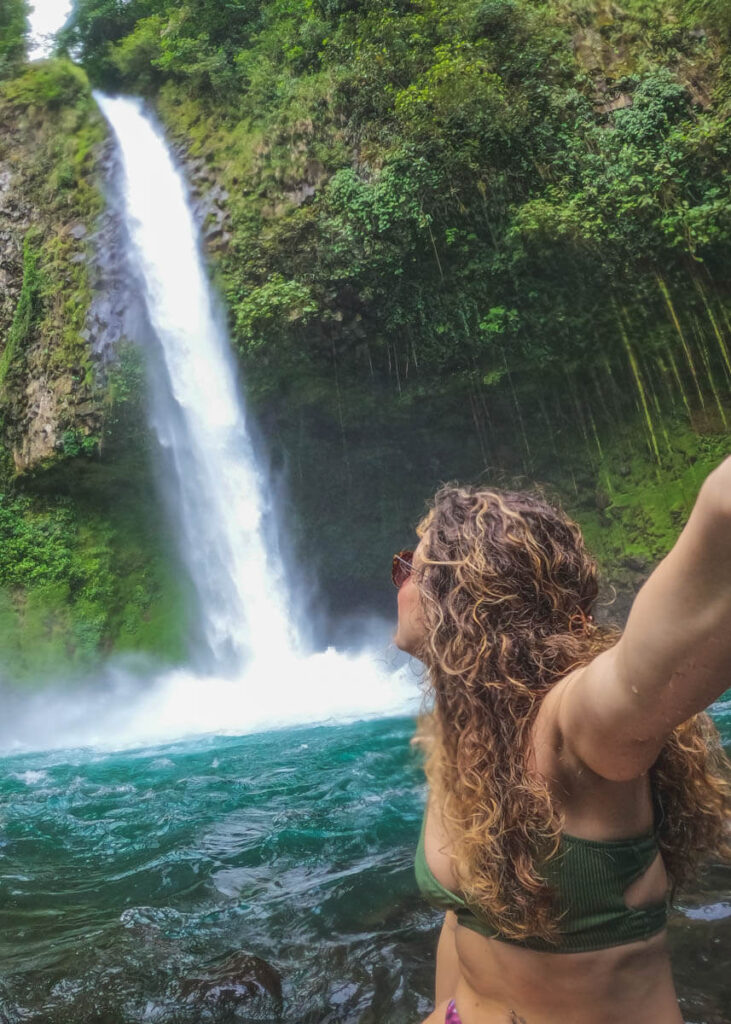 La Fortuna Waterfall sits at the edge of town in the Arenal Volcano National Park, making it pretty accessible considering how wild the area feels. From the parking lot, you'll walk up a series of stairs to the viewpoint, where you'll see a waterfall from afar—but this isn't it!
You'll have to descend nearly 500 steps, cross a river without a bridge, then crawl across some boulders to get a closer look at La Fortuna Waterfall. Trust me, it's worth it! If you love a good waterfall, you'll love this spot.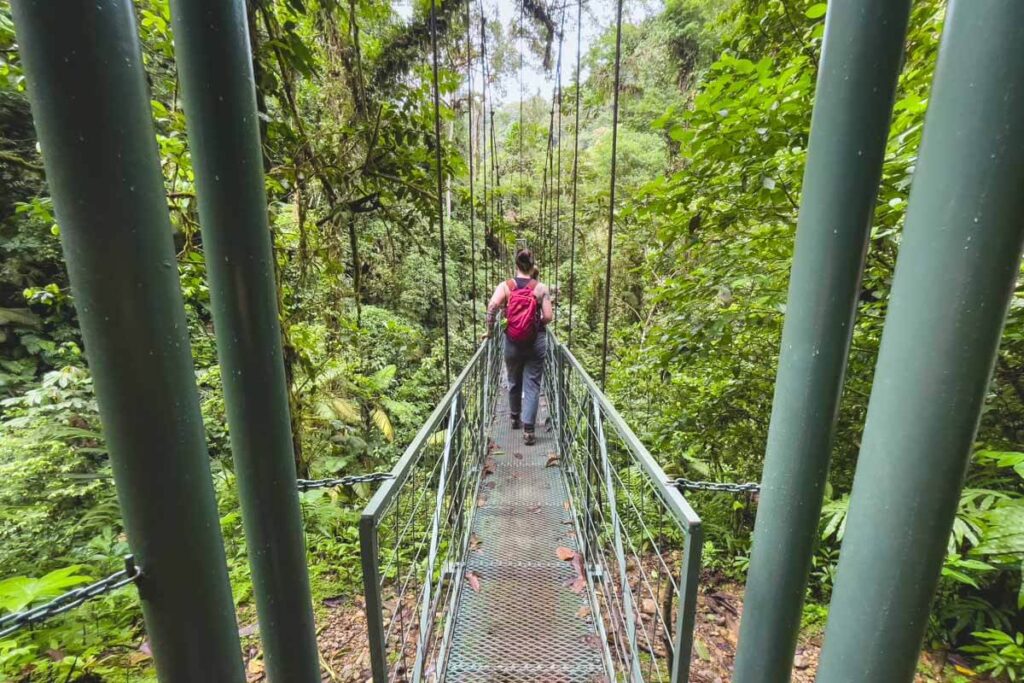 The water is powerful—you can't even attempt to swim too close. Do note this is a popular attraction, so the earlier you get here, the better.
The entrance fee is currently $18 USD to see the waterfall, and this does NOT include transportation from town. It's a 10-minute drive, and you can grab a taxi or take a tour out here.
You can prebuy your ticket and skip the line when you get there or go on a tour which includes a bunch of other cool stuff to do (and you don't need to figure out transportation!)
READ MORE: Hiking to La Fortuna Waterfall: Everything You Need to Know!
5. Cataratas Escondidas (Best Free Thing to Do in La Fortuna)
If you want a less touristy and FREE waterfall, the nearby Cascada Escondido ticks all the boxes.
Cataratas Escondidas is just next to the better-known La Fortuna Waterfall, which makes it one of the best things to do in La Fortuna if you're on a budget or want to avoid crowds.
Not many people know about this spot, and considering its name, which means hidden waterfall, it's not surprising! Instead of walking to La Fortuna Waterfall, you'll head just a bit right instead and down the road until you reach a gate. To the left, you'll find an opening where you can continue walking past it.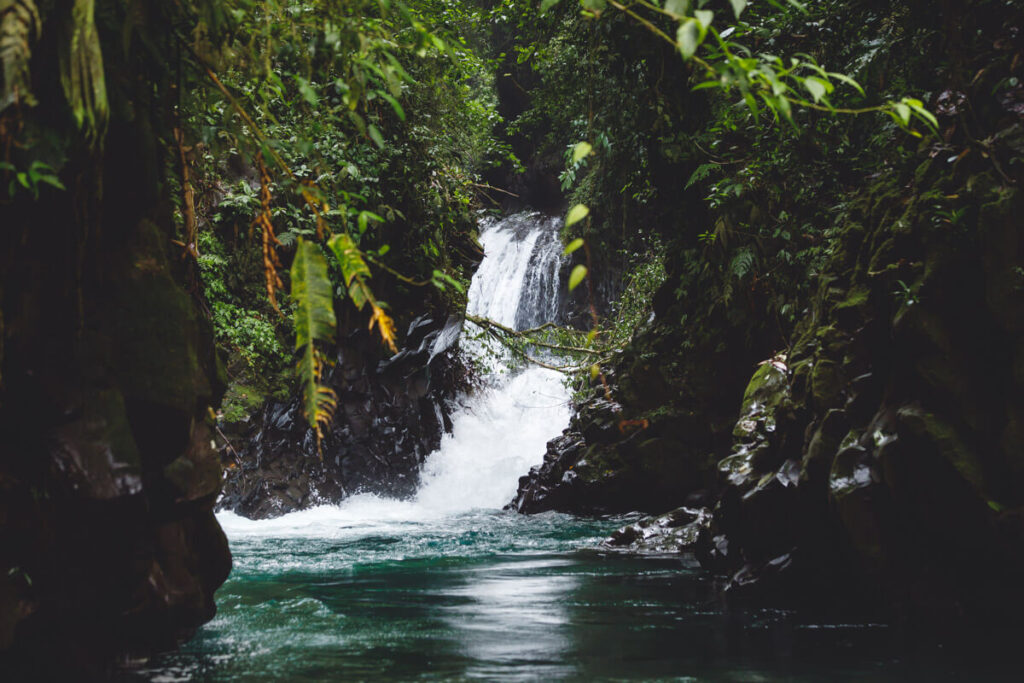 The walk is easy, just a bit muddy depending on the weather. You'll then have to cross a river which gets a bit slippery and can be waist-deep. After a bit more walking, you'll reach Cataratas Escondidas!
NOTE: I don't recommend climbing up the waterfall to get to the top tier. It's pretty unsafe. I'm speaking from experience! I adventured a bit too hard and actually slipped down the rapids. I was very lucky to come out unharmed. Enjoy it from the bottom!
RELATED: 10 Best Waterfalls in Costa Rica (+ Costs and Tips)
6. Mistico Hanging Bridge
Hike through the canopy of a rainforest at Mistico Park. This is one of the most popular things to do in La Fortuna!
This treetop trek combines nature trails and suspended bridges, giving you a bird's (or monkey's) eye view of the forest below. You'll probably see lots of incredible wildlife as you hike, as the park is full of colorful birds, monkeys, coati, and sloths. On clear days, you'll even see the top of Arenal Volcano peaking out above the foliage.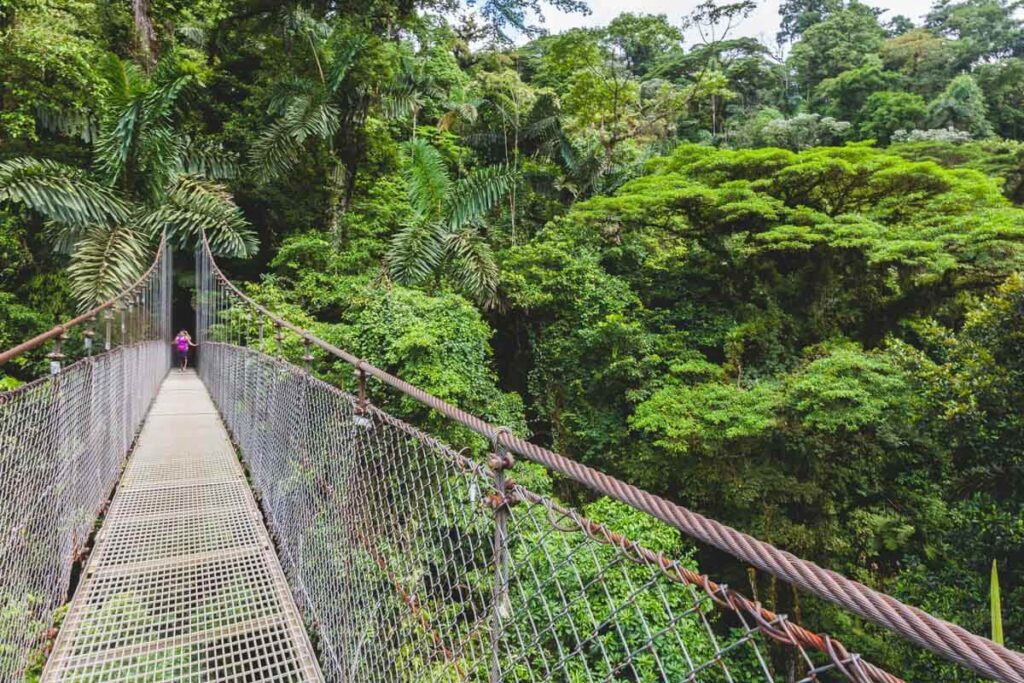 You can book a guided tour, a tour that includes pick up and drop off at your hotel, or save your cash and make the trail by yourself. If you go alone, you'll need to book your tickets in advance, as they do timed entry to avoid overcrowding.
Mistico Park sits about 30 minutes from La Fortuna, and you should plan to spend around 2-3 hours here. If you want the Hanging Bridsges and some of the other highlights of La Fortuna, this tour is your answer!
7. Peñas Blancas Safari River Float
Adventure travel doesn't always have to be blood, sweat, and tears. If you're searching for things to do in La Fortuna that will get you close to nature without much effort, take a float down the Peñas Blancas River.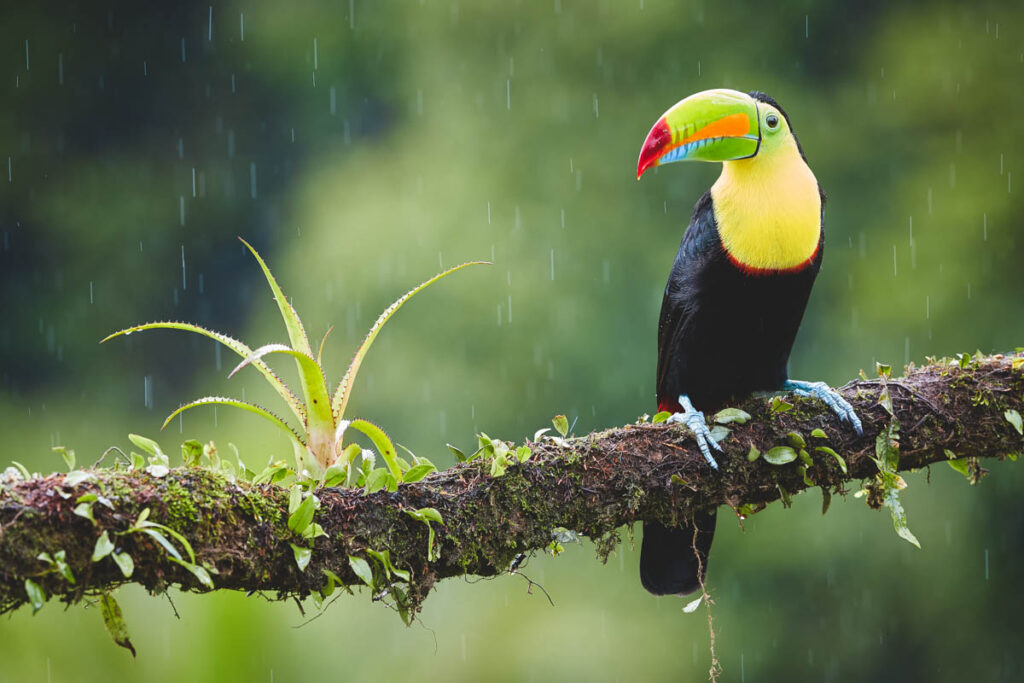 Your guide will do all the paddling, so you can sit back and relax as you learn about the flora and fauna that call the rainforest home. You'll likely see some pretty cool critters as you float, including iguanas, monkeys, and tons of cool birds.
The tour also includes a traditional Costa Rican meal with a local family—it doesn't get much better than this!
8. Rafting + Ziplining Tour
White water rafting and ziplining are two of the most popular things to do in La Fortuna, so why not combine the two into one thrilling adventure?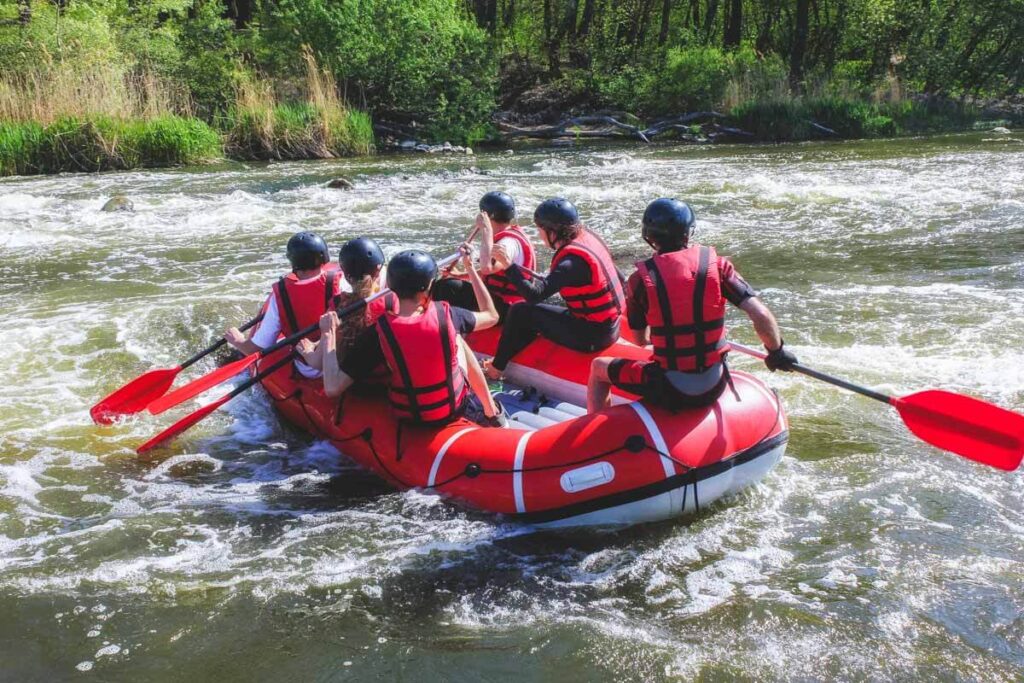 On this tour, you'll zip through the rainforest canopy before rafting the rapids on the Rio Balsa. And don't worry; you don't need experience in either of the two activities to participate! A guide will lead the way and teach you everything you need to know to confidently conquer both experiences.
After a full day of activities, you'll be treated to a meal cooked over a wood fire stove at a local farmhouse. It's an action packed day and so much fun!
9. Rio Celeste
For an exciting day trip from La Fortuna, take a guided hike to the Tenorio Volcano National Park.
The main draw here is the incredibly blue Rio Celeste. The bright blue waters are the chemical reaction of two rivers merging, and it's genuinely an incredible sight to see. The whole park is stunning, and you'll likely see tons of wildlife as you go to the river.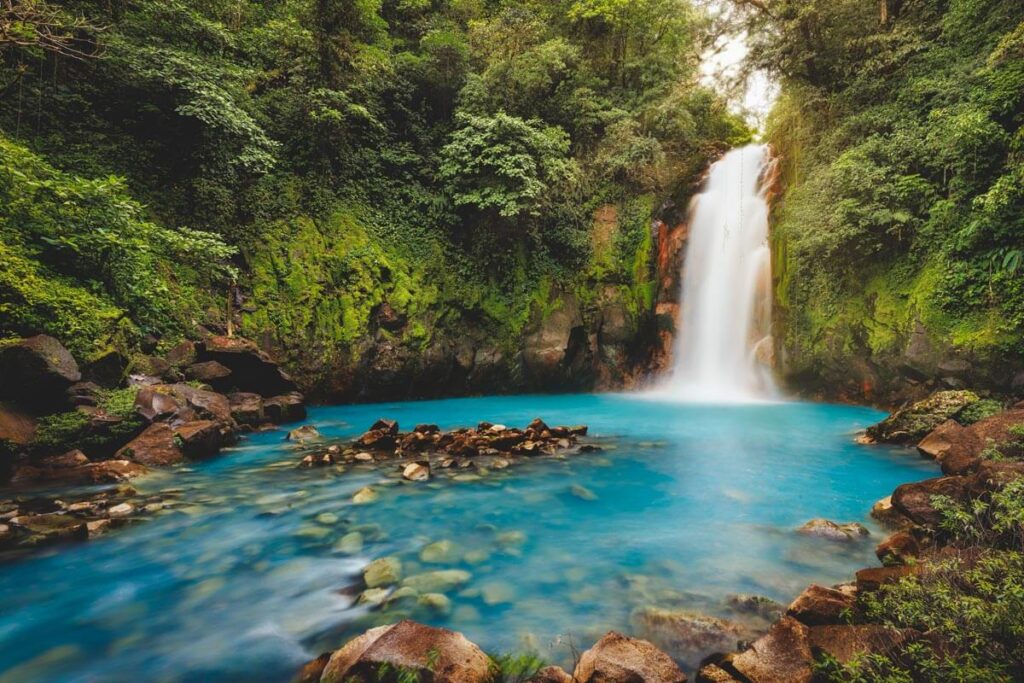 The hike is moderate and takes around 4 hours, but the tour includes a tasty lunch after the scenic trek.
Oh, and did I mention? There's another gorgeous waterfall to play in here as well! Visiting this spot is best done from La Fortuna, particularly if you aren't renting a car. You won't have another opportunity to visit if you don't do it from here!
10. Kayak Lake Arenal
Kayaking around a scenic lake may seem like a pretty run-of-the-mill activity. But this is Costa Rica, so this lake is settled underneath a massive volcano! Talk about impressive…
Kayaking around Lake Arenal is a surreal experience, and it's one of those things you don't need a guide for. This is the country's largest lake, and you'll find many vendors along the lengthy coastline. You will need to drive outside La Fortuna to get to the lake, but it is so worth it!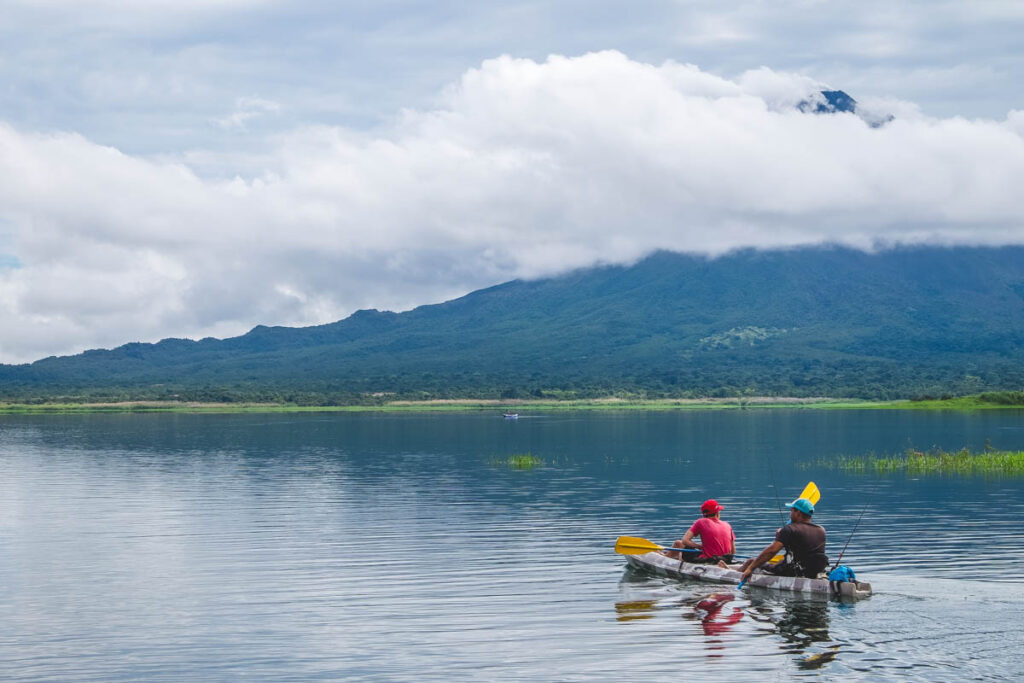 Spend the day paddling the lake and taking in the incredible views of the volcano and the dense forests surrounding the water.
You can show up here and simply rent a Kayak or SUP board and do your own paddling around this gorgeous lake.
11. Hiking around Arenal
Hiking around a volcano is one of the most Costa Rican things I can think of.
If you enjoy hiking, this is a must-do, in my opinion. There are TONS of trails to choose from, so you don't have to be a super trekker to wander through the area.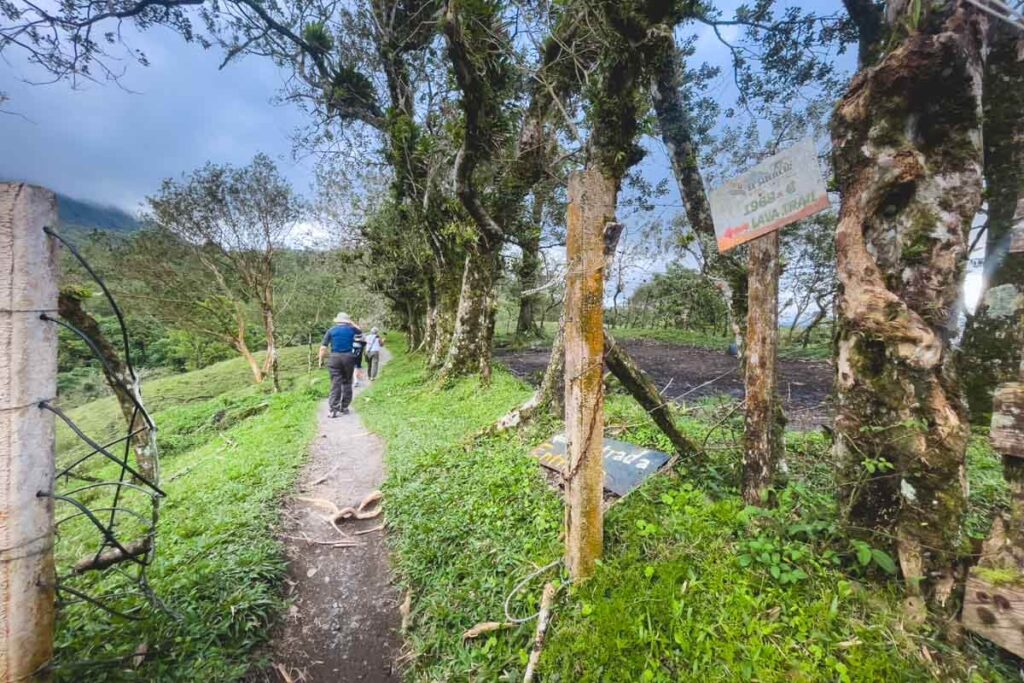 There are more challenging trails through thick jungle terrain, easy jaunts around the base of the volcano, and moderate treks for a nice combination of the two. No matter which trail(s) you select, you can bet on extraordinary views, lush terrain, and plenty of wildlife along the way!
Again, you can make your own way here or take a tour. Taking a tour will help you spot the animals and give some context to the area, I was happy I did a tour! This is the one I did that included hiking here and a bunch of other sites.
12. Soak in The Hot Springs (Most Relaxing Thing to Do in La Fortuna)
After a jam-packed itinerary of adrenaline-inducing fun around La Fortuna, you'll surely appreciate a more relaxing activity. This area is saturated with steamy hot springs, so that you won't be short on options.
Two of the most popular hot springs are Tabocan and Baldi, though they differ in experiences. Tabocan is more relaxing and intimate, with five different pools in a tranquil jungle setting. Baldi has 25 pools, water slides, and an onsite spa—the whole shebang.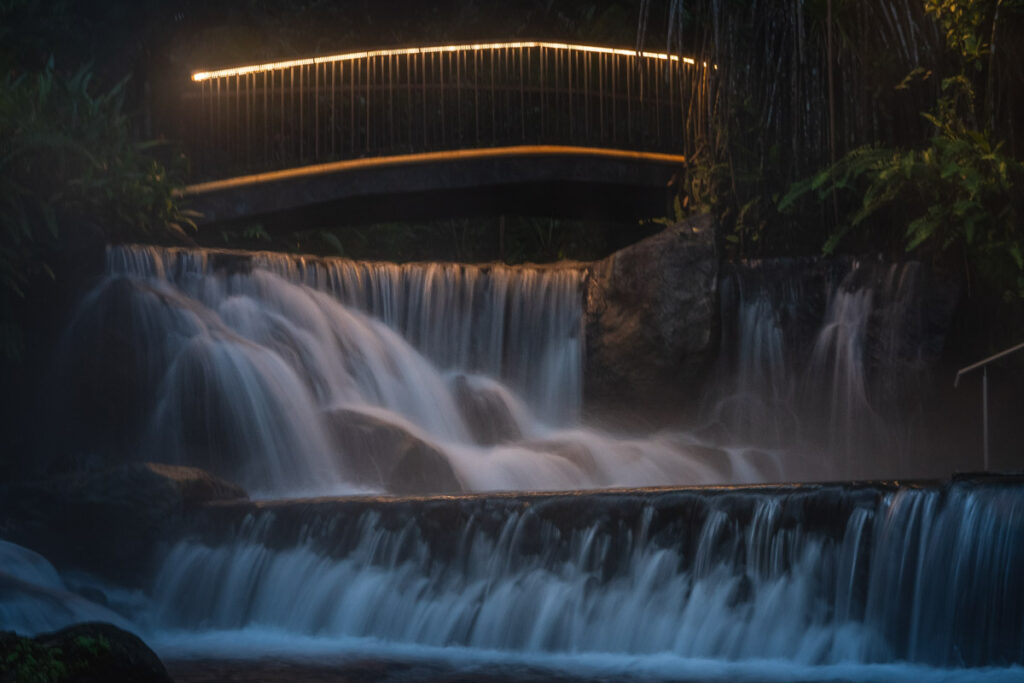 If you want something a little less busy, check out The Springs. This underrated hot spring is less than 10 minutes from La Fortuna, and it's connected to a luxe resort. You can stay overnight or get a 2-day pass for the hot springs.
No matter where you soak, book your spot in advance as they fill up!
Just to be clear, you can also STAY at these hot spring resorts, which give you access to the hot springs anytime. However, these resorts are a bit pricey for some people, so if you don't want to pay the price tag for staying at these resorts, they give people the option to make reservations for a day pass to just come and enjoy the soothing hot spring water.
Note: All the nice hot springs are a bit out of town, so you will need to pay for a taxi, bus, or rent a car.
Check to price and availability at:
13. El Choyin FREE Hot Springs
If you want the bougie experience of soaking in a hot spring without the high price tag, head to El Choyin. This free hot spring sits downstream from the popular Tabocan, so you can literally enjoy the same water without paying! You're welcome!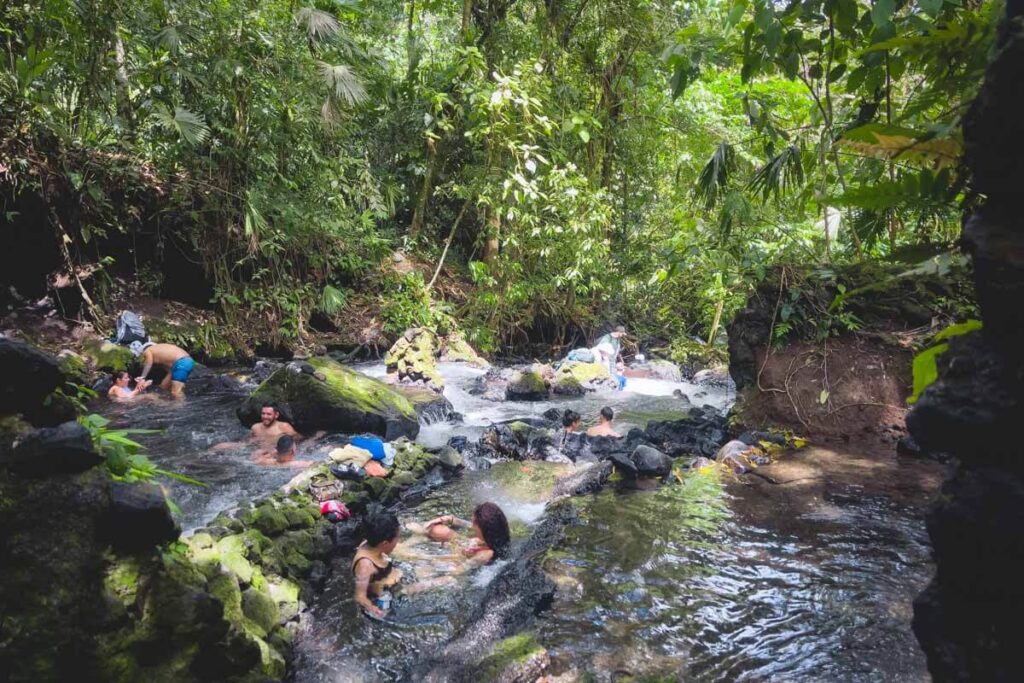 Of course, because it's free, and it's not a very well-kept secret, El Choyin gets busyyyyy, especially on weekends. So, I recommend arriving pretty darn early in the morning if you want a peaceful, relaxing experience!
Or you can come just before nightfall as well, it's very quiet here at that time. Just remember to bring a headlamp as there is no lighting here, and come in a group for safety.
Best Thing to Do in La Fortuna If You're Short on Time:
If you're short on time but don't want to miss out on the best things to do in La Fortuna, consider combining a few of the things on this list into one adventure-packed day. This tour will take you hiking around the Arenal volcano, through the jungle to the La Fortuna Waterfall, and then soaking in a natural hot spring.
These are essentially the TOP things to do in La Fortuna, and a bit difficult to squeeze into a day if you're doing them solo. This tour is super worth it, so you can get the best of the best of this area smashed out in a day—Perfect for backpackers trying to save a buck but get all the sights in.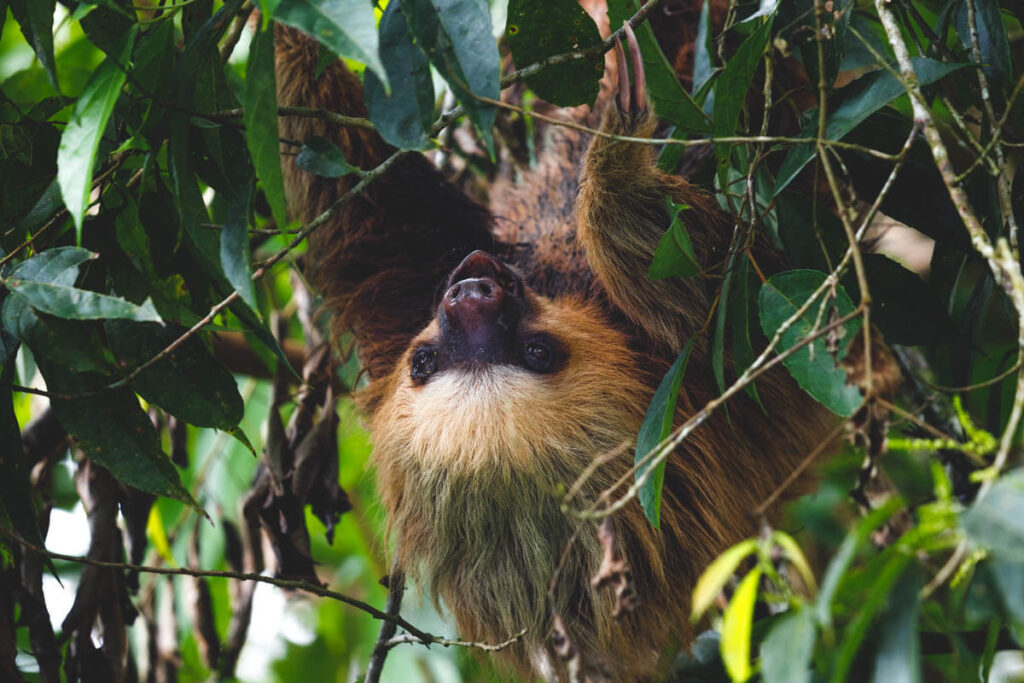 Here's another option that includes the waterfall, hiking Arenal, and the Hanging Bridges! These tours will help you save time but also—maybe even some cash! When I was pricing out how to get a taxi, paying for all the entrance fees (literally every costs money to get into), and the hassle of figuring it all out myself, it turned out the tour was literally the better option.
OH! And I wouldn't haven't seen half the animals I got to see if it wasn't for being on a tour either! (Especially the sloths)
I'm usually a DIY-er, but I really didn't want to figure out the logistics plus, I was solo traveling, so the tour allowed me to make friends (which I did!) This is the exact one I did.
Where to Eat in La Fortuna
Soda 5 Tejas – Cheap and easy spot for breakfast or a casado
Panadería La Principal La Fortuna – Nothing super special, but where I grabbed a quick takeaway pastry to have in my early mornings. Sometimes there's a line down the road for this spot, though!
El Comalita Tortilliria – This spot is kinda just on the side of the road and all outside. They made some great tostadas and have a little bar you can sit at and watch the chefs.
Restaurant Nene's – The garlic fish was good! It's a favorite spot for some locals.
Rainforest – Popular spot, friendly staff, and easy food.
Yellow bark – Cute and quaint spot to chill and grab a bite.
El Chante Verde – Where to go if you're hungry after hanging out at El Salto. Super cute spot!
Balcón Arenal Restaurante y Sport Bar Lazy Twins – They have a rooftop with Arenal views.
How to Get to La Fortuna
There are several options for getting to La Fortuna, depending on your starting point and mode of transportation.
If you're coming from outside of Costa Rica, the nearest international airport is the Juan Santamaria International Airport in San Jose. From there, you can take a bus, shuttle, or private taxi.
If you prefer to travel by bus (a smart choice as a backpack), you can take a bus from San Jose to La Fortuna. The bus ride takes around 3-4 hours and is operated by two main companies: Interbus and Gray Line. You can also take a bus from other towns in Costa Rica, such as Liberia or Tilaran. They are generally less comfortable than shuttles and don't have ac, but are the cheapest.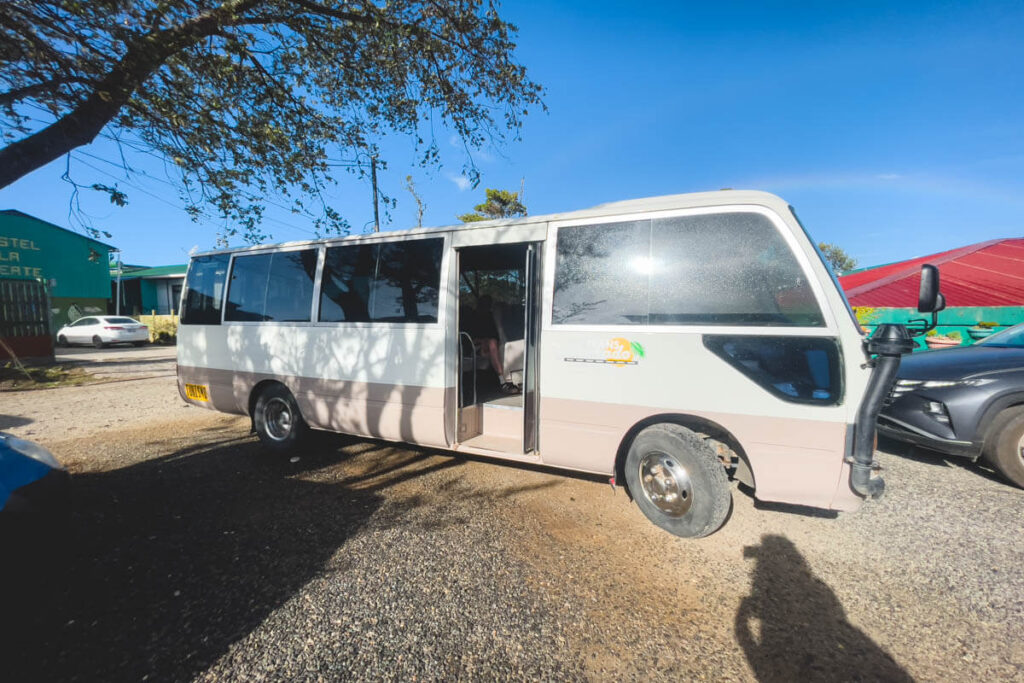 Another way to get to La Fortuna and around the country, in general, is by a shuttle bus. This is how I got around the country, and it's the level up from the local buses while still being an affordable way to travel. The bonus is they pick you up and drop you off at your hotel too. Check for shuttles here!
TIP: If you're coming from Monteverde or going to Monteverde after La Fortuna, the shuttle-boat-shuttle option is the best (and prettiest) way to get between these spots! Here's more info on getting to and from Monteverde and La Fortuna.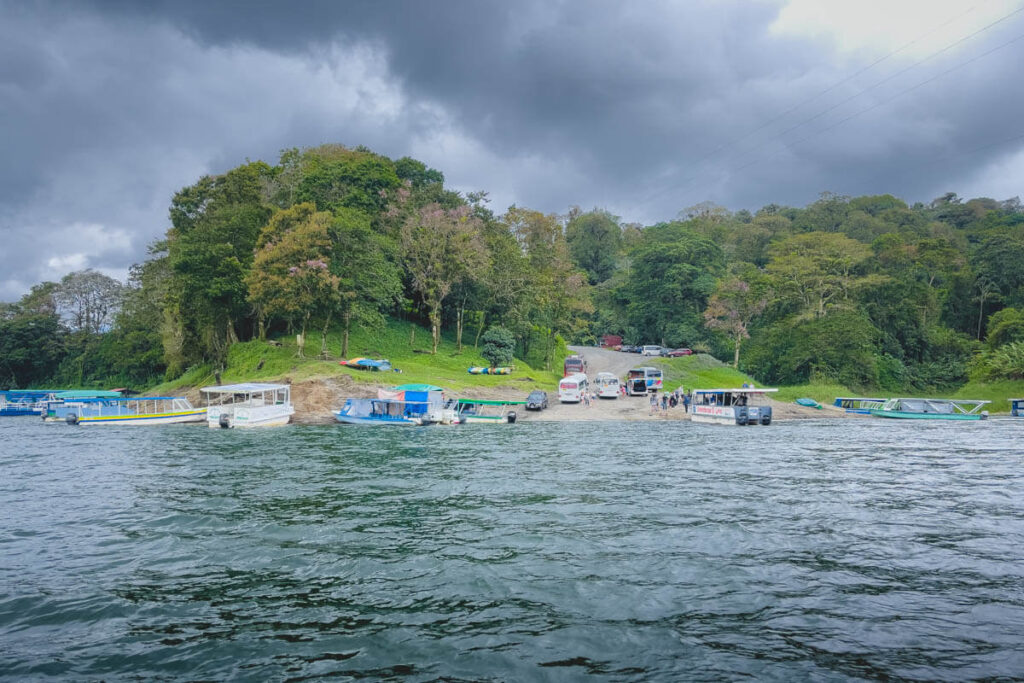 If you prefer to drive, the drive takes around 3-4 hours, depending on traffic and road conditions. Always triple-check the route as they are often windy, and some roads are not great. Check here for the routes, and check here for car rental deals.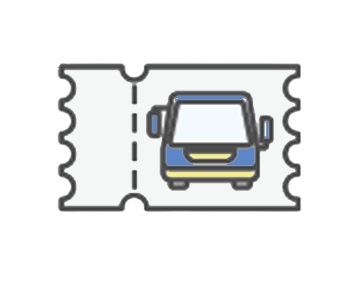 TRANSPORTATION TIP
If you're looking for bus or boat tickets around Central America and Mexico, you can easily book them online! Check Availability
RELATED: Things to Do in Monteverde, Costa Rica: Your FULL Guide!
How to Get Around La Fortuna
Luckily the town is walkable, and you can even walk to some of the attractions, like El Salto, if you wish. If you didn't rent a car, you'll want to go further than your feet can take you though!
There are really only two options left, and I've used them both! They are both great, it just depends on what you want to do and how much time you have.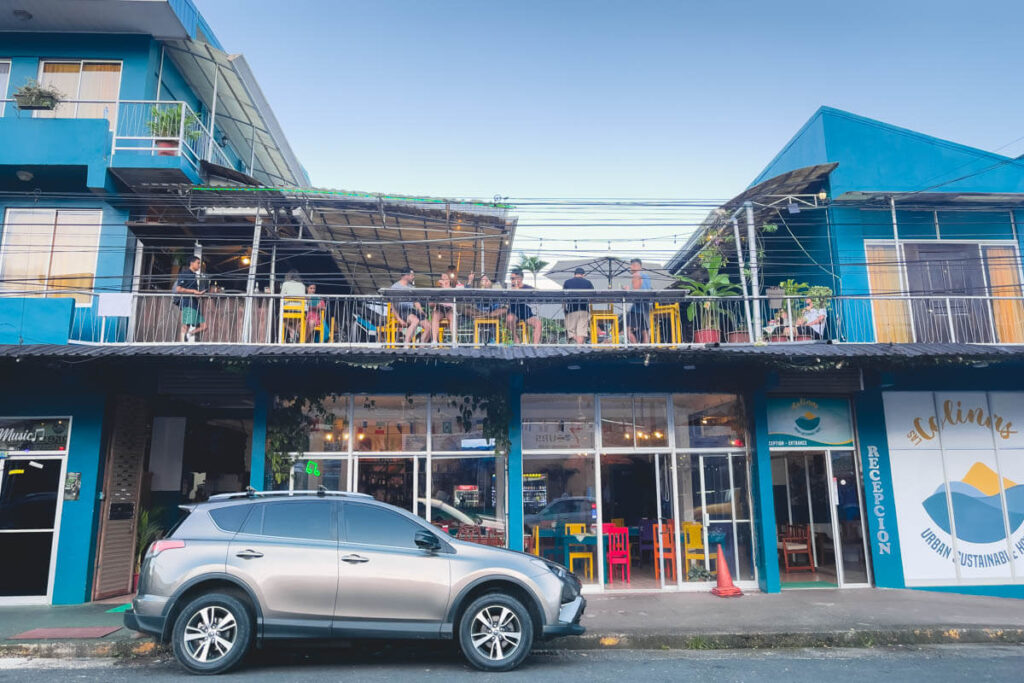 The first is to just book the tour. Trust me, I priced things out, and sometimes DIYing things doesn't cost that much less, and it's a huge headache with a lot of wasted time. If you're having to pay for random taxis, negotiating, wasting time waiting around, etc.—You could have just booked the tour for a few bucks more. They take you everywhere, and they feed you too! I found the tours were really worth it.
The last option, for those super stubborn and who really don't want to do a tour, you can try using EasyHop. It's still just starting out and isn't 100% intuitive yet, but it's essentially a shared shuttle that has a route and goes to top attractions around La Fortuna. You book your time and place, and they take you or pick you up!
Things to Pack For Visiting La Fortuna
Lightweight clothing – La Fortuna has a tropical climate, so be sure to pack light, breathable clothes that will keep you comfortable in the heat and humidity.
Comfortable walking shoes – You'll be doing a lot of walking and hiking in La Fortuna, so don't just rock up here with sandals. You NEED sneakers for hiking around.
Insect repellent – The region is known for its mosquitoes and other biting insects, so pack a strong insect repellent, especially when hiking around Arenal.
Binoculars – La Fortuna is known for its abundant wildlife, so it's helpful to have binoculars to spot birds, monkeys, sloths, and other creatures; otherwise, you'll have to share one with the group (if you do a tour). I didn't bring any, BUT I had a 70-200 lens on my camera, which also works! If you have neither and you aren't planning on doing tours where could at least share a telescope or binoculars, you'll struggle to see animals in Costa Rica.
Sunscreen – The sun can be intense in Costa Rica, even on overcast days, bring your sunscreen! If you leave it to buy here, you'll be crying into your empty wallet.
Swimwear – La Fortuna is home to many hot springs and waterfalls, so pack your swimwear so you can take a dip and cool off after a long day of exploring. Bring at least two since they might not dry quickly enough overnight.
Rain gear – The region experiences rainfall throughout the year, so bring a rain jacket or poncho to stay dry!
Cash and Cards – While credit cards are accepted in some situations, you have to bring some cash with you. Don't come here without reading about the best travel cards so you can avoid fees!
Where to Stay in La Fortuna
Argdivan Hostel
This cozy hostel in La Fortuna offers affordable accommodations for travelers. There are dorms and private rooms. Guests can enjoy free Wi-Fi, a shared kitchen, and a comfortable lounge area. The hostel has a great location, and they were SUPER friendly.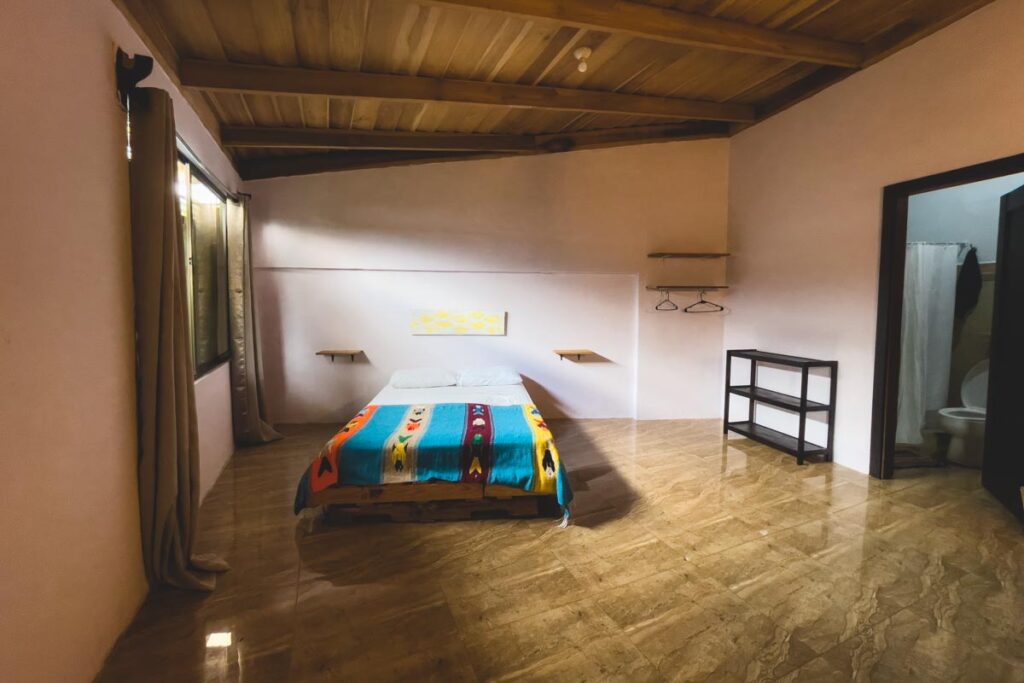 This is where I ended up staying, and I had my own apartment in the back!
Baldi Hot Springs Resort Hotel & Spa
This luxurious hotel is perfect for travelers looking for a relaxing and indulgent getaway. If you're not on a budget, this might be your spot. You can unwind in the hotel's hot springs, indulge in a spa treatment, or savor a meal at one of the hotel's restaurants. The hotel has comfortable rooms with stunning views of Arenal Volcano. The highlight is obviously free reign over the hot spring during your stay here!
Hotel La Pradera del Arenal
This charming hotel is surrounded by lush tropical gardens and offers stunning views of Arenal Volcano. The hotel offers comfortable rooms, each with its own private balcony or terrace. You can enjoy an outdoor pool, a restaurant, and a bar which is convenient since this spot is a bit out of the main town.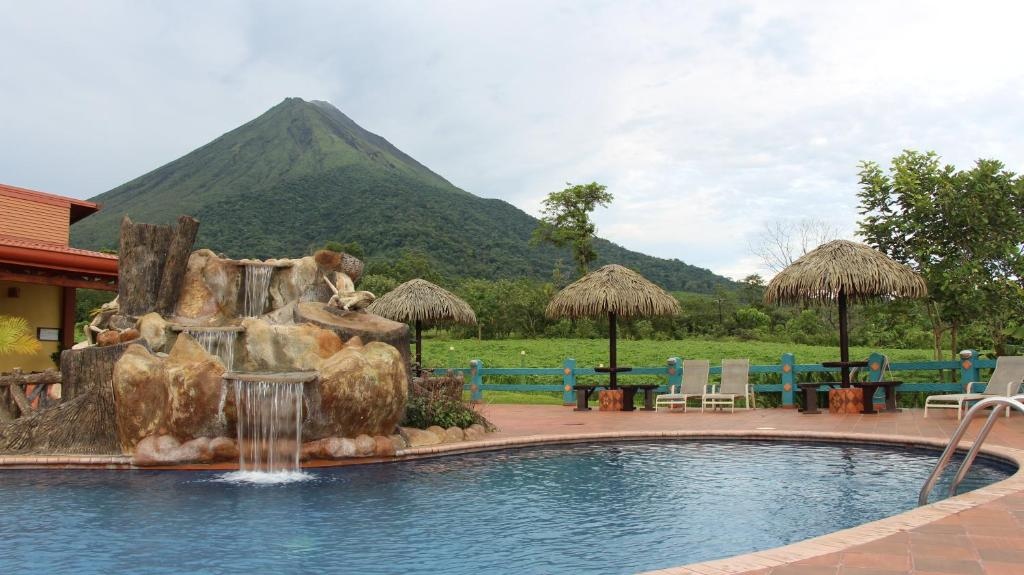 Regina Hotel
This charming hotel in La Fortuna is located in a peaceful spot just a few minutes away from downtown. The hotel offers comfortable and affordable rooms with views of Arenal!
Downtown Boutique Hotel
This stylish hotel is located in the heart of downtown La Fortuna, just steps away from shops and restaurants! The hotel offers modern and comfortable rooms, and you can enjoy the hotel's terrace, soak in the Jacuzzi, or take a dip in the pool!
Where are you headed to next? Don't miss out on my guide to Monteverde or to backpacking Costa Rica.
I hope this helped you choose which things to do in La Fortuna for your trip!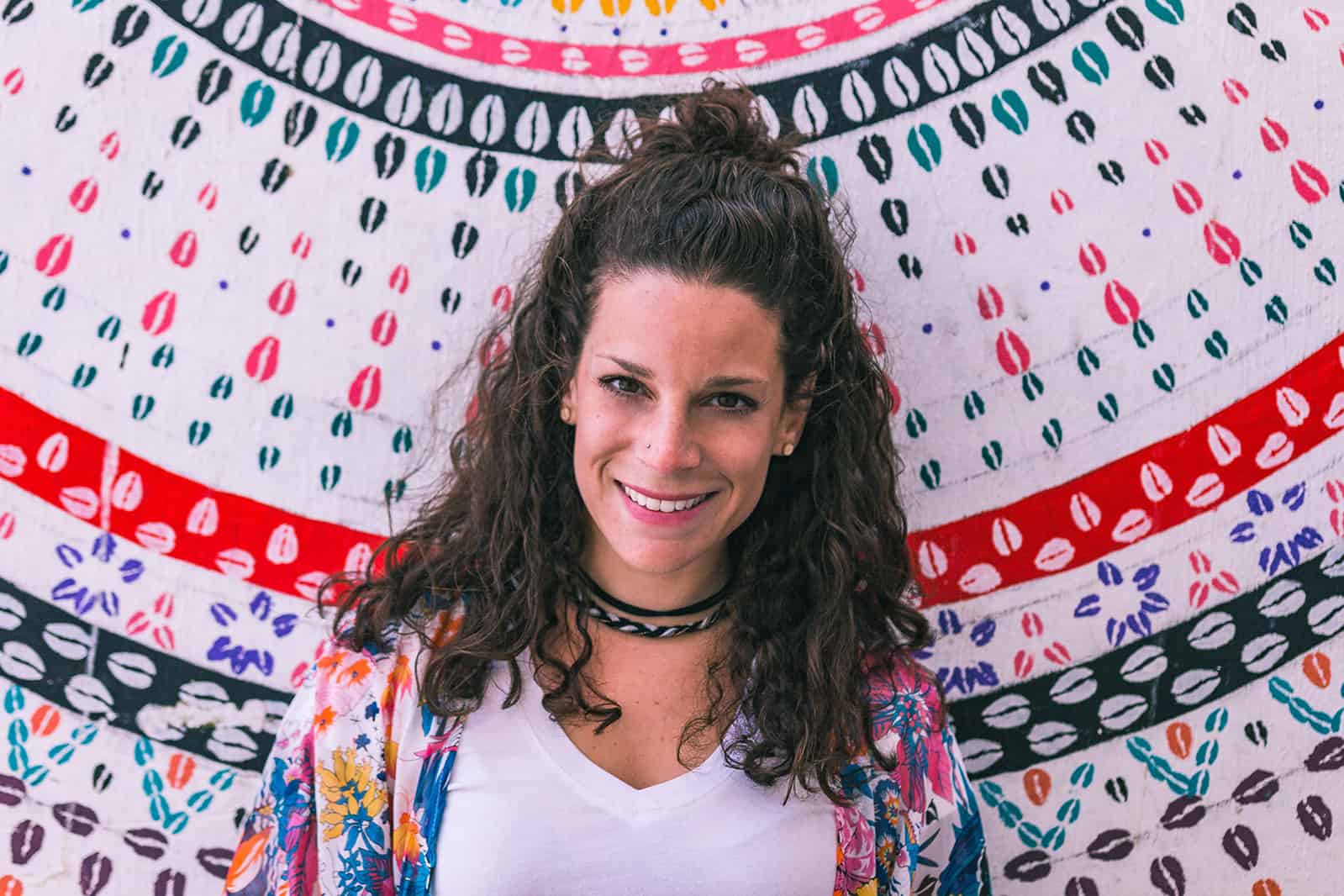 Nina Ragusa is an adventurer, messy bun master, breakfast fan, and full-time travel blogger. She's been abroad since 2011 and blogging on Where in the World is Nina? for nearly as long. Nina helps people like you move around the world while making money. She loves talking about how to work abroad and online to travel longer!