OK friends, let's get a few things straight before we even start what should be on your carry on packing list, so I can lay it out on the table…
I have something to confess.
I hate carry on only travel.
*shock horror! the masses move their mouse over to the X button on this post*
.
.
.
Oh, you're still here? That's awesome. So as I was saying… I'm not really a carry on only traveler HOWEVER there's a good reason for that.
I literally live out a freaking bag! I've been abroad for over seven years now, and it's just too hectic to travel and live out of one bag. I need three, thanks.
Sorry, not sorry but I think I deserve to have an extra bag considering my lifestyle. If I could, I WOULD travel carry on only, and I have before quite a few times.
When I lived in Thailand, it was my base. I left my stuff in my apartment, and I packed a carry-on and jetted off for a couple of weeks. When I went on a road trip with my friend, I packed a carry on only… I can do it but it's so rare that I fly back to a base nowadays, it's not a viable option any longer.
So while I don't do carry on travel often, it's not to say I don't know what should on a carry on packing list. I certainly do, I've only been packing bags perpetually for like, seven something years now. I should enter in a bag packing contest!
So here's exactly what I pack for carry on travel and I hope it helps you travel better and more efficiently.
Don't lose this! Click to pin it now.
Carry On Packing List For Your Upcoming Trip!
---
Legit stuff that you should always have in your carry on bag. Forget any of these things, and you may be in a bit of trouble…
Pay attention to the documentation particularly. Some of it is obvious but when we have 5479075902 things on our mind about upcoming travels, it's so easy to forget the simple stuff. Bookmark this post and read it over before your flight!
Carry On Packing List: Documentation
Passport
You'd be so surprised how many people forget this and miss their flight or have to go home to get it only to make it back to the airport 5 minutes too late to check in. Just a friendly reminder—tape it to your door or something.
Outbound ticket
Make sure to get one if you need one! Some countries require you to have proof of onward travel before they even allow you on the plane to their country. Double check.
And if you don't know where you want to go next and only have a one way, do what I do. Book a flight on Expedia just before your flight, and then cancel within 24 hours. Expedia has a free 24 hour cancelation period, don't forget to actually cancel it though.
RELATED: Don't Get Caught Without Proof of Onward Travel! Here's What to Do…
Visa
Do you need a visa for the country you're going to? Double check!
Extra passport photos
If you plan on extending your visa, getting a visa on arrival, or plan on furthering your travels, it's very likely you will need some of these, grab them now so you don't need to find a photo store in a foreign country/get charged more at the airport or border for them to take the picture for you.
IDs
Just another reminder! It's good to carry another form of ID on you, and if you're renting a car, you'll need your license.
Americans, if you're driving abroad, you may want to grab an international driver license. It's super easy and cheap, throw $20 at an AAA shop and snatch one up there before you take off.
Copy of Passport
This should be in your bags just in case something happens; it's good to have this. I also have a folder on my laptop with copies, and I've emailed my mom a copy too. Never know…
Charles Schwab Card
Americans, get yourself this ATM card right now. They don't charge international or ATM fees; it's a lifesaver. Check this post for more about travel cards!
Carry On Packing List: Toiletries and Accessories
Dr. Bronner's
This is your everything soap. Since you're traveling with only your carry on essentials, this little soap can do wonders. It's an everything soap, shampoo to laundry. No joke! And they make it bar form, so guess what?
You're going to be a total badass and have essentially zero liquids to carry on. You win!
You can buy anything else you need or want at your destination.
Hand Sanitizer
Because planes and airports are gross. Enough said.
Lip Balm
Chapped lips are a no-no. I love this stuff. It's so nourishing and all natural. And even a tiny bit glossy!
Makeup Bag
Whatever is in there, cut it in half and bring the rest. Here's what's in my bag: concealer, BB Cream, bronzer and blush (in one palette), one eyeshadow palette, mascara, tweezers, nail clippers, two brushes (one eye, one cheek).
Travel Pouch
This is my travel wallet and my minimalist purse. Either it goes in my regular bag or backpack for the day, or if I'm hopping out to go shopping or for dinner, it's my purse. It fits my chapstick, phone, money, and cards.
You won't have enough room for a collection of purses! This and my day bag backpack are my carry on essential bags.
Pen
Because nothing is worse than not having a pen when you have to fill out departure and arrival cards! Trust me; you'll never want a pen so badly in your life, ever. And then you'll cry when you see the queue for immigration that you could have avoided if you had a pen to fill out those papers sooner.
Waterbottle
Be a bit greener and bring your water bottle! You can even ask the air hostess to fill up your water bottle so you can
A. get more than two sips of water and
B. not waste a plastic cup on two sips of water!
READ MORE: 51 of the Best Travel Accessories for Men and Women
Other Carry On Essentials Not To Forget:
Hairbrush
Toothbrush and paste (better yet, make it zero waste toothpaste)
Razor
Medicine if needed
Mini sewing kit
Hair ties
A few pieces of costume jewelry
Carry On Packing List: Electronics
This one all depends on who you are and what you need or don't need. In fact, electronics are a big part of why I can't travel with carry-on-only bags because I literally fill an entire backpack with just my electronics. So if you're traveling with tons of electronics, prepare to cut down on the clothes!
Do you need a camera and a laptop? Those take up a decent amount of space, not to mention the lenses, tripod, and accessories. On top of that, you'll need a backpack with some padding to accommodate your precious items, again, more space is eaten up.
So just make sure you choose carefully and only bring what you're actually going to use.
Aside from what's listed below make sure you're not forgetting the "little things" like SD cards, hard drives, camera batteries, etc.
Chargers and Wires
Like, all of them. Don't forget not one. My Apple charger crapped out on me and people attempted to scam me in India by overcharging for a fake one. My friend went cheap on buying a crappy iPhone wire in Thailand, and her phone started glitching out!
I prefer to use legit wires and chargers only and sometimes those are more expensive abroad or hard to come by. So don't forget them!
Kindle
Because planes and airports are boring AF and books are heavy as bricks. Get with the 21st century, people!
TIP: Don't want to pay monthly for a Kindle membership? Buy one, sign up, pay for a month, download your 10 books within that month. Then place your Kindle on airplane mode and cancel your subscription. Since your Kindle can't sync with anything because it's on airplane mode, your books won't be deleted along with your subscription.
Phone (unlocked)
You're not going to forget your phone, you'd probably forget your passport before you forgot your phone BUT is your phone unlocked?
I sure hope so because if not, you'll get outrageous charges from your service provider or you'll only be able to connect to wifi.
So get your phone unlocked so you can grab a SIM card when you land. If this is not an option for you, you may want to look into getting a mobile hotspot, so you have wifi everywhere. Skyroam offers this for a reasonable price (Code: nina77 gets you 10% off!)
TIP: Make sure to get a VPN before your trip. This is a travel-must to protect your privacy, especially when you're in transit and using those open networks in airports. I use ExpressVPN.
Headphones
Because there are crying babies, obnoxious people playing phone games with the sound on, and a gangle of terribly loud teenagers on Spring Break—most likely sat right next to you. Bring the headphones,
Cube Power Strip
Don't get shafted with outlets not being available or having to choose between having a lamp on or having your laptop charged. If your carry on packing list is electronic heavy, you'll need this power strip. It packs well too.
Adaptor
Don't be cheap, get a quality one, so you're not left without any juice in your electronics.
Portable Solar Charger and Torch
Charges a phone, GoPro, and anything that takes a USB to charge. If you don't have access to electricity at all, you can charge this thing in the sun and then use it again and again to charge your stuff. It charges my iPhone about five times and has a torch feature.
What Type of Carry On Bag to Use?
Well, I'll keep this relatively short and sweet because I have the perfect post for you to read on how to choose the best carry on bag…
But in short, it should be a backpack and a decent one too!
Your personal bag too unless you're a woman carrying a cross-body purse instead.
It should be a backpack because it's going to be the most comfortable thing. I don't get duffle bags, they are awkward to hold, it can only be carried on one shoulder if you wear it that way and they are the epitome of uncomfortable.
A backpack uses both shoulders and makes for a much more comfortable experience.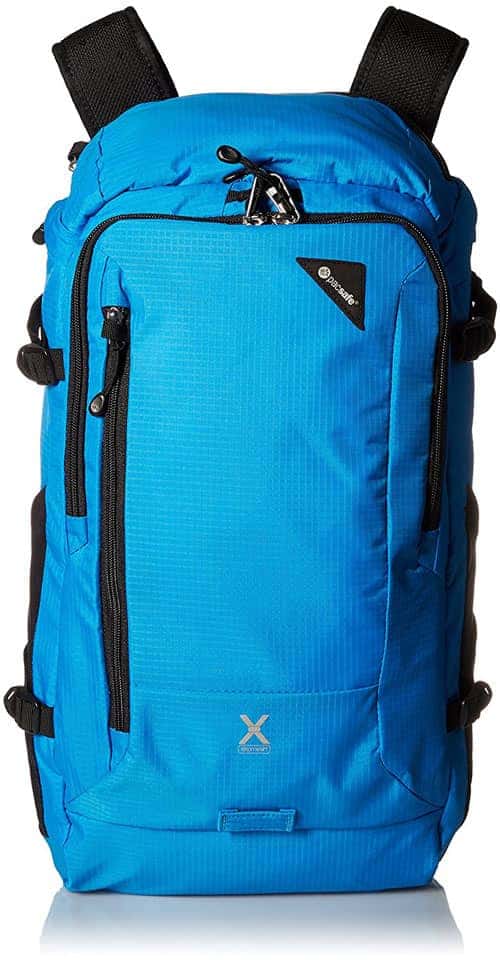 Ladies, please don't bring along a massive open shoulder tote. These are terrible carry on bags. Everything falls out,
It's open which makes it an easy target for theft, and it's also not as great as a backpack because it hangs off one shoulder and it perpetually is slipping off! Get a GOOD backpack.
You'll be lugging this thing through planes, trains, buses, hotel after hotel, on and off your back, getting yanked this way, that way, by one strap, and dragged on the streets.
Make it a Quality Carry On Bag!
This bag will go through a lot, so making sure it's a quality bag, isn't an option, it's a requirement.
That $10 Walmart backpack is cute when you're going to and from your car but it's not going to last long, and it's not going to be comfortable!
Hello, it's your CARRY on a bag. "Carry" is the keyword here, guys. Don't let your shoulders scream at you during your trip.
So which carry on bags do I use? This one is my personal carry on with my electronics—This is my underseat luggage and this one is my cabin bag with the rest of my stuff or this one if I want a bit more room.
But I have an entire list of great carry on bags depending on your needs that you can check out.
Carry On Packing List: Clothing
Well, this is awkward. You came here to see what your carry on packing list should look like but guess what? I can't tell you.
Nobody can. Because nobody knows you better than you and also, where ya going and when?
It's hard to guesstimate what someone is going to want to wear or need while they are traveling with a carry on. What's the weather going to be like? How long are you going for? So many questions…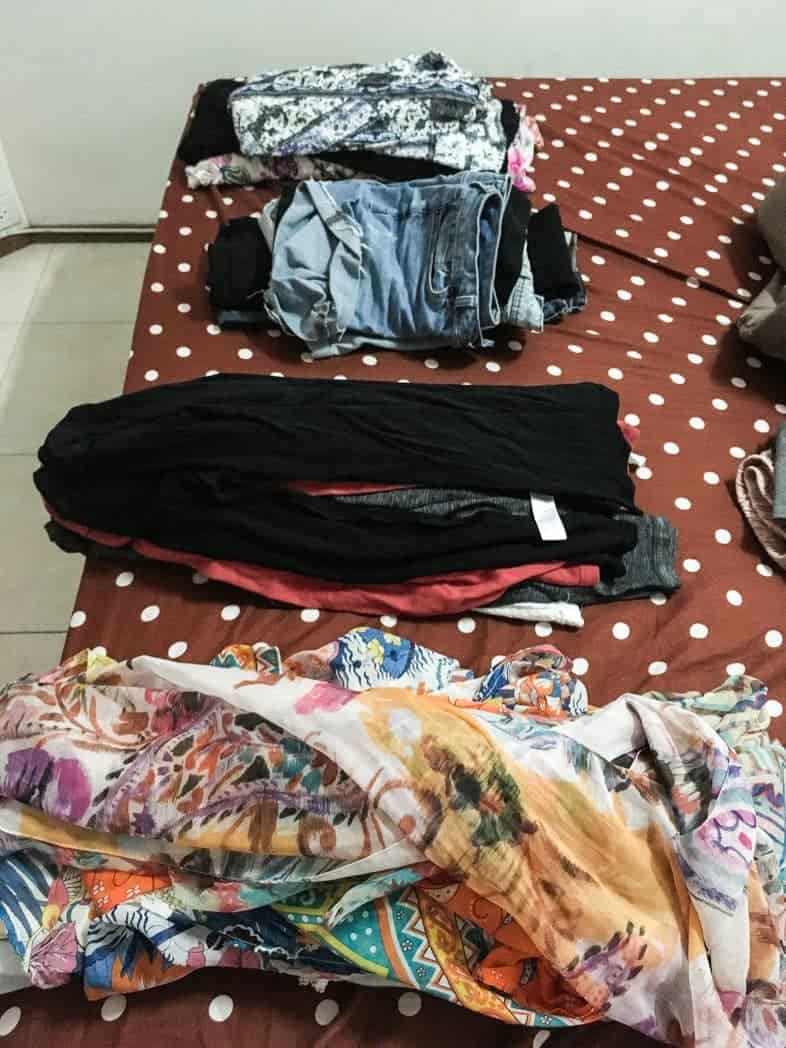 The carry on essential packing list below is a good middle ground and is great to work off of.
This list is good for a traveler going to a temperate climate, as in, there will be beach time but maybe a bit chilly at night. So tweak this to your heart's content depending on your needs. I hope it helps give you a good idea on what your perfect carry on essentials list can look like.
Tops
2 tank tops
4 short-sleeved shirts
1 long-sleeved shirt
Bottoms
2 pairs of pants/shorts
1 maxi skirt
Dresses
Undergarments and Such
5 pairs of underwear
2 pairs of socks
2 bras (one regular one sport)
1 swimsuit
Footwear
1 pair of lightweight, packable shoes (sandal, flat, sneaker, depending on what you're doing)
Accessories
Outerwear
1 light fleece jacket that you wear, not pack (tie around your waist/clip to the outside of the bag)
1 scarf with hidden pocket (the perfect scarf for transit!)
What do you think? What are your carry on essentials and how do pack your bags? Did I miss anything? Let us know in the comments!
---
---
>>> Read More! <<<
The Best 11 Carry on Backpacks For Every Traveler
DON'T Get Caught Without Proof of Onward Travel! Here's What to Do…
Long Haul Flight Tips and Essentials for Surviving Economy (AKA Hell)
Best Anti Theft Backpacks, Bags, and Purses + Tips for Keeping Your Stuff Safe!
51+ of the Best Travel Accessories for Men and Women
The Best 11 Carry on Backpacks For Every Traveler
---
---
Busy? Click the picture to Pin this for later