Your Guide to Mexico
Mexico is no stranger to top ten lists dishing out advice on where to go for a relaxing beach vacation. But there's so much more to this North American gem than its sandy shores (although those are admittedly awesome, too). From the ancient Mayan ruins to the bustling mountain metropolis of Mexico City, there are endless ways to enjoy Mexico.
Whether you've already booked a trip or are on your way to planning your dream vacation, this guide will get you up to date on all things Mexico, including the best places to visit, what to eat, when to go, and more.
Quick Information About Mexico
Language – Spanish. Spanish is Mexico's official language. English is also widely understood in the bigger cities and touristy areas, but you may want to brush up on your basic vocabulary before your trip. Common phrases will get you further than you may think or, at the very least, get you in the good graces of the locals!
Currency – Mexican Peso (MXN)
Electrical socket + Voltage – If you're coming from the US or Canada, you're in luck! Mexico uses the same flat 2-prong plug (type A) that is common across most of North America. That being said, you may want to pack a voltage converter. Voltage in Mexico is 127V AC electricity, with a standard frequency of 60Hz.
Visa – If you're visiting for 180 days or less, you likely won't need a visa to enter Mexico. This applies to more than 60 countries, including the USA.
When to Visit Mexico
Because Mexico is such a large country with tons of varying landscapes, the best time to visit will depend a lot on your itinerary.
The dry season (between December and April) is one of the best times to visit in terms of weather, but this is also when many visitors flock to Mexico to escape the cold temps in their homelands. If you don't mind the crowds and inflated prices that come with the peak season, then this is a great time to visit.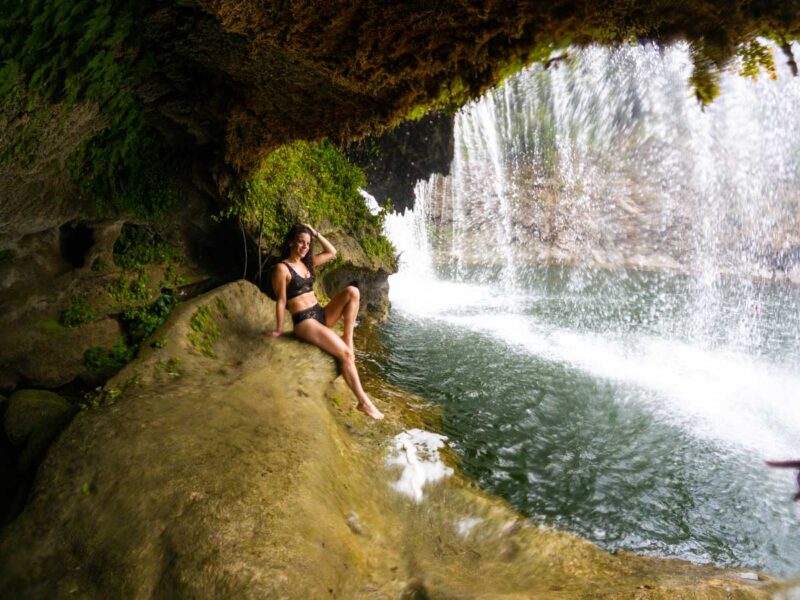 The wet season (between June and October) is not ideal for most visitors, and heavy storms can make it a downright dangerous time to be along the coast (especially in September and October). However, rain is less frequent if you plan on sticking to northern or central Mexico, and crowds are sparse.
The sweet spots lie between these seasons in May and November. The weather is pleasant, and the crowds have yet to arrive or have already left for the season.
Make Sure You're Covered Abroad!
Travel insurance can save your @$$ abroad and it doesn't have to be expensive! Safety Wing is what I use because it's affordable, perfect for long or short term travelers and covers the important stuff (including COVID-19).
Transportation in Mexico
Don't make the mistake of thinking that Mexico is easily traversable. This country is MASSIVE, and the interior is filled with mountainous terrain.
Flying
If you're going long distances, flying is your best bet. There are plenty of major airports around the country, including Mexico City, Cancun, Puerto Vallarta, and everywhere in between. If you're sticking to one region, research the closest airport to your destination, so you're not wasting unnecessary time on the road.
Collectivos
If you're doing day trips or traveling short distances, don't be afraid to hop on the local collectivos. These minivans are used mainly by locals, but it's definitely worth your time to figure out. Not only is this a cheap way to get from point A to B, but it's also a cool experience! You'll get to live like a local, if only for a short time, and many routes offer picturesque countryside views that most tourists miss out on.
Buses
Buses are also a common mode of transport in Mexico, and there are terminals in almost every city and village. This is a significant "upgrade" from the oftentimes crowded collectivos if you're going long distances, and they're also a great way to get across bustling metropolises like Mexico City.
By Car
There are a few options available if you prefer to travel by car. Taxis are widely available across the country in cities large and small, but be sure to agree on a rate before you hop in. Larger cities also have rideshare options like Uber available.
If you want to be behind the wheel, renting a car is a great way to get around, depending on where you're going. More developed areas often have tolled highways, typically in great condition. Other areas are less developed, with potholes or curving mountain roads. No matter where you're driving, avoid doing so after dark. Most roads are extremely dark, and unfortunately, assaults are not uncommon after sundown.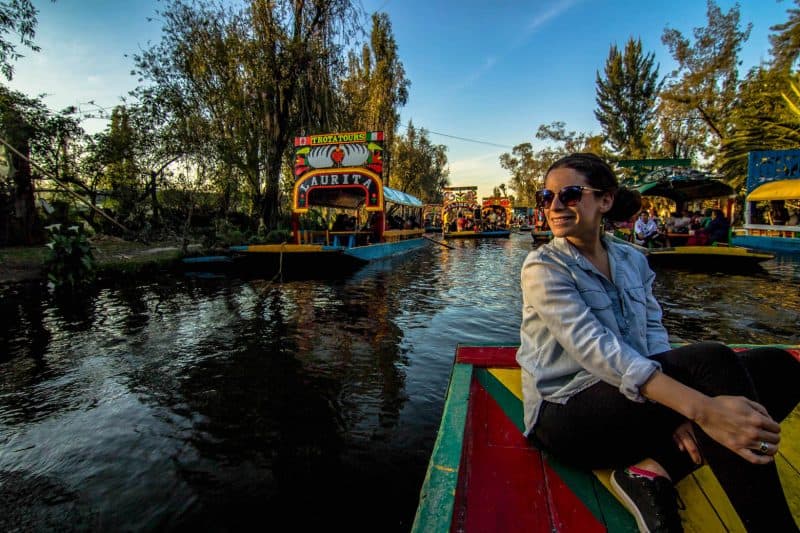 By Boat
If you want to visit some of the islands off Mexico's mainland, you'll need to take a boat. Depending on which island you're visiting, you may be able to take a ferry. Otherwise, plenty of tours are available to lead you back and forth on a day trip.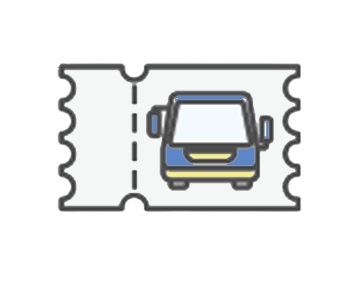 TRANSPORTATION TIP
If you're looking for bus or boat tickets around Central America and Mexico, you can easily book them online! Check Availability
Rough Budget for Visiting Mexico
It's impossible to give you a finalized budget for your trip to Mexico—it all depends on where you want to splurge and where you want to save. Rest assured, there are options for every type of traveler! It is important to note that these are rough estimates, and the actual cost of traveling to Mexico will depend on various factors such as location, time of year, and personal travel style.
Prices also vary depending on the region of Mexico you are visiting. For example, prices in touristy places like Cancun will be higher than in less touristy areas like Huasteca Potosina.
Rough budget for budget travelers:

Accommodation: 300-600 MXN (~$15-30 USD) per night for a budget hotel or hostel
Food: 40-200 MXN (~$2-10 USD) per meal at local street vendors or small restaurants
Transportation: 20-100 MXN (~$1-5 USD) per day for local buses and collectivos
Activities: Free to 200 MXN (~$10 USD) per activity, such as visiting ruins, the beach, or local markets
Total daily budget: 600-1000 MXN (~$30-50 USD) per day
Rough budget for mid-range travelers:

Accommodation: 1000-2000 MXN (~$50-100 USD)per night for a mid-range hotel or vacation rental
Food: 250-500 MXN (~$15-25 USD) per meal at mid-range and local restaurants
Transportation: 400-1200 MXN per day(~$20-60 USD) per day for rental car or taxi
Activities: 400-1000 MXN (~ $20-50 USD) per activity, such as a guided tour or adventure excursion
Total daily budget: 2000-4000 MXN (~$100-200 USD) per day
Rough budget for luxury travelers:

Accommodation: 3000+ MXN (~$150+ USD) per night for a luxury hotel or resort
Food: 1000+ MXN (~$50+ USD) per meal at high-end restaurants
Transportation: 1000+ MXN (~$50+ USD) per day for private car service or luxury tours
Activities: 2000+ MXN (~$100+ USD)per activity, such as a spa treatment or exclusive excursion
Total daily budget: 6000+ MXN (~$300+ USD) per day
Living in Mexico
Like many others, you might be thinking, what's the cost of living in Mexico… Asking for a friend, right?
Living in Mexico is an attractive option, not only because you can have an unlimited supply of tacos but because it's an overall wonderful country that's affordable and easy to live in! I broke down the costs of several popular towns and cities in Mexico to post up long-term.
What to Pack for Mexico
Like your budget, your wardrobe will depend heavily on where and when you visit. As a rule of thumb, the basics for any Mexico packing list is to include plenty of lightweight options, like t-shirts, button-ups, dresses/skirts, shorts, and, obviously, a bathing suit or two.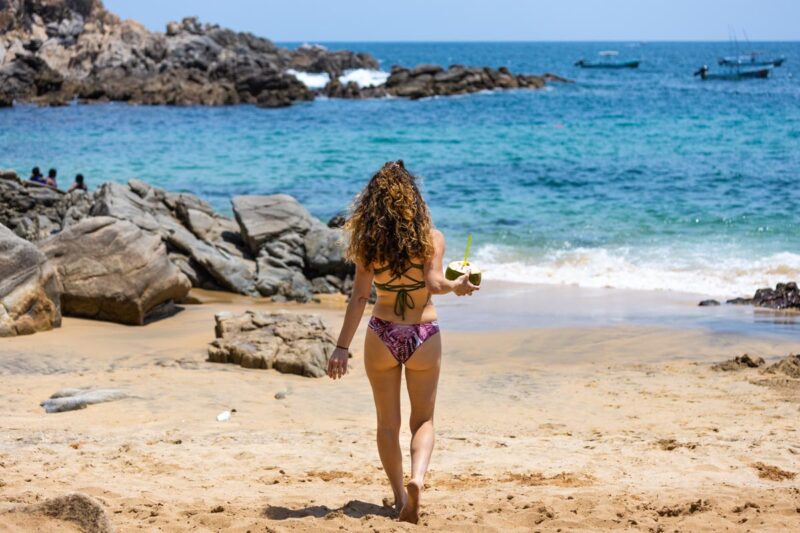 You may want to live in your swimwear and airy clothes during the day, but at night temperatures drop a bit, so a light jacket and long pants are also a must. If you're traveling in Mexico's interior, you may want to bring less beachy attire and more layers.
If you're checking a bag, it's a good idea to bring along sunscreen and bug spray, as these can be pretty expensive in Mexico. Other essentials include an excellent daypack and comfy walking shoes for exploring.
Best Things to Do in Mexico
Mexico is freakin huge, and it would be a shame to mistake this fantastic country as just a place for beach bumming. Of course, there are plenty of places to soak up the sun, but there are also tons of historic villages, ancient archeological sites, and hidden taco shacks to discover.
The list is endless, but here are some of Mexico's very best things to do.
Mexico City
Mexico City is often overlooked for the country's coastal cities, but those who add this sprawling metropolis to their itineraries will not regret it. There are TONS of ways to entertain yourself here, from wandering the historic center and popping into museums to perusing colorful flea markets and stuffing yourself with street food.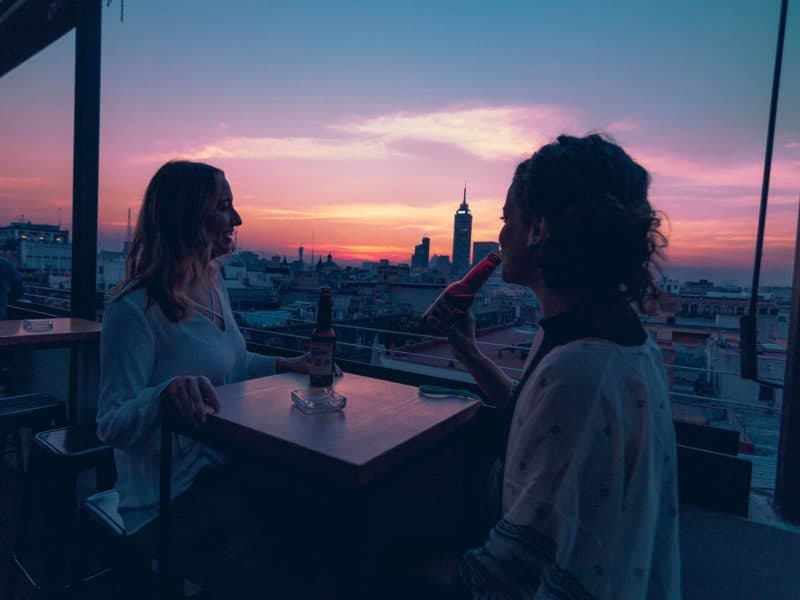 In addition to all the popular sites, there are plenty of hidden gems in Mexico City for those who prefer to travel off the beaten path. Even if you only have a few days, do not miss this incredible capital city!
Puerto Escondido
Puerto Escondido is a small town located on Mexico's Pacific coast. It's known for its beautiful beaches, vibrant nightlife, and surf culture. Best of all, it's devoid of the spring break crowds that often plague more popular beach destinations like Cancun and Puerto Vallarta.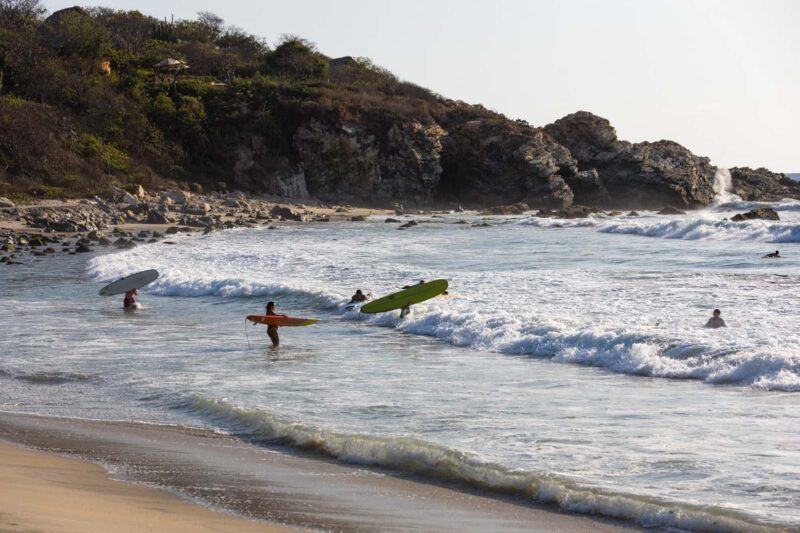 Visitors can enjoy swimming, surfing, and beach bumming on the many sandy beaches, including Playa Zicatela and Playa Carrizalillo. The town has a variety of restaurants and bars that offer local cuisine and live music, making Puerto Escondido a great place to stay for those looking for a laid-back beach vacation with a bit of adventure.
Check out the Archeological Sites
Nothing showcases Mexico's rich culture and history better than its archeological sites, and thousands of them are spread across every corner of the country. Obviously, you won't be able to visit all of them, but chances are, no matter where you're staying, there are probably some ruins nearby.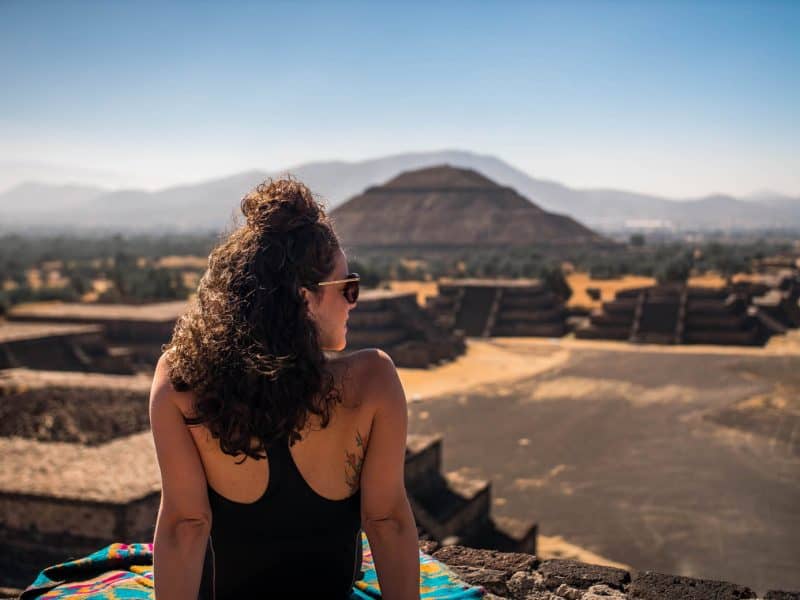 From the Yucatan's ancient port city of Tulum to the massive Teotihuacan outside of Mexico City, do not miss the chance to be mesmerized by Mexico's archeological sites.
Chiapas
Chiapas offers a wide range of activities for all types of travelers, from adventure seekers to culture enthusiasts. Whether exploring the ancient Mayan ruins of Palenque, admiring the colonial architecture of San Cristobal de las Casas, or hiking and boating in the Sumidero Canyon National Park, there's something for everyone.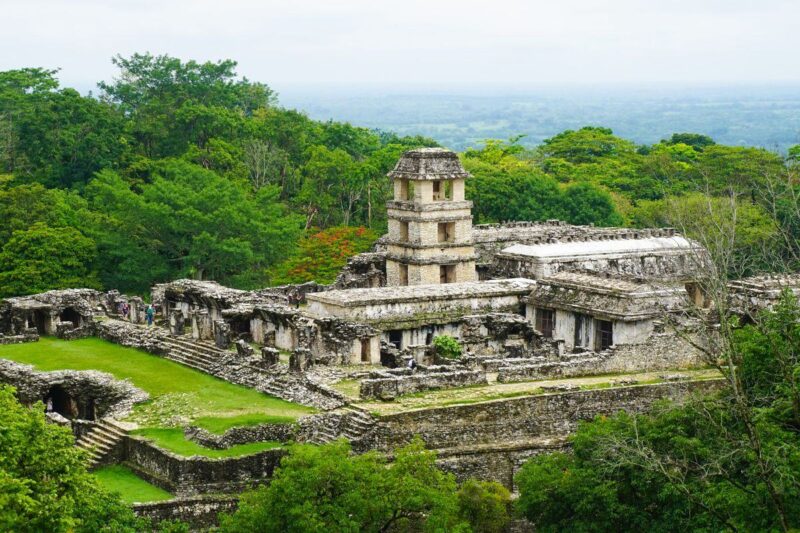 There are also waterfalls, tropical beaches, and indigenous communities to be discovered. With its unique blend of history, nature, and culture, Chiapas is a destination that should not be missed by those looking for an authentic and diverse Mexican experience.
Oaxaca
Famed for its delicious cuisine, clandestine beaches, and unique culture, Oaxaca has a little something for everyone. The capital of this region, also named Oaxaca, is a colonial-era city known for its well-preserved architecture and vibrant markets.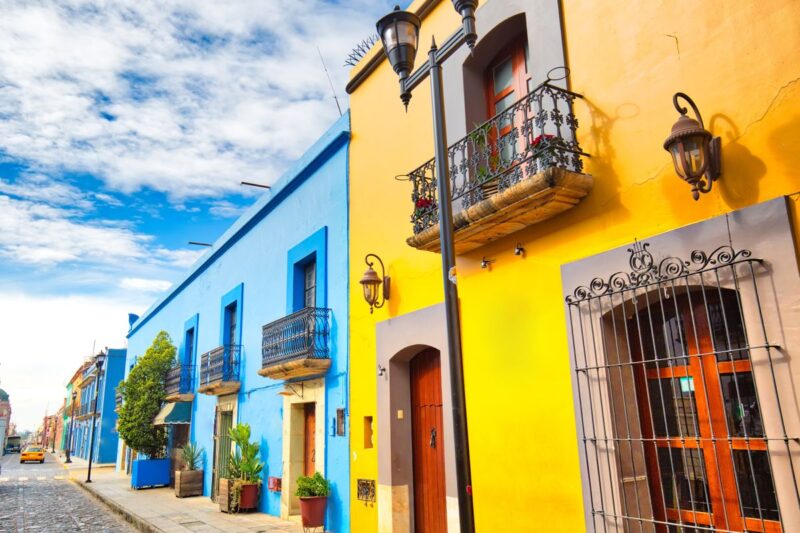 The rest of this southerly state features a varied landscape, with soaring mountain peaks, dense jungles, and plenty of incredible hiking trails winding through it all.
Sayulita
If you want the classic Mexican beach getaway without all the spring breakers, check out Sayulita. Not only are the beaches gorgeous, but there are also tons of cool things in the surrounding area to explore when you make Sayulita your home base.
There's Puerto Vallarta to the south, Isla Marietas off the coast, and plenty of charming villages on all sides of Sayulita. Even if you never leave town, you'll be spoiled with incredible cuisine, a unique and fun atmosphere, and stunning scenery. There's not much not to love!
Huasteca Potosina
Located just a few hours from San Luis Potosi, Huasteca Potosina is a hidden gem known for its natural beauty and variety of recreational activities. From stunning waterfalls to turquoise blue rivers, this sub-region offers a diverse range of landscapes and terrains that are sure to impress.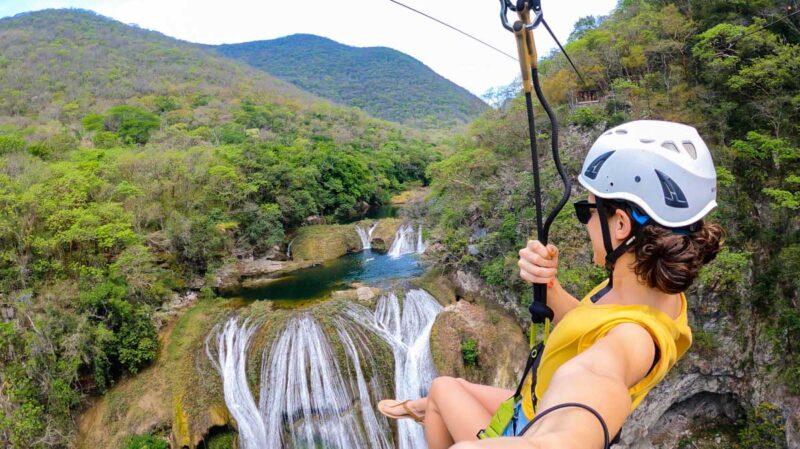 Although not well-known among foreign tourists, Huasteca Potosina is a popular destination among locals. This area is all about appreciating the great outdoors, and there are tons of tours available to help you explore all the best spots around Huasteca Potosina.
Yucatan
Encompassing Mexico's southern tip, the Yucatan Peninsula boasts beautiful blue Caribbean waters, ancient pyramids, and deep cenotes. Some of the most popular vacation destinations sit along the peninsula, including Cancun, Quintana Roo, and Playa del Carmen.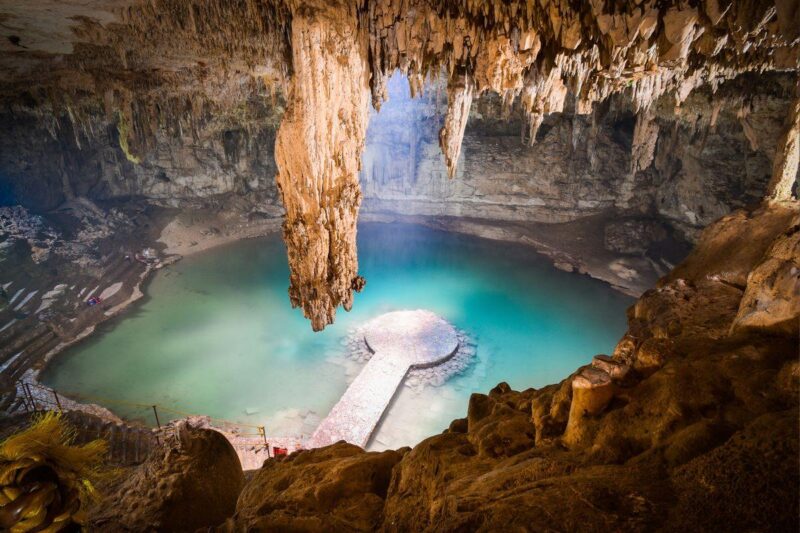 But it's possible to avoid these touristy spots and venture into the stunning areas off the beaten path. The state capital, Merida, is a colonial-era city known for its well-preserved architecture, vibrant markets, and delicious local cuisine. This is a great jumping-off point, but don't miss all the nature and smaller pueblos surrounding the area.
Central Mexico
Apart from Mexico City, central Mexico is often left off of travel itineraries. Don't make this mistake! Central Mexico is a must-see destination, filled with traditional towns built into the mountainsides, wineries, friendly locals, and basically zero tourists. There's no better place to get an authentic Mexican experience, with the perfect combination of beautiful colonial towns and diverse natural landscapes.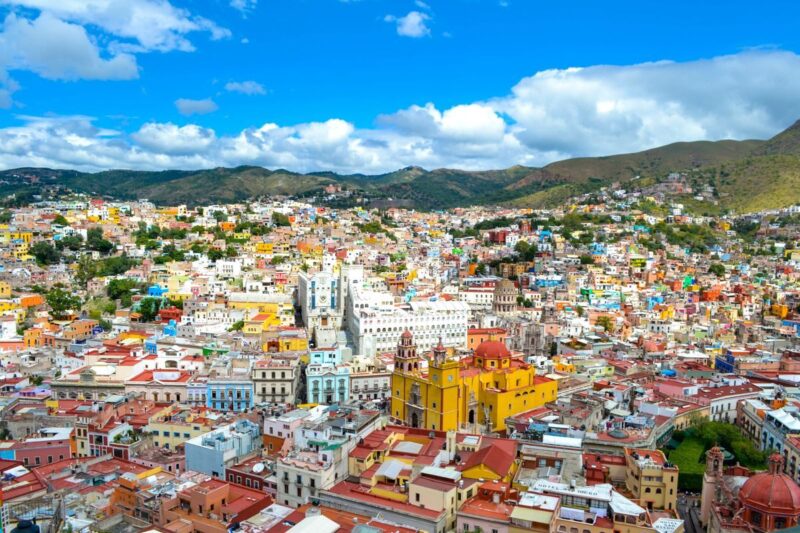 Take a Tour
If you're searching for an adventure but you're not quite ready to go out on your own, there are plenty of great tours to help you get off the resort and into authentic Mexico. Whether you want to explore ancient ruins with a professional archeologist or spend the afternoon on an open-bar boat tour across a gorgeous lagoon, there's a tour for that!
Where to Stay in Mexico
Mexico is a massive country, and unfortunately, you likely won't see it all in one go. If you're planning on living in Mexico long term or traveling as a digital nomad, you'll have more time, but you still need to decide where your home base will be.
Places like Sayulita, Puerto Escondido, and the Yucatan are great options if you want access to gorgeous beaches. At the same time, Mexico City and inland cities are perfect for those who want an authentic Mexican experience with plenty of cultural and historical sites within easy reach. If you're going to explore some of the incredible wilderness that most tourists tend to avoid, there's no better spot than Huasteca Potosina.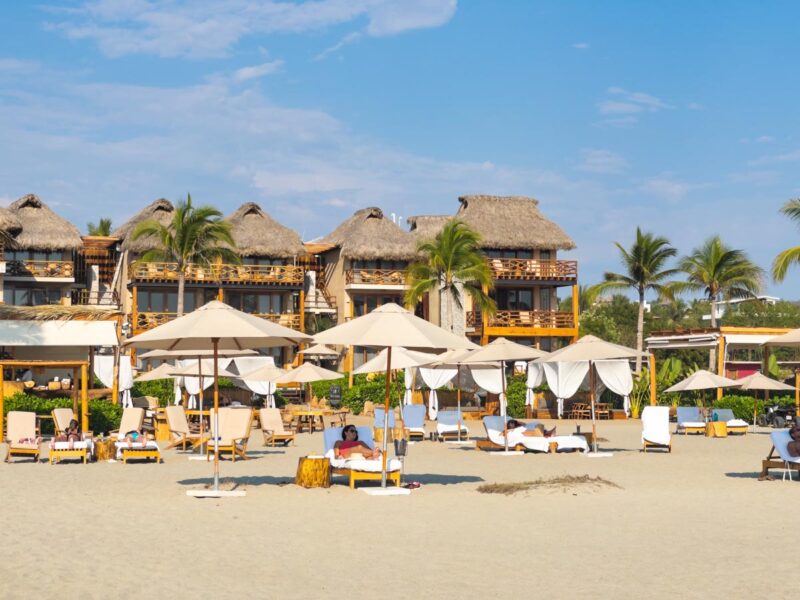 Once you decide which city or region you'll call home for your time in Mexico, you'll need to determine what accommodation is best for you. This depends on your budget, but you should also factor in what your itinerary looks like. Hostels are great for those who want to meet fellow travelers, save some cash, or simply know they won't spend much time in their room.
Hotels and resorts are ideal if you want to simply relax and not worry about cooking or cleaning. These top-notch accommodations usually offer on-site entertainment and options for booking excursions. Worry-free travel at its finest!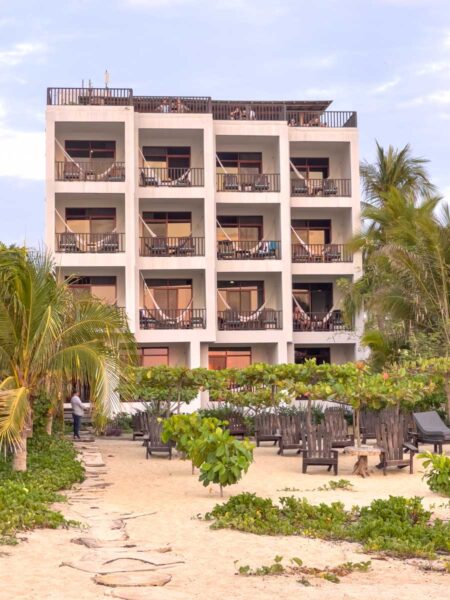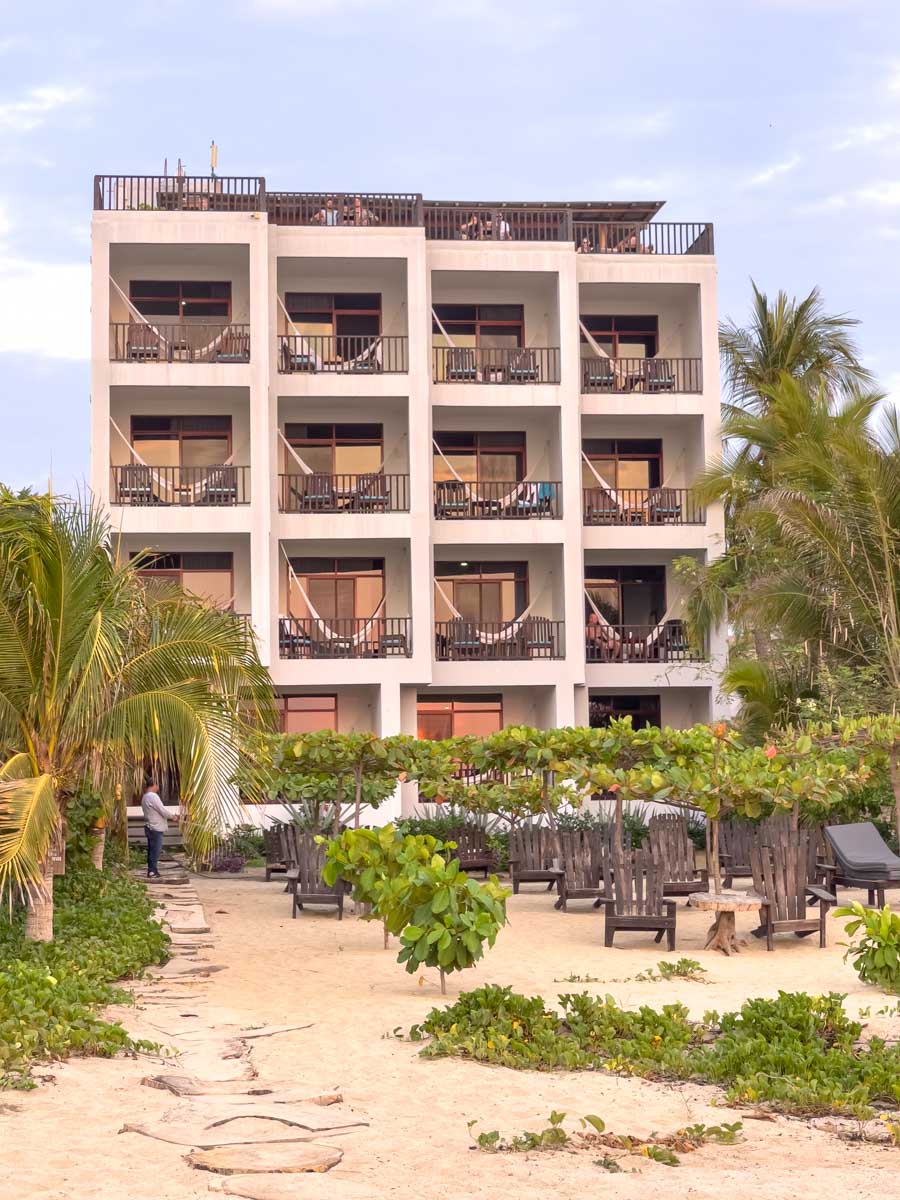 What to Eat in Mexico
Mexico is known for its delicious and diverse cuisine, heavily influenced by indigenous, Spanish, and Mediterranean cultures. In the US, we're spoiled with plenty of options for Mexican food, but there's nothing quite like the real thing. Here are some of the top foods to try while in Mexico:
Tacos
These are probably the country's most famous dish, and you've likely had your fair share of them even if you've never stepped foot in Mexico. But let me tell you, you have not LIVED until you indulge in some authentic Mexican tacos. These small corn tortillas are filled with various meats, seafood, vegetables, and salsa. Tacos al pastor, made with spit-grilled pork, are particularly popular.
Salsa
Mexico is famous for its salsas, and no good taco would be complete without a savory sauce to accompany it. They can range from mild to fiery hot and are made from various ingredients such as tomatoes, chili peppers, and other spices.
Ceviche
Raw fish marinated in lime juice, chili peppers, and cilantro.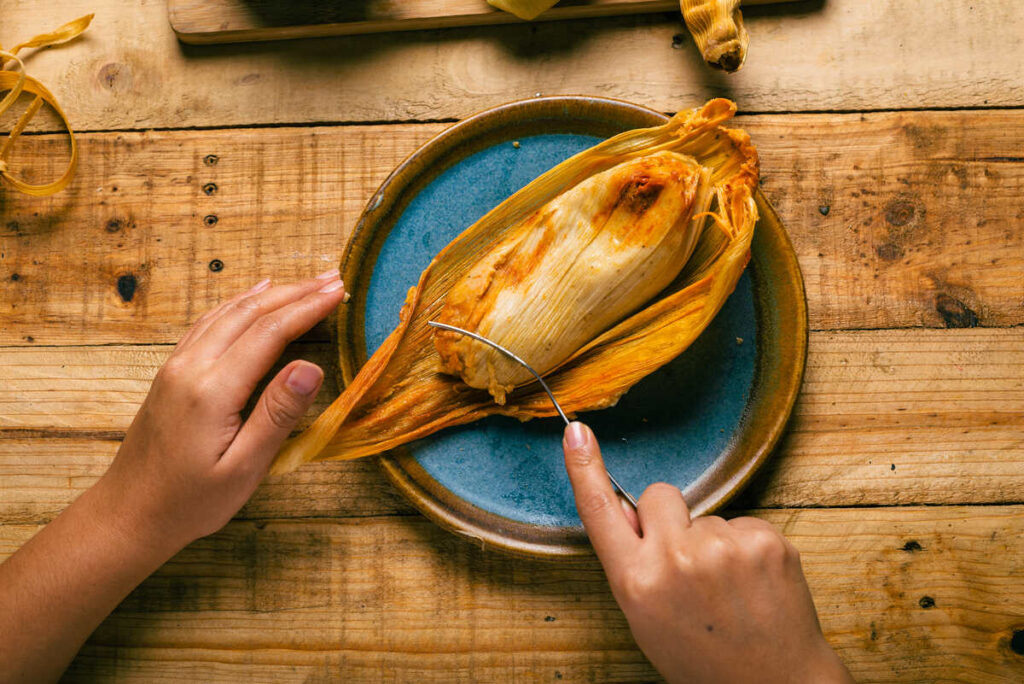 Tamales
This is a traditional Mexican dish made of masa (corn dough), filled with meat or cheese, and steamed in a banana or corn husk.
Pozole
A traditional pre-Columbian soup made from hominy, pork, and chili peppers.
Enchiladas
These are tortillas filled with meat or cheese and then covered in a chili sauce. Again, you've likely tried these, but nothing compares to the real deal!
Chiles en Nogada
A traditional dish from Puebla, Chiles en Nogada consists of a roasted poblano pepper filled with a mixture of meat, fruit, and spices, topped with a creamy walnut-based sauce and pomegranate seeds.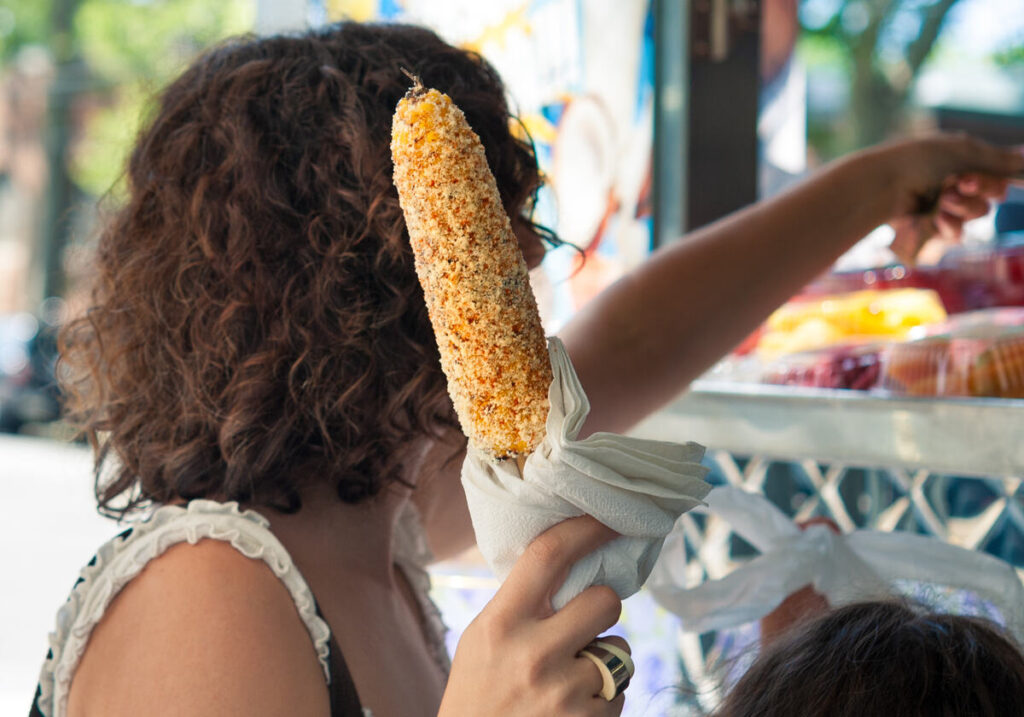 Elote
Grilled corn on the cob, often served with chili powder, lime, and mayonnaise. Now, this may sound a bit off-putting to those of us who were raised on sweet corn topped with nothing but butter and salt, but let me tell you, Elote is one of the absolute best foods to try in Mexico.
Tostadas
A crisp fried tortilla topped with various meats, beans, cheese, and salsa.
This is just a taste (haha) of some classic Mexican cuisine, and different regions will have different offerings. If you're on the coast, you'll find more seafood offerings and fresh ingredients with tropical flavors, while the heartland is known for more hearty dishes with a heavy influence from native cultures.
I hope this helped you plan your trip to Mexico! You can read all my Mexico articles here: