I'm honestly not one to make a whole write-up on restaurants in a place I lived, but Sayulita has some great spots to eat, and I had to share!
From my favorite Mexican breakfast ever to delicious churros to where to get mimosas… I hope this helps you find some cool restaurants in Sayulita to visit during your time here.
Restaurants in Sayulita
---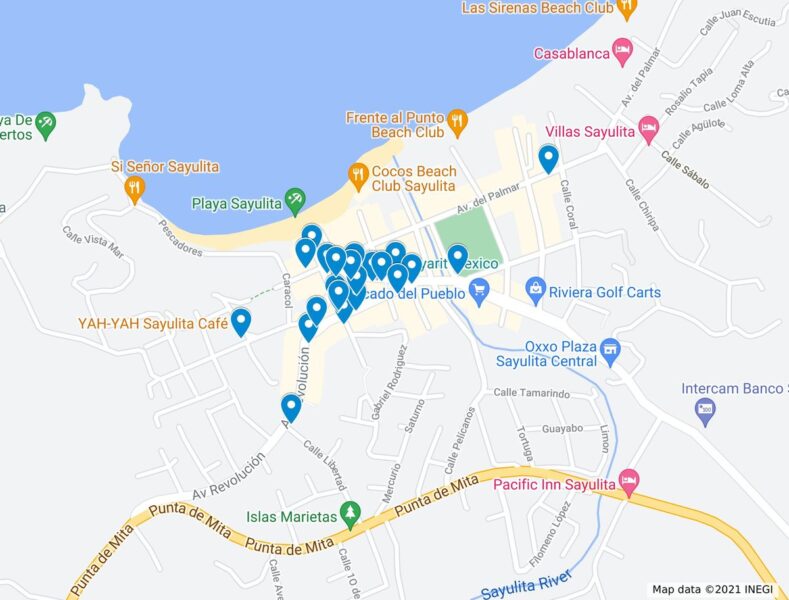 Breakfast Restaurants in Sayulita
This is where I would eat my brekkies, they all have some sort of lunch option as well and are perfect for brunches if you've had a rough start to your day.
Anchor Cafe
Bagel sandwiches are my thing here! They also have delicious smoothie bowls and chia bowls. I loved how they are just off the main drag but still in the mix of being in the center of town.
Yah Yahs Cafe
Another vote for their brekkie bagels! English muffins, regular western breakfasts, etc. are on order here, and I LOVE their Dirty Chai. They have a small work space upstairs as well.
Alquimista
This spot was the closest to my house and one of the first places I tried. It became my favorite restaurant in Sayulita for breakfast! The only issue is their chilaquiles are so good I can't get myself to order anything else.
So chilaquiles and an agua fresca is my regular order here, and it's the best in town if you were to ask me. I also need coffee when I get up, and I liked theirs a lot, so I got my bags of coffee from here to bring home. The owner was handed down his father's organic coffee farm, and I even smuggled some coffee bags back to the US with me I liked it so much!
Tierra Viva
The fish ceviche and guac are good here, and the calamari is tasty, but I can't lie, I like Tierra Viva for brunch. They have a yummy shrimp benedict for brekkie and mimosas, and that's sometimes all I want! They also offer a coworking space on their second floor.
Miscelanea
You'll miss this spot if you don't look out for it; it's down a small alley and set in a cute courtyard. They have excellent breakfast options like avo on toast, shakshuka, and other favorites. Great coffees and chai too!
Organi-K
Healthy foods, sandwiches, and super yummy shakes! And they have a very cute dining area.
RELATED: 17 Things To Do in Sayulita.
Lunch and Dinner Restaurants in Sayulita
My fav lunch and dinner spots! Sorry for the lack of photos… I usually don't take pics of food, oops!
Naty's Tacos
If you want a quick taco that's authentic and flavorful, Naty's will be a good choice! This a great lunch spot with meat, vegetarian and vegan options. Their prices are cheap (like $1.25 for a taco), and the service is quick and good. They have some tables out on the street and down a little alley.
Gaby's Tacos
You might not notice this taco stand because it's almost quite literally a hole in the wall, but their fish tacos are some of the best in town. You can order them and sit on the plastic stools on the sidewalk, take them across the street or head up to their tiny dining balcony on the second floor.
The fish is perfectly battered, and she has some toppings for you to add, like spicy onions and sauces. It's anything but fancy but it's SO good, don't miss this spot!
Pizza Venezia
Honestly, their sign that says "Best Pizza in Mexico!" might actually be true! It's definitely the best pizza in town. Your pizzas are cooked in a brick oven, and they let you put any toppings you want on it for $5. Not bad! The staff are nice, and no matter how busy they get, they quickly put out food.
I also rarely ever order pasta at restaurants, but there's great pasta here if you have a craving for it!
La Rustica
Pizza and pasta again but slightly more upscale. Their mushroom truffle pizza was very good. But while I enjoy the food here, I honestly still kind of like Pizza Venezia a bit better!
Miranda Pizza
As if we didn't have enough pizza options, I feel obligated to say we actually liked this spot for pizza too. Their new location was also close to us, which helped.
Mary's Restaurant in Sayulita
Located on a bustling street, Mary's Tacos is a good option for a sit-down Mexican restaurant in Sayulita. Big portions, good meat, and vegetarian options, and great prices.
Bicchos
Bicchos Restaurant in Sayulita is set in a cute garden, and they serve up some quick and good Mexican food. They have a huge bar full of toppings you can pile on top as well. It's super causal and just steps from the beach.
Casa de Chile Relleno
I like this location because it's also on one of the hectic streets, but you can sit down and enjoy the action on the street from above because they have a second floor.
They have a good mix plate with Chile Rellenos, of course. And their nachos are bigger than your face and are served with tons of good salsa.
Public House
Go here if you have a burger and potato wedges craving. They are SO good, and for all my vegetarians out there, they have a veggie burger and the Impossible Burger! I also love their location because they have a great second-floor balcony for people watching over the square.
YamBak
Pretty good food and craft beer is being served up here. It's also one of the late-night places to hang out, and it's right along the perimeter of the main square.
Chillum Bar
It's a bit hard to notice this bar if you're walking around; that is until they have their live bands come to play, then you'll notice it! It's on the second floor, and they are known for their live music (probably a good idea not to get a house near here, to be honest.)
Surprisingly, this place also has decent sushi, although you'd never guess it.
Loro Cafe
Hungover? Missing Asian food? Loro's has a pretty decent bowl of Ramen, and their cocktails are great too!
Achara
Achara is a Thai spot with good summer rolls and curry. There's pretty much nowhere else to curb that curry craving so I was so happy to have stumbled on this place!
Tacos El Talivan
It might not look like much, but just on the street in the main square, you can't help but notice Tacos de Ivan. There's a huge slab of al pastor being shaved here every day, and Garrett says the al pastor and chorizo are good.
For my veggos, they have mushroom and cheese tacos! They are cheap, easy and open late.
RELATED: Your Guide To Living in Sayulita – Digital Nomad Life & Cost of Living.
Places To Eat in Sayulita for Dessert
I don't have much of a sweet tooth but here's where I went when I got the craving…
Santa Sal
Their crepes and churros are honestly SO good! They have dinner items on their menu, but I'm glad I saved room for dessert because it was my favorite part. Oh, and their decor and view over the square; that might have actually been my favorite part too!
Churros
No name little spot just over the bridge. They set up and serve churros starting around 4-5 pm! I've marked it on the map because there's really no other way to explain where it is!
Chocobanana
They serve regular food as well, but they are quite famous for their choco bananas!
La Fuente
Good ice cream and fruit bars to cool you off on a hot summer Sayulita day.